Chicago Blackhawks:

Brad Richards
September, 19, 2014
Sep 19
2:47
PM CT
SOUTH BEND, Ind. -- Stephen Johns doesn't have an NHL game under his belt yet, but he knows enough about hockey to realize
Brandon Saad
,
Brad Richards
and
Patrick Kane
were clicking as a line on the first day of
Chicago Blackhawks
training camp.
"It was pretty tough to be matched up against those guys," Johns said after facing the line in a morning scrimmage at the Compton Family Ice Arena at Notre Dame on Friday. "Obviously, we all know the skill Kane has. Even today, they looked like they fed off each other pretty well. They scored two goals. Yeah, looked pretty good to me."
[+] Enlarge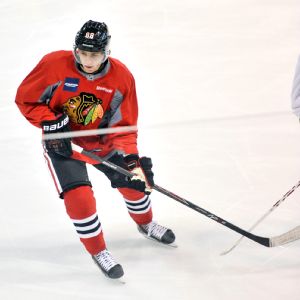 AP Photo/Joe RaymondPatrick Kane was "extremely dangerous," according to Joel Quenneville, in his first practice on Friday.
Blackhawks coach Joel Quenneville didn't waste any time in seeing what he had in a line of Saad, Richards and Kane. The first time they took the ice together Friday was for the camp's first scrimmage, and it didn't take long for them to get on the same page.
The three players took turns in holding on to the puck, waiting for the other two to find open space and then either creating something off that for themselves or for their teammates. The line played together in scrimmages on the day and created three goals. Saad connected with Kane for one, Richards hit Kane for another, and defenseman
Nick Leddy
scored the other with the line on the ice.
Quenneville couldn't have asked for a better first impression of the line.
"First scrimmage, they had the puck a lot," Quenneville said. "Kaner was very noticeable. First scrimmage, I thought he was extremely dangerous, fun to watch. I think Brad kind of probably had a feeling and appetite, 'Well, this could be fun playing with this guy.' I thought Brad was excellent in the second scrimmage and started trying to see some things, developing what potentially could be plays, you know, having Kaner, having that patience, drawing guys to him and then slipping it through, give and go type of thing. Could lead to a real nice line. I thought they were very dangerous, had a lot of opportunities. It was a good first day for sure."
Richards, who signed a one-year, $2 million deal in the offseason, has been around the NHL for 13 seasons, but he still felt some nerves heading into the first day of training camp.
"I've watched enough hockey to know how good they are and how good this team's been," said Richards, who played the last three seasons for the
New York Rangers
. "For me, as many games as I've played, I had butterflies today because it's a new team and I want to get off to a good start and I want to prove that I've got tons of hockey left in my career. Great opportunity for me. It was an exciting day for me."
Kane had similar feelings about the first day. He's gotten to know Richards a bit in the offseason by living in the same building in Chicago, carpooling to informal practices and being on the ice together. Kane has especially been impressed by Richards' ability to create plays out of nothing.
"I thought we were good," Kane said. "Richards makes some plays you don't really expect, so he's definitely an offensive talent. He has a great mind for the game, and I'm excited to get a chance to play with not only him but Saader, too. We had some nice plays out there. For the first day of camp, I thought it went pretty well. Hopefully keep getting better and improving.
"Everything's different. Sometimes you click right away, sometimes you have to get adjusted to what one another does on the ice and what each other's tendencies are. For the first day, I though the chemistry was pretty good for all three of us. Looking to build on that and find out more about each other as we go on here."
Quenneville believes one of the keys for Richards to play with Kane is to understand Kane likes to possess the puck. It was something Kane showed at times during the scrimmages on Friday.
"I think a lot of times traditionally your centers have the puck more," Quenneville said. "In the situation with Kaner, you want him to have the puck. I think that's something you're probably going to learn. Don't be surprised when it ends up on your stick, and knowing when it is on your stick it's not a bad idea to get it to him as quickly as possible. He's got a tremendous patience level with it. I think that's probably something Brad [hasn't had] the luxury of having a Kaner to play with throughout his career, but he's had some good wingers along the way. I'm sure he enjoyed today."
September, 18, 2014
Sep 18
4:17
PM CT
ESPNChicago.com's Scott Powers counts down the days to the opening of Blackhawks training camp on Friday with a look at 20 storylines facing the team this season.
The
Chicago Blackhawks
will have some positions to sort out in training camp, but they finally have someone they can mark down as their second-line center.
Blackhawks general manager Stan Bowman took care of that in the offseason by signing
Brad Richards
to a one-year deal. The Blackhawks offered Richards another chance to win a Stanley Cup, and Richards offered the Blackhawks a veteran center at an affordable price.
Richards
"It was important for us to try to get some depth at that position," Bowman said during the offseason. "Obviously, Brad is more than depth. He's an established, experienced player. I just think you can never have too many guys who can play in the middle."
The Blackhawks have been missing a steady second-line center in recent years. They tried everyone from
Dave Bolland
to
Michal Handzus
to
Brandon Pirri
to
Ben Smith
to
Marcus Kruger
to
Andrew Shaw
to even
Brandon Saad
. Some of the centers had more success than others, but none were permanent solutions.
Richards might not be permanent himself for the entire season, but Blackhawks coach Joel Quenneville already has said he expects Richards to start there. That's progress considering Quenneville was toying with the idea of Saad as the second-line center during last year's training camp. Whether Richards remains there will depend on how his 34-year-old body holds up over the course of the season and whether the organization's top prospect,
Teuvo Teravainen
, proves to be ready.
Richards will be one of the more offensive centers
Patrick Kane
has played with on the second line in recent seasons. Richards has recorded 60-plus points in 10 NHL seasons and is coming off a season where he had 20 goals and 51 points for the
New York Rangers
.
Richards was second on the Rangers with 8.79 shots per 60 minutes last season, but he likely will shoot a little less and become more of a distributor with Kane and Brandon Saad on his wings. He's recorded 50-plus assists four times in his career.
"I've watched these guys play the last 6-7 years," Richards said during the offseason. "Patrick Kane is one of the most explosive players in the league. It's not just him. It's a great group that's been together and knows how to win. When you get a chance to maybe team up with one of those players on a line, whoever is on your line, it makes you feel pretty excited. I can't wait to get to work and try to make it a great experience for everybody."
September, 16, 2014
Sep 16
11:06
AM CT
ESPNChicago.com's Scott Powers counts down the days to the opening of Blackhawks training camp on Sept. 19 with a look at 20 storylines facing the team this season.
Age appeared to catch up with
Michal Handzus
and
Michal Rozsival
last season.
Rozsival
Hossa
Both had played roles in the
Chicago Blackhawks
' run to the Stanley Cup during the 2013 playoffs, and neither could return to that form in the 2014 playoffs. Handzus was demoted to the fourth line, and Rozsival was a healthy scratch for two playoff games last season.
The Blackhawks have six players in their 30s heading into the 2014-15 season.
Rozsival likely will be one player the Blackhawks watch closely again this season. He turned 36 on Sept. 3 and has been part of a defenseman rotation the past two seasons. He played in 27 of 48 regular season games in 2013 and in 42 of 82 games last season.
Marian Hossa
, who will turn 36 in January, is the next oldest Blackhawk. He returned from a back injury suffered in the 2013 Stanley Cup finals to play in 72 regular season games last season. He proved last season to again be one of the NHL's top two-way forwards. He has suffered a variety of injuries since turning 30, so the Blackhawks always will have to be concerned at some level about him, but last season was a good sign for the near future.
Brad Richards
, 34, has been slowed down in recent years, but showed last season he still has something left in the tank. He likely won't be at a 90-point level again, but he is still capable of contributing offensively at even strength and on the power play. He had 20 goals and 51 points and proved durable, playing in a total of 107 games, including the playoffs.
Johnny Oduya
, who will turn 33 in October, is again expected to be paired with
Niklas Hjalmarsson
and they likely again will receive the toughest defensive assignments.
Patrick Sharp
, who will be 33 in December, hasn't allowed his game to be hampered by age. He scored 34 goals and recorded a career-high 78 points last season. He had the most points among all of the league's players 30 or older. He also finished first in the Blackhawks' fitness testing during training camp last season.
Duncan Keith
, who turned 31 in July, is also still playing at a high level. He was voted the Norris Trophy winner after continuing to lead the Blackhawks defenseman in points and ice time.
August, 19, 2014
Aug 19
11:23
AM CT

By Katie Strang
ESPNChicago.com
Archive
Former
Chicago Blackhawks
star
Jeremy Roenick
remembers what it felt like to sign his first long-term deal. The pressure melted away, the sense of anxiety about contract negotiations dissipated and Roenick was allowed to channel all his energy onto the ice.
He suspects current Hawks superstars
Patrick Kane
and
Jonathan Toews
, who inked matching eight-year, $84 million deals this summer, will experience the same.
If that's the case, watch out.
[+] Enlarge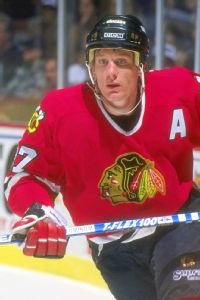 J.D. Cuban/Getty ImagesFormer Chicago star Jeremy Roenick thinks the team's current dynamic duo is set up for success.
"When I signed my contract, the pressure that was released off of me was immense," Roenick told ESPN.com, detailing his thought process after the ordeal. "'Now I can play for my team. They took care of me, now I can take care of them.' It's going to be really fun to watch [Kane and Toews] flourish and play with a free mind and confidence."
Getting the two players under contract until 2023 was a huge coup for a team that has won two Stanley Cup championships in the past five seasons and is among the select few for which the D-word -- dynasty -- can be thrown around in the salary-cap era.
"I think it was very important," said Roenick, who now works as an NHL analyst for NBC Sports. "Two quality players like that, most teams do not possess that luxury. Pittsburgh has
[Sidney] Crosby
and
[Evgeni] Malkin
, and Anaheim has
[Ryan] Getzlaf
and
[Corey] Perry
, but [most teams] don't really have those elite star players that can change the course of the game like they have."
Having those players to build around for years to come -- Kane and Toews are 25 and 26, respectively -- will ensure that Chicago is a perennial contender. In fact, Roenick sees no reason that Chicago won't be the favorite once the preseason projections roll in for 2014-15.
"I think they're one of the strongest-built teams in the league," said Roenick, who played eight seasons for the Blackhawks and scored 513 goals in his 21-year NHL career. "With them, they have amazing star power surrounded with good quality core players. The addition of
Brad Richards
coming over there as a role player who can help on the power play and be a good leader brings another experienced guy into a locker room of winners."
"I think the team has done a very good job of putting together the pieces, and with Kane and Toews signing these megadeals, they'll be playing with so much confidence. There's no competition between the two. They are both top-five players getting paid like it, and it shows the loyalty that the Blackhawks have become known for and [for] building championships."
That said, the Blackhawks will likely be forced to make some sort of trade to move salary out, given the cap constraints facing the club. According to Capgeek.com, the Hawks are $2.26 million over the cap for next year with 23 roster players.
That won't be the only challenge facing the team, which will square off against stiff competition in what promises to be a stacked Central Division.
Last year's race was a tight one, and Roenick expects that to be the case this season as well, with one team in particular with something to prove.
He still thinks the Blackhawks are the team to beat but anticipates it being a dogfight.
"I think the
St. Louis Blues
are gonna come out extremely angry and embarrassed about bowing out early," Roenick said about the Blues' first-round exit last spring after losing a six-game series to the Hawks.
"I know how Hitch [Blues coach Ken Hitchcock] is, and those two teams are gonna be battling tooth and nail again. I don't see anyone else really challenging either of those teams."
July, 2, 2014
Jul 2
12:49
PM CT
The
Chicago Blackhawks
and their general manager, Stan Bowman, have already accomplished a lot in the NHL offseason. Here's a look at what they have done and what they still need to do:
What's done
1. Obtaining a second-line center:
The Blackhawks couldn't have taken care of this any better. Considering their cap restraints and
Teuvo Teravainen
waiting in the wings, the Blackhawks found the perfect solution to their problem in
Brad Richards
. He's a skilled veteran center who wasn't concerned about money or the length of his contract and is focused solely on winning a Stanley Cup.
[+] Enlarge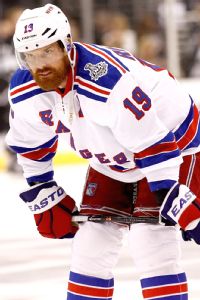 Rebecca Taylor/Getty ImagesBrad Richards is an affordable solution to the Blackhawks' need for a second-line center.
2. Re-signing key restricted free agents:
The Blackhawks re-signed
Jeremy Morin
,
Antti Raanta
and
Ben Smith
to two-year contracts, and they did so cheaply. Their three contracts combine for a $3.05 million cap hit per season. Considering the upside of all three players, that's a steal for the Blackhawks. If given a consistent chance in the lineup, Morin could be a 20-plus goal scorer. Smith displayed his versatility and consistency last season. He could also be the answer to replace
Michal Handzus
on the penalty kill. Raanta had some ups and downs in his first NHL season, but he should be more comfortable and consistent in the net in Year 2.
3. Fine-tune their roster:
The Blackhawks re-signed
Peter Regin
, which should give them additional forward depth. They traded
Brandon Bollig
, which allowed them to clear some cap space. They also decided not to re-sign Handzus. They reportedly still haven't closed the door on
Sheldon Brookbank
.
4. Add an NHL-ready goaltender to the AHL:
The Blackhawks accomplished that by signing Scott Darling to a one-year deal Tuesday. Darling was 13-6-2 with a 2.00 goals-against average and a .933 save percentage for the Milwaukee Admirals of the AHL last season. He ranked second in the league with six shutouts. The Rockford IceHogs didn't have a goaltender who recorded a shutout last season. Darling will also give prospects
Kent Simpson
and
Mac Carruth
another year to develop.
5. Focus on the distant future in the draft:
The Blackhawks weren't looking for any immediate impact players in the draft. Their first-round pick, Nick Schmaltz, may have the talent to leave college after a few years, but he's still a ways away from the NHL. They also drafted six other players who will either begin college in 2014 or 2015. Their other two draft picks are from Europe and will be given time to develop.
What still needs to be done
1. Re-sign Kane and Toews:
Bowman fully expects to re-sign
Patrick Kane
and
Jonathan Toews
in the near future, and there's no reason to doubt him at this point. It could still happen as early as the next few days.
2. Shed more salary:
The Blackhawks are currently $2,216,795 over the cap, according to capgeek.com. The Blackhawks can be 10 percent over the cap during the offseason. Bowman said they had some ideas how they could get under the cap, but he wouldn't disclose them Tuesday. Expect one or two more players to be traded for draft picks and/or prospects.
3. Continue to attempt to sign Kevin Hayes:
The Blackhawks have until Aug. 15 to sign Hayes, their 2010 first-round pick. He's been eligible to sign since his college season ended in April. At this point, it's unlikely he'll sign. He wants to have the opportunity to play in the NHL immediately, and that's not possible with the Blackhawks now. They're too deep in the NHL, and there are a few AHL players who they could argue deserve more of an NHL chance than Hayes right now. If the Blackhawks don't sign him or trade his rights, they will get a compensatory second-round pick in the 2015 draft. Many believe Hayes will eventually sign with the
Calgary Flames
and join his former Boston College teammates
Johnny Gaudreau
and
Bill Arnold
.
July, 1, 2014
Jul 1
5:44
PM CT
There will be no experimenting in the training camp. There will be no shuffling and re-shuffling of players.
Patrick Kane
won't have to wonder who he is playing alongside on any given day.
The
Chicago Blackhawks
put an end to all those issues Tuesday by going out and finally addressing their greatest need. In signing
Brad Richards
to a
one-year contract
, the Blackhawks have themselves a true second-line center for the first time in a few years.
The Blackhawks were able to get by during their 2013 Stanley Cup season with variety of centers in the regular season and
Michal Handzus
in the playoffs. But they weren't as fortunate this past season, and their lack of a consistent second-line center was one of their downfalls against the
Los Angeles Kings
-- a deep centermen team -- in the Western Conference finals.
Blackhawks coach Joel Quenneville didn't think the Blackhawks lack of a consistent second-line center was a problem the last few seasons, but he was honest about the Kings' depth at the position just last week.
"I think [having many second-line centers has] been going on almost every year I've been here," Quenneville said at the NHL draft Friday. "It's not an issue with me. I just think if you can better your team [you do]. You know we played against a team in L.A. down the middle who had four great centermen with great experience. That helped their hockey club."
Having four experienced centermen should benefit the Blackhawks in that same way. They'll have
Jonathan Toews
, one of the league's best two-way players, on the top line. They'll add an experienced center in Richards on the second line.
Andrew Shaw
can return to centering the third line and continue providing offensive and defensive reliability there.
Marcus Kruger
can remain being one of the league's top fourth-line centers. They'll also have depth at center with
Teuvo Teravainen
and
Peter Regin
.
"It was important for us to try to get some depth at that position," Blackhawks general manager Stan Bowman said on Tuesday. "Obviously Brad is more than depth. He's an established, experienced player. I just think you can never have too many guys who can play in the middle."
Richards' arrival should benefit Kane the most. Kane played alongside six different centers last season. He still produced at an elite level despite that, but having some of Richards' ability on a full-time basis should allow Kane to elevate his game further.
Richards understood what it meant for himself as well.
"When you look at the opportunity to play here, it's pretty exciting because you know that if you're playing center on the top two lines, you're playing with a great player, probably two great players actually," Richards said on Tuesday. "It wasn't hard for me to love Chicago. It was just trying to figure out how to get it to work in the cap.
"I've watched these guys play the last 6-7 years. Patrick Kane is one of the most explosive players in the league. It's not just him. It's a great group that's been together and knows how to win. When you get a chance to maybe team up with one of those players on a line, whoever is on your line, it makes you feel pretty excited. I can't wait to get to work and try to make it a great experience for everybody."