Chicago Blackhawks:

Brendan Morrison
April, 23, 2012
4/23/12
9:02
PM CT
By Associated Press
ESPNChicago.com
Archive
CHICAGO --
Phoenix Coyotes
defenseman
Rostislav Klesla
had to leave the ice in Game 6 after the first 69 seconds of play Monday night when he was injured in a collision with
Chicago Blackhawks
wing
Brendan Morrison
near the net.
Klesla headed to the locker room holding a towel to the right side of his head. Klesla has a goal and three assists in the first five games.
April, 23, 2012
4/23/12
2:28
PM CT

Chicago Blackhawks center Brendan Morrison describes his mindset as the team returns to the United Center for Game 6 against the Phoenix Coyotes.


Click here for more audio from ESPN Chicago
.
April, 20, 2012
4/20/12
12:00
AM CT
CHICAGO --
Chicago Blackhawks
coach Joel Quenneville stunned everyone by starting center
Brendan Morrison
in place of
Jamal Mayers
in Game 4 Thursday night. Mayers missed just one game this season and that was due to illness.
[+] Enlarge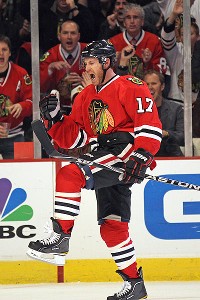 Jonathan Daniel/ Getty ImagesBrendan Morrison scored the Hawks' first goal in the third period on Thursday.
"Brendan Morrison has been a good foot soldier," Quenneville said. "He's got some experience, got some playoff experience. It was a tough decision. I talked to Jamal Mayers today, it kind of hit him hard. Understandable because he's been so competitive and so good for us all year."
Morrison scored the Hawks' first goal in the eventual 3-2 overtime loss on Thursday and said in one sense he was surprised he dressed for the game.
"Maybe surprised because the way I played hasn't really been to anyone's expectations," he stated.
The goal was Morrison's first point as a Hawk.
The 3-1 deficit:
The Hawks are counting on experience to climb out of the hole they're in.
"A lot of us in this room have been here before,"
Jonathan Toews
said. "We were down 3-0 last year. We didn't go anywhere, we didn't stop working."
The Hawks trailed their series against the
Vancouver Canucks
but won the next three games only to lose in overtime of Game 7.
"Maybe could be 3-1 for us right now, but it's not,"
Corey Crawford
said regarding four overtime games in the series. "Just have to keep playing hard, eventually it's going our way."
Slappers
• Morrison's goal was his first in the playoffs since May 1, 2007 as a member of the Vancouver Canucks.
•
Brandon Saad
had a quiet postseason debut. He didn't handle the puck a lot but also didn't hurt the Hawks either. The 19-year-old registered four hits and a plus-1 rating in 13:11 of ice time.
• The Hawks outshot the Coyotes 32-19.
• The Blackhawks set an NHL record with six consecutive overtime playoff games, stretching back to Game 6 of the 2010-11 Western Conference quarterfinals against Vancouver.
• Chicago and Phoenix became the second playoff series in NHL history to reach four consecutive overtime games. The 1951 Stanley Cup Final between Toronto and Montreal went to OT in five straight games.
Quotable
• "He's a big reason why the series is 3-1 for them."-- Morrison, on goalie
Mike Smith
.
• "It's a tough road ahead of us. Look at the smaller picture." -- Quenneville, on the prospects of coming back from a 3-1 deficit.
March, 25, 2012
3/25/12
10:29
PM CT
CHICAGO -- Maybe playing without suspended defenseman
Duncan Keith
was too much to overcome for the
Chicago Blackhawks
-- at least for the first game. Add the absences of
Jonathan Toews
and
Marcus Kruger
and maybe that's the reason the Hawks fell so easily, 6-1, to the
Nashville Predators
on Sunday.
After the game, though, you wouldn't find a Blackhawks player who'd use that as an excuse, as plausible as it might be.
"Obviously missing our top guys makes a difference but we've played well without Johnny," goalie
Corey Crawford
said. "We just have to find a way to get some points."
[+] Enlarge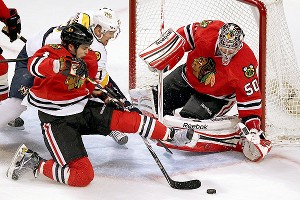 Jonathan Daniel/Getty ImagesNiklas Hjalmarsson and the Blackhawks defense struggled against the Predators on Sunday.
But the Hawks only played well without Toews after going through some growing pains. They were 1-3 in the first four games without their captain before turning things around, going 9-1-1 in their next 11.
"Those are good players, but you can't sit here and make excuses after the game, especially after a performance like that,"
Patrick Sharp
said. "We have a good team that we put on the ice today. We just didn't play like it."
That might be true, but when you're missing your top two centers and half of your top defensive duo it's bound to have an effect -- at least until other players feel out some new roles.
February, 21, 2012
2/21/12
3:43
PM CT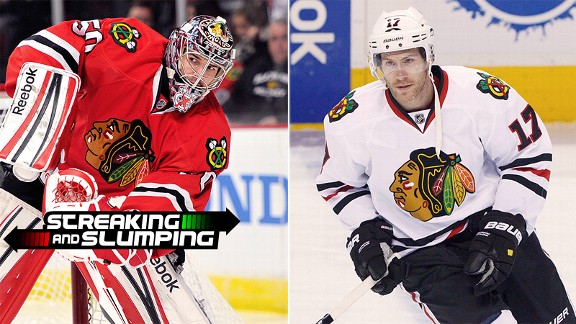 US PresswireCorey Crawford has won three straight while Brendan Morrison has failed to impress during his short time with the Hawks.
STREAKING


1. Corey Crawford, Goalie:
Three straight wins for Crawford after a slump have given his game -- and the team -- some confidence. He's stopped 84 of 88 shots during the streak and gave up less than two goals in back to back games for the first time since late December. He says he is reacting more to situations instead of aggressively anticipating plays which had him losing his net previously. Crawford brought his "A" game on Sunday in the first period when the Hawks were badly outplayed. St. Louis scored just one goal in the opening 20 minutes despite peppering Crawford. The skaters in front responded in the final 40 minutes and Crawford did his part for a rare low-scoring victory.


2. Marian Hossa, Forward:
He's bacccck ... After a post All-Star Game slump, Hossa has found some jump to his step. He's had points in four straight games including three goals and two assists. Hossa is playing with
Marcus Kruger
and
Andrew Brunette
so making plays on his own will be needed, but he has to get the puck to do so. During the Hawks' recent losing streak he wasn't doing that, but now Hossa has some life to his game and opponents are paying the price. He leads the Hawks with 58 points.
SLUMPING


1. Brendan Morrison, Forward:
If being a healthy scratch is part of a slump then Morrison is in one though he will dress for Tuesday's game against Detroit. Since coming over in a trade at the All-Star break Morrison went from centering the second line to the fourth line to street clothes in a matter of five games. He has sat out the past four. Morrison admittedly doesn't have the burst he'd like, especially when playing with some of the faster Hawks forwards. He has yet to register a point as a Hawk in five games.


2. Andrew Brunette, Forward:
Despite power play time and now back among the top 6 forwards, Brunette has been slow to produce points lately. He has just one in his last 12 games and hasn't scored since Jan. 2. His plodding style has not helped him during five-on-five play, but he can still be a dangerous asset around the net with the man-advantage. Unfortunately, the Hawks power play is 0 for its last 29 and Brunette's production has dried up with it.
February, 21, 2012
2/21/12
1:40
PM CT
CHICAGO -- It was one shock after another Tuesday morning at the United Center when
Jonathan Toews
and
Pavel Datsyuk
were declared out for the
Chicago Blackhawks
game against the
Detroit Red Wings
on Tuesday.
Toews was the lone Hawk not on the ice for practice, but it wasn't cause for concern until coach Joel Quenneville announced to the media the Hawks captain would miss the game due to an upper body injury. He is day-to-day.
[+] Enlarge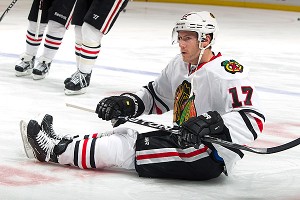 Jeff Vinnick/NHLI/Getty ImagesBrendan Morrison lined up between Patrick Kane and Patrick Sharp during Tuesday's practice.
Toews has missed several practices lately but mostly due to a busy schedule and a lingering hand injury he suffered before the All-Star break. Quenneville was quick to point out this issue was something unrelated to that injury, but until Toews is back on the ice it's always a cause for concern. The good news is Toews finished the game on Sunday and didn't leave the ice with an apparent serious injury.
Toews' absence means
Brendan Morrison
will go from a healthy scratch to the top line if Tuesday morning's practice is any indication. Morrison lined up between
Patrick Kane
and
Patrick Sharp
, taking Toews' normal spot.
"I think puck possession is something that plays into his strengths," Quenneville said of Morrison. "He's progressed in games. Looking for a strong start from him."
Morrison has been underwhelming since coming over in a trade with Calgary during the All-Star break. If he can't keep up with the quicker Kane and Sharp look for
Dave Bolland
and Morrison to switch roles.
John Scott
indicated he could play defense for Tuesday's game which means
Michael Frolik
might suit up on the fourth line. Scott has played forward over the past four games.
Hammer skates:
Niklas Hjalmarsson
practiced with the Hawks for the first time since the first week of January. He's missed six games with an illness turned upper body injury.
"I was a little nauseous there in San Jose," Hjalmarsson said Tuesday after practice. "Just wanted to go home and not risk anything to the guys on the team. Starting to feel better now. It's been frustrating watching the guys play."
Hjalmarsson will miss his seventh straight game Tuesday evening and says he's not 100 percent yet. He wouldn't confirm he had a head injury or was suffering from concussion like symptoms.
"It's amazing how fast you lose everything and how long it takes to get it back," Hjalmarsson said. "I really need to work on my conditioning and puck handling."
Slappers
•Tuesday night's game starts at 7 p.m.
•
Steve Montador
remains on injured reserve with an upper body injury and has not practiced or played in six games.
•Dave Bolland has launched a charity foundation, The Dave Bolland Foundation, which is dedicated to helping marginalized and at-risk youth, will focus on three projects: Chicago's Beyond the Ball, Toronto's The Remix Project, and International disability charity Easter Seals. The goal is to raise awareness and funds in order to assist community programming through education and mentorship initiatives in sports and the arts.
February, 1, 2012
2/01/12
1:07
AM CT
VANCOUVER -- After just one game the jury remains out on whether newly acquired Chicago Blackhawks center Brendan Morrison is the answer to the Hawks' problems in the middle on the second line. Morrison had a slow start in the 3-2 loss to the Vancouver Canucks on Tuesday, including missing a great scoring chance in the second period.
[+] Enlarge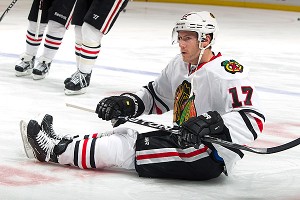 Jeff Vinnick/NHLI/Getty ImagesBrendan Morrison made his Hawks debut in a familiar city.
"He got better as the game went along," coach Joel Quenneville said. "I thought he got [more] comfortable with the puck."
Morrison had several turnovers early in the game and even iced it once during a Hawks' power play, but his biggest "miss" came when Cory Schneider slid across the crease to stop him from scoring an easy goal after turning over the puck to the former Canuck.
"Hats off to him," Morrsion said. "He made a great save. I took my time with it. Shot it hard. I just didn't get it high enough. Desperation save."
Morrison played 18:56 registering just one shot while winning only 31 percent of his faceoffs.
"It's a start," Morrison said. "I didn't think our line generated a whole lot … It was fun. We started off with a lot of positives."
There were some positives but he didn't have the immediate impact some might like. Then again he wasn't brought in as the blue-chip answer. Just a veteran getting a new chance. He'll need a few more before judgement can be rendered.
"He's playing with a couple nice players," Quenneville said. "Once he gets more familiar with them I think he'll get anticipate where they're going to be ... and I think that's where he improved in the game."
And if it doesn't work out he'll be added to a long list who have played that position this season but didn't stick.
Slappers
• The Hawks were not called for a penalty for the second time in the Rogers Arena this season.
• Despite five goals scored between the teams the game was tied for all but 6:04.
• Marian Hossa's nine game point streak came to an end. Hossa has had two point streaks of eight or more games this season.
• The Hawks lost 68 percent of their face-offs. Only Marcus Kruger (2 of 3) was above 50 percent. Dave Bolland was a team worst six of 20 in the circle.
• Brent Seabrook have five shots and six hits to lead the Hawks in both categories.
January, 30, 2012
1/30/12
10:56
PM CT
VANCOUVER -- He may or may not be the answer as the second-line center for the
Chicago Blackhawks
, but newly acquired forward
Brendan Morrison
is going to get first crack at it.
Morrison lined up between
Marian Hossa
and
Patrick Sharp
during practice Monday evening in Vancouver and summed up the idea of playing with the two stars with one word.
"Fun," he declared after practice. "Two highly skilled players. Very talented. Great offensive instincts. Hopefully we can develop some chemistry."
Blackhawks coach Joel Quenneville says he's not worried about Morrison's 36-year-old legs keeping up with Hossa and Sharp. He just wants him to be himself.
"He adds a real nice dimension in the middle," Quenneville said. "Be it faceoffs and experience. He can make plays and see plays. Playing with Hossa and anyone else could be the makings of something special."
One thing no one can question is Morrison's leadership and work ethic. Everyone associated with his new team or his old one – Vancouver -- raved about his integrity as a player.
"I was a big fan of Brendan," Canucks coach Alain Vigneault said. "The knowledge of the game, the way he prepares was a great example for our group. He was a real piece of the foundation of this organization for a long time."
Morrison's new captain echoed the same.
"He's always been known as a hard-working player,"
Jonathan Toews
said. "One of those character guys on the ice. For a guy that plays both ways in the middle, it's going to be a huge help for our team."
The new lines
With the addition of Morrison on the second line, Quenneville elected to move
Marcus Kruger
to wing and play him with
Dave Bolland
and
Andrew Shaw
.
Jamal Mayers
remained at center with
Bryan Bickell
and
Andrew Brunette
on the fourth line.
Quenneville likes Kruger's defense and this places him in a more prominent role playing beside Bolland. If Morrison doesn't work out with Hossa and Sharp, then expect Kruger to return to that position.
Quotable
"I think guys that tell you they don't think about it are lying to you." -- Morrison, on playing his career without winning a Stanley Cup.


"I kind of went into hiding. Put a Balaclava [ski mask] on."-- Vancouver area native Morrison, on being traded to the Hawks.


"I don't know how much more help he needs. He's third in scoring in the league." – Morrison, on what he can do to help Marian Hossa.


"It was almost like a wedding reception. I just stood in line as the team filed in the door." -- Morrison, on meeting his new teammates on Monday.


"Was the highlight of the night. Hopefully Kaner saves the day tomorrow and swoops in for the rescue." -- Toews on Patrick Kane's Superman costume from the skills challenge at All-Star weekend.


"I'm not calling him Super Kane." -- Sharp


"Sometimes they are tougher than others. Whether it's the economics of it sometimes you make business decisions."--Quenneville on sending Jimmy Hayes to the minors.
January, 30, 2012
1/30/12
11:33
AM CT
VANCOUVER -- It's a good thing the All-Star break came when it did for the
Chicago Blackhawks
. Not only did it give extra time for
Jonathan Toews
and
Patrick Sharp
to heal from their respective ailments, it also gave most of the team -- minus All-Stars
Marian Hossa
and
Patrick Kane
-- time to rest up for a historic upcoming 20 days.
[+] Enlarge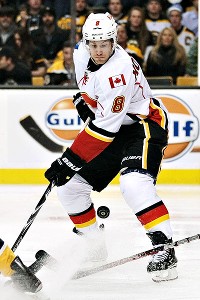 Fred Kfoury/Icon SMIBrendan Morrison will make his Blackhawks debut against his former team on Tuesday in Vancouver.
According to the Elias Sports Bureau, for just the 17th time in league history a team will embark on a road trip of nine games or longer. The
San Jose Sharks
will make it No. 18 next month when they do the same, but for the Hawks this will be the third time in team history they've played nine consecutive games away from home.
The last time they did it was in 1994. They went 4-5 after starting the trip 3-1. Prior to that the only other nine-game trip came in the 1955-1956 season. They also went 4-5.
Incidentally, the team's performances after those road trips were vastly different. In 1994 the Hawks went 8-2-2 over their next 12 games but in 1955 they were 0-7-2 and missed the playoffs.
The last two teams in the NHL to be on the road for at least nine games were the
Los Angeles Kings
last season and the
Vancouver Canucks
the year before when the Olympics sent them out for 14 consecutive games. They went 8-5-1. Los Angeles was 6-1-3 over a 10-game span. So success isn't impossible.
The Hawks have broken up each three-game segment into three different trips. After each one they'll come home for a change of clothes and a practice before heading back out. It's sure to test their mettle as well as their 29-15-6 record.
Here's a look at what's in store for them as they crisscross western Canada and the United States.
• Vancouver/Edmonton/Calgary, Tuesday-Saturday:
The first game of the trip might be the juiciest for plenty of obvious reasons. This will be the first meeting between the teams since
Dave Bolland
called Daniel and
Henrik Sedin
the "Sedin sisters" on a Chicago radio show in December. Canucks coach Alain Vigneault responded by saying Bolland's IQ was the "size of a bird seed and [he has] a face only a mother can look at." Both sides have since backed down. The game also marks the debut for newly acquired center
Brendan Morrison
who starred for Vancouver from 1999-2008. Both teams have decisive wins on the other team's ice this season.
The theme for Edmonton and Calgary is simple: revenge. The Oilers embarrassed the Hawks 9-2 last time in Edmonton in November and then beat them in the "Dan Carcillo game" at the United Center on Jan. 2 when he blew out his knee and was suspended for seven games all in one play. The Flames also beat the Hawks the day before Edmonton did and Morrison will get a chance to face the team that just traded him. Plenty of drama awaits in western Canada.
• Colorado/San Jose/Phoenix, Feb. 6-12:
The Avalanche always play the Hawks tough and present a problem defensively because of their speed. Revenge might be on the Hawks' minds for this one as well, having been shut out at home 4-0 the last time the teams met. Speaking of last meetings, the Hawks finally got to Sharks goalie
Antti Niemi
in a 4-3 victory earlier this month at the United Center. Last time in San Jose, the Hawks played great but so did Niemi, besting his old team 1-0. The Hawks owe Phoenix a solid showing after losing both their home games to the Coyotes this season, 4-1 and 4-3, in the span of a week in early December though the Hawks played one of their best games in October winning 5-2 in Glendale, Ariz.
• Nashville/New York Rangers/Columbus, Feb. 13-18:
The final leg of the trip moves East as again the Hawks will look to avenge losses, this time to the Predators who beat them twice right before the All-Star break. The Rangers are one of the best in the Eastern Conference and are the only team in the East the Hawks play on the whole trip. If Chicago has a good run through the first seven games many will dub the matchup as a possible finals preview. The finale of the nine-game trip might look easy -- Columbus hasn't beaten the Hawks in four tries this season -- but it's the finale of a nine-game trip. Who knows what condition the Hawks will be in? We'll find out in about 20 days.
January, 27, 2012
1/27/12
10:33
PM CT
CHICAGO -- OK, so he's not a 25-year-old, $4-million center in the prime of his career but right now new Chicago Blackhawks' middle man Brendan Morrison is better than nothing. And he could be more than that.
[+] Enlarge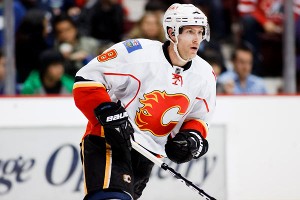 Bob Frid/Icon SMIBrendan Morrison, a 15-year veteran, is the newest Blackhawk.
Credit general manager Stan Bowman for one thing, he jumped the gun on Morrison before someone else did. Morrison is the kind of guy many teams would take a flyer on considering it's a low-risk, high-reward deal. Now Brian Connelly, whom the Hawks gave up in the deal, turns into a 15-year NHL player and Morrison flames out as a Hawk, the risk was much higher than it looks.
But at this moment, for this team, it's all hands on deck. He's a veteran. Check. He plays center. Check. He's a leader. Check. And he's defensively responsible. Check.
But you might not be able to put a check next to "healthy" until he plays a few games. He's played in only 28 this year. He says he's ready but what else would he say, right?
"I needed a little bit more time to work on some explosiveness," Morrison said on a conference call Friday night of coming back too soon from knee surgery. "I know it's fine. There are no issues at all. Skating is getting back to where it's always been."
It better be fine if he's going to keep up with the likes of Marian Hossa or any other top-6 winger. His addition gives Joel Quenneville options, and the Hawks need those options at center. His 50 percent face-off winning percentage over the last couple seasons makes him attractive for that reason alone. After Jonathan Toews the Hawks don't have a reliable face-off man though Dave Bolland did fill in nicely (85%) in the last game before the all-star break.
If Morrison can hack it he'll play on the second line and Marcus Kruger will move down. General manager Stan Bowman certainly made it sound like that was in play considering Morrison's past history of playing with skilled forwards.
If he can't handle it in the top 6 he's a depth guy that probably moves Jamal Mayers back to wing as he could settle in on the fourth line and kill penalties as well.
The storylines Morrison brings with him are juicy. He's a former Vancouver Canuck who was a leader on that team as the Sedin twins were just coming up. He knows what Chicago and Vancouver means these days.
"Very aware of it," Morrison said of the rivalry. "I don't think you could ask for a better first game really. It's going to be a playoff style game."
You could hear the smile through the phone. His first game as a Hawk comes against the team he made his name in the NHL with. Then there is the irony of being knocked out for the year last season after Niklas Hjalmarsson checked him into the boards in March. And then he had words with players on the Hawks bench as he limped off.
But that's history when it comes to trying to win a Cup. Morrison isn't the sexy name many want or expected but it's a start. And just think how many people might be saying "we could have used him" if he had been gobbled up by another team. Depth at center. It's what the Hawks said they wanted and they got some. Before someone else did.
Now let's see if he can play. And stay healthy.
January, 27, 2012
1/27/12
10:25
PM CT