Chicago Blackhawks:

Carter Hutton
December, 17, 2013
12/17/13
2:50
PM CT
By Eric Single
Special to ESPNChicago.com
Archive
NASHVILLE -- Things could not have gone much worse the last time the
Chicago Blackhawks
visited Nashville. After goaltender
Nikolai Khabibulin
surrendered two goals on eight shots and left with a lower-body injury, the Predators poured it on against
Corey Crawford
and cruised to a 7-2 rout on Nov. 16, snapping Chicago's run of 16 games with only one regulation loss.
The Predators look to extend their current three-game winning streak and continue the slow climb back into contention in the Western Conference on Tuesday, and after last month's blowout, the Blackhawks know what to expect from a Nashville team hitting on all cylinders.
"I was playing the last game we were here -- they beat us pretty bad,"
Bryan Bickell
said. "The last few games, they've been playing good hockey. For us, I think they play a good box system and keep everybody outside, and I think we need to attack the seams and get our second opportunities."
Whatever extra motivation the team may need for a road test against a divisional foe won't be hard to muster given the lopsided numbers that remained on the scoreboard the last time the Blackhawks left Bridgestone Arena.
"We'll talk about it, but they're playing well," Quenneville said. "Real solid games, they play the right way. They play hard, and you have to be willing to play a hard, simple game."
Goalie depth tested:
As
Antti Raanta
prepared to make his seventh consecutive start in net for the Blackhawks in the wake of injuries to Nikolai Khabibulin and starter Corey Crawford, a former goaltender within the Chicago organization was being recognized for his standout play in Nashville. Predators netminder
Carter Hutton
was named the NHL's third star on Monday after going 3-0-0 with a 1.33 goals-against average last week.
The Blackhawks expect Crawford to rejoin the team on the ice in the coming days, while Khabibulin's injury appears to be more long-term. After spending the past two seasons in Rockford with Crawford and
Ray Emery
blocking his path to the NHL, Hutton indicated he hasn't thought much about the Blackhawks' current health concerns in net and the opportunities they could have presented him in years past.
"I can't complain," Hutton said. "I'm in the NHL right now, too. I was there for a few years, and they didn't really have the injuries. Crawford was pretty solid all the time, and (Emery) went down a couple of times, but nothing too serious. You can't really worry about that."
Kane feeling it:
Patrick Kane
is riding an offensive tear into Tuesday night's matchup, having tallied points in nine consecutive games and 21 of his last 22. His 16 career goals against the Predators are the winger's highest total against any opponent.
"You have to shut him down," Nashville defenseman
Shea Weber
said. "They've got a lot of guys that have a lot of offensive capability on that team, and he's one of those guys that kind of spearheads that and leads to that, so you have to have a full team effort and make sure everyone's working together to shut him down."
November, 16, 2013
11/16/13
1:52
PM CT
By Eric Single
Special to ESPNChicago.com
Archive
NASHVILLE, Tenn. -- As the
Chicago Blackhawks
welcomed a familiar face back to their lineup in the form of
Kris Versteeg
ahead of Saturday's game against the Predators, they also prepared to look across the ice for the first time at a pair of former teammates, winger
Viktor Stalberg
and goaltender
Carter Hutton
, both of whom departed for Nashville this summer in search of a fresh start.
Stalberg, who spent three seasons in Chicago but saw his ice time dwindle as the team closed in on its second Stanley Cup in four years, signed a four-year, $12 million deal with the Predators in the offseason but he missed the first four games of the season with a shoulder injury and has struggled to mesh with the offense since returning to action, tallying only two points in 13 games so far.
"Coming off the (Stanley Cup) win and the short summer and all that, you sort of thought it was going to be easier, maybe," Stalberg said. "But obviously, I got kind of a rude awakening there, and getting hurt didn't really help either because you wanted those exhibition games to get those legs from the short summer out of you, and I really didn't have a chance to do that."
Nashville head coach Barry Trotz pointed to the organizations' contrasting styles as a potential reason for Stalberg's adjustment period.
"We don't play like the Chicago Blackhawks," Trotz said. "We don't have the personnel up front to play like they do, so a lot of things that we have to do to be successful, they don't do in Chicago just because of the way they play. But he's played better. Probably on the road trip, he's been one of our more effective forwards."
"I think he was a good player when he was here," Chicago right wing
Patrick Kane
said of Stalberg. "He contributed a lot to the Blackhawks organization and to our team, and it's always sad to see guys like that go, but sometimes change is good and it's time to move on, and I wish him all the best."
October, 30, 2013
10/30/13
6:30
PM CT

By Scott Powers
ESPNChicago.com
Archive
The
Chicago Blackhawks
bid farewell to a handful of players after last season and one at the start of this season. Here's a look at how those players are faring elsewhere:
[+] Enlarge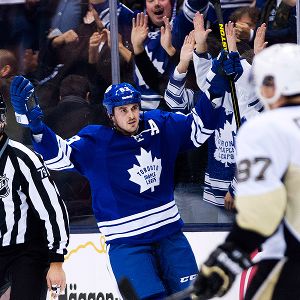 AP Photo/The Canadian Press/Nathan DenetteSince his departure from the Blackhawks, Dave Bolland has made major strides with Toronto.
Dave Bolland
,
Toronto Maple Leafs
, traded for draft picks
The change in scenery has done wonders for Bolland. He's quickly become an impact player for the Maple Leafs on both sides of the ice and has helped them to a 9-4-0 record. He has six goals and four assists in 13 games and has averaged 16:46 of ice time. He failed to produce a point in his Oct. 16 return to the United Center, but he's since had three goals and one assist in the last four games. He also helped contain
Sidney Crosby
in the Maple Leafs' recent 4-1 win over the
Pittsburgh Penguins
.
Viktor Stalberg
,
Nashville Predators
, free-agent signing
Stalberg was unhappy with his role with the Blackhawks by the end of last season. He was looking to move on and get a fresh start somewhere else. The Predators saw a lot of upside in Stalberg and signed him to a four-year, $12 million contract. It's been downhill since then. Stalberg began the season injured. He entered the lineup in mid-October and has since struggled. He has zero points in six games and has been scratched the last two games.
[+] Enlarge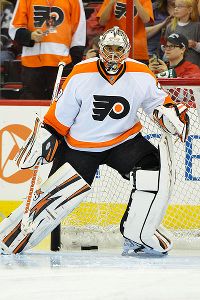 Grant Halverson/Getty Images
Ray Emery's decision to leave the Hawks for a chance to start with the Flyers has backfired early, as he's struggled in his first couple of games.
Ray Emery
,
Philadelphia Flyers
, free-agent signing
Emery chose to leave the Blackhawks -- not because of money, but because he saw an opportunity to start for the Flyers. The Blackhawks are actually paying
Nikolai Khabibulin
more than what Emery received from the Flyers. Emery's plan hasn't worked out for him. He struggled in two early-season starts, allowing four goals in each game.
Steve Mason
was given an opportunity to start for the Flyers, and he's running with it. He's started the Flyers' last five games and hasn't allowed more than three goals in any of them. Emery was always a team player with the Blackhawks and appears to be saying the right things again in Philadelphia.
Michael Frolik
,
Winnipeg Jets
, traded for draft picks
While the Blackhawks still search for someone to replace Frolik on the penalty kill, Frolik is looking for consistency with the Jets. Frolik began the season with a bang, as he scored two goals in the first game and had an assist in the second game. Since then, he's had zero goals and three assists in the last 11 games. He's averaged 14:07 of ice time, but he's not often utilized on the penalty kill. He was second among forwards in short-handed ice time for the Blackhawks last season and is just averaging 52 seconds a game on the penalty kill this season. The Blackhawks will face Frolik for the first time this season on Saturday.
Daniel Carcillo
,
Los Angeles Kings
, traded for conditional draft pick
Carcillo was in and out of the Blackhawks' lineup throughout his stay in Chicago, and it was no surprise he was traded to the Kings. He's had one goal and one assist and averaged 10:07 of ice time in nine games this season. He's been in two fights and has 16 penalty minutes and 16 hits. It's about what's expected from him.
Carter Hutton
, Nashville Predators, free-agent signing
Hutton wasn't given much of a shot with the Blackhawks. He played just one game with them. He signed a one-year deal with the Predators in the offseason and has already played in four games this season, because
Pekka Rinne
has been out of the lineup. Hutton has a 2-1-0 record with a 2.42 goals-against average and .927 save percentage. He struggled in the Predators' last game and was pulled in the third period during a 6-1 loss to the
St. Louis Blues
.
Ryan Stanton
,
Vancouver Canucks
, waiver claim
Stanton was put on waivers when the Blackhawks decided to keep Michael Kostka as the team's eighth defensemen. The Canucks claimed Stanton and have put him to use. Stanton has averaged 14:10 of ice time and has had one goal, four assists and a plus-4 rating in 14 games. He had signed a one-year deal with the Blackhawks in the offseason.
April, 27, 2013
4/27/13
6:02
PM CT
By Rob Rains
Special to ESPNChicago.com
Archive
ST. LOUIS -- Goalie
Carter Hutton
will make his NHL debut Saturday as the
Chicago Blackhawks
rest many of their regulars in their final game of the regular season against the
St. Louis Blues
at Scottrade Center.
The 27-year-old Hutton played for Rockford in the AHL this season.
"It will be exciting and a good test for him," said Blackhawks coach Joel Quenneville. "They're a big team and they go to the net hard."
January, 15, 2013
1/15/13
8:12
PM CT

By Scott Powers
ESPNChicago.com
Archive
CHICAGO -- Without any preseason games to prepare the
Chicago Blackhawks
for their season opener on Saturday, Blackhawks coach Joel Quenneville has designated Wednesday as a simulated game day.
The Blackhawks will hold a morning skate at the United Center at 10:30 a.m. and will return to the arena for a controlled scrimmage at 7 p.m. Seven players from the Rockford IceHogs are expected to make the trip to add to the scrimmage's numbers.
"It will simulate a game day, and we get to scrimmage against one another, get to play real hockey and get a real chance to play on our power play and get into some penalty-killing situations and faceoffs," Blackhawks coach Joel Quenneville said after Tuesday's first practice at the United Center. "You get some bumps, and you get the feel of a real game because we don't have a real game to get into the start of our season."
October, 14, 2012
10/14/12
5:06
PM CT
ROSEMONT, Ill. -- The
Chicago Blackhawks
should have opened their season against the lowly
Columbus Blue Jackets
on Saturday night at the United Center.
Instead, the only professional hockey to be found took place 17.6 miles northwest at the Allstate Arena, where 11 players from last year's team dressed for the Hawks' minor league affiliate, the Rockford IceHogs, for the AHL season opener against the rival Chicago Wolves.
"I'd rather be playing than not playing hockey,"
Andrew Shaw
said after the 1-0 shootout loss to the Wolves.
[+] Enlarge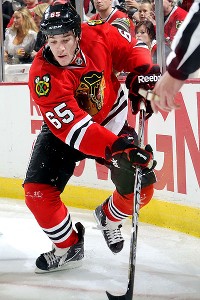 Bill Smith/Getty ImagesAndrew Shaw and some other young Blackhawks are working on their games in the AHL.
Shaw spent half of last season with the Hawks but was sent down last month before the lockout took effect. Playing in the AHL is a consolation for these young Hawks, and Joel Quenneville, with no team to coach, will be watching closely. Quenneville and Hawks brass were in attendance as they assuredly will be until the lockout ends.
"We're getting a lot of attention from scouts (and) from coaches," forward
Ben Smith
said. "It's great for us as players. Get in front of those coaches and show what we can do and, obviously, with no NHL it's making this league better."
Through a spokesperson Quenneville turned down interview requests on Saturday as did Hawks management.
The front office and coaching staff haven't spoken publicly since the beginning of the lockout but they were in attendance as was Alain Vigneault of the
Vancouver Canucks
. The Wolves are the minor league affiliate for Vancouver and so the two rival coaches could only watch their prospects instead of coaching them.
"You have to make the best out of it," NHL veteran
Marcus Kruger
said. "It was a good game, a good crowd."
Kruger could have been speaking for coaches, front office personnel and players alike. There isn't much the rank and file can do except wait until there is a positive development in the negotiations between the players and the league. Like Shaw, Kruger is simply happy to be playing.
"That's the good thing," he said. "I have something to focus on and don't have to think about that (the lockout) every day."
And maybe that's the key for fans as well. Focus on what is there instead of what is not. The Wolves and IceHogs will battle again on Sunday and at least the future of the Hawks and Canucks is on display for all to see.
"It's the best league to play in right now," winger
Brandon Saad
said. "Every day is a challenge to get myself better so it's definitely good for me."
Saad is a hotshot teenage prospect, a second-round pick of 2011, who is developing at the pro level. It's not a bad thing for him to be playing in the minors as the NHL game is on hold. But maybe the person with the most to gain during the lockout is Rockford goalie
Carter Hutton
. Hutton has been on a meteoric rise throughout the organization and pitching a 65-minute shutout on opening night -- in front of Quenneville -- is about as good as it gets.
"It doesn't change a ton," Hutton said of Quenneville being in the crowd. "
Corey (Crawford
) and
Ray (Emery
) are back in Chicago and odds are I'm here battling to try and get there. Even if the NHL is going on there's still video and stuff like that so no matter what you're getting seen."
That may be true but Hutton will get to make a first-hand impression for an organization still searching for some answers in net, something goalies in particular don't usually get a chance to do with their head coach.
"It's hard not to pay attention to it," Hutton said of the Hawks' goaltender situation. "It's out of my hands. I have to take care of business and keep developing."
That's the mantra for all the players on the IceHogs right now, whether they've played in the NHL for a period of time like defenseman
Nick Leddy
or are just starting out like winger
Jimmy Hayes
. They have no choice.
"You have to play where you have to play," Hayes said. "That's part of being a pro."
June, 18, 2012
6/18/12
10:55
AM CT
CHICAGO -- The
Chicago Blackhawks
have come to terms with forwards
Brandon Bollig
and
Ben Smith
on two-year contracts and goalie
Carter Hutton
on a one-year deal, the team announced on Monday. The Hawks also released goaltender
Alexander Salak
.
Bollig's contract is a two-way deal for his first year and a one way for his second that will pay him $575,000 per season, according to a source. A one-way deal means a player is paid the same NHL salary whether he's playing in the minors or the NHL. No other terms for the contracts were released.
Bollig, 25, appeared in 18 regular season games and four postseason contests in his rookie year in the NHL this past season. He earned nine fighting majors and scored his first career goal in Game 2 of the Hawks playoff series against the
Phoenix Coyotes
.
Smith, 23, has six goals in parts of two seasons with the Blackhawks, including an overtime game-winning tally in Game 6 of the 2011 playoffs against Vancouver. He started and finished the 2011-2012 season with injuries but had 15 goals in 38 games with Rockford of the AHL this past year.
Hutton, 26, compiled a 22-13-4 record with three shutouts, a career-best 2.35 goals-against average, and a .917 save percentage in 43 regular-season games with Rockford last season.
Salak was signed to a two-year deal last summer but underperformed compiling a 6-10-2 record and 2.69 GAA in 21 games for Rockford. He's owed $600,000 for the final year of his contract.
April, 16, 2012
4/16/12
4:01
PM CT
CHICAGO -- The
Chicago Blackhawks
recalled forwards
Jeremy Morin
and
Brandon Pirri
, defensemen Joe Lavin and Ryan Stanton, and goaltender
Carter Hutton
from the American Hockey League's Rockford IceHogs and forward
Brandon Saad
from the Ontario Hockey League's Saginaw Spirit, the team announced on Monday.
Morin, Pirri, Hutton and Saad all spent time with the Hawks this season. Morin appeared in two games as did Saad. Pirri played in five games, registering two assists. Hutton dressed as a backup for two Blackhawks games this season but never saw time.
Saad was a second-round draft pick in 2011 and was sent back to his junior's team after the first two games of the season. He led the OHL with 1.73 points per game played.
Lavin and Stanton have never appeared in an NHL game.
March, 26, 2012
3/26/12
3:14
PM CT
The
Chicago Blackhawks
recalled goalie
Carter Hutton
from Rockford of the AHL, the team announced Monday morning.
Hutton, 26, is 21-10-3 with the IceHogs this season. He practiced with the Hawks late Monday morning while
Ray Emery
was not on the ice. Emery missed time last week with the stomach flu but played in relief in Sunday's 6-1 loss to Nashville.
The Hawks take on the
New Jersey Devils
on Tuesday.