Chicago Blackhawks:

Champs for Charity
October, 27, 2012
10/27/12
5:37
PM CT
Friday's Champs for Charity Game at the Allstate Arena raised over $323,000 for the Ronald McDonald House of Chicagoland and Northwest Indiana. The 'World' team beat 'Chicago' 16-15 in a shootout. Here are some highlights from the game:
*
Patrick Kane
and
Andrew Ladd
each had a hat trick. Kane scored four goals including the game-tying tally with minutes to go.
* Dan Carcillo won the game with a shootout goal. A slow-down move that Kane said Carcillo stole from him.
* There were several excessive goal celebrations including
Jonathan Toews
knocking down his teammates pretending to bowl, a
Troy Brouwer
led 'kayak' celebration with several players rowing a boat and Carcillo's sliding, horse riding performance after his winner.
* Celebrity coaches Ryan Dempster and Robbie Gould were "jawing" at each other from the benches all night. After a Kane goal, Gould threw a 'red flag' to challenge the score. The goal was upheld.
* The highlight of the night happened when Carcillo (playing for team World) jumped the Chicago bench, attacking Dempster. Dempster's colorful sport coat got ripped off and the two continued the "fight" moments later on the other bench.
* After the game,
Patrick Sharp
said he could recognize fans in the crowd who usually inhabit the United Center for Blackhawks games.
October, 27, 2012
10/27/12
5:30
PM CT
ROSEMONT, Ill. -- One thing became clear by the time the night was over: people in the Chicago area miss their hockey. And that's not just the fans talking.
"It was fun playing with these two (
Jonathan Toews
and
Patrick Sharp
) guys again," Blackhawks star
Patrick Kane
said after his team lost 16-15 Friday night in the 'Champs for Charity' game at Allstate Arena. "Johnny and Sharpie -- it feels like forever since we've been back on the ice. A lot of memories, a lot of good times and always fun scoring goals."
NHL players from around the country and those working out in Chicago played in the charity event which raised over $320,000 for the Ronald McDonald House of Chicagoland and Northwest Indiana. Kane won MVP honors with a four-goal effort and there were plenty of laughs along the way. It provided a brief respite from the problems facing the league -- which canceled all November games earlier in the day.
"They're going to keep exercising the power that they have to lock us out and try to use the fact that they can cancel games to try and sway us their way," Toews said before he took the ice Friday.
Union boss Donald Fehr attended but wanted to keep a low profile. The idea of an exhibition game for charity -- full of entertaining antics -- along with some competitive hockey contrasts with the dour feeling that the six week old lockout emotes. But for one night, over 11,000 hockey fans embraced the idea of a game -- even if it's just for fun -- with some their favorite players.
"The atmosphere was awesome," Kane said. "To get 11,000 fans for something like this was pretty special. It shows how many people are searching for hockey."
And, again, that includes the players. No matter the meaning of the game, their competitive nature takes over.
"We obviously love to play together, the three of us," Toews said of he, Sharp and Kane. "You saw sometimes tonight we were moving the puck well and making some plays. I think just getting that feel back makes you want to get back out there."
And when Chicago was down a goal with minutes remaining: "We said we're not coming off the ice until we score," Kane explained.
They did, and eventually the night ended in a shootout with Dan Carcillo scoring the winning goal and celebrating it in an excessive manner. It was one of many entertaining moments which celebrity coaches Ryan Dempster and Robbie Gould also helped provide. And those on the ice know where the energy in the building came from.
"I think you saw the pace was pretty good right off the start," Toews said. "It just goes to show you we have some great hockey fans here in Chicago."
That's not in dispute. How long they remain great fans might be. The Hawks might have a large leash of goodwill with their fan base but the league certainly does not. And the longer the lockout goes on, the less good-feel charity games like Friday night will have an impact.
"It's almost to the point where you kind of believe they are excited to do this just because they're the NHL," Toews said of the league canceling more games.
So for now a glorified all-star game will have to do. Luckily, the performance by those involved as well as the money raised made the night a successful one. But it still isn't what everyone wants.
"It's hitting me now, it's my last night in Chicago," Kane said as prepared to leave for Switzerland to play during the lockout. "It will be exciting when I come back and play with the Hawks again."
When that is, is anyone's guess.
October, 25, 2012
10/25/12
1:52
PM CT
CHICAGO -- Final rosters for the "Champs for Charity" game benefiting the Ronald McDonald House of Chicagoland were being finalized on Thursday as
Carolina Hurricanes
center
Jordan Staal
was a late addition to the roster.
He'll join others on the World team taking on current and former
Chicago Blackhawks
in an exhibition game to be played Friday night at Allstate Arena.
Forwards
Ville Leino
,
Mike Brown
,
Antti Miettinen
,
Jared Boll
,
Bobby Ryan
,
Jamal Mayers
,
Gregory Campbell
, Dan Carcillo,
Shawn Thornton
and Staal will team with defensemen
Tom Gilbert
,
Alex Goligoski
,
Ryan Suter
,
Kimmo Timonen
and goalie
Niklas Backstrom
for Team World.
For Chicago,
Patrick Kane
,
Jonathan Toews
,
Patrick Sharp
,
Andrew Ladd
,
Troy Brouwer
,
Adam Burish
,
Jake Dowell
and
Craig Adams
are the forwards while
Brian Campbell
,
James Wisniewski
,
Joe Corvo
and Jim Vandemeer will man the blue-line. Park Ridge native
Craig Anderson
will be in net.
Honarary celebrity coaches are Jenny McCarthy (World) and former Cubs pitcher Ryan Dempster (Chicago).
Over 8,000 tickets have been sold for the event. Tickets can be purchased at Ticketmaster. The game will not be televised or be broadcast on the radio.
October, 17, 2012
10/17/12
8:43
PM CT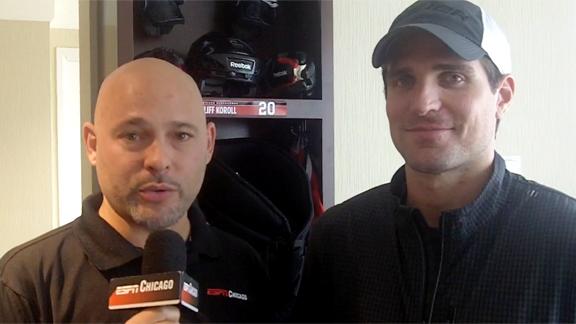 CHICAGO -- It wasn't that long ago that
Adam Burish
,
Patrick Sharp
,
Brian Campbell
,
Patrick Kane
and
Jonathan Toews
were on a stage answering questions from the press during the Blackhawks' run to the 2010 Stanley Cup. The five reunited Wednesday to officially announce a charity hockey game -- "Champs for Charity" -- that will take place Oct. 26 featuring members of that team and other NHL players unable to play due to a work stoppage.
[+] Enlarge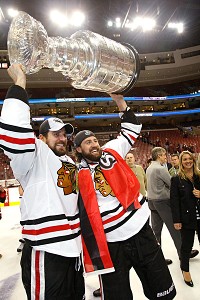 AP Photo/Kathy WillensMembers of the 2010 Stanley Cup champion Blackhawks -- along with others unable to play because of the NHL lockout -- will reunite Oct. 26 in the name of charity.
"We want to give fans that are starving for hockey something to watch and we want to give back to this charity," former Hawk Burish said from the Ronald McDonald House on Grande Ave.
They'll do just that when they take the ice at the All-State Arena in what the players hope is more than just a leisurely skate.
"To put together a competitive game was the idea," Burish said.
That idea came from Burish and his agent, Bill Zito, who spoke of his own personal situation involving a family member who had recently been hospitalized for a long stay. They want the Ronald McDonald House to benefit, knowing what families go through in caring for sick ones. Their goal is to raise $250,000.
"I didn't know what my plan was, to play (in charity game) or go overseas," Kane said. "I'm excited about it."
Kane said he was close to signing in Europe but that's on hold now because of the game and potential movement in CBA discussions, though players were more than cautious regarding the latest proposal from the league.
"As long as they don't think it's their final drastic attempt to salvage an 82-game season," Toews said. "If they were that desperate to preserve an 82-game season and get things done, this would have be done already. There's no real effort there. It's just a ploy to sway a positive light back in their favor. It's still a small movement but hopefully it's something we can work off of."
Toews said he will fly to Toronto on Tuesday night to assist in negotiations within the players association. In the meantime, other members of the 2010 Stanley Cup winning Hawks will prepare for the charity game.
"He's looking forward to playing on a line with me," Burish quipped of good friend Sharp.
"I think it's a pretty good coincidence Great Clips is the main sponsor of the game," Sharp shot back to the raggedy-haired Burish.
This kind of back-and-forth was -- and still is -- a signature of the 2010 championship team. It will always be linked, and now many will take the ice together for the first time since leaving it with the Cup in Philadelphia that June.
"It's a great group," Campbell said. "It's nice to get together with one another. It'll be fun to get back in the locker room."
Andrew Ladd
,
Kris Versteeg
and others will join their former teammates for the game while Burish says others will commit as the game gets closer. It'll be a diversion from the business side of hockey which has dominated the headlines during a lockout which began in mid-September. And it will benefit a charity while bringing together an iconic team that fans fell in love with.
"It's a great opportunity to get the guys back together but it's for the fans more than anything," Sharp said. "Some of the guys from the Cup team haven't even had a chance to come back and play against the Hawks so it will be nice to get those guys out. ... No one cares about Burish, we've had enough of him. You saw at the press conference, guys are excited to get back together and make fun of each other just like we used to."
Tickets for "Champs for Charity" can be purchased at Ticketmaster.