Chicago Blackhawks:

Chicago Bears
June, 1, 2013
6/01/13
10:25
AM CT

By Scott Powers
ESPNChicago.com
Archive
CHICAGO --
Chicago Blackhawks
players said Saturday they have appreciated the support shown by players from the city's other professional sports teams.
Chicago Bears
cornerback
Charles Tillman
,
Chicago White Sox
first baseman
Paul Konerko
and
Chicago Cubs
pitcher
Jeff Samardzija
were among the athletes to attend the Blackhawks' Game 7 overtime win over the
Detroit Red Wings
in the Western Conference semifinals.
"I think it's real cool that they come and support us," Blackhawks defenseman
Nick Leddy
said. "We've done the same. I know we've been to a couple games throughout the regular season and after the season last year. It's really cool to see them support us."
Blackhawks forwards
Andrew Shaw
and
Bryan Bickell
recently exchanged that support by attending a Cubs game. Shaw said they've also been to White Sox games in the past.
"We usually get a group of guys and head to a Cubs game or Sox game," Shaw said. "I haven't been to a Bears game yet, but I look forward to it."
August, 8, 2011
8/08/11
11:11
AM CT
By ESPNChicago.com
ESPNChicago.com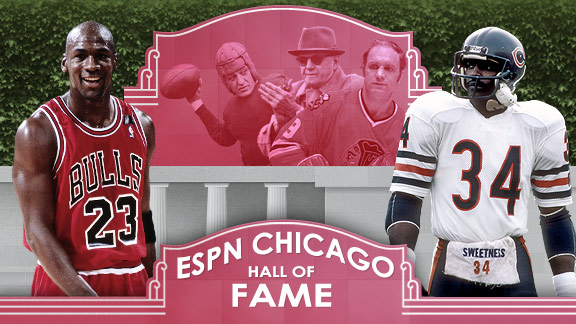 ESPN.com Illustration
Which legends belong in the inaugural class of the ESPN Chicago Hall of Fame? That's up to you.
Cast your votes!
January, 25, 2011
1/25/11
6:44
PM CT
The sport of hockey has such a tight fraternity that when some Chicago Blackhawk players heard the criticism of Chicago Bears quarterback Jay Cutler for coming out of the NFC Championship Game Sunday, they were both surprised and intrigued.
[+] Enlarge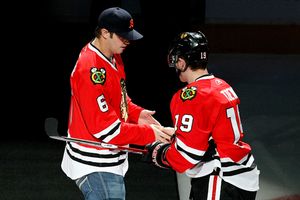 Jonathan Daniel/Getty ImagesThe Blackhawks understand the pressures of playing in Chicago.
"It's a different league, different sport, different personalities,"
Patrick Kane
said. "You see way more outspoken people in the NFL. Sometimes it's interesting to see what players have to say. Would you see it in the NHL? Maybe from a few players but not a lot like you see in the NFL."
Although hockey is a sport where players perform hurt all the time, no one in the Hawks dressing room was questioning the decision to take Cutler out. And many couldn't believe the outrage of the decision.
"You feel bad for him," Brian Campbell said. "His friends and family. You see people burning his jersey. Hopefully we can all somehow in our own way apologize to a guy like that."
"From what his teammates and coaches are saying you have to trust their instincts to keep him out of the game," Kane added.
Campbell was the most outspoken, having had a similar injury this season that sidelined him for the first five weeks of the year. Like others in the Hawks' locker room, he couldn't believe Cutler's peers attacking him.
"It's pretty disappointing, the reaction of it all," he said. "At least don't react right away. Find out the details about it and then react.
"They're probably at home watching the game eating popcorn or whatever else. I was eating chili. Anybody can grab a phone and say, 'look at him on the sidelines.' I could have walked around when I did my knee. True warriors know what guys do. The guy has been sacked and beaten on how many times in the last two years and a he keeps going about his business. Yeah, maybe he doesn't talk the best in the media but that's him. Everybody is different, not everybody is Peyton Manning. He goes out and gets his job done and that's all you want. Guys aren't the best at everything but he's good at playing football. That's what Bears fans should be pretty happy about."
Campbell stressed that appearances can be deceiving.
"I know when I did mine and came off the ice I was like, 'I can play', but as soon as I got back to the room I was like, 'ok, something is going on here.' I know when I was rehabbing I would never be able to plant a foot or do anything laterally for three weeks."
Kane knows when he's out with an injury there is always going to be talk about how quickly he can get back, even by those with no knowledge of the issue. He'd like to see the athlete get the benefit of the doubt.
"I feel bad for the guy to be honest with you because it seems the fans are kind of after him and everyone is ripping him," Kane said. "Hopefully they give him a break."
January, 20, 2011
1/20/11
1:09
PM CT
When the Chicago Blackhawks were driving toward a Stanley Cup title last spring, Chicago Bears head coach Lovie Smith made a point of calling Hawks coach Joel Quenneville to wish him luck.
Read the entire story.
January, 19, 2011
1/19/11
5:27
PM CT
CHICAGO -- The way the Chicago Blackhawks captivated the city during their Stanley Cup run and victory parade last year was not lost on the other athletes in the city, and now it's the Hawks' turn to become fans.
Read the entire story.
August, 27, 2010
8/27/10
7:58
PM CT

By Doug Padilla
ESPNChicago.com
Archive
[+] Enlarge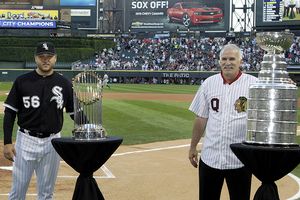 AP Photo/Charles Rex ArbogastMark Buehrle and Joel Quenneville displayed Chicago's two newest title trophies.
CHICAGO -- The Yankees aren't an easy bunch to intimidate, but the White Sox gave a shot during pregame ceremonies Friday, with a little help from their friends.
Championship trophies from the 1985 Bears, the '90s Bulls, the 2009-10 Blackhawks and the White Sox's own 2005 hardware, were all on display during a "Gathering of Champions" ceremony. Richard Dent represented the Bears,
Mark Buehrle
was there for the White Sox and Joel Quenneville was on hand for the Blackhawks.
Scottie Pippen was supposed to be the Bulls' representative, but he was late leaving those duties to chairman Jerry Reinsdorf. Pippen was later spotted on the suite level just as the game was starting.
The Yankees might have their 27 World Series trophies, including their most recent in 2009, but no city can stake a claim to a title in each of the four major sports in the past 25 years.