Chicago Blackhawks:

Chicago White Sox
May, 30, 2013
5/30/13
2:43
PM CT

By Doug Padilla
ESPNChicago.com
Archive
CHICAGO -- The
White Sox
and
Cubs
were back to being enemies a day after uniting in support of the Blackhawks.
[+] Enlarge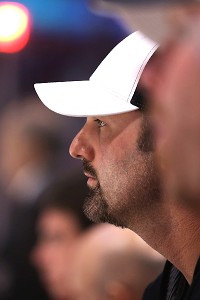 Jonathan Daniel/Getty ImagesPaul Konerko's shoot-the-puck moment on Wednesday went a little smoother than Jeff Samardzija's.
Many players from both sides, as well as both managers, were in attendance at the United Center on Wednesday night as the Blackhawks eliminated the
Detroit Red Wings
in Game 7 of the NHL's Western Conference semifinals.
In fact, the White Sox's
Paul Konerko
and the Cubs'
Jeff Samardzija
participated in the Blackhawks' shoot-the-puck promotion between periods. Samardzija missed all five of his shots, while Konerko, a former youth hockey player in Rhode Island, made two of his five.
"It was fun," Konerko said. "I didn't know really what to expect out there but I had fun with it. It was over and done with pretty quick."
Samardzija made no excuses for his struggles.
"I had to ask Konerko how to do it," he said. "I should have gone second. I'm pretty ashamed. My father was really mad at me. He's trying to get me to change my name to my mom's (maiden name)."
April, 22, 2012
4/22/12
12:03
PM CT

By Scoop Jackson
ESPNChicago.com
Archive
ESPNChicago.com writer Scoop Jackson is spending this week trying to prove that when it comes to sports, there is no city like Chicago.
Saturday
The day I decide not to go to see the Cubs is the day
they
decide to ball.
But when one has choices as one has today...
Option 1:
Cubs
vs.
Reds
Option 2: Fire vs. FC (Toronto)
Option 3:
White Sox
vs.
Mariners
Option 4: Wolves vs. Rampage
Option 5: Rush vs. Mustangs
Option 6:
Bulls
vs.
Mavericks
Option 7:
Blackhawks
vs.
Coyotes
. Game 5
I don't know if any other city in America can claim days like this on the calendar when it comes to professional sports. Seven teams all in action on one day.
Options.
So try doing this:
Wake up at 5 a.m. to take youngest son to school on a Saturday because he's in the band and the band is in a competition that starts at 7 a.m. Go back home. Take other son to driver's education at another school at 10 a.m. Turn on WGN at noon to see what Cubs team is going to show up. Leave in the middle of the first inning to pick up kids. Return home, Cubs are winning 5-1. Find the Fire/Toronto match on TV. Scream "Goal!!!!!" 25 seconds into the match when the Fire score. Turn to White Sox game. Phil Humber looks good early. Go to get oil changed in the car. Come back, Humber still looks good. Leave home, head to United Center. Word is Derrick Rose might play. Get to UC, hear two words: Perfect game! Find out Rose is playing. Watch Bulls starting lineup start a game together for only the 13th time all season. Leave at halftime. Get home just in time for Game 5 puck drop. My son screams downstairs, "The Bulls are up by 10!" Go online to see Humber highlights. Text Kenny Williams. Check CN100 for Wolves update. They won. Eat dinner. Immerse myself into overtime No. 5. Goal! Text Blackhawks media relations coordinator for possible credentials to Game 6. Begin to write blog you are currently reading. Get response from Blackhawks: "See You Monday!"
The ability to watch, pay attention to or get locked into six professional games all in the same day? Unheard of. The chances of being a part of a day where the city you live in goes 7-0? Incredible. And, in the middle of it all, the 21st perfect game pitched in Major League history? Priceless.
We live for days like this. We live in Chicago
because
of days like this.
August, 8, 2011
8/08/11
11:11
AM CT
By ESPNChicago.com
ESPNChicago.com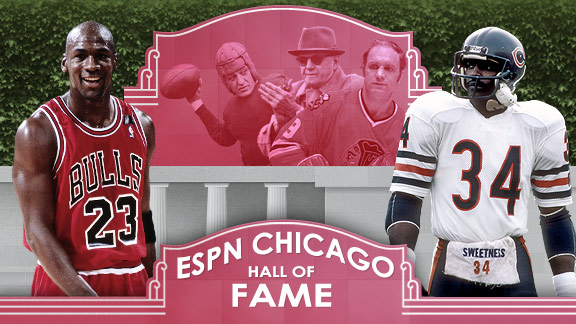 ESPN.com Illustration
Which legends belong in the inaugural class of the ESPN Chicago Hall of Fame? That's up to you.
Cast your votes!
August, 27, 2010
8/27/10
7:58
PM CT

By Doug Padilla
ESPNChicago.com
Archive
[+] Enlarge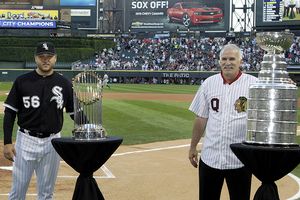 AP Photo/Charles Rex ArbogastMark Buehrle and Joel Quenneville displayed Chicago's two newest title trophies.
CHICAGO -- The Yankees aren't an easy bunch to intimidate, but the White Sox gave a shot during pregame ceremonies Friday, with a little help from their friends.
Championship trophies from the 1985 Bears, the '90s Bulls, the 2009-10 Blackhawks and the White Sox's own 2005 hardware, were all on display during a "Gathering of Champions" ceremony. Richard Dent represented the Bears,
Mark Buehrle
was there for the White Sox and Joel Quenneville was on hand for the Blackhawks.
Scottie Pippen was supposed to be the Bulls' representative, but he was late leaving those duties to chairman Jerry Reinsdorf. Pippen was later spotted on the suite level just as the game was starting.
The Yankees might have their 27 World Series trophies, including their most recent in 2009, but no city can stake a claim to a title in each of the four major sports in the past 25 years.
June, 14, 2010
6/14/10
10:30
AM CT

By Bruce Levine
ESPNChicago.com
Archive
CHICAGO -- Chicago White Sox manager Ozzie Guillen was excited about the Chicago Blackhawks winning the Stanley Cup and attending the Cubs-White Sox game at Wrigley Sunday night.


But Guillen insisted that the Sox's parade after they won the 2005 World Series eclipsed the Hawks' celebration on Friday.

Read the full story.
June, 14, 2010
6/14/10
10:27
AM CT

By Nick Friedell
ESPNChicago.com
Archive
[+] Enlarge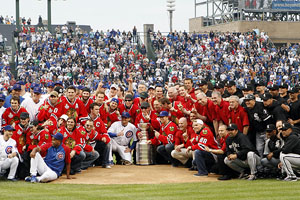 AP Photo/Nam Y. HuhThe Blackhawks, Cubs and White Sox pose with the Stanley Cup at Wrigley Field.
CHICAGO -- A world championship has finally been celebrated at Wrigley Field


The only problem for the Chicago Cubs, who haven't won a World Series since 1908, is that it was the Chicago Blackhawks who were the object of everyone's affection.


The freshly minted Stanley Cup champs were honored before Sunday night's Cubs-White Sox game as fans from all across the city were given another chance to cheer for their beloved hockey team. Red and black jerseys, flags and sweaters dotted the stands at the old ballpark on Clark and Addison.

Read the full story.