Chicago Blackhawks:

Colin Fraser
June, 2, 2013
6/02/13
11:57
PM CT

By Scott Powers
ESPNChicago.com
Archive
CHICAGO -- The
Chicago Blackhawks
apparently don't like opponents getting too physical with their captain.
[+] Enlarge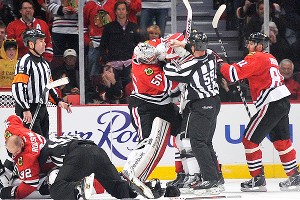 Rob Grabowski/USA TODAY SportsBlackhawks goalie Corey Crawford is separated from the Kings' Kyle Clifford by an official during the third period.
When the
Los Angeles Kings
'
Colin Fraser
knocked Blackhawks captain
Jonathan Toews
strongly with his stick midway through the third period, the Blackhawks were quick to jump to Toews' defense. First, Blackhawks defenseman
Michal Rozsival
went after Fraser and took him to the ground.
"Johnny got hit there in front of the net for no reason," Rozsival said. "I just wanted to help him out and let him know we are there."
As Rozsival and Fraser exchanged blows on the ice, the Kings'
Kyle Clifford
locked grips with Toews, and they took a few swipes at each other.
To add to the mix, Blackhawks goaltender
Corey Crawford
had seen enough of Clifford making contact with Toews, and Crawford skated over and put his arms around Clifford's head to try to pull him away from Toews.
October, 29, 2010
10/29/10
1:33
PM CT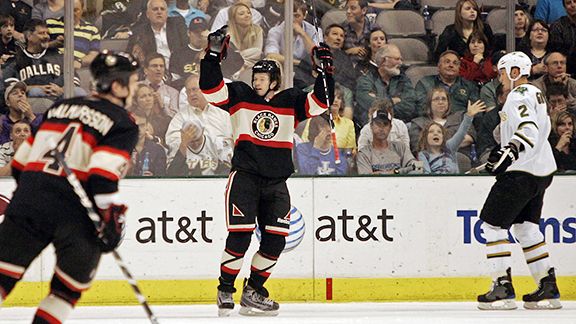 AP Photo/Mike FuentesOilers center Colin Fraser has fond memories of his days with the Blackhawks.
The
Chicago Blackhawks
' game Friday against the
Edmonton Oilers
starts a run against former Hawks who played a role in winning the Stanley Cup last season.
Fourth-line center
Colin Fraser
was traded to the Oilers just two weeks after the Hawks won the Cup.
The bond is still tight between former teammates, but not so much when they take the ice against each other.
"We are friends, but on the ice it's business," Fraser's closest ex-teammate
Troy Brouwer
said. "I want to see him do well, but at the same time I don't want to see him do too well against us."
Fraser is excited to play his old team and re-live some memories. His favorite one?
"The parade was something you'll never forget," Fraser said after the Oilers' Friday morning practice. "It was unbelievable to be a part of."
And which of the Hawks does Fraser want to have some contact with?
"My roommate [Brent] Seabrook, how about that," he joked.
Ben Smith
Joel Quenneville was asked why sixth-round pick of 2008, Ben Smith, was recalled to take
Marian Hossa
's place over some bigger name prospects like Kyle Beach or Igor Makarov.
"The guys down there [Rockford] are watching them play every day and every game," Quenneville said. "Be the need or the fit or deserving of it, he probably fits all criteria and earned the chance."
Smith provides some speed, and Quenneville calls him "a good professional at a young age."
Smith said he was excited and admits it's been quicker than he thought to make his NHL debut, having just finished up at Boston College last season after winning the NCAA championship. He noted he can't be afraid to make a mistake.
Smith will mark the third Hawk coming from Rockford to make his NHL debut following
Brandon Pirri
and
Evan Brophey
.
Kopecky at Center
Patrick Sharp
remains at wing and
Tomas Kopecky
starts at center for the second consecutive game. Kopecky won't have his close friend Marian Hossa next to him.
"I got [Kane] next to me," Kopecky said. "He's a little different player, but both are top, elite players. I'm just going to do my job."
The lines for Friday's game are as follows:
Patrick Sharp/
Jonathan Toews
/
Viktor Stalberg
Troy Brouwer/Tomas Kopecky/
Patrick Kane
Fernando Pisani
/
Dave Bolland
/Ben Smith
Bryan Bickell
/
Jake Dowell
/
Jack Skille
June, 24, 2010
6/24/10
10:12
AM CT
June, 22, 2010
6/22/10
4:48
PM CT
LAS VEGAS --
Chicago Blackhawks
general manager Stan Bowman isn't hiding the fact that his team is going to be active leading up to Friday's NHL draft.
"I've had a lot of dialogue, talked to every GM multiple times over the last week," Bowman said on Tuesday. "Lots of phone calls. Obviously, it tends to pick up as you get closer to the draft. ... I'm not trying to diminish it. We are going to have to move some good players out."
League sources say
Kris Versteeg
still is the hottest name on the market from the Hawks. There's a good chance he will change addresses by Friday. Also being shopped are
Dustin Byfuglien
and the rights to
Andrew Ladd
. The Hawks wouldn't mind moving the rights to restricted free agents
Ben Eager
or
Colin Fraser
as well.
As for what they would get for one or more of these players, Bowman made it pretty clear: draft picks.
"We're pretty confident where we pick [in the draft], and if we're able to accumulate another pick somewhere, we're hopeful," he said. "We're looking to do that. We know the draft is important to our franchise. If we can pick up another asset somewhere, that's kind of our goal because we have to continue to have young players developing and coming into our lineup each season."
Stay tuned.
April, 20, 2010
4/20/10
4:35
PM CT
[+] Enlarge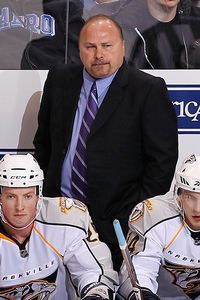 Christian Petersen/Getty ImagesPredators coach Barry Trotz says the Hawks "have some people that rub us wrong, and I know we have some people that rub them wrong."
NASHVILLE, Tenn. --
The more you play people, day in and day out, the more you learn to hate them. -- Barry Trotz, 11:12 a.m., Tuesday
Everyone knows a regular season series of six games can bring out the nastiness between players with each passing contest. Add a playoff series that pits those players against each other every other night for up to 14 days, and nastiness just begins to describe what can happen.
The
Chicago Blackhawks
and
Nashville Predators
play Game 3 of their best-of-seven series Tuesday night and the rough stuff will only increase.
"It's like going to work every day," Trotz said after Predators practice Tuesday morning. "You don't always like the guy you're working with every day. They'll have some people that rub us wrong, and I know we have some people that rub them wrong."
Dustin Byfuglien
agreed with that sentiment continuing with the work analogy.
"I'm sure you don't like your boss the more and more you see him," Bufuglien said after the Hawks skate. "It's the same thing. You got guys that may have whacked you before, so you whack them back. It's the fun thing about the game. I believe it's going to get a lot more physical these next couple games."
The Hawks' fourth line has chipped in some goals as of late, but they know their main purpose on the ice is to provide energy and that usually means doing so by taking the body.
"Physical play in the playoffs is huge,"
Colin Fraser
said. "Huge part of momentum. Big hit, big play. It's definitely a war the more times you see a team. That's how rivalries are built. It's playoff hockey."
Joel Quenneville believes it's a strategic thing as well, and he wants his team to push back even harder.
"We want to have emotion in our game," Quenneville said. "We want to be hard to play against and be physical. We feel like Nashville has had the puck a lot in the first couple of games, but I thought there was an escalation [in Game 2] in how we played with more emotion and the physicality was more noticeable. We had more hits on the stat sheet."
The Hawks had only two more hits in Game 2 than in Game 1, but the penalties increased as did the after the whistle stuff.
Adding more to the physical play can be important on the road. Other than a goal, getting physical can be a good way to take the crowd of it, at least for a while. It's especially important in Nashville where the Hawks believe the home team gets a boost similar to the one the Hawks get at the United Center.
"It's really loud,"
Patrick Sharp
said. "I can only imagine what it will be like in the playoffs. I remember watching the Predators and Red Wings series a couple years ago and the crowd was going nuts. It's going to be a crazy atmosphere, but I think that makes both teams better."
"Everytime we play in this building, in the regular season, it's been tough. Ever since I came to the Hawks five years ago."
Sharp was asked if one benefit of playing on the road in the playoffs is a little less "in-your-face" pressure than at home.
"It's tough to say," Sharp said. "I think we feed off the atmosphere at home. Sure, I guess you can say there's some extra pressure, but there's pressure in [Tuesday night's] game as well."
If the word patient has been said once about this series, it's been said a 1,000 times. Trotz doesn't call playing the Predators style "dumbing" it down. He calls it playing smart. Quenneville agrees, stressing where the game is being played.
"I don't think you want to be overly creative, especially on the road," Quenneville said. "I think that's kind of the recipe when we're playing them on the road. That has to be the mindset [Tuesday night]."
It has to be the mindset, no matter what. Otherwise a repeat of Game 1 is more likely than Game 2.
April, 13, 2010
4/13/10
1:17
PM CT
The
Chicago Blackhawks
began preparations for the Stanley Cup Playoffs on Tuesday. They held a 50-minute practice in advance of their opening-round game against the
Nashville Predators
on Friday.
The pace of practice was intense. After it was over, coach Joel Quenneville said they would address a different aspect of their game each day. Tuesday was more about drills than specifics. There was no special teams work.
Troy Brouwer returned after missing four games due to an illness in the family. Duncan Keith was given the day off for "maintenance."
The lines remained the same as the last few games of the regular season. Brouwer took Bryan Bickell's spot on wing, skating with Dave Bolland and Patrick Kane. Colin Fraser, Ben Eager, and Tomas Kopecky comprised the fourth line.
Nick Boynton continues to wear a face mask to protect his left eye from "flying pucks."
April, 9, 2010
4/09/10
11:25
PM CT
[+] Enlarge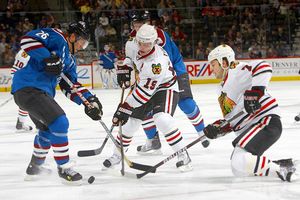 AP Photo/David ZalubowskiJonathan Toews snapped a seven-game streak without a power-play goal when he scored in the first period on Friday against the Avalanche.
DENVER -- Before the
Chicago Blackhawks
took on the
Colorado Avalanche
Friday night, Joel Quenneville was asked what he's most worried about going into the playoffs. There was no pause before his answer.
The power play.
It ranked 17th in the NHL going into the game. It hadn't scored in seven contests and was in a 0-18 and 1-29 slump. No wonder he didn't hesitate.
Midway through the first period Quenneville's team ended the drought when
Jonathan Toews
stuffed one past
Peter Budaj
. The goal was nice; the puck movement even nicer.
"I think we were clicking a little bit on the power play," Toews said after the game. "We were figuring out what they were giving us.
"It was nice to see one go in. Hopefully we can use that confidence to keep getting better on the power play because it's going to have to be a big part of our game going to the playoffs here."
The Hawks had four other chances with the man advantage and once again skates were moving and so was the puck. They didn't score a second goal, but they hit iron twice and caused confusion in the Avs zone.
"I think there were a lot of positives,"
Marian Hossa
said. "We tried to practice to keep things simple and finally we got a power play goal. It's huge. Now we just have to build on it."
One power play goal per game is what any team would be happy with, especially in the playoffs. Maybe their coach won't be as concerned after Friday.
"Nice to score," Quenenville said. "It's been a long time. I think that's going to help the patience and the confidence in the right areas. It was better."
"It was nice to see some production. It was a little thin, and I might not be exaggerating."
NOTES
The Hawks set a franchise record with their 23rd road win of the season.
Colin Fraser has scored four goals in his past three games after scoring two in 66 games.
Antti Niemi said he was "surprised" by the bad angle shot Ryan Stoa took for the Avs first goal. It went right thru Niemi's glove for Stoa's first career goal.
Jordan Hendry missed the game with a "lower body" injury. Quenneville said it was not a serious injury.
Dustin Byfuglien was bothering Hossa as he gave postgame interviews. Hossa was asked if he prefers Byufglien on the point or in front of the net on the power play. "I Like Buff on the point because he has a hard shot. He just has to know where he's shooting it," Hossa said with a straight face.
The Hawks can clinch the top seed in the west with a San Jose Sharks' loss in regulation on Saturday or a Hawks victory over the Detroit Red Wings on Sunday.
April, 9, 2010
4/09/10
11:24
PM CT
DENVER -- If a player has DND next to his name in the game notes it's not a good thing. It means "Did Not Dress," as in Did Not Dress for the game.
As the
Chicago Blackhawks
' lineup got healthy, Colin Fraser's name started to have a lot of DND's next to it. There were four in a row, then a game played, then another four, then another two. Finally, he was back in the lineup for an extended time. Six in a row played, including Friday night against the
Colorado Avalanche
. He and his line took off.
Fraser scored his fifth and sixth goals against the Colorado Avalanche after getting his third and fourth two games ago. Talk about trying to make a statement for playing time in the playoffs.
"Everybody wants to play in the playoffs," a smiling Fraser said after the game. "It's where you want to be.
It's the most important time of the year and the most fun time of year."
Fraser had two goals in his previous 66 games before his four goal outburst in his last three. His line has been as good, if not better, than any for the Hawks.
So what about a hat trick, especially when the Avs pulled their goaltender.
"I couldn't," Fraser said. "I just got off the ice. Two is enough. You can't get too greedy out there."
April, 7, 2010
4/07/10
6:39
PM CT
[+] Enlarge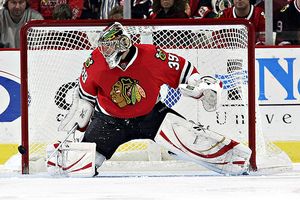 Bill Smith/Getty ImagesIf Joel Quenneville plans to start Cristobal Huet in the Blackhawks' final two games, he isn't letting on.
If Joel Quenneville has any plans on playing
Cristobal Huet
in one of the final three games of the regular season, he isn't saying. It's still a "day-to-day" decision, Quenneville said, before the
Chicago Blackhawks
took on the
St. Louis Blues
on Wednesday night.
One thing he is sure of is his lineup, especially his bangers and crashers.
"Our rotation [of] the four lines has been better than we've seen for a long stretch of games here this year," Quenneville said. "That group [fourth line] has been sparking us right now."
Colin Fraser
,
Tomas Kopecky
,
Ben Eager
, and
Adam Burish
have all had multiple-point games over the past 10 days, and that has solidified a group that had been struggling for parts of the season.
Quenneville also said he likes how his defensive pairs are coming around despite not having
Brian Campbell
and
Kim Johnsson
. Campbell is on target for a return later in the playoffs while Johnsson remains out after being involved in a collision on March 13 in Phildelphia. Quenneville indicated there is no timetable for his return.
"Not right now," Quenneville said. "We haven't seen him on the ice. Once we see him on the ice it will give us a better indication, but he's still a little ways away here."
The Hawks have been calling him day to day for over three weeks. Quenneville admitted, obviously, it's a more serious injury than that.
"Yes, it is," Quenneville said. "It is a long time, and I can't give you a good answer on when we'll see him back."
Quenneville also admitted to some scoreboard watching as the Hawks try to figure out who they might play in round one of the postseason.
"You're always looking at potential candidates," Quenneville said. "Right now, it looks like four teams are in that mix. The picture changes every day. Who knows what it will look like come Sunday?"
And while achieving some franchise records such as most victories and points, now is not the time to celebrate.
"Maybe at some point you can look back and say we had a fun year this year, but we still have a lot of work to do," Quenneville said.
April, 6, 2010
4/06/10
11:27
PM CT
They're not supposed to score.
Fourth-line players are supposed to bang and crash, but they've been lighting the lamp lately too, including Tuesday night in the
Chicago Blackhawks
'
5-2 win in Dallas
.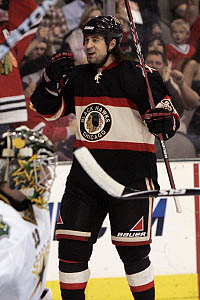 AP Photo/Mike FuentesAdam Burish had two assists on Tuesday night against the Stars.
"That line, every night, lately has been effective and productive," coach Joel Quenneville said after the game on Comcast Sportsnet.
This time it was
Colin Fraser
, who netted two goals, while
Adam Burish
had two assists and
Tomas Kopecky
added a helper as well. Kopecky has also added three goals to his total over the last week. Not to be left out,
Ben Eager
had a three-point night against the
Minnesota Wild
on March 31. Starting to get the picture?
"We like their overall contribution," Quenneville said. "Two more [goals Tuesday], which is a bonus."
Fraser, Eager, Burish, and Kopecky are fighting for playing time. If the rest of the lineup is healthy, that's four players for three spots. Heading into the playoffs, no one wants to be the odd man out.
Recently, it had been Burish who was riding the bench. Before that, Fraser was watching from the press box while Kopecky had a couple of healthy scratches in there as well. They have all picked up their games.
"It's nice when we do have tough decisions," Quenneville said. "We welcome that."
The bigger picture is the matchup problem a productive fourth line can cause in the postseason. With the skill the Hawks have on their top three forward lines, no opponent can possibly match their top defensemen against fourth-line players.
Nothing brings out the best in players than competition for playing time. The way the Hawks' fourth-line players are going, Quenneville is right, they will have some tough decision to make.
Like he said, a good problem to have.
NOTES
With the victory the Hawks clinched at least the No. 2 seed in the conference.
The Hawks reached the 50-win plateau for the first time in franchise history.
Troy Brouwer missed the game to reportedly take care of some family matters.
March, 8, 2010
3/08/10
12:47
PM CT
[+] Enlarge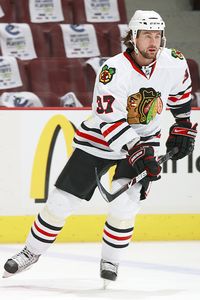 Jeff Vinnick/Getty ImagesCompetition for playing time at forward will be fierce when Adam Burish returns.
It's Monday which means another round of mailbag questions.
Which forward will get bumped for Adam Burish when he comes back? Shouldn't the Hawks consider sending down one of the two extra forwards they'll have? -- Andrew, Oak Lawn, Ill.
I don't think it will be one guy.
Ben Eager
and
Tomas Kopecky
are the obvious answers. My guess is those two, along with
Colin Fraser
and Burish -- if he can't go initially every night because of the knee -- will all rotate. Nothing says another top-nine forward might sit as well if he isn't playing well. The competition for playing time will be fierce. There is no reason to send someone down. First of all, they are all on one-way contracts and there's no need to save cap space at this point.
In your opinion what teams would the Hawks like to play in the playoffs? -- Chris, Sycamore, Ill.
I can't say for sure what they are thinking -- I haven't really asked about playoff matchups yet -- but I can tell you what they should like as a matchup. Based on the regular season, the two teams I think the Hawks have a matchup edge with are the
Calgary Flames
and
San Jose Sharks
. To sum it up, in short, they are faster than the Flames and quicker than the Sharks. The
Los Angeles Kings
and
Detroit Red Wings
could pose problems. The
Nashville Predators
aren't a bad matchup, but that series could take some energy out of them, and I'm not sure they want to see them in the first round. Same with the
Phoenix Coyotes
.
So early on, I'd say if the Flames get in, they're the team they should want to face. One caveat (for me as well): Don't put too much stock in the regular season. I would assume in a seven-game series, the Sharks would play better than they did in the regular season series.
Despite the statistics [goals-against percentage, save percentage] showing otherwise, it became more clear Sunday against Detroit that goaltending will indeed be this team's biggest question mark come postseason. Knowing that Niemi struggles with a full-time workload and Huet has a tendency to give up some very "soft" goals, what approach should the Hawks use with their goaltending situation down the stretch and into the postseason to give them the best chance at winning the Cup? -- Marty, St. Charles, Ill.
You may be right in your assessment, but I'm not sure that Sunday should be the final straw. The whole team played bad in the second period, just as they did in New York with Niemi starting. And just as they kind of did against the
Vancouver Canucks
. This is more than a trend, it's a pattern. But back to your question. I think they might have to reconsider some strategy soon. Maybe they just both play near equal down the stretch and coacj Joel Quenneville goes with his gut or the obvious hot one in those final games. Everyone within the Hawks has been saying this will take care of itself, but we are getting late and it hasn't yet. There is still some time, but they might just have to rely on Q and his experience to pick the one to start the playoffs with no guarantee he'll be the one to finish.
The Hawks' puck possession has been terrible since the break. Especially around the blue line against the Detroit on Sunday, resulting in no fewer than three of the Detroit goals. What happened to the dump-and-cycle offense they were running all year up to the break? -- Anthony, Mundelein, Ill.
They haven't exactly been a dump-and-chase team. You dump it in when it's called for and you skate it in when you can. There are no set rules. They would rather skate it in because it means not giving up possession. Like you say though, if they dump it in, they have to retrieve it and start the cycle. I wouldn't make a generalization about their play since the break. The first period in New York was very good. Same with Vancouver and most of that night, in general. On Sunday, they played a great first period. A great one. And good enough in the third to make it close. It's stretches, if not the whole second period, that's problematic.
Do the Hawks have any promising goalies in their farm clubs that they could bring up before the end of the season. They couldn't be any worse than what they have. -- Greg, Wisconsin
Not the time to do that. It could be worse and would be a sign to the team there is no faith in what they have. Now is the time they will rally around each other, not the other way around.
Do you think the Hawks failed to make any moves before the trade deadline that could have improved them in the goalie position? It just seems that the goalies are not consistent enough I feel to take them all the way to the Stanley Cup. -- Steve, Grand Canyon, Ariz.
Well, by definition, yes, they failed but it's not because they didn't try. No match was found mostly because of Huet's contract, in my opinion. I think they would have done the right thing, if they could have.
Now, don't get me wrong here, I used to think that Huet wasn't good enough to even sneeze in the direction of going into the season. But he really had stepped it up in the games prior to Niemi getting four or five starts in a row and the whole Olympic break. After Huet's decision to leave his goaltending skills in the locker room during the first intermission and Quenneville's raunchy look of disgust, don't you think it's time the Hawks choose their man in goal for the home streatch? And if so, who should it be, considering Niemi has given up some iffy goals and been pulled from a start or two? Thanks for the insight. You have been a very reliable source for me in "infromation/rumor wars" my buddies and I have from time to time. Big fan of your work J.R. -- Justin, Schererville, Ind.
Yes, it's time, but no one has emerged. I think they want to give Huet every chance to have the job. If he falters [or continues to] then they go to Niemi. That's my guess. Goalies get pulled. It happens. I do think Niemi has been more "clutch" and that might be the deciding factor.
Jesse, does a puck-possession game not coincide with the idea of taking the simple play? Just seems that players are getting in more trouble trying to keep the puck rather than just getting the puck out of their own zone at times. And this has been going on all year ... With these goalies, being too cute and fancy is ending up in the net far too often. I hope Q starts to stress this once the playoffs start. Puck possession is awesome when players have the talent to do it, but not all players have that ability. Just clear the puck! -- Joe, Charlottesville, Va.
Your basic point is a good one. Take the simple play. Maybe after a period of success, they get a little relaxed with that puck and don't always do it. It applies to everyone, including the skilled guys. It does coincide with taking that safe play. You just have to make better decisions and know when to skate or go to the middle and when to go off the boards.
January, 21, 2010
1/21/10
11:57
PM CT

By JESSE ROGERS
ESPNChicago.com
Archive
CALGARY, Alberta -- Now, that's more like it.
The
Chicago Blackhawks
returned to form with a solid skating night, outlasting the
Calgary Flames
3-1. Hawks coach Joel Quenneville was looking for a rebound effort after Tuesday's loss in Ottawa and he got it.
"Really good response across the board," Quenneville said after the game.
Despite the Hawks' edge in play through the first two periods, the game was tied 1-1 entering the third.
Miikka Kiprusoff
was the reason for that. He made point-blank saves throughout the first 40 minutes, including two on great chances by
John Madden
and
Marian Hossa
.
"Their goaltender made a lot of big saves and I thought it was good on our part to sick with it and not get frustrated by that," Hawks defenseman
Duncan Keith
said.
Both teams exchanged power play goals in the middle 20, and the Hawks were a fluke bounce away from allowing the Flames to break their five-game losing skid. But that's when the fourth line came up big.
"When [
Colin Fraser
] gets the puck on the right side he always does the little saucer in the middle, in the area, and I was just fortunate enough to get it and just try to put it on the net and [
Ben Eager
] drove to the net,"
Tomas Kopecky
said of his assist on the winning goal.
"[I was] just going to the net hard," Eager said of the winning goal. "Got a bounce. It was nice. I didn't really see the shot coming. I felt it hit my foot."
Patrick Kane
opened the scoring with the man advantage after missing on a penalty shot earlier in the game.
"We played better," Kane said. "I thought they played really hard tonight, to be honest with you. One of the better times they've played against us, but overall, for us, one of the better games. I was happy to score after missing the penalty shot."
"I thought it was a lot better," Keith said. "A big improvement than [what] we did in Ottawa."
Hawks netminder
Antti Niemi
won again and continues to garner more playing time. Quenneville all but committed to him for Saturday's contest against the
Vancouver Canucks
.
"We liked what we saw today, Quenneville said of Niemi. "He's playing well so [it's] tough to take that away."
NOTES:
Brent Sopel left the game after taking another block shot in the "upper body" area. He will be re-evaluated on Friday.
The Hawks limited the Flames to 20 shots.
Joel Quenneville praised Brent Seabrook and Duncan Keith's play against the Flames. Keith had a team-high five shots, blocked two, and scored on the empty netter for his 11th goal of the year.