September, 26, 2014
Sep 26
11:15
PM CT

By Scott Powers
ESPNChicago.com
Archive
CHICAGO --
Chicago Blackhawks
goaltender
Corey Crawford
saw a bit of everything Friday in his first full game of the preseason.
Crawford faced breakaways and odd-man rushes. He had to fight to see the puck through traffic. He had to react to his defensemen turning the puck over in their own defensive zone and giving up quick shots. He had to stay on top of his game when the Blackhawks struggled to get the puck out of their defensive zone and stay alert when the Blackhawks had lengthy offensive possessions.
Crawford didn't get the final result he was seeking as the Blackhawks fell to the
New York Rangers
4-1 at the United Center, but he was able to take away some positives as he continued to get himself ready for the regular season.
[+] Enlarge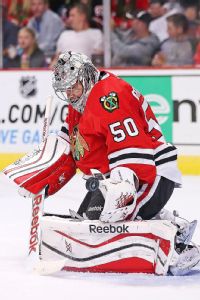 Jonathan Daniel/Getty Images"I felt better as the game went on," Corey Crawford said despite allowing four goals. "Another step forward to the start of the season."
"It wasn't too bad," said Crawford, who stopped 25 of 29 shots. "They were playing pretty hard, so it was almost like a regular-season game. Just trying to get a feel for the timing. I felt better as the game went on there. Just another step forward to the start of the season."
Crawford particularly felt that seeing shots in traffic and countering tips and rebounds Friday further prepared him.
"Those plays in front of the net, those plays happen a lot," Crawford said. "That's how teams score goals in this league. I'm just trying to get a feel for that and looking through bodies and finding the puck.
"[It's about] just reps. Sometimes, it can be a bad bounce, too. Being in the right position, reading the shot as it comes. Sometimes, you lose it halfway, but you have a good read on it and you know where it's going."
Blackhawks coach Joel Quenneville said Crawford will likely receive one more full game among the three preseason contests remaining. Quenneville said he'd also like to further evaluate the team's other goalies, including
Antti Raanta
,
Scott Darling
and
Michael Leighton
.
Crawford said he thought he and his teammates would take another step before the preseason comes to a close.
"There's still room for improvement to get where we need to be," Crawford said. "I don't think anyone on the team is at their best right now. I don't think anyone is worried in here, either. Just use the next couple games and really bear down to get that speed we're used to.
"[I need to] stop the puck, make sure I have my timing; I'm at the right place at the right time. I'm patient. Other than that, just go out there and react."
Unhappy coach:
Quenneville was not pleased with the Blackhawks' play Friday, particularly in the first period. The Rangers scored in the game's opening minute and held Chicago without a shot on goal for 12-plus minutes to end the first period.
"Not at all, no, it wasn't a very good effort on our part," Quenneville said. "The first shift illustrated what happens when your mind and your preparation is not in the right place."
Despite some frustration, Quenneville wasn't too angry with his players. The team has been practicing or playing games every day since training camp opened Sept. 19.
"This is the first day where we had one of those days we're sitting there, 'Oh, we need a day off,'" Quenneville said. "No excuse. It was the first day that it was ugly from where we stood and watched."
Standouts:
Forwards
Phillip Danault
,
Jeremy Morin
and
Dennis Rasmussen
all received praise from Quenneville after the game.
Danault set up Rasmussen for the team's lone goal, and Morin was active on both ends throughout the game. Quenneville combined the players on a line in the third period.
"I liked [Danault], had a couple forwards who really stood out," Quenneville said. "I think he was one of them. So, we're happen with him. I liked Rasmussen as well up front.
"There's a lot of good, a lot of positives [with Morin]. I thought he did some good things tonight, had some energy. He's played all three games. I think that'll be a good process for him to get a feel for the game."