Chicago Blackhawks:

Dale Tallon
March, 2, 2014
Mar 2
11:24
PM CT

By Scott Powers
ESPNChicago.com
Archive
Brandon Pirri
is at the point in his career where he believes he should be in the NHL and is willing to go wherever he is given that chance.
Pirri was hopeful that opportunity would come with the
Chicago Blackhawks
, the organization that drafted him and he has spent the last four years developing within.
[+] Enlarge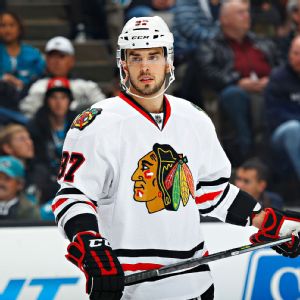 Rocky Widner/Getty Image"I'm glad it's finally over," Brandon Pirri said of the recent trade talk involving him. "I'm excited to start my career in Florida."
But when Pirri failed to stick with the Blackhawks during two stints this season and they recently traded for center
Peter Regin
, Pirri began to wonder if his NHL shot might be somewhere other than Chicago.
After a stressful few weeks worrying about his fate, Pirri received a phone call from Blackhawks general manager Stan Bowman on Sunday and was told he had been traded to the
Florida Panthers
for draft picks.
Pirri hoped for a better outcome with the Blackhawks, but ultimately he got what he wanted.
"You know it's an opportunity," the 22-year-old Pirri said in a phone interview on Sunday. "That's what I was looking for. It was a great experience in Chicago and Rockford. It made me a much better player for it.
"Obviously you hear things [about being traded], but you never know. It's all talk until something happens. Obviously it was a little nerve-racking. I'm glad it's finally over. I'm excited to start my career in Florida."
Pirri was considered one of the Blackhawks' top prospects and was recently ranked among ESPN's top 50 prospects. He was drafted in the second round in 2009 and led the AHL in scoring last season. He was named the MVP of the AHL All-Star Game this season, and his production had come on as of late, as he had seven goals and six assists during his last nine games with the Rockford IceHogs of the AHL.
Pirri had been penciled in as the Blackhawks' second-line center during the preseason, but an injury derailed that and he was sent down to the AHL. Pirri was recalled in October and produced six goals and five assists in 24 games.
Pirri played mostly second-line center during those two dozen games but was moved to third-line center in late November. Blackhawks coach Joel Quenneville wasn't as satisfied with Pirri's game, especially his defensive responsibility. Pirri was reassigned to the IceHogs in December.
Pirri was given another chance with the Blackhawks in late January, but he only stuck around for five games and was sent back down again. He had no points during his second stint.
Pirri said he didn't have any ill feelings toward the Blackhawks and felt he was given a fair chance by them.
"They got to do what they think is best for their organization," Pirri said. "They're obviously the defending Stanley Cup champions. They're there for a reason. I would have loved it to work out with the Hawks. At the same time, I'm excited for this opportunity in Florida. A fresh start is good for me."
Pirri will join former Blackhawks prospects
Dylan Olsen
and
Jimmy Hayes
with the Panthers. The Blackhawks traded Olsen and Hayes to the Panthers earlier this season. Panthers general manager Dale Tallon also drafted Pirri while Tallon was the general manager of the Blackhawks. The Panthers are 23-31-7 with 53 points.
"I'm going to a young team trying to find their way," Pirri said. "That's exciting for me. There's going to be opportunities for me. I'm going to be able to show and prove to people what I can do. They went out and made a trade for me. They put some trust in me. I want to prove that they made the right decision."
June, 8, 2012
6/08/12
7:27
PM CT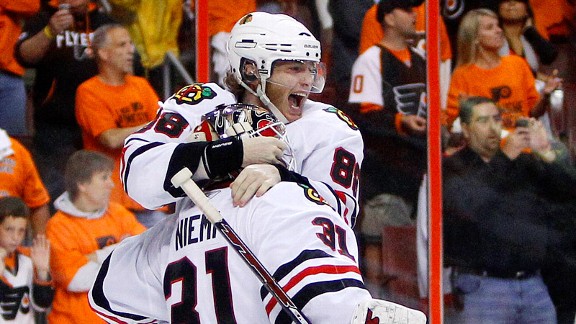 AP Photo/Matt SlocumTwo years after winning the Stanley Cup, a return to glory for the Blackhawks is far from certain.
Saturday marks the two-year anniversary of the Blackhawks bringing the Stanley Cup back to Chicago for the first time in 49 years.
Patrick Kane's 'no-one-saw-it goal' in Game 6 in Philadelphia followed by his length-of-the-ice skate into the arms of his bewildered goaltender, Antti Niemi, will be remembered well past Saturday.
What looked like the start of something special – "dynasty" might be too strong a word -- from one of the youngest teams in the league quickly has fizzled into something all too familiar in sports. The Hawks are on their way to proving the notion that staying on top can be more difficult than getting there. But that should not be the case for elite organizations.
Once you unlock the formula as a young team and gain the needed experience, the words "perennial contender" should be affixed next to your team's logo. Based on a lot of what's transpired over the past two years, including a pair of first-round playoff exits, the Hawks are hardly an annual juggernaut.
Gone is that Cup-winning goaltender while the emerging star who scored that historic goal is in quasi-hiding. A year ago this week, Kane talked openly of his memories of scoring that tally. Requests to talk to him about it a year later again, along with other pertinent issues regarding the Hawks' star, were turned down.
This is what has Hawks' fans staring at the ceiling at night: Just eight players remain -- and now one coach -- from the championship team. And the architect of it all (Dale Tallon) is up for general manager of the year for another organization. Furthermore, there was obvious dissension between the Hawks' front office and coaching staff this past season. The result was the firing of the one remaining assistant coach from the Cup team, Mike Haviland. But he was the only fall guy for an underachieving season.
Two years removed from winning the Stanley Cup, are the Hawks closer to being the Chicago Bears of the mid-1980s or the Detroit Red Wings of this hockey era? Between the two choices it would be tough to pick the latter over the former. The Bears won the Super Bowl in 1986 and were primed to win at least one more. But regular-season success led to postseason failure and an erosion of what made them great. Sound familiar? Soon enough, the regular-season successes dwindled, and the Bears became just another team in the league. The window for a great hockey team should be longer than that of a great football team, but right now the Hawks could go either way. As of this moment there is nothing very special about this team other than a couple of individuals.
If defense wins championships, as we all know it does, look no further than what has happened in that department for the Blackhawks -- no matter where the blame lies.
The Hawks just completed a season in which they did not shut out an opponent for the first time in more than 20 years. They had 13 shutouts the year they won the Cup. In 88 games played this past season, the Hawks gave up one goal just 17 times. In 2009-2010 the Hawks gave up one goal or less 28 times, and that includes games in which the second goal given up was scored via shootout. Where has the defense gone?
And where have the special teams gone? Special players show their talents on special teams more than anywhere else, and the Hawks were an embarrassment on both the power play and the penalty kill this past season. It exposed their lack of work ethic and, frankly, their lack of desire.
Those special-teams struggles are the ingredient that hasn't been addressed enough when discussing the Hawks' disappointing season. Yes, Joel Quenneville had a bad year. And yes, Stan Bowman hasn't replenished since the salary-cap purge of 2010, but none of that takes away from the complacency the players have shown since winning the Cup. This isn't to say they don't think they're trying hard, but that doesn't mean they are. Pull out a tape of the run to the Cup in 2010 or just watch this year's playoffs, and even in their own postseason, the Hawks didn't know how to really turn it on to win even one round. Veteran winger Andrew Brunette said as much in a press conference after the season concluded.
"I thought our best two games were our last two games," Brunnette said. "It's unfortunate it took us that long to get the wake-up call but that's playoff hockey."
In those press conferences after the Hawks' first-round exit, player after player spoke of a lack of net presence as a major culprit for the Hawks' power-play struggles. That's an easy out. Did a lack of net presence prevent Kane from making the right decisions with the puck on the power play? Or did it get Duncan Keith's shot blocked? Did it prevent them from entering the offensive zone properly or retrieving the puck on a dump-and-chase? There were too many 'we have to be better' quotes coming from the locker room and not enough 'I have to be better' ones.
[+] Enlarge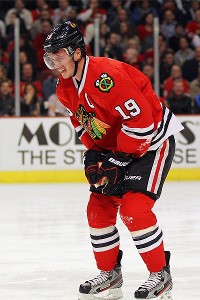 Jonathan Daniel/Getty ImagesThe past two seasons have featured more lows than highs for the Blackhawks.
CEO John McDonough has to be wondering if he's the parent who rewarded his children for good behavior -- in the wake of the Cup -- and then the kids immediately stopped behaving. Hawks' players are treated as well as any in the league. They are taken care of and marketed and not subjected to too much media scrutiny -- save for some of Kane's off-the-ice issues -- but they haven't completely returned the favor. And this is all said without addressing an awful penalty-killing unit, which is defined almost entirely by heart and desire -- not by the pretty shorthanded goals they occasionally score.
In two short years, the championship aura of the Hawks has disappeared. Make no mistake, the recent salary-cap problems are near the top of the list of problems that started the Hawks down this road. But that's no excuse, that's just another negative on their ledger. Tallon takes the brunt of the blame for those problems, but his assistant general manager is still with the team as are all his old bosses. Weren't there some checks and balances in place when signing players? He doesn't own the team or even keep the books. Part of that job falls to the assistant general manager -- and others. At the very least, the Hawks' top execs are to blame for letting it happen under their noses even if they weren't doing anything more than signing checks.
There was a time not long ago at which the thought of any Jonathan Toews-led team going down quietly would be absurd. And, to be fair, the Hawks have had their moments. They almost pulled off a dramatic comeback in the postseason against Vancouver in 2011, and five games of their six-game series loss to Phoenix went to overtime. But almost any good team that loses can point to near misses. Great teams don't rely on overtime or winning four in a row to advance in the postseason. The Hawks need to find that mojo. And now the entire 2010-2011 season, once chalked up as an outlier due to the fatigue of winning the cup the year before, can be looked upon in an even more negative light. It was the start of a two-year period of complacency, which at least might be coming to an end -- if Quenneville backs up his tough talk since this past season ended.
Two years can seem like yesterday, but in this case it feels more like a decade. How we feel on the three-year anniversary of this Chicago milestone remains to be seen.
One thing's for certain: The next change within the organization -- if needed -- will be a big one. The assistant coaches are gone as are all the ancillary or role players. If things don't go well, star players, execs and the team's head coach could be heading elsewhere.
June, 25, 2011
6/25/11
5:50
PM CT
ST.PAUL, Minn. -- Usually a general manager who trades two pieces from a recent championship team and gets very little in return isn't happy with his day. But that's not the case for Stan Bowman. His moves have finally given him flexibility to do more of what he wants for the first since taking over the job in the summer of 2009.
"It was a great day for us, yesterday and today," Bowman said at the conclusion of the NHL draft on Saturday. "In terms of the players we got as well as having more flexibility to spend in the right situation."
We can argue all day the on-ice value Brian Campbell brings to a team but there is little argument that his salary didn't justify his production. And in the salary cap world that's a luxury few teams can afford.
"You saw our cap situation over the last couple years and that's how its going to be for a while," Bowman explained. "We have some really good players signed to big tickets and we're always looking to the future. Obviously, Brian's contract was one of the largest ones on the books for us. In our team structure the contract made it very difficult."
Bowman and Panthers' general manager Dale Tallon both admitted it was Tallon that convinced Campbell to waive his no-trade clause and he did it the same way he convinced Campbell to come to Chicago in the first place: by convincing him they were building a winner. This time in Florida.
"Why wouldn't he trust me," Tallon joked.
Bowman admitted the next few days will help determine the direction the Hawks take with their newfound money. Make no mistake, re-building the fourth line into a grittier, meaner trio, who is harder to play against, is a priority.
"We are going to do that, absolutely," Bowman said without hesitation. "Sometimes you target players and we do have a little bit more room now to make sure we get guys that we value at that position. It's an important thing."
So this time around Bowman will have more than the league minimum $500,000 to use when they go fishing for that kind of talent. It should bring them better than Fernando Pisani and Jake Dowell.
The Hawks believe in Dave Bolland and to an extent Marcus Kruger, and despite the lack of major depth at center, they like what they have there at the moment. What they don't believe in is anyone who occupied the fourth line last year.
"That's probably the one place we didn't have consistency not just in the line but the personnel was constantly juggling," coach Joel Quenneville said. "In the prior year it was more predictable but this year it was a little uncertain."
As for replacing Campbell on the roster, don't look for the Hawks to sign or trade for a major name on defense. They won't want to spend more on their blueline after just relieving themselves of a major headache. They'll try to promote from within while the current crop of defenders moves up a notch, including big John Scott.
"He's such a valuable part of our team in terms of being a popular player," Bowman said of the sometimes maligned winger/defender. "Our players like to have him in the lineup for sure, have him on the ice for sure. He makes a difference that way. He's an intimidating force. We'd like to get him some more ice time."
For those worried about that last statement or how the Hawks ultimately replace what Campbell and Troy Brouwer brought to the team, Bowman asks for some patience.
"It's a little early to have everything mapped out," he said. "We had some ideas in case this happened but you never know until you make the trade and we just made it less than 24 hours ago. We'll spend the next few days preparing how we're going to change the lineup."
After a dramatic draft weekend which will help reshape the Hawks for years to come, Blackhawks' nation will be watching closely.
March, 7, 2011
3/07/11
2:26
PM CT
SUNRISE, Fla.-- Former Chicago Blackhawks general manager Dale Tallon won't be accompanying the Hawks to the White House on Friday, when President Obama will honor the team for its 2010 Stanley Cup championship.
Read the entire story.
October, 19, 2010
10/19/10
10:10
AM CT
By ESPNChicago.com
ESPNChicago.com

Former Chicago Blackhawks general manager Dale Tallon received a special 60th birthday present on Tuesday as Hawks president John McDonough presented him with his Stanley Cup ring.
Read the entire story.
May, 17, 2010
5/17/10
4:10
PM CT
[+] Enlarge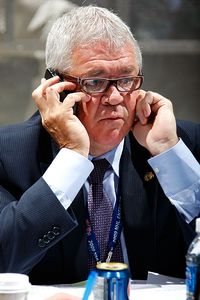 Dave Sandford/NHLI/Getty ImagesDale Tallon made some mistakes, but he also put together a team that reached the Western Conference finals two years in a row.
SAN JOSE, Calif. -- It doesn't come as a surprise to Chicago Blackhawks followers that former GM Dale Tallon was hired for the same position in Florida.

Rumors have circulated since he was relieved of his GM duties with the Hawks last summer that Tallon wanted another chance. The Hawks did retain his services by naming him a senior adviser, a position he held until leaving for Florida.

Tallon kept a low profile as a Hawks adviser. He was rarely, if ever, seen at the United Center this season. Nor has he traveled with the team during the postseason as have other front office personnel, including Scotty Bowman, who also is a senior adviser.

Tallon and former assistant general manager Rick Dudley, along with current GM Stan Bowman, helped build the Hawks into a contender. Dudley recently was named general manager of the Atlanta Thrashers.

Jonathan Toews isn't sure Tallon gets enough credit for his role in putting this team together.

"Maybe not," Jonathan Toews said. "That's why I when I talk to him I always remind him we're in here thinking about him and we don't forget the contributions he's made to this team and this locker room.

"Knowing where we are right now, he would love to be here but unfortunately it doesn't always work that way. I think it's always a good thing for him to reminded that the boys haven't forgotten about him yet."

Some of Tallon's boldest and best moves came via trade. He moved Matt Ellison, currently in the KHL, to Philadelphia for dynamic forward Patrick Sharp. He traded underachieving Brandon Bochenski to Boston for winger Kris Versteeg, as well as moving Mark Bell in a three-way trade for Martin Havlat.

"I'm glad to see [Tallon] back in that position," Sharp said. "I know he's going to be good for the Panthers organization. I wish him all the best and he knows that I'm thankful that he brought me to Chicago. He's had a hand in building this team just like a lot of people have and if you go around the room there is a lot of people in here proud of what he's done."

He also drafted Toews, Patrick Kane, Duncan Keith and Brent Seabrook, among others.

"I'll always remember the draft," Kane said. "You never really see a guy with [my] size go number one. I'll probably always remember that about him. To have that courage and sense to pick a guy like myself."

Tallon had less fortune with free-agent signings. The most glaring was the four-year deal he handed out to Cristobal Huet for $5.6 million per year.

He was in charge when the organization decided to sign little known goaltender Antti Niemi, and he was able to lure Marian Hossa to the Hawks as well. The Hossa signing would be his last major move as GM.

Late last summer, the Hawks relieved him of his duties, and promoted Stan Bowman, after a publicly embarrassing episode that had the Hawks filing paperwork late for a group of their own restricted free agents. The move arguably cost the Hawks millions of dollars and moved them closer to the salary cap.

To this day, it's unclear who was at fault. Assistant general managers usually have a major hand in clerical duties of that sort. Team president John McDonough never indicated it was the sole reason Tallon was fired, but intimated it was part of a bigger communication issue with Tallon.