Chicago Blackhawks:

Daniel Sedin
April, 23, 2013
4/23/13
1:24
AM CT
By Jim Morris
Special to ESPNChicago.com
Archive
VANCOUVER, British Columbia --
Chicago Blackhawks
defenseman
Duncan Keith
didn't like the question and took his own shot at the questioner.
After the Blackhawks' 3-1 loss to the
Vancouver Canucks
on Monday night, Karen Thomson, a sportscaster from Team 1040 radio, asked Keith about a play late in the second period.
March, 26, 2012
3/26/12
5:00
PM CT
VANCOUVER, British Columbia -- Vancouver Canucks coach Alain Vigneault says injured winger Daniel Sedin has a concussion.
The team remains mum on the left wing's condition, or if he will be able to return to action before the playoffs.
Read the entire story.
March, 23, 2012
3/23/12
7:21
PM CT
CHICAGO -- At first thought, Blackhawks defenseman Duncan Keith receiving a five game suspension for his elbow to the head of Vancouver Canucks forward Daniel Sedin seems harsh.
If there is anything the league has been consistent on it's that first time offenders can get away with a lot more than repeat ones.
[+] Enlarge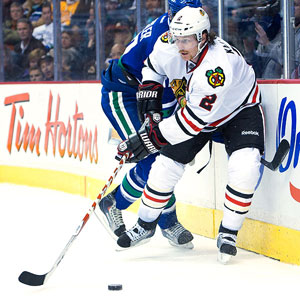 Rich Lam/Getty ImagesDuncan Keith will not play for the Hawks until the regular season's final two games.
But Keith's situation may have been somewhat unique. In explaining why the league decided on five games discipline czar Brendan Shanahan said:
"Regardless of Keith's assertion his intent on this play was to impede Sedin's progress, as opposed to a retaliation of an earlier hit. Keith's hit was still dangerous, reckless and caused injury."
We've seen other hits described in a similar manner but for first-time offenders they rarely get as many as five games. Just days earlier, Phoenix Coyotes forward Shane Doan was suspended three games for an elbow to the head and he is a repeat offender.
The hits aren't exactly the same, Keith's may have been a bit more violent, but they're close enough to wonder why such a harsh punishment for a first time offense?
It's clear from replays, that minutes before the blow to Sedin, Daniel hit Keith with an elevated shoulder that caused his head to snap back near the boards but did not cause injury. It was a questionable hit. By Shanahan's response in his explanation video the idea of a "retaliation" blow obviously came up in the phone call with Keith and his representatives. Keith denied retribution but that doesn't mean the league believed him.
The injury to Sedin, who missed the next game and is out "indefinitely," played a big part as well, according to league spokesman Gary Meagher. That notion, coupled with the possibility of retribution contributed to the five games being handed out.
As for the earlier hit by Sedin on Keith, the league would not comment publicly if the referees should have called a penalty but Meagher simply said "it did not rise to the level of needing supplemental discipline."
It's possible the league viewed the hit as a shoulder-to-high chest hit and not anything more nefarious than that.
The retribution angle is somewhat unchartered territory in the sense it came minutes after the original blow and not right away. But if the league believes the hit was intentional, and was a response to a previous hit on Keith, than giving him five games makes some sense. There is little doubt the league wants to curb the idea of players taking matters into their own hands in the fashion that Keith did. There are already enough questionable hits in the course of play that those that are deemed intentional are going to be scrutinized more closely.
As for the league changing its mind on Thursday regarding an in-person hearing as opposed to a phone call, Shanahan simply changed his mind as the day progressed. Maybe it was getting a full medical report on Sedin that changed his mind or maybe he became more convinced at the retribution angle. By asking for an in-person hearing, which Keith waived, it allowed Shanahan to potentially suspend him for more than five games. Instead, he landed exactly on that number, and so the Hawks will be without one of their top defenseman until the final two games of the regular season.
March, 23, 2012
3/23/12
5:13
PM CT
CHICAGO -- Chicago Blackhawks defenseman Duncan Keith has been suspended for five games for his elbow to the head of Vancouver Canucks' forward Daniel Sedin in Wednesday's 2-1 overtime win by Chicago.
Read the entire story.
March, 23, 2012
3/23/12
2:12
PM CT
CHICAGO -- The
Chicago Blackhawks
and defenseman
Duncan Keith
say they respect the process the NHL administers when it comes to potential supplemental discipline.
And now they'll just wait and see what the department of player safety has to say after they conduct a conference call with Keith and his representatives about a high elbow he delivered to forward
Daniel Sedin
in a 2-1 win over the
Vancouver Canucks
on Wednesday.
"We're going to talk to [director of enforcement] Brendan [Shanahan] and see what happens," Keith said after Hawks practice on Friday. "Let the NHL make a decision. I respect all the decisions they make."
Keith had a scheduled 1 p.m. CT call with Shanahan regarding his elbow to the head of Sedin. He was assessed a two-minute minor penalty but the league deemed supplemental discipline may be in order for the blow which kept Sedin out of Thursday's game in Dallas. He's out indefinitely.
March, 22, 2012
3/22/12
5:52
PM CT
CHICAGO -- Add another nasty chapter to the rivalry between the Chicago Blackhawks and Vancouver Canucks. The Hawks' 2-1 overtime victory on Wednesday kept Chicago moving in the right direction, but it takes a back seat to the looming punishment awaiting defenseman Duncan Keith.
[+] Enlarge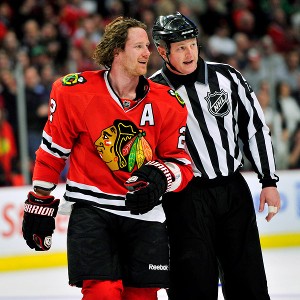 Rob Grabowski/US PresswireDuncan Keith's hit against Daniel Sedin may have been retaliatory -- and that could end up in the NHL handing him an even stricter suspension.
Keith's hit on Daniel Sedin in the first period is certain to bench the Hawks' defenseman for at least a game. There is no question it was illegal as evidenced by the minor penalty invoked. The league will decide the punishment on Friday -- in a 1 pm CST conference call with Keith, his agent and general manager Stan Bowman. The fact that Sedin is missing Thursday's game against Dallas as he returns to Vancouver for further testing is certain to work against Keith.
The fact that the hearing is by phone means the suspension can't be longer than five games – if it were to extend beyond that mark, it would require an in-person hearing with the league instead of a phone call.
The NHL takes into account injury impact of a play . So if Sedin has a concussion, the league's discipline czar, Brendan Shanahan, will use that in determining the length of a possible suspension. But the severity of the concussion probably won't play a part, just the fact he has one -- or at least that he's missing a game. With only one day for the Canucks to assess Sedin's condition, Shanahan probably won't know the full extent of the injury when he makes a decision.
The bottom line is Keith is a first-time offender who delivered a blow to the head as the principal point of contact. It means a suspension of 1-3 games, more likely on the heavier side than the lighter one.
Will the league take into account Sedin's high hit on Keith a few minutes earlier? It might actually work against Keith.
The league already has a mechanism in addressing Sedin's hit, they could review it just as they are Keith. But they won't give Keith a pass because he or others may believe Sedin had it coming. It doesn't work that way. They may actually view Keith's hit as intentional retribution, further adding to the evidence against the Hawks' defenseman.
Sedin's hit on Keith should have drawn an on-ice penalty, but to say definitively it deserves more punishment might not be correct. It was a questionable hit but not as vicious as Keith's elbow.
As for the other extracurricular activities, most of it surrounded the Canucks' attempts to find Keith and exact their own retribution on him. Alex Burrows and Keith have a long history of animosity while Dave Bolland and Henrik Sedin have had words over the years and had some on Wednesday. Newcomers to the rivalry, like Zack Kassian, had some words with Brent Seabrook among others.
So it was business as usual for these two rivals. Before the game Canucks defenseman Kevin Bieksa said the teams simply "hated each other." After the game Seabrook reiterated that notion. It's about the only thing the two teams can agree upon these days.
March, 22, 2012
3/22/12
4:38
PM CT

By Pierre LeBrun
ESPNChicago.com
Archive
Star winger Daniel Sedin was on his way back to Vancouver Thursday for further medical evaluation, Vancouver Canucks assistant general manager Laurence Gilman told ESPN.com.
Read the entire story.
March, 21, 2012
3/21/12
11:48
PM CT
CHICAGO -- Blackhawks defenseman Duncan Keith should expect a mini-vacation before the postseason begins. His elbow to the head of Vancouver Canucks' forward Daniel Sedin in the first period of the Hawks' 2-1 overtime win Wednesday night is bound to incur supplemental discipline.
[+] Enlarge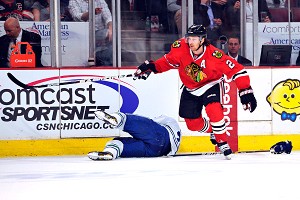 Rob Grabowski/US PresswireThe league is sure to review Duncan Keith's hit on Daniel Sedin.
"I'm not trying to hurt anybody," Keith explained after the game. "I hope he's OK."
As Sedin turned near away from the boards at center ice, Keith hit him with an elbow knocking him to the ice immediately. Sedin took a shift on the ensuing two-minute power play then left for the night.
"Deliberate, principal point of contact, everything you're trying to take out of the game," an angry Canucks coach Alain Vigneault said. "I expected a major, and I got a minor, so we'll let the league deal with it. You saw the hit, you didn't see a puck near the hit, you guys make the judgment call on that and the league will do what they have to do."
Keith said several times he needed to see a replay of the hit before he could make a final assessment on it.
"It's a fast game," he said. "I'm not trying to hurt anyone. I haven't seen the replay so I really can't comment on it."
Plenty of Canucks were just fine with commenting on it. One of their best players was knocked out of action, and it could be longer than just the rest of Wednesday's game.
"I got a lot of respect for a lot of guys on their team," Daniel's brother Henrik told NHL.com. "There's been things said from their room before, but not from him. He's always been good, but I don't know if it was too [many] emotions playing against us or what it was. Again, it's too bad. I had a lot of respect for him."
Defenseman Kevin Bieksa said Keith wasn't going to be a "Lady Byng candidate that's for sure. You have to watch him a little closer."
Even if Keith was responding to a cheap shot by Daniel on him from earlier in the period, the league won't take that into consideration. The NHL can always punish Daniel as well, if it sees fit. As a first time offender Keith won't get the book thrown at him, but he should be ready to sit for several games.
Slappers
• Marcus Kruger left the game late in the first period with an upper body injury. Joel Quenneville said he would be re-evaluated on Thursday.
• The Hawks won just 40 percent of their faceoffs. Patrick Kane was 3-of-18 in the circle.
• Andrew Shaw has four goals during a three-game scoring streak, and seven points (4G, 3A) during his current four-game point streak.
• Patrick Kane tallied his 20th goal of the season. He's the third player in franchise history to score 20 or more goals in each of his first five seasons in the NHL joining Jonathan Toews and Denis Savard.
• Over his last five appearances Corey Crawford has stopped 102 of 107 shots.
• Jamal Mayers was scratched before the game in favor of Brendan Morrison. According to the Blackhawks twitter account Mayers was sick.
Quotable
"I don't think I've scored off my head yet but I'll work on it," -- Shaw, on his propensity to score goals off his body.
May, 6, 2010
5/06/10
9:00
PM CT
[+] Enlarge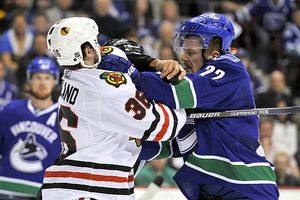 Rich Lam/Getty ImagesThe Canucks' Daniel Sedin and the Hawks' Dave Bolland tussle before a face-off in Game 3.
VANCOUVER, B.C. -- One of the themes between games on Thursday, as you would expect, was the poise the
Chicago Blackhawks
showed in the face of the
Vancouver Canucks
' pre-meditated determination to amp up the physical play.
The only problem for Vancouver? Much of it came after the whistle.
The worst penalty taken in the series by far came courtesy of the Canucks' Alexandre Burrows. The Canucks were trailing 2-1 in the second period and had brought the crowd back in the game with their first tally of the night. Burrows and
Brian Campbell
were nowhere near the play and, at center ice after the whistle, Burrows was giving Campbell the business. Unsportsmanlike conduct was called and with Burrows in the box, the Hawks scored the back breaker. Penalties and goals like that change games.
"He knows it was a stupid thing to do," Canucks coach Alain Vigneault said of Burrows. "It was a bad penalty at a wrong time. Instead of being down 2-1 we were down 3-1. Alex is a pretty smart guy. He knows he should not have done it."
"I don't know what you're going to achieve by having the upper hand in that except a penalty," Blackhawks coach Joel Quenneville said not necessarily about that infraction but after the whistle penalties in general.
Quenneville believes surviving the first period and playing from ahead made a big difference. After having the lead for a total of only 90 seconds in the first two games, it allowed the Hawks to relax.
"We had the lead," Quenneville said. "That helped us in a lot of ways. Discipline is something we stress every game and every period."
It's one thing when Burrows or
Ryan Kesler
act up, it's a whole other thing when the Sedin brothers do. By many accounts, the Hawks got under their skin more than anyone else has in their decade in the league.
"Sometimes a good player -- when things aren't going your way -- is going to show frustration,"
Jonathan Toews
said. "Maybe it's just a way to get it out of your system. Daniel and Henrik probably think there is more they can bring to the table. We'll be prepared for them to play much better hockey."
Dave Bolland
, in particular, took
Daniel Sedin
out of rhythm.
"Bolly's line was great," Toews said. "They were physical and seemed to be everywhere."
The other aspect the Hawks have excelled at since Game 1 is crashing the net. They have simply done it better than Vancouver.
"Obviously, in the last couple of games they have been the better team as far as net presence," Vigneault said. "They've been the better team as far as defending their net. We need to make a couple of adjustments."
Vigneault used the word "adjustments" six or seven times in talking about Game 4 on Friday. That includes on the power play as well as crashing the net. Quenneville says the Hawks will be ready for it and is hopeful his team continues their current trend.
"The second opportunities give you a better opportunity to score goals," he said. "If the goalies see the puck these days, you likely have no chance at scoring or getting a rebound."
That's partially true. The Canucks'
Roberto Luongo
saw plenty of pucks on Wednesday but threw back rebounds anyway. The Hawks know he can play better.
"This series is far from over," Toews said. "We want to keep getting better and trying to frustrate them even more."
It might be far from over but it's Vancouver's turn to show they can turn the series in another direction. The Hawks did just that over the last two games. Can Vancouver?