Chicago Blackhawks:

Darryl Belfry
June, 16, 2014
Jun 16
12:13
PM CT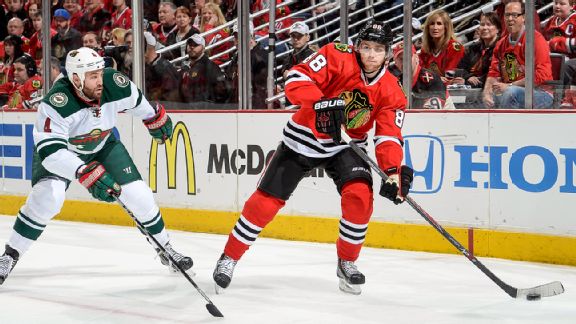 Bill Smith/NHLI/Getty Images Patrick Kane will work on his pass-or-shoot decision making during the offseason.
An even more offensively dangerous
Patrick Kane
could be returning to the ice for the
Chicago Blackhawks
next season.
Darryl Belfry, who is a skills analyst and development coach at Pro Playmakers, has trained Kane for much of his life and has witnessed Kane evolve to where he currently stands among the NHL's top offensive players. But as far as Kane's game has progressed, Belfry still believes there's another sizeable step Kane can take, and he's not that far from making it.
The next level for Kane is to become a more consistent scoring threat, which will not only benefit him but also his teammates. He got closer to that this season, hanging with
Sidney Crosby
at the top of the league in points through December, scoring 29 goals in 69 games and averaging a career-high 3.29 shots per game.
"He's in the dual-threat role right now where he can navigate his way into home-plate ice, which is the most dangerous part of the ice," Belfry said in a recent phone interview. "The issue now is decision-making in that area. What happens to this point is his thought process is to pass. He's always viewing the position as better for someone else than himself. That mindset needs to change."
Belfry's problem with Kane having a pass-first mentality is everyone knows his intention as well. His teammates are preparing for him to pass. Opponents are preparing for him to pass. There's little element of surprise, and it reduces Kane and his teammates' offensive chances. Kane has still produced at a high rate despite that, but Belfry is confident his offense would increase if he altered his mindset.
December, 31, 2013
12/31/13
12:25
PM CT
Few people watch
Chicago Blackhawks
forward
Patrick Kane
's game as closely as Darryl Belfry does.
It's what Kane pays Belfry to do. In the offseason, Kane works with Belfry, a skills analyst and development coach at Pro Playmakers, on the ice to improve his game. During the season, Belfry monitors Kane's game through video and touches base with him a handful times a week with feedback.
[+] Enlarge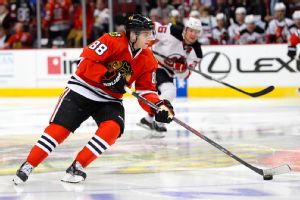 Mike DiNovo/USA TODAY SportsPatrick Kane is generating his own chances this season and it's paying off with points.
"I would say I talk to him three or four times a week just through text message where we talk about different things -- what I did well, what he thinks I could do better, different things like that," Kane said recently. "It's good to talk to him and hear some feedback. We obviously have great coaches here that help you with that stuff too, but it's sometimes nice to hear from a familiar face that has known you since you were 8-9 years old."
Belfry breaks down Kane's every movement and analyzes what he's doing right and wrong and explains how he can improve his game through illustrations, videos and words. As of late, Kane has been making Belfry's job easy. The feedback has tended to be more positive than anything with Kane ranking second in the league with 53 points.
Belfry believes he knows exactly why Kane has turned into one of the league's most consistent offensive players.
"The difference with Patrick recently is he is dictating the game," Belfry said in a recent phone interview. "As recently as earlier in the season, he was still forcing defenders into a decision and reacting based on their decision rather than forcing the defender into the decision he wants them to make and his automated responses are on point. This is what allows him to play at a different speed."
November, 26, 2013
11/26/13
4:13
PM CT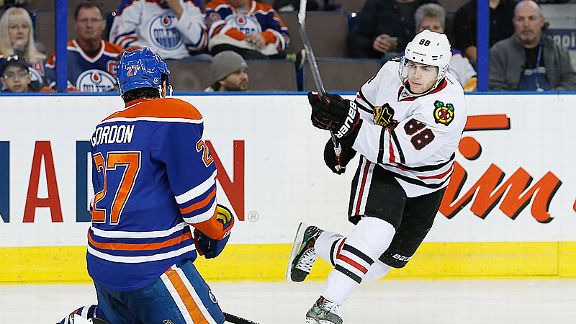 Perry Nelson/USA TODAY SportsThe Hawks' Patrick Kane is on pace for a 40-goal season.
Chicago Blackhawks
forward
Patrick Kane
skated wide as he crossed the blue line with the puck and then narrowed his angle and slowed his pace as he approached the right circle in a recent game against the
San Jose Sharks
.
As Kane drifted to the middle of the circle, he quickly came to a near complete stop. He had a few feet of open space in front of him and took a moment to survey the situation. With his stick on the ground and his shoulders square, he set himself up perfectly to pass or shoot.
Kane opted to shoot this time. The puck was blocked and bounced to teammate
Brandon Pirri
as he rushed to the net. Pirri had an open left side of the net and scored. That was how Kane produced a point in the seventh game of his current 11-game points streak.
Not that long ago, Kane might not have picked up such a point. His tendency previously was to pass first and playing Kane to do so was once the safe bet for opponents. He would sometimes make an opponent pay for cheating off him -- Kane still got his share of points -- but the scouting report was his first instinct was to create for others and opponents were better off for following it.
Kane worked hard to shred that scouting report. He partnered with skills analyst and development coach Darryl Belfry over the last three years to dismantle his shot, repair it piece by piece, study angles, alter his mindset to where he's equally thinking shooting and passing and develop into what Belfry describes as a dual-threat player.
"His initial identity as a player was a distributor," said the Canada-based Belfry, who has worked with Kane since the Blackhawks star was a kid. "That's his value in terms of his points production and consistent production in the NHL. Now in order to create a different path to production, you have to re-establish yourself. You have to become a more legit dual-threat."