Chicago Blackhawks:

Evgeni Nabakov
May, 16, 2010
5/16/10
8:11
PM CT

By Jesse Rogers
ESPNChicago.com
Archive
[+] Enlarge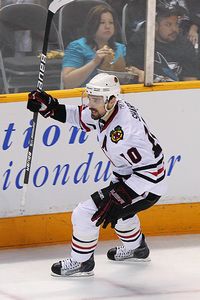 Jed Jacobsohn/Getty ImagesPatrick Sharp got the Hawks on the board with a goal in the second period.
SAN JOSE, Calif. -- They took the punch and not only survived but won the round.
The
Chicago Blackhawks
' 2-1 win over the
San Jose Sharks
in Game 1 of the Western Conference finals has to feel good, despite some ugly numbers. No power-play attempts and 45 shots against isn't their normal formula for winning, but it was on Sunday, thanks to
Antti Niemi
.
"For sure, it was one of [my] best," Niemi said after the 44-save performance.
His teammates agreed.
"He shut the door,"
Brent Seabrook
said. "He made some big stops at key times in the game."
None was bigger than his left pad and glove save on
Ryane Clowe
in a 1-1 game late in the second period.
"I just saw him standing pretty much at the back post with an empty net, and I just wanted to get my hand in the way," Niemi said.
It was a game-saver, and it was just one of 12 shots in a row for the Sharks in those closing minutes of the middle 20.
"We keep talking about him like he's surprising people,"
Patrick Sharp
said. "If you haven't figured out he's a great goaltender by now, you're not watching the games."
Niemi's performance overshadowed a great hockey game that could have gone either way. Fresh legs, from days off for both teams, kept a high pace going throughout.
"I thought Game 6 in Vancouver was fast," Sharp said. "This was a step higher."
The Hawks may not have caught a break with the refs for most of the game, however, when
Kris Versteeg
went to the penalty box in the final minute for tripping, instead of the true culprit,
Dave Bolland
. The Sharks were left to contend with one of the Hawks better penalty killers.
"That's the breaks that happen within a game," Sharks coach Todd McLellan said. "What we couldn't do was lose our marbles on the bench and start yelling and screaming at the referee. We had to have some poise and set up a 6-on-4 situation."
As for Vertseeg, he was OK with going to the box, but it was the longest minute of the season for him.
"Just go to the box and pray that they don't score because holy crap my heart was pounding through my chest," Versteeg said. "But Nemo [Niemi] came up with a couple big saves and that's what we needed."
Coach Joel Quenneville wouldn't comment on whether he thought the Hawks should have earned at least a power play or two and Sharp would only take the high road.
"I don't think they were missed calls," Sharp said. "The refs do a good job out there. No finger pointing at the refs. That's for sure."
Sharp scored to tie the game with a beautiful rush up ice started by
Troy Brouwer
.
"It was good to see Duncan [Keith] join in," Sharp said. "He made a perfect pass."
The drop pass to Sharp put it right where he wanted, and the Hawks finally figured out Sharks goaltender Evegeni Nabakov halfway through the contest.
Dustin Byfuglien
scored the game winner in the third period after some line jostling which put the
Jonathan Toews
line up against
Joe Thornton
.
"We played our big players against the other team's top lines," McLellan said. "They've been very successful so I feel very comfortable with them on the ice in that situation."
It proved to be the wrong call as Toews and
Patrick Kane
were able to set up Byfuglien with the game winner.
"We happened to get out there and, you know … got into the open area. [Kane] seemed to find it, got a good shot in," Byfuglien said.
And with that the Hawks had their first lead of the game. It was enough for Nemo.
December, 23, 2009
12/23/09
12:28
PM CT

By JESSE ROGERS
ESPNChicago.com
Archive
It wasn't all bad Tuesday night against the
San Jose Sharks
. In fact, the players were harder on themselves than I was.
Defensively, there were mistakes, but offensively, I thought the shot selection wasn't too bad. Let's face it, when you have the edge, 47-14, something good was going on. But that defense….
Tuesday may have been Brent Seabrook and Duncan Keith's worst game, at least in a while, and as a tandem. It's not just that they were on the ice for all three goals against; they didn't seem to be in sync. Both admitted after the game that San Jose had something to do with that, but there seem to be some miscommunication between two guys who usually play like they're twins. Keith, in particular, looked indecisive on the Sharks' first goal and on several other chances that were near misses. Hey, even the best have off nights.
Kris Versteeg gets less benefit of the doubt. His turnover -- a cross neutral ice pass picked off -- was brutal and may have been the game-changer. That play has to go forward or back but Versteeg has a tendency to play side to side and it cost him. He was on the ice for only 10:52, down from 15:08 the game before. That's one guy who has to pick it up. When asked if Versteeg should not attempt a pass like that, all Joel Quenneville would say is, "Not if he completes it." Translation: make sure you can and do or don't attempt.
The HTK (Hossa, Toews, Kane) line, or whatever you like to call it, was reunited in the third period and produced the Hawks' first goal. At 2-1, it looked to get the Hawks back in it. Moments later, they were sent back out there after an icing call as Quenneville smelled a momentum change. In seconds, an odd man rush the other way resulted in the back-breaker, as Jason Demers buried one from Joe Thorton. There went the momentum.
Let's give some credit to Evgeni Nabokov. He made some tough saves early in the game, especially when the Hawks power play was getting some chances. Later, it looked like there was some frustration with the man advantage but that game certainly could have been different if Nabakov wasn't sharp.
The plus-33 shot differential was the largest of the season and largest since the opening victory in Helsinki when the Hawks outshot Florida 55-24.
Keith played a season high 32:31. He's third in the NHL in ice time.
Your request cannot be processed at the current time. Please check back as we will work to correct the problem as quickly as possible.
Please feel free to send us any comments or feedback.