Chicago Blackhawks:

fights
May, 8, 2013
5/08/13
3:54
PM CT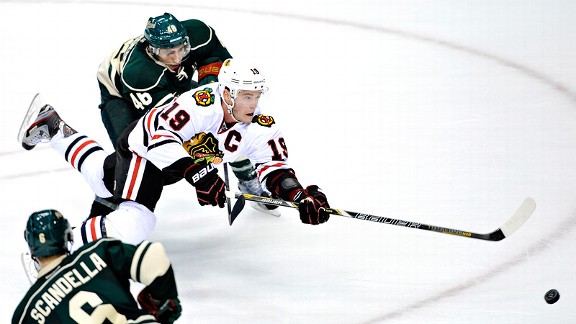 Hannah Foslien/Getty ImagesToughness includes being able to take a hit and make a play, as Jonathan Toews does.
CHICAGO -- It's been a knock on the
Chicago Blackhawks
going back to the year they won the Stanley Cup: They're not tough enough, they don't throw their body around enough, and yes, they don't drop the gloves enough.
That last critique has little to do with winning a title, and the other two matter everywhere but the stat sheet. The Hawks have been outhit 133 to 98 in their series with the
Minnesota Wild
but lead 3-1. They were outhit 20-10 on Tuesday but won the game handily, 3-0. In fact, their 98 hits is the least of any playoff team, including four that have played one fewer game.
"I feel like our team can play a number of different ways,"
Patrick Sharp
said after Tuesday's game. "People want to make a big deal of the hits. That's fine. We've won a physical game before. We've won a lot of games with our speed and playmaking ability, so whatever the type of game there is, I feel confident in our guys."
That's the mark of a championship team: winning in different ways. The NHL calls for it especially over the course of the postseason, which lasts for two months. Some games will be tightly contested, others more wide open. The Hawks have proved they can play both ways. That has something to do with their goaltending as well.
March, 5, 2010
3/05/10
11:23
PM CT
The rivalry is alive and growing.
The
Chicago Blackhawks
and
Vancouver Canucks
went at each other again in their season series finale and before it was over there would be 19 penalties called, including two fighting majors. Oh, and the Hawks dominated gold medalist
Roberto Luongo
with a five-goal first period outburst en route to a 6-3 victory.
[+] Enlarge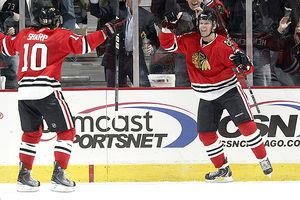 Bill Smith/NHLI via Getty ImagesJordan Hendry notched his first goal of the season against Vancouver on Friday.
It would take all of 37 seconds before the nastiness returned between these teams, and who else to start it up then
Andrew Ladd
and
Ryan Kesler
? They got into it on the first shift of the game.
"I think I proved my point in terms of what I bring to the table," Ladd said after the game. "It was a good start for us, emotionally, and it kind of carried over from there."
When Ladd and Kesler were announced as starters, the entire United Center must have known what was coming. The chirping began before the puck was dropped and on the first whistle, near the corner to the left of
Cristobal Huet
, they went at each other.
"We were talking off the faceoff and I don't think he really wanted anything to do with me," Ladd said. "He told me he didn't want anything to do with me pretty much the whole shift."
Kesler couldn't resist some subtle jabs of his own.
"Some of my teammates told me to leave him alone," Kesler said. "I don't think it's a good tradeoff for our team. Me sitting in the [penalty] box with him isn't something I want to do."
If the rough play had an effect on the outcome, it certainly favored the Hawks. Vancouver looked confused in their own zone, early, and the home team took advantage. Luongo wouldn't have won a copper medal based on that first period and his night was over 20 minutes into the game.
"I didn't want to be in there for a dozen [goals]," Luongo said. "Good thing they took me out."
After four rough-and-tumble regular season games, which the two teams split, along with a six game playoff series last May, there is little doubt that after Detroit Vancouver is the Hawks' biggest rival. It brings out the nasty and sometimes the best in them. They pounced on early scoring chances and didn't look back.
And this is no media driven rivalry.
"No, it's real,"
Kris Versteeg
said. "Every time we're on the ice, there's chirping, there's jawing, and I think there's a big hit every play. I think the guys like it and I think the fans like it too."
If there's another game between these teams, this year, there will be at least four more. And the loser will go home for the summer. Who wouldn't be in favor of that?
NOTES:
Jordan Hendry was named No. 1 star after scoring his first goal of the season. Not bad considering it came against one the best goaltenders in the league. "My last goal was against Dominik Hasek, another great goaltender," Hendry said.
The five-goal first period tied a season high (Nov. 19 in Calgary).
Kim Johnsson was plus 4. That tied a season high for a Blackhawk player in a single game.