Chicago Blackhawks:

Gary Bettman
February, 28, 2014
Feb 28
3:49
PM CT

By Scott Powers
ESPNChicago.com
Archive
CHICAGO --
Chicago Blackhawks
chairman Rocky Wirtz said Friday he didn't have an opinion to date on whether the NHL should continue to allow its players to participate in the Olympics.
"I really don't," Wirtz said at a restaurant in downtown Chicago. "I'm only one of 30 (owners), and at this point I don't have a vote.
"At this point, it's early. The nice thing is we get to go right now to the Stanley Cup, and let's focus on that. It's going to be an exciting time. We have 22 games left, and let's see what we can do."
NHL commissioner Gary Bettman spoke just before Wirtz and had a similar response. Bettman said the NHL would address the topic in time. NHL players have been participating in the Olympics since 1998.
"Ultimately, we have to make a decision," Bettman said. "It's not something, despite all the speculation, it's not something that has been discussed. It's not something we're ready to discuss. We're more focused right now on the stretch run into the end of the regular season and into the playoffs and then we'll deal with (whether) international events makes sense to us.
September, 19, 2013
9/19/13
4:53
PM CT

By Scott Powers
ESPNChicago.com
Archive
CHICAGO -- NHL commissioner Gary Bettman was unsure of the future of the league's outdoor games after this season, but the Blackhawks said they'd be interested in having more games in Chicago, including one at U.S. Cellular Field.

The Blackhawks will host the Pittsburgh Penguins at Soldier Field on March 1, 2014 as part of the Coors Light NHL Stadium Series. The series will also include games at Dodger Stadium and Yankee Stadium. The NHL will also hold the Winter Classic at Michigan Stadium and the Heritage Classic at BC Place in Vancouver.

The Blackhawks previously held a home outdoor game at Wrigley Field in 2009. Soldier Field was home to a college hockey doubleheader in February.
Bettman thought six outdoor games in the 2013-14 season was the perfect number, but he didn't know if the NHL would consider making the stadium series an annual event.

"Six [outdoor games], we don't think it's too many," Bettman said at Soldier Field on Thursday. "We think it's very responsible to our fans, but logistically it's a huge undertaking. We'll see how well we do with the weather, and we'll take a deep breath when we get to mid-March and say, 'Okay, what worked well? Is this is the right number? Should we do more? Do less?' This will be an important and exciting year in terms of the evolution of outdoor games."

Blackhawks president and CEO John McDonough was hopeful the NHL would have more outdoor games in Chicago and would be open to having an outdoor game at U.S. Cellular Field.

"I think we'd like to have one wherever they'd have us," McDonough said. "I think this outdoor game concept is brilliant. Certainly, wherever they'd allow us to play, this is great. To be playing in a historic, iconic Solider Field is great. But it would be great to play everywhere."


December, 5, 2012
12/05/12
5:31
PM CT

By Scott Burnside
ESPNChicago.com
Archive
NEW YORK -- As the pinprick of light on the black canvas of the NHL lockout threatens to become a full-fledged beacon of light, already there is a rush to anoint the winners and losers, the heroes and goats.
That's life.
And while it may be a fool's errand to try to ferret out who bested whom in a wholly preventable labor stoppage -- with said labor stoppage still technically under way even though Wednesday marked more good news with continued forward traction between the players and the owners -- such discussion provides a window into future labor battles and the future of embattled NHL commissioner Gary Bettman.
Is Bettman a genius for suggesting that he and his NHL Players' Association counterpart, executive director Donald Fehr, step away from the process after a failed attempt at federal mediation last week?
Credit Bettman for understanding that with the season hanging in the balance, the air had become so toxic in those rare moments the two sides actually found enough reason to be in the same room that the loathing and mistrust trumped all other issues and that the two men stepping back would allow that air to be cleared.
And likewise, credit Fehr, whose plodding strategies had made league officials crazy during this process, for going along with the idea even though his first reaction must have been to tell Bettman to stuff it.
Read the entire story
.
November, 30, 2012
11/30/12
7:29
PM CT
When Gary Bettman and the NHL players association finally sign off on the next collective bargaining agreement it should be the last action taken by the much maligned commissioner for his much maligned league. It's time to step aside.

Of course, that could be in a week, month or year, but whenever the sides come to terms it needs to be the end for Bettman.

Let me be clear, Bettman might be right about every aspect of this fight (though he's not), yet he's still in the wrong. Simply put, his bedside manner has been horrific. His negotiating tactics have been awful. We've all forgotten what the definition of commissioner used to be. It's faded over the last couple of decades. Call me na´ve but last time I checked Bettman is the commissioner of the league. That includes the owners, players, zamboni drivers and Blackhawks Ice Girls. When exactly did the word commissioner become "puppet for the owners?" He should be held to a higher standard and that includes in the negotiating process, even if he is representing the owners.


September, 21, 2012
9/21/12
7:24
PM CT
CHICAGO -- On the eve of what should be the opening to another
Chicago Blackhawks
training camp, the team is scattered. Some are in Chicago working out under the direction of their captain, while others are at home in Canada or overseas waiting for word when and where they will be playing hockey this winter. There won't be a 5K run outside the United Center on Saturday and there won't be a sold-out crowd inside watching the Hawks run through the first drills of the long season. The popular training camp festival has been canceled -- or at least delayed until further notice.
And so it goes as the NHL lockout completes its first week and training camps across two countries are postponed.
It's been extremely easy to take the players' side in this debacle but that's mostly because only one voice is talking for the owners, and commissioner Gary Bettman hasn't exactly chosen his words to encourage support for his arguments. NHLPA union chief Donald Fehr has been much more accommodating and nuanced in his explanations and overall the players' side has been more conscious of public perception. But let's not be fooled, the players might be more "fan friendly" in this debate but that can simply be a somewhat desperate tactic to garner fan support. Fehr doesn't have many cards to play -- he has little leverage -- so getting the fans to voice their opinions loudly can't hurt.
[+] Enlarge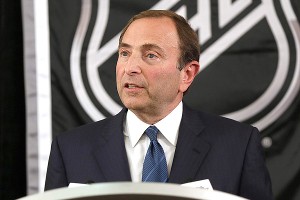 Bruce Bennett/Getty ImagesUnfortunately for hockey fans, NHL commissioner Gary Bettman has been through this before.
But Bettman isn't listening.
In talking to people in hockey over the course of just the last couple important weeks, the picture they paint of Bettman is a confusing one. Many, including
Jonathan Toews
-- have used the word 'stubborn' to describe him or the situation at hand. They wonder, where is the actual negotiation? When will it start? Bettman's position, for all intents and purposes, has been a take-it-or-leave-it proposition. And his explanation for what he wants and why he wants or needs it has been lacking.
During the last labor crisis, in 2004-05, Bettman had many on his side when it came to the addition of the salary cap. Other sports were moving in that direction and in the way the economics of professional sports were moving, in general, the argument for a cap and the resulting competitive balance was a strong one. Small-market and big-market teams were conceivably able to compete with each other. There are some holes in that system, possibly when it comes to signing bonuses for example, but those are the tweaks that should be happening in this negotiation. Of course, when the sides can't split up $3.3 billion then the little stuff really doesn't matter.
August, 10, 2012
8/10/12
9:43
PM CT
Depressed.
That's how most hockey fans must feel with about month remaining until the collective bargaining agreement between NHL owners and players expires (Sept. 15) and training camps are supposed to open.
There's been little progress in negotiations for a new agreement between the league and players since the league dropped a bombshell in its opening proposal. About the only thing the owners didn't ask of the players was for them to drive the Zamboni during intermissions.
[+] Enlarge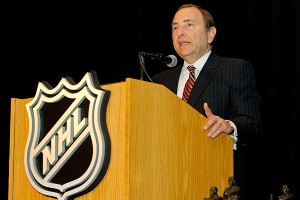 Bruce Kluckhohn/NHLI/Getty ImagesNHL commissioner Gary Bettman seems headed toward a third work stoppage in his tenure.
Perception is important in any public negotiation but apparently the owners -- under the direction of Commissioner Gary Bettman -- couldn't care less about it, or about the season starting on time. All signs point to it being delayed.
The owners asked the players to take less of the revenue generated, they asked for shorter contract terms and they asked for the end to salary arbitration. They asked for longer entry-level deals and a decade of service before a player can become a free agent. It's a long list of requests and if the league was being created from thin air then maybe these rules and numbers would all make sense without any precedent.
But here is the bottom line: the owners can't take back so much they have already given. Not for a league that has generated record revenues and is doing pretty well as a whole. Oh, and just a short time ago the players gave the
owners
the biggest thing that could be given: a cap on salaries for the first time in the history of the sport.
This is where perception plays a big role. Once again, ownership -- or at least Bettman -- is saying, "We're going to do what we want and you better follow suit." It's all disguised as a negotiation. And anyone that claims, "It's just an opening proposal," is fooling themselves. Why does every supposed legitimate negotiation have to open with the ridiculous? Why not come to the table with something reasonable that may favor your side but at least gives the other side something to be excited about? I've never been involved in anything close to what's going on, but doesn't history suggest new tactics need to be tried?
People might think there is no way Bettman wants a third work stoppage during his tenure, but maybe he doesn't care. Maybe he wants to be known as the commissioner that keeps on crushing the union. And don't forget he is supposed to be commissioner of the union as well. But for these purposes he's simply an extension of ownership -- although he's also a man with his own convictions. We don't even know if his convictions coincide with those of his owners.
The big issue last time was the salary cap. The league won out on that after losing a whole season, but the NHL has done all right ever since. The current CBA -- for the most part -- works. Small-market teams can compete and they can acquire stars. Solid talent evaluation, along with managing the salary cap properly, is still paramount. The problem is the same as it almost always is: the owners need to be saved from themselves. And it's the league asking the players to do just that.
Players were more than happy to sign decade or longer contracts that were offered to them; it gave them security they could never imagine. But it was the teams doing the offering and it also circumvented the salary cap to a degree. And now it has made it harder for trades to be consummated -- look no further than
Roberto Luongo
. So maybe that is an area where players need to give a little. A tweak to the system here or there makes sense and the players can be convinced of it. But to overhaul something that's worked stinks of greed. There is no other explanation.
The big-market owners are more than happy with the current system -- or at least they should be. The last work stoppage created the cap which, again, saved the (big-market) owners from themselves. Instead of being pressured to spend more and more every year because their competition was doing so, they had a number they couldn't exceed. "Perfect," thought many owners. Make no mistake, the implementation of the salary cap was the best thing for the big-market owners in the league. But it didn't necessarily save the small market teams.
That's where Bettman wants the players to help out. His thinking seems to be, "Let's take some of your money and spread it out to these smaller markets so they can survive." Maybe he should have told Minnesota and Nashville as much when they were able to sign big-money free agents this summer -- including huge money up front to the players. That's something no one expected out of the Wild and Predators. The system, as a whole, does work. That should be the point of the collective bargaining agreement between owners and players. Making sure the league or its owners are financially secure shouldn't be the primary concern of the players. Of course, it's in their best interests if the league is healthy but an agreement between the players and the owners should simply help that notion not make it so.
Every issue is complicated, that much we know. Take contraction for example. Maybe the league should never have expanded into some non-traditional hockey markets, so eliminating those teams could make sense. But would the NHLPA ever be in favor of eliminating jobs? Again, taking back what was already given is a hard sell. I doubt we'd see the owners giving back those rights fees acquired during expansion. But what if it
was
in the best interest of the remaining players if 20-40 or more jobs were eliminated by contracting a team or two? How would NHLPA union boss Donald Fehr answer that question?
Then again, though the players have a vested interest in league revenues, they have no say in how those revenues are obtained. For example, players might like the idea of advertisements on their jerseys -- like the NBA just approved -- but the league office might say no. And there is little doubt a second team in southern Ontario would generate huge money, but none have relocated there to this point. So if the commissioner wants the players to take less of a percentage he might want to maximize his revenue streams.
As stated previously, it's all very complicated but the players simply seem more willing to engage in a give-and-take. Fehr is no pushover, he's going to want things as well. But what can he ask for when the league has already asked for everything?
Does the current CBA need some changes? Of course. Does it need to be gutted to the point of games being canceled? Of course not. Bettman simply might not see it that way. Why would he, common sense has never been his strong point.
I certainly don't have all the answers, but work backwards. If the end result nearly every time is a work stoppage, then someone at the top is doing something wrong. He's got a month or so to figure it all out or back to square one we go.
November, 1, 2010
11/01/10
8:08
PM CT
NEW YORK -- On Monday afternoon, a select group of Chicago media members and broadcasters had a private session with NHL commissioner Gary Bettman at his offices in New York. Here are some of the highlights of that hour-long conversation:
Chicago is more likely to host an upcoming NHL draft than an All-Star Game. 2012 is the earliest for that possibility to occur.


Bettman said fans "overwhelmingly" still support a shootout to end tie games and the league has no intention of changing that rule.


Bettman indicated that all bonuses have to count against the cap, including those like the one received by Jonathan Toews for winning last season's Conn Smythe award, otherwise the door for circumventing the salary cap would open.


The league is opposed to awarding a winning team three points for a regulation victory for fear teams will really try to sit on a lead which makes for boring third periods. That was a pre-lockout problem.


Bettman indicated any talk of a new collective bargaining agreement is way premature, noting that the other sports all have deals expiring before the NHL's will. Their agreement with the players' union expires at the end of the 2011-2012 season.


The league isn't necessarily considering changing the schedule so all teams can play each other at home and on the road each season. Bettman said while many teams want it, many oppose it, especially in the Eastern Conference where rivalries are more pronounced and long-standing than in the West.