Chicago Blackhawks:

Hart Memorial Trophy
June, 15, 2013
6/15/13
7:13
PM CT
CHICAGO -- The
Chicago Blackhawks
didn't take home any more
NHL awards
on Saturday, but they did receive plenty of consideration.
Blackhawks forward
Jonathan Toews
just missed out in being a finalist for the Hart Memorial Trophy, which is given to the league's MVP. He finished fourth in the voting with 886 points.
New York Islanders
forward
John Tavares
finished third with 919 points. Toews received 39 first-place votes on 179 ballots cast. Blackhawks forward
Patrick Kane
was sixth in the voting and had 157 points, which included two first-place votes.
Blackhawks rookie forward
Brandon Saad
finished third in the voting for the Calder Memorial Trophy. He received 730 points, which included 30 first-place votes.
Blackhawks defenseman
Duncan Keith
finished sixth in the voting for the James Norris Memorial Trophy. He had 281 points, which included one first-place vote.
Blackhawks goaltender
Ray Emery
and
Corey Crawford
both received votes for the Vezina Trophy. Emery finished seventh in the voting with one first-place vote and six points. Crawford was eighth with five points, which included one second-place vote and two third-place votes.
Toews was named the winner of the Frank J. Selke Trophy, given to the best defensive forward, on Friday.
May, 11, 2013
5/11/13
4:52
PM CT
CHICAGO -- The
Chicago Blackhawks
said Saturday they would have liked for
Patrick Kane
and/or
Jonathan Toews
to be named a Hart Memorial Trophy finalist, but they weren't going to make a big deal out of it.
Pittsburgh Penguins
forward
Sidney Crosby
,
Washington Capitals
forward
Alex Ovechkin
and
New York Islanders
forward
John Tavares
were named the three finalists on Friday.
"I don't know if I feel disrespected," Kane, who led the team with 55 regular-season points, said. "I think everyone who got named is very deserving of the award. Crosby had an unbelievable season. Ovechkin pretty much single-handedly led his team to the playoffs. And maybe you can say the same about Tavares, too.
"I don't know. I think maybe a little bit more recognition for the team would have been nice if myself or Johnny maybe got nominated. Other than that, you're not going to worry about it too much."
Blackhawks coach Joel Quenneville thought a Western Conference player should have been included among the finalists.
"Someone wrote an article [Friday] that they should have had one from each side since we didn't play the other side," Quenneville said. "Three guys from the other side, we didn't get to play [them] -- tough to comment. On our side, those two guys had outstanding seasons, were a big part of our success. Definitely should have gotten consideration. Maybe one takes away from the other. You could probably put that in [the] equation as well. Both guys were definitely worthy of that consideration in my eyes."
Blackhawks forward
Patrick Sharp
said Kane's and Toews' exclusion from the Hart finalists doesn't change how their teammates feel about them.
"We know in this locker room how valuable they are and the kind of individual seasons they had," Sharp said. "A lot of people in here would like to see them there, me included, but having said that, I don't think you can argue with the three guys who are nominated. They're all great players. We definitely appreciate Jonathan and Patrick."
Blackhawks goaltender
Corey Crawford
had similar feelings. He was also surprised
Brandon Saad
had been the only Chicago player named a finalist for any of the awards. Saad made the Calder Memorial Trophy final list.
"Our team was so good this year -- especially those two guys are, year-round, so consistent," Crawford said. "We were definitely rooting for them. I'm sure a lot of guys voted for them for one of the awards. It's definitely surprising when your team does so well during the year, and you get one guy that's nominated for something. That's definitely surprising. You know? Whatever. It's not going to change what we do in the playoffs."
May, 10, 2013
5/10/13
12:55
PM CT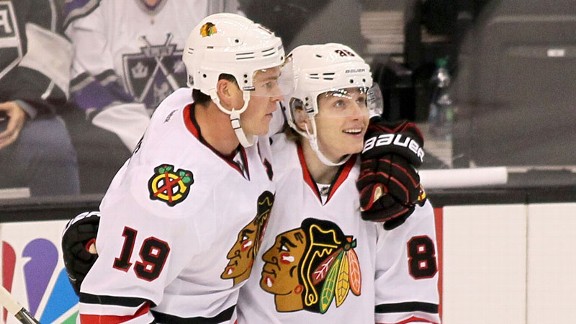 Victor Decolongon/Getty ImagesSome would say Patrick Kane and Jonathan Toews deserved to be Hart finalists.
CHICAGO --
Chicago Blackhawks
teammates
Patrick Kane
and
Jonathan Toews
touted each other as Hart Memorial Trophy candidates in recent weeks, but neither was included among the finalists announced Friday.
"He's had a great season," Kane said recently. "I think he's been the best player on our team and pretty much the best player every night I've played with him."
Toews countered by saying Kane was more worthy.
"I'm honored you guys would even say [I'm a candidate,] but I think there's another guy across the room there that deserves it just as much and probably more," Toews said. "To have two guys in the talks like that, it always shows that you have a great supporting cast."
But the finalists were
Pittsburgh Penguins
forward
Sidney Crosby
,
Washington Capitals
forward
Alex Ovechkin
and
New York Islanders
forward
John Tavares
.
The Hart Memorial Trophy, which is awarded to the player most valuable to his team, is voted on by Professional Hockey Writers' Association, which includes five members in the Chicago chapter. According the PHWA, 178 members, the largest number in the association's history, cast votes this season.
The case for Toews as a Hart finalist had been his overall play. He ranked among the league leaders in nearly every category while helping the Blackhawks to an NHL-best 36-7-5 record during the regular season. He was tied for first with 56 takeaways, second with a 59.9 faceoff winning percentage, third with a plus-28 rating, tied for 13th with 48 points, tied for fifth with 23 goals, tied for 29th with 25 assists and tied for sixth with five game-winning goals.
The argument for Kane was built on his offensive consistency. He led the Blackhawks with 55 points (tied for fifth in the NHL), which included 23 goals (tied for fifth) and 32 assists (tied for 14th). He recorded points in 35 of 47 games this season and had two points streaks of eight games. Adding to Kane's regular-season performance was the fact he rarely played with the same players on the second line because
Dave Bolland
and
Patrick Sharp
missed a combined 33 games due to injury.
The Blackhawks' wait for another Hart winner has been going on since Stan Mikita won it in 1968. The Blackhawks won it four consecutive times from 1965-68. Bobby Hull was awarded it in 1965 and 1966, and Mikita won it in 1967 and 1968. Al Rollins (1954) and Max Bentley (1946) are the other Blackhawks to win it.