Chicago Blackhawks:

Henrik Sedin
November, 5, 2011
11/05/11
4:52
PM CT
CHICAGO -- They probably arrived at O'Hare airport at nearly the same time late Friday night/early Saturday morning. One, the Chicago Blackhawks, came from Tampa Bay after a 5-4 overtime loss. The other, the Vancouver Canucks, arrived from St. Louis after a 3-2 defeat.
If they passed each other in the middle of the night, worn out from back-to-back games and late arrivals, an image is conjured of two teams exchanging steely glares. Think Dave Bolland and Henrik Sedin or Jonathan Toews and Ryan Kesler. Maybe Dan Carcillo and Maxim Lapierre locked eyes as they prepare to undoubtedly add to the one of the great modern rivalries in the NHL.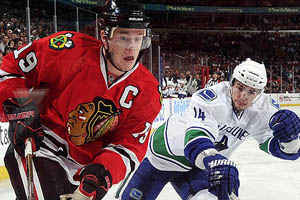 Bill Smith/NHLI/Getty ImagesThe Canucks got the best of the Blackhawks in the first round of last season's playoffs.
The Hawks and Canucks will begin another season series -- more than likely of nastiness --- Sunday night at the United Center. Since the beginning of 2008-2009 they've played 31 games, including three postseason series. The Hawks have won 16, the Canucks 15.
But rivalries aren't just about final scores, they're about moments. And these two teams have had their share. You decide which is the most memorable:
There was Alex Burrows pulling Duncan Keith's hair in 2008-2009 or maybe it was Adam Burish and Shane O'Brien exchanging verbal jabs in between games in the 2010 playoffs. The most recent incident saw Raffi Torres delivering a vicious head shot to Brent Seabrook, which didn't result in any additional punishment, much to the dismay of one fan base. There are many more including several infamous moments between Roberto Luongo and Dustin Byfuglien.
Some of those names have moved on but the rivalry remains.
"The rivalry is definitely in place," Joel Quenneville stated Friday. "When you play them three years in a row in the playoffs there's something going on there. I'm sure it will make for a first exciting game of the season [series.]"
As far as not liking the Canucks?
"When you play them three years in a row I think we have a little more ammo than most teams," Quenneville quipped.
In the spotlight, as usual, will be Bolland and his wingers, who will once again get the assignment of checking the Sedin twins. Bolland, coming off arguably his worst game of the season in Tampa Bay (minus-3), has a knack for getting under the skin of the league's top players, especially the Sedins. Never did his value show more than when he missed the opening three games of playoff series' No. 3 last spring.
The Hawks were down three games to none, on the verge of an embarrassing opening-round exit via sweep. Many thought there would be no reason for Bolland to return from a nasty concussion suffered in March. Why bother, people thought? He proved his worth by returning and sparking the Hawks to a near historic comeback. Bolland was that good.
On defense there will likely be a new "player" in the quest to stop the Sedins. Unless Quenneville changes his pairings Niklas Hjalmarsson will be on the ice almost exclusively against the Canucks' top line. His current partner Brent Seabrook has done it many times before, but usually with Duncan Keith. This will be one game Hjalmarsson won't be criticized for providing no offense. If he's still on zero points for the season but the Sedins don't improve their numbers either, Sunday is a win for the Hawks.
And then there are the goalies. Two different species if you ask fans. One has proven to be unflappable, nearly stealing Game 7 in Vancouver last year. It was a coming-out party for Corey Crawford and no one knew for sure he could handle it.
The other is Luongo.
Like the rivalry itself there isn't much new to write about the embattled Canucks goaltender. The fact that he and his team are off to a slow start isn't the news. Afterall, they made it to Game 7 of the Stanley Cup finals, so some sort of hangover was expected. But he didn't win the cup and he hasn't outplayed a Hawks goaltender yet in a playoff series. Even in defeat Crawford garnered more praise than Luongo.
It's not official who Canucks' coach Alain Vigneault will start -- bank on it being Luongo. Either way, the decision will be scrutinized. There is little doubt Vigneault is on the hot seat and knowing how coaches think, the Canucks should be believing a good win in Chicago could be the aspirin for their hangover.
The next Vancouver coach might only be a few miles away, at the All-State Arena. Craig MacTavish wasn't hired to coach the Chicago Wolves -- Vancouver's AHL affiliate -- for a decade. There is little doubt Canucks' brass is watching closely, though there are no outward indications Vigneault is in trouble. There rarely are.
Until the Canucks win a championship, the Hawks will always have the upper hand. A year after an historic parade in Chicago, Vancouver was rioting their city instead of celebrating. But while the Hawks will always have their names on the Stanley Cup, losing to the Canucks last spring stung.
After getting eliminated, some Hawks were more open than others about rooting for anyone that plays Vancouver. After falling in seven games, they were powerless to do anything about it. On Sunday, once again, the Hawks get a new chance to take down their bitter rival.
When the puck is dropped it will kick-off the season series, destined to produce another dramatic chapter in a short but already storied history between the cities and teams.
May, 6, 2010
5/06/10
9:00
PM CT
[+] Enlarge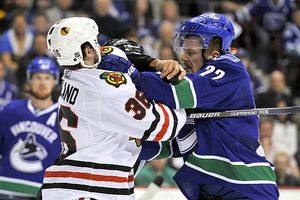 Rich Lam/Getty ImagesThe Canucks' Daniel Sedin and the Hawks' Dave Bolland tussle before a face-off in Game 3.
VANCOUVER, B.C. -- One of the themes between games on Thursday, as you would expect, was the poise the
Chicago Blackhawks
showed in the face of the
Vancouver Canucks
' pre-meditated determination to amp up the physical play.
The only problem for Vancouver? Much of it came after the whistle.
The worst penalty taken in the series by far came courtesy of the Canucks' Alexandre Burrows. The Canucks were trailing 2-1 in the second period and had brought the crowd back in the game with their first tally of the night. Burrows and
Brian Campbell
were nowhere near the play and, at center ice after the whistle, Burrows was giving Campbell the business. Unsportsmanlike conduct was called and with Burrows in the box, the Hawks scored the back breaker. Penalties and goals like that change games.
"He knows it was a stupid thing to do," Canucks coach Alain Vigneault said of Burrows. "It was a bad penalty at a wrong time. Instead of being down 2-1 we were down 3-1. Alex is a pretty smart guy. He knows he should not have done it."
"I don't know what you're going to achieve by having the upper hand in that except a penalty," Blackhawks coach Joel Quenneville said not necessarily about that infraction but after the whistle penalties in general.
Quenneville believes surviving the first period and playing from ahead made a big difference. After having the lead for a total of only 90 seconds in the first two games, it allowed the Hawks to relax.
"We had the lead," Quenneville said. "That helped us in a lot of ways. Discipline is something we stress every game and every period."
It's one thing when Burrows or
Ryan Kesler
act up, it's a whole other thing when the Sedin brothers do. By many accounts, the Hawks got under their skin more than anyone else has in their decade in the league.
"Sometimes a good player -- when things aren't going your way -- is going to show frustration,"
Jonathan Toews
said. "Maybe it's just a way to get it out of your system. Daniel and Henrik probably think there is more they can bring to the table. We'll be prepared for them to play much better hockey."
Dave Bolland
, in particular, took
Daniel Sedin
out of rhythm.
"Bolly's line was great," Toews said. "They were physical and seemed to be everywhere."
The other aspect the Hawks have excelled at since Game 1 is crashing the net. They have simply done it better than Vancouver.
"Obviously, in the last couple of games they have been the better team as far as net presence," Vigneault said. "They've been the better team as far as defending their net. We need to make a couple of adjustments."
Vigneault used the word "adjustments" six or seven times in talking about Game 4 on Friday. That includes on the power play as well as crashing the net. Quenneville says the Hawks will be ready for it and is hopeful his team continues their current trend.
"The second opportunities give you a better opportunity to score goals," he said. "If the goalies see the puck these days, you likely have no chance at scoring or getting a rebound."
That's partially true. The Canucks'
Roberto Luongo
saw plenty of pucks on Wednesday but threw back rebounds anyway. The Hawks know he can play better.
"This series is far from over," Toews said. "We want to keep getting better and trying to frustrate them even more."
It might be far from over but it's Vancouver's turn to show they can turn the series in another direction. The Hawks did just that over the last two games. Can Vancouver?