Chicago Blackhawks:

Igor Makarov
September, 26, 2010
9/26/10
3:31
PM CT
A long first week of training camp is over as the
Chicago Blackhawks
continue to prepare for defense of their Stanley Cup championship. They made two more cuts on Sunday to reduce their roster to 35 players.
Defenseman Shawn Lalonde and forward Chris DiDomenico were sent to Rockford where the IceHogs are set to begin their training camp.
The returning veterans are all in seemingly good shape and have no major injuries to report.
Marian Hossa
says his right knee gives him trouble after playing soccer but feels fine for hockey. He's shown his usual burst in practice and had a great rush to score shorthanded against Detroit on Saturday night.
The bigger story in camp, as usual, involves prospects. Several major names remain with the Hawks as they enter the final week of camp.
Igor Makarov
,
Nick Leddy
,
Jeremy Morin
, and Kyle Beach have all received their share of press, and are still around, but will any stick with the big team for the start of the season?
It's doubtful any will but it's not out of the question. Handicapping their chances after one week, here is where they stand:
[+] Enlarge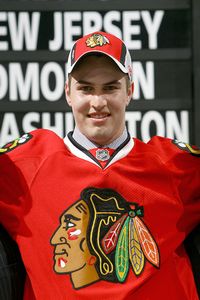 Bruce Bennett/Getty ImagesA full year in Rockford would serve Kyle Beach well.
Beach, wing -- 4 percent
: He's just not ready. A full year in Rockford could do wonders for him. The maturity is happening, but it's a slow go right now. There's still uncertainty about what kind of NHL player he will be. First line? Fourth? His play would not justify the cap hit the Hawks would have to endure if he made the team. More time is needed.
Leddy, D -- 7 percent:
There is a lot to like at a young age, but several things work against him. Again, the cap hit hurts. Big time. So does the top four defensemen for the Hawks. He could learn from being in the same dressing room as
Duncan Keith
, but he needs playing time and important minutes. Will he get that paired with
Nick Boynton
,
John Scott
, or
Jordan Hendry
? And good luck cracking the special teams with the top four around. If the Hawks can make the money fit and they simply don't see a lot going on with their 5-7 defensemen, then there is the opening but it's a longshot. He certainly is a candidate to be called up later in the year, if needed, and the money fits.
Makarov, wing -- 15 percent:
Makarov has had a good camp. He continues to show good hands and overall ability and instincts. He didn't score on it, but a nice toe drag move Saturday night against Detroit was yet another example of what he can do. He might be ready but some seasoning in Rockford couldn't hurt. Unlike the others, he's making near minimum type money so he becomes even more attractive for that reason.
Morin, wing -- 20 percent:
Probably the most dynamic prospect in camp and how good would the
Dustin Byfuglien
trade look if he made the team this season? His cap hit isn't so bad -- it's just under a million -- but he needs to play. No way can the Hawks stick him on the third or fourth line. It's simple: He either plays second line left wing with, say,
Patrick Sharp
and Marian Hossa or he goes to the minors or back to juniors. Normally he would not be eligible to play in the AHL at age 19, but due to a technicality, he can.
The easy thing would be to let him grow into being a pro with another year at a lower level, but with his speed and skills, even at his young age, it might be too enticing to wait for. Would inexperience and the grind of the season catch up on him? Maybe. But 19 is the new 24. See Kane and Toews for evidence. He might not be at their level, but can you think of a better situation for a young prospect to break in? Yeah, there will be some pressure but when he sees what Hossa and Sharp can do with the puck, he might just ease into it all. Intriguing to say the least, but still way under 50 percent.
The Hawks aren't giving any indications to which way they are leaning and the money -- even a few hundred thousand -- could make the difference. In fact, it probably will.
Jack Skille
and
Ryan Potulny
didn't do anything to embarrass themselves Saturday, so that's a notch in their favor even if there wasn't a Zetterbeg or Datsyuk to be found.
The good news is, as general manager Stan Bowman has repeatedly said in the offseason, that the cupboard seems to be filling up again. But is it ready to be opened right now?
One more week will tell the story.
September, 20, 2010
9/20/10
1:54
PM CT
The first weekend of training camp is complete, and two things are apparent in the early going: The players thoroughly enjoyed playing in front of a United Center crowd, and Igor Makarov has game.
[+] Enlarge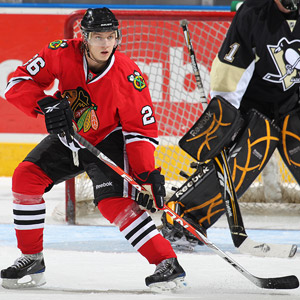 Claus Andersen/Getty ImagesIgor Makarov, a second-round pick in 2006, has shown he has the skill to make a difficult decision for the Blackhawks.
Besides his obvious skill, there is an instinct to Makarov's game that makes him stick out. It's only a couple of scrimmages, but while others are trying to get noticed, he's already there.
Joel Quenneville reiterated the notion that there are always surprises in camp. It would be a surprise if Makarov makes the team considering this his first year in North America and the way the Hawks roster is situated right now. The Russian native was a second-round pick in 2006.
Quenneville indicated that a young player who makes the team is going to have to play so it's not just about finding a roster spot but beating out someone for playing time. The likely scenario for most if not all of the prospects that are in camp for the first time is to start in Rockford and take it from there.
Jack Skille's spot might be the one vulnerable position. No one says he's a shoe-in although he will get his longest look yet as a Hawk.
Fernando Pisani
,
Jake Dowell
,
Viktor Stalberg
, and
Bryan Bickell
all are seemingly entrenched along with an extra man in
Ryan Potulny
, but anyone can be replaced if Makarov or another player shows themselves in the preseason games.
Skill wins over grit most of the time and through two days Makarov has shown he has the skill. Scrimmages are one thing but if the strong play carries over for Makarov, then the Hawks will have a pleasantly, difficult decision to make.
Marian Hossa
looks as strong and as fast as ever and
Jonathan Toews
hasn't missed a beat since the finals. Those veterans stood out in the opening couple of days as well.
Marty Turco
is just feeling his way around with his new team so progress with his game is just beginning. And if you're wondering about the new chemistry on this team, it's too hard to determine just yet. They don't even all share the same dressing room. With the expanded roster, three rooms are being used.
On defense, the preseason games will determine a lot but it would be an even bigger upset if one of the veterans was bounced in favor of youth.
Jordan Hendry
,
John Scott
, and
Nick Boynton
should all make the roster and then battle for playing time. A case can be made that a young defenseman -- especially after watching them in preseason games -- might deserve a roster position, but even more so than the forwards, that d-man shouldn't be sitting on the bench. He needs to be playing. That probably won't happen for the Hawks so it's to the minors for the Nick Leddy's of the world.
Salary cap implications will hurt Leddy anyway, along with
Kyle Beach
, but Makarov's hit isn't bad so he has that in his favor as well.
It's premature to say anything definitive about the roster. Intra-squad scrimmages are one step below exhibition games, but for now that's all the Hawks brass has to go on.
And the rest of us as well.
September, 19, 2010
9/19/10
8:40
PM CT
Day 2 of Blackhawks training camp was a lot like Day 1, at least in one aspect:
Igor Makarov
continues to impress.
Makarov scored his third goal in two days of scrimmages and also has three assists as he's easily been the most noticeable prospect -- or even player -- on the ice.
Joel Quenneville praised Makarov after Saturday's practice, and he did it again on Sunday.
"There is some production behind that game," Quenneville said. "He'll be a guy that we give a good shot and see how he can handle it."
Even the players are taking notice, including the Hawks' captain.
"His skill level is there,"
Jonathan Toews
said. "He can bury the puck. [He's a] fun player to watch."
September, 18, 2010
9/18/10
8:43
PM CT
The first day of training camp featured two scrimmages between three teams, and the winner of the day -- besides
Jonathan Toews
' Team Red -- was forward prospect
Igor Makarov
.
Makarov, a second-round pick in 2006, scored two goals and added an assist. He more than passed the eye test for coach Joel Quenneville and his staff.
"Makarov had a noticeable game," Quenneville said. "He seemed to be around the puck a lot and you like his tenacity and quickness. It was going in for him today."
Makarov has been in the Kontinental Hockey League for the last few years and admitted he needs to learn the North American game. He called Day One a good experience while learning a "different style."
Coming off a strong rookie tournament in Toronto this past week, it's hard to know if Makarov is destined for some seasoning in Rockford, but if he keeps it up, he might make the decision an easy one for Quenneville.