Chicago Blackhawks:

Ilya Kovalchuk
February, 6, 2010
2/06/10
5:54
PM CT
[+] Enlarge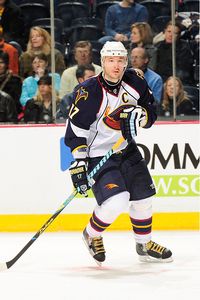 John Russell/Getty ImagesIlya Kovalchuk is set to become an unrestricted free agent in a few months.
For those who enjoy post-trade information, sources say the
Chicago Blackhawks
were never serious about obtaining star forward
Ilya Kovalchuk
.
Kovalchuck was traded to the
New Jersey Devils
on Thursday for defenseman
Johnny Oduya
, rookie forward
Niclas Bergfors
, junior prospect Patrice Cormier and a first-round draft pick. Other than a cursory conversation or two, the Hawks and Thrashers never got serious about the impending free-agent.
The implication of such information is that the Hawks are not bent on dumping salary
before
this year's trade deadline. Both general manager Stan Bowman and Hawks owner Rocky Wirtz have said as much in recent interviews. Winning now and worrying about the cap later has been intimated -- if not outright declared -- in those interviews. This non-interest in Kovalchuk backs that up and also implies the Hawks are satisfied with their offense.
On paper, there seemed to be a fit between the teams if the Hawks had wanted to pursue Kovaluchuk. In fact, the players the Devils sent back were exactly the type that conceivably were expendable for the Hawks. The only difference is in the money that they make. Atlanta would have had to take on more if a trade with the Hawks had been consummated. And its unknown if the Hawks would have had a prospect to the Thrashers liking.
It's a moot point now. With the biggest name off the market, the Hawks will more than likely look to add a defenseman or do nothing. Then there's that goaltending situation, but any move in that department would be a long shot.
February, 5, 2010
2/05/10
1:43
PM CT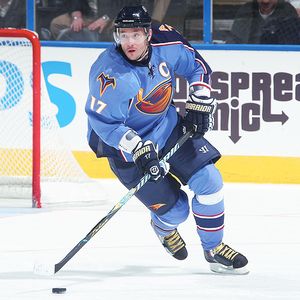 Scott Cunningham/NHLI/Getty ImagesSome Hawks players are fine with Ilya Kovalchuk, who was dealt to New Jersey on Thursday, not coming to Chicago.
Talk in the
Chicago Blackhawks
dressing room after their Friday morning practice revolved around two things: avoiding a three-game losing streak for the first time this season and the trade of
Ilya Kovalchuk
from the
Atlanta Thrashers
to the
New Jersey Devils
.
The former "problem" the Hawks can take care of Friday night is against the upstart
Phoenix Coyotes
. As for the latter issue, the players that spoke about it weren't surprised Kovalchuk didn't land in Chicago, and frankly, were just fine with it.
"I didn't think he was going to come here to be honest,"
Patrick Kane
said. "For a team like the one we have its more of a depth team than a one- or two-man show … I know in Atlanta it was the Kovalchuk show and that was about it. We'd rather have our team in here I think, and the depth we have."
"As of right now there is no need to change the team,"
Troy Brouwer
said. "If something does happen it happens, its part of the game and everyone will tell you that…There was a little bit of whisper he might be coming here but no one is that surprised and we're real happy with the lineup that we have."
Kris Versteeg
has often been mentioned as a guy that could be on the move in a salary cap saving trade, so maybe he was talking about himself as much as anyone in regard to the Kovalchuk deal.
"Seeing him go to that team, maybe some guys can relax a little more and play but you never know what is going to happen," Versteeg said. "It's a game where you just have to go out there and play and let the off ice stuff take care of itself."
On the ice, the Hawks realize they're falling behind San Jose for the top spot in the West and a two-game losing streak is about all they can stand. The Sharks are five points ahead of Chicago entering play on Friday.
"They're kind of pulling away a bit so we want to slow that down a bit here and make sure we don't lose three in a row," Kane said. "We've lost two in a row a couple times and bounced back pretty good. Hopefully we can do the same tonight."
"Obviously there are no excuses. We're at home, the road trip is over, and there shouldn't be any reason we can't do it [win]."
Phoenix doesn't make for an easy opponent anymore. They are only five points behind the Hawks and have about 100 percent less publicity. Their goaltender,
Ilya Bryzgalov
, ranks in the top 10 in every major goaltending category but coach Joel Quenneville is more concerned with his team. He reiterated the need for simple plays that will avoid turnovers but admits with the Hawks' style, the balance isn't the easiest thing to find.
"It's a fine line there," Quenneville said. "We want the puck on our stick. We want a puck possession game … [You have to] recognize the balance where maybe safe plays, chip plays, simple plays ... is the situation to be in."
Quenneville has elected to keep
Patrick Sharp
at center but move
Dave Bolland
up to play with
Marian Hossa
and
Andrew Ladd
. That means Sharp will be between
Dustin Byfuglien
and Versteeg.
John Madden
centers the fourth line and Quenneville said
Colin Fraser
will be back in the lineup indicating he may play wing which would send
Tomas Kopecky
to the bench.
"I think Fraser's awareness and positioning no matter where he is, is pretty astute," Quenneville said. "He's got a good awareness for the game. I don't think it will be an issue."
"[Assistant coach] Mike Haviland coached me in the minors for three years, and I played more wing than I did center," Fraser said. "I've played wing many times before. It's not an issue for me. I'll play defense if I have to. Whatever gets me in the lineup."
As always with new lines, they are subject to change. Only the top line of Kane,
Jonathan Toews
, and Brouwer remains intact.
Cristobal Huet
will start in goal with
Antti Niemi
returning from the flu to back-up.
NOTES
Though he was fine with Kovalchuk not coming to Chicago, it doesn't mean Patrick Kane doesn't like him as a player.
"I think a player like that would definitely be fun to play with…He's probably my favorite player in the league just to watch, Kane said."


The two "hung out" together at last year's All-Star game. Kane said he especially likes his goal celebrations.


Colin Fraser didn't love sitting out last game but understood the reasoning behind it.
"When you have a deep team, it has to be somebody," Fraser said. "It happened to be me. Nothing you can do. Coach's decision. Just when I do get my chance I just have to play well."


He also got the "impression" that there would be a rotation of players that will be healthy scratches based on play and fatigue.


Versteeg is one of several Hawks not shocked by the Coyotes' record.
"It's not a surprise with all the good players they have on their team," Versteeg said. "I guess it's about time they had a good season with those guys."
February, 4, 2010
2/04/10
8:42
PM CT
I arrived at practice late on Thursday, having attended the Rocky Wirtz "
Lunch With a Legend
" radio show on ESPN 1000. The theme with the
Chicago Blackhawks
right now is avoiding the turnovers and making the simple plays. It's actually been a narrative for a while. Turnovers are killing them. There's no need to attempt to make the "perfect play."
Here are some other news and notes as the Hawks try to avoid their first three-game losing streak of the season:
Marian Hossa is now tied for the league lead in shorthanded goals with four. The Hawks have nine on the season -- tops in the NHL. A third of those came in one game against San Jose.
Hard to get down on the Hawks for losing to a Central foe for the first time since Dec. 4. It breaks a streak of nine wins in a row against division opponents. They are 12-4 against the Central this season.
Troy Brouwer earned his 30th point on Wednesday. The Hawks now have eight players with at least 30 points. Only the Washington Capitals can claim that many with at least 30.
Dave Bolland spent more time centering Hossa and Patrick Sharp on Thursday. He had several third period shifts with them Wednesday night.
The Coyotes should be ready for this game. They've been in Chicago since late Tuesday night after beating Nashville 1-0 in a shootout. Wednesday marked one of the few times, if ever, three teams practiced on the same day at the United Center. After the Hawks and Blues participated in their morning skates, Phoenix took to the ice as they did on Thursday as well. The Coyotes are 34-18-5 and, considering their history and current situation, Coach Dave Tippett can take home the Jack Adams Award today.
Last, but certainly not least, cross Ilya Kovalchuk off the chalk board for the Hawks. He's a New Jersey Devil now and while it seemed on paper that he had a chance of becoming a Hawk, the reality and timing just wasn't right. Look for the Hawks to add, if anything, a defenseman before the March 3 trading deadline.
January, 21, 2010
1/21/10
8:55
PM CT
[+] Enlarge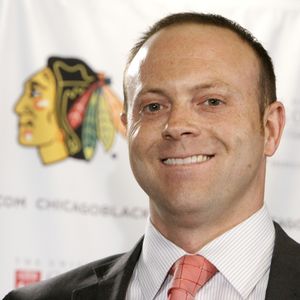 AP Photo/Charles Rex ArbogastStan Bowman says he's not worried about the Blackhawks' goaltending situation.
CALGARY, Alberta --
Chicago Blackhawks
general manager Stan Bowman is happy with his goaltending, but isn't ruling anything in or out as the March 3 trade deadline approaches.
"We're going to meet over the next couple weeks and get ready before the roster freeze," Bowman said before the Hawks hit the ice against the
Calgary Flames
on Thursday. "I'm sure we'll meet over the Olympic break as well and see where we're at then."
Bowman is aware of the amount of time people spend talking about the Hawks' goalie situation, but he views it as a strength of the team.
"I'm not worried about our goaltending," Bowman said. "It's been our strength all year ... I know we play a good team defense but without solid goaltending we wouldn't be where we're at."
When asked point-blank if he thinks the Hawks have the goaltending to win the Stanley Cup, Bowman said, "Yeah, absolutely."
As for
Antti Niemi
replacing
Cristobal Huet
as the No. 1 goaltender in the playoffs, that talk is premature as well.
"From my perspective, I don't worry about that now," Bowman said. "We're sitting here in January. There is a lot that's going to happen between now and April. They've both played well."
Bowman reiterated previous statements that salary cap considerations would not dictate moves the Hawks make now, though admitted cap relief
and
getting a good player in a trade would be a perfect situation.
He also made it clear that chemistry is important but doesn't override what happens on the ice.
"[Chemistry is] something you have to think about, but at the same time you have to look at what the trade off would be ... Those things all factor into the decisions you make but what the most important thing is what happens on the ice. Chemistry does play into that so you can't overlook it."
As for what type of player the Hawks might trade for if they trade, Bowman simply doesn't know or isn't stating what the Hawks' needs will be. He wouldn't address
Ilya Kovalchuk
specifically, only in terms of what kind of a player he is.
"We're going to meet and figure out where it makes sense to add; whether it be that type [Kovalchuk] of player or a different style or a different position. And then at that point we will see what the price is to get that guy if we think its going to make our team better. I'm not going to rule anything in or anything out because we haven't gotten down the pat that far."
Bowman acknowledged possibly wanting depth on defense, but he quickly reminded everyone that any team in the hunt probably would like the same. He doesn't believe the Olympics will wear down
Brent Seabrook
or
Duncan Keith
and acknowledged it's really only "a few extra games."
Bowman ended the media session saying doing nothing at the deadline is an option as well. Basically all options are on the table, but soon, decisions will have to be made. The time is getting close.
January, 6, 2010
1/06/10
1:53
PM CT
[+] Enlarge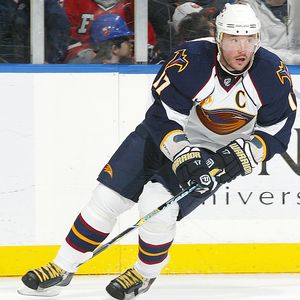 Andy Marlin/Getty ImagesIlya Kovalchuk would give the Blackhawks incredible scoring depth.
By JESSE ROGERS

So my colleague, Pierre LeBrun from ESPN.com, stirred the Internet world a few days ago when he wrote that an NHL executive told him it would be a good idea for the Hawks to enter the Ilya Kovalchuk talks if he's not re-signed by the Atlanta Thrashers.

Let's be clear, this was just a suggestion. There is no evidence any talks have taken place or will take place. I do think Kovalchuk will be traded, but not necessarily to the Hawks. This process is just beginning, so to call it a fluid situation is an understatement.

The best question to ask right now is: Do the Hawks need him or anyone else to help them win the Cup?

I'm starting to think the answer is no. It's not something I would have thought at the beginning of the season. Like a lot of experts and fans, I thought there might be a "playoff toughness" missing from this team. That's different than playoff experience. I'm talking about being a rugged defenseman or nasty power forward short of a perfect roster. Would they be able to compete when scoring came down, checking increased, and the fluid skating game wasn't working?

To the surprise of many, the answer so far is yes. They have battled Pittsburgh, St. Louis and a few other teams with their grit as much as their speed and have come out on top. Simply put, no style of play has thrown the Hawks off their game for too long.

Joel Quenneville has hinted about this lately. He's pointed out the toughness his team has displayed and how it may have surprised the hockey world a bit. In fact, it's possible it surprised him as well.

Of course, just because it's working now doesn't mean it will in the Spring. Joel Quenneville, Stan Bowman and the rest of Hawks brass (um, Scotty?) will determine if they need any help.

So the only kind of trade that can take place is one that sheds salary and helps them for this year. Or at the very least a trade of salary has to bring the Hawks back equal value. But even in doing a trade of equal value, the Hawks needs to be very careful in messing with the chemistry in the dressing room. And believe me, they know that.

Having said all that, read this line carefully: Any player on the last year of his deal is eligible to be traded to the Hawks. Any player. That list could include Mike Modano, Scott Niedermayer, Teemu Selanne and yes Kovalchuk. The obvious draw to him is he's in his prime and, well, he's awesome.

Kovalchuk is a little different than your classic aging veteran looking for one last chance at glory. He's looking for a new contract, and what better way to negotiate with 29 other teams than to light it up in the Stanley Cup Playoffs. There are a lot of reasons to like him.

Here's the bottom line. Because of the Hawks play this season, they are in no "desperate" position to pick anyone up, so they should be able to dictate more than we thought. Considering everyone is aware of their salary cap problems, getting fair value seemed unlikely. But now, seemingly, the Hawks can walk away from the table if they don't like the deal.

There isn't a player available the Hawks have to have, but Kovalchuk is one who would be hard to pass up on. It would give the Hawks three absolute scoring studs – along with Patrick Kane and Marian Hossa -- that no team on the planet could deal with.

Whatever happens, it's an incredible position to be in. To actually be able to say, "We don't need Ilya Kovalchuk or anyone else to win the Cup," is something you wouldn't hear from 29 other teams. I'm starting to believe it myself.