Chicago Blackhawks:

Jake Dowell
June, 27, 2011
6/27/11
4:57
PM CT
The Chicago Blackhawks decided not to "qualify" center Jake Dowell making him an unrestricted free agent on July 1, according to his agent Neil Sheehy.
Read the entire story.
March, 4, 2011
3/04/11
11:42
PM CT
It's not often faceoffs get top billing in a postgame report. But then again, it's not often a team wins 71 percent of their draws.
A problem, at times, for the Chicago Blackhawks this season, it was anything but, in their 5-2 victory over the Carolina Hurricanes Friday night.
"It was a big night [in the faceoff circle], I think everyone had significant numbers," Joel Quenneville said after the game. "That can help, starting with the puck, having puck possession is complementary to our team game."
Ryan Johnson won 14 of 19, Jonathan Toews, 13 of 18, but the best of the bunch was Jake Dowell who lost just one of 12. Johnson performed that same feat on Wednesday night against Calgary. Even Dave Bolland, much maligned this year for a poor faceoff percentage, won 50 percent for the game.
The last time the Hawks had a better single game winning percentage in the faceoff circle was Feb. 10, 2008 against Vancouver.
Campoli Contributes

Chris Campoli, playing in his second game as a Hawk, made an electric third period rush which led to Ryan Johnson's first goal of the season. He added another assist a few minutes later.
"[I was] just reading the play," Campoli said. "Just taking what they give me. I guess it's a sign I feel a little more comfortable. It felt great. Most important is the two points as a team."
Campoli joined the Hawks as they were playing their best hockey of the season. It wasn't that long ago they were languishing below the cutoff line for playoff teams.
"It's hard to imagine," Campoli said. "I have to be honest. Coming from where I came from [Ottawa] we had a tough go. [Its] just a talented group in here. Proud to be a Blackhawk, excited about the opportunity. What can I say, it's great."
Slappers
• Toews scored his sixth goal in four games on his first shift of the night. He has a Blackhawks' season-high eight game point streak, it's the longest active streak in the NHL.
• With Bryan Bickell and Dave Bolland both notching their 15th goals of the season, the Hawks have the most players to reach at least that many, seven, in the Western Conference. It's the second most in the NHL.
• Joel Quenneville, on the balanced attack of his team: "It's probably at our best point all year and we want to make sure we continue on heading in the right direction."
• Viktor Stalberg returns to Toronto, on Saturday, for the first time since the Maple Leafs traded him last summer for Kris Versteeg.
"Excited about it," he said. "Been looking forward to it all year. But we need the two points."
March, 4, 2011
3/04/11
3:29
PM CT


Chicago Blackhawks center Jake Dowell talks to Jesse Rogers about his new line, what's been going right lately for the Blackhawks, and how he plans to celebrate his first birthday in the NHL.
February, 14, 2011
2/14/11
6:40
PM CT
Well, Coach, what took you so long?
The only major news to come out of Chicago Blackhawks' practice on Monday is the formation of a new line for Wednesday's game against the Minnesota Wild.
[+] Enlarge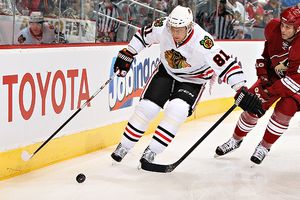 Christian Petersen/Getty ImagesMarian Hossa will be paired with Dave Bolland and Michael Frolik on the Hawks' newest line.
Dave Bolland
will center
Marian Hossa
and
Michael Frolik
.
Bolland and Hossa were destined to be reunited the moment Joel Quenneville put Patrick Sharp back at wing. It was only a matter of time.
"We're going to try that," Quenneville said. "We're going to try that group together … we're going to need that line to be effective."
Hossa's best stretch of play came with a true centerman, Jonathan Toews, early in the season. As effective as Patrick Sharp was at center, during the playoffs last year, it's still not his strong position. So now Bolland gets another try there.
Bolland and Hossa have played together previously but didn't demonstrate the chemistry hoped for when both signed contracts two offseasons ago.
The difference this time around might be in Bolland's confidence. He has 12 points in his past 13 games, about as good a stretch as he's had as a Hawk.
If he can feed Hossa the puck, where and when he wants it, maybe the old No. 81 will return for good.
"I know he's more effective when he does have it," Quenneville said. "He protects it and has strength in that area and all of a sudden something positive develops. Hossa, last game, played where he did have the puck more and was more of a factor."
Quenneville's right. Hossa looked a little like his old self against Phoenix. With a passing centerman next to him now, maybe the Hawks will finally have a second line that can contribute five-on-five. Quenneville didn't dismiss the notion that they would have checking line duties as well.
All of a sudden Frolik, Bolland, and Hossa have become three important pieces to the Hawks puzzle. Now let's see if they fit together.
Slappers

• Jake Dowell and Patrick Kane missed practice on Monday due to illness. Fernando Pisani remains out after leaving Friday's game in Dallas. Duncan Keith was given the day off.
• The Quote: "He takes the brunt of everything which some nights he shouldn't. Too many nights he takes the brunt of the attention from the media and when things aren't going well he sits in his locker and answers every question."- Brian Campbell on captain Jonathan Toews
October, 27, 2010
10/27/10
8:20
PM CT
The Chicago Blackhawks and Los Angeles Kings are tied 1-1 after the first period at the United Center.
The Hawks opened the scoring as their newly-created fourth line got on the board first. Fernando Pisani kicked a feed from Duncan Keith to his stick then made a nice drop pass, behind him, to Jake Dowell who headed to the net. His shot deflected off a Kings defenseman and over goalie Jonathan Bernier. It was Dowell's first goal of the year and Pisani's first point as a Hawk.
The Kings tied it midway through the period when Justin Williams beat Duncan Keith to a pass that came hard off the end boards. Williams one-timed the shot past Marty Turco.
The Hawks had nine shots on net. The Kings had 10.
September, 23, 2010
9/23/10
7:49
PM CT
[+] Enlarge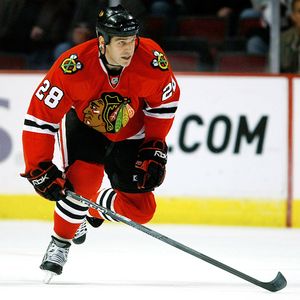 AP Photo/Charles CherneyJake Dowell likely will be the Blackhawks' fourth-line center.
It would be hard to argue that the
Chicago Blackhawks
' depth down the middle isn't as strong as they come in the NHL. Names like Toews, Sharp, and Bolland bring images of dynamic play on both ends of the ice.
But that's only three centers. The Hawks need a fourth.
With
John Madden
moving on, someone new will be part of that great depth. Unless he has a preseason meltdown,
Jake Dowell
is penciled in as the new centerman on the block.
Dowell was a fifth-round selection in 2004 so he has paid his dues. He was part of that Wisconsin connection that won an NCAA title with
Adam Burish
as captain. He's had a couple of cups of coffee with the Hawks and they included him, and a few other prospects, in their Stanley Cup winning festivities, but now he wants to be part of the real thing.
"We were part of the team, but we didn't play in any of the playoff games," Dowell said recently. "I want to be a part of that."
Dowell is a gritty type who excels in the small things. Faceoffs, penalty killing, defense--and fighting. As player after player moved on this past offseason, both Joel Quenneville and Stan Bowman spoke of Dowell as an immediate replacement. Sounds like they still believe it, but aren't handing him anything.
"It's an important position [fourth-line center]," Quenneville said Thursday after practice. "Jake brings you some intensity. He brings you the approach that you want where he has some energy on that line. He can take faceoffs, and he can kill penalties and be reliable. That's what we are striving for to fill that role. We'll see how he plays it out and competes throughout camp."
Dowell has heard some of the praise and wants to live up to it.
"Yeah, I want to hear that stuff," Dowell said. "I want to be a guy that can replace some of the guys that had to go to other teams. But I can't take anything for granted."
Until now you may know Dowell as the guy who fought just about everything that moved last year in training camp. This time around he has another objective.
"I want to prove I can play some hockey," Dowell said. "Last camp I fought quite a bit to kind of prove a point that I can do it, and this time I want to do the same thing but also show that I can play some hockey, too."
Dowell has one training camp fight and fought Wednesday night in the Hawks' preseason game against Tampa Bay. It wasn't much of a bout because Dowell's jersey quickly ended up over his head. He and his teammates laughed it off.
"Yeah, [Duncan] Keith said I looked funny," Dowell said.
Dowell says he's learning by watching his teammates, especially the other centers. He has a Conn Smythe winner (captain Toews), a former 36-goal scorer (assistant Sharp), and a defensive guru (Bolland) to tutor him.
"He's got that fire, and he's not afraid to do that dirty work," Toews aid of Dowell. "He's one of those guys that if you are playing against him you want to know where he is at [on the ice] because he is very physical and his competitiveness is very high as well."
Dowell says he's learning from everyone and realizes how competitive things are from the stars to the role players.
"Guys get ticked off if they lose a faceoff," Dowell said. "If Toews loses one to me [in practice], I can tell he's mad or he gives me a shove. There is that inner fire that everybody has. Johnny is one of the best players around, and he still cares about that stuff so it rubs off on me, too."
Quenneville wouldn't go as far as to say the fourth-line center spot was his to lose, but all indications are it is. It sounds like he has the backing of his teammates.
"It doesn't matter who he's talking to whether it's the coaches or other players, he wants to learn and better himself, everyday," Toews said. "He's doing that."
September, 10, 2010
9/10/10
5:21
PM CT
[+] Enlarge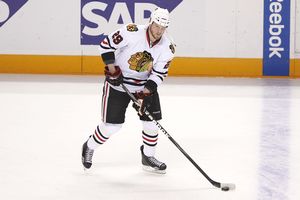 Jason O. Watson/US PresswireAt one point in the playoffs last year, Joel Quenneville was so confident in Bryan Bickell he put him on the top line with Patrick Kane and Jonathan Toews.
Between now and training camp, we'll take a look at the Hawks roster. This entry examines the fourth line. The newly acquired Ryan Potunly figures in the picture for the third and fourth line but isn't included in this breakdown:

Jake Dowell, Center

Experience: 23 games for the Blackhawks over the course of the last three seasons. The bulk of his time has been in the AHL.
Contract Status: Last year of a two-way deal that pays him $550,000 if he plays for the Hawks. He'll be a restricted free agent at year's end.
Jesse's take: Another one whose time has come with all the recent departures. No one is guaranteed a spot when it comes to the fourth line, but Dowell is as good as entrenched for a newcomer. At least he was until Potunly was signed. Hawks brass has singled Dowell out several times over the summer as a tough nosed player who could fill that role. Last preseason, he dropped the gloves with his teammates about as much as anyone, and the Hawks will enjoy that toughness as they lost some of it this offseason via trades. He's had a total of 35 fights the last three seasons in the AHL and three in the NHL (including preseason) in limited time. When Marty Reasoner was dealt it further solidified Dowell's spot on the roster.

Bryan Bickell, Left wing

Experience: 23 games for the Blackhawks over the course of three seasons. The bulk of his time has been in the AHL
Contract Status: Re-signed with the Hawks this offseason for three years at an average of about $540,000.
Jesse's take: He's spent the same amount of time with the Blackhawks as Dowell, but he's been much more noticeable. No more so then when he lined up in last year's playoffs next to Patrick Kane and Jonathan Toews. People remember that Dustin Byfuglien starred in that spot in later rounds, but early on Joel Quenneville called upon Bickell to play with his young stars and he helped the Hawks turn the tide in the Nashville series. He's a big body with decent hands who "gets it." He rarely embarrasses himself on the ice, and now he should have the confidence to grow into a larger role. Could easily be a player who sees time on any of the four lines. Quenneville praised him, in particular, at the end of the regular season last year.

Fernando Pisani, Right wing

Experience: A seven year veteran of the NHL, all with the Edmonton Oilers.
Contract Status: Signed a one year deal for $500,000 this offseason.
Jesse's take: A hero in Edmonton during their great playoff run in 2006, he's been an oft-injured winger over the last few seasons. When healthy he adds experience and some depth for the Hawks penalty killing units. That's his specialty these days. He's currently fighting a back ailment that could slow him at the beginning of training camp, but he's a solid veteran who just needs to stay on the ice.
July, 1, 2010
7/01/10
8:42
PM CT
I think it's over. You can come out from behind your desk.


The Blackhawks are done ripping apart their championship team. Though it had to be done, I'm not sure anyone thought it would go this far.

[+] Enlarge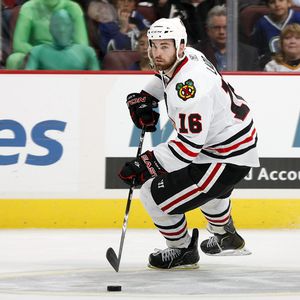 Jeff Vinnick/Getty ImagesKeeping Andrew Ladd was too costly for the Blackhawks.
At this time last week, most felt either
Kris Versteeg
or
Andrew Ladd
would be moved, but not both. The funny thing is, with Thursday's moves, including saying goodbye to
Adam Burish
, the Hawks didn't remove any more current salary from their roster. Both Ladd and Burish were free-agents. But they are both getting raises. That's not something the Hawks were interested in.

"It became apparent it wasn't the right mix as far as salary and our situation here," General manager Stan Bowman said about Ladd.


While it may come as a shock to the system for most fans, Bowman said this was all foreseeable -- at least on his part.


"We planned for this," he said. "We accomplished exactly what we've had to do from the very beginning."


I'm not sure if that's reassuring or not.


The Hawks sit at about $51 million in salary committed to next year and that includes Cristobal Huet but doesn't include the bonuses both Jonathan Toews and Patrick Kane received after the season, which counts against next year's salary cap.


Between Toews winning the Conn Smythe and Kane finishing in top 10 in scoring, the total is near $4 million dollars. Bowman confirmed as much on Thursday. That's what Versteeg and Burish will make next year. Those bonuses were worth two pretty decent pieces to the Hawks puzzle. Ouch.


So who will replace all the grit and size the Hawks lost over the last 10 days? Bowman pointed to one player in particular.


"Jake Dowell has a really good chance to be on our team next year," Bowman said of the Rockford captain. "Have to look at filling some other spots as well. [Free agent] players we've been calling on and having discussions with. We're not going to stand on the sidelines."


Dowell was hanging out with Burish when the latter agreed to his deal with Dallas. His leaving helps open the door for the gritty center/wing. Bowman isn't only going to look in-house for replacements, though.


"We're going to see what we can add to the mix now," he stated. "I think we have alleviated the situation we were in."


I sure hope so. There's not much left of the third and fourth lines as well as the bottom pair of defense, though Jordan Hendry is expected back.
But that's what Bowman has been preaching all along. The Hawks have plenty of stars locked up for quite some time, now it's his job to find the right complements to go with them from year to year. The team also locked up former Minnesota Wild enforcer John Scott on Wednesday.


And of course there is that little matter of signing his goaltender and solid number four defenseman.


"I've had discussions with all their agents," Bowman said of Antti Niemi and Niklas Hjarmalsson in particular. "It's a back and forth. No real updates per se. Things are going along as you'd expect."


If he can get those done, it would be the first piece of good news since they hoisted the Cup. Seems like ages ago already.