Chicago Blackhawks:

James Wisniewski
June, 12, 2010
6/12/10
7:33
PM CT
Brent Seabrook
and
Anaheim Ducks
defenseman
James Wisniewski
are friends again.
[+] Enlarge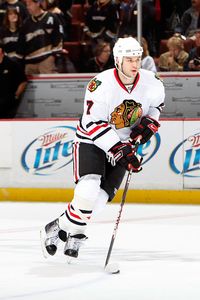 Jeff Gross/Getty ImagesBrent Seabrook, above, and James Wisniewski have mended their friendship.
Seabrook admitted on Saturday that he talked with his former teammate before the playoffs. The two have put the past behind them.
"I understand the game happens quick and things out there happen fast, and you make a split second judgment and things can happen that quick," Seabrook said.
Wisniewski was suspended for eight games after he delivered a vicious hit on Seabrook in a game between the Hawks and Ducks on March 17. Seabrook was behind his own net when Wisniewski came flying in for a head shot that Seabrook never saw coming. Seabrook left the game immediately and missed several more after the incident recovering from the subsequent concussion.
The NHL came down hard on Wisniewski for hitting a player without the puck and several days later Seabrook admitted his friendship with Wisniewski was strained. At the time he had no interest in talking to his buddy who had verbally invited him to his wedding this summer.
"Any time something like that happens, I think it's tough to handle, regardless," Seabrook said at the time. "But coming from a friend, coming from a guy I know pretty good, it's got to be one of the most difficult things to get over."
Apparently, time heals all wounds and maybe so does winning the Stanley Cup.
"I don't think [Wisniewski] was trying to hurt me, but at the same time it's a bad hit, and there is no room in the game for that," Seabrook said on Saturday. "He understands that, and he admitted he made a mistake. We talked it out. We laughed a little bit and had some fun after that. It was a good conversation, and we still talk today. He was texting me about winning the Cup, so that part is over."
Seabrook and Wisniewski were teammates on the Hawks and in the minors for parts of five seasons before Wisniewski was traded to Anaheim in the 2008-2009 campaign.
April, 3, 2010
4/03/10
3:12
PM CT
NEWARK, N.J. -- Every morning from now until the playoffs, I'll give you an update on where the
Chicago Blackhawks
stand in the playoff race.
With their dramatic 2-1 shootout victory over the
New Jersey Devils
on Friday, the Hawks have their first division title in 17 years in their sights.
A
Detroit Red Wings
' loss in regulation to the
Nashville Predators
on Saturday will clinch the title and mark the first major achievement of the season. In training camp, the Hawks spoke openly of wrestling away the division from the Red Wings who have had a stranglehold on it for nearly a decade.
The Hawks' win on Friday eliminated the Predators from contention for the division but both the
San Jose Sharks
and
Vancouver Canucks
kept pace as the No. 1 and No. 3 seeds, respectively. The Hawks remain three points behind the Sharks and five ahead of the Canucks.
The
Calgary Flames
have caught the
Colorado Avalanche
for the No. 8 seed but they have played one more game than the Avalanche. The Flames visit the United Center on Sunday.
Detroit hosts Nashville on Saturday, and if the Predators have any hope of holding on to the No. 5 seed, they need to win. The Wings are one point behind Nashville but will have four games remaining after their game while the Predators will have just two. Detroit is the hottest team in the NHL, having won seven in a row.
If the playoffs began today, the Hawks would take on the
Los Angeles Kings
, but with the way the schedule is taking hold, Chicago and Nashville might be on a collision course. The Hawks seem entrenched as the No. 2 seed while Nashville, with only those two games remaining, could easily drop to No. 7 before the regular season concludes a week from Sunday.
The schedule is not doing any favors for the Blackhawks, in the final week. Between Sunday at 2 p.m. CT and a week from Sunday at 2 p.m. CT, the puck will drop five times for Chicago in as busy a finish as you'll find. Included in that week are single game trips to Dallas and Colorado, plus a back to back set. Oh, and there's that season finale against the previously stated hottest team in the league, the Red Wings.
Considering the way the Hawks were playing going into it, the just concluded three-game road trip was nothing short of great. They played even games at the
St. Louis Blues
and New Jersey, coming away with a win and a loss. Sandwiched between was a solid, shutout effort against the
Minnesota Wild
. It's looking more and more like the problems the Hawks were having in March were due to the time of the season more than anything systematic.
The trip proved a couple things.
Antti Niemi
might just be ready for the postseason, and
Dustin Byfuglien
does indeed belong on defense. There are still some offensive issues to be addressed, starting with the power play, but at least defensively, the Hawks are coming around.
Speaking of the power play, there were no opportunities on Friday for either team. No penalties called at all. That's the first time since 2001 an NHL game went infraction-less.
If you believe in coincidences, then there is a heck of a one going on involving the Hawks and referee Paul Devorski. He was one of the refs for that infamously poorly officiated game in Anaheim on March 17. That was the game where
James Wisniewski
ran
Brent Seabrook
but only received a two-minute minor, before subsequently being suspended for eight games because of the brutality of the hit. It also was the game that
Brent Sopel
was clearly crosschecked in the back near the slot without the whistle being blown. That led directly to the winning goal.
It's assumed Devorski and the other officials in the game had a nice talking to with the NHL after the game. The next night, against Los Angeles, with the same referee crew, the Hawks were not given a minor penalty in the game. The next time Devorski worked a Hawks game? Friday night in New Jersey. Again, no penalties called.
That's no coincidence.
March, 23, 2010
3/23/10
10:12
AM CT
Chicago Blackhawks
defenseman
Brent Seabrook
is hoping to play Tuesday night for the first time since
Anaheim Ducks
defenseman
James Wisniewski
knocked him out of a game last Wednesday.
Seabrook missed games in Los Angeles and Phoenix after the hit, which cost Wisniewski an eight-game suspension.
"He has skated three times now ... and he's looked fine," Hawks coach Joel Quenneville said Monday. "He seems ready to go."
Read the full story.
March, 22, 2010
3/22/10
9:54
PM CT
It's Mailbag Monday and there are some angry people out there. I can't imagine what a San Jose blogger doing his mailbag is going through these days. Not pretty! But let's get to some questions about the Blackhawks:
[+] Enlarge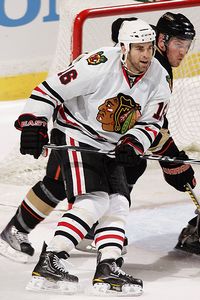 Debora Robinson/NHLI/Getty ImagesAndrew Ladd suggested recently that some players might be tuning out coach Joel Quenneville.
We need to get [Brent Sopel] off the top pairing ASAP, Jesse. He serves his purpose blocking some very tough shots on the penalty kill, but is otherwise showing his colors as a defensive liability against top players. Will the Hawks' defensive woes be corrected simply with the health of [Brent Seabrook] and [Kim Johnsson]?
Ross (Chicago)
Ross,
Sopel is a temporary replacement on that pairing, so as soon as Tuesday night he'll probably move back down the ladder. I can't tell you for sure all their defensive problems will be cured when they get healthy. It's not like it was perfect before the injuries. Quenneville has not come down that hard on them, if anything, he's been more critical of his forwards and their defensive mentality. But let's start with Seabrook and Keith. They need to get back to the lockdown pair they were for much of the first three quarters of the season. If that happens, others will fall into place, in my opinion.
After the Seabrook Massacre, how in the world does Quenneville not put Dustin Byfuglien, Adam Burish, and Ben Eager out on the ice every single time James Wisniewski was on the ice? I know that Coach Q doesn't like to play that type of game, but he referred to the Wisniewski hit as one of the dirtiest hits in the history of the game. If that's the case, then don't you want your tough guys to let the league know that if you come at one of the Hawks, then this team will have some words and hits for you?
Niko (Chicago)
Niko,
If you forced me to agree or disagree with you, I would agree. Maybe not every time he was out there but at least make a point of getting at him one time before the end of the game. Lucky Wiz was out there for the final shift so Boynton could have at him, otherwise it would never have happened. If the Hawks weren't looking to win the Cup—in other words—if they didn't have bigger fish to fry then maybe we would have seen some retaliation before the final seconds. It was curious how all that went down. Hey, Burish and Wiz have the same agent so maybe they didn't want to tangle, or maybe one friendship was already strained and no one wanted to go down that road any more. They'll get him next year -- maybe.
Should [Byfuglien's] move to defense be permanent? He looks pretty good back there.
Tim (Chicago)
Tim,
Permanent is a long time, but certainly I would do it until further notice. Kim Johnsson won't play Tuesday so it would be easy to keep him with
Niklas Hjalmarsson
another night. Maybe he's a short- or even long-term spark for that group. He certainly was against the Kings and though not as good against Phoenix, he got the job done. Until he gets exposed—if he doest at all—I would leave him there and I think that's Quenneville's plan.
I'm a bit worried about Andrew Ladd's comments that potentially players might be tuning Coach Q out. Do you think that's the case? The defensive problems have been happening long before injuries crept up. I don't think this will happen but do you think that the Hawks might pull what the Devils did several years ago (replaced Ftorek with Larry Robinson late season) and what the Pens did last year (replace Therien with Bylsma) to shake things up? We all know what happened in both instances.
Andrew (New York City)
Andrew,
First of all, unless Scotty Bowman is coming back, (would he? Just kidding) they are not making a coaching change. Let's not get crazy here. I think Ladd was coming to that conclusion simply based on what's happening. They keep stressing playing better with the lead and yet they keep giving it up, so hence they aren't listening. I think they are listening but aren't following through once the game gets into the latter half.
Duncan Keith
said it right, you don't have to try and score every shift. The message when you have the lead is to take what the other team gives you when you can, but protect that puck. We know the forwards don't always do that and the defense isn't bailing them out.
If we keep having to shuffle our defensemen around into different roles as far as special teams go, what do you think power play and penalty kill should look like to best use the players we have available?
Johnna (Northbrook)
Johnna,
I'm not sure if you mean when everyone is healthy or not but I do like Byfuglien playing both special teams now that they were down a couple of guys. We'll see if he stays on the PK with Seabrook returning. The forwards that play the point on the power play are six, half a dozen of each other. Right now
Marian Hossa
is getting a look on the point as is
Dave Bolland
but again, that will change when Seabrook and Johnsson return. On the power play, I like Byfuglien on the point with Duncan Keith and then I have no problem with Seabrook and Johnsson with the other unit. Hossa is as good as any forward back there so I'm good with that as well. Not a big fan of Sharp or Bolland on the point for the power play.
Since I am tired of all the negativity in the news, can you share your thoughts on the three most important reasons Blackhawks fans should keep things in perspective. In other words as we approach the end of the regular season, what are the three most important factors that will contribute to the team's success?
Janice (Naperville)
Janice,
First of all, this is a tough spot to judge any elite team. The final two weeks will tell more. I don't have a huge problem with 4-4-2 since the Olympic break. Now you don't want to go into a complete tank job like San Jose is doing but the Hawks are hanging in there enough. So reason number one is this isn't the playoffs. That's when teams find a new gear and I would think the Hawks will as well. Reason number two would be, even though they are losing some leads, that's not as bad a formula as coming out and getting whooped from the get-go and trying to fight back. Holding onto leads should be fixable. Then again I've been saying that for a month! Reason number three is a good one. Other teams have flaws and/or young goaltenders as well. Yes, Phoenix is on a roll right now and so is Nashville but that could go the other way at any moment. They aren't perfect teams. In my opinion, Blackhawk flaws can be covered easier and better than most other teams. Now they just have to go out there and do it!
March, 22, 2010
3/22/10
3:58
PM CT
[+] Enlarge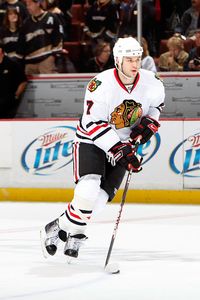 Jeff Gross/Getty ImagesBrent Seabrook might play on Tuesday against the Phoenix Coyotes.
On Monday,
Blackhawks
coach Joel Quenneville reiterated that he is not just blaming his defensemen for his team's mistakes, especially in holding onto leads.
"It's more of our group of five playing defensively and how we're playing in our own end," Quenneville told reporters after practice on Monday. "Our defense[men] are not an issue, it's the team defense mentality."
After taking a 1-0 lead over the
Phoenix Coyotes
after one period on Saturday, and then ballooning that into 2-0 and 4-2 leads later, the Hawks dropped the contest 5-4 in a shootout. It dropped their winning percentage when leading after the first period to just .714. That's 17th in the NHL.
They get another chance at the Coyotes on Tuesday and after Phoenix won its ninth consecutive game on Sunday, the contest will be for first in the conference. The Hawks and Coyotes are tied with 97 points.
"Now it's the biggest game of the year," Quenneville said. "You can't let up against them."
Quenneville named
Antti Niemi
his starter for Tuesday after he got the loss on Saturday, dropping his shootout record to 5-2.
Defenseman
Brent Seabrook
is likely to play. He said he's felt better every day since a hit by the
Anaheim Ducks
'
James Wisniewski
last Wednesday.
Seabrook has missed the past two games.
March, 20, 2010
3/20/10
5:36
PM CT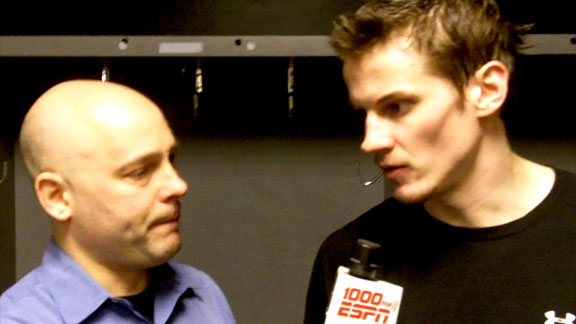 GLENDALE, Ariz. -- Every ten games, I'll give you an assessment of the
Chicago Blackhawks
. This one comes to you poolside, in Glendale, before the Hawks' road finale against the
Phoenix Coyotes
. But enough about me, lets talk about
them
. With little time remaining in the regular season, the 45-19-6 Blackhawks are trying to round into form before the real fun starts. Here are 10 things you need to know about the last 10 games and the first 70:
[+] Enlarge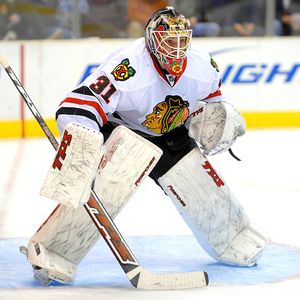 Kirby Lee/US PresswireAntti Niemi could become the Hawks' top choice in goal for the playoffs.
10. Two words: Big Buff:
The move to defense in games 69 and 70 has been stunning. So stunning, in fact, that Hawks coach Joel Quenneville might not move him back to wing, even as the defense gets some of its injured members back. I'd like to think I know
Dustin Byfuglien
as much as anyone and I have no shame in saying I didn't think he could do it. At least not with just a snap of the fingers like he has. I'm not sure he knew he could do it, either. His game against L.A. was nothing short of magnificent. Yes, he led the team in shots and hits, and only
Duncan Keith
played more minutes, but it was simply his sound defense that was most impressive. He helped stop the bleeding after three tough losses, one night after one of their own -- good friend James Wisinewski -- could have easily created a distraction with his hit on
Brent Seabrook
. I mean, it
was
all the talk the next day, but there goes Buff getting the job done.
Here's the lowdown we're learning on No. 33. Nothing fazes him. He doesn't get nervous. I guarantee you he slept the same the night before the Kings game as he did the previous 69. And he's a rise-to-the-occasion type of player. He did it in the playoffs and now, being put in a very vulnerable position with the potential to get burned and hurt the team, he has come up big again. The downside of that laissez-faire attitude is that it's not necessarily conducive to putting up big numbers over an 82-game grind, but you take what you can get. Quenneville sounded like a proud father who came home from a business trip and saw his kid walk for the first time. "A diamond in the rough" he called Byfuglien -- and it's not like Quenneville throws around the over-the-top praise very often. One caution, as of this writing: it's only been one and a half games.
9. The Hit Heard Round the World, Part I:
Alex Ovechkin
must feel pretty lucky after
James Wisniewski
went down for the eight count, but more on that in a moment. Ovechkin's "hit" or "shove" or whatever you want to call it may not have had the same intent as Wisniewski's, but it was darn close. What exactly
was
Ovechkin's intent if not to cause some damage? In my opinion, his was not even close to "finishing a check." Most players would have turned toward the puck as
Brian Campbell
sent it back to his right but Ovechkin went right for Campbell instead. It's why I think Campbell was surprised by the hit. He was going left and the puck was going right and then comes a shove into the boards. Ovechkin knew the vulnerable position Campbell was in and did it anyway. In light of Wiz's punishment, Ovechkin should have gotten at least two more games.
8. The Hit Heard Round the World, Part II:
This controversy has so many storylines, it reads like a soap opera. Friend knocking friend out. Wedding invites canceled. General managers and coaches firing on each other. Quenneville should have fired back on Bob Murray. How about, "I'll take care of the goaltending for our No. 1 or 2 seeded team, you make sure your Olympic-heavy squad doesn't finish in last place." That work for you?
I do think the punishment on Wiz was rather harsh. It's a tough case to make, but he tried to say this was a "hockey play" and not just a brutal attack like
Todd Bertuzzi
on
Steve Moore
. I'm told, at one point, Wiz said to the league, "I'm friends with the guy, I invited him to my wedding, why would I hurt him?" The league wasn't buying. I think five or six games would have been fair, but I'm not complaining and neither are the Hawks. I will say this: If you took a poll of Hawk players and asked what former player was most likely to do something like this, Wisniewski might be at the top of the list. Not because he's a bad guy, just that maybe the elevator doesn't always go to the top floor -- and I don't say that as a criticism. Most of the time, that's all fun and games. Not this time.
7. Upsets looming?
Even though the playoffs don't begin for another month, after 70 games, I can say with some confidence, there will be upsets this spring, big time. In fact, in my mind, they won't be upsets at all -- not with four or even five young goaltenders manning the pipes in the West and not with the
Detroit Red Wings
as an extremely low seed. My editors will ask me for playoff predictions when it comes time, and I might politely decline for fear of looking like a fool. It would not shock me if the Hawks lost in the first round or went to the finals. I do think they will have another gear in them when the second season starts, so the finals are more likely than an early-round exit. Still, when you fill out your playoff brackets, remember what I told you .. and then watch the top four seeds advance.
6. You make the call:
So, did the Olympics take anything out of the six Hawks who went? The eye test might tell you the four in the gold medal game have had their ups and downs. No team, obviously, played more pressure-filled games than the Canadians. Since the break ended, Keith, Seabrook and
Jonathan Toews
are combined minus 10. That's more than my "eye" talking. On the other side of the equation,
Patrick Kane
is an even player and no Hawk forward, arguably, has played better than
Marian Hossa
, who is plus two. Like you, I still wouldn't mind seeing Keith's minutes come down in the final stretch of games. That plan may have been put on hold with the injuries to the back line.
5. Chi Town fans:
Having been on the road much of the season, it's still amazing when the Hawks get a huge Chicago turnout. And I write this
before
the Coyotes game, where it's expected a major part of the crowd will be pro-Hawks. In L.A. and Anaheim, Hawks fans were out in droves as well. Other than the Canadian cities, this should come in handy once the playoffs start. Buy up those Joe Louis Arena tickets now. The Hawks have often incited the home crowd to boo, just because they've kept the puck in the offensive zone for long periods of time, as they did against the Kings. In fact, their puck possession game in L.A. was as good as in any game in recent memory, hence a lot of booing.
4. Just as planned:
The Hawks aren't put together to allow for a 50-goal scorer this season. We knew the production would be spread out, and that's exactly how it's happened. After
Troy Brouwer
put in his career-high 20th goal the other night, the Hawks can boast five players with at least that many. They have an outside shot at getting eight players (
Kris Versteeg
16, Byfuglien 16,
Andrew Ladd
15) to the 20 mark. That accomplishment pales in comparison to the
Washington Capitals
, who already have seven players with 20 goals or more. They actually have a shot at four or maybe even five 30-goal scorers. Wow.
3. Goaltending, again:
What would a 10-game review be without a goaltending update? By now, almost no one should be confused:
Antti Niemi
is this close to being the man for the playoffs. You have to feel a little sorry for
Cristobal Huet
, not that he didn't help make his own bed. It's just that any success he's had this season is going to be, if not already, long forgotten because of some of his recent shortcomings. He did have about a three-month stretch where everything went well. Soft goals and a defense that, at times, didn't help him out, was his undoing. Then, he got sick at a critical time for him to take the bull by the horns. It kept him off the ice for nearly a week and it might help keep him off for most of the spring. He was a stand-up guy about his issues, though. Give him that much. If Niemi controls his rebounds, as he did early in the season, then he has a shot of being something special over the next few months. I still wish he would have played in Anaheim and L.A.
2. I can't let it go:
The officiating in Anahiem was beyond brutal. I'm told the refs thought
Brent Sopel
was diving when he got hit from behind. I think it would have been physically impossible for him to take a dive. He was in the air, ready to bat the puck, and he got hit. How would he control himself enough to take a touch and turn it into a flop, while in mid-air? I don't think it's possible. Then we see one "check" result in a five-minute major and game misconduct, but just a two-game suspension. Next comes a little, bitty, two-minute minor call that results in
eight games
? Something isn't right here. As one league source put it to me, "Wisniewski paid the price for
Matt Cooke
and Alexander Ovechkin." In other words, they came down hard on him because they hadn't, previously, and took some criticism. I don't know what is right and what isn't, but the whole thing smells bad.
1. Never as bad as you think:
Can you believe, through all the controversy, injuries, and sometimes poor play over the last 10 games that the Hawks sit atop the Western Conference standings? Yes, they are a .500 team since the Olympic break, but as of this writing, the
San Jose Sharks
have lost the first four games of a six-game road trip, five overall, and one loss was an 8-2 disaster to the
Dallas Stars
. Ouch. Other teams have problems, too. It's hard to keep that in mind when you're a fan of just one, but it might keep you saner. That's why the playoffs are really a toss up. Everybody has some flaws. The team that can overcome them the best might determine the Western Conference winner. On to the final 10 (OK, 12) games!
March, 18, 2010
3/18/10
9:28
PM CT
LOS ANGELES -- They wouldn't take the bait.
Chicago Blackhawks
coach Joel Quenneville and general manager Stan Bowman shrugged off critical comments by
Anaheim Ducks
GM Bob Murray regarding the eight-game suspension the NHL handed down on Ducks defenseman
James Wisniewski
.
"I did hear about it and it doesn't deserve a comment," Quenneville said.
In a conference call with reporters on Thursday, Murray, fired on the Hawks after Joel Quenneville called out Wisniewski for the "dangerous" hit he put on defenseman
Brent Seabrook
.
"I played in Chicago for a long time, I lived in the city of Chicago, it used to be a black-and-blue town, it didn't have whiners," Murray said. "I strongly suggest Joel worries about his goaltending and stops trying to run the National Hockey League. He should worry about coaching."
Bowman refused to comment until he talked with Murray.
"I should talk to him before I say anything about it," Bowman said.
Quenneville's comments that supposedly set Murray off came after the game on Wednesday in which the Ducks beat the Hawks 4-2.
"You hit a guy without the puck, you could kill a guy," Quenneville said. "It's the most dangerous hit in the history of the game, all right... He tried to hurt him. If that's not intent, that's as bad a hit as you could ever have in the game."
February, 8, 2010
2/08/10
5:35
PM CT
He may not say it but
Tomas Kopecky
must have been as surprised as anyone when coach Joel Quenneville announced new line combinations in meetings before the
Chicago Blackhawks
took on the
St. Louis Blues
on Saturday.
[+] Enlarge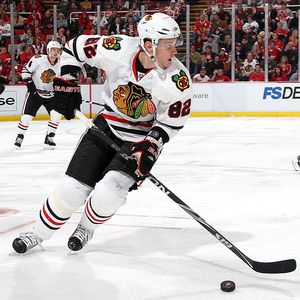 Dave Reginek/Getty ImagesTomas Kopecky has four goals and seven assists this season.
Kopecky wound up playing with fellow Slovakian and friend,
Marian Hossa
, with
Dave Bolland
as their centerman.
"We had a meeting in St. Louis and [Quenneville] wrote down the lines and that's when I realized I was going to be playing with Marian and [Dave Bolland]. Actually, I was hoping [to be on a line with Hossa] the whole year. Now the chance came and now I have to grab it and don't let it go."
It's a far cry from riding the bench, which Kopecky did just the night before -- or from playing on the fourth line, which he's done most of the season. Kopecky thinks his line played well in the Hawks own end on Saturday and he knows what his role will be on it.
"The last game we played really good defensively," Kopecky said. "We didn't give them any chances against. We'll get our chances offensively. Hossa is a top player in the NHL and [Bolland] is a great passer. My job is to get the puck to Hossa or Bolly and go to the net. Every time you get them the puck something good is going to happen, and driving the net is what I need to do."
One advantage the two Olympians have playing on the same line is using their native tongue when they need to. The only problem? Dave Bolland doesn't know any Slovak.
"Yeah, already, sometimes they start talking Slovak and you don't know what to say [back] so I figure it's between them. As long as they're not talking about me," Bolland joked.
Bolland is getting used to playing with a talent like Hossa. While different than his linemate of last year,
Martin Havlat
, their similarities are in their world-class talent.
"From playing with Havlat to Hossa is a bit of a difference," Bolland said. "There's little things you have to get used to. Every game you start to find out where he is and where to get him the puck. That [part] is the same as Havlat last year. The first few games [with Havlat] I was stunned. He's everywhere, he's so quick. With Hossa it's a little different, but we're getting there."
Kane on Caps:
Patrick Kane
watched the
Washington Capitals
thrilling come-from-behind win over the
Pittsburgh Penguins
on Sunday. It was Washington's 14th consecutive victory. He's impressed by the Capitals, though knows that streak hasn't involved much travel.
"Those Eastern Conference teams get a little bit of an advantage," Kane said. "They make one trip west a season and then play in the same time zone most of the year. But I'd be surprised if Washington didn't make it [to the finals] this year. They are head and shoulders above teams in the East."
As for
Alex Ovechkin
's game, Kane said, "I like [Ilya] Kovalchuck's style more, but at the same time Alex Ovechkin is the best player in the league. Anybody would tell you that."
NOTES:
Antti Niemi will start a second consecutive game on Tuesday against Dallas.
Ben Eager missed practice with a lower body injury that kept him out of the Blues game on Saturday. Joel Quenneville also missed practice. He and Stan Bowman attended the wake of Brendan Burke, who was killed late last week in a car accident. Brendan is the son of Toronto Maple Leafs general manager Brian Burke.
Sources say there are "plenty" of teams calling Anaheim Ducks general manager Bob Murray inquiring about his defensemen. The Daily Herald reported on Sunday the Hawks may be interested in re-acquiring James Wisniewski, who they traded to the Ducks last season for center Sammy Paulson. Sources confirm the Ducks are unsure if they will be able to re-sign Wisniewski. He is set to become a restricted free-agent and could be the depth guy the Hawks are looking for if his teammate, Scott Niedermayer, is unavailable for a bigger trade.