Chicago Blackhawks:

Jamie Kompon
July, 8, 2014
Jul 8
6:32
PM CT
Jamie Kompon is leaving the
Chicago Blackhawks
' coaching staff and will be named the head coach and general manager of the Western Hockey League's Portland Winterhawks, according to multiple reports.
Kompon's departure was first reported by hockey writer Gregg Drinnan at gdrinnan.blogspot.com. A Blackhawks spokesperson was unable to confirm the reports.
Kompon joined the Blackhawks' staff as an assistant to head coach Joel Quenneville before the 2012-13 season and spent two seasons with the Blackhawks. Kompon had also been an assistant coach for the
Los Angeles Kings
and
St. Louis Blues
. He won a Stanley Cup while an assistant for the Kings in 2012 and as assistant with the Blackhawks in 2013.
Kompon coached the Blackhawks' power play during his two seasons. The Blackhawks ranked 19th in the NHL with a 16.7 power-play percentage in the 2013 season and were tied for ninth with a 19.5 percentage this past season.
Rockford IceHogs coach Ted Dent could be among the candidates to replace Kompon. Dent has been the head coach of the IceHogs, the Blackhawks' AHL affiliate, for the past three seasons and has been in the Blackhawks' organization for eight years. He was previously rumored to be in the mix for an assistant position with the
Toronto Maple Leafs
.
The Blackhawks named
Jimmy Waite
their new goaltending coach on Monday. He replaced Steve Weeks in the position.
September, 9, 2013
9/09/13
1:55
PM CT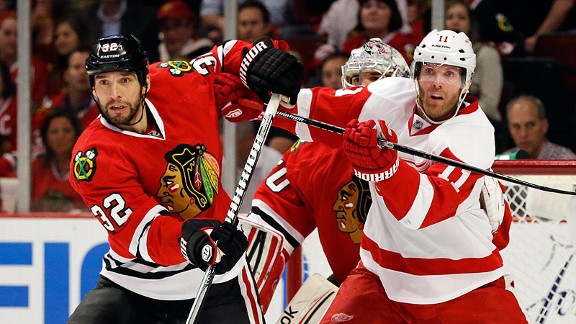 AP Photo/Nam Y. HuhMichal Rozsival posted one of the best plus/minus ratings for the Blackhawks last season.
ESPNChicago.com's Blackhawks reporter Scott Powers is counting down this season's top-50 storylines leading into this week's training camp. Here's the third installment:

30. Brookbank, Rozsival splitting time

Good things happened for the Blackhawks last season when defenseman
Michal Rozsival
was on the ice. He had a plus-18 rating, third on the team, in the regular season and a plus-9 rating, tied for fifth, in the playoffs. During the regular season, Blackhawks coach Joel Quenneville split ice time between Rozsival and
Sheldon Brookbank
. Quenneville did that partly because Rozsival was dealing with an injury early in the season, but he also wanted to keep both players fresh. Quenneville eventually opted to use Rozsival throughout the playoffs, but expect Rozsival and Brookbank to be involved in another rotation this season. The Blackhawks hope Brookbank will bounce back from a subpar 2013 season and play as he did in his final season with the
Anaheim Ducks
, when he had 14 points and a plus-11 rating in 80 games.
29. The third line -- Shaw and who else?

Andrew Shaw
is likely to center the third line for another season. It's just not certain who will be beside him. Shaw,
Bryan Bickell
and
Viktor Stalberg
gave the Blackhawks a consistent third line last season. Bickell is now likely to move into a top-6 forward role after receiving a sizeable pay increase in the offseason, and Stalberg signed with the
Nashville Predators
. If
Brandon Saad
doesn't work out as the second-line center, he could be a perfect fit on the third line. Saad would give the line some scoring punch and ease the pressure off him as he plays in his first 82-game NHL season.
Jimmy Hayes
is another possibility. He got called up from Rockford last season and had four points in 10 games with the Blackhawks.
Jeremy Morin
, who led the IceHogs with 30 goals last season,
Brandon Pirri
, who led the IceHogs in points, and
Ben Smith
could be in the mix as well.
28. Oduya's continued consistency

Blackhawks general manager Stan Bowman hasn't traded for many players over the last few seasons, but the few players he has acquired have worked out for the Blackhawks. Defenseman
Johnny Oduya
was dealt for in the 2011-12 season and quickly proved to be a valuable asset. Oduya continued to be a consistent defenseman last season and had a plus-12 regular-season rating and a plus-12 playoff rating. He and
Niklas Hjalmarsson
have given the Blackhawks a strong second defensive pairing. The Blackhawks will hope for more of the same this season. Not that Oduya is solely responsible, but the Blackhawks are 49-9-9 in the regular season since Oduya was traded for in 2012.
27. The other Swedish defenseman

There were rumors just a season ago that the Blackhawks could deal Niklas Hjalmarsson to free up money. A lot has changed since then. Hjalmarsson helped the Blackhawks to another Stanley Cup last season with a plus-15 regular-season rating and a plus-10 playoff rating, and Blackhawks general manager Stan Bowman recently showed how important Hjalmarsson is to the franchise's future. Bowman made sure Hjalmarsson would continue to be a part of the Blackhawks' core for many years to come as Hjalmarsson signed a five-year extension which will keep him in Chicago through the 2018-19 season.
26. Bickell-Toews-Kane line

Blackhawks coach Joel Quenneville toyed with the team's lines during the playoffs last season until he found something that worked. One of the lines he found to be most the productive was Bryan Bickell,
Jonathan Toews
and
Patrick Kane
. The line had success in the Western Conference finals and Stanley Cup finals. It'll be interesting to see whether Quenneville tries that line again to start the season. Bickell was a regular on the third line last season, but is expected to a be a top-6 forward this season after his new contract. Quenneville often split up Kane and Toews last season to balance the lines.
Patrick Sharp
and
Marian Hossa
are also expected to be on the first two lines, along with a new second-line center.
25. Need some luck

The Blackhawks possess plenty of skill. No doubt. But to win a Stanley Cup, you also have to possess some luck. In Rob Vollman's "Hockey Abstract," he breaks down that luck can be accounted for by a team's shooting and save percentages, special teams index, injuries, post-regulation record and record in one-goal games. After taking into account all those factors, Vollman determined the Blackhawks were the third luckiest team last season behind the
Toronto Maple Leafs
and
Pittsburgh Penguins
. He also calculated what the standings would have been last season if there had been 82 games and luck wasn't a factor, and his luck-neutral standings were the
Ottawa Senators
would have finished with 104 points, the
Detroit Red Wings
with 103 points and the Blackhawks with 99 points. Finally, he predicted this season's standings based on last season's results, the removal of luck and major roster changes, and he has the Senators and
New Jersey Devils
finishing with 105 points, and the Blackhawks in 11th place overall with 93 points.
24. A new, but old, backup
The Blackhawks were the league's best regular-season team last season largely because of the play of two goaltenders.
Corey Crawford
carried the goaltending load in the playoffs, but
Ray Emery
was just as important in the regular season, posting a 17-1-0 record, a 1.94 goals-against average and a .922 save percentage. Emery is gone now, and the Blackhawks' backup responsibilities fall upon
Nikolai Khabibulin
, who is back with the Blackhawks for a second time. Khabibulin is 40 years old, but the Blackhawks are convinced he can still be a solid backup. He has been that at times the past few seasons, but he's also had some inconsistencies due to injuries. If Antti Raanta progresses as the Blackhawks hope, he could fill in for Khabibulin if his play declines in the second half of the season.
23. Hitting the road twice
The Blackhawks will face two lengthy road trips this season. They will play seven consecutive road games from Nov. 19-Nov. 30 with games at Colorado, Winnipeg, Vancouver, Edmonton, Calgary, Dallas and Phoenix. They'll also play seven consecutive road games beginning on Jan. 28 and ending on Feb. 27 with the Olympics in between those dates. Prior to the Olympics, the Blackhawks will play at Calgary, Vancouver, San Jose, Los Angeles, Anaheim and Phoenix. After the Olympics, the Blackhawks open on the road against the
New York Rangers
. The Blackhawks were 18-4-2 on the road last season and went 4-0-2 on their longest road trip of the season.
22. That power-play issue
No, a team doesn't need an effective power play to win the Stanley Cup. The Blackhawks proved that again last season. But, yes, it wouldn't hurt to have one. The Blackhawks' power play struggled to find consistency for the second consecutive season last year. They ranked 19th with a 16.7 power-play percentage in the regular season. The Blackhawks undoubtedly have talented offensive players, but that hasn't translated to power-play success. Blackhawks assistant coach Jamie Kompon said at the convention, "Eventually, there comes a time when players try to do too much as opposed to keeping it simple. When you simplify things, that's usually the way the pucks go into the net." That will be the goal this season.
21. Replacing Frolik

Michael Frolik
made himself a valuable piece to the Blackhawks' Stanley Cup run last season with his play on the penalty kill. Frolik and
Marcus Kruger
were considered unsung heroes, but everyone knew about their penalty kill contributions by the end of the season. Blackhawks coach Joel Quenneville recently said Ben Smith could be the guy to replace Frolik. Smith hasn't stuck in the NHL yet, but he has played in some big games – like Game 3 of the Stanley Cup last season – and seems mature enough to understand the importance of that role.
July, 29, 2013
7/29/13
2:31
PM CT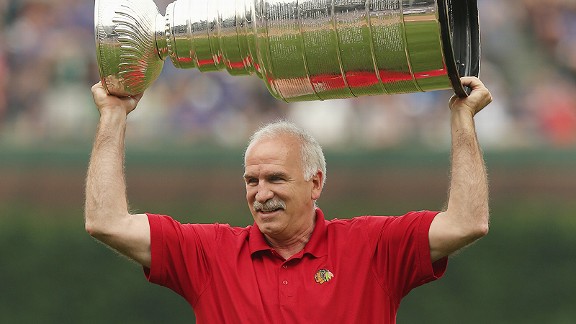 Jonathan Daniel/Getty ImagesAn improved Blackhawks' power play would go a long way in helping coach Joel Quenneville hoist the Stanley Cup again next summer.
CHICAGO -- Winning the Stanley Cup eased the type of questions the
Chicago Blackhawks
front office and coaching staff faced at the team's fan convention, but they still couldn't avoid having to answer once again about a power play that has now struggled for two consecutive seasons.
The Blackhawks won the Stanley Cup last season despite being one of the NHL's most ineffective power-play teams. They ranked 19th in the NHL with a 16.7 power-play percentage in the regular season and 13th in the playoffs with an 11.4 percentage. In the 2011-12 season, they were tied for 25th in the regular season with a 15.2 power-play percentage and were 16th in the playoffs at 5.3 percent.
Last season's Blackhawks and the 2010-11
Boston Bruins
have proven you can win a Stanley Cup without a successful power play. But it's still an area the Blackhawks hope to improve next season.
"Special teams is always important," Blackhawks general manager Stan Bowman said on a panel during the convention. "I think we had a great penalty kill last year really from beginning to end. I think our power play is the one area where we had spurts where it was very successful. I think we'd like to get that like the penalty kill, to have that to be a dominant force."
January, 14, 2013
1/14/13
7:52
PM CT
CHICAGO -- A compact 48-game regular season will likely provide
Chicago Blackhawks
coach Joel Quenneville with plenty of obstacles.
The last thing Quenneville needs is something as simple, but as thwarting, as the flu to get in his team's way.
"I've seen it happen and it can cause major disruption to your team," Quenneville said after practice at Johnny's IceHouse West on Monday. "We talked about it yesterday and mentioned it again today. We're aware of how bad it is this year. We'll make sure in a 48-game season we're on top of it."
July, 17, 2012
7/17/12
1:44
PM CT

By Jesse Rogers
ESPNChicago.com
Archive
CHICAGO -- With the hiring of Jamie Kompon as the new assistant coach, the musical chairs involving the
Chicago Blackhawks
front office and coaching staff should be over -- at least for now.
[+] Enlarge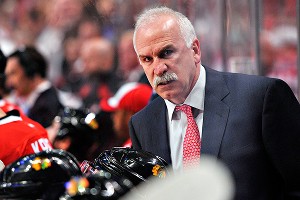 Rob Grabowski/US PresswireFor the first time with the Blackhawks, Joel Quenneville has his own coaching staff.
Kompon comes from the Stanley Cup-winning
Los Angeles Kings
, and it remains to be seen if he can help a woeful Chicago power play which ranked 26th last season. The Kings were 17th in the NHL with the man advantage in 2011-2012. The year before they were 21st. But in 2009-2010 they were ranked seventh.
Just as important -- at least for coach Joel Quenneville -- is he got one of his "guys" to fill the role that Mike Haviland vacated when he was fired after the season. Quenneville, Kompon and holdover assistant Mike Kitchen were on the coaching staff in St. Louis for a period of time when Quenneville was the head coach there. Kompon started as the video coach.
Add a player to the game for Team Quenneville, but that only comes after Team Bowman brought in former Canadiens general manager Pierre Gauthier as Director of Player Personnel last week. Scotty Bowman has strong ties to the Montreal organization via Serge Savard, the senior vice president of hockey operations with the Canadiens. In fact, deep conspiracy theorists might surmise that the elder Bowman was influential in the hiring of former Hawks front office guy
Marc Bergevin
as Montreal general manager. It removed a player from Team Quenneville and the man whom Bergevin replaced, Gauthier, now is on board with the Hawks -- and Team Bowman.
But Quenneville got his guy to work next to and now for the first time with the Hawks he has his own coaching staff. Make no mistake, this is a big year for Quenneville, and Bowman probably isn't far off the firing line either.
With each passing day that the Hawks roster continues to look a lot like last year's, it's as if the Bowmans are saying to Quenneville "This isn't about personnel, this is about coaching." And now Quenneville can't complain about his staff.
A lot is riding on Kompon's hiring but even more on the season at hand. It's a make or break year for Team Quenneville as well as Team Bowman. If the Hawks win then both sides do too. If not, one team will most assuredly be broken up -- and it starts with Quenneville and his two lieutenants.
July, 17, 2012
7/17/12
11:22
AM CT
By ESPNChicago.com
ESPNChicago.com

The
Chicago Blackhawks
hired the
Los Angeles Kings
' Jamie Kompon as an assistant coach on Tuesday.
The 45-year-old Kompon will be reunited with Blackhawks coach Joel Quenneville and assistant Mike Kitchen, who worked with Kompon with the
St. Louis Blues
. Kompon was a video coach and later an assistant coach with the Blues from 1997-2006.
Kompon spent the past six seasons with the Stanley Cup champion Kings as an assistant coach.
"We are excited to add Jamie as assistant coach and certainly welcome the Stanley Cup pedigree he brings," Blackhawks vice president and general manager Stan Bowman said in a statement. "He has over 15 years of NHL coaching experience and some obvious familiarity with our staff, having worked under Joel and Mike in St. Louis, which will help our staff and players with the transition."
The 1999-2000 Blues, with Quenneville, Kitchen and Kompon on staff, set a franchise-record 113 points and captured the Presidents' Trophy for the NHL's best record.
"Jamie will bring us all the great qualities you look for in a coach, most notably his work ethic and a winning resume," Quenneville said. "We have a great working relationship, and I am confident he will be a great fit with us here in Chicago."
Kompon replaces Mike Haviland, who was fired after the season.
Your request cannot be processed at the current time. Please check back as we will work to correct the problem as quickly as possible.
Please feel free to send us any comments or feedback.