Chicago Blackhawks:

Jassen Cullimore
April, 11, 2011
4/11/11
3:47
PM CT
The Chicago Blackhawks recalled four players from Rockford of the AHL.

Forward Jeff Taffe, defensemen Jassen Cullimore and Garnet Exelby, and goaltender Hannu Toivonen will accompany the Hawks to Vancouver, where they will take on the Canucks in the quarterfinals of the Stanley Cup playoffs starting Wednesday.

These players will participate in off-day practices and be available to play if the coaching staff chooses to use them or there is an injury.

January, 6, 2011
1/06/11
7:09
PM CT
Could the
Chicago Blackhawks
be getting some help on defense?
It appears that way after coach Joel Quenneville and general manager Stan Bowman did not deny that prospect
Nick Leddy
could be on his way back to the Hawks in time for Friday's game against Ottawa. To make the room, they sent
Jassen Cullimore
to the minors.
[+] Enlarge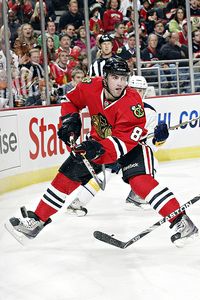 Bill Smith/Getty ImagesNick Leddy, a first-round pick by the Minnesota Wild in 2009, played in six games earlier this season for the Blackhawks.
Leddy just finished a stint at the World Junior Championships and appears ready to make a serious contribution to the Hawks in the second half. Leddy played six games for them earlier this season before being sent to the minors for some seasoning. He was a mid-year pick up last season after being a first-round selection of the
Minnesota Wild
in 2009.
This wasn't a snap decision.
"There is nothing wrong with a player playing in the AHL," Bowman said on Nov. 27. "I'm not saying [Leddy is] going to be there all year. They could come up at any point. I also think it's very rare when you say a guy has been in the AHL too long.
"
Niklas Hjalmarsson
played in Rockford for a season and a half, and he came in and we made the comment, 'Wow, this guy could have been here all year,' but it didn't happen until basically after the trading deadline. For them it's a combination of getting confidence, also getting the amount of minutes, and by doing that, over a certain period of time, whether it's a couple of months or six months, it's only going to help them."
Whether the Hawks moved up Leddy's timetable remains to be seen, but they've been true to the basics of the plan.
Leddy comes just in time. The Hawks could use some help on the back end, and while Cullimore filled a role, Leddy's upside has potential to be a bigger factor. It wouldn't be a surprise to see him killing penalties very soon.
After Wednesday's putrid showing -- three Dallas goals on three attempts-- could the Hawks do worse?
"When you become exploited you become a little hesitant and you become in between, and you can't be in between," television analyst Eddie Olczyk said Thursday during ESPN 1000's "Lunch With a Legend" broadcast honoring him and Pat Foley.
The Hawks have dropped to 28th in the NHL on the penalty kill.
"At the end of the day everyone has to understand there is a time to put pressure and a time to be passive," Olczyk said. "You can't be uptight.
In other words, they're pressing, and they're not on the same page. The only teams worse at killing penalties are the lowly Oilers and Maple Leafs.
No one sounds more frustrated than
Duncan Keith
. His dream season of a year ago seems like a distant memory.
"If I had all the answers we'd probably be a lot better, so I don't know," he said Wednesday. "We always talk about the same things, nothing has changed. It's a matter of blocking shots and limiting their chance, their shots from the blue line, boxing out, and getting in stick lanes. All those little things that we talk about, and it just seems like they show up in games."
The Hawks have done an extremely poor job getting into shooting lanes lately, and that has caused a mess in front of
Corey Crawford
and
Marty Turco
. Blocked shots up near the point turn into redirected goals when the "blocks" occur closer to the net. The key is getting to that shooter before havoc rains down in the slot. The Hawks have been caught out of position one too many times.
The addition of Leddy might be a start to helping the defense. As his minutes increase, others should come down. Despite his youth, he undoubtedly becomes, at the very least, their fifth-best defensemen.
Cullimore was the odd man out due to his contract. He's the only D-man on a two-way deal, so despite some steady play, he finds his way back to the minors.
The Hawks' hopes turn to a 19-year-old. It's Leddy's turn to help a struggling defense, and fast.
January, 4, 2011
1/04/11
8:11
PM CT
THE PLAYERS
[+] Enlarge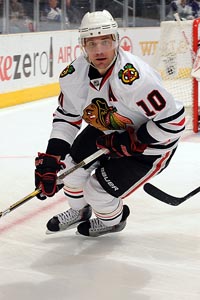 Noah Graham/NHLI/Getty ImagesWith 23 goals in 41 games, Patrick Sharp is the Blackhawks' first-half MVP.
Team MVP: Patrick Sharp
Its close between
Jonathan Toews
and Sharp, but the latter gets the edge simply based on his 23 goals. He's had few droughts, playing as consistent hockey as anyone on the team. With 18 assists, he's also on pace for an 80-point year. That can't be overlooked. His plus/minus isn't stellar (minus-10) but this is one of those cases where it's misleading. Sharp has moved back and forth from wing to center and has emerged as a go-to-guy at the point on the power play. A vote for Toews would never be wrong and, digging deeper, a case could be made for
Corey Crawford
. By game 82, Toews will probably be the MVP for the season, but for now, it's No. 10.
Honorable mention:
Crawford.
Most underrated: Jassen Cullimore
Without a doubt, a controversial pick, but remember, this is based on expectations as well as play. He wasn't expected to be anywhere near an NHL uniform, yet he's moved into the No. 5 defenseman role. The numbers don't lie: seven assists and a plus-4 in 35 games. Now playing at age 38, he spent last year in the minors and worked his tail off to get back to the NHL. If his name isn't being mentioned on the broadcast that usually means he's doing well. There have been only a few moments where his lack of foot speed has exposed him, otherwise, his veteran know-how has come in handy. Especially for a team without depth in that area.
[+] Enlarge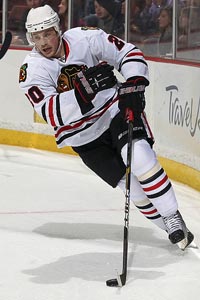 Debora Robinson/NHLI/Getty ImagesJack Skille's energy has given the Blackhawks a boost this season.
Most improved: Jack Skille
This was a tough call, as
Bryan Bickell
has put up some serious numbers in his first full year as a third-line player, but Skille has figured out how to stay in the NHL: play with energy. That's something the Hawks have needed after some of their offseason roster losses. If he's moving north and south instead of east and west he'll be effective. His game isn't all there yet -- he was a recent healthy scratch – but, in talking to him, he
knows
what he has to do to be successful. Now he just needs to do it more.
Honorable mention:
Bickell is just now getting a legitimate shot to play. Joel Quenneville raved about him last year, and the only thing that's changed is that he's shooting more. He could still use an uptick in his physical play, but no one is complaining about his 11 goals and 11 assists.
THE COACH
It's hard to make a half-season assessment knowing the Cup hangover is real, as many teams and coaches have experienced it. Joel Quenneville has kept a positive attitude during times when it's evident he'd like to blow his stack, and that might be his best first-half quality. There'll be plenty of time to scream come the stretch run. Quenneville knew an easy walk to the No.1 seed wasn't going to happen. The time to push the desperation button is coming and he'll be ready. Much has been made of his line combinations but at the end of the day it's probably an overblown issue. Little things like staying with a faltering
Nick Boynton
a game or two too long, or not getting more out of his centers-not-named-Toews in the faceoff circle are legitimate complaints, but coaching isn't the reason the Hawks are 21-17-3. Kudos to adjustments made on the power play from a season ago, they've made a big difference.
THE FRONT OFFICE
There's still another half-season to play, but Stan Bowman's offseason doesn't look as good now as it did a while ago. Viktor Stalberg's play has leveled off and though they didn't cost much, Boynton and
Jordan Hendry
haven't exactly lit the world on fire. Why bring Hendry back if he's (almost) never going to play? Re-signing Bickell and Skille at a cut rate were decent moves, and while
Jeremy Morin
and
Nick Leddy
(acquired last season) aren't with the Hawks at the moment, both look like players. The biggest mistake, obviously, might be in goal where the Hawks more than likely went with
Marty Turco
due to his low salary demands. Whoever scouted him and gave positive feedback to Hawks brass simply made a mistake. And there are many in the business who would have said so at the time. Like Quenneville, Bowman's real grade will come later, try around Feb. 28, the trade deadline. The Hawks could use a center and a defenseman, but so could everyone. If, when, and how he uses Leddy and Morin could be a key as well.
October, 19, 2010
10/19/10
8:48
PM CT
The average age of the
Chicago Blackhawks
got a whole lot older when 19 year-old
Nick Leddy
was sent to the minors last week in favor of 37-year-old
Jassen Cullimore
.
[+] Enlarge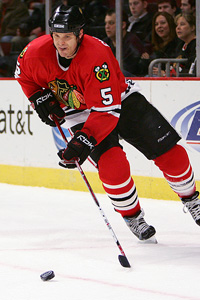 Jerry Lai/US PresswireJassen Cullimore has played his way back into the NHL.
New-age fans may not recognize that name but the diehards certainly will. Cullimore played two seasons for the Hawks (2005-2007) right after the lockout. Then it was on to Florida, but after the 2008-2009 campaign he couldn't find an NHL job. In the league since 1994, he decided to start over again in the minors, in Rockford. A year later he's back in the league and contributing for the defending Stanley Cup champs.
"It's been a little nerve racking," Cullimore admitted after practice on Tuesday. "Being out of the league for a year and then coming in, you start over thinking things a little bit but you just have to take it shift-by-shift game-by-game. There is a great bunch of guys here and I feel welcome and there is a certain amount of comfort level knowing some of the guys and some of the staff."
Cullimore knew
Duncan Keith
before he was a Norris winner, and
Brent Seabrook
before he was an Olympian, and
Patrick Sharp
before he was a 30-goal scorer. Their paths crossed when those players were rookies in 2005 or, for Sharp, brand new to the organization.
"They probably wouldn't like hearing this but it's kind of like watching your kids grow up," Cullimore joked, "although they might be young enough to be my kids."
But it's the crowd that's most different this time around for Cullimore. He was here, just as those rookies and Sharp were, when the players could actually hear each other from the bench to the ice. Not so, anymore.
"It feels good," Cullimore said. "Being here as opposed to when I was here the last time. The crowd is a little louder. There's a lot of support.
"It's a little different having the crowd behind you like that. It gives you goose bumps to hear them cheer like that after a win."
Some of the cheers from the last win were no doubt directed at Cullimore. He made the key play -- going behind the Blues' net and getting the puck to
Patrick Kane
-- in the sequence that led to the winning goal against St. Louis on Monday night.
"It always feels good to chip in, in overtime," Cullimore said. "You go 15 years without making a play like that and then they don't expect it from you."
Cullimore, who turns 38 in December, is a little slower of foot these days but professes to actually be quicker than his year in the minors a season ago.
Either way, he says it's about where to be, more than how fast you get there.
"It's positioning, and experience comes into play," Cullimore explained. "It's second nature knowing where to be and where other players are going to be. You draw on everything when you're playing."
Cullimore says young defensemen, coming up in the minors, tend to be a little "scrambly" with their positioning. Maybe that's why he started a hockey academy for when his playing days are over.
"We did two weeks this past summer and we're looking to do more this summer," Cullimore said.
(Go to proedgehockeyacademy.com for more information.)
For now, Cullimore is just happy to be back in the NHL, even if his former rookie friends are now big stars.
"I have to undo their skates and tape their sticks," Cullimore joked.
October, 15, 2010
10/15/10
9:44
PM CT
"Someone needs to step up."
It's a phrase you hear often when regular players are out of the lineup.
It's exactly what happened in Columbus, on Friday night, as the Chicago Blackhawks evened their record at 2-2-1 with a 5-2 victory over the Blue Jackets.
With Patrick Kane, Niklas Hjalmarsson and Brian Campbell missing, names like Viktor Stalberg, Jack Skille, Nick Boynton, Bryan Bickell and even Jassen Cullimore, all earned points. Of course so did Sharp (2 g), Hossa (2 pts), and Kopecky (2 pts) but it's those other names that helped make the difference.
Cullimore, in particular, epitomized the role player contributions. Recalled from Rockford after spending over 10 hours on planes the previous day, according to Pat Foley on Comcast Sportsnet, he played 18:54. Cullimore is a survivor, playing in an NHL game last, in April of 2009, before Friday.
"He looked very good," Quenneville said on Comcast after the game. "His size and strength in the puck areas. He's got some experience that helped us settle things down back there."
Quenneville didn't shoot down the thought of Cullimore staying with the Hawks for more than just a one game fill-in.
"He certainly helped himself tonight," Quenneville said. "We'll talk about it."
Stalberg showed his best burst yet, splitting the defense and scoring a highlight reel goal to open the scoring. The Hawks fourth line continued a strong start to the season.
"The pace was fast early," Quenneville said. "It was the type of goal we were looking for…He used his speed to break through the gut. That got us going."
The final margin of victory was sorely needed. With the Hawks up by three after two periods, Quenneville was able to rest some of his key players—Duncan Keith in particular.
Keith broke his string of 30 minute nights at four -- he played 23:16 against the Jackets -- which means he should have plenty left in the tank as the Hawks finish their first set of back to back games on Saturday against Buffalo.
He can thank the Hawks role players for an easier night.
October, 15, 2010
10/15/10
4:59
PM CT
[+] Enlarge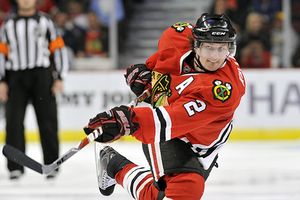 Warren Wimmer/Icon SMICalling up Jassen Cullimore will help Joel Quenneville decrease Duncan Keith's minutes.
If you were surprised the
Chicago Blackhawks
replaced a 30 goal-scorer of a year ago with a guy who has tallied 26 in his career, you're probably not alone.
The Hawks will give
Jassen Cullimore
his first chance since 2008-09 to play in the NHL on Friday against Columbus while
Patrick Kane
recovers at home with an illness. Joel Quenneville said he's hopeful Kane can play on Saturday against Buffalo.
So why a defensive defenseman to replace an offensive playmaker?
Quenneville didn't elaborate too much on the decision, but he intimated that having seven defensemen on the ice could help reduce some minutes for
Duncan Keith
.
"We'd like to get his minutes down," Quenneville was quoted saying on the Blackhawks' website. "That's all part of it as well. [We're] down two of our top four [defensemen]. Everyone has to assume a little bit more, but I think he's been assuming a little more. If we can get it down to a more manageable number, it would be better for everybody."
Cullimore was a Hawk from 2005-07. He was one of Dale Tallon's first free-agent signings along with
Nikolai Khabibulin
. He returned to the organization last season but never made it in a game with the Hawks.
"[He give us] some experience back there," Quenneville said. "Some size and presence. [He] had a chance in camp there and did pretty good. Hope he does the same thing today."
Nothing against Cullimore, but his recall and Quenneville's need for seven defensemen are further proof this is the area of the organization lacking NHL-ready depth. They have already moved up
Nick Leddy
's timetable, and now the Hawks bring in a player who hasn't been in the league in quite some time.
Having said that, could there be more to the recall of Cullimore than a one-game thing?
Niklas Hjalmarsson
returns from his suspension on Saturday and Quenneville would not commit to any future for Cullimore past Friday night. If you believe the eye test, as well as what Quenneville has said recently about
Jordan Hendry
and
John Scott
, than you know they are struggling a little out of the gate. Though Cullimore may be slow of foot, that experience Quenneville talked about could come in handy if others aren't following the script. It's something to keep an eye on.
In any case, Kane must really be sick. He's played in 244 of 246 regular-season games, and knowing his love of the game, it's hard to imagine Kane being out a second consecutive game on Saturday. Then again, Quenneville declared him doubtful for Friday night about 30 hours before game time, giving little chance for an overnight recovery, so it must be bad.
Down three major names, Kane (sick), Hjalmarsson (suspension) and
Brian Campbell
(knee), the Hawks will need all hands on deck to prevent a fourth loss in five games to open the season.
Maybe Cullimore can give them a surprise lift.
October, 15, 2010
10/15/10
10:42
AM CT
By ESPNChicago.com
ESPNChicago.com

The Chicago Blackhawks recalled defenseman Jassen Cullimore from the Rockford IceHogs of the AHL on Friday, which makes it even more likely Patrick Kane's illness will prevent him playing against the Blue Jackets in Columbus on Friday night.
Read the entire story.
October, 5, 2010
10/05/10
2:36
PM CT
August, 4, 2010
8/04/10
10:13
AM CT
By ESPNChicago.com
ESPNChicago.com

Your request cannot be processed at the current time. Please check back as we will work to correct the problem as quickly as possible.
Please feel free to send us any comments or feedback.