Chicago Blackhawks:

Jeff Carter
June, 1, 2014
Jun 1
10:26
PM CT
CHICAGO -- Here's a quick look at the
Los Angeles Kings
' 5-4 overtime win over the
Chicago Blackhawks
in Game 7 of the Western Conference finals at the United Center on Sunday:

How it happened:
Game 7 didn't disappoint. After six wildly entertaining games, the Blackhawks and Kings put together another memorable one in Game 7. The series was put to bed when
Alec Martinez
scored the game-winning goal at 5:47 of overtime. The beginning and middle of the game were nearly as dramatic. The Blackhawks got their home crowd roaring with goals by
Brandon Saad
and
Jonathan Toews
in the game's first 8:36. It would take more than that to put the Kings away. They responded with goals by
Jeff Carter
and
Justin Williams
to tie it. Twelve seconds after Williams' goal,
Patrick Sharp
put Chicago back ahead. The teams combined for five first-period goals. The Kings answered again with a
Tyler Toffoli
goal to tie it at 10:31 of the second period. The Blackhawks regained the lead when Sharp blasted in a power-play goal at 18:25 of the second period. The Kings fought back one more time.
Marian Gaborik
tied the game at 4-4 at 12:43 of the third period. The Blackhawks were 2-of-5 on the power play, the Kings were 0-for-2. Blackhawks goaltender
Corey Crawford
had 27 saves on 32 shots. Kings goaltender
Jonathan Quick
stopped 37 of 41.
What it means:
The Kings clinched the series and advanced to the Stanley Cup finals for the second time in three seasons. L.A. became the first team in Stanley Cup playoffs history to take three consecutive series by winning a Game 7 on the road. The Blackhawks failed in their attempt to repeat as Stanley Cup champions. The
Detroit Red Wings
are the last team to accomplish the feat (1996 and 1997). The Kings improved to 7-0 in elimination games in the playoffs this season. The Blackhawks-Kings series was not short of goals. The teams combined for 51 goals over the seven games. Chicago forward
Patrick Kane
's two assists in the loss gave him nine points over the past three games. Williams' goal gave him seven goals in seven career Game 7s.
Player of the game:
Gaborik continued to be a difference-maker for the Kings. He scored his third goal of the series and 12th of the playoffs.
Stat of the game:
The Kings trailed three different times in the game.
What's next:
The Kings move on to play the
New York Rangers
in the Stanley Cup finals. Game 1 will be in Los Angeles on Wednesday. The Blackhawks' season is over.
May, 30, 2014
May 30
11:43
AM CT
LOS ANGELES -- The
Chicago Blackhawks
and
Los Angeles Kings
face off Friday in Game 6 of the Western Conference finals at Staples Center, with the Kings leading the series 3-2. Here's what to watch for:
• After pulling out a 5-4 double-overtime win in Game 5, the Blackhawks have to win again to keep their season alive. They haven't won in Los Angeles in the series.

*• The Kings haven't lost in a Game 6 or 7 this season. They defeated the
San Jose Sharks
in Games 6 and 7 in the opening round and defeated the
Anaheim Ducks
in Games 6 and 7 in the second round.
• The Blackhawks have been unbeatable in Games 5-7 in playoff series over the last two seasons. They're 12-0 in those situations, including 5-0 this season.
• The Blackhawks will be looking for goaltender
Corey Crawford
to pick up where he left off in Game 5. After allowing four goals on 20 shots, Crawford held the Kings goal-less on their last 24 shots.
• Special teams has been a factor in every game. The Blackhawks held the advantage in that area in Game 5. They scored a power-play goal and shut out the Kings on three power plays. For the series, the Blackhawks are 3-of-17 on the power play and the Kings are 5-of-15.
• The Blackhawks' second line of
Brandon Saad
,
Andrew Shaw
and
Patrick Kane
was dominant in Game 5. Saad had one goal and two assists, Shaw had two assists, and Kane has four assists. The Kings' line of
Jeff Carter
,
Tyler Toffoli
and
Tanner Pearson
has given the Blackhawks fits throughout the series.
• Blackhawks coach Joel Quenneville wouldn't reveal any lineup changes, but forward
Kris Versteeg
could sit out again. Versteeg didn't play the final 50-plus minutes of Game 5 after being on the ice for a goal in the second period.
• Kings forward
Marian Gaborik
has scored in the last two games after being shut out in the first three games. He leads the NHL with 11 playoff goals this postseason. Teammate
Anze Kopitar
leads the league with 23 playoff points and has four points in this series.
• Kings goaltender
Jonathan Quick
's numbers have varied dramatically in wins and losses in the playoffs. He has made 314 saves on 332 shots for a .946 save percentage in 11 playoff wins. He has made 197 saves on 229 shots for .860 save percentage in eight losses.
May, 24, 2014
May 24
12:23
PM CT
LOS ANGELES -- The
Chicago Blackhawks
and
Los Angeles Kings
face off in Game 3 of the Western Conference finals at the Staples Center on Saturday. The series is tied 1-1. Here's what to watch for:
* The Kings stole home-ice advantage away from the Blackhawks by rallying from a 2-0 deficit and scoring six unanswered goals in Game 2 in Chicago on Wednesday. The Kings are 3-3 in their own building in the playoffs this season.
* Blackhawks forward
Andrew Shaw
is expected to play after missing the last seven games with a lower-body injury. He'll likely replace
Peter Regin
as the third-line center.
* Kings forward
Jeff Carter
is coming off a hat trick and four points in Game 2. He has two career playoff hat tricks.
* The Blackhawks allowed a total of two power-play goals in each of their first two series. The Kings scored two power-play goals in Game 2. The Kings made the Blackhawks pay for consecutive penalties in the first six minutes of the third period Wednesday.
June, 5, 2013
6/05/13
7:01
PM CT
LOS ANGELES -- Chicago Blackhawks defenseman Duncan Keith received a one-game suspension for high-sticking the Los Angeles Kings' Jeff Carter during Game 3 of the Western Conference finals, the NHL's department of player safety announced on Wednesday.
Read the entire story.
February, 24, 2012
2/24/12
4:28
PM CT

By Jesse Rogers
ESPNChicago.com
Archive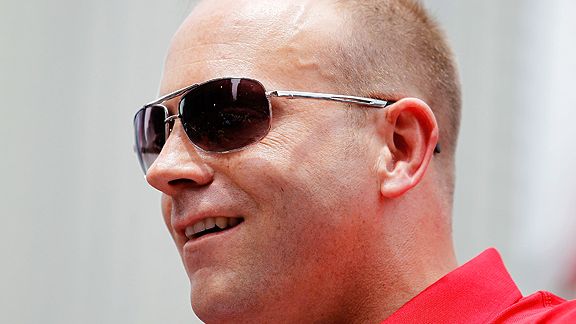 Jonathan Daniel/Getty ImagesAs the trade deadline approaches, Stan Bowman could be busy this weekend.
The culmination of something that started on June 24, 2011, will take place between now and Monday at 2 p.m. CST. That's when NHL teams are no longer allowed to trade players and the real playoff push begins. The players a team has in the organization, at that point, are essentially what they'll go to the playoffs with.
The Chicago Blackhawks traded defenseman Brian Campbell on that day in June, finally releasing themselves from the salary cap stranglehold that had plagued them since winning the Stanley Cup in 2010. General manager Stan Bowman did not instantly spend the money he saved on Campbell. He indicated there would be a time for that.
"Everyone puts their team together in the summer and everyone is excited about how their team is going to play out and then probably by the second week of the year there are lots of teams who realize ... it just didn't work out," Bowman said following the trade of Campbell back in June. "And at that point you want to have some flexibility."
We're at that point. The Hawks are not an elite team right now. They sit 8-12 points behind the top teams in the Western Conference. Despite a nice run of four wins out of five, no one can be completely convinced they can play defense well enough to win a championship. They didn't spend then so they could spend now, but it hasn't happened yet.
"You saw our cap situation over the last couple years and that's how it's going to be for a while," Bowman explained in June. "We have some really good players signed to big tickets and we're always looking to the future. Obviously, Brian's contract was one of the largest ones on the books for us. In our team structure the contract made it very difficult."
Money isn't the issue, and neither is a lack of viable trade commodities. The Hawks are rated as one of the better organizations in terms of prospects. They're not slim on draft picks to trade either.
So Bowman has little time to act on a struggling power play, an offense which is short a top-six forward and, of course, a defense that is employing a 20- and 21-year-old on its top two pairs right now. Yes, injuries have played a part, but the Hawks weren't playing great defense when all were healthy. They've languished near the bottom of the league all season in most defensive categories, including the penalty kill which, is just now getting better.
Simply put, if Bowman can upgrade any of those areas, he'll go a long way toward making the Hawks a real Stanley Cup contender. So far, he's either been beat to players he likes or has chosen to sit out while many contenders fortify their rosters.
Kyle Quincey, Hal Gill, Nicklas Grossman and Jeff Carter are just a few of the names that could have helped. Not everyone is going to be a perfect fit, but at this rate slight upgrades in certain areas are better than nothing. Is Bowman lying in the weeds for something big or is he just scrambling to get something done? The good news for Hawks' fans is most of their past trades were negotiated very quietly. Chris Campoli, Nick Leddy and even Nick Boynton were acquired without much fanfare around the deadline. Of course, those weren't big names anyway. The Hawks have the wherewithal to get a bigger one this time around.
Sources indicate they have interest in Anaheim's Lubomir Visnovsky, who would instantly help a power play that is 0 for its last 33. They need a shooter or a pilot on the blue line thus Visnovsky fits, although he has a salary cap hit of $5.6 million through next season. And it will cost the Hawks a good prospect. But that's the price of trying to win a Stanley Cup.
There are others who could be available, including Campoli for a second straight year. Though Dallas might be a buyer after its win on Thursday, there is interest in Adam Burish around the league. The problem is anyone the Hawks are interested in -- like Grossman or Quincey -- will have other suitors as well. And now that the Los Angeles Kings have traded a defenseman, they're in the market to get one. Bowman has competition everywhere he turns. He might have the means to get a deal done, but, apparently, so do a lot of other teams.
Bowman didn't like the free-agent class of centers this past summer once Brad Richards came off the board, so he held onto his money and said he would be spend it when he needed to. Several weeks ago, he said there was a logjam in the trade market, but that has long since opened up. The time for talk is finally over. The team needs help and fans want to see their general manager do everything he can to improve the club, which has fallen from the elite. In this case, trying won't be enough, though. Not when Detroit, Nashville and Los Angeles have tried and succeeded. Bowman has to hit a homerun -- or come close to it.
The one move Chicago made -- acquiring Brendan Morrison from Calgary -- hasn't worked out. So what, if anything, is going to happen? If they don't even get one depth defenseman it will be a shock to Hawks' observers. Even if years with a better blue line the Hawks have fortified the position. But will the player or players they pick up be the right ones to help take the team to another level? When a team has so many potential needs, helping one area out shouldn't be that hard, should it?
Up until this moment, the only assessment of Bowman that can be made is that he's been beat by other quality teams to some decent players. By Monday at 2:01 p.m., we'll know the whole story. Until then, one thing is for sure, Stan Bowman is going to have a very busy weekend -- or at least, he needs to.
Your request cannot be processed at the current time. Please check back as we will work to correct the problem as quickly as possible.
Please feel free to send us any comments or feedback.