Chicago Blackhawks:

Jeremy Roenick
August, 19, 2014
Aug 19
11:23
AM CT

By Katie Strang
ESPNChicago.com
Archive
Former
Chicago Blackhawks
star
Jeremy Roenick
remembers what it felt like to sign his first long-term deal. The pressure melted away, the sense of anxiety about contract negotiations dissipated and Roenick was allowed to channel all his energy onto the ice.
He suspects current Hawks superstars
Patrick Kane
and
Jonathan Toews
, who inked matching eight-year, $84 million deals this summer, will experience the same.
If that's the case, watch out.
[+] Enlarge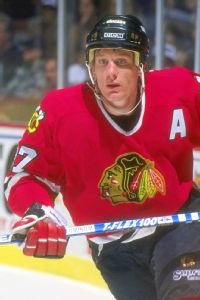 J.D. Cuban/Getty ImagesFormer Chicago star Jeremy Roenick thinks the team's current dynamic duo is set up for success.
"When I signed my contract, the pressure that was released off of me was immense," Roenick told ESPN.com, detailing his thought process after the ordeal. "'Now I can play for my team. They took care of me, now I can take care of them.' It's going to be really fun to watch [Kane and Toews] flourish and play with a free mind and confidence."
Getting the two players under contract until 2023 was a huge coup for a team that has won two Stanley Cup championships in the past five seasons and is among the select few for which the D-word -- dynasty -- can be thrown around in the salary-cap era.
"I think it was very important," said Roenick, who now works as an NHL analyst for NBC Sports. "Two quality players like that, most teams do not possess that luxury. Pittsburgh has
[Sidney] Crosby
and
[Evgeni] Malkin
, and Anaheim has
[Ryan] Getzlaf
and
[Corey] Perry
, but [most teams] don't really have those elite star players that can change the course of the game like they have."
Having those players to build around for years to come -- Kane and Toews are 25 and 26, respectively -- will ensure that Chicago is a perennial contender. In fact, Roenick sees no reason that Chicago won't be the favorite once the preseason projections roll in for 2014-15.
"I think they're one of the strongest-built teams in the league," said Roenick, who played eight seasons for the Blackhawks and scored 513 goals in his 21-year NHL career. "With them, they have amazing star power surrounded with good quality core players. The addition of
Brad Richards
coming over there as a role player who can help on the power play and be a good leader brings another experienced guy into a locker room of winners."
"I think the team has done a very good job of putting together the pieces, and with Kane and Toews signing these megadeals, they'll be playing with so much confidence. There's no competition between the two. They are both top-five players getting paid like it, and it shows the loyalty that the Blackhawks have become known for and [for] building championships."
That said, the Blackhawks will likely be forced to make some sort of trade to move salary out, given the cap constraints facing the club. According to Capgeek.com, the Hawks are $2.26 million over the cap for next year with 23 roster players.
That won't be the only challenge facing the team, which will square off against stiff competition in what promises to be a stacked Central Division.
Last year's race was a tight one, and Roenick expects that to be the case this season as well, with one team in particular with something to prove.
He still thinks the Blackhawks are the team to beat but anticipates it being a dogfight.
"I think the
St. Louis Blues
are gonna come out extremely angry and embarrassed about bowing out early," Roenick said about the Blues' first-round exit last spring after losing a six-game series to the Hawks.
"I know how Hitch [Blues coach Ken Hitchcock] is, and those two teams are gonna be battling tooth and nail again. I don't see anyone else really challenging either of those teams."
May, 20, 2013
5/20/13
4:24
PM CT
By Staff
ESPNChicago.com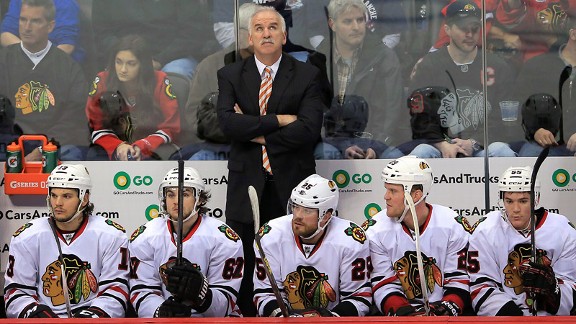 Doug Pensinger/Getty ImagesJeremy Roenick said Joel Quenneville should have picked a different time to send a message.
Former
Chicago Blackhawks
great
Jeremy Roenick
said Monday that coach Joel Quenneville made a big mistake sitting
Viktor Stalberg
in Game 2 of the Western Conference semifinals against the
Detroit Red Wings
, who evened the series with a 4-1 win Saturday.

Stalberg, who also sat out the Hawks' Game 1 win, will return to the lineup for Game 3 on Monday in Detroit. Quenneville denied reports that the benching had to do with Stalberg complaining about his diminished role on the power play in the first round against Minnesota, and after initially stating he wasn't sure why he was benched, Stalberg later said he was told he needed to produce.
"I never say anything negative about Joel Quenneville because I think he's one of the best coaches in the game, he's one of the greatest guys in the game, but he made a big mistake with this one," Roenick told "The Carmen & Jurko Show" on ESPN 1000. "I don't care what your personal feud is, whether the kid's complaining, whether the kid's not pulling his weight, you can't take a kid like Stalberg who has the speed, the talent, the break-away speed that can change the course of the game and put in my buddy Dan Carcillo, who is very limited in what he's going to produce for you, and he ends up in the penalty box, which is not good.
February, 15, 2012
2/15/12
2:07
PM CT
By ESPNChicago.com
ESPNChicago.com

February, 4, 2010
2/04/10
6:33
PM CT
CHICAGO -- He knew in sixth grade that he would someday run the
Chicago Blackhawks
, and now Rocky Wirtz is arguably the city's most popular owner. The Hawks boss was the featured guest on the "Waddle & Silvy" Lunch with a Legend series Thursday on ESPN 1000, and his honesty as an owner is refreshing.
[+] Enlarge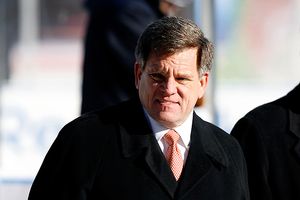 Jonathan Daniel/Getty ImagesBlackhawks owner Rocky Wirtz joined the "Waddle and Silvy" show on ESPN 1000 for its Lunch With a Legend series.
Wirtz held court on a myriad of topics from the trade deadline to his business strategies. He may have been most blunt about the NHL stopping play for two weeks in February, so its players, including six Hawks, can participate in the Olympics.
"Of course it's a great honor [for the players]," Wirtz said. "From an ownership standpoint, in the middle of the season, we just as soon skip it. It doesn't add any more to our sport. I hate to see two weeks in February [without hockey]. It tears down the sport more than builds it up."
The NHL trading deadline comes this season just a few days after the Olympics. The Hawks have been near the top of the standings all season and Wirtz doesn't see "wholesale changes" or doing anything to "rock the boat." As for those impending salary cap issues, the Hawks owner echoes most fans: let's wait.
"You're not looking at doing stuff with the cap just for the sake of doing it for the cap," Wirtz said. "I think what you want to do is see if you can win something and then you worry about it at the end of the year."
And that includes, apparently, a new goaltender. Wirtz indicated he likes the netminders the team has, despite what former Hawk
Jeremy Roenick
recently said on ESPN 1000.
"That's what's nice about living in the United States, you can voice your opinion," Wirtz joked. "Jeremy was a great forward but he wasn't a goaltender."
Like most fans, players, and coaches, Wirtz wasn't thrilled with the league scheduling regarding the recently completed eight-game, near coast-to-coast road trip.
"You would think with computerized scheduling you could find another way to do that," Wirtz said.
On that trip, three Hawk players were photographed partying with their shirts off in a limousine. Wirtz found out about it when his wife brought him the newspaper at six in the morning. He reiterated the team stance that the issue was handled internally, but he thinks lessons can be learned.
"Twenty nine other teams are looking for excuses and reasons to tear down the Blackhawks and their players and I think it's important not to give them any fodder," Wirtz explained. "In the long run, as unfortunate as it was, to be embarrassing to the players and the rest of the team, it will make a much stronger team because of it and we'll become closer."
He also said it's over and done with.
"Today's news is tomorrow's bottom of the parakeet cage," Wirtz said.
Wirtz, like all NHL owners, is well aware of the dispute between the Versus network and DirecTV. He thinks the league has quietly been working on the problem behind the scenes, but admits there's not much he or the Hawks can do about it.
"It's a league issue and there's nothing we can do about it from a Blackhawks standpoint except voice our displeasure," Wirtz said.
Wirtz has been asked many times what kind of influence Scotty Bowman has in the organization as senior adviser of hockey operations. Wirtz indicated that Bowman, the winningest coach in NHL history, is available to anyone that needs advice in any department.
"You value his counsel and his wisdom," Wirtz said. "He's there for advice, but he's not going to force it down anyone's throat. He's there to help out."
Wirtz doesn't like to "micromanage" but is informed, obviously, of big decisions like the signing of
Marian Hossa
.
"If it's a major trade or we're going to sign someone for 12 or 13 years, I want to at least know about it before I read it in the newspaper," Wirtz said.
His first reaction when he heard the Hawks might sign Hossa was surprise.
"You mean he sought us out? He really wants to play with us? Because that's the first time, to my knowledge, that we've had a world-class player that looked to play with us, that his agent contacted Dale and said, 'Marian wants to play with the Blackhawks and he's very serious about doing it," Wirtz said.
Wirtz thinks the league is headed toward every team playing against every other team both at home and on the road. And while he can live with the shootout, he wouldn't mind a couple other rule changes.
"When you miss a penalty shot it should be a two minute power play [as well]," Wirtz said. "I also don't like having to touch up for icing. They should just blow the whistle."
Wirtz might just get whatever he wants considering the roll he's been on. With a long sellout streak, a team at the top of the league standings, and a core of players signed for many years, the only thing he's missing is a Stanley Cup. He might get it this year -- and then he wants one more thing.
"I want the Hawks to competitive for many years," Wirtz said. "You look at Carolina. They won the Cup four years ago and now they are at the bottom of the standings. I don't want that for the Hawks."
February, 2, 2010
2/02/10
10:57
AM CT
[+] Enlarge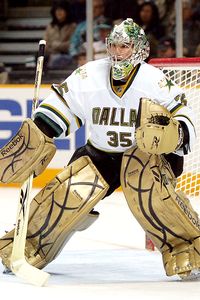 Ezra Shaw/Getty ImagesStars goalie Marty Turco's numbers are better this season than they were last season, but he hasn't peformed at the elite level he's reached earlier in his career.
I'm pretty certain there is a contingent of Chicago Blackhawks fans quietly not happy that Jean-Sebastien Giguere was traded to the Toronto Maple Leafs over the weekend. Forget facts such as he is signed for next year which means the Hawks would have no interest.


They want a new goalie and darn it, Giguere was available. He's gone, so where's the phone number for the Dallas Stars? We hear Marty Turco can be had. We win the Cup with him for sure.


Some version of those thoughts is going through the minds of people from Jeremy Roenick to the diehard of all fans. If the Hawks don't improve their goaltending, they won't win it all.


I don't buy it. It's too easy to blame everything, or at least most things, on Cristobal Huet. I've said it and written it before and I will say it here again: How often has a team, in the history of the game, traded for a goaltender when it already is at the top of the league in defense? How much less can they give up?
And who is to say they will give up less?


When did Marty Turco become Patrick Roy? Maybe I'm exaggerating, but if you don't think he's Roy than he's not good enough to give up the one or two valuable assets you have to trade. The point is, you better be sure your new goaltender is better than what you have or it's a wasted trade. I'm all for a Kris Versteeg and Cam Barker trade for Martin Brodeur, but wishes don't come true very often.


Let's talk about Turco, just as an example. In a lot of ways, because he handles the puck so well, he would fit in well with the Hawks' puck possession game. I'll ask the same question people ask of Huet: What has he done in the postseason?


Until two seasons ago, he was a major flop in the playoffs, and this was for several very good Dallas teams. In 2003, the Stars were the No. 1 seed and had trouble with the eighth seed before losing in the second round to the seventh seed. OK, they won a round. In the next three playoff years, they didn't.


Finally, in 2008, they won two rounds before losing to Detroit in the conference finals. To describe Turco's career in the postseason as a moderate success is being overly kind. More importantly, many saw a different goaltender in the playoffs than in the regular season. Maybe the pressure got to him. Maybe not.


Turco has done more than Huet, for sure, but not enough to warrant the big trade of the season. I like Turco. He used to kill the Hawks when they were a dump and chase team but he is not needed.


And don't forget, Turco might be available because his team isn't having a good season. It may not be all his fault, but if he was having a Vezina type season, he wouldn't be on the market. And that goes for just about any goaltender who is available.


Like you, in October, I was nervous. Huet was off to a bad start and his backup couldn't be picked out of a police lineup of one. The style of the team hadn't quite been established yet either. But then things came together, including Huet's game. It has been my contention that he, as well as Antti Niemi, needed to get used to the Hawks' puck possession game and the idea of going 10-15 minutes without seeing a shot.


It's harder than you think. Along with Huet's game coming around, we also got to see the nearly unflappable Niemi rise to the top of the goalie rankings. He is still the only netminder with a goals-against average under 2 (1.99). Now coach Joel Quenneville, at least on paper, has a viable option if Huet falters.


It's part of the reason I've come around to the idea of not trading for a goalie.


Most importantly, goaltending is not where they need help. People just assume they will be healthy the rest of the season and even if they are, a defenseman is the route they should go.


What if one of the top four do go down tomorrow, or in the Olympics, or the day before the playoffs start? I have nothing against Jordan Hendry or Brent Sopel or Barker, but to ask them to win a Cup as a top four guy is asking a lot. They need the depth along the blue line.


Of all the players traded over the weekend, including Dion Phaneuf, the one that should have caught your attention wasn't Giguere but Ian White, who went from Toronto to Calgary. White is the type of guy the Hawks would want if a Scott Niedermayer isn't available. I'm not saying he was the guy but it's the sort of defenseman on the last year of his deal that the Hawks should be looking at. A depth guy. Maybe it won't cost you a big name off the roster but it will help nonetheless. The Carolina Hurricane have several of those types of players and would make a good trade partner now that Toronto has pulled the trigger.


Trading for a goaltender seems to be a bit of a psychological ploy. You want to feel like the Hawks realize they have a tenuous situation in goal and trading for a new model would make you feel that much better. But the reality is so much different.


Everyone keeps asking the question, "how would the Hawks chemistry change if a trade happens?" But they don't ask it when it comes to the goaltending. For almost three quarters of a season, this team has rallied around their goalies. They have gone to bat for Huet when no one else would. Now the team is going to turn around and replace him? And when I say replace him, I don't mean on the roster. Make no mistake, almost assuredly, a trade for a goaltender means Niemi is going back to the other team, not Huet.


So now, you have a disgruntled back-up goalie (and he will be disgruntled) and a new one with the pressure of the world on him, in the most important position in sports. It doesn't happen as easy as it sounds.
January, 17, 2010
1/17/10
11:17
AM CT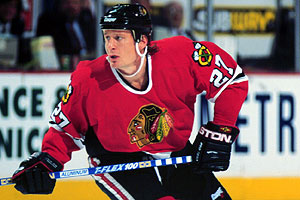 Brian Winkler/Getty ImagesJeremy Roenick said Patrick Kane's style of play reminds him of himself.
DETROIT, Mich. --
Jeremy Roenick
knows a little something about scoring. As the last
Chicago Blackhawks
player to record 50 goals and 100 points, he's been waiting for someone wearing Hawk colors to reach those milestones. He may have found one.
Patrick Kane
has vaulted up the NHL point standings and currently sits fifth with 55 points. He may not reach 50 goals this season, but he still has an outside chance at 100 points. Roenick, who turned 41 Sunday, thinks his records will be matched by Kane sooner or later.
"I hope they fall," Roenick said before Sunday's game against the
Detroit Red Wings
, which he will work for NBC. "This kid is an unbelievable kid. I'm very happy to call him my buddy. We've talked on the phone and spoken many, many times. In my opinion, and I will say this on NBC, I think he is the most talented player to come out of U.S. hockey since
Mike Modano
. When you have a kid that comes out like that, your records are going to be broken. The fact that my records stood for so long, is a shock to me.
"Chicago needs a new player to come out and give them that energy. They have a couple on this team and Kane is leading the way. I'm pushing for him. I hope he does it. My ego has definitely been packed in the storage trunk and put in the attic. Now I'm looking for things to talk about on the air and he's given me that."
Roenick might have extra affinity for No. 88 because Kane reminds him of someone that use to wear No. 27 for the Hawks. And that player had some flair and showmanship to his game.
"Of course he does," Roenick said of Kane. "He's American and he listens to me."