Chicago Blackhawks:

Jonas Hiller
May, 1, 2013
5/01/13
1:57
PM CT
By ESPN Stats & Information
ESPNChicago.com
Archive
Blues 2, Kings 1 F/OT (Blues lead 1-0)
*
Alexander Steen
(STL): 4th player since 1990 with postseason short-handed goal in OT (Source: Elias Sports Bureau)
* Alexander Steen (STL): 2nd career OT goal (1st in postseason)
* Alexander Steen (STL): scored both goals in game (didn't have a multi-goal game this season)
* STL: snap 8-game losing streak vs LA dating back to last season (reg. season and postseason)
*
Justin Williams
(LA): scored game-tying goal with 32 seconds left in game
* LA: was 4-0 in OT in last year's postseason
* LA: 1st defending champ to lose 1st postseason game in OT since Red Wings on April 10, 2003
FROM ELIAS:
Shorthanded Goals In Overtime
Stanley Cup Playoffs Since 1990
Team
Tue. Alexander Steen Blues
2006
Fernando Pisani
Oilers
2006
Jason Pominville
Sabres
1990 Tony Granato Kings
Ducks 3, Red Wings 1 (Ducks lead series 1-0)
*
Teemu Selanne
(ANA): 42nd career playoff goal (7th among active players); 11th career GW playoff goal (T-6th most among active players)
* Ducks: 2-4 on power play (led Western Conference in power-play pct during regular season)
*
Jonas Hiller
(ANA): 21 saves on 22 shots (fewest shots faced, fewest saves in a playoff game in his career)
* Red Wings: lost playoff opener for 2nd straight year (lost in 5 games in 1st round last year)
FROM THE ELIAS SPORTS BUREAU: Teemu Selanne broke a 1-1 tie with a power play goal early in the third period and the Ducks went on to take a 3-1 victory over the Red Wings in Game One. The 42-year-old Selanne became the second-oldest player ever to score a game-winning goal in the NHL playoffs;
Mark Recchi
was 43 when he was credited with the game-winning goal in the Bruins' 8-1 victory over the Canucks in the Stanley Cup Final two years ago. (Recchi scored early in the second period of that game, making the score 2-0, and was credited with the game-winning goal in a game in which Boston had a 5-0 lead at the time that Vancouver scored in the third period.)
Blackhawks 2, Wild 1 (Blackhawks lead series 1-0)
*
Bryan Bickell
(CHI): game-winning goal in OT (2nd career OT goal in postseason, has 0 career in regular season)
*
Marian Hossa
(CHI): 37th career playoff goal (tied for 100th most all-time with
Wendel Clark
,
Simon Gagne
and
Larry Murphy
)
* Blackhawks: 1st series lead since winning Stanley Cup in 2010
*
Cal Clutterbuck
(MIN): 1st career playoff goal
FROM THE ELIAS SPORTS BUREAU: The Blackhawks defeated the Wild, 2-1, in their playoff opener, when Bryan Bickell scored 16:35 into overtime. Chicago head coach Joel Quenneville was behind the bench in a Stanley Cup game for the 140th time in his career, while Minnesota's Mike Yeo was coaching in his first NHL postseason game. The 139-game difference in playoff experience between the two head coaches is the largest in an NHL postseason series since the 2002 Stanley Cup Final, when Detroit's Scotty Bowman (348 games of playoff experience entering the series) faced Carolina's Paul Maurice (30 games); Bowman and the Red Wings won that series in five games.
January, 2, 2011
1/02/11
11:05
PM CT

By Jesse Rogers
ESPNChicago.com
Archive
ANAHEIM -- The Chicago Blackhawks' mothers saw a great finish but only one of their sons could dent the back of the net in their 2-1 loss to the Anaheim Ducks.
And neither fans nor mothers -- on the West Coast for the teams' first-ever "Moms' Trip" -- should be fooled by the shot total or the dominant third period by the visitors. This game was lost in the first two periods, when the Hawks offense was asleep.
"If you play like that in the third you'll get rewarded but that's the way we have to start games and play throughout games," coach Joel Quenenville said afterwards. "We have to find a way to generate more scoring chances in the first 40 [minutes] than we did tonight."
The Hawks had 21 shots through two periods but only a handful were worthy chances. In the third period they outshot the Ducks 19-2 as Jonas Hiller was on his game in net, and so it was too little too late.
"We need to start rolling at the start of the game, not wait until the end of game," Dave Bolland simply stated.
Bolland led the Hawks with six shots on net but it was his deflection of a Viktor Stalberg chance on an empty net try that had Stalberg hanging his head in his locker stall.
"It's going into an empty net and somehow [Bolland] gets his stick on it and bounces over," Stalberg explained. "Could try that a million more times, it probably goes straight into the net so hate to say bad luck but it's probably one of those plays that's just bad luck."
Relying on luck in the first place is always a problem, so is going 0-3 since Jonathan Toews left the lineup. He might play on Monday.
"We have to find a way to get points out of these games no matter who is in the lineup," Quenneville said in response to that 0-3 mark without his captain.
Quenneville knows all too well about three-point nights, and the Hawks haven't had enough of them. So many close games are played in the NHL, the Hawks are just 8-8 in one goal, regulation games. The Ducks are 12-5.
"We talked about it this morning," Patrick Kane said. "Every game is pretty much a four-point game so these are tough ones to give up. Every game from here on out is going to be a must win game I think."
Maybe not must win but "must get at least a point" would suffice.
Slappers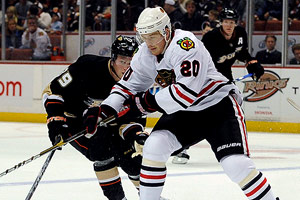 Kelvin Kuo/US PresswireBoth Jack Skille, above, and Viktor Stalberg missed on a golden opportunity Sunday night.
•
Jack Skille
was denied on a chance in the third as he tried to slam one home standing to the right of the net while Jonas Hiller was down on the ice. Hiller got his glove on the attempt at the last second nearly going back into the net with it.
"That's one of those ones I'll probably be seeing in my dreams tonight," Skille said. "Just wishing maybe I shot it earlier or tried to get it upstairs faster."
• Bolland on deflecting the puck away on the empty net chance for Viktor Stalberg: "It just deflected off my stick. It just went off my stick."
• Jake Dowell played 8:01 for the game but none of it in the third period. He said he was benched. Joel Quenneville did not expand on why.
• The Hawks outshot the Ducks 40-18, that's the second best shot differential of the season -- they outshot Edmonton 47-18 in a victory in November.
• Patrick Kane has had a quiet return to the lineup since missing time with an ankle injury. He's had a total of six shots on net in three games, including just two of the Hawks 40 against Anaheim.
"I guess I'm still getting back into it but I definitely have to produce," he said.
• The Hawks won only 36 percent of their faceoffs as they continue to struggle in that category without Jonathan Toews. Patrick Sharp won just three of 14 on Sunday. Including the game which Toews left last Tuesday in St. Louis, the Hawks have won just 67 of 163 faceoffs, good for a 41 percent winning percentage.
February, 24, 2010
2/24/10
5:59
PM CT

By Jesse Rogers
ESPNChicago.com
Archive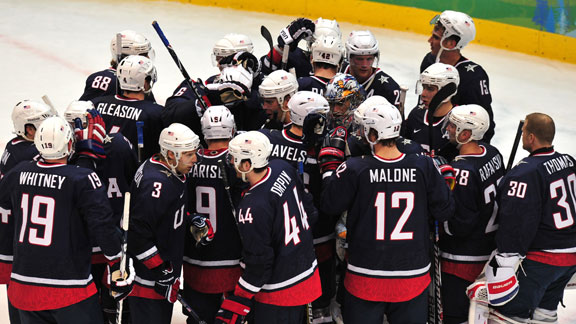 For anyone who was at work during the U.S. and Switzerland's quarterfinal men's hockey game, hopefully your TiVo was working properly. If you can have a classic at this time in the tournament, these teams just played one. The Americans survived with a 2-0 victory -- one was an empty netter -- and will play for a medal in the Winter Games no matter what happens in the semifinals.

[+] Enlarge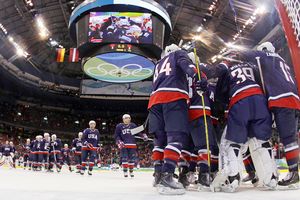 AP Photo/Julie JacobsonUSA players celebrate afterbeating Switzerland 2-0 on Wednesday at the 2010 Olympics in Vancouver.
This game had everything. Big hits, video replays, power-play chances and a goaltender that kept the Swiss in the game. Jonas Hiller was fantastic, stopping 43 shots while giving up just a lone Zach Parise goal early in the third period on a U.S. power play. Much of this game was played 0-0 and that only helped build the drama.


Patrick Kane had a quiet afternoon, finishing with four shots in 16:13 of ice time. Kane did have one nice backhand chance as he came out from behind the Swiss net but Hiller made the save.


In most statistical categories the Swiss were outplayed by the Americans but the heart and fundamentals of this scrappy team can't be overlooked. They played in three shootouts and every one of their games were close. No small feat when playing Canada or the U.S. in three of their five Olympic contests. Here are the final scores for all of Switzerland's games: 3-1, 3-2, 5-4, 3-2 and, for all practical purposes, 1-0. It was a perfect scenario for an upset. The Americans were coming off their dramatic win over Canada while Switzerland kept plugging away to reach the quarterfinals.


An apparent U.S. goal at the end of the second period was overturned by replay when the clock showed 0.00 just as the puck crossed the line. It was that close. In the third, during one sequence, a Swiss shot had to be reviewed to see if it went in, while moments later a U.S. goal was disallowed after a crosschecking penalty was called on Ryan Kesler as the puck crossed the line. Did I mention it was a great game?


At the end of the day, the Americans' persistence and lack of panic paid off. Many teams would start to get fancy or push the envelope when unable to score for so long, despite the 44-19 shot advantage. That wasn't the case on Wednesday and hasn't been throughout the tournament. Head coach Ron Wilson has pushed all the right buttons.


Next, the U.S. takes on the winner of Finland and the Czech Republic. That game will be on Friday with the winner playing for gold. The dream continues for the young but confident Americans.