Chicago Blackhawks:

Jonathan Quick
June, 5, 2013
6/05/13
12:58
AM CT
[+] Enlarge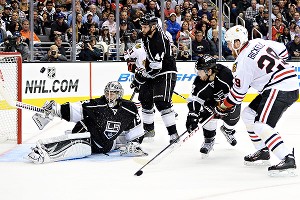 Harry How/Getty ImagesBryan Bickell was close to scoring his second goal Tuesday, but Jonathan Quick made a spectacular save in the third period.
LOS ANGELES -- Even as the
Los Angeles Kings
were bottling up the
Chicago Blackhawks
' offense in Game 3 on Tuesday, there was still one man who was finding ways to create scoring chances.
That man was
Bryan Bickell
.
Once thought to be a role player during the regular season, Bickell has transformed himself into a playoff superstar and that continued in the Blackhawks' 3-1 loss to the Kings at Staples Center.
Bickell scored the team's lone goal, upping his playoff total to seven, and he would have tied the game late in the third period if it were not for an extraordinary save by Kings goaltender
Jonathan Quick
. The Blackhawks had 20 shots on goal, and Bickell accounted for four of them.
June, 4, 2013
6/04/13
1:59
PM CT
LOS ANGELES -- L.A. Kings coach Darryl Sutter confirmed
Mike Richards
is ruled out for Game 3 Tuesday night, an incredibly difficult pill for the Kings to swallow as they try to climb out of a 2-0 series deficit in the Western Conference finals.
"It's going to be tough, that's it. You have to band together. Nobody is going to replace him by himself," veteran blueliner
Matt Greene
said after the Tuesday morning skate at Staples Center. "Hopefully, guys can chip in, get minutes together and give us a game."
Richards influences nearly every facet of L.A.'s game, from special teams to key faceoffs to late-game shifts; he does it all. He also leads the team in playoff scoring with 10 points (two goals, eight assists).
"It doesn't change anything for us," said star center
Anze Kopitar
. "We still have to play the same way. Do we miss Mike? Of course. He's one of the best players at this time of the year and he's a big asset on our power play, penalty kill, faceoffs, you name it. We definitely miss him but we can't look for him now. We know he's not going to be going and we've just got to do it with what we got."
Just as in Game 2,
Jeff Carter
will take Richards' spot at center on that line, skating between
Dustin Penner
and rookie
Tyler Toffoli
(who might have been the Kings' best player in Game 2, picking up a goal and an assist).
"Well, the first thing, Jeff can play center; otherwise we'd be in a real tough spot," Sutter said Tuesday morning. "It's not really what Tyler brings to that line, it's being able to have a top guy move from wing to the center position."
Carter actually came up from junior hockey as a center and has played the pivot position occasionally in the NHL, but has mostly been a winger in the pros.
"When Mike was struggling earlier in the year, we split them up. In fact, we did it against Chicago," said Sutter. "They both can play center. Jeff Carter is a pretty good player at either position."
Kopitar said it was a nice luxury to have a guy like Carter who can play both positions.
"Jeff is a strong skater, so it definitely helps him being in the middle and having a little bit more of free range," said Kopitar. "Tyler is great at making plays off the walls and cutting inside and shooting the puck. It's a good combo."
Toffoli gets another chance to showcase his ability, having appeared in nine playoff games so far (two goals, two assists). The 21-year-old winger was the AHL Rookie of the Year this season, and it's clear he has a strong future here as a top-six forward in L.A.
"He scored 50-some goals in his last year in junior and 19 goals in his rookie year in the American League; he played 60-something games," said Sutter. "We brought him up when we had the roster spot to do it, not so much to play him but because we thought he was close, so he could watch and sort of progress. That's all it is. He has the skill set to do it. The next part is the mental skills."
In a perfect world, if the Kings hadn't suffered all these injuries in the playoffs, Toffoli likely would not have been forced into this spot, but rather would start fresh next season and gradually work his way into the lineup.
"This is not an easy environment to put him in," said Sutter. "You wish you could have done it differently, but this will be good in the experience, development part of it, and then going into next training camp part and trying to make the team part."
Quick's rebound
The pressure is on Kings star goalie
Jonathan Quick
to rebound in Game 3 after being pulled in Game 2.
"He's a great competitor and that's what you want out of your guys, out of your goalie, whatever the case may be," said Kopitar. "We have all the confidence in him that he's going to do it again."
Quick had been sensational in the playoffs until Sunday night, when he gave up four goals, the one from
Brent Seabrook
in particular being a tough one.
"There's been enough talk about Jonathan Quick this season," said Sutter. "We need a big game out of him. You're not going to give up four goals and beat Chicago."
The Kings can do their part in front of him, too.
"Just limit the chances, really, and play with the puck a little more than we did," said Kopitar. "There's no secret to it, but we've gotta do a better job."
June, 4, 2013
6/04/13
1:41
PM CT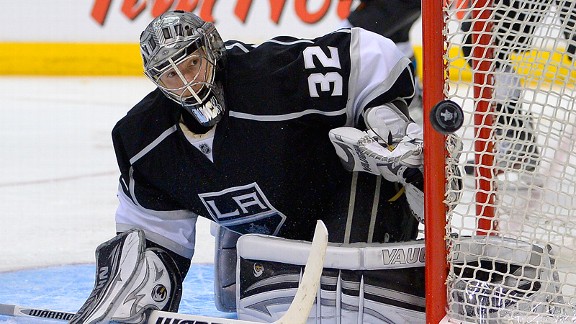 AP Photo/Mark J. Terrill)Adam Burish says Jonathan Quick is the best goaltender he's faced all season.
Adam Burish
said the
Los Angeles Kings
look beat up against the
Chicago Blackhawks
, and he saw them "slowing down" during their tough seven-game series in the second round against Burish's
San Jose Sharks
.
"They had guys as our series went on you could tell they were slowing down," Burish, a former Blackhawk, said Tuesday on "The Carmen & Jurko Show" on ESPN Chicago 1000. "I give them credit, they were hanging in there. They were tough. But this is the playoffs, this is hard. And you've got to have some luck too. The Kings last year (when they won the Stanley Cup), they didn't have one guy injured the entire playoffs. To win you've got to have talent and you've got to have luck. And right now the Hawks look pretty darn good to me. They've got their full lineup going, they're healthy, they don't look too nicked up and they've got a lot of talent too."
The Kings will be
without top scorer
Mike Richards
for Game 3 on Tuesday night. He suffered a suspected concussion after a hit from
Dave Bolland
in Game 1.
The Hawks take a 2-0 lead to Los Angeles, where the Kings are 7-0 in the playoffs and goaltender
Jonathan Quick
has been stellar at the Staples Center.
"For some reason, I don't know what it is, Quick is unbelievable at home," Burish said. "Maybe he's more comfortable, maybe his wife is nicer to him when he's at home, I don't know what the hell is going on. He's amazing when they are at home."
Despite a tough start to the series against the Hawks in which he gave up six goals, Quick is the best goaltender in the NHL, according to Burish.
"He's the best goalie that I've seen all year," Burish said. "You've got to try and get bodies in front of him and not let him see it. The other thing is he comes out of the net so far. He comes really far out of the crease to challenge the shooter so when you're coming down on him and look you don't see anything because he's so far out at you. If you can maybe fake a shot and change the angle or pass it off his pads to another guy for a rebound or hit a guy back door. But if he sees it straight on it's tough to beat him."
June, 3, 2013
6/03/13
12:13
AM CT
CHICAGO -- As it turns out, maybe
Los Angeles Kings
goalie
Jonathan Quick
is human. The
Chicago Blackhawks
shocked the hockey world when they chased Quick en route to a 4-2 victory in Game 2 of the Western Conference finals. Until Sunday, Quick was unflappable, giving up less than two goals per game in the playoffs, and never more than three.
The Hawks scored four before the game was halfway over.
"It's a good feeling,"
Bryan Bickell
said of chasing Quick. "It means we're playing well. We got to the hottest goalie in the league. It's a confidence-builder."
[+] Enlarge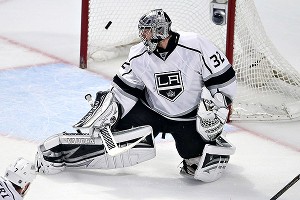 Brian Cassella/Getty ImagesKings goalie Jonathan Quick watches Brent Seabrook's goal get by him during the first period of Game 2.
Bickell scored on the power play as the puck hit him in the slot and then defenseman
Robyn Regehr
, before going in, giving the Hawks an insurmountable 3-0 lead in the second period. But it was the other three goals that made Quick look, well, kind of slow.
"He's a great goalie, but I had a pretty good spot there," Hawks center Michael Handzus said. "I was right in front of him, so luckily it went in."
Handzus scored No. 4 on the night -- the one that chased Quick -- as he and
Patrick Sharp
worked a two-on-one midway through the game. Quick had his sights on it, but Handzus still got it by him.
June, 2, 2013
6/02/13
8:47
PM CT
CHICAGO --
Los Angeles Kings
goaltender
Jonathan Quick
was pulled from Game 2 of the Western Conference finals on Sunday after giving up four goals to the Chicago Blackhawks in 29:20.
It's the first time in 15 playoff games this year Quick has given up more than three goals and the first time he's been pulled from a game.
Quick gave up first-period goals to
Andrew Shaw
and
Brent Seabrook
, while
Bryan Bickell
and
Michal Handzus
tallied in the second period. Bickell's goal came on the power play.
Quick entered the game leading all playoff goalies in save percentage with a .947 mark. He won the Conn Smythe award last year for his performance in leading the Kings to their first Stanley Cup title.
The Hawks led 4-0 when Quick was pulled. Backup
Jonathan Bernier
replaced him.
June, 1, 2013
6/01/13
8:51
PM CT
CHICAGO -- Perhaps revealing of their journey traveled of late, nobody in their dressing room batted an eye during the first intermission.
No, despite outshooting the visitors 17-2 only to be down 1-0 on the scoreboard, the
Chicago Blackhawks
dressing room was apparently serene as can be.
"No one was worried in here," said Blackhawks goalie
Corey Crawford
. "It might as well have been 3-0 for us. We were fine in here."
With
Jonathan Quick
doing his thing in the Kings' net -- he was superb again Saturday -- a more inexperienced team might have gotten a little rattled by opening a series with tilted ice but a score favoring the other team.
Instead, the Blackhawks stuck with their game plan, confident that as they kept coming, eventually they'd get a screen or a tip or a rebound to beat Quick. They got two out of those three, the only recipe possible in putting pucks behind the best goaltender in the NHL.
First, Blackhawks blueliner
Johnny Oduya
on the rush hammered a shot from the sideboards inside the Kings zone that produced a juicy rebound for
Patrick Sharp
, the Hawks' talented goal scorer beating coverage from
Drew Doughty
and slipping the puck past Quick to tie the game 1-1 at 12:29 of the middle period.
With the Hawks energized by a rocking United Center, they continued to come in waves,
Marian Hossa
then delivering an artist's deflection of a
Duncan Keith
point shot, making it 2-1 at 16:22.
And that's all the offense the Blackhawks would need in Game 1 of the Western Conference finals, a tidy 2-1 decision doing the trick.
But in many ways the opener was a microcosm of the manner in which the Hawks are going to have to use their high-end offensive skill to get goals on Quick.
"Yeah, he's a good goalie," said Sharp, who tallied his team-leading eighth goal of the playoffs. "We all know that. He makes saves. He makes saves when he sees the puck, when he doesn't see the puck. Anytime you can get those second and third chances, that's the idea. We were fortunate with a couple goals in the second period."
That's a little humble. Sharp showed his sense of anticipation in getting to where a rebound might appear given the angle of Oduya's shot.
Hossa? Man, that tip was a thing of high-end beauty.
That's what it's going to take against Quick.
"He's one of the fastest goalies in the league, if not the fastest," said Hossa.
"Whatever he sees, he's going to stop it. You have to have traffic in front of him, pin him in the blue paint and put lots of pucks in the corners or in his feet and go for the second chances."
The other key for the Blackhawks will be to minimize the physical forechecking of the Kings. They were able to do that in Game 1, Chicago's defense corps quickly turning around Los Angeles dump-ins and moving the puck out to fast-breaking Hawks forwards.
"We came out with lots of speed through the neutral zone. I think our forwards did a good job of supporting us, coming in low and giving us the opportunity to hit them with good passes," said Hawks defenseman
Brent Seabrook
. "When you're doing that, you're breaking out of your zone clean. That means you're keeping the puck out of your own zone for the most part."
When the Kings are playing their game, it's by pounding the opposing defense and setting up a cycle game that's hard to break.
That didn't really materialize Saturday.
"We've got to have more zone time and establish our game," said Kings blueliner
Matt Greene
. "That's what we've got to do, is get pucks behind their D and the forecheck."
Kings coach Darryl Sutter shuffled his forward lines multiple times in the third period, trying to find a spark.
Afterward, he talked about the play of his top players "falling off" as the game went on.
Certainly on this night, there wasn't much from the likes of
Anze Kopitar
,
Mike Richards
,
Jeff Carter
or
Dustin Brown
.
In a game decided by one goal, it was duly noted by Sutter that two of Chicago's big guns in Hossa and Sharp found the score sheet.
"I think the two guys that scored for them are going to score goals," said Sutter. "We have guys that have to score goals. That's how close it will be."
The Kings have little time to dwell on things. Game 2 is Sunday here at 8 p.m. ET. Outshot 36-22 and with very little offensive-zone time, the Kings understand what they need Sunday.
"There were a lot of things we can do better out there as individuals and as a team," said Kings veteran
Robyn Regehr
. "Those are the important things we need to correct before the next game.
"We didn't play very well, especially in the first 40 minutes," Regehr added. "We didn't do a very good job right off the start, getting outshout considerably in the first two periods. Not doing a good job coming out of the zone, not getting sustained pressure on the forecheck -- all those things. We didn't a very good job at all."
The Kings are now 1-6 on the road in the playoffs, definitely a different team away from Staples Center, where they're rocking a 7-0 record and looking more like the physically dominating team that grinds the opposition into submission.
A year ago, the Kings were able to travel with that kind of game en route to a Stanley Cup.
They need to find that road game in a hurry. Home ice alone won't save them in the Western Conference finals.
June, 1, 2013
6/01/13
4:35
PM CT
By
ESPN Stats & Information
The Stanley Cup playoffs resume Saturday with Game 1 in both the Eastern (Bruins-Penguins) and Western Conference (Kings-Blackhawks) Finals. FROM ELIAS: The final four NHL teams won each of the previous four Stanley Cups: the Kings last year, Bruins in 2011, Blackhawks in 2010, and Penguins in 2009. There has been only one "final four" in NHL/NBA playoff history in which each team won its league championship in one of the previous four seasons: the 1945 NHL postseason (Bruins, Red Wings, Canadiens and Maple Leafs).
Western Conference Finals – Game 1
Kings at Blackhawks, 5 ET
* 7th time that a defending Stanley Cup Champion (Kings) will meet the current Presidents' Trophy winner (Blackhawks) in a playoff series since the Presidents' Trophy was first awarded in 1985-86.
In the 6 previous meetings, defending Cup champs and Presidents' Trophy winners each won 3 series.
* Teams have met just once before in the Stanley Cup Playoffs. Chicago defeated Los Angeles 4-1 in a 1974 Quarterfinal series.
* Blackhawks: won 2 of 3 regular-season meetings
* Blackhawks: 40-41 on penalty kill this postseason
* Kings: have not allowed more than 3 goals in any of their last 33 playoff games dating to last year, an NHL record
*
Jonathan Quick
(LA): leads NHL in GAA (1.50 .. 20 GA/799 min), save percentage (.948 .. 362 saves/382 shots) and shutouts (3).
Eastern Conference Finals – Game 1
Bruins at Penguins, 8 ET
* 5th playoff series meeting between Bruins & Penguins (1st since 1992 Wales Conf. Finals); teams have split 4 previous playoff series
* Penguins: 3-0-0 vs Bruins during regular season; won last 6 reg. season meetings vs Bruins
* Penguins: lead 2013 playoffs in total goals (47), goals per game (4.27), power play goals (13) and power play pct (28.3)
*
Sidney Crosby
&
Pascal Dupuis
(PIT): tied for playoff goal lead entering Conference Finals with 7 each (tied with Blackhawks'
Patrick Sharp
)
*
David Krejci
(BOS): leads playoffs in scoring entering Conference Finals with 17 points (5 G, 12 A)
*
Torey Krug
(BOS): tied for playoff goal lead among rookies with 4 (tied with Senators'
Jean-Gabriel Pageau
); has yet to score a regular season goal in his career
May, 31, 2013
5/31/13
6:50
PM CT
CHICAGO -- The
Chicago Blackhawks
have a plan on how to beat
Los Angeles Kings
goaltender
Jonathan Quick
in the Western Conference finals.
Whether that plan will work is another story. For the past two seasons, six other teams have lined up a plan to get past Quick, and they all failed in the playoffs.
[+] Enlarge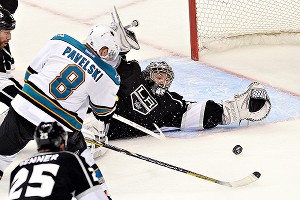 Jayne Kamin-Oncea/USA TODAY SportsThe Blackhawks have a strategy for scoring on Kings goalie Jonathan Quick, but his championship level of play will make it tough.
Quick went 16-4 with a 1.41 goals-against average, a .946 save percentage and three shutouts while helping the Kings to the Stanley Cup and earning the Conn Smythe Trophy as the playoff MVP last season. Now this season, he's 8-5 with a 1.50 goals-against average, a .948 save percentage and three shutouts in the playoffs.
"Well, he's had a special couple years in the playoffs," Blackhawks coach Joel Quenneville said Friday. "He's a different kind of goalie the way he moves so quick in the crease or even above it. Traffic is something we talked about. Pucks at the net, second opportunities are the ones you're going to beat them with."
The Blackhawks already faced a hot goalie in the playoffs when they went up against
Detroit Red Wings
goaltender
Jimmy Howard
in the conference semifinals. The Blackhawks struggled to figure Howard out during Games 2, 3 and 4, in which they scored a total of two goals.
But as the series progressed, the Blackhawks began taking more shots and getting more players to the net and ultimately put in more goals. They scored 10 goals over the series' final three games.