Chicago Blackhawks:

Kim Johnsson
April, 19, 2010
4/19/10
4:03
PM CT
[+] Enlarge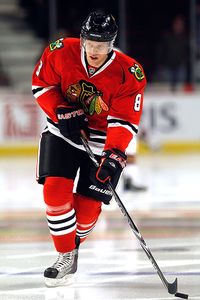 Jonathan Daniel/Getty ImagesKim Johnsson's absence has generated plenty of rumors and gossip.
It's always nicer to answer the mail after a playoff win:
Q: Hey Jesse, I know you usually don't comment on rumors, but I heard that [Kim] Johnsson isn't playing because he doesn't get along with the team. I've always heard the Hawks are a very tight group of guys, and this surprises me. Is there any merit to this rumor? Thanks. -- Rebecca, Chicago
A:
I understand the confusion over Johnsson, and no offense to you of course, but that's about the dumbest thing I've heard about him yet. People like to pretend they are in the know about things when they are not. There very well may be more going on with Johnsson, but from all the people within hockey that I have talked to, he has a bad concussion, and that's it. Why he's not around the team at least a little is up for debate, but organizations act weird toward injured players so who knows? He and
Patrick Sharp
, for example, go way back, so I don't think there's a rift. The Hawks and the NHL could do a much better job of explaining these things, but they choose not to, so I don't blame people for speculating, but guessing or making things up is different than speculating.
Q: Jesse, both games have been very similar in style of play. Do you see the Hawks exploding in either the Tuesday or Thursday's game? I feel like they are close, and if some of their passes start connecting they could put up 4 or 5 easily. Or will Nashville's D (especially Shea Weber and Ryan Suter) just not let that happen? -- Fitz, My Cube
A:
Anyone who has read my blog knows I've been comparing this series to the
Vancouver Canucks
series last season. Just like then, if the Hawks stay the course and are able to win games in this gritty style they may be able to frustrate Nashville and force
them
into a more wide open game. Take a look back at Games 3-6 against Vancouver. After wide open affairs in the first two games, it went the other way but slowly it came back because the Canucks got antsy culminating in that 7-5 finale. The only difference is Nashville is more disciplined than Vancouver, and they really only know one style, so the Hawks just might win this thing in six games with nearly every game the same.
Q: Big game last night from Dave Bolland ... had the one goal and, if not for a quick whistle, would have had two. My question is, is he starting to get back to form? I'm not sure if the back is still bothering him, but he hasn't been the same since returning. Hopefully this kick-starts him to the level he was at last spring. -- Aaron, Aurora, Ill.
A:
The goal was nice but bigger than what it did on the scoreboard is hopefully what it will do for his confidence. He's a very smart player, and he needs to get back to playing with an edge and taking some chances. He seems to be playing it safe so maybe that back-hander will spark him. Anyone can put that in if they bear down, it's what he does to create and help out the rest of the game that I want to see more from him. Maybe this is a start.
Q: So it's looking more and more like Brian Campbell might make an appearance in this first-round series. What kind of boost do you expect adding Soup back to the blue line? What does it do to the defense and the power play? -- Michael, Chicago
A:
I think some fans are acting like he's the savior. He simply adds another puck moving player to the lineup. Over time, that's only going to improve all aspects of the offensive game, but he can get bogged down just like anyone else against this Nashville team. If you can skate out of trouble and into the offensive zone or near it so you can dump it in, you can only help. Campbell adds that to both five on five and power play.
Q: Jesse, first off, huge fan of the blog. I've heard a lot of talk about the Hawks making adjustments to meet the Predators' style of play, but watching [Sunday night's] game, I can't help but think that the Hawks' biggest problem is the breakout. When the Hawks slowed things down and made clean, simple passes out of the zone, they were able to more quickly revert to their solid puck-possession game. Do you think that the changes being made by Joel Quenneville relate more to addressing internal changes rather than adapting to an opponent? -- David B., Chicago
A:
I'm not exactly sure what you're asking regarding internal changes, but I think the breakout thing is a good point, however, I think they are trying to be extra careful for the most part so it doesn't look as smooth. There are exceptions, like when
Dustin Byfuglien
tried a couple of fancy plays. Here's the bottom line. If the Hawks play smart and patient, they still have more talent than Nashville. Don't let that be negated by mistakes. They learned that Sunday night, and I think it will hold true for the rest of the series.
Q: Everything was better after the win last night, however if you look at tweets during the game, it was a bit rough-going for a while. Did anyone [players/media] talk about the "difficult" part of the game, when you actually heard a few boos directed at our guys? I was wondering if you think it got the team's attention, because they seemed to play with more energy to me. -- JM, Naperville, Ill.
A:
I think everyone was just antsy for a second goal. Until that came, it felt a little like it might be deja vu all over again. No one in the dressing room addressed anything about it except to say they knew that second goal was huge and it probably relaxed everyone in the building. I think they were focused on finishing the job. Simple as that.
April, 12, 2010
4/12/10
4:41
PM CT
It's a playoff edition of Mailbag Monday. Isn't everything from here on out a "playoff edition?" Let's get to it.
Q: Ok, Jesse, you've had great insight into the Hawks all season, so now I just need one more prediction: Who's your pick for team MVP for this upcoming post-season? Who do you think is going to play the biggest role in carrying us as far as possible? -- Jenna (Rockford, Ill.)
[+] Enlarge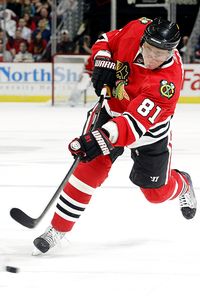 Bill Smith/NHLI/Getty ImagesWill this be the year Marian Hossa turns his luck around in the Stanley Cup Finals?
A: I'll pick Duncan Keith on defense and Marian Hossa on offense. The reason I pick those two is there really should not be a style of play they can't quickly adjust to. Keith will have to pick up for Dustin Byfuglien when the inexperience catches up and Hossa will have to be a force in all areas. Jonathan Toews is an obvious choice as well for the intangibles and little things he contributes, but I'll go with one of those first two.
Q: Jesse, what are the chances of the Blackhawks seeing Dan Ellis in this series? What will line four look like to start the series? -- Jimmy McErlean (Oak Forest, Ill.)
A: If we do, it probably means the Hawks are doing well. Ellis is clearly the back-up. He didn't play in any games in April and Pekka Rinne has had the better season. Even before the Hawks take the ice for preparations for Friday, I don't see how the fourth line changes from what it's been: Fraser, Eager, and Kopecky. Fraser's rise has been extraordinary. Joel Quenneville's decision to play Bryan Bickell over Adam Burish on Sunday tells you all you need to know about his feelings toward #37. Clearly, if all are healthy, he is the odd man out.
Q: Jesse, in your opinion does Kim Johnsson get back at all this year? -- Jim Lurgio (Frankfort, Ill.)
A:
If my choices are between 'Yes' or 'No', then I'll go with no. I've seen no indication that he is close to returning. They've stopped calling him day-to-day and he isn't around the team much. Having said that, if he wakes up one day feeling better and gets back on the ice, that changes things. Until that happens I don't see him helping very soon or at all.
Q: There are reports that Soupy could be ready for the first round. Should us Hawks fans get excited? -- Alex (Palatine, Ill.)
A: I think there's cause for excitement because he's begun skating. Everything else can't be too far away. It helps that they are starting the series a couple days later than we all thought so that gives him extra time. I'd still say round two is more likely, but as this week moves along we will know a whole lot more.
April, 7, 2010
4/07/10
6:39
PM CT
[+] Enlarge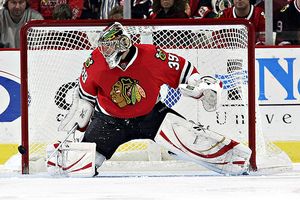 Bill Smith/Getty ImagesIf Joel Quenneville plans to start Cristobal Huet in the Blackhawks' final two games, he isn't letting on.
If Joel Quenneville has any plans on playing
Cristobal Huet
in one of the final three games of the regular season, he isn't saying. It's still a "day-to-day" decision, Quenneville said, before the
Chicago Blackhawks
took on the
St. Louis Blues
on Wednesday night.
One thing he is sure of is his lineup, especially his bangers and crashers.
"Our rotation [of] the four lines has been better than we've seen for a long stretch of games here this year," Quenneville said. "That group [fourth line] has been sparking us right now."
Colin Fraser
,
Tomas Kopecky
,
Ben Eager
, and
Adam Burish
have all had multiple-point games over the past 10 days, and that has solidified a group that had been struggling for parts of the season.
Quenneville also said he likes how his defensive pairs are coming around despite not having
Brian Campbell
and
Kim Johnsson
. Campbell is on target for a return later in the playoffs while Johnsson remains out after being involved in a collision on March 13 in Phildelphia. Quenneville indicated there is no timetable for his return.
"Not right now," Quenneville said. "We haven't seen him on the ice. Once we see him on the ice it will give us a better indication, but he's still a little ways away here."
The Hawks have been calling him day to day for over three weeks. Quenneville admitted, obviously, it's a more serious injury than that.
"Yes, it is," Quenneville said. "It is a long time, and I can't give you a good answer on when we'll see him back."
Quenneville also admitted to some scoreboard watching as the Hawks try to figure out who they might play in round one of the postseason.
"You're always looking at potential candidates," Quenneville said. "Right now, it looks like four teams are in that mix. The picture changes every day. Who knows what it will look like come Sunday?"
And while achieving some franchise records such as most victories and points, now is not the time to celebrate.
"Maybe at some point you can look back and say we had a fun year this year, but we still have a lot of work to do," Quenneville said.
March, 30, 2010
3/30/10
11:53
AM CT
It's Monday so time to answer the mail. Angry and confused, or not.
[+] Enlarge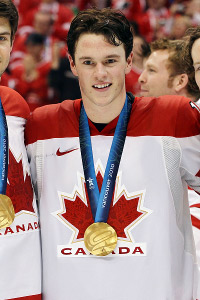 Bruce Bennett/Getty ImagesCaptain Jonathan Toews will have to play a big part in leading the Blackhawks out of their funk.
Q: The sky is falling. [John] Madden and several other guys have commented recently that the Hawks have not been playing as hard as they can. Who is guilty of this? Who are the cancers on this team? Can you call out a few players who need to significantly step up their game? -- Jeff, Chicago
A:
I don't know about cancers, but I just think they have forgotten -- for lack of a better word -- what kind of work ethic it takes. Start with the fourth line. Where is the banging and crashing that they are suppose to bring, especially with
Adam Burish
back? It's more of a collective feel than any one or two individuals, though.
Jonathan Toews
has a "C" on his jersey for a reason. He,
Marian Hossa
, and a guy like Madden need to lead the way. I don't think Toews will stand for how things are going much longer. Wouldn't mind seeing him lose it.
Q: What is the big secrecy around Kim Johnsson? He apparently received a concussion that has put him out for several weeks, yet we have never seen the hit that caused it or heard any details about his condition other than "day-to-day." -- Lynette, Naperville, Ill.
A:
They are secret about it because the NHL allows them to be. I don't see why they have to be. I don't remember the hit either, but that doesn't mean it didn't happen. Quenneville called it a collision, more than a hit, and he says he remembers it. As far as any details, there aren't any more than he hasn't been cleared to skate because he's having problems, obviously. I'm assuming headaches and the like. So until that clears up, there is nothing more to report, though I wish they could be more open about it. Why Quenneville just can't say, "He's having bad headaches, say a prayer for him, and hopefully he's back soon," is beyond me. Obviously, it's a serious injury for him to be out this long.
Q: Jesse, It seems Q has lost the team at this point. I know it's not ordinary to suggest a coaching change at this point of the season though it has happened before. The Hawks have not been good since mid-January and Q's mishandling of the goaltenders has made me question his tactics. Yes, we are missing two top-notch d-men, but we were not in January and the team was struggling then as well. -- Trent, Edmonton
A: I won't argue with your basic point, but I will say this: Coaches make a lot of money and have a pretty good life when they have a talented team, but there are times when the special ones have to make a difference. This is that time for Q.
Q: So with all this big worry about the current state of the Blackhawks, I was curious if you had any insight as to how Toews is handling arguably the first real adversity he's faced as a captain. Is he stepping up to the challenge? Should he focus more still on just leading by example to get them out of their funk? -- Merideth, Los Angeles
A:
Good question. My answer is, the jury is still out. I'm hoping he's biding his time or doing it very quietly behind closed doors. I'm sure there are things going down that we don't know about, just like on every team in any situation. Most keep it behind closed doors, and that's a good thing. Having said that, as I wrote earlier, I wouldn't mind him losing it a bit. No one wants to win more than him. I don't doubt that. He has to make sure everyone else wants it as well. If not for themselves than for each other and the fans that pay the freight. And he needs to be out in front of the media even more. He's the face of the franchise from a leadership standpoint, and he needs to be it every day from here on out.
Q: Simply put: dude, what's going on?! Today is the first time I'm worried. Coming off that embarrassing loss and the team meeting, you would think they would have come out [Saturday night] with a vengeance. Instead they got out-hustled and outworked by an inferior team. -- Dave, Crystal Lake, Ill.
A:
Simply put, dude: I don't know. If I did I'd be coaching. I'm with you, the second Columbus game woke me up to their problems, and it is a work ethic thing, in part. Especially on offense. I'm not sure what is happening from a team defense point of view, but at least we can say maybe they are adjusting to playing without Campbell and they are missing Johnsson. What's the power play's excuse? It can't be all No. 51. A small part of me still believes we will see them turn it on as the calendar changes to April, but that's only in a few days. The last five games will be telling for me.
Q: Hey Jesse, can you briefly describe the Chicagoland fan's feelings on the current state of the team going in to the playoffs? -- Graig G., Fairfield, Calif.
A:
Panic. That brief enough?
March, 27, 2010
3/27/10
2:13
PM CT
Thursday's 8-3 loss to the
Columbus Blue Jackets
was so bad that
Chicago Blackhawks
coach Joel Quenneville called his team in for meetings on Friday, though they stayed off the ice. Sounds like plenty of things were addressed.
[+] Enlarge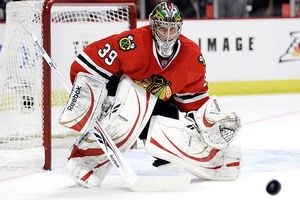 Rob Grabowski/US PresswireHawks goalie Cristobal Huet gave up seven goals against the Blue Jackets on Thursday.
"Some of the guys said a few things to each other and that's what a team has to do,"
Adam Burish
said after Saturday's on-ice session. "That's what a good team does. We addressed the issues ... You kind of pull the elephant out of the bag, and there it is. Let's address it and figure out what's wrong ... let's get it out on the table and then let's put it away and move forward."
Though there may have been some big-picture ideas discussed, it still came back to the Thursday's awful result.
"You can't be too happy with what took place the night before," Quenneville said. "It probably needed to be addressed. You can't be happy with a game like that."
Not surprisingly, Quenneville has named
Antti Niemi
his starter in goal for the Columbus rematch on Sunday, but that's as far as he would go to committing to what everyone assumes come the playoffs.
"I'm going to say he's going to get at least the next game and we'll go from there," Quenneville declared.
According to the Hawks coach, there's been "no consideration" to bringing up
Corey Crawford
or trying to send
Cristobal Huet
down to the minors after his seven-goal performance.
As the team moves on, Quenneville says they are focused on grabbing the No. 1 seed in the conference and holding on to it.
"Peaking going into the playoffs is part of it as well and we can't say that's the case right now," Quenneville said.
As for Niemi, his game has been good lately and his confidence continues to grow.
"I haven't played too many games in the NHL so I think every game gets [my confidence] higher," Niemi said.
Unfortunately, the same can't be said for Huet.
NOTES:
Kim Johnsson remained off the ice with no new update on his status. He's been off the ice since leaving a game against Philadelphia with a concussion-type injury two weeks ago.
On Sunday, the Hawks are launching a new customer-service feature called "The Fan's Voice." There will be two locations, one on the 100 level and one on the 300 level, where fans are encouraged to give feedback on the Blackhawks viewing experience at the United Center and more.
March, 25, 2010
3/25/10
4:43
PM CT
[+] Enlarge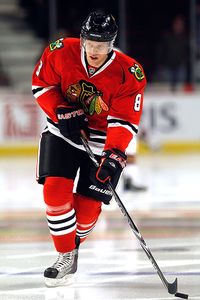 Jonathan Daniel/Getty ImagesKim Johnsson has missed the past five games and didn't make the trip to Columbus for Thursday's game.
As the league tries to take measures to stem the tide of head injuries, the
Chicago Blackhawks
apparently are dealing with another one.
If you've asked, "What's wrong with
Kim Johnsson
?" you're not the only one. After mysteriously leaving a game against the
Philadelphia Flyers
on March 13, he hasn't been seen much around the United Center. He didn't travel with the team on the West Coast and didn't make the trip to Columbus for Thursday's game.
In fact, the Hawks defenseman hasn't been on the ice since leaving that game against the Flyers, according to coach Joel Quenneville. He has missed the past five games. Even some of his teammates were wondering what was up.
Sources indicated Johnsson was suffering from concussion like symptoms. Quenneville had been calling it an "upper body" injury but elaborated after practice.
"Sometimes when you try to pinpoint these type of injuries you don't have a concrete answer," Quenneville said. "You have to see how they present and go from there. I recall the hit. It was almost like one of those collision-type hits. That's when it happened."
The key word in that statement is "present." Quenneville uses it when talking about players coming off a head banging. So it's day to day for Johnsson, and until he does "present" better, he'll stay off the ice.
The whole world saw
Brent Seabrook
get slammed into the boards, but he only missed two games. Johnsson's "collision" was obviously much worse, but has had less publicity.
Dustin Byfgulien will play on defense for the fifth consecutive game.
March, 19, 2010
3/19/10
9:40
PM CT
GLENDALE, Ariz. -- The one unexpected benefit Joel Quenneville may have received following Brent Seabrook's vicious injury was the move of
Dustin Byfuglien
back to defense.
[+] Enlarge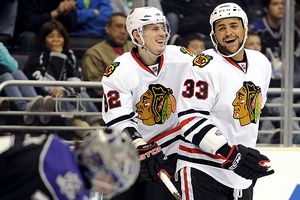 Harry How/Getty ImagesDustin Byfuglien filled in on defense after three Hawks went down with injuries.
Byfuglien was used on Wednesday and Thursday in an emergency situation after the Blackhawks lost three defensemen to injury in three consecutive games. He played so well on the blue line that Quenneville is thinking of leaving him there, even if his other defensemen return to health.
"I don't want to make an official announcement about [Byfuglien] being a defensemen but we really liked what we saw," Quenneville said after practice on Friday. "Right now, as a group here, we're thinking, let's keep him on D and see how it goes."
Byfuglien manned the blue line for three years in the minors under current assistant coach Mike Haviland, and began his NHL career there as well. In the 2007-08 season, then-Hawks coach
Denis Savard
, moved him to wing and he had a breakout year, scoring 19 goals. He's been there ever since -- until now.
"I've always been comfortable playing defense," Byfuglien sad. "It's gone maybe a little bit smoother than I thought it would. It's been fun and hopefully I can stick around back there a little longer."
It's gone more than a little smooth. In his first full game on defense since 2008, he played 20:56, had an assist and led the team with six shots as well as five hits. He also helped the Hawks end a three-game losing slide with a shutout against the Kings. He was also voted the No. 3 star of the game. Not a bad night.
NOTES:
Brent Seabrook was surrounded by some teammates as he answered questions from the media for the first time since getting knocked out. Byfuglien tried to lighten a serious mood by manning the Hawks website camera. Then he took the camera into the showers. No word on whether that video will air.
Cristobal Huet is feeling better after a bad bout of the flu that began on the flight to California. "My body was shaking and I felt like an 80 year old," Huet said. He practiced for the first time all week, but Antti Niemi will start in goal on Saturday.
Kim Johnsson did not join the team in Arizona as hoped. He's still recovering from an upper body injury that has had him miss the last three games.
March, 7, 2010
3/07/10
4:15
PM CT
[+] Enlarge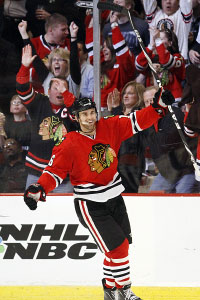 AP Photo/Nam Y. HuhAndrew Ladd recorded his first career hat trick on Sunday against the Red Wings.
The only unfortunate part of Andrew Ladd's first career hat trick was it came in a losing effort Sunday against the
Detroit Red Wings
.
"It's nice," Ladd said. "I would've liked the win rather than the hat trick. At this point in the season we need to put a lot more emphasis on games."
Ladd scored his first of the afternoon in the opening period after
John Madden
created a turnover in the offensive zone and the puck came out to him near the circle to the left of
Jimmy Howard
.
His second and third scores came in the final period. A nice setup by
Kim Johnsson
put him in a good scoring spot not far from where he tallied his first goal. Then, later in the period, Ladd crossed near the slot as a shot came in from the point by
Duncan Keith
. He knocked it down, making it change directions and then getting by Howard.
"There were good looks, obviously," Ladd said. "The turnover on the first one, [then] Kim [Johnsson] found me on the second one. The third was just going to the net."
Ladd has four goals in his past two games and seems to have found some energy.
"I've been feeling better lately and getting some looks," Ladd said. "It seems to kind of come in waves, sometimes. I definitely think I can contribute in that aspect."
His play hasn't gone unnoticed by his coach, and it's not just because he's scoring. Ladd also either led or tied for team highs on Sunday in shots (six), hits (four) and block shots (three). That's more than just a good game.
"Laddy had a great game," coach Joel Quenneville said. "I thought he had great speed. He had good energy and a good forecheck and a good stick. He stood out today as far as his energy and his finishing as well."
Ladd's three goals were the first hat trick for the highest-scoring team in the conference.
February, 22, 2010
2/22/10
2:54
PM CT
[+] Enlarge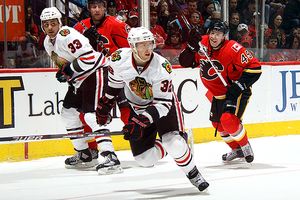 Brad Watson/NHLI/Getty Images Kris Versteeg has been mentioned in several trade scenarios.
It's Monday, which means it's time to answer the mail. The Hawks are off until Thursday, when the non-Olympians will begin to practice. Plenty of exciting hockey to watch until they get back, that's for sure.

What are the non-Olympic Hawks doing during the layoff? What types of downtime (when they get back) do you expect if any of the Hawks make it to the finals?
Jeff (Chicago)

Most are on a warm beach somewhere. Some went home. They'll have five days of practice before a game to shake the rust off. As for the Olympians, I think there is a good chance if they are in the gold medal game, or even if they just miss out, Joel Quenneville will let them take the Islanders game off next Tuesday if they want. There's a precedent for it, and it does make sense. They start a homestand after that, including playing the next day, so it's possible a few Hawks won't make the trip to New York.

Do you think if the Hawks have the option to pull the trigger for Tomas Vokoun -- giving up Cristobal Huet, Corey Crawford, and Kris Versteeg -- they make that trade? Especially with Voukon's contract coming off the books after next season?
Brent Zartler (Tinley Park)

Yes, if they could do that trade I think they would, but I do not think that trade is in place or will happen. They have interest in Vokoun, as well they should, but I don't believe Florida wants that package. My informed opinion is they make a play for him, but it won't involve Huet, but Vokoun is absolutely attractive.

Your recent article on a potential trade involving Vokoun got me thinking. And I'm thinking that any trade that doesn't send Huet back to Florida makes zero sense. Sure, it probably also means the Hawks are sending Versteeg and a prospect or two as well, but the Hawks need to shed salary, and optioning Huet to Rockford isn't really the answer. Especially when it could have a serious impact on how the Hawks are able to negotiate with other FAs in future seasons.
Justin (Chicago)

First off, I'm not sure how optioning a player to the minors has any negative effect on future negotiations with free agents. I don't believe it would. Second, getting Vokoun is the key. How you get him shouldn't matter much, unless of course, you are breaking up your core, which the Hawks will not do. I don't believe Florida wants Huet, so if the Hawks can get Vokoun a different way, they should do it and deal with the consequences later.

Given that none of the Hawks' Olympians are particularly lighting up the score sheets, which one do you think is most frustrated by his individual performance so far?
Steve (Oswego)

It's hard to get inside their heads, but I'm sure Brent Seabrook might be a little surprised playing less than double digit minutes per game. He and Duncan Keith were brought in as a tandem, and they aren't getting big minutes together. And you know Patrick Kane is the type who wants to see his name in the box score, because that is how he contributes -- with points. He has a goal, but I'd expect he'd want more after three games.

Do you think there will be any negative effects on the chemistry between the American and Canadian Olympians when they return given the huge upset that occurred? Or are they too professional to let any resentment from that tournament affect their NHL season?
Jon (Cary)

Not only too professional, they're all good friends. Think about beating a good friend, fair and square, at something. They don't hate you afterwards. No resentment at all. Just bragging rights.

I was wondering what the plan is once the Hawks clinch the division. Rest stars? Go for the first seed?
Nasser

I'm not sure they will use clinching the division as a "benchmark." I think it will come down to what kind of a lead they have for the two seed, and where they are in terms of that one seed. I do think there will be some reduced minutes in March and early April, but it's hard to say where/when that will come. The division will matter, but you won't see a huge change just because they locked up at least the three seed.

What is the general attitude of the players off the ice currently? With dropping some games that should have been wins -- like St. Louis and Phoenix -- and having lost the top spot in the West, do the guys still have that sense of swagger they had early in the year when all things were clicking?
Jonathan (La Grange)

I don't know about swagger. I think the grind of the season catches up with everyone and evens things out between the good teams and the bad ones sometimes. I'm pretty sure you'll see a resurgence in March. At this time of year, as long as they're winning their fair share of games -- and they are -- I don't think style points matter. They have a great record and are maintaining their No. 2 spot while also pushing San Jose, so it's pretty much all you can ask for.
Argue for me why the Sharks are better than the Hawks and will be the last team standing.
Steven (South Side)

I think the season series proved the Hawks have the matchup edge. It looks like the Hawks are quicker than the Sharks, and that's not something San Jose can just fix. The Sharks do have a size advantage, so in a seven-game series, it could be interesting to see if the Hawks wear down on defense and if their puck possession game diminishes. Evgeni Nabokov can steal a game, no doubt about it, so combine that with a long series and it could be how the Sharks win. Plus, they are strong on special teams, so if the refs play a part, the Sharks can match the Hawks.
I know you don't feel a change is needed or will happen in terms of the goaltenders. For argument's sake, can the Hawks send Huet to Rockford and have him come off the cap? I know they would still owe him his salary, but they would gain cap relief -- correct?
Jim (Northbrook,)

You are right. They would get cap relief but still have to pay him his salary; that is if he clears waivers. I wouldn't rule anything out, but his numbers don't scream "send him to the minors" as much as the fans may think they do. It's obvious the Hawks aren't sure who their playoff goaltender is yet, but sending him down is long shot.

Thanks for keeping us current with all things Hawks. Matt Walker's robustness made him a useful presence last year during the playoffs for Chicago. Do you think, for all of their current success, the Hawks miss that physical element this year? Do you think they will bring in a player of that type, and who might that be?
Dave Morris (Ottawa, Canada)

Yes, I think they miss it, but that doesn't mean a whole lot when you have the record they've earned. Would they have more wins if Matt Walker were still here? Probably not, but we'd all feel better about a little protection for the stars I suppose. I kind of like Andy Sutton of the Islanders. He's got some toughness to him, but I haven't heard great reports this season. At this point, with the addition of Kim Johnsson, they seem pretty set. He's one of those, "would be nice to have guys," but not 100 percent necessary.

Love all the great insight you provide to the team! In your honest opinion, how much has the presence of Jonathan Toews helped Kane as far as developing as a player as quickly as he has? Given the fact that here's someone the same age who's providing a great example of discipline and motivation, I figure Toews has probably played a significant role. If nothing else, just providing peer competition and motivation such that Kane doesn't just feel content to settle for his already high level of play.
Meredith (DeKalb)

I don't think there is any doubt Toews' competitiveness has rubbed off on Kane, who is much more laid back. It would be hard not to draw the conclusion that what Kane did this offseason to get better had something to do with his pal. They locker next to each other, and Kane sees how serious Toews is about hockey. Like I said, it would be hard to imagine that not having an effect.
February, 13, 2010
2/13/10
3:02
PM CT
[+] Enlarge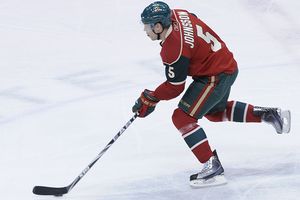 AP Photo/Jim MoneNew Hawks defenseman Kim Johnsson was surprised when he found out he had been traded, but says he expects to fit in easily with his new teammates.
The move came as a surprise to
Kim Johnsson
. Just 15 minutes before the NHL trade freeze came on Friday, Johnsson (pronounced Yan-sin) got the call that he had been traded to the
Chicago Blackhawks
.
He arrived Friday night, took to the ice with his new teammates Saturday morning, and will play against the
Atlanta Thrashers
Saturday evening. After getting over the initial shock, Johnsson says he's ready to go.
"It's a big transition, but I'm pretty excited about the team," Johnsson said from his new home dressing room Saturday morning. "It's a great young team. I'm looking forward to this."
It sounds like Hawks coach Joel Quenenville is, too. There isn't much the he doesn't like about his new blue liner, who comes to town a plus 20 for his career.
"You appreciate his dependability, consistency and predictability," Quenneville said. "I think those are traits you always look for in a defenseman. He moves the puck well and plays well in his own end. He's very useful in all aspects of this game. We like the options that he presents."
And that starts with penalty killing.
Cam Barker
was not used in that department, but Johnsson will be immediately. Quenneville didn't rule him out for the power play eventually, as well. It also changes the dynamic on defense. Previously, Quenneville was more reliant on his top four of
Brent Seabrook
,
Duncan Keith
,
Brian Campbell
, and Niklas Hjarmalsson. With addition of the veteran Johnsson, the rotation will look different at times.
"We can go deeper into rotating three pairs or even a five-man rotation," Quenneville said.
In other words, when called for, you might see Johnsson out there with one of those top four guys instead of his usual partner. On Saturday he'll be paired with
Jordan Hendry
as
Brent Sopel
will sit the weekend out with a foot injury.
It also gives Quenneville the option of resting Keith and Seabrook more down the stretch. They rank second and twenty fourth in the league in ice time per game. And those minutes won't include the pressure-filled time they get playing over the next two weeks at the Olympics. Johnsson was right behind Seabrook, ranked twenty fifth in ice time, so he can handle any workload.
"We'll get a better handle coming out of the Olympic break and see how they're doing with fatigue and rest," Quenneville said of Keith and Seabrook. "And we know [Johnsson] can spell them and play against the other team's best lines and top guys."
Taking nothing away from Barker, it's not something the Hawks were comfortable doing with the former number three pick in the draft. Johnsson is simply a brand new kind of option for Quenneville.
For further praise of the new Hawk, you don't need to go any further than his former teammate,
Patrick Sharp
. Johnsson and Sharp played together in Philadelphia in 2003-04 and 2005-06 before Sharp was traded to the Hawks.
"I thought he was our best defenseman for years in Philadelphia and that's saying a lot with guys like
Eric Desjardins
around," Sharp said. "He kind of came into his own there in Philadelphia and he's been a great defenseman since."
"I just remember he was one of the good guys on the team," Sharp continued. "As far as [me] being a rookie and coming into the league it can be tough with a veteran lineup. He was always one of those guys that went out of his way to make sure I was comfortable and I'll always remember that."
Hearing that makes you believe the transition to a new dressing room with new teammates and personalities wont be a big deal for the 10-year veteran.
"Hockey teams are all the same, all over," Johnsson said. "It's a great bunch of guys and you fit in pretty easily. The mentality is pretty much the same. You have to play the best you can and fit in."
As for on the ice, Johnsson feels his game fits the Hawks like a glove.
"Skating game, puck moving game," Johnsson said. "That's probably my biggest strength and hopefully that's what I'll bring to this team."
In Minnesota under former coach Jacque Lemaire's trapping style, Johnsson's offensive game wasn't on display like it had been in Philadelphia. He believes it will return with the speedy and skilled Hawks.
"You can join the rush more but you can't be stupid about it," Johnsson said.
NOTES:
The Hawks have recalled Bryan Bickell from Rockford. With John Madden and Ben Eager missing the weekend games with ailments, Bickell will skate on the fourth line.
Kim Johnsson more than remembers being on the winning end of the Hawks biggest third period collapse in team history when the Wild overcame a 5-1 deficit to win 6-5 back on January 9. "That was a fun game coming back like that, but it's not something I'm thinking about right now," Johnsson said.
February, 12, 2010
2/12/10
5:16
PM CT
Stan Bowman's first major move as general manager could turn out to be a short- and long-term winner.
In obtaining defensemen
Kim Johnsson
and prospect Nick Leddy from the
Minnesota Wild
for
Cam Barker
, Bowman addressed depth on the blue line while shedding salary for next season and helping re-stock the defense for the future.
Johnsson will be the immediate dividend. The 33-year-old Swede is a 10-year veteran who provides depth for all situations.
"We talked about having some experience here," Bowman said. "We have a young group. He's been through playoff runs. He's been to the Olympics. He's been in high pressure situations before. He's going to fit in great with the style of play we have here."
Bowman said Johnsson plays "both ends of the ice" and his flexibility as a player is something Joel Quenneville is going to like. Quenneville has options with Johnsson he didn't have with Barker. He's a penalty-killing guy who logged over 23 minutes of ice time for the Wild. He may not need to do that in Chicago, but his durability could allow Quenneville to reduce the minutes of
Duncan Keith
and
Brent Seabrook
down the stretch.
While Johnsson will try to help win a Cup this season, without Leddy in the deal, Bowman said it would never have gotten done. Leddy, 18, was Minnesota's first-round draft pick in 2009 and is a freshman at the University of Minnesota.
"We've been very high on him since last year when we tried to trade up in the draft to get him, honestly," Bowman said. "His speed is something that has been talked about quite a bit. He just plays the style of game we play here…He had to be in the mix for this to work."
Bowman said the deal "didn't come out of nowhere" and took a couple weeks to finalize. It came just before the NHL trade freeze for the Olympic break.
"Whenever you have a deadline it usually pushes things to a resolution," Bowman said. "We didn't have to do it prior to the break, but once we reached the level we were comfortable with, there was no reason to wait."
Johnsson will debut Saturday night against the Thrashers and wear No. 8.
Bowman says they will continue to look to add depth, if it's needed, before the March 3 trade deadline. He says they have the cap space to do that but would be just fine, after Friday's deal, if this was his roster.
"[We're] pretty happy with what we were able to accomplish today," Bowman said.
February, 12, 2010
2/12/10
4:16
PM CT
[+] Enlarge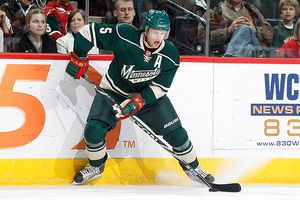 Bruce Kluckhohn/NHLI via Getty ImagesKim Johnsson will be an unrestricted free agent at the end of the season.
The Chicago Blackhawks accomplished exactly what they needed in trading for Minnesota Wilddefenseman Kim Johnsson on Friday. In sending Cam Barker to Minnesota, the Hawks were able to shed salary for next season while adding an experienced blue-liner with both power play and penalty kill time under his belt.


Johnsson will turn 34 next month and will be an unrestricted free-agent at the end of the season. Barker is signed for two more years after this one, at an average of about $3.1 million.


Johnsson had six goals and eight assists with a plus-3 rating for the 29-26-4 Wild. He was averaging 23:46 of ice time, though that number should come down with the Hawks. He has played in 43 postseason games with three different teams in his 10-year NHL career.


Joel Quenneville has options now with a more veteran defense than he had before the trade. Johnsson could slide into Barker's spot and play with Brent Sopel while becoming insurance for any of the top four D-men. Or, he could be paired with Niklas Hjarmalsson for a more rugged twosome behind Brent Seabrook and Duncan Keith.


He also provides another penalty killer for a banged-up defense. Sopel and Hjarmalsson have missed frequent practices while taking a beating blocking shots.