Chicago Blackhawks:

lockout
January, 6, 2013
Jan 6
10:55
AM CT
NEW YORK -- A tentative agreement has been reached between the NHL and the players' association.
NHL commissioner Gary Bettman and NHLPA executive director Donald Fehr stood side by side in the early hours of Sunday morning to announce there was a framework in place for a new collective bargaining agreement.
Read the entire story.
October, 19, 2012
10/19/12
2:09
PM CT
CHICAGO -- Add two more cancelled games to the five already eliminated from the
Chicago Blackhawks
' schedule as all NHL contests were cancelled through Nov.1, the league announced on Friday.
The decision comes one day after talks broke down between the NHL and the players association in an attempt to end a work stoppage that has canceled the entire preseason and now the first month of the regular season.
October, 19, 2012
10/19/12
12:30
PM CT
By
ESPN.com news services
TORONTO -- NHL commissioner Gary Bettman received three counterproposals from the players' association on Thursday and left the negotiating table "thoroughly disappointed."
No new talks have been scheduled, and the possibility of a full hockey regular season is quickly shrinking.
Read the entire story.
September, 19, 2012
9/19/12
8:02
PM CT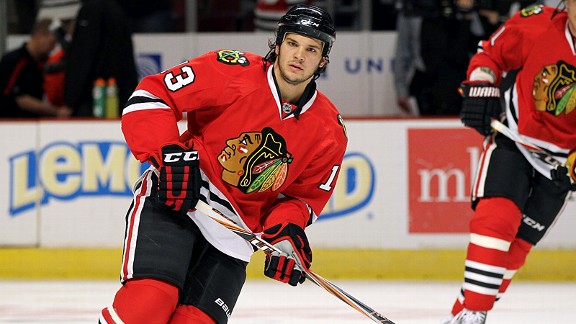 Jonathan Daniel/Getty ImagesDan Carcillo still is considered injured, so he can see Hawks team doctors.
CHICAGO -- Blackhawk players, prospects and others from around the league continued informal workouts on their own at Johnny's IceHouse West on Wednesday.
The group that ran drills -- led by
Jonathan Toews
-- and then scrimmaged for close to an hour included
Patrick Kane
,
Dave Bolland
,
Patrick Sharp
,
Marcus Kruger
, Dan Carcillo,
Ben Eager
,
Troy Brouwer
and
Brian Campbell
. According to them they'll continue with workouts three times a week as long as there are enough players. If the NHL lockout lingers on, many will sign to play overseas.
Players are not allowed to use the Blackhawks official locker room nor can they use any equipment provided by the Hawks. And they have to pay for the ice time. Here are some highlights of post-workout conversations:
Dan Carcillo
: He's recovering from offseason knee surgery but says the extra time during a lockout isn't needed. He's ready.
"Structurally my knee is great," Carcillo said. "It's just a matter of getting back into skating shape. Now it's time to re-train everything and get it firing correctly and that only comes with skating."
Though he says he's healthy Carcillo ended last season injured so until he's cleared he gets paid and can use the Hawks facilities and see team doctors, despite the lockout which affects all healthy players.
"I have seen them," Carcillo said referring to team doctors. "I'm in a bit of a grey area right now. I really don't have the answers to that."
How he'll be declared healthy is a little unclear but once he is he re-joins his teammates in locked-out status.
Marcus Kruger
: He's ticketed for Rockford for the AHL season while the lockout continues. Camp there starts on Sept. 30.
"I'm going to be there earlier than that," Kruger said. "I'm going to try and do my best there and help the team and try to get better. Do the best I (can) considering the situation."
Kruger looked a little faster and slightly bigger as he ran drills. When the season does start he's the favorite to start the year as the second line center unless the Hawks choose Kane over him.
Patrick Kane
: He skated with the group for the first time after missing Monday's session. Kane is happy with his offseason which included more skating than the previous summer when he was recovering from wrist surgery.
"Looking back to when I was the best I was, I skated a lot," Kane said of previous offseasons. "That's what I tried to get back to a little bit. Just be on the ice more."
Kane was asked if he really thought the lockout would last the season.
"I don't think it will but you never really know," he said.
Troy Brouwer
: The former Hawk recently signed a 3-year, $11 million deal with the
Washington Capitals
. He did wonder if that was negotiated in good faith or with the idea that a "rollback" was coming.
"You kind of wonder if that's what they are negotiating with you, to what you eventually end up getting," Brouwer said. "I signed it on the basis of what we are hoping for going forward (no rollback)."
Brouwer was asked if he demanded 24 percent more in salary knowing that's a figure the owners wanted in cutbacks.
"I should have," Brouwer joked.