Chicago Blackhawks:

Markus Lehto
July, 31, 2014
Jul 31
2:20
PM CT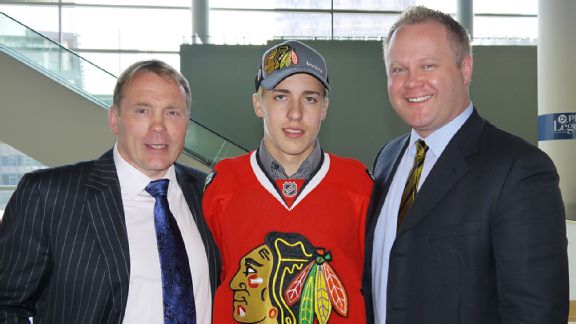 Courtesy Markus Lehto As president of Acme World Sports, Markus Lehto (left) represents several hockey players, including Blackhawks prospect Teuvo Teravainen.
This story is the first of a new series which will feature people in Chicago's hockey community
CHICAGO -- The first hockey league Markus Lehto joined as a 7-year-old in Finland was made up of teams based off the NHL.
Some kids were placed on the
Boston Bruins
. Others were put on the
Toronto Maple Leafs
. Lehto ended up on the
Chicago Blackhawks
.
Forty-plus years later, Lehto laughs when thinking about his first loose tie to Chicago. Since then, he's solidified that connection.
Lehto's first trip to the United States from Helsinki was to play for a Chicago traveling team as a teenager. Nearly 20 years after that, he and Bill Zito created Acme World Sports, a hockey agency, and placed an office in Chicago. It depends on the day now, but Lehto can either be found in the agency's office in Chicago's River West neighborhood, in their office in Finland or at any hockey rink in between.
"It's a pretty funny coincidence," Lehto said about his Chicago bond. "I first played on the Blackhawks, then midget hockey in Chicago and then have a Chicago-based business. Now it's like a hometown."
June, 24, 2014
Jun 24
3:00
PM CT
Markus Lehto has heard
Chicago Blackhawks
prospect
Teuvo Teravainen
criticized for not being passionate and competitive enough because people can't gauge his emotions.
Lehto, who is Teravainen's agent at Acme World Sports and has known him for five-plus years, is familiar with a different side of Teravainen.
[+] Enlarge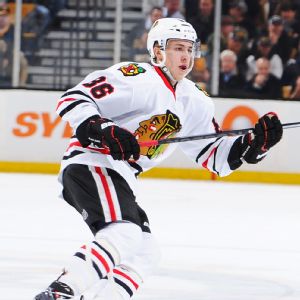 Steve Babineau/NHLI/Getty ImagesHis agent says Teuvo Teravainen is focusing on his off-ice training this offseason, including adding weight to his 169-pound frame.
"Sometimes people say he's hard to read," Lehto said of the 19-year-old forward on Monday. "They don't get a read on him. They don't know he's ambitious or competitive. But when you play golf with him or tennis or know him, know where he's coming from, he's one of the most competitive guys. He's very ambitious. If he loses in golf to you, he's going to be pissed like hell. To me, those are good signs. He wants to be a winner."
It's that Teravainen, the competitive and driven one, Lehto expects to show up to the Blackhawks' training camp in September and fight for an NHL roster spot.
"A player needs to have his own goals," Lehto said. "He needs to have high expectations. He needs to believe in himself that I can do it. There have been lots of Europeans, even North Americans, that go into these training camps, you can tell after the first day the kid doesn't even believe [in] himself being an NHL player. So the athlete needs to believe [in] himself, and I really think Teuvo does."
Teravainen, who is considered the Blackhawks' top prospect, wasn't able to secure that NHL spot this past season after he arrived in March following a full season in the Liiga in Finland. He appeared in three games and had zero points for Chicago and was reassigned to the Rockford IceHogs of the AHL before the Blackhawks began the playoffs. He had two goals in five games for the IceHogs.
Teravainen said and did all the right things after being sent to the IceHogs, but Lehto said Teravainen was affected by not being included in the Blackhawks' playoff push.
"He was disappointed that he learned that he's not going to be part of it," Lehto said. "Of course, he's an ambitious player. His main goal is to play with the Blackhawks. When he gets the information, no, you're not going to be there, he was disappointed. But he needed to get over it pretty quick and look for the new challenges. 'How can I make myself better and be there and be a regular guy and help the team?' I think he got over it pretty quick."
The entire season was taxing on Teravainen. He played in an evaluation camp in Lake Placid, New York in August, participated in the Blackhawks' training camp in September, joined his club team Jokerit in Finland in late September and helped Finland win the gold medal in the 2014 world junior championship in January. He finished his Jokerit season in the playoffs in March, rejoined the Blackhawks, was sent to play for the IceHogs and finally took part in Finland's training camp prior to the world championship. He was cut from the world championship team.
"I think he handled everything extremely well for being a 19-year-old kid from Finland," Lehto said. "He played with five different teams. You could see he was losing it a little bit, getting tired at the end. The kid had played well over 100 games, different kind of camps.
"For me, it wasn't a disappointment that he wasn't in the world championships. He was kind of getting tired. I don't know if there would have been great meaning to play in those world championships. I don't think too many people in the world had that kind of season. It was kind of a unique season for a special kind of guy."
Teravainen is in Finland and scheduled to return to Chicago for good in early July. Lehto said the 5-foot-11, 169-pound forward is focusing on a few areas this offseason.
"The most important thing is off-ice training, to get bigger," Lehto said. "Obviously, he's never going to be one of those bigger guys on the team. But since you're going to be playing in the NHL, [in] North American smaller rinks against heavier guys, higher tempo, you need to be bigger, too. You need to gain three, four, five pounds at least because there's going to be a lot more hitting. The game is intense. That's pretty obvious. He knows that."
Lehto believes Teravainen can succeed in the NHL next season, but he also is careful not to put unrealistic expectations on him.
"I know he can play a full season in the NHL being a productive player," Lehto said. "I know that. As long as he stays healthy, which he is now, has a great summer, great training camp, I know he can play. Then it's up to who else is going to have a great summer and great camp and who else is fighting for that spot.
"Of course, I would love to see Teuvo get that chance and to take that chance and being the man and be a part of the winning Blackhawks. But I would say patience here is very valuable. Expectations have been really high. They're still very high. And they can be high, but let's have some patience.
"There's always pressure. In pro sports, there's always pressure, and you have to learn how to live with the pressure. That's one part Teuvo is going to learn more about because obviously pressure in the NHL is something else than those European leagues."
September, 20, 2013
9/20/13
11:52
AM CT
CHICAGO -- Sick, filthy, great and fantastic were among the words used on Twitter to describe a certain
Chicago Blackhawks
player's stick-handling skills on Thursday.
Can you guess who?
The answer isn't
Patrick Kane
.
Teuvo Teravainen
was the one lighting up Twitter with a handful of moves normally only seen from Kane.
But just as the Blackhawks and their fans were getting excited by a taste of the 19-year-old Teravainen's skills, he's leaving them.
Teravainen is scheduled to board a plane on Friday and head home to Finland. His stay with the Blackhawks was always planned to last just the start of training camp and two preseason games. He'll spend this season with Jokerit in Finland's SM-liiga and could be back to Chicago as early as April. If not this season, Teravainen is expected to be a full-time Blackhawk next season.
Whenever Teravainen does return, he'll have plenty of people happy to greet him again.
"The exciting thing is just seeing what the potential for him is," Blackhawks general manager Stan Bowman said on Thursday. "He just turned 19 a week or so ago. He's got a bright future, so we're excited."