Chicago Blackhawks:

Marty Reasoner
July, 22, 2010
7/22/10
6:24
PM CT

By Jesse Rogers
ESPNChicago.com
Archive
[+] Enlarge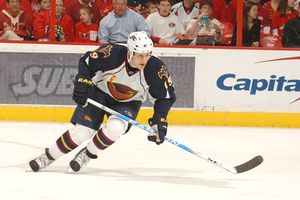 Mitchell Layton/Getty ImagesMarty Reasoner's stay with the Blackhawks was short, as he was traded to the Panthers on Thursday without playing a game.
It was the least Dale Tallon could do.
The now general manager of the
Florida Panthers
helped ease the Blackhawks' salary crunch by trading for recently acquired center
Marty Reasoner
. Of course, Tallon helped the Hawks get into their salary cap problems, but that's been well-documented.
The loss of Reasoner's salary will save the Hawks at most about $600,000, if his replacement makes minimum-type money. But it is $600,000 more they can offer to restricted free agent
Antti Niemi
.
Depending on how much the Hawks allot for injuries, as well as how many players they keep on their roster (between 20 and 23), they have about $2 million to offer Niemi if all other spots are filled with guys making between $500,000-$600,000.
It's probably still not enough, but it does get them on the playing field. One more savings is needed.
The only viable option left that could save them $500,000 or more is trading forward
Tomas Kopecky
. There are little things that could save some money too, say, if newly acquired forward
Viktor Stalberg
didn't make the team at $850,000 and a minimum-salaried player did instead. The danger, of course, is if Niemi still turns down the Hawks and the arbitrator agrees with a higher figure. Then,the Hawks have lost even more veterans without the payoff of signing Niemi, though replacements can always be found.
The loss of Reasoner assures
Patrick Sharp
will remain at center -- something coach Joel Quenneville indicated at the recently completed prospects camp even before Thursday's trade. It also nearly hands the fourth-line center spot to
Jake Dowell
, who general manager Stan Bowman has recently praised.
Niemi's arbitration hearing is closing fast (July 29) and it's obvious the Hawks are doing their best to clear some space. The only question is, will it be enough?
July, 22, 2010
7/22/10
4:10
PM CT

By Jesse Rogers
ESPNChicago.com
Archive
[+] Enlarge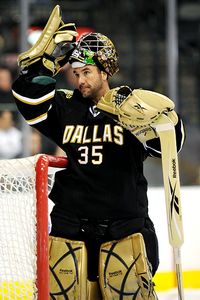 Manny Flores/Icon SMIMarty Turco turned down $2 million a year for three years from Philadelphia, so he might be pricing himself out of the running of being the Hawks' goalie.
With time running out for the Blackhawks and Antti Niemi to come to terms on a deal, the Hawks need to look at other options. To make the best of a bad situation if they feel they can't afford Niemi even if the arbitrator sides with them, they might simply want to trade him before the July 29 arbitration hearing and try to get a decent player for him.
They can always wait until just before the season and hope something develops in training camp. For example, a team might incur an injury to a major star, prompting a call to Stan Bowman for Brian Campbell's services. Then they could afford Niemi. If that doesn't happen, they just might have to trade Niemi at that point, which won't fetch them much.
Even with Thursday's trade of Marty Reasoner, the Hawks are facing the prospect of choosing the lesser of several evils. If he goes, here are some likely (and unlikely) candidates to replace Niemi:

Corey Crawford: He probably remains the best and most likely option. At $800,000, his cap hit is on par with Niemi's of a year ago, and it might simply be his turn. The 52nd pick in the 2003 draft was in line for Niemi's job until Niemi came along. Some in the organization liked him better than Niemi, but now it would be his turn to prove he can handle the pressure from day one. Niemi eased into the starter's role. Crawford would have no such luck. The Hawks would have to feel better about starting a young goalie on a winning team -- they just did it with Niemi.

Marty Turco: His name has gotten as much play as anyone, yet no one knows for sure if he's interested. At 34, he would be older than both Nikolai Khabibulin and Cristobal Huet when they signed with the Hawks. He already turned down $2 million a year for three years from Philadelphia, so he might be pricing himself out of the running -- unless he changes his mind in order to play for a Cup winning team. Turco has had a decent career, though he's underachieved in the playoffs. His best asset? He handles the puck as well as anyone in the league and would fit in with the Hawks' style. At the very least he would rack up a good number of assists. His agent, Kurt Overhardt, says Turco is talking to several teams, and has turned down more than just Philadelphia. He would not comment on how closely, if at all, they are watching the Niemi drama play out.

Jose Theodore: I guess a 30-7 record doesn't get you very far anymore. Not when the GAA is 2.81 and the team flames out in the playoffs. And he had just one shutout for the President Trophy-winning Washington Capitals. Undersized, with his best days behind him -- despite that lofty record -- he would need to agree to a huge cut in pay from the $4.5 million he made last year.

Vesa Toskala: You would have to look past an awful 2009-10 season. He's won more games than he's lost every year he's been in the league -- until this past season. Of course, playing for Toronto wasn't the easiest task for any goaltender. Still, his career record of 129-82 stands out. He's another one due for a cut in pay. He made $4 million for Toronto, Anaheim and Calgary last year. Toskala's agent, Don Baizley, says his client has some options in Europe if there is nothing to their liking in the NHL.

Ray Emery: He might be better suited as a cheap option as a back-up to Crawford, if he can stay healthy. Emery is coming off of hip surgery and only once played in more than 40 games in a season. His career record is an impressive 87-51, including 18-12 in the playoffs. He's younger than most out there at 27 years old.
July, 22, 2010
7/22/10
2:44
PM CT
By ESPNChicago.com
ESPNChicago.com

June, 23, 2010
6/23/10
5:32
PM CT

By Pierre LeBrun
ESPNChicago.com
Archive