Chicago Blackhawks:

Mike Haviland
July, 17, 2012
7/17/12
11:22
AM CT
By ESPNChicago.com
ESPNChicago.com

The
Chicago Blackhawks
hired the
Los Angeles Kings
' Jamie Kompon as an assistant coach on Tuesday.
The 45-year-old Kompon will be reunited with Blackhawks coach Joel Quenneville and assistant Mike Kitchen, who worked with Kompon with the
St. Louis Blues
. Kompon was a video coach and later an assistant coach with the Blues from 1997-2006.
Kompon spent the past six seasons with the Stanley Cup champion Kings as an assistant coach.
"We are excited to add Jamie as assistant coach and certainly welcome the Stanley Cup pedigree he brings," Blackhawks vice president and general manager Stan Bowman said in a statement. "He has over 15 years of NHL coaching experience and some obvious familiarity with our staff, having worked under Joel and Mike in St. Louis, which will help our staff and players with the transition."
The 1999-2000 Blues, with Quenneville, Kitchen and Kompon on staff, set a franchise-record 113 points and captured the Presidents' Trophy for the NHL's best record.
"Jamie will bring us all the great qualities you look for in a coach, most notably his work ethic and a winning resume," Quenneville said. "We have a great working relationship, and I am confident he will be a great fit with us here in Chicago."
Kompon replaces Mike Haviland, who was fired after the season.
May, 8, 2012
5/08/12
5:20
PM CT
By ESPNChicago.com
ESPNChicago.com

The
Chicago Blackhawks
fired assistant coach Mike Haviland on Tuesday, the team announced.
Haviland spent four years with the Hawks, and he shared duties coaching the disappointing power play and penalty kill.
He formerly coached the team's AHL affiliates in Norfolk and Rockford.
February, 23, 2011
2/23/11
7:14
PM CT
By all accounts Chicago Blackhawks assistant Mike Haviland earned rave reviews for his four-game stint behind the bench while head coach Joel Quenneville recovered from a bleeding ulcer.
[+] Enlarge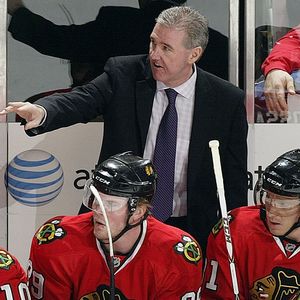 Bill Smith/NHLI/Getty ImagesMike Haviland posted a 3-1 record as the Hawks' interim coach.
Haviland went 3-1 and provided a seamless transition that had an extra layer because Haviland and assistant Mike Kitchen switched roles. Haviland coached the forwards while Kitchen dealt with the defense.
"I thought he was great with it," Brian Campbell said after practice on Wednesday. "He adapted throughout the games. He'll make a great coach one day. He'll be ready for it."
Campbell said it was strange to have a new head coach as well as someone different running the defense.
"Mike Kitchen is at the total opposite end of the bench, usually, so we just needed to communicate," Campbell stated.
The transition could have had more bumps but Haviland's experience in the AHL paid off.
"Yeah, I could see it being a headache back there for some teams, but I think it was nice Mike has had head coaching experience, a lot of it, before," Campbell said.
Moving forward
Quenneville, obviously, liked what he saw while watching "every second of every game" he missed. He especially enjoyed the final forty minutes against St. Louis on Monday when the Hawks stormed back from a 2-0 deficit to win 5-3. Quenneville thinks his team needs to be "fully engaged" the way it was in the second and third periods.
"It put us in a good spot," he said. "Now four games coming up against teams in the same air space as us so it's a huge test."
At present, Nashville, Phoenix, Minnesota, and Calgary all have playoff spots -- but only precariously. If the Hawks beat the Predators in regulation on Thursday, they will pass them in the standings for the first time since mid-December.
New lines have helped the Hawks win the past two games. Quenneville said he likes the balance, and so does winger Bryan Bickell, who has been promoted to the second line.
"The way the lines are working I think we're going to stick with them for a bit," Bickell said. "We have a couple of wins under our belt, can't change now."
Bickell has skated with Dave Bolland and Marian Hossa while Michael Frolik was dropped.
Pisani returns
Fernando Pisani practiced with his teammates for the first time since leaving the game against Dallas on Feb. 11. Pisani took a nasty hit from Mark Fistric, near the benches, on which his head snapped back.
"I didn't really watch it," Pisani said. "I felt it so I don't need to see it again. It's one of those hits where I got caught in a vulnerable position and my head hit the boards from what I'm told."
Pisani has been cleared to play, though Quenneville wouldn't say if he was in the lineup for Thursday.
Slappers
• The Hawks sent Nick Leddy to Rockford on Tuesday in a cost saving move with plans of recalling him. Leddy felt ill on Wednesday and is questionable for Thursday's game.
• Corey Crawford will start against the Predators.
February, 16, 2011
2/16/11
11:16
PM CT
He was given the game puck for his first career NHL win. Mike Haviland, filling in for the ailing Joel Quenneville, said he and fellow assistant coach Mike Kitchen split the duties and the result was a 3-1 Chicago Blackhawks victory over the Minnesota Wild.
"I'm sure it was in their heads," Haviland said of their hospitalized coach. "That's a gutsy effort. Our head coach not being here."
Haviland said he hasn't talked to Joel Quenneville yet and isn't sure if he watched the game. If he did, he would have liked what he saw.
"It was a huge game obviously, a special teams game, I thought we battled really hard for the whole 60 minutes," Haviland said. "Even when they tied it up, we came right back and got one."
So what was Haviland's pregame speech?
"I just talked about the importance of the game," he said. "I said 'it's time. Time for us to make a stand. We can't just wait till tomorrow.' That's basically what I said."
It worked, though the Hawks spent the first 10 minutes in their zone. Haviland thought they settled down once they scored the game's first goal. And so Haviland gets the win and meets the media for the first time.
"It's a little bigger than the [AHL]," Haviland joked. "It's not about me, it's about that group in there."
Crawford comes up big
[+] Enlarge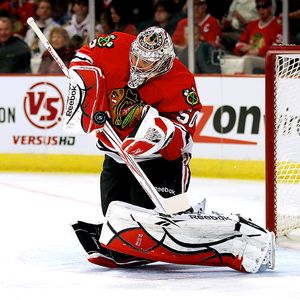 Jonathan Daniel/Getty ImagesCorey Crawford had 33 saves in Wednesday's win.
Possibly forgotten in the win was a great night by
Corey Crawford
. He earned the No. 1 star based on a 17-save first period. He made some big stops.
"It was pretty good," a humble Crawford said after the game. "Probably one of my better ones at home, for sure."
Mike Haviland said he wasn't surprised the Wild had an early advantage, knowing they had lost the night before and the Hawks were starting up at home after a long road trip.
"Corey definitely held us in there," Haviland said. "Corey was outstanding through the whole game but those first ten minutes, we were getting outshot 11-2 there. We turned it over an awful lot in our own end."
Crawford might be the key to the Hawks' run to the playoffs. He improved on his fourth ranked goals against average, which was 2.13 coming into the game. He was outstanding.
"It was important not to give them one early and for us to have the first goal of the game is big against a team like this," Crawford said. "I felt good from the start. That's [tough beginning] going to happen. Teams are going to make plays."
Crawford made 33 stops to improve his record to 18-11-3 after a 1-4 start.
Slappers
• The Hawks did not have a postgame update on Joel Quenneville's condition. Jonathan Toews is waiting for the right time to reach out to Quenneville.
"I'll talk to Stan [Bowman] and see when the right time to do that is," Toews said. "We want Q to know our thoughts are with him. We wanted to win one for him tonight. We'll talk about when the right time is to go see him or send him some flowers or something."
• Dave Bolland had assists on all three Hawks' goals.
• Haviland praised Marian Hossa for a strong game, which was preceded by a good effort in Phoenix. He had two assists on Wednesday.
• Troy Brouwer scored the game-winning goal and delivered a team high seven hits in the game.
• The Hawks might finally be over the flu bug. They had their full complement of players, including Jake Dowell, who missed the last game.
"It was pretty bad," Dowell said. "I haven't had the flu in a long time. I tried to tough things out. Every time I had a sip of water I couldn't even hold it down."
• Ryan Johnson returned to practice after getting hit hard into the boards against Dallas on Friday.
"I got my bell rung pretty good and I was out of it in a pretty good way," he said. "I took another shift and really went downhill quick and realized I was putting myself in a pretty harmful spot by trying to keep going. Ten minutes after that I wasn't doing very well back in the dressing room."
Johnson is eligible to come off injured reserve for Sunday's game against Pittsburgh.
January, 29, 2011
1/29/11
2:41
PM CT
RALEIGH, N.C. -- As an assistant coach for the
Chicago Blackhawks
, he's seen but rarely heard from, and Mike Haviland is getting the rare pleasure of coaching in an NHL All-Star game.
"Usually a lot of head [coaches] come," Haviland said as All-Star weekend kicked off. "To be a part of this off of last year's success and maybe ride the coattails of [Joel Quenneville] a little bit here, it's outstanding."
[+] Enlarge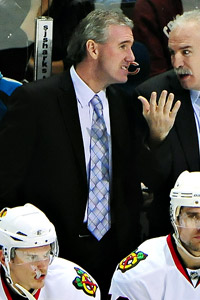 Kyle Terada/US PresswireChicago Blackhawks assistant coach Mike Haviland is learning the NHL ropes from head coach Joel Quenneville.
Haviland is in his third season as a Hawks assistant after serving as a head coach in the organization for three years in the minors, both in Norfolk and Rockford. Per team policy, assistant coaches are not permitted to do interviews during the season but as a coach in the All-star game, Haviland was able to open up about his own goals and the shaky first half of the Hawks' season:
With a 26-20-4 record, Haviland knows there is frustration among fans.
"They have every right to be frustrated," he said. "They pay their money to come in. We've been inconsistent this year. That's the word that mostly comes to mind for me. I think we are progressing in the right way."
One part of the Hawks' game that has been consistent -- as in consistently mediocre -- is their penalty killing. Haviland is charge of it and he's not happy it's ranked 26th in the league.
"Early on, we might have been looking to score goals instead of just killing a penalty," he stated. "We've gotten better the last couple games, but early on, we just weren't committed the way we needed to. We were cheating in all little areas."
As for the team's overall struggles through the first 50 games, Haviland understands why the "hangover" cliché exists.
"I think there is truth to the hangover for sure," he said. "Early on, I think the schedule kind of hurt us but I think Quenneville has handled it great. There is no yelling or screaming or panic on his part at all. The guys know that and we know it as coaches too. That's why being around a veteran coach like that is good for our team, it's good for our organization that he's not panicking. The [Hawks turnaround is] coming now, it's coming."
Blackhawks leadership is being tested and Haviland admits their young core had some learning to do early on this year.
"I think they understand it now," Haviland said. "Early on I think they were always looking at it like, 'there is always next week, we know we can turn it up when we have to.' "
As an assistant, Haviland goes to those leaders to get the word out when the coaches feel something needs to be addressed. He knew some of the Hawks when he coached them in the minors but as for the leaders, that's a bond he's grown over time.
"I feel like [
Patrick Sharp
] and
[Brent] Seabrook
and
[Jonathan] Toews
are guys… you can get your point across to them and they can spread it through the room pretty quick," he explained. "With Tazer there are a lot of things you don't have to say, because he takes care of it pretty quick."
Haviland would like to be a head coach in the NHL someday. He said it was a tough decision to leave Rockford to be an assistant, but understood he needed to learn how things were done in the NHL.
"There is a difference in the leagues, obviously," Haviland said. "With the money and guys attitudes. In the minors you can get away with, I don't want to say threatening them, but being a little harder on them. Here, at times, it's a fine line you have to walk."
Haviland says there is no timetable to taking the next step in his career.
"I'm in the best organization, I feel, in the league. I work with great guys so, no, there is no timetable."