Chicago Blackhawks:

Mike Smith
July, 29, 2013
7/29/13
2:08
PM CT
By Paul Grant
ESPNChicago.com
Archive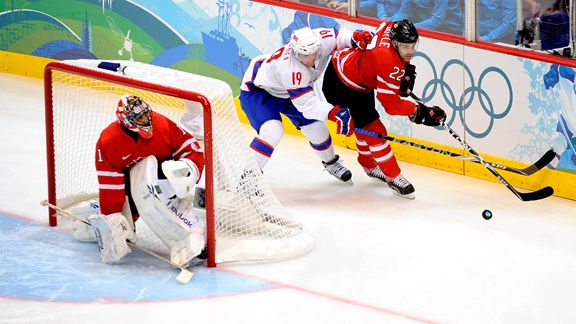 Kevork Djansezian/Getty ImagesWill Roberto Luongo be shrinking or starring in net for Team Canada?
Welcome to the dog days of summer. With free agency pretty much done, there's not much else to talk about until ... Olympics orientation camps, which start in less than a month. Really? Jeepers.
Three of the biggest questions heading into those camps:
Who will be Canada's No. 1 goalie?
Corey Crawford
,
Braden Holtby
,
Roberto Luongo
,
Carey Price
and
Mike Smith
(and not
Marc-Andre Fleury
or
Cam Ward
, who have each won a Stanley Cup, by the way) have been invited to orientation camp. The problem is that whereas the U.S. is heading into camp stacked in the blue paint -- with
Jonathan Quick
,
Cory Schneider
,
Ryan Miller
,
Craig Anderson
,
Jimmy Howard
-- each of Canada's invitees is tainted by a shadow of doubt. You can't argue with Crawford's recent Stanley Cup ring run, but is he truly Canada's best over such a short, intense burst? Holtby is good, but hasn't won much. Luongo is good but ... well, let's not pile on to the poor chap. Price has had his ups and downs while playing in perhaps the most pressure-packed city for a goalie but has battled injuries. That leaves Smith, who has had one great season.
Canada has traditionally had a vague sense of who will be its No. 1; doubts surrounded Luongo heading into the Vancouver Games because the Olympics were in his home market, where he wasn't exactly beloved in those days. The previous time Canada won gold, in 2002, Pat Quinn's decision to start
Curtis Joseph
was seen as NHL-team favoritism and was met with further derision after an opening-game loss to Sweden. Quinn went to golden boy
Martin Brodeur
, as we all now know, but if that hadn't worked out, Quinn was left with
Ed Belfour
, who was on the decline.
This time, it's doubtful there will be a Brodeur bedrock to fall back upon. The positive here for Canada is that it's in the weakest division, playing in the same group as Finland, Norway and Austria, so it should have time to figure things out. The negative: Without being able to play on the big sheet ahead of time, the goalies won't have long to figure out the angles. One bad-angle goal could be the difference in the early going ... So actually, on second thought, scratch that positive bit about having time to figure it out. Which brings us to ...
Can the U.S. or Canada win gold on the big surface?
Geez, good question. Neither team has been able to win gold outside of North America since the NHL's players returned to the Games in 1998. So, it's debatable. (The 2002 Salt Lake Games, where Canada won gold, were held on the bigger surface, however.) If Canada can get solid goaltending, it will have to be considered the favorite. But that's a massive
if
. The U.S. is expected to be stone-cold steady in net, but it has questions elsewhere (Such as: Who is the team's most mobile, experienced defenseman for the big ice?). Weighing just the current factors -- and not including those that might develop between now and February, such as injuries to frequently injured superstars ('ello
Sidney Crosby
!) -- the North American teams will find it tough to bring home gold. Which brings us to ...
So, who will win it all, smart guy?
You can't discount the awesome talent-laden lineups of Canada and the United States -- OK, I guess I just did -- but Sweden, host Russia and maybe the Czech Republic have to be considered all up in there as well. If the Finns settle on the right superstar netminder to start -- they've got
Tuukka Rask
, Pekka Rinne,
Antti Niemi
and
Kari Lehtonen
playing the pipes -- and he gets hot, they could very well skate away with this thing in a huge upset.
The
odds favor Russia
, and there's no debating the awesome firepower the team has up front, but I've got to think the hosts will figure out a way to screw it up.
Sergei Bobrovsky
and
Ilya Bryzgalov
(and/or
Evgeni Nabokov
and/or Anton Khudobin) and an entire defense corp, consider yourself challenged!
April, 23, 2012
4/23/12
10:53
PM CT
CHICAGO -- The Chicago Blackhawks were eliminated in the first round of the playoffs for the second time since winning the Stanley Cup as the Phoenix Coyotes earned a 4-0 shutout and 4-2 series win.



How it happened: The Hawks dominated most of the game, but when Phoenix scored first the air in the United Center left the building. The Coyotes broke a scoreless tie with a second-period power play goal by Oliver Ekkman-Larsson after an interference call on Jonathan Toews. Larsson found a lane to shoot with a screen in front of Corey Crawford. Phoenix added three third-period tallies as Gilbert Brule scored a goal from in front of Crawford after the Hawks lost some puck battles in their own zone. Then came a vicious check by Jimmy Hayes to the back of Michal Rozsvial, drawing a five-minute major boarding infraction as well as a game misconduct. Phoenix scored a second power-play goal and then added another one. The Hawks pressured Mike Smith early in the contest, outshooting the Coyotes 39-20 on the night and 28-8 after two periods. That differential was indicative of the scoring chances, at least early on. The Hawks had the majority of them but could not figure out Smith. That is one of the main storylines of the series.

What it means: It means the Hawks wasted a good chance to move on to the second round. The Hawks have more talent on the roster -- except in goal. Yes, Smith helped steal this game, but if the Hawks had inundated him this way for the previous five they may not have been facing elimination. Joel Quenneville did a good job balancing out the lines to provide pressure from the start, but once again the Hawks' special teams let them down. It was a season-long issue and nothing changed in this series. The power-play goal from Larsson came with a screen in front and a missed chance at a shot block near the point. Again, both issues on the penalty kill have been season-long problems. Their power play chances were just as ineffective, going 1-for-19 in the series.

What's next: An offseason of change is likely and one question will certainly surround the core players. Could one be moved? Should one be moved? And who will take the fall among the coaches for a second consecutive first-round flameout? Both special teams units and the Hawks' goaltending were below par. That stuff usually falls on the assistants. And general manager Stan Bowman will be under the microscope as well.
April, 18, 2012
4/18/12
1:14
AM CT

By Jon Greenberg
ESPNChicago.com
Archive
CHICAGO --
Marian Hossa
left the United Center in an ambulance.
That was after he was carted off the ice, his neck stabilized, his body supine.
That was after he lay on the ice for long, scary minutes as the United Center piped in "Blue Moon," to chill out the crowd (it didn't work) and cut replays from the scoreboard.
That was after Hossa's head bounced off the ice.
That was after
Phoenix Coyotes
aggressor
Raffi Torres
left his feet and rammed his left shoulder into Hossa's right jaw.
That was after Torres, skating from behind, sized up Hossa like he was
Brandon Meriweather
on skates.
Read the entire column.
April, 17, 2012
4/17/12
2:02
PM CT
By ESPNChicago.com
ESPNChicago.com

Chicago Blackhawks center Andrew Shaw was suspended three game for his hit on Phoenix Coyotes goaltender Mike Smith in Game 2 of their Western Conference quarterfinals, according to NHL head of discipline Brendan Shanahan.
Read the entire story.
April, 17, 2012
4/17/12
12:47
PM CT
AP Photo/Ross D. Franklin

Phoenix Coyotes head coach Dave Tippett talks to the media about Andrew Shaw's hit on goalie Mike Smith, his team's injuries heading into Game 3 and how he'll adjust his match-ups.


Click here for more audio from ESPN Chicago
.
April, 17, 2012
4/17/12
12:45
PM CT
By ESPNChicago.com
ESPNChicago.com

CHICAGO -- Phoenix Coyotes coach Dave Tippett said Tuesday that goaltender Mike Smith will be a game-time decision for Game 3 against the Chicago Blackhawks.
Read the entire story.
April, 16, 2012
4/16/12
9:07
PM CT
CHICAGO -- There are plenty of questions surrounding the fate of
Chicago Blackhawks
forward
Andrew Shaw
, who may face supplemental discipline for his illegal hit on
Phoenix Coyotes
goaltender
Mike Smith
.
After Shaw's phone call with the league's department of player safety early Monday afternoon it was assumed a decision on Shaw's fate would be rendered by the end of that day. Was he going to be further punished? But late word from the league Monday afternoon said the decision is now coming Tuesday.
[+] Enlarge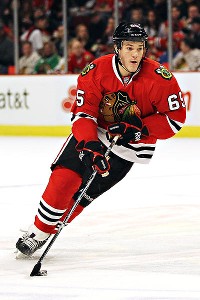 Jonathan Daniel/Getty ImagesBlackhawks rookie Andrew Shaw must wait to see if he'll be further punished for his hit on Coyotes goalie Mike Smith.
By rule the league must decide if it will hand down a fine or a suspension before the two teams play next. Game 3 is Tuesday night at the United Center. Why the wait, though? Most times a decision is made the same day, but not 100 percent of the time. So does
Brendan Shanahan
, who makes these decisions for the league, want to sleep on it? Is it something as innocent as the league had other matters to attend to on Monday?
Or is there more to it?
Another layer to the story was added when Smith didn't take the ice for practice on Monday in Phoenix prior to the Coyotes' departure for Chicago. Like the Hawks, the Coyotes had the day off on Sunday and all but Smith and two other known injured players --
Martin Hanzal
and
Lauri Korpikoski
-- were on the ice on Monday. The idea that a goaltender would take a second consecutive day off without an injury seems remote.
"I told you we're not talking about injuries, he's fine," coach Dave Tippett said Monday afternoon about Smith missing practice.
April, 16, 2012
4/16/12
2:29
PM CT

ESPN's Barry Melrose joined "The Waddle & Silvy Show" and discussed the Blackhawks-Coyotes series, including what he thinks is going to happen to Andrew Shaw.


Click here for more audio from ESPN Chicago
.
April, 10, 2012
4/10/12
4:53
PM CT
CHICAGO -- One edge the
Phoenix Coyotes
could have over the
Chicago Blackhawks
in their upcoming quarterfinal playoff series is in goal. The Hawks will face the hottest netminder in the league in
Mike Smith
, the reigning No. 1 star of the week in the NHL.
[+] Enlarge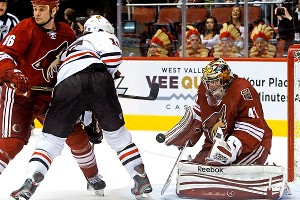 Rick Scuteri/US PresswireMike Smith made 38 saves in a 3-0 victory over the Blackhawks on Feb. 11.
"He's playing really well and has our number lately,"
Marian Hossa
said on Monday. "We know that. Against a good goalie like that you have to have a guy in front of him. Whatever he can see he can catch. We want to make sure we have traffic."
Smith went 3-0 last week, but his hot play goes back further than that. He's given up just two goals in the past five games, three of them were shutouts, all in a row. He stopped 54 shots against the
Columbus Blue Jackets
on April 3. It's the most saves in a regular-season shutout.
"He's been playing well,"
Jonathan Toews
said. "He's definitely one of those guys on our radar. He's going to make a big difference for their team. We have to be tough on him. We know how to do that against good goaltenders. We just have to get an early start on him in this series."