Chicago Blackhawks:

NHL draft
June, 28, 2014
Jun 28
11:49
AM CT
PHILADELPHIA -- The
Chicago Blackhawks
focused on their long-term future in the second day of the NHL draft Saturday.
The Blackhawks drafted seven players who are headed to college in the next two years and two European players.
"We didn't have a number in mind [for college players,] but in general you have a little more time with those players," Blackhawks general manager Stan Bowman said after the draft at the Wells Fargo Center. "You have four or five years. Some of them don't even go to college right away.
"It's tougher when you have a two-year window to sign a guy, you're picking later on in the draft, sometimes they don't define themselves by that second year and then you've got to make a decision -- do you sign them or not? And you lose their rights after two years.
"I think for us we've got a pretty full pipeline right now of young players, some have graduated to the pro level, some are rounding that point where they have a year left. The guys we draft today are further away. But we like that element of the fact that just because you have a player for four years, you don't have to leave him there all four, but you have a little more control over it and you have more time to see which guys are going to become players."
The Blackhawks acquired the No. 83 overall pick from the
Calgary Flames
in exchange for forward
Brandon Bollig
. The Blackhawks selected right wing Matheson Iacopelli with the pick. Iacopelli had 41 goals, 23 assists and was a plus-12 in 58 games for the Muskegon Lumberjacks of the United States Hockey League last season. He is committed to play at Western Michigan in 2015.
June, 26, 2014
Jun 26
4:58
PM CT
PHILADELPHIA --
Chicago Blackhawks
general manager Stan Bowman said Thursday he has been busy making and taking calls over the last week.
He just isn't sure what it will all mean come Friday night when the NHL draft begins in Philadelphia.
[+] Enlarge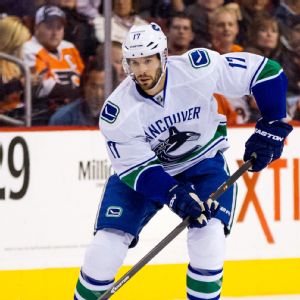 AP Photo/Chris SzagolaThe Hawks are reportedly one of two frontrunners to land Ryan Kesler if the Canucks decide to trade him.
"We're still a day before the draft, so there's a lot of things being tossed out as options, most of them which will not come true," Bowman said on a conference call on Thursday. "But you sort of need to do your homework and be prepared, so that you're in the game or in the know when things do start to break. I think there's a lot of fielding calls, but also checking in with different general managers to find out what their specific needs are."
Bowman has been active at times during the draft in the past. Just last season during the draft, he traded
Dave Bolland
to the
Toronto Maple Leafs
for draft picks, dealt
Michael Frolik
to the
Winnipeg Jets
for draft picks, swapped draft picks with the
San Jose Sharks
and announced a new deal for
Bryan Bickell
.
The Blackhawks could be in the market for a second-line center. They have been linked to talks with the
Vancouver Canucks
about
Ryan Kesler
and the
Ottawa Senators
about
Jason Spezza
. They have also reportedly been in touch with unrestricted free agent
Paul Stastny
's agent.
Bowman said they've been balancing possible trades and preparing for the draft. The Blackhawks have eight picks in the seven-round draft.
"We've been here for a few days already making lots of phone calls," Bowman said. "There's really a dual purpose to this time of year. Our amateur draft is exclusively focused on getting prepare for [Friday]. We talk a lot about players who we think will be available and moving them around and meeting with players. There's a good chunk of our time doing that.
"The other side of it is this is when there's a lot of movement. There's a lot of phone calls made to other general managers, agents and whatnot. In terms of a percentage, I don't know what it is. It's probably close to 50 percent. I've been very busy the last few day trying to prepare on both fronts."
The Blackhawks aren't necessarily searching for immediate-impact players in the draft. With the players they have signed in the NHL and others on the cusp of the NHL, the Blackhawks will be using this year's draft to prepare for their long-term future. It could be a lot like last year's draft where they selected four players who were just entering college and four 19-year-old European defensemen.
"We have a pretty good pipeline of players at different levels of involvement right now," Bowman said. "There's some players in Rockford who are right on the doorstep of being NHL players. There's probably another grouping that are maybe a year away. Then we've got other players who are still in college or Europe that are a couple years away.
"The players we're looking at for this year we're OK that they may not be right on the doorstep of being ready because we've got a pretty good pipeline we've been able to build up. We're hoping to maybe take some players who we know will take some development time. That's OK for us."
June, 24, 2014
Jun 24
1:31
PM CT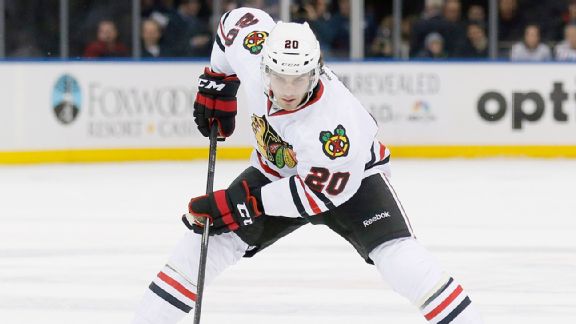 Paul Bereswill/Getty ImagesBrandon Saad, a second-round draft pick in 2011, has emerged as a key player for the Blackhawks.
Stan Bowman will enter his fifth draft as the Chicago Blackhawks general manager later this week. Leading up to the 2014 NHL draft on Friday, we'll take a look at each of Bowman's first four draft classes, analyze how he's done so far in his tenure and glance ahead to where he may look to improve the Blackhawks in this year's draft.
The series continues Tuesday with the Blackhawks' 2011 draft:
Mark McNeill, forward, first round, No. 18 overall:
McNeill had a solid first full professional season this past year. The Blackhawks like his potential as a powerful winger. He could get his first taste of the NHL next season.
Phillip Danault, forward: first round, No. 26 overall:
Danault had some ups and downs in his first full professional season. It may take some time, but he could replace someone like
Marcus Kruger
as a defensive-minded forward down the line.
Adam Clendening, defenseman, second round, No. 36 overall:
Clendening is getting closer to the NHL. His offensive game is ready and he's been working on the defensive side. He should make his NHL debut next season.
Brandon Saad, forward, second round, No. 43 overall:
Saad headlines this draft class for the Blackhawks. He already has two NHL seasons under his belt and could be a big-time player if he continues to progress as he has. He and
Patrick Kane
could have a long future together on the same line.
Michael Paliotta, defenseman, third round, No. 70 overall:
Paliotta finished up his junior season at Vermont this year. He had five goals and 22 assists in 38 games as a junior. The Blackhawks were pleased with his season.
Klas Dahlbeck, defenseman, third round, No. 79 overall:
Dahlbeck has come along nicely for the Blackhawks. He improved his offensive game this past season. He didn't appear in any game, but he practiced with the Blackhawks throughout the playoffs. He could also be on the verge of the NHL.
[+] Enlarge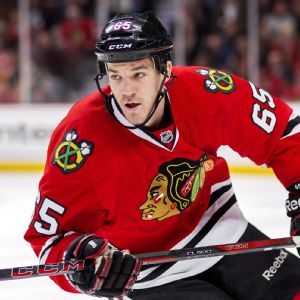 Cal Sport Media/AP ImagesThe Blackhawks have already committed to 2011 fifth-round pick Andrew Shaw, signing him to an extension this season.
Maxim Shalunov, forward, fourth round, No. 109 overall:
Shalunov has shown glimpses of his potential, but he hasn't been able to put it together yet. He was signed to an AHL contract this past season and spent most of the year in the ECHL.
Andrew Shaw, forward, fifth round, No. 139 overall:
The Blackhawks hit the jackpot with Shaw in the fifth round. He's given them a consistent third-line center the past two seasons. They signed him to an extension this past season.
Sam Jardine, defenseman, sixth round, No. 169 overall:
Jardine completed his sophomore season at Ohio State this year. He had one goal, 12 assists, 35 blocks and a plus-7 rating in 36 games. His season was described as "solid" by Blackhawks assistant general manager
Norm Maciver
.
Alex Broadhurst, forward, seventh round, No. 199 overall:
Broadhurst made a smooth transition to the AHL from juniors this past season. He had 16 goals and 29 assists in 75 games for the Rockford IceHogs. He was even called up to the NHL for one day.
Johan Mattsson, goaltender, seventh round, No. 211 overall:
The Blackhawks did not sign Mattsson. He played last season in Sweden.
Draft outlook:
This is a class Bowman can really hang his hat on. It has the potential to be one of the Blackhawks' deepest draft classes. Saad and Shaw have already found spots in the NHL. Clendening, Dahlbeck and McNeill should see NHL time next season. If Broadhurst and Danault continue to develop, there is a potential for at least seven NHL players in this class.
June, 19, 2014
Jun 19
12:22
PM CT
The NHL released the entire order of the 2014 draft on Thursday. Here's where the
Chicago Blackhawks
will be drafting on June 27-28 in Philadelphia:
First round
No. 27 overall
Second round
None -- Traded the No. 58 pick to the
Phoenix Coyotes
for defensemen David Rundblad and Mathieu Brisebois.
Third round
No. 62 overall -- Acquired from the
Florida Panthers
in exchange for forward
Brandon Pirri
.
No. 88 overall
Fourth round
No. 98 overall -- Acquired from the
Toronto Maple Leafs
in exchange for forward
Dave Bolland
The Blackhawks also traded the No. 118 pick to the
New York Islanders
in exchange for forwards
Peter Regin
and
Pierre-Marc Bouchard
.
Fifth round
No. 141 overall -- Acquired from the
San Jose Sharks
in exchange for 2013 draft picks.
No. 148 overall
Sixth round
No. 168 overall
Seventh round
No. 208 overall
June, 24, 2011
6/24/11
11:15
PM CT

By Jesse Rogers
ESPNChicago.com
Archive