Chicago Blackhawks:

Patrice Bergeron
June, 24, 2013
6/24/13
11:25
PM CT
By Brendan Hall
ESPNBoston.com
Archive
BOSTON -- Following Monday night's Stanley Cup finals loss to the
Chicago Blackhawks
, Bruins forward
Patrice Bergeron
told reporters that he had been playing with a broken rib and torn rib cartilage, as well as a separated shoulder suffered during Monday's Game 6.
Read the entire story
.
June, 24, 2013
6/24/13
12:41
PM CT
BOSTON -- Five things to watch in Game 6 of the Stanley Cup finals Monday night.
1. Superstar stutter?
The status of injured stars
Jonathan Toews
of the
Chicago Blackhawks
and
Patrice Bergeron
of the
Boston Bruins
continues to dominate the pregame storyline. Bergeron, who played only 6:06 in Game 5 before leaving with an injury that required hospital observation in Chicago, did not skate Monday morning with his teammates. Head coach Claude Julien said Monday morning that Bergeron will take the pregame skate and that he is confident Bergeron will play. Bergeron's presence would be a huge boon to the Bruins as he has produced timely goals, taken key faceoffs and provided stellar defensive play. In short, he does it all. It also seems likely Toews will play -- he took part in the morning skate and told reporters afterward he feels "fine" -- so the continued success of the
Patrick Kane
-Toews-
Bryan Bickell
line will be a key game-within-the-game situation to watch as the Blackhawks look to close out the Bruins. The Bruins had their most successful offensive shifts in Game 5 with Toews on the bench during the third period. No surprise there, given that Toews is the recent Frank J. Selke Trophy winner and, like Bergeron, simply does it all. Now, it's one thing to play, but if those players are in the lineup but still feeling the effects of what was ailing them, how effective will they be and how much ice time will they see? The answers to those questions will have a significant impact on the outcome.
2. Taking it to Big Z:
Speaking of the Blackhawks' top line, it has run roughshod over the Bruins' defense and specifically captain
Zdeno Chara
in the past couple of games. Chara has been on the ice for eight of the past nine Blackhawks goals. Chara did play much better in the latter stages of Game 5 and scored the Bruins' lone goal in the 3-1 loss. But he also lost Kane on the Blackhawks' second goal, and the Toews unit has scored four times and added six assists in the past two games. Look for Julien to keep Chara paired with
Dennis Seidenberg
with the hope that the defensive pair can stem the tide when the Bruins need it most.
3. Score first, plan the parade?
During the first four games of the series, the team that scored first won only twice. But the Blackhawks have won two in a row after scoring first and, given the do-or-die nature of this game, it would seem incumbent upon the Bruins to score first to keep the rabid TD Garden fans in the game and to settle whatever nerves might exist on their bench. In general, the Bruins have not started well in this series, and especially the past two games, the Blackhawks have dictated the pace early on, gobbling up pucks in the Bruins' zone and the neutral zone, and turning those into scoring chances. If the Blackhawks can replicate those starts and take the crowd out of the proceedings early, it will work strongly to their benefit.
4. Let's make it official:
It will be fascinating to see how Game 6 will be called. The Blackhawks had two power plays in Game 5 while the Bruins had zero. If Game 6 is called in a similar fashion, with few penalties, it would seem to benefit the Blackhawks, who are 1-for-17 in the series with the man advantage. The Bruins' power play has been much more effective, going 4-for-14 and was 3-for-9 in Games 3 and 4. Had they had even one power play in Game 5 -- how about after
Torey Krug
was obviously tripped in the final minute of play near the Chicago blue line, setting up the final empty-net goal for Chicago? -- perhaps the outcome would have been different. Both teams relish five-on-five play, and the Blackhawks' fourth line continues to log important minutes. The Bruins, meanwhile, have never fully adjusted to the loss of
Gregory Campbell
and have more or less used three lines the past few games.
5. Who wants to be a hero?
Both teams will be looking for someone, anyone, to step forward and seize the moment. There are lots of candidates.
Duncan Keith
has had an up-and-down finals with one assist.
Marian Hossa
has missed a game with injury and has yet to score. On the Bruins' side,
Brad Marchand
is without a point in the finals after being a dominant force for the Bruins in their seven-game victory over the
Vancouver Canucks
in the 2011 finals.
Rich Peverley
has played well the past couple of games and could be asked to do more pending Bergeron's status. He has the tools to produce a big goal or make a big play. And, of course, there's
Jaromir Jagr
, who is still looking for his first goal of the postseason.
June, 23, 2013
6/23/13
12:14
AM CT
CHICAGO -- After a while, you think you have a sense of the commitment it takes to get this far in the playoffs, the dozens of aches and pains and cuts and bruises that are ignored as though they were nothing.
And then you watch Game 5 of the Stanley Cup finals and see
Chicago Blackhawks
captain
Jonathan Toews
clearly too injured to play but nonetheless sitting on the Blackhawks' bench for the third period of their 3-1 victory.
And you consider the news that the
Boston Bruins
' top center,
Patrice Bergeron
, was taken to a Chicago hospital for observation of an undisclosed injury after playing only 6 minutes, 6 seconds.
And it brings into sharper focus just what is being laid on the line in this punishing, emotional series.
"Well, it's been a war. It's been a battle," Chicago coach Joel Quenneville said. "It's every game, every shift you're fighting for every kind of shift around the ice. It's a fast-paced game. You look at every minute from Game 1 to where we're at today, it's been an amazing series, and relentless hockey, and I commend the guys on both teams for leaving it out on the ice."
At one point, it appeared that Toews -- who was the subject of a number of big hits Saturday, including a punishing hit along the end boards courtesy of Bruins captain
Zdeno Chara
and later a devastating open-ice hit in the slot in the second period by
Johnny Boychuk
-- was lobbying Quenneville to put him back on the ice.
"I checked on him a couple times there. I think he wanted to play, but we'll see," Quenneville said.
Forward
Andrew Shaw
said Toews continued to encourage his teammates even though it was obvious he wasn't going on the ice.
"It showed what kind of leader he is," Shaw said. "It was great. He was talking to us a little, just telling us to ... play solid D, block shots and just work really hard."
No one knows whether Toews or Bergeron will be in the lineup for Game 6 on Monday night in Boston, when the Stanley Cup will be in the house and the Blackhawks will have a chance to earn their second championship in four years.
Boston coach Claude Julien had no details to share with the media and would not speculate on his most important player's availability for the team's second elimination game this spring.
"Well, no update, and I think there's no concern until you get an update," Julien said. "As far as we're concerned, he's just getting evaluated right now. Not much I can say on his situation."
The coach would not detail whether this was an existing injury that had been exacerbated or something that had happened during an early 4-on-4 situation.
"It's just an injury that wasn't able to let him finish the game. He may be in next game. I'm not going there," Julien said.
It is a curious part of the hockey culture that when injuries are involved, an almost instant divide opens between the player and the team. Not only is there little information provided during a playoff series (see the Blackhawks' reticence to discuss
Marian Hossa
's status earlier in the series), but there is a conscious separation of the healthy and the injured.
It's not heartless but it's about separating yourself from things you can't control.
The Bruins must win a game in order to play one more game after that.
Ruminating on the loss of Bergeron does not help them prepare for that task. The fact that Bergeron represents so many valuable qualities to the team -- faceoffs, his knack for producing key goals at key times, his defensive responsibility -- makes turning away from his loss even more important for the Bruins.
"Obviously, it's tough," Boston center
David Krejci
said. "You don't want to see one of your best players go down, especially at this time of the year. We definitely missed him, especially at the end of the game, when we needed to score.
"But you know what? It is what it is. I don't know how he feels right now. I don't know if he'll play or not. We really need him. If not, we're going to fight. We're going to try to do everything we can to get a win and force Game 7."
The Blackhawks are in a similar position.
They need to push the Bruins over the edge. They would prefer to do it with Toews in the lineup but will pursue that goal with single-minded determination, regardless of who's wearing a jersey Monday night.
Blackhawks defenseman
Brent Seabrook
said he wasn't even aware there was anything wrong with Toews.
"I didn't even know what was going on," he said. "We were in a pretty heated game there."
That is the mindset. Worry about your own business. If you're in, you're in, if you're not, someone else gets the tap on the shoulder and had better be ready to do the job.
"You can't replace a guy like that," Boston center
Rich Peverley
said. "He's one of the best players in the league at what he does. Obviously we need other guys to step up.
"We'll figure out how everything is [Sunday], and then we'll prepare and prepare to win the game whichever which way we have to."
Peverley has a keen understanding of this kind of dynamic.
Two years ago, when the Bruins dropped the first two games of the Stanley Cup finals in Vancouver, he saw his role increased when
Nathan Horton
was injured by an
Aaron Rome
hit in Game 3.
The Bruins would go on to win that series in seven games after losing Game 5 on the road.
We wrote earlier in this 2013 series, after the Bruins had taken a 2-1 series lead, that the battle of these teams' two heart-and-soul leaders, their most important forwards, was being won by Bergeron. In the past two games, Toews wrestled that distinction away from Bergeron. He scored in Game 4 as the Blackhawks tied the series via a 6-5 overtime win and then added two assists in Game 5 before leaving the game with his injury.
You could argue about which team suffered the most with its respective loss.
The Blackhawks did look out of sorts early in the third period, and it was then that Chara scored the Bruins' only goal before the period was four minutes old to narrow the gap to 2-1. But in the end, the Bruins could not find the kind of magic they have in other playoff dates and force a fourth overtime game in this series. In large part, that's because Bergeron has been the magician who has produced those moments, as he did in Game 7 of the opening round against Toronto, first tying the game and then scoring the overtime winner, and against Pittsburgh in the Eastern Conference finals, scoring the winner in double overtime in Game 3.
That the Blackhawks won in spite of Toews' absence in the third might suggest they might be better equipped to survive his absence. But that doesn't necessarily hold true.
"Right now our goal is to create a Game 7, and to create a Game 7, you've got to win Game 6. So that's our approach to it," Julien said. "Again, there is no panic. You're not going to push us away that easily. We're a committed group, and we plan on bouncing back."
One thing is certain: Neither coach wants to contemplate that kind of reality, even if this is the kind of series that has forced both teams into unpleasant territory.
June, 17, 2013
6/17/13
11:35
PM CT
BOSTON -- Listen to
Patrice Bergeron
and
Jonathan Toews
for any amount of time, and there is an almost perpetual calm about them.
Win or lose, up in a playoff series or down, struggling to find the back of the net or operating at an almost otherworldly level, it would be difficult to tell which player represented which state.
Maybe that's why both have won the Frank J. Selke Trophy as the NHL's best two-way forward the past two seasons.
Maybe that's why both represent both the heartbeat of their respective teams, their teams' conscience, as it were.
For instance, anyone imagining that Toews, the Chicago Blackhawks' captain, might have been rattled or visibly disappointed at the team's 2-0 loss to the Boston Bruins in Game 3 of the Stanley Cup finals Monday night would have been disappointed.
"We know we've got to be better in the next one," Toews told a gaggle of reporters gathered around his stall in the Blackhawks' sweltering postgame dressing room. "And find ways to score, get that confidence in that game back. I don't think we're discouraged or frustrated at all having said that."
Anyone looking for self-loathing from a man who has scored but one goal in the postseason would likewise be disappointed despite the fact it must be eating away at Toews not to be doing more offensively to help his team.
Regardless of his struggles offensively, Toews remains the kind of player who does not cheat, does not take shortcuts.
On Monday, with
Marian Hossa
unable to play thanks to an upper-body injury, Chicago coach Joel Quenneville juggled his lines and moved Toews onto a line with
Michael Frolik
and
Marcus Kruger
, who normally fulfill fourth-line duties for the Blackhawks, for the early part of the game.
Was the captain surprised that he did not warrant more skilled linemates?
"No. It's always good to shake things up a little bit," Toews said. "You might get a little chemistry. And for myself playing against [David] Krejci's line for the most part with Kruger and Frolik at the start of the game, I think we did a good job and kept them in their end for the most part. We just got to find a way to score."
He certainly did his part.
He led all Blackhawks with five shots on goal. He made offensive plays that could not be finished by teammates. And he kept his talented Bruins counterparts off the scoresheet.
"Part of your job is to keep them off the scoresheet and the other half of your job is to find ways to score big goals for your team. Did one thing, got to do the other," Toews said.
Down the hallway, in a similarly overheated Bruins room, Bergeron's calmness in the face of a crucial final-series victory belied his significant role in his team's success.
Where Toews has yet to be rewarded for his diligence, Bergeron's diligence continues to be a catalyst to the Bruins' methodical, and what now seems inexorable, march to a second Stanley Cup win in three years.
Bergeron won an incredible 24 of 28 faceoffs Monday night while Toews won only eight of 19.
Bergeron also led all skaters on either team with seven shots.
"Especially against a team like Chicago, you've got to go hard every shift," Bergeron said. "You can't take a shift off. Our start was something we talked about, and carried that on into the second and third periods as well. I thought we did a decent job. Obviously, it wasn't perfect by any means, but at this point of the year you've got to take the wins and move on and focus on the next game."
Bergeron was, as always, a key defender both five-on-five and on the penalty kill. On this night, the Bruins killed off all five Chicago power plays and now have denied the Blackhawks on 11 straight man-advantage opportunities in the finals. Throw in the 15 straight against Pittsburgh in the Eastern Conference finals and one late in the second round, and the Bruins have denied opponents on 27 straight power plays.
When the game was over, Blackhawks coach Joel Quenneville pointed to the power play and the lopsided losses in the faceoff circle (they won only 16 of 56 draws) as the key moments in the loss.
"Those were basically the differentials in the game," Quenneville said.
In the second period, with the Bruins holding a 1-0 lead, it was Bergeron who delivered the knockout blow by snapping home a delightful
Jaromir Jagr
feed on the power play.
Still, Bergeron is one of those rare players -- like any Selke winner, frankly -- who thrives on either side of the puck, relishes the moments of defensive strength as much as offensive prowess.
"I take pride in it. I take pride in both sides," Bergeron said. "Don't get me wrong here, I love to be in the offensive zone, but yeah, it is about doing the job there and don't spend too much time [so] we go on the attack."
On the eve of these Stanley Cup finals, Toews denied Bergeron what would have been his second straight Selke Trophy, edging him out by a scant 10 voting points.
It was an award that quickly became swallowed by the drama that has been this final series.
But as the Bruins look to extend their domination at home in the playoffs -- they have now won seven straight at home -- the battle between these two great players and leaders has become at the moment distinctly one-sided.
If the Blackhawks are going to get back in this series, it seems undeniable that Toews will have to alter that equation.
Given the way Bergeron is playing, we're not entirely sure it can be done.
June, 14, 2013
6/14/13
9:15
PM CT

By Pierre LeBrun
ESPNChicago.com
Archive
CHICAGO -- A little break from the Stanley Cup finals to dive into a bit of offseason gossip:
Let's start with
Bryan Bickell
, the man I call the Human Cash Register. The pending UFA will be the top priority for the Chicago Blackhawks once the finals are over, with the clock ticking rapidly toward the opening of the free-agent market July 5.
If the Blackhawks are unable to re-sign him, and I'm not saying they won't, but if Bickell does end up in the market, keep an eye on the
Montreal Canadiens
. GM
Marc Bergevin
knows Bickell from Bergevin's days in the Chicago front office and was part of the scouting staff that recruited Bickell. I'm told the Habs covet Bickell, who would bring them the kind of size they're looking to add for their top-six group, although I don't think Montreal will overpay, either, with a contract that tips the scales. Still, there's definitely interest from the Habs.
• Speaking of contracts, look for the Boston Bruins to sign star center
Patrice Bergeron
to a long-term extension. Bergeron has another season left on his deal but the Bruins will ink him this summer and very likely to the maximum eight years allowed in the CBA when re-signing your own players.
•
Jonathan Bernier
will finally escape
Jonathan Quick
's shadow in L.A. A source told ESPN.com Friday that the Los Angeles Kings have spoken with about 10 clubs about Bernier's availability. It wouldn't surprise me if he's traded before or at the draft.
• Colleague Craig Custance had a good blog Friday on the
Kris Letang
situation. To me it's almost a guarantee that if the Pittsburgh Penguins can't soon sign Letang to an extension (he's got one more year on his deal), GM Ray Shero will hit the trade market in a hurry after that. Consider how the
Jordan Staal
situation played out a year ago: Once Staal rejected a contract extension, he was dealt quickly thereafter.
• It appears Alain Vigneault took a step closer to being named head coach of the
New York Rangers
after a source told me Vigneault asked the
Dallas Stars
to take him off their list of candidates.
• There were rumblings recently about whether the Montreal Canadiens would contemplate making
Carey Price
available. Forget about it, not going to happen. No chance.
• And finally, preliminary contract talks have begun between the Philadelphia Flyers and the camp for star center
Claude Giroux
. The native of Hearst, Ontario, has another season left on his current deal but both sides are keen on getting his extension done this offseason.
June, 14, 2013
6/14/13
2:55
PM CT

By Pierre LeBrun
ESPNChicago.com
Archive
CHICAGO -- Who took the "power" out of power play?
The man advantage sure hasn't lived up to its name the past few years, at least when it comes to having an impact for championship teams.
The past two Stanley Cup winners, the
Boston Bruins
in 2011 and
Los Angeles Kings
in 2012, struggled on the power play, but it didn't at all prevent them from winning it all.
And regardless of whether the Bruins or the
Chicago Blackhawks
win this season, it sure won't be because of their power play.
So what gives?
"I really think the penalty-killing units have improved a lot," star Bruins center
Patrice Bergeron
, a key cog on both the penalty kill and power play, said in French on Thursday. "And honestly, I just think there's less room out there. I also think it's more than just one thing, there's a number of reasons why it's happened.
"But in the playoffs, the focus is really on defense. It's a cliché, but teams that win championships know how to play defensively and teams continue to improve in that area."
To wit:
The Bruins right now are at a 16.7 percent success rate (8-for-48), ninth best out of the 16 playoff teams; the Hawks have struggled even more, going 7-for-54 (13 percent).
It just follows the recent trend. That 2011 Bruins team was a woeful 11.4 percent (10-for-88), while last year's Kings checked in at 12.8 percent (12-for-94), 14th among playoff teams.
"But you know what? In the deciding game last year we scored three goals on it, so believe me it can still score big goals for you at important times," Kings head coach Darryl Sutter told ESPN.com over the phone Thursday. "But there's a few things. One, fewer penalties called in the playoffs so therefore fewer chances.
"The other thing is, you practice the power play so much during the regular season, and then you get to the playoffs and your top players need some time off between games, so you don't practice the power play quite as much. That's a factor."
By not practicing it as much, perhaps the power play gets out of rhythm. What matters the most, though, is that the Kings last year still won the special-teams battle when it mattered most, just as Boston did against Vancouver in 2011.
It's not how many power-play goals you score, it's whether you score more than the other team.
The numbers don't tell the whole story, either. Some power plays still generate momentum even if there's no goal scored, as long as the team threatened on them. Players can feed off that when 5-on-5 play resumes.
[+] Enlarge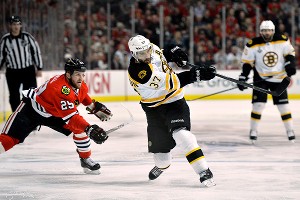 Brian Babineau/Getty ImagesPatrice Bergeron has some ideas, shared by others, about why power-play production is down during the postseason.
"Yes, you talk a lot about that as a team, just making sure you get as many good looks as possible so that it carries over," said Sutter. "We almost talk more about that than actually scoring."
On the flip side, a power play that doesn't generate anything at all, sort of like what Chicago has struggled with recently, can deflate a team for a few shifts.
Ray Ferraro
made his living on the power play during his NHL playing career, and the TSN analyst said the concern is that if you go too long struggling on the man advantage it may affect you mentally.
"You have to be careful not to let an ineffective power play seep into the rest of your game and frustrate you," Ferraro said Thursday.
And for the Hawks, that's the danger right now if they let their power-play woes continue. Their 5-on-3 power play in Game 1 versus Boston was as bad as we've seen in a while in that situation. No creativity, the players way too stationary.
"Our power play in the last series and last night hasn't shown the production that's needed or is going to be necessary going forward," Chicago head coach Joel Quenneville said Thursday. "We're still going to have to rely on it at some point to ignite us. That's what we're talking about.
"We're disappointed with the 5-on-3 last night. Want to make sure you don't lose the momentum of the game."
When you have a lineup that boasts the likes of
Jonathan Toews
,
Marian Hossa
,
Patrick Kane
,
Patrick Sharp
and
Duncan Keith
, not being able to score on the power play is a real head-scratcher.
"I know in 2010, we had a great power play, it was huge to helping us win," Kane said Thursday. "We've had stretches throughout the postseason where we've moved it around pretty well. Sometimes you just can't find the back of the net. I think maybe another reason is it seems power plays are down throughout the year and in the postseason for whatever reason. When you do get the man advantage, you're not in a complete rhythm when you get out there.
"For whatever reason, the past two teams to win, even us and Boston this year, haven't had great power plays. It's something we want to improve and feel we can help our game even more if we can keep it going."
Quenneville is in the same frame of mind as Bergeron. Give credit where credit is due, said the Hawks coach.
"I don't know if it's the power plays that are struggling or the penalty killing has been more effective or efficient," Quenneville said. "You look at teams, Boston when they won it, their penalty killing was outstanding. Special teams are always critical. I think they can make the difference."
Indeed, another trend linking the 2011 Bruins, 2012 Kings and both Boston and Chicago clubs this year is an excellent penalty kill.
The Hawks are first in the playoffs at a remarkable 93.4 percent rate, having killed 57 of 61 power plays
The Bruins are fifth at 87.3 percent, killing 48 of 55 PPs
The 2012 Kings tied for tops in the playoffs at 92.1 percent, killing 70 of 76 PPs
The 2011 Bruins were at 84.4 percent, killing 81 of 96 power plays, but noticeably improved in that area as the playoffs went along, famously capping their year by shutting down a loaded Vancouver power play in the Cup finals.
I vividly recall a conversation with Ken Hitchcock before last season's playoffs in which the
St. Louis Blues
head coach made the point that he has always believed the power play was overrated in terms of its impact on postseason games. Hitchcock felt 5-on-5 and the penalty kill were what really mattered.
The rest of the coaching fraternity is clearly on the same page.
When I asked Bruins coach Claude Julien about this topic Thursday at his off-day news conference, he sounded like a man capable of teaching a university class on the subject.
"I think if you look at teams sometimes that have great power-play percentages in the playoffs, they get them early in the playoffs," began Julien. "But as the playoffs move on, you do so much homework on the other team's power play. Like for us, we could go back three rounds, looking at Chicago's power play, and vice versa. Plus, the more you play them, the more you make adjustments as you go on.
"I think it's a normal trend, has absolutely nothing to do with the team not being able to score more than the penalty kill doing a great job," he continued. "When you see guys like [injured center Gregory] Campbell throwing himself in front of a shot
like he did, you're seeing guys go above and beyond what they do in the regular season to prevent a goal.
"To me, it's a normal thing. Even when we played Vancouver, they had such a good power play. By the time they got to the final, they couldn't score either. Yeah, you give your team credit. But also the fact that you've been able to scout them and play them, and just as the game goes on is another thing. To me, I've always been one of those proponents, that more often your 5-on-5 play is what is going to decide a game.
"When you play 50 minutes or so 5-on-5, that should be more of a determining factor than six minutes on a power play," Julien concluded.
Amen to that.
May, 15, 2013
5/15/13
10:37
AM CT

By Scott Powers
ESPNChicago.com
Archive
Chicago Blackhawks
forward
Jonathan Toews
was named a finalist for the Frank J. Selke Trophy, which is given to the best defensive forward, on Wednesday.
"Its a good feeling for sure," Toews said. "It's definitely an honor and something special. You look at the other two players nominated and it's an honor to be mentioned in the same sentence as those two guys, so pretty cool feeling."
Toews joined the
Boston Bruins
'
Patrice Bergeron
and
Detroit Red Wings
'
Pavel Datsyuk
as finalists. The award is voted on by the Professional Hockey Writers' Association.
Your request cannot be processed at the current time. Please check back as we will work to correct the problem as quickly as possible.
Please feel free to send us any comments or feedback.