October, 20, 2014
Oct 20
4:32
PM CT

By Scott Powers
ESPNChicago.com
Archive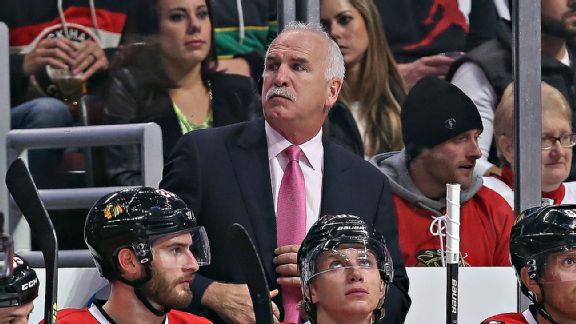 Jonathan Daniel/Getty ImagesJoel Quenneville will make some changes to his line for Tuesday's game against the Flyers.
CHICAGO --
Chicago Blackhawks
coach Joel Quenneville had time to think about his lines during the team's day off on Sunday.
On Monday morning, he returned to the rink with changes in mind.
Quenneville mixed up his second, third and fourth lines during practice on Monday. His lines had been
Brandon Saad
-
Andrew Shaw
-
Patrick Kane
,
Bryan Bickell
-
Brad Richards
-
Ben Smith
,
Daniel Carcillo
-
Marcus Kruger
-
Jeremy Morin
. On Monday, the lines were
Kris Versteeg
-Shaw-Kane, Bickell-Richards-Saad, Carcillo-Kruger-Smith.
The changes weren't a surprise. The Blackhawks have built a 3-0-1 record, but they haven't been lighting up the scoreboard. They have scored 11 goals in the four games, with six coming at even strength, three on the power play and two shorthanded. Of the even-strength goals, only three have been scored by forwards. Carcillo, Kane and Shaw have accounted for those goals.
"It's something we've talked about -- we're happy with getting wins, but at the same time we want to keep building and keep getting better every game," Saad said. "That's something we haven't seen too much of and we need to pick it up."
Saad said he didn't take being moved off the second line personally. He expected Quenneville would tell him if he needed to improve on anything.
Quenneville did say Monday he wasn't getting what he wanted from the line of Saad-Shaw-Kane. Quenneville reunited that trio just before the regular season began. Saad and Shaw have the team's lowest Corsi percentages in 5-on-5 situations among the players who have appeared in all four games. Shaw is at 52.04 percent and Saad at 53.12 percent. Kane is 10th on the team at 60.17 percent.
"I haven't seen possession," Quenneville said of that line. "They've had more shifts in their own end the last couple of games. I didn't mind them first couple of games. The last two hasn't been as effective as we've seen."
Quenneville thought getting to the net more would help all of his lines.
"As a team I still think we got to get more guys going to the net without the puck," Quenneville said. "With the puck down low, we should be looking to take ourselves in that area. I just think we need to score some more greaser goals than we have earlier this year. I think we're looking for more presence in that area whether [Saad's] the guy, Bickell's the guy. I can go down the lineup. Still got to go no matter who, what kind of player you are if you want to score goals. That's where you got to get to."
Quenneville is hoping Versteeg, who has missed four games with a lower-body injury, will spark the second line, and Saad will help improve the third line.
"They were better the last game," Quenneville said of the third line. "I would expect Saader's line, him wherever he plays, to give that line a boost and make a contribution be it offensively or with the puck, be more of a threat."
The other major change was removing Morin from the lineup. He has been effective when on the ice. He has a 64.91 Corsi percentage in 5-on-5 situations and has averaged 18.53 shots per 60 minutes, but he hasn't been given much ice time. He's averaged 6:37 of ice time through four games.
Quenneville recognized that Morin hadn't received much of an opportunity to showcase his game.
"Mo has been fine," Quenneville said. "I think every game there's been a lot of special teams. All of a sudden, he misses out on that rotation of that line. [Kruger and Smith], when they get together with Carcillo, that line's played pretty well. So, he's been fine, but he certainly hasn't got a ton of ice time to get a fair assessment."
Morin tried to keep a positive attitude after practice.
"I don't really know the lineup right now," Morin said. "I'm just coming to practice and hopefully I'm in the lineup. If I'm not, I'll work my way to get back in.
"It's always hard to get out there and play well and I definitely think I can be playing better. It's my goal. I have to earn my ice time and keep working at it."