January, 27, 2015
Jan 27
10:38
AM CT

By Scott Powers
ESPNChicago.com
Archive
Chicago Blackhawks
forward
Patrick Kane
tries not to pay attention to how many points he has and where he is among the league's leaders.
He's been around long enough to know his play has a tendency to get off track when his mind is wandering to those areas. What's best for him and his statistics is concentrating on the task at hand.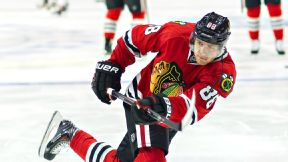 Cal Sport Media/AP ImagesPatrick Kane entered the All-Star Game break seventh in the league with 22 goals and tied for third with 51 points.
"I've kind of learned from experience, especially in this league, if you get into a situation where you start thinking about points and numbers and where you are as far as stats and points go, you're only going to get yourself in trouble," said Kane, who is in his eighth season. "I've tried to just focus on playing good, creating chances and just worrying about the next game on hand and hopefully that stuff takes care of itself."
That stuff has been taking care of itself for Kane this season. He entered the NHL All-Star Game break seventh in the league with 22 goals, tied for third with 51 points and is on pace to break his career-high totals of 30 goals and 88 points, which were both set in the 2009-10 season. That season and the shortened 2012-13 season were the two times he finished in the top 10 in points.
Kane may not follow his point production game by game during a season, but he's fully aware of how he ends up. His expectation is at least a point a game, and he would like to surpass his career-high marks.
"I think the year after [the 2009-10 season] I was at a point a game and the year after that I dropped down a little bit when I was playing center, and the lockout season my numbers were pretty good," Kane said. "Last year, I was up there and just kind of got injured at the end of the year. The most important thing is probably staying healthy for a full 82 games. The big thing for having a good season is really not to have any slumps and be consistent. I always feel like I can get back up to those numbers."