March, 1, 2015
Mar 1
3:44
PM CT

By Scott Powers
ESPNChicago.com
Archive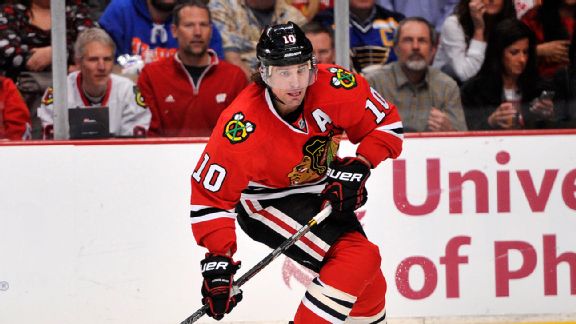 Rob Grabowski/USA TODAY SportsPatrick Sharp said he's been bothered by recent false internet rumors about him.
CHICAGO --
Chicago Blackhawks
forward
Patrick Sharp
said Sunday recent rumors about his personal life were untrue and that they had taken a toll on him and his family and he is considering legal action.
"It's been tough," Sharp said after practice on Sunday. "As a hockey player, as a professional, you're out there, and you're up for grabs for on-ice play. I'm okay with that. Trade rumors, talk about my play on the ice. I'm fine with that. I can handle that. But when people delve into your personal life and make up rumors and things that are completely false and untrue, it takes a toll on you. And it takes a toll on your family, your friends, and it's completely unnecessary.
"It's been tough, but I know I've got a strong group of teammates here, we're going to stick together. It's almost laughable. I wish I could say it's comical, but when it's your name involved, it takes a toll."
Sharp said he has considered legal action to make people accountable for what they're putting out there about him.
"It's definitely something I'm pursuing, thinking about, talking to a lawyer," Sharp said. "I feel like you hear things said about people all the time, it's like anybody can type something on a computer and get away with it and not be held responsible or accountable. I mentioned earlier, it is laughable, it's comical, but when it affects your family, when you've got two little girls at home, and your parents are calling you, it takes a toll."