The Blackhawks assigned Rostislav Olesz to Rockford on Thursday.
The Blackhawks placed center Rostislav Olesz on waivers Wednesday.
Dave Bolland out again vs. Oilers with an upper-body injury.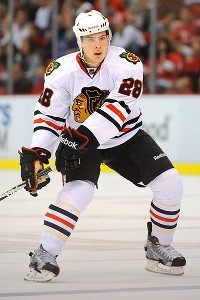 Adding Smith and subtracting Olesz could be a boost for the Hawks.
In spite of his bright future, the Hawks don't need Brandon Saad in the present.
News and notes: Fans got their first look at the 2011-12 team on Saturday.
Rostislav Olesz came away from his first Hawks practice impressed.
Will Rostislav Olesz, a first-round pick in '04, finally blossom?