Chicago Blackhawks:

Rostislav Olesz
March, 14, 2013
3/14/13
11:56
AM CT
March, 13, 2013
3/13/13
7:21
PM CT
CHICAGO --
Chicago Blackhawks
center
Rostislav Olesz
was placed on waivers Wednesday, coach Joel Quenneville confirmed.
Olesz hasn't played since last season due to a lower-body injury. He played six games for the Blackhawks and 50 games for the AHL's Rockford IceHogs last season.
Olesz is being paid $3.125 million this season and will be paid the same next season before becoming an unrestricted free agent.
February, 25, 2013
2/25/13
6:21
PM CT
CHICAGO --
Chicago Blackhawks
center
Dave Bolland
will miss his second consecutive game Monday due to an upper-body injury and is still considered day-to-day, Blackhawks coach Joel Quenneville said.
"Hopefully this week we'll get him back out there," Quenneville said prior to Monday's game with the
Edmonton Oilers
.
November, 17, 2011
11/17/11
8:41
PM CT
CALGARY -- Most Chicago Blackhawks' observers saw this one coming.
Rostislav Olesz
was sent packing and 2011 playoff hero
Ben Smith
was recalled from Rockford, mostly likely to make his season debut Friday night against the
Calgary Flames
.
[+] Enlarge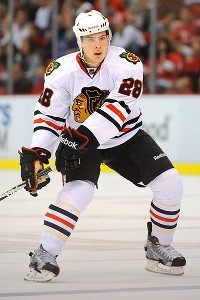 Tim Fuller/US PresswireBen Smith will find a spot on one of the two bottom lines.
Some might say "what took so long?" After all, Olesz had shown very little and Smith was on track to earn a roster spot before a preseason concussion sidelined him.
But the Hawks can afford to be diligent instead of hasty. They're off to a good start and needed to know if Olesz could bring anything to the table. He had a few moments in training camp, showing some skill, after shaking off his knee problems, but he regressed in games and confirmed his reputation coming over from Florida. The fresh start did him no good.
But if the Hawks judged solely on reputation and small sample sizes then
Steve Montador
would still be languishing as a sixth or seventh defenseman and
Marcus Kruger
would be in the minors. Bottom line: Olesz was given limited opportunity but did nothing with it. It's exactly the opposite of Smith. He was thrown into the fire at the end of last year and thrived.
Where Smith fits in
Smith's return bolsters an already deep team, playing their best hockey of the season. Four wins in a row -- all by three goals or more -- highlighted by a 5-1, penalty-free, rivalry win in Vancouver on Wednesday. Yes, the Hawks are rolling. So where does Smith fit in?
"There are some options," coach Joel Quenneville said after practice in Calgary Thursday. "I think Kaner's line and Johnny's line was stable the last four games. I don't think we want to mix that up right now."
So the top two lines will remain intact for now.
Viktor Stalberg
and Dan Carcillo will stay where they are. Stalberg, Toews and
Marian Hossa
are clicking. A case could be made Smith would fit nicely next to Kane and
Patrick Sharp
while Carcillo could move down, but that's a move Quenneville could go to when another major shake-up is needed.
So for now Smith finds a spot on one of the bottom two lines. Conventional thinking has
Bryan Bickell
in jeopardy of losing playing time to Smith. Bickell was dropped in-game Wednesday from the third line to the fourth while playing only 10:08 overall. He was also a recent healthy scratch for a game, and he might be again. He's simply not playing with the passion he displayed in the first five games of the season and Quenneville might be tired of sending messages.
The fourth line seems intact as Kruger,
Andrew Brunette
and
Jamal Mayers
are playing well enough. The two former players see power play time and Mayers is as solid as they come for the role he's being asked to play. So for the moment, Smith probably slides into Bickell's role but the arrival of fan favorite No. 28 will provide competition up and down the lineup. Stalberg, Carcillo, Bickell and a few other role players as well as Smith himself will have to earn their ice time.
Come spring there's still a good chance Bickell,
Dave Bolland
and
Michael Frolik
will be reunited for the playoffs, but for now it would behoove Quenneville to try different combinations. His decision on Friday might be made for him as Frolik is questionable but when all are healthy, let the competition at forward begin.
Smith also gives the Hawks another right-handed option on the power play. If Montador hadn't worked out in the slot, or cools off, look for Smith to grab that role. He seems perfectly fitted for it.
[+] Enlarge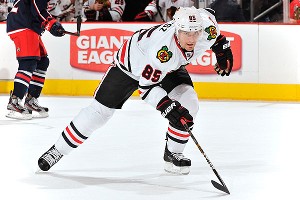 Jamie Sabau/NHLI via Getty ImagesRostislav Olesz didn't take advantage of the chance he was given by the Hawks.
Olesz demotion
Give Rocky Wirtz some credit. He's paying big money to yet another player to play elsewhere besides Chicago.
Cristobal Huet
is making $5.6 million while Olesz is collecting $3.1 million and neither is contributing to the Hawks.
Despite the hole in Wirtz's pocket it was the right move because when the Hawks are healthy Olesz was going to be on the bench anyway. Why not make him earn his money "riding the buses" in Rockford? Pay him in the minors or pay him to sit in the NHL, the Hawks still have to pay him. It does add another NHL salary to Wirtz's payroll but Smith is "only" making $812,000.
Olesz's salary comes off the Hawks' salary cap which means they are in even better position to make a trade if they want or need to. With nearly $6 million to play with, general manager Stan Bowman can scour the league and not have to worry about cap implications.
Don't look for a trade anytime soon, though. The Hawks are playing well enough as is and to make a major trade and use up the cap space before understanding what the injury factor for the long term is going to be would be foolish. Besides, the addition of Smith is almost like making a trade. The Hawks just added a good player to an already good team.
October, 12, 2011
10/12/11
8:45
PM CT
CHICAGO -- If you're wondering why Chicago Blackhawks forward Brandon Saad was sent back to his juniors' team, it's pretty simple: when healthy, the Hawks are in a number's crunch and it's just not Saad's time yet.
The 18 year-old from Pittsburgh made quite an impression, and he certainly could be a major contributor for the Hawks as soon as next year. But the Hawks are trying to win something now and have more than enough talent to fill the roles they need filled. Saad being sent out was always a foregone conclusion -- unless he really forced the Hawks to re-consider with his play. That didn't happen in the two games he saw in action in. He played OK but not well enough to supplant others. More than likely the only reason he lasted this long was due to injuries, and Dan Carcillo's two-game suspension, which is over.
Carcillo is back and Ben Smith and Viktor Stalberg are close to returning. Now the interesting question -- barring a new injury -- is what moves the Hawks make next.
Make no mistake, it's a good problem to have, but the Hawks will have one too many bodies when the two forwards return -- assuming Alexander Salak is sent back to the minors shortly.
So who goes and who stays?
The easy answer would be to send Marcus Kruger back to the minors, but he might be best suited to continue in a fourth-line role as he develops his game in the NHL. Plus, something felt right, down the middle for the Hawks, in their home opener on Saturday against Dallas.
Joel Quenneville agreed.
"[There was] a little uncertainty when you're going into Dallas [Friday] and you have three or four guys that you're a little hesitant about or not sure about but I thought Kane, he's been fine there and you got Kruger back and [Dave] Bolland back so it gives you all the lines with more of a role and more of a predictability," he said Wednesday after practice.
In other words, Quenneville felt better with his center position coming out of Saturday's game then going into Friday's.
Ben Smith could be sent down just to get some games under his belt considering the time he's missed with a concussion, but he deserves a chance to pick up where he left off last season. There could be another surprise move, like a trade or sending one of the eight defensemen down to the minors.
But the smartest move remains sending Rostislav Olesz to Rockford, or at least trying to. He is a man without a role right now. A healthy scratch last Saturday, he's been running drills with the injured forwards and extra defensemen this week at practice. He would need to clear waivers, and while valuable insurance, if he's claimed, it could benefit the Hawks. It would wipe $3.1 million off their salary cap and give them a huge amount of money to spend on an in-season trade, if needed. If he clears waivers, he'll get valuable playing time, something he could use coming off a major knee injury. If the Hawks want to bring him back, he'll go through re-entry waivers and a team could claim him for half his salary -- the Hawks would be on the hook for the other half. Even then, they save about $1.5 million. There's no downside, unless they are in desperate need of Olesz, a scenario that doesn't seem plausible. And if they are in desperate need of Olesz or anything else, they'll have the money and wherewithal to make a trade.
Even if Kruger falters, Brandon Pirri is waiting in the wings for a return so it keeps a healthy competition among the young forwards while not taking away from the core of the team or depth on defense. And if Olesz clears waivers he gets to find his game with a chance to return as well -- whether it be for the Hawks or another team.
Of course, this is the NHL and an injury is always around the corner so it be a moot point. In this case, the Hawks would like the tough decision.
September, 17, 2011
9/17/11
8:11
PM CT
There were few complaints Saturday from the crowd at the sold out
Chicago Blackhawks
training camp festival. Opening day on and off the ice seemingly went off without a hitch as runners and rollerbladers completed their races outside while the Hawks got down to business inside.
Two practices and two scrimmages provided entertainment, as well as a first look at newcomers, including goalie
Ray Emery
and
Rostislav Olesz
.
Olesz didn't do anything to stand out, but Emery probably helped his case with a solid showing, playing in both scrimmages.
Joel Quenneville isn't prepping any line combinations or defensive pairings just yet. In fact, there were an odd number of forwards and defensemen on each team so there was plenty of mixing and matching throughout the day.
Here are some odds and ends from Day 1:
Quenneville indicated prospect Jeremy Morin is still experiencing problems associated with a concussion he suffered last season.

Morin was not on the ice for the first day of training camp, nor was he available for the NHL rookie tournament in Oshawa, Ontario last weekend.

Quenneville said Morin is day to day but there is no timetable for his return.


Ben Smith said he has no problem playing center and looks even stronger than he did during his short stint in the NHL last season. He's switched jerseys, from 57 to 28, but it wasn't by request.

"I actually looked on the [Hawks] web site at the end of July and that's how I found out," he said. "I didn't ask why. I'll wear whatever number they give me."


Patrick Kane said he felt good after the first day of practice. He scored a shootout goal with one of his patented backhand, top-shelf moves. His wrist is progressing as the Hawks continue to show caution with their young superstar. He didn't participate in the scrimmages, just the drills.


Steve Montador experienced the United Center crowd for the first time from the home perspective and was impressed.

"The national anthem is played and everyone is screaming out there," he said. "It's 10:30 in the morning. It was really great."

Montador is one of several Hawks utilizing Twitter to communicate with fans.

"I'm finding my voice on it," Montador said. "I'm not that open of a guy. I'm kind of private. We'll see how it goes."


Tough guy Dan Carcillo made his first appearance as a Hawk and nearly dropped the gloves.

"I got offered a few times," he said. "I don't know his name. It starts with a B."

For the record, prospect Brandon Bollig was the player who got in Carcillo's face.


The Hawks will hold two more practices and scrimmages on Sunday. They'll be held at Johnny's IceHouse West located at 2550 W. Madison. Practice starts at 10 a.m. and is open to the public.
September, 17, 2011
9/17/11
3:09
PM CT
CHICAGO --
Chicago Blackhawks
forward
Rostislav Olesz
is the one player on the training camp roster the team admittedly knows little about. General manager Stan Bowman and coach Joel Quenneville want to find out where he fits in, and Olesz is aware of their curiosity.
"They just want to see me play because I haven't played in a long time," Olesz said after his first practice as a Blackhawk on Saturday.
Olesz is coming off a torn ACL in his right knee which kept him out of the second half of the season last year for the
Florida Panthers
. The Hawks acquired him when they rid themselves of Brian Campbell's contract during the offseason.
He lined up next to
Jonathan Toews
and
Andrew Brunette
in the first team scrimmage on Saturday playing in a competitive situation for the first time since being injured. He came away thoroughly impressed.
"This is totally different hockey," Olesz said. "It's amazing to play with all these skilled players. I mean more than three guys can handle the puck here. [Marian] Hossa, Toews, [Patrick] Kane, [Duncan] Keith, [Brent] Seabrook, you can go name by name. It's different."
With just one practice under his belt, it's too early for anyone to make a determination on Olesz, but there is some skill there. Still, he hasn't lived up to his lofty draft status after being selected seventh overall in the 2004 draft. He has 57 goals in 349 career games in the NHL, never having scored more than 14 in any one season.
"They don't know me," Olesz said. "I'm going to just play my best hockey and then I will see where I can fit."
That could be on any of the four lines, maybe in Rockford or somewhere else. With three years left on his contract and a salary cap hit of $3.1 million per year, the Hawks can't hide him somewhere without it costing them, if he doesn't prove himself. With a veteran laden team and some highly touted prospects pushing for roster spots, Olesz knows he has to deliver.
"I know there is competition," he said. "There always is but this is a good team. I just want to show them what I can do."
June, 25, 2011
6/25/11
4:45
PM CT
ST.PAUL, Minn. -- In addition to shedding salary the Chicago Blackhawks also received a former first-round pick, Rostislav Olesz, when they traded defenseman Brian Campbell to Florida late Thursday night.
Olesz injured his knee in late February and missed the rest of the season after scoring six goals and 11 assists in 44 games. He had successful offseason knee surgery that should have him ready for next year.
"Timing wise he'll be prepared," general manager Stan Bowman said. "With those knee injuries, you have to do the time to put in the rehab, but it's not a concern. He'll be ready for camp."
By all accounts Olesz has a ton of unrealized potential since being drafted seventh overall in 2004.
"This guy has potential to be a great player," Panthers general manager Dale Tallon said. "He's huge and can skate. Unfortunately, it didn't work out in Florida. I don't know for what reasons. This guy has tremendous upside."