Chicago Blackhawks:

Sami Lepisto
August, 1, 2012
8/01/12
6:06
PM CT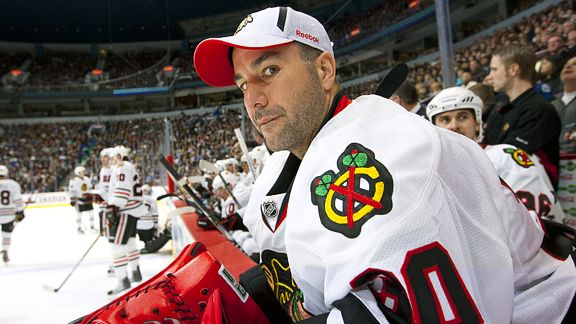 Jeff Vinnick/Getty ImagesMarty Turco's signing was one of the bigger busts of Stan Bowman's tenure as Hawks GM.
In terms of roster turnover, the Blackhawks have been quiet this summer, and maybe that's a good thing.
It could mean the Blackhawks' young players are actually ready to take the next step. And considering the uninspiring group of veterans general manager Stan Bowman has added to augment his core group since the team won the Stanley Cup, the Hawks can't do much worse.
Think about this list of names and what those players are doing now: Nick Boynton (out of hockey), Ryan Johnson (without a team/out of hockey), Fernando Pisani (out of hockey), Marty Turco (without a team/out of hockey), Sean O'Donnell (without a team), Andrew Brunette (without a team) and Sami Lepisto (in the KHL).
That's a sampling and by no means the definitive word on every move Bowman has made. For example, Jamal Mayers turned out to be a solid addition, and he remains with the club.
Still juxtapose those additions with the players the Hawks were forced to trade or let walk away after winning the Stanley Cut in 2010. Andrew Ladd is a captain; Dustin Byfuglien an All-Star; Brian Campbell and Kris Versteeg have been studs in Florida; and Antti Niemi got rich and made the conference finals the next season. Losing those players wasn't necessarily Bowman's fault, but he was charged with replacing them.
If the plan was to squeeze something out of veterans before they hung their skates up, it failed miserably. None lived up to relatively low expectations. Johnson played OK in 2010-11, but he hasn't parlayed that into much since then. Turco was on Boston's roster for a few miserable games last season, but that was the extent of his NHL action since leaving the Hawks.
Some players -- in hindsight or even foresight—simply didn't fit the Hawks' mold. Brunette and O'Donnell are solid leaders but their feet couldn't keep up with their heads and it slowed the team down. Both are looking for work and could end up retiring.
The list goes on. If Pisani didn't kill penalties, he wouldn't have been noticed at all; Boynton had a moment in the Cup run but nothing after that. Turco, as good a guy as he is, might go down as Bowman's worst signing. Everyone knew the league was going bigger in goal, considering the amount of traffic netminders are now seeing. Everyone knew Turco's last year in Dallas was not very good – and it wasn't all because of the defense in front of him. With all that obvious knowledge, the Hawks replaced a Stanley Cup winning goaltender with one who had failed often in the playoffs, was undersized and lacking athleticism. Yet the Hawks signed him, not as a seventh defensemen, but to defend the Stanley Cup and play the most important position in sports. It was a bad move, one that was only bailed out by the emergence of Corey Crawford. Somewhat ironically Crawford has now become the maligned goalie in Chicago.
Sheldon Brookbank's signing was the only move the Hawks made this summer so far – and the relative lack of activity might turn out to be for the best. They tried their hand at the biggest of names like Zach Parise and Martin Brodeur, but save those guys, no one needs to see more 40-year-old types on the roster. Brookbank is 31 and not necessarily on his last legs.
Sometimes the moves a GM doesn't make are the ones that help a franchise. Furthermore, the Hawks' decision to stand pat gives opportunities. Could it mean Andrew Shaw, Jimmy Hayes, Brandon Saad and Dylan Olsen—among others—are really ready to contribute in a bigger way? We've already seen a few do just that.
With Bowman's track record of aging veterans, youth might be the best way to go.
January, 2, 2012
1/02/12
1:06
PM CT
CHICAGO -- Revenge is a dish best served cold -- as in ice-cold.
The
Chicago Blackhawks
will get a chance at it on Monday night when they host the
Edmonton Oilers
, this time on the United Center surface.
The teams aren't near in each other in the standings right now, as the Blackhawks lead the NHL with 52 points and the Oilers are at the bottom of the Northwest Division with just 33. But back on Nov. 19, when they met in Edmonton, the Hawks were still finding their way while the Oilers were off to a pretty good start. The result for the Hawks? A 9-2 drubbing in Game 3 of the circus trip.
"I don't know about revenge, but kind of redemption," defenseman
John Scott
said after Monday morning's practice. "They took it to us last time we were there. We talked about it. That wasn't our team when we played them a month ago. We've changed since then and kind of have gone on a rise since then."
[+] Enlarge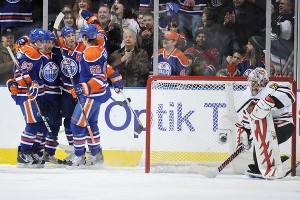 Dale MacMillan/Getty ImagesRyan Smyth scored one of the Oilers' nine goals against the Blackhawks on Nov. 19.
Scott will skate next to
Sami Lepisto
as the Hawks' third defensive pair against a fast Edmonton squad.
Steve Montador
has been ruled out due to an upper-body injury.
"I'm going to try and not do too much out there," Lepisto said. "Just think defense first and if something happens, it happens."
Lepisto has been a healthy scratch for the past eight games.
"Sitting in first place the team is doing good, but of course you get frustrated," he said of not playing. "Every player wants to play rather than sit and eat popcorn. It's a long season and hopefully I get to play more."
Lepisto didn't play against Edmonton last time, but
Jamal Mayers
did.
"We certainly should use it as motivation," Mayers said. "Obviously they took it to us in every facet of the game. We have a chance to redeem ourselves tonight."
The Hawks should have a good chance to do so. They're 14-3-3 at home while Edmonton is just 5-13-1 on the road. One of those losses came in Chicago, 6-3, on Nov. 13.
Lines the same:
Blackhawks coach Joel Quenneville liked the balance in his lines in Friday's 3-2 win over the
Detroit Red Wings
and will stick with the same trios for Monday's contest.
Marcus Kruger
did not skate Monday morning as he recovers from a concussion, so
Patrick Kane
remains at center between
Viktor Stalberg
and
Patrick Sharp
while
Jonathan Toews
has
Marian Hossa
and
Dan Carcillo
next to him. The latter trio was the Hawks' best line against the Wings.
"We had a good game, played well," Carcillo said. "They're two of the best players in the league. I have to keep my game simple and work hard to get them the puck."
Big
Jimmy Hayes
will dress for his second game in the NHL, skating with Mayers and
Andrew Brunette
again.
"The game is really fast," Hayes said of his first impressions. "I'm just trying to keep my feet moving and make some plays. [The coaches] just said to be physical."
Dave Bolland
,
Bryan Bickell
and
Michael Frolik
make up the Hawks third line for Monday's game, in which
Corey Crawford
takes on Oilers goalie
Devan Dubnyk
.
Carcillo vs. Bertuzzi:
After missing six games with a head injury, Carcillo had no issues with Detroit's
Todd Bertuzzi
asking him to fight Friday night, although he doesn't necessarily agree with Bertuzzi's reasoning. The two dropped the gloves after Carcillo hit Bertuzzi with a clean, but hard check, in the first period.
"You see a lot of that," Carcillo said Monday. "Guys get hit clean and then a team reacts or they want to start fights. But I don't think that's the way to solve a clean hit. You get up and dust yourself off and take a run at someone else. I think he saw who it was and he wants to show his bench he's ready and I'm ready. I still think it was the right time for a fight."
Although the instigator rule is called inconsistently throughout the league, Carcillo had no issues with Bertuzzi only getting five minutes for fighting.
"He looked at me and we both agreed to it," he said.
Bickell was given an instigating penalty in a similar situation against the
Calgary Flames
earlier in the season. It's more evidence the instigator rule needs to be altered or eliminated altogether.
Signings:
The Hawks signed their two first-round picks from the 2011 draft to entry-level contracts. Forwards Mark McNeill and Phillip Danault, both 18, were inked to three-year deals. They'll continue to play for their junior clubs and their contracts won't kick in until they come to the Hawks organization.
Quotable:
"It was a crazy New Year. We ordered food in and I think I had one beer. We were asleep by 12:15, so it was nuts."
-- Scott on his New Year's Eve spent with his wife and week-old baby daughter.
December, 12, 2011
12/12/11
6:38
PM CT
San Jose Sharks
forward
Andrew Desjardins
was fined $2,500 on Monday for boarding
Chicago Blackhawks
defenseman
Sami Lepisto
in Sunday's game.
At 2:12 of the first period, Desjardins was assessed a two-minute minor for boarding Lepisto.
The fine is the maximum allowed under the Collective Bargaining Agreement.
November, 8, 2011
11/08/11
4:00
AM CT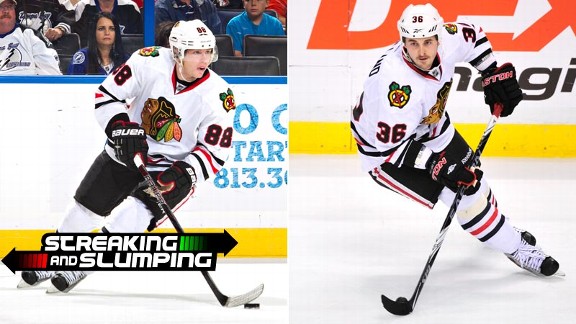 Getty ImagesPatrick Kane continues to excel at center while the usually dependable Dave Bolland struggled.
STREAKING


1. Sami Lepisto, defenseman:
He's not a big name but he's worked his way into the lineup and hasn't left. He's plus-4 over the last five games and has been steady enough that he might continue to dress even with the return of
Duncan Keith
from injury. On Sunday, Vancouver scored five power play goals but Lepisto wasn't on the ice for any despite 1:33 of penalty-killing time. The four other defensemen who killed penalties were all scored on, including
Sean O'Donnell
, who took one shift shorthanded, spending 35 seconds killing a penalty and the Canucks promptly scored.


2. Patrick Kane, center:
He was shut down on Sunday against the Canucks but has been on fire in the middle. Five more helpers over the last four games and a two-goal night mixed in has kept the Hawks afloat as they work through some defensive issues. Kane was the best player for the Hawks in October and has carried it over to the start of the new month.
SLUMPING


1. Niklas Hjalmarsson, defenseman
: Unlike Lepisto, he was on the ice for nearly every Canucks' goal, including the final four on the power play. He did record his first point of the season Sunday but it came on a fluke goal and doesn't erase his second consecutive slow start to a season. Hjalmarsson hasn't been physical nor has he been in the best position to make plays in his own zone helping the opposition to 17 goals over the last four games.


2. Dave Bolland, center:
The usually reliable Bolland simply hasn't been dependable over the last few games. He was minus-3 against Tampa Bay on Friday and the only minus player for the Hawks on Sunday as well as being on the ice for two power play goals against. His defense has been suspect in front of the net, uncharacteristically allowing the opposition time and space. He also has just one point over his last seven games.
July, 16, 2011
7/16/11
5:54
PM CT
It was a busy opening day to the annual
Chicago Blackhawks
convention on Friday. Even before opening ceremonies late in the afternoon, the Hawks were making news. Here's a wrap up of the day's events and their implications:
Blackhawks sign Frolik, Lepisto:
The Blackhawks released a statement they had signed forward
Michael Frolik
to a three-year contract and defenseman
Sami Lepisto
to a one-year deal.
"It wasn't done before I was on the plane," Frolik said. "When I landed, I got a call from my agent with an offer and we liked it. I'm happy it's done and I can enjoy the weekend here. I'm excited to be here."
At first look, the Hawks might have given Frolik (three years, $7 million) a tad more than he needed to be paid, especially for a player on the outside of the top six forwards. The Hawks nearly tripled his salary, and without arbitration rights he had no leverage except to sit out or play in Europe.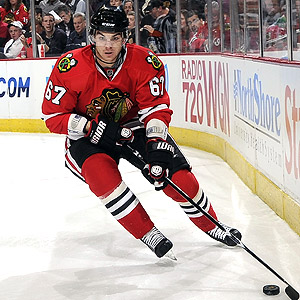 Bill Smith/NHLI/Getty ImagesMichael Frolik agreed to a three-year deal with the Blackhawks on Friday.
"My first mindset is to play in the best league," he said. "I wasn't thinking about Europe. I was hoping we could make a deal."
The Hawks have shown if they like a player, they'll take care of him. Frolik is now closer to being a core guy than anyone may have thought.
"Michael is an important part of the team," general manager Stan Bowman said. "We expect him to be part of our group for a while. We talked about different deals, one-year, two-year or three. But in the long run, he's a big part of what we're trying to do here."
Frolik's new contract is as much a result of his stellar play in the seven-game postseason against the
Vancouver Canucks
as in his 28 regular season games with the Blackhawks after coming over in a trade with Florida. He underwhelmed at first, but came on strong late. That's the play the Hawks are counting on when he most likely returns to his role as a third-line winger and sometime center.
The Lepisto signing was a surprise and had implications later in the day.
Blackhawks announce Kane will have wrist surgery:
The Hawks released a statement from team doctor Michael Terry explaining why
Patrick Kane
is having surgery on his left wrist. His recovery time is 6-8 weeks, which puts him ready just in time for training camp, if there are no setbacks.
Hawks coach Joel Quenneville revealed Kane hurt the wrist in the second-to-last game of the regular season, but it was only sore at the time. His wrist wasn't mentioned in any postseason wrap-up sessions with the media, and only Kane knows why he didn't take care of it at the time. But then again, if it got worse throughout the offseason there isn't much he could have done and he seemed genuinely surprised he needed surgery.
Bottom line, whenever he got it fixed it would have affected his offseason. As long as he's ready for training camp it's hard to be too critical, considering it was an injury in flux. It got worse as the summer wore on, according to Kane.
Bowman says Campoli won't return to Hawks:
Bowman revealed that the Hawks had come to an impasse with
Chris Campoli
and he wouldn't be returning, a likely reason for the Lepisto signing.
The sides were on different pages when it came to a new salary.
"We kind of indicated this to Chris at the beginning," Bowman said. "'You may want more from us, and it's really about fitting in with our structure. On our team, with the guys we already have signed, we need somebody in the certain price range for that role."
There is always a guy or two who doesn't feel like a priority. Last summer it was
Antti Niemi
, and Campoli must feel the same way.
When the Hawks traded
Brian Campbell
, then traded for and signed
Steve Montador
to a mega-deal, Campoli must have been thinking his stock was going up. After all, he was a puck-moving defenseman and the Hawks just lost one. And though Montador is older, he doesn't have that much more on his resume than Campoli. But the Hawks saw it differently. They obviously value Montador and even Frolik more than Campoli. Those players got paid, and maybe overpaid.
By saying goodbye to Campoli even before his arbitration hearing, they're telling him they weren't even willing to pay him market value or close to it. In the same vein as Niemi, even if the Hawks "won" in arbitration, they still didn't want to pay someone that figure who they undoubtedly feel is a fifth or sixth defenseman.
Moving forward, the Hawks have overhauled their defense in a big way since the beginning of last season. Last summer, they only moved out one player --
Brent Sopel
-- while keeping the core of the Stanley Cup blueline together. Now, just three players --
Duncan Keith
,
Brent Seabrook
and
Niklas Hjalmarsson
-- remain. The newcomers this offseason are slower and older, though Lepisto brings some of what Campbell and Campoli did. The Hawks have invested a lot in both Montador and Hjalmarsson, so increased performances out of both players is needed and expected, and
Nick Leddy
also needs to take a big step.
The Hawks value their blue line more than any other position on the ice. Assuming Keith and Seabrook return to a high level of play, how the newcomers perform on defense will go a long way toward determining how special this team is. Right now, they aren't much different than a few seasons ago. There is plenty of potential, but plenty of questions to be answered with so many new faces taking on key roles.
Blackhawks convention gets underway:
Jim Cornelison sang the national anthem, Eddie Olcysck introduced present and former players and the fourth annual Blackhawks convention began.
But not before a busy news day came to an end.