Chicago Blackhawks:

Stan Mikita
March, 6, 2012
3/06/12
11:26
AM CT
The
Chicago Blackhawks
, in conjunction with Navy Pier, will screen "Bobby Hull and Stan Mikita: Monuments to Excellence," at the IMAX Navy Pier Theatre on Wednesday.
Produced by Blackhawks TV, the film details the lives and careers of the Blackhawks Ambassadors and Hockey Hall of Famers. Though Wednesday's screening is an invite-only event there will be other showings throughout March. They are free of charge and can be found at chicagoblackhawks.com.
Mikita is Chicago's all-time leader in assists, points and games played and helped the team capture the Stanley Cup in 1961. He earned four Art Ross Trophies and two Hart and Lady Byng Trophies and had his jersey No. 21 retired on Oct. 21, 1980, the first in franchise history.
Hull spent 15 years in a Blackhawks uniform and ranks first in franchise history in goals and second in games played and points. He helped Chicago win the 1961 Stanley Cup and also collected two Hart Trophies and one Lady Byng Trophy.
Hull and Mikita were named Blackhawks Ambassadors together at a pregame ceremony at the United Center on March 7, 2008, and had bronze life-sized statues unveiled on the northeast plaza of the United Center on Oct. 22, 2011.
October, 22, 2011
10/22/11
9:07
PM CT
CHICAGO -- In an emotional and, according to
Chicago Blackhawks
President and CEO John McDonough, long overdue moment, statues of Hawks Hall of Famers Bobby Hull and Stan Mikita were unveiled in a ceremony outside the United Center on Saturday night.
Read the entire story.
October, 22, 2011
10/22/11
2:04
PM CT
CHICAGO -- The Chicago Blackhawks and Colorado Avalanche will complete their home-and-home set of games at the United Center Saturday night.
Both teams practiced Saturday morning. Joel Quenneville has elected to go with the same lineup that beat the Avalanche 3-1 on Thursday.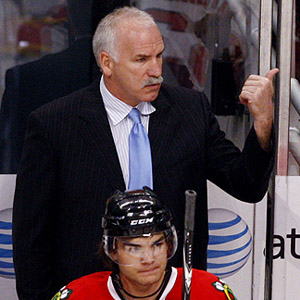 Jerry Lai/US PresswireJoel Quenneville's team has, for the most part, played penalty-free hockey this season.
A key to that win, as well as their 4-1-1 start, has been the Hawks' ability to minimize damage via the opponent's power play. The Hawks have gone four consecutive games without giving up a power-play goal. But as good as the PK has been, staying out of the penalty box has been just as instrumental. The Hawks have taken just 10 minor penalties over those four games.
"If you stay out of the box I think your penalty killing gets better," Joel Quenneville explained Saturday after practice. "If you kill one or two a game it keeps it in good order. If you start taking silly penalties..those are the ones you have a hard time killing."
The Hawks rank third in total times shorthanded (17) this season and third in penalty killing percentage (94.1 percent). They've scored more (2) shorthanded goals than goals (1) given up on the power play.
"Somebody asked Pete Rose, 'you need 70 hits to get to 3000, how many at-bats will it take?'" Hawks defenseman Steve Montador said. "He said 70. That's the attitude you have to take, you're going to kill it every time."
Corey Crawford and Semyon Varlamov are expected in goal for the rematch.
Statue unveiling
The Hawks will unveil statutes outside the United Center of Hawks' greats Bobby Hull and Stan Mikita in a ceremony before the game.
"It's a great honor," Joel Quenneville said. "Those guys should be very proud being out there every time somebody comes into the building they get a chance to visit with Stan and Bobby and visit their memories of what they meant at whatever stage they [the fans] were in their life to come see the Blackhawks play. They are great ambassadors for our team and now they go down in history here at the building."
Patrick Kane was asked several times on Saturday morning if he could envision statues of himself and his buddy, Jonathan Toews, someday.
"I'm just looking to get back on the score sheet after two games," Kane joked. "I'm not really worried about a statues right now. … [Hull and Mikita are] awesome. They're two people you can call your friends now."
Slappers
• Marian Hossa practiced Saturday morning after taking Friday off. He is scheduled to play Saturday night. He missed a game recently with an upper-body injury.
• Kane, Hossa, and Dan Carcillo have been giving each nicknames for their line. Carcillo has been calling Kane, 'Biebs' for teen idol singer Justin Bieber.
"That's fine," Kane said. "I like it actually. A lot of girls like him [Bieber]."
October, 8, 2011
10/08/11
8:40
PM CT
January, 9, 2011
1/09/11
9:41
PM CT
May, 20, 2010
5/20/10
4:11
PM CT
[+] Enlarge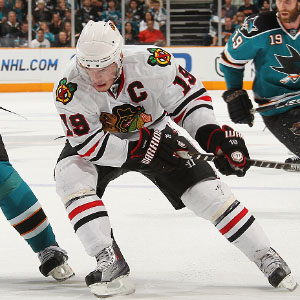 Don Smith/NHLI/Getty ImagesIf Jonathan Toews scores one point in Game 3 on Friday, he breaks Stan Mikita's Blackhawks mark for consecutive postseason games with at least one point scored. They both have scored in 11 straight.
Jonathan Toews
is hovering in rarified territory.
The captain of the
Chicago Blackhawks
is approaching or has already surpassed playoff records set by some of the greats in the franchise. Legends Bobby Hull and Stan Mikita, for example, may soon be looking up at Toews in the record books
The first to fall could be Mikita's consecutive game point streak in the postseason, achieved in 1973. Mikita and Toews are tied with at least a point in 11 consecutive postseason games.
"I'm [ticked] off as hell," Mikita joked Thursday, also his 70th birthday. "I didn't know they kept such a thing in the archives."
"God bless him. Happy to see a guy like that break it."
Toews had tied Mikita and
Steve Larmer
for most points in a playoff contest when he scored five against the
Vancouver Canucks
in Game 4 of the Western semifinals.
"He leads by example, from what I've seen," Mikita said.
Not surprisingly, Toews is uncomfortable with comparisons to Hawks greats.
"You guys are going to overwhelm me with all this stuff," Toews said after practice Thursday. "I'm trying not to think about it."
But he can't help it. A point in 11 straight playoff games doesn't happen often. If passing Mikita's mark isn't enough, consider this: With his two-point effort in Game 2, he has become the Hawks' all-time leader in points per playoff game with 1.16, surpassing Bobby Hull in that category for players with a minimum of 30 postseason appearances.
"It's a cool thing to think about," Toews said. "You don't get to this point without working hard and playing the right way and playing a team game.
"I've been lucky to be on a streak. You can work hard and play well and do so many things right, but when you don't see pucks go in, it does hurt your confidence a little bit, so I have to say things have been working pretty well for myself … but [I'm] not going to get too high on myself and go out there and just expect that kind of success."
Since Toews doesn't like to talk about himself, his teammates are more than happy to talk about their captain.
"I never get sick of talking about Toews,"
John Madden
said. "As long as I'm talking about Toews, that means he's playing well."
"You saw how great he was at the Olympics, and now you're seeing it here. He's been fun to watch in the playoffs. He competes every shift and it rubs off on the rest of us."
The phrase "He won't be denied" comes up often regarding the captain. That's a basic reference to his character and his on-ice play.
"That streak speaks volumes for what he does,"
Andrew Ladd
said. "He takes it to a whole new level. His preparation 24/7 is what makes him a great player."
As for Mikita, he'll be watching closely, in Game 3, and expecting his record to fall.
"I hope it happens and early in the game so we don't have to sit around and wait for it," Mikita deadpanned. "He's a good player."
Your request cannot be processed at the current time. Please check back as we will work to correct the problem as quickly as possible.
Please feel free to send us any comments or feedback.