Chicago Blackhawks:

Stanley Cup champions
September, 11, 2013
Sep 11
1:04
PM CT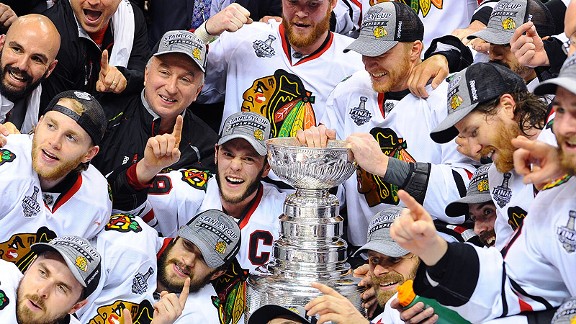 Brian Babineau/NHLI/Getty ImagesIs another Stanley Cup celebration in the cards for the Blackhawks this season?
ESPNChicago.com's Blackhawks reporter Scott Powers is counting down this season's top-50 storylines leading into this week's training camp. Here's the final installment:
10. Defensive stability
Blackhawks general manager Stan Bowman has made it a priority in the past few seasons to have veteran defensemen. He's willing to gamble with young forwards, but he doesn't like to rush young defensemen. That's why one of the Blackhawks' greatest strengths this season should be its defensive depth again. The Blackhawks return all seven defensemen --
Duncan Keith
,
Brent Seabrook
,
Niklas Hjalmarsson
,
Johnny Oduya
,
Nick Leddy
,
Michal Rozsival
and
Sheldon Brookbank
-- from last year's Stanley Cup team, and all of those players except Brookbank are signed through the following season as well. ESPN recently ranked the Blackhawks' defensive group No. 1 in the league.
9. Captain consistent
Blackhawks captain
Jonathan Toews
is still 25 years old and has room to grow, but the Blackhawks wouldn't complain if he just kept doing on what he has done. He can be expected to produce 70-plus points, be among the league's leaders in faceoffs and takeways, be around a plus-20 rating, contribute on the power play and penalty kill and still be the team leader. The Blackhawks will be banking on similar numbers from Toews again this season.
July, 26, 2013
Jul 26
8:46
PM CT
CHICAGO -- Even though the
Chicago Blackhawks
aren't done just yet celebrating being the 2013 Stanley Cup champions, they're not worried about suffering from a Cup hangover next season.
The Blackhawks will be aiming to become the first team in the 21st century to repeat as Stanley Cup champions. The last team to win consecutive Stanley Cups was the
Detroit Red Wings
in 1997 and 1998.
"There's always the saying you got that Stanley Cup hangover, but we feel like we have a good team, the same team we had last year," Blackhawks forward
Bryan Bickell
said prior to the Blackhawks convention on Friday. "We just have to bring the same mindset that we came into last year. I know it's going to be a shortened summer to get in shape, but we have a season to a figure it out to make a push in the playoffs."
May, 30, 2013
May 30
12:32
AM CT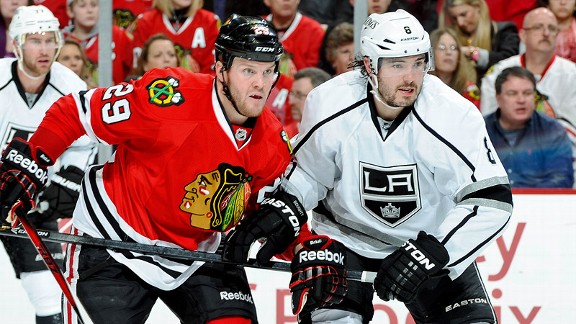 Bill Smith/Getty ImagesThe road to the Cup gets more difficult with the defending champion Kings up next in the West finals.
CHICAGO -- As tough as it was for the
Chicago Blackhawks
to send the
Detroit Red Wings
home after seven games, they're expecting an even more difficult task in knocking off the defending Stanley Cup champion
Los Angeles Kings
in the next round.
The Blackhawks and Kings open the Western Conference finals in Chicago at 4 p.m. on Saturday. Game 2 will be on Sunday at 7 p.m.
"I think we've progressively had a much tougher series from the first round; we expect it to keep getting tougher," Blackhawks coach Joel Quenneville said. "L.A., they got the Cup. They played two tough rounds in a row. They know how to win. I think that we got to make sure we're well prepared. We're excited about the opportunity. I'm sure these back-to-back games will be fun to be a part of this weekend."
February, 18, 2013
Feb 18
8:02
PM CT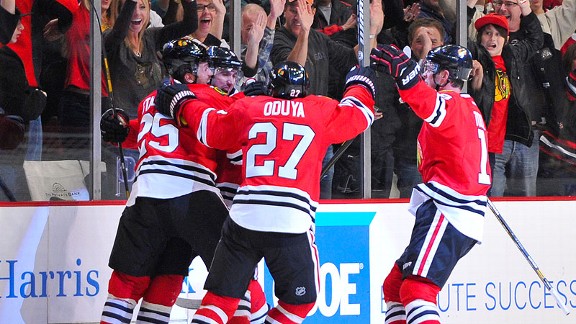 Rob Grabowski/USA TODAY SportsThe Hawks have had a lot of players step up this season in their 15-game points streak.
CHICAGO --
Chicago Blackhawks
coach Joel Quenneville was asked recently if he could compare this year's team, which is off to the best start in franchise history, and his Stanley Cup-winning team in 2009-10.
Quenneville wouldn't bite on the question. He answered by saying the two teams were different in their respective ways, not wanting to set the bar too high just yet for this year's team. But Quenneville was willing to admit the one similarity he found was with both teams he was comfortable putting any line out on the ice at any time.
The Blackhawks currently stand atop the NHL with a 12-0-3 record and are one game away from tying the league's record of 16 consecutive games with a point to start a season. There are a multitude of reasons for their early success, and depth has been one of them.
October, 17, 2012
10/17/12
8:43
PM CT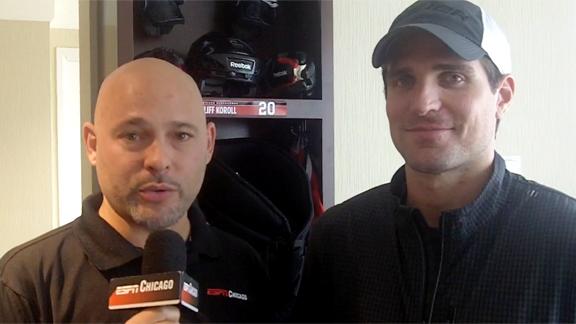 CHICAGO -- It wasn't that long ago that
Adam Burish
,
Patrick Sharp
,
Brian Campbell
,
Patrick Kane
and
Jonathan Toews
were on a stage answering questions from the press during the Blackhawks' run to the 2010 Stanley Cup. The five reunited Wednesday to officially announce a charity hockey game -- "Champs for Charity" -- that will take place Oct. 26 featuring members of that team and other NHL players unable to play due to a work stoppage.
[+] Enlarge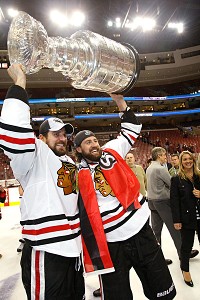 AP Photo/Kathy WillensMembers of the 2010 Stanley Cup champion Blackhawks -- along with others unable to play because of the NHL lockout -- will reunite Oct. 26 in the name of charity.
"We want to give fans that are starving for hockey something to watch and we want to give back to this charity," former Hawk Burish said from the Ronald McDonald House on Grande Ave.
They'll do just that when they take the ice at the All-State Arena in what the players hope is more than just a leisurely skate.
"To put together a competitive game was the idea," Burish said.
That idea came from Burish and his agent, Bill Zito, who spoke of his own personal situation involving a family member who had recently been hospitalized for a long stay. They want the Ronald McDonald House to benefit, knowing what families go through in caring for sick ones. Their goal is to raise $250,000.
"I didn't know what my plan was, to play (in charity game) or go overseas," Kane said. "I'm excited about it."
Kane said he was close to signing in Europe but that's on hold now because of the game and potential movement in CBA discussions, though players were more than cautious regarding the latest proposal from the league.
"As long as they don't think it's their final drastic attempt to salvage an 82-game season," Toews said. "If they were that desperate to preserve an 82-game season and get things done, this would have be done already. There's no real effort there. It's just a ploy to sway a positive light back in their favor. It's still a small movement but hopefully it's something we can work off of."
Toews said he will fly to Toronto on Tuesday night to assist in negotiations within the players association. In the meantime, other members of the 2010 Stanley Cup winning Hawks will prepare for the charity game.
"He's looking forward to playing on a line with me," Burish quipped of good friend Sharp.
"I think it's a pretty good coincidence Great Clips is the main sponsor of the game," Sharp shot back to the raggedy-haired Burish.
This kind of back-and-forth was -- and still is -- a signature of the 2010 championship team. It will always be linked, and now many will take the ice together for the first time since leaving it with the Cup in Philadelphia that June.
"It's a great group," Campbell said. "It's nice to get together with one another. It'll be fun to get back in the locker room."
Andrew Ladd
,
Kris Versteeg
and others will join their former teammates for the game while Burish says others will commit as the game gets closer. It'll be a diversion from the business side of hockey which has dominated the headlines during a lockout which began in mid-September. And it will benefit a charity while bringing together an iconic team that fans fell in love with.
"It's a great opportunity to get the guys back together but it's for the fans more than anything," Sharp said. "Some of the guys from the Cup team haven't even had a chance to come back and play against the Hawks so it will be nice to get those guys out. ... No one cares about Burish, we've had enough of him. You saw at the press conference, guys are excited to get back together and make fun of each other just like we used to."
Tickets for "Champs for Charity" can be purchased at Ticketmaster.
June, 11, 2010
6/11/10
10:53
PM CT
When I woke up Friday morning, just two days after the Blackhawks won the Stanley Cup, little did I know what was in store for me. Certainly I thought covering the Hawks parade and rally would be a highlight of the year but to experience it the way that I was able to, was a once in a lifetime event.
It began around 9:30 am, when I arrived at the United Center where the parade was setting up. Double-decker buses were waiting in a parking lot as people assembled for the 10:30 am trip to the rally point at Michigan and Wacker.
First, I took a peek into the rink where so many great memories were made this year. Sitting on the ice like a centerman and two wingers were the Campbell Bowl, the Stanley Cup, and the Conn Smythe Trophy. Just a few pieces of hardware, that's all. Eventually, the team sat behind them on risers for a picture, but not before
Patrick Kane
got a call from President Obama. I'm not sure what the conversation was like, but considering Kane's speech at the rally, I sure hope the CIA was tapping the phone.
[+] Enlarge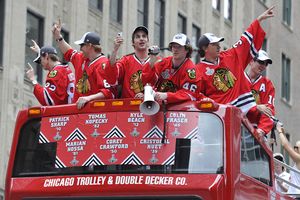 Jim Prisching/Getty ImagesIt has been reported that around two million Chicagoans attended the parade. Few had the view that Jesse Rogers did.
Mayor Richard Daley and Governor Pat Quinn also were on hand as the Hawks alumni began to board their bus, then came the players' families and other front-office personnel. Finally, the current players came out in their red jerseys and boarded the various buses. Each bus had four or five players on it with a couple of bullhorns on each ride to yell at/with the crowd.
I thought I was going to be on a media bus with many other reporters but the Hawks invited a few of us that had covered the team all season to ride on one of the player buses. Best decision they ever made!
The bus that I was on included
Dave Bolland
,
Jordan Hendry
, Jasson Cullimore, and
Dustin Byfuglien
. In front of us was
Kris Versteeg
,
Antti Niemi
,
Andrew Ladd
, and
Bryan Bickell
. Byfuglien had some wild shades on and the "belt" that he apparently won in Game 5 when he scored the game winner. Off we went.
The moment we left the parking lot the cheering started. It didn't stop until we got to the rally point. It only got louder. The noise was incredible. This isn't an arena. It shouldn't be that loud but it was.
As we made our way down Washington St. more and more fans were seen lining the streets. Watching the players take pictures and videos of the fans taking pictures and videos was quite a site. Then there was a crackle on the c.b. radio. Something happened behind us. The Blues mobile had a flat tire. Oops.
As we approached the Chicago River we went under the bridges near Clinton and Canal. Now, the noise really picked up. For a moment we stopped under the bridge and with the weird acoustics in there the cheering almost sounded like a train coming at us. It was that loud and we had not even reached the loop yet. Next was the river and throngs of people as we headed over Wacker Drive. The confetti started coming as Byfuglien grabbed the bullhorn and started yelling while holding up the belt. We turned on to Michigan Avenue. Mayhem ensued.
The next 15-20 minutes were surreal. With confetti raining down on us and people lining streets and in the windows of all the buildings, the noise became deafening. I tried to do a video interview with Jordan Hendry but we just ended up yelling at each other. I didn't know until I watched it later what he said and he probably didn't know what I was asking. It was that loud. I did hear one thing. He said, "I never want this to end." And I understood why.
And the confetti kept coming. Like rain but flying out of buildings. I could only imagine what it looked like from the helicopters flying above.
Now the scene as we approached the turn onto Wacker Drive was just bedlam. The crowds looked 50 rows deep and the noise never stopped. Bolland was egging them on and they responded. Finally, in a sweltering heat the parade came to a halt and everyone had a chance to catch their collective breath.
I watched the rally from in front of the stage while the highlight package they ran reminded me what a long season it had been. After the rally—which was quite entertaining -- I made my way back to the bus that I had come on. Apparently they had trimmed down the number of buses during the speeches and more people were packed into fewer buses. My bus became the main team bus. 10-12 players must have been on it along with all the coaches and a little silver cup as well. Joel Quenneville came to the top of the double decker holding the Stanley Cup. Nice.
It was packed up there and the Cup made its way up and down the top of that bus. It stopped long enough near the front so I could take a quick picture with it. My year was complete. I sat with
Marian Hossa
for a few minutes and he told me he couldn't believe they were chanting his name. Why him, he asked. I told him it was because everyone was so happy for him winning the Cup after two years of losing it. He understood. He said he's going to take the Cup back to where he grew up and let the kids play some street hockey and the Cup will be the prize.
The buses didn't go far, just to a local hotel where the team had a nice buffet and I went on my way. Afterall, though it felt like I won the Cup most of the day, I figured it's time to get back to reality.
On this day it wasn't about reporting or even being fan, it was about experiencing something that happens in Chicago about every 49 years, though I have a sneaky suspicion it might not take that long for the next one.