Chicago Blackhawks:

Team USA
January, 2, 2014
Jan 2
12:21
PM CT
By Mike Mazzeo
Special to ESPNChicago.com
Archive
NEW YORK --
Chicago Blackhawks
forward
Brandon Saad
received a call from his agent Wednesday after he and his teammates arrived in New York.
The news was disappointing.
[+] Enlarge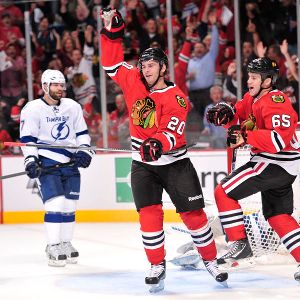 Rob Grabowski/USA TODAY SportsBrandon Saad narrowly missed out on a roster spot with Team USA.
Despite receiving strong consideration for a spot on the 2014 USA Men's Olympic hockey team, Saad was ultimately not selected.
"Yeah (it's disappointing)," Saad said prior to Thursday night's game against the
New York Islanders
at Nassau Coliseum. "You want to make that team. It's a tough team to make, but it was out of my control. I had a good first half. Now, I'm putting that aside and looking to play another."
According to ESPN.com's Scott Burnside, who followed the selection process for months,
Winnipeg Jets
forward
Blake Wheeler
and
St. Louis Blues
forward
T.J. Oshie
narrowly edged out Saad for the final spots up front.
"It doesn't matter if you're the last cut or one of the first cuts," Saad said. "Either way, it's the same result: You didn't make the team. Hopefully, I will next time."
Saad, 21, has amassed 14 goals and 16 assists for the Blackhawks this season.
"There's always some disappointments that fuel the fire a bit and want to make you a better player," Saad said. "You gotta keep working at things."
Saad hadn't heard anything about possibly being brought onto the team if an injury were to occur.
"I'm not sure how that works," he said. "But you obviously don't want anyone to get injured."
"I think he was one of those guys that was on the bubble there," Blackhawks coach Joel Quenneville said. "I'm sure he got consideration. He's still a young guy. In the future, I think he'll get a chance to play on that team."
Although Saad said he appreciates that he is getting some time to rest, Quenneville would've liked to see the young forward make the team and get to face some of the top competition in the world.
"I think that's a good experience for players, getting to play against the top guys," Quenneville said. "I think it can make you a better player going forward."
Forward
Patrick Kane
will be Chicago's lone representative on the U.S. team. Defenseman
Nick Leddy
was also not selected.
"That just speaks to the depth of American hockey these days," Kane said. "For me personally, I'm not worried about who they pick or who they don't pick, I'm just trying to do my job when the time comes around for the team."
Kane has won two Stanley Cup championships since he captured a silver medal with the U.S. team in 2010. Kane feels like his "all-around game" has improved since then. He does not expect to have a leadership role on the team.
"Last time around obviously we had a tough break there in the finals, but we were able to come away with the sliver medal, and I don't think anyone even expected us to get that far," Kane said. "This year, there's more expectations probably on our country and our group as a whole, so hopefully we can produce and come up big when the time rolls around."
January, 1, 2014
Jan 1
6:41
PM CT

By Scott Powers
ESPNChicago.com
Archive
CHICAGO --
Chicago Blackhawks
forward
Patrick Kane
has had enough time to get over Team USA losing to Team Canada in the gold-medal game of the 2010 Olympics.
[+] Enlarge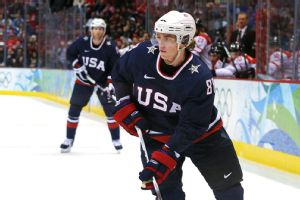 Richard Mackson/USA TODAY SportsPatrick Kane was part of the silver-medal-winning U.S. team in 2010, and now he's back for another chance in 2014.
Four years later, Kane looks back on his team's 3-2 overtime loss as a great life experience more than anything else.
"It was amazing just to see people in the crowd after Canada won," Kane said after practice Wednesday. "Grown men crying and hugging each other and just kind of looking around the stadium and taking it all in was pretty amazing. When you look back, you wish you could have won the gold, but it was still an amazing experience."
Kane will get another opportunity at a gold medal next month as he was officially named to the USA's 2014 Olympic team Wednesday. Blackhawks forward
Brandon Saad
and defenseman
Nick Leddy
were not selected to the team. All three players attended Team USA's orientation camp in the summer.
Kane spoke to the media in Chicago before the announcement Wednesday.
"It would be an honor to represent your country, especially an event like the Olympics," Kane said. "I was fortunate enough to do it in 2010, and it was a great feeling to be there as part of the USA team and great experience as well to play at that level of competition. It would be fun to do it again for sure."
Kane hoped to have a larger leadership role this time around. He was just 21 years old during the last Olympics. He's now 25 and has two Stanley Cups under his belt.
"I feel like I've been in a position where I've played a lot of hockey and played at some high level competition with the Stanley Cups and Stanley Cup playoffs and playing in the Olympics before," said Kane, who had three goals and two assists during the 2010 Olympics. "You have a little bit of a grasp of what can happen."
Kane went through nearly every emotion possible during the gold-medal game in 2010.
February, 23, 2010
2/23/10
9:27
PM CT

By Jesse Rogers
ESPNChicago.com
Archive
The U.S. men's hockey team takes on a dangerous Swiss team in their quarterfinal matchup on Wednesday afternoon. It's a rematch of each team's first preliminary game, won by the Americans, 3-1.
Switzerland might be the kind of underdog team no one wants to play. They've already gone to three shootouts, winning two of them, while keeping the U.S. game close enough for some concern.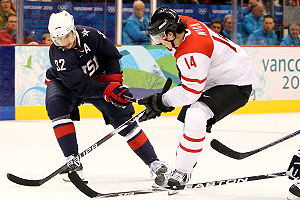 Bruce Bennett/Getty ImagesIn the United States' first meeting with the Swiss, the Americans came out on top 3-1.
As the No. 1 seed coming out of the prelim games, the Americans now have a bull's-eye squarely on their backs. They aren't sneaking up on anyone. The biggest surprise might be their defense.
In the upset win over Canada, not only did they keep the potent Canadian offense in check, the defense contributed five points, including two goals. As NBC analyst Eddie Olczyk pointed out recently, the Americans don't have a defenseman among the NHL's top 25 in scoring. Brian Rafalski's four goals easily leads all blueliners in this Olympics and is more than most teams have scored from their defense
combined
. It also matches his total in 57 games this season for the
Detroit Red Wings
.
Switzerland has played pretty much the same no matter the opponent. The smaller rink has benefited the tight checking unit while smart hockey has been their best weapon. Of the teams outside the top six or seven, the Swiss are probably the most dangerous. They almost pulled off an upset themselves against Canada, losing in one of those three shootouts. Not bad for a team extremely light on NHL players.
The game is at noon, local time, but Brian Burke probably won't be complaining.
Burke, the general manager of Team USA , didn't like the fact his squad had early start times in its first two preliminary games. Switzerland played the early game on Tuesday, beating Bealrus 3-2 in a shootout. That came after 60 minutes of play in regulation and 10 minutes of overtime. So it's a quick turnaround for the Swiss, trying to pull off a big upset of their own.
Team USA strategy should be simple: Use their speed and youth to wear down the Swiss. Back-to-back games in a single elimination tournament can be killer. No time for practice and no time to catch your breath. The U.S. team has been off since Sunday, so it should be ready.
Jonas Hiller
has been very good so far for Switzerland, but this is the time when the workload and the close games should start to catch up with him -- that is, if the U.S team attacks, which it should be able to do more than it did against Canada.
A win and the U.S. will automatically play for a medal, no matter what happens in the next round. A loss, and the first three wins, especially the one over Canada, will have little meaning.
Prediction:
It will be close early. Maybe the Americans trail at some point but by the third period
Ryan Miller
will do his thing and the offense will provide enough. The U.S. wins 5-2 and heads on to the semifinals.
February, 22, 2010
2/22/10
4:11
PM CT

By Jesse Rogers
ESPNChicago.com
Archive
[+] Enlarge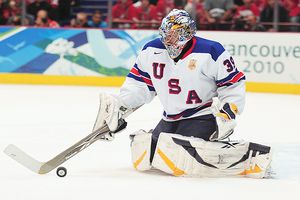 Kyle Terada/US PresswireTeam USA goalie Ryan Miller stopped 42 shots on Sunday night against Canada.
The amazing win by the U.S. team over Canada has created a hockey buzz we haven't seen in a long time. It's nice hearing from people who are jumping on the Olympics or even the
Blackhawks
bandwagon after Sunday's win. Just think if they

faceoff

again for a medal. Close the borders!
So how did the Americans pull off the upset on the eve of the 30-year anniversary of another little, winning, underdog team?
First of all, it's one game and not even one game for all the marbles. It's not like the U.S team was made up of a bunch of amateurs from college. They are all in the NHL, which makes this an upset but not as historic as you might think.
It actually reminded me of a losing

Blackhawks

game. Where have we seen a team

outshoot

its opponent 45-22 and lose? I

blogged

right after the game that Marty

Brodeur

had a
Cristobal

Huet
-type game. He stopped 18 of 22 shots. The other guy: 42 of 45. But there was more to it than just one goaltender outplaying another. How the game played out was very important.
The early goal lifted the U.S., no doubt about it, but the game was far from over. Like the Hawks often do, the Canadians put offensive zone pressure on throughout the opening period. Long shifts were spent in the attacking zone but by the end of 20 minutes, Canada still trailed 2-1. This was key. Shots on goal? Nineteen to 6 in favor of the Canadians. The extended pressure amounted to nothing, but it's the sort of thing that should pay off later, if the attacking team continues its dominance.
This is where the pressure started to get to Canada. Nothing was getting by
Ryan Miller
so shots were being passed up for a potentially prettier play. Mike

Babcock

shortened his bench again and moved people around. Instead of getting some life, the game evened out and propelled U.S. confidence further. Shots on goal in the second: 13 to 12 in favor of the American team.
The third period was mostly about hanging on, and the U.S. did just that, thanks to Miller. The mistakes came earlier. I don't know what

Babcock

said to his team in the first intermission but it should have sounded like, "Don't change a thing. We'll get to him."
It never happened.
This game basically reminded me of the Hawks-Sharks game on Dec. 22. The Hawks

outshot

San Jose 47-14, but the Sharks took advantage of their limited opportunities to win the game 3-2. The only difference is, you could practically see the confidence in the U.S. team rise on Sunday, as the game went along.
One tangible analysis of the Canadian team is their defense might be overrated a tad.
Duncan Keith
has probably been the most consistent player. The defense has no goals and 10 assists in the three games, but six of those helpers came in the 8-0 shutout of Norway. They just haven't been a dominant factor on either end of the ice.
Playing time tells the story, and in the biggest game in recent Canadian history, 20-year-old
Drew Doughty
played more than
Chris

Pronger
,
Dan Boyle
, Scott

Niedermayer

,
Brent

Seabrook
, and
Shea Weber
. Nothing against the kid -- he's good -- but if

Babcock

is turning to him at the most crucial of times, maybe those potential Hall of

Famers

aren't as good as most thought. It's just not a scary defense by any definition.
Add one more extremely obvious thought: Though the Canadian team is stacked with talent, only five at a time can be on the ice. It sounds silly, but I believe plenty of people got caught up in all the big names this team has, but when five are on the ice against any American five, are they that much better?
Apparently not.
Ron Wilson has coached magnificently so far. He has the easier job in the motivation department, that's for sure. The underdog role is an easy one to play up. When nothing less than gold is tolerable, it can be harder than coaching a less talented team.
That's what

Babcock

faces. Maybe the loss will loosen up the Canadian team, and maybe the win will put the Americans in the role Canada had in the first week: as the hunted. Whatever happens, week two could be even better.