Chicago Blackhawks:

Trade
June, 19, 2012
6/19/12
5:12
PM CT

By Jesse Rogers
ESPNChicago.com
Archive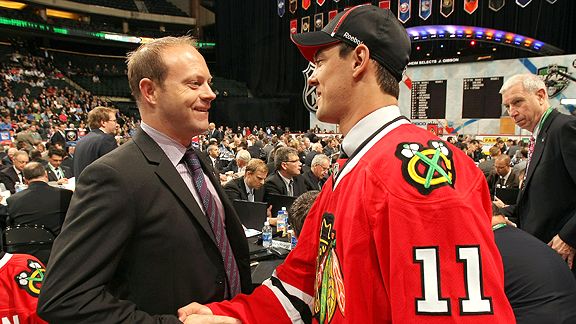 Dave Sandford/NHLI/Getty ImagesIt remains to be seen if Stan Bowman will be as active as he was last year around the draft.
CHICAGO --
Chicago Blackhawks
general manager Stan Bowman said Tuesday that his team is dealing from a "position of strength" as the NHL heads into the meat of the offseason beginning with this weekend's entry draft in Pittsburgh.
After re-signing
Brandon Bollig
on Monday the Hawks have 23 players under contract who finished last season with the team or on injured reserve. Without any roster "holes" Bowman said he can concentrate on simply improving his team.
"If there are deals to be made we're not hesitant to do that," he said in a pre-draft conference call on Tuesday. "It has to be the right fit. There has been a lot of discussions over the last couple of weeks and I'm sure there will be even more leading up to Friday (the NHL draft), but it's not an objective to make a certain number of moves.
"We're always trying to improve our team and sometimes that's just keeping our picks and using them. Sometimes it's making moves, whether it's trading picks or players, so there has been a lot of discussions and we're open to that but also we're not counting on anything."
At the draft last summer Bowman traded star defenseman
Brian Campbell
to Florida and forward
Troy Brouwer
to Washington. He couldn't say whether that kind of movement would happen again.
"(We're) dealing from a position of strength if we choose to make moves," Bowman said. "We don't have to make moves. We can kind of be selective in doing things that will improve our team going forward. It's hard to say at this point our team is going to be the exact same as it stands right now ... We're always talking and considering opportunities and if something makes us a better team then we'll pursue it. It's possible we'll make moves but we don't have to."
Bowman didn't rule out going after free agents though he admitted other moves might have to occur in order to bring a new player on board. He also said the salary cap should be in the range of $70 million as has been rumored though the current collective bargaining agreement between the owners and players expires in September.
The Hawks have been ousted in the first round of the playoffs the last two postseasons after winning the Stanley Cup in 2010.
February, 17, 2012
2/17/12
3:35
PM CT

By Jesse Rogers
ESPNChicago.com
Archive
Chicago Blackhawks
general manager Stan Bowman's "logjam" is over. Trading season in the NHL commenced on Thursday with the move of
Dallas Stars
defenseman
Nicklas Grossman
to Philadelphia and
Tampa Bay Lightning
center Dominick Moore to San Jose. Montreal defenseman Hall Gill was sent to Nashville on Friday.
The rival Sharks got a center they needed but not necessarily one the Hawks wanted. Moore fits a third line role on a contending team. The Hawks are set there. Grossman was coveted by Chicago but the demands were too high, according to sources who confirmed to ESPNChicago.com the Stars wanted highly touted prospect
Brandon Saad
in exchange for the defenseman. Gill also would have been a nice fit, but another rival got him as well.
So it goes for Bowman. Hawks' fans have been waiting for a deal to help their ailing defense, and Bowman hasn't been shy about saying he wants to add to his blue-line. It has yet to happen.
You can't blame him for turning the Grossman deal down, but was there something in between Saad and what the Flyers gave Dallas? Grossman only cost them a second-round pick in 2012 and a third-round pick in 2013.
The Hawks could have matched that offer or exceeded it, by at least a small margin, if they wanted to. Then again Saad was a second-round pick himself, and that's what Dallas wanted. The difference is knowing the player, who in this case a pretty good prospect, as opposed to an unknown future pick makes a world of difference.
Of course, it's possible Dallas needed to be wowed by a playoff contender in the West, such as the Hawks, to trade Grossman within the conference. Dallas isn't exactly out of the playoff race and helping a rival probably isn't the best form of business. However, logic says Grossman isn't such a special player the Stars would take a decidedly worse offer just to move him to the other conference.
But it's water under the bridge now. He's off the list as a potential addition to the Hawks as is Gill. Most of the behind-the-scenes conversations about these deals or non-deals won't come to light, but at the end of the day on Feb. 27, the NHL trading deadline -- Bowman will be judged on how he helped or didn't help the Hawks no matter the circumstances.
Pavel Kubina
of Tampa Bay or
Chris Campoli
of Montreal as well as
Marek Zidlicky
of Minnesota all remain possibilities for the Hawks. There are others as well. The point being, Bowman and other general managers have been saying for a while "there's no movement right now" in the trade market, but that no longer applies.
The trade deadline is nearing. It's time for the Hawks to get serious about adding a piece or two. If the recent nine-game slide re-enforced anything, it's that the Hawks need help.
March, 2, 2010
3/02/10
5:44
PM CT