Chicago Blackhawks:

United Center
September, 5, 2013
9/05/13
2:10
PM CT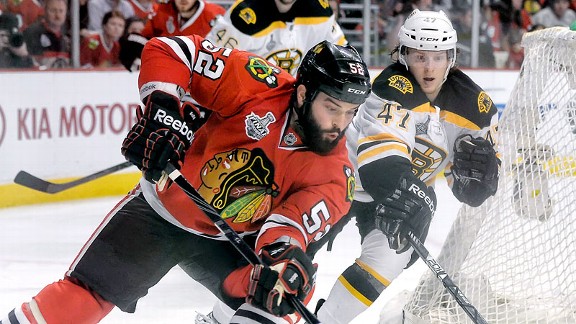 Robin Alam/Icon SMIIs there a spot for an enforcer such as Brandon Bollig on the Hawks roster this season?
A Stanley Cup repeat attempt with nearly everyone back, the Olympics, Bryan Bickell's emergence, the continued evolution of Patrick Kane and Jonathan Toews, Nikolai Khabibulin's return, trying to replace Michael Frolik, Andrew Shaw's continued growth as an agitator -- the storylines should be aplenty for the Chicago Blackhawks in the 2013-2014 season.

ESPNChicago.com's Blackhawks reporter Scott Powers will count down this season's top 50 storylines over the next week leading into training camp.
Here's the first installment:
50. Bollig, the enforcer
The Blackhawks will likely be auditioning for five roster spots during training camp. One of those positions will likely go to
Brandon Bollig
. Some may argue enforcers aren't really needed on a team, but Blackhawks coach Joel Quenneville has often liked to have someone who isn't afraid to drop his gloves and step up for his teammates. With
Jamal Mayers
and
Daniel Carcillo
gone, there aren't many of those type of players remaining on the roster. Bollig led the Blackhawks with five fights last season. He will be looking for his first career point this season. He has zero points in 43 career NHL games.
49. Sellout and attendance streak
The Blackhawks are aiming to lead the NHL in attendance for the sixth consecutive season. They have sold out the United Center for 187 consecutive regular-season games dating back to the 2008-09 season. They averaged a paid attendance of 21,775 during their 24 home games last season.
May, 29, 2013
5/29/13
1:18
PM CT
CHICAGO -- The Chicago Blackhawks and Detroit Red Wings deemed the United Center's ice satisfactory Wednesday prior to Game 7 of their Western Conference semifinal series, despite a Rolling Stones the night before and high heat and humidity.
Read the entire story.
February, 12, 2013
2/12/13
4:56
PM CT
CHICAGO -- The road has been extremely kind to the
Chicago Blackhawks
this season, but their preference is still to be in their own locker room, in their own building and in front of their own fans.
The Blackhawks finally returned to the United Center on Tuesday for a morning skate after their six-game, 13-day road trip and will back before their fans for the first time since Jan. 27 on Tuesday night when they host the
Anaheim Ducks
.
"It's really nice," said Blackhawks forward
Patrick Kane
of being home again. "I think two weeks on the road it's nice to be with the guys for a long time, kind of bond especially at the beginning of the season. But it's always nice to come back home. Anyone who tells you different is just lying to you. It's a good feeling to be back. Hopefully, we can get a win in front of the home crowd tonight."
Winning has been what the Blackhawks have done most of the season. They head into Tuesday's game with a 10-0-2 record and a NHL-leading 22 points.
The Blackhawks' record is somewhat surprising since they opened with 10 of their first 12 games on the road. They've won their two home games and have gone 8-0-2 on the road. They completed their latest six-game road trip with a 4-0-2 mark.
"You look at the schedule to start the season after 12 games you're kind of forecasting where you'd like to be, but we're very happy where it all ended up," Quenneville said. "It's always nice to be at the United Center playing in front of our crowd, the excitement of the building and knowing we don't want to change too much in approach to the games and intent to what we accomplish, but let's try to be consistent, play the same way and enjoy what it's like to be here."
Quenneville did say he was mindful of the difficulty of the first home game following an extensive road trip. Despite that, the Blackhawks have had plenty of success in the past five seasons after long trips. After trips of six or more games, the Blackhawks have gone 8-2 in their first game back at the United Center.
"I like the momentum of our team game right now," Quenneville said. "I think the enthusiasm in the locker room is in place. But it's always a tough game first game back after a long Western trip even though we finished in Nashville. But I think being in Nashville for a few days, maybe we can look at that as kind of the end of trip, we're kind of home. But we'll see. But I'm sure our guys will be excited to be at home, and I'm sure the crowd will be, too."
As pleased as the Blackhawks are with their start, Kane said they have to be aware they're only a quarter of the way through the season
"I think one of the things you got to be careful too is it's only 12 games into a season," Kane said. "That's one thing I keep trying to tell myself. It's only 12 games and just keep improving. Try not to be satisfied with what's happened so far for myself personally and the team. We've been winning a lot of games and things have been a lot of fun around here, but can even get better."
January, 20, 2012
1/20/12
11:40
PM CT

By Jesse Rogers
ESPNChicago.com
Archive
CHICAGO -- After the game was over, several Chicago Blackhawks' players showed their appreciation to the crowd for literally weathering a storm to make it to the United Center for the Hawks 3-1 victory over the Florida Panthers on Friday night.
A blizzard pushed back the start time to 8:00 pm and despite horrendous travel times nearly every seat was full.
"I noticed that," Duncan Keith said. "It was pretty cool to see that. It was tough for the players to get here and so for the fans to make it after work and everything it was pretty impressive."
For some fans it took up to five hours. For players who normally live minutes away it took far longer than usual.
"It was a little bit different," Patrick Kane said. "It was nerve wracking trying to get to the game. I actually left earlier than usual. It was pretty crazy going through it. I live 10-15 minutes from the rink and it took me an hour and a half to get here. It was good to see all the fans come out through a snowstorm like that."
Joel Quenneville wasn't fining any players who arrived late. He wasn't sure if it was Marian Hossa or Corey Crawford who was last in the building.
"He [Crawford] had a tough stretch there, said he never moved in traffic for half an hour," Quenneville said.
The Panthers arrived at 6:45 p.m. Normally, the visiting team bus gets to the United Center between 5-5:30 p.m.
Slappers

• Jonathan Toews took a slash to his left hand by Eric Gudbranson in the second period but claimed to be fine afterwards.
"Took a whack on the hand," he said. "Nothing serious. Should be ready for tomorrow [Saturday] night."
• After the game the official scorer added an assist to Toews on Patrick Kane's goal giving him 50 points on the season in 48 games played.
• After struggling for a bit Nick Leddy has turned things around. He extended a point streak to four games with his 22nd assist of the year, good for 10th among NHL blueliners. He has tallied four helpers and a +6 rating during the four-game streak.
• Marian Hossa has points in seven straight games after collecting his team leading 32nd assist.
• The Chicago Blackhawks announced Friday that weekend passes for the fifth annual Blackhawks Convention will go on sale on Tuesday, Jan. 24 at 11:00 a.m. The Blackhawks Convention will take place at the Hilton Chicago (720 S. Michigan Ave.) on Friday, July 20 through Sunday, July 22. Fans interested in attending can purchase weekend passes online at chicagoblackhawks.com, at the United Center box office, or through Ticketmaster at 800-745-3000 beginning at 11:00 a.m. on Tuesday morning.
November, 3, 2010
11/03/10
11:11
PM CT

By Jesse Rogers
ESPNChicago.com
Archive
CHICAGO -- It's something no one is used to: The Hawks losing at home.
After suffering only eight regular-season losses at the United Center a year ago, the Hawks dropped their fifth already this season, to the lowly New Jersey Devils, 5-3.
[+] Enlarge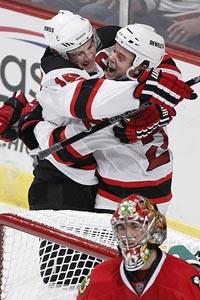 AP Photo/Brian KerseyThe woeful Devils had plenty of reasons to celebrate druing a win over the Hawks at the UC.
They fought back to tie the game at 2-2 in the third period, but this one may have been lost to a sleepy start.
"There really is no excuse for that," Fernando Pisani said after the game. "We need to pride ourselves on being a high energy team that gets four lines going."
Pisani scored his first goal as a Hawk, but that was after plenty of energy was expended on the comeback. The Hawks only had five shots and no power-play attempts in the first period. That picked up, but it was too little too late.
"We have to take pride in getting better starts," Viktor Stalberg said. "It doesn't matter who is out there, especially on home ice."
Stalberg had a goal and two assists, but it wasn't enough. Joel Quenneville offered his explanation for his team's home woes.
"Last year one of our strengths was the pace in our game," he said. "We want to make sure we sustain it and make the other team try to catch our pace. But at home this year whether it's been our start or the game, we want to be better."
Translation: Thirty-or 40-minute efforts aren't good enough. The Hawks have to get back to skating for a full 60 minutes.
"Definitely tough," Quenneville said. "Very comparable how we've lost here at home. Five games 2-2 in the third and we don't get a point."
Lost opportunities that Quenneville warned "you don't get another chance at." Those points are lost and the Hawks need to clamp down before they lose any more.
Your request cannot be processed at the current time. Please check back as we will work to correct the problem as quickly as possible.
Please feel free to send us any comments or feedback.