October, 22, 2014
Oct 22
3:07
PM CT
CHICAGO -- The NBA voted down the plan to
restructure the league's draft lottery
, and
Chicago Bulls
coach Tom Thibodeau elected not to gamble with his own money.
Asked about the vote to not change the current lottery system, which some point to as encouraging teams to tank games to improve their draft odds, Thibodeau started to answer and then stopped.
"The thing that I don't like about it is," Thibodeau said before pausing. "It just seems like … I think it's bad when …"
Thibodeau then wrinkled his face.
"No, I don't know," he said. "I guess it's fine. I'll try to save my money."
That money Thibodeau was trying to save was a potential fine for being critical. So he gathered himself and started all over again.
"Nah, I want what's best for the game," Thibodeau said. "I guess there's always flaws in any system you use. But I think the intent of trying to do your best is important for the game. When there's so-called incentives to lose, I don't think that does anyone any good.
"I think we have a great game. It's in a great place. We have to keep striving to keep it there and to improve it. I do like the fact they're looking at those type of things. I have a lot of confidence in [commissioner] Adam [Silver]. I think he's going to be terrific, so whatever he decides, I'm good with."
Now there's a lesson on turning a negative into a positive.
The Bulls haven't been in the draft lottery since 2008, when they ended up with the No. 1 overall pick despite a 1.7 percent chance to nab the top spot. They used the pick on
Derrick Rose
.
October, 22, 2014
Oct 22
2:31
PM CT
CHICAGO --
Chicago Bulls
head coach Tom Thibodeau will not commit to a minutes restriction plan for any of his players, especially when there still is a week of preparation time remaining before the regular season begins.
Yet, with
Derrick Rose
returning from essentially a 2½-year absence and
Joakim Noah
coming off knee surgery this offseason, Thibodeau will be forced to take a road lesser traveled for him: Keeping playing time to a reasonable level.
"We'll just see how it goes," Thibodeau said. "We've got some guys where it's a situation where they need to work, they need to play. But they also need to do what they can handle. It all plays into it."
With the Oct. 29 season opener at New York fast approaching, Thibodeau no longer seems as high-strung about the preparation process as he did earlier in camp when he didn't feel the team was coming together fast enough.
"We're not there, but we're moving in the right direction," Thibodeau said Wednesday. "We all have to do more. It'll be here before you know it. Every game reveals something to you. I think we learned a lot from the Cleveland game (Monday). It was good for us.
"There was a lot that happened: back-to-back, an injury (playing without
Jimmy Butler
), minutes restrictions. That tells you everyone has to be ready. And you have to find a way. That's why it's so important for everyone to know what they have to do when they get out here."
Noah continues to insist that his knee continues to get better and was asked if he experiencing any pain.
"Nope; none at all," he said. "In the beginning, I was a little bit more uncomfortable, I was a little limited. I still have to get my strength back; I have to get the strength back in my leg. I'm just trying to manage practicing, playing. But overall I'm happy with where it's at."
He also knows he doesn't figure to be ready to go from tip off to final buzzer by next week.
"There's a plan," Noah said. "We'll just take it day by day and see how it feels, see if there are any setbacks."
Thibodeau might like to get the most out of his players physically, but he isn't blind to Noah's situation. One major hurdle cleared was having Noah play in games both Sunday and Monday.
"He's a work in progress," Thibodeau said. "I think he's starting to feel better. You can see his timing is coming around. For him, that was his first back-to-back. That was good. He has to work at it."
October, 22, 2014
Oct 22
2:13
PM CT
CHICAGO -- While the
Chicago Bulls
continue to operate on the premise that
Jimmy Butler
will need a week for his left thumb injury to heal, coach Tom Thibodeau will move forward as if he won't have one of his top defenders for the season opener.
Butler injured his left thumb in the first quarter of Sunday's preseason game against the
Charlotte Hornets
. An MRI on Tuesday confirmed that he has sprained ligaments in the thumb on his non-shooting hand.
If Butler remains on his one-week timetable, he would be ready to play in the Oct. 29 season opener at New York against the Knicks. Thibodeau will believe it when he sees it, though.
"Obviously, I'd prefer to have him, but if we don't, we don't," Thibodeau said after practice Wednesday. "We have more than enough. Next guy step up, get in there, get the job done. That's why you have 14 guys. You prepare for everything.
"An injury can happen at any time. That's why it's so important for everyone to be ready. Even though you may not start off in the rotation, when that time comes you have to be ready. I think we have the type of guys that will be ready."
October, 22, 2014
Oct 22
10:36
AM CT
ESPN.com news services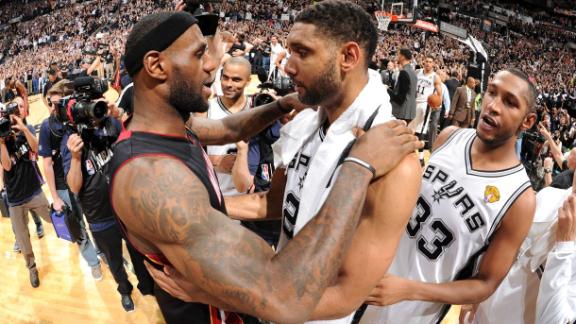 The San Antonio Spurs are an overwhelming choice to repeat as NBA champion while LeBron James is the favorite to win the MVP award, according to NBA.com's 2014-15 survey of league general managers.
The general managers gave their answers to 56 questions and were not permitted to vote for their own players or team.
In the survey, the Spurs were chosen to repeat as NBA champion with 46.2 percent of the votes, finishing far ahead of the second-place Cleveland Cavaliers (15.4). The Miami Heat were picked in 2013 by NBA GMs to win the title (75.9 percent).
James was the runaway winner in the MVP category, chosen by 67.9 percent of respondents to win the award for the fifth time in his return to Cleveland. The Oklahoma City Thunder's Kevin Durant, who is out for an indefinite period with a Jones fracture in his right foot, finished second (21.4 percent). Durant won the award last season.
James' return to Cleveland was picked as the most surprising move of the offseason (42.9 percent) while the Cavaliers were lauded for making the best offseason moves (89.3).
October, 21, 2014
Oct 21
5:55
PM CT
Chicago Bulls
swingman
Jimmy Butler
will not practice this week and will not play in Friday's preseason finale after an MRI confirmed he sprained ligaments in his left thumb. The Bulls announced the news Tuesday and said that Butler would be re-evaluated later in the week.
Butler injured the thumb during Sunday night's win over the
Charlotte Hornets
after going for a steal in the first quarter. He stayed in the game for a few more minutes after the initial injury but was taken out and never returned. He wore a splint on the thumb while working out on Monday night.
He has been the Bulls' most consistent player in the preseason on both ends of the floor. Bulls head coach Tom Thibodeau started veteran
Kirk Hinrich
in Butler's place on Monday and may decide to leave him in the starting lineup in the short-term future to play alongside
Derrick Rose
.
October, 21, 2014
Oct 21
9:12
AM CT
It's that time when we hardworking analysts tie our summer efforts together and declare how each conference has rearranged itself for the coming season. And the Eastern Conference in particular has undergone a major makeover, with the Cavaliers -- now featuring LeBron James and Kevin Love -- transforming from doormat to title contender.
For me, this exercise is actually the punctuation mark for my summer position rankings. That is, I've taken the methodology introduced in that series and pulled it together in a model to estimate team performance.
To extract these projected win baselines from my system, NBAPET, I've used my old methodology based on similarity scores and athletic factors to calculate how many possessions each player will have while he's on the floor and how efficiently he will use them.
This year, I integrated real plus-minus into the process to estimate how players affect the possessions they don't use. Using play-by-play data from Synergy Sports Technologies, I've replicated this process for both ends of the floor. The last two steps are familiar: Estimate playing time based on durability trends and role, then run the preliminary win estimates through a season simulator 1,000 times.
What we're left with are the numbers below, which represent the average number of projected wins for each team in 2014-15.
1. Cleveland Cavaliers (projected wins: 61.7)

If the bet is whether the Cavaliers win the 2015 Finals or the field, you take the field. Nevertheless, it's hard to imagine how an objective forecast system would assign better title odds to a team other than Cleveland. On paper, the big four of LeBron James, Kevin Love, Kyrie Irving and Dion Waiters comprise a near-perfect offense, one that should rank in the top five in all of the four factors. The defense projects pretty well, too, though there is plenty of reason to be skeptical of that part of the prediction. We have six months to nitpick about the Cavs; right now they have about a 1-in-3 chance of winning it all.
October, 21, 2014
Oct 21
9:00
AM CT
COLUMBUS, Ohio -- Tom Thibodeau does not believe it's fair to try to compare
LeBron James
to other players at this point in his career. After all, James is still just 29 years old and doesn't appear to be slowing down anytime soon. But that doesn't mean the veteran coach can't heap some heavy praise on James and his prolific, all-around game.
[+] Enlarge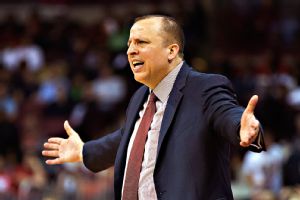 Greg Bartram/USA TODAY SportsTom Thibodeau is just 2-8 against LeBron James as a head coach.
"Obviously, what he's done has been great," Thibodeau said Monday before the Bulls' game against the
Cleveland Cavaliers
. "I think it would be unfair to him to judge him now. I think when you're judging greatness, it's having the ability to judge it over a long period of time. Until he's done, we won't know ultimately, but he's right up there with the all-time best. When you look at it, to do it year after year, he doesn't miss many games, he's been very durable. He's a great competitor, and he makes his team win."
Thibodeau would know. Although he had some success against James during his time as an assistant with the
Boston Celtics
, Thibodeau is just 2-8 in the playoffs against James as a head coach. He knows James has the rare ability to make a play even when the defense can be drawn up perfectly.
"He's a great player," Thibodeau said. "[There's] not many things he hasn't seen. Sometimes you could do it perfectly, and he still can hurt you. The idea is you want to make him work for what he gets, but you can't do it at the expense of leaving everyone else open. The challenge when you're guarding somebody like that is you're helping with him, but you're also getting back to the other guys. It requires multiple efforts and challenging shots and finishing your defense. When you're dealing with a star that passes the ball like that, what it does is it makes everyone else a lot better. He tests you in every different way."
James' test is one Thibodeau knows the Bulls must be prepared for this season. Although he does not like seeing him on the opposite end of the floor, Thibodeau appreciates how good James has become. He knows that in order to be the best, the Bulls are eventually going to have to get through the best player in the league.
"If you're a competitor, I think that's what you want," Thibodeau said. "When you're facing great teams and great coaches, that's what makes it challenging. We know it's not about one guy -- it's about the team. Same for us. When you're facing a great team, it requires you to make sure that you're committed to playing as a team. If we stray off and try to do it individually, we'll be in trouble."
In listening to Thibodeau speak about James, it's also clear the domineering head coach is appreciative of how James goes about his business. Thibodeau likes that James thinks for himself and does what he believes is right. That's why he never seemed shocked James came back to Cleveland for the second time earlier this summer.
"The one thing about LeBron is he stays true to himself," Thibodeau said. "I don't think he gets wrapped up in criticism or praise. He does what he thinks is right. He made a bold decision to leave. He made a bold decision to come back. But ultimately, he did what he felt was best for him and his family. I've got great respect for him as a competitor."
October, 20, 2014
Oct 20
10:57
PM CT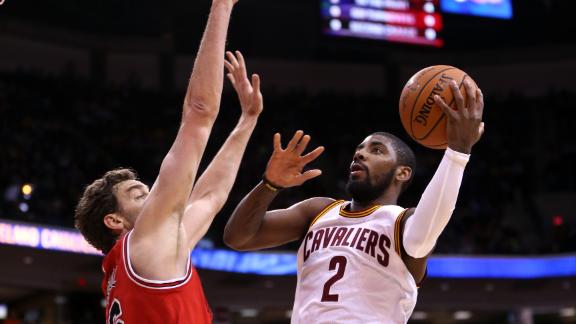 COLUMBUS, Ohio -- There were nearly a dozen advance and personnel scouts on hand Monday night at Ohio State, flying to a non-NBA city because they wanted to see what perhaps was the most relevant preseason game that's taken place so far this month.
The Cleveland Cavaliers deployed their full team and the Chicago Bulls did as well, save for Jimmy Butler, who had to miss the game with a thumb injury he suffered Sunday night.
Their reports back across the country, both the official versions and what they were texting to their peers, no doubt contained two strong bullet points: 1. The Cavs are primed to be a fearsome offensive juggernaut, and 2. Derrick Rose really and finally looks like he's back.
The Cavs weren't even operating that efficiently, and they racked up a 107-98 victory in which most of the front lines played until the end. This was against a Bulls defense that will once again be among the league's best this season. And with Kevin Love, who came in shooting 57 percent in the preseason, having a course-correction game in which he shot just 2-of-10.
They are averaging 107 points a game in the preseason and LeBron James hasn't played more than the 32 minutes he logged in this one, Kyrie Irving has missed three games and coach David Blatt hasn't fully installed his modified Princeton offense.
October, 20, 2014
Oct 20
10:41
PM CT
COLUMBUS, Ohio --
Derrick Rose
does not like talking about one-on-one matchups. Like his coach Tom Thibodeau, he knows games are won and lost as a team. But that doesn't mean Rose didn't have a little extra motivation to perform well Monday night against
LeBron James
and the
Cleveland Cavaliers
.
"It's basketball," Rose said. "I've been competing my whole life. I'm used to the stage, I'm used to playing against very good people, very good talent, and that's all they got on that team is talent, so you know, when you play against them, you know you got to come out here and ball."
Rose and Thibodeau got a firsthand look at James' new running mate,
Kyrie Irving
, this summer, when the trio represented Team USA in the FIBA World Cup of Basketball.
"Kyrie, he's a young guy that's gotten better and better," Thibodeau said. "He's a star. He's a superstar.
"He played great for Team USA. He can shoot, he can break you down off the dribble, he can make plays. I thought his defense was excellent throughout [the tournament]. He did a really good job. He's right up there at the top of the league. There's not much he can't do. Obviously, handling the ball [and] pick-and-rolls. He can play off the ball, too. But he's a very good player."
While it was clear from Rose's play that he was more amped than usual for this contest, the former MVP said he's feeling good as he gets set for the regular season. Monday's game marked the second set of back-to-backs he has participated in this preseason.
"After every game, Jen [Swanson] always tells me I should feel like I always do [even] more," Rose said. "That's how I feel right now, even though I played the back-to-back. Both games were hard, [but] I feel like I could always go out there and play again. Just taking my time, listening to everything that they tell me to do and really listening to my body and conditioning my body -- that's key."
Noah enjoys being at Ohio State:
Joakim Noah
likes being booed. He enjoys playing the role of villain to fan bases throughout the country. He took more pride in that role than usual Monday night at Schottenstein Center, the home of the Ohio State Buckeyes, the team the University of Florida, led by Noah, defeated in the 2007 national championship. Noah admitted to looking up at Ohio State's runner-up banner that hung in the rafters.
"It's because we won the championship," Noah said of the boos. "And then we beat them in football. It's all good, though."
Noah also took pride in the fact that Monday's game marked the first pair of back-to-backs he has participated in this season, as he continues to recover from offseason knee surgery.
"I feel good, and I feel like I can do more," he said. "I'm just happy. Compared to how I felt two weeks ago, I feel like it's just progressing, and that's a positive."
The last word:
Noah, on Rose's 30-point performance: "It's big, especially with everything that he's gone through. He's the fastest guy on the court, by far. ... I like his mentality. He's aggressive, and I think we're going to be really good."
October, 20, 2014
Oct 20
10:09
PM CT
COLUMBUS, Ohio -- The most noticeable part of
Derrick Rose
's 30-point explosion was the impact it had on the rest of his teammates. The
Chicago Bulls
lost to the
Cleveland Cavaliers
on Monday night, but you wouldn't have guessed it from the smiles that lit up their faces while they talked about Rose performing at the highest level again. They watched as Rose drove to the rim and knocked down jumper after jumper in the first half. They nodded in appreciation as Rose's cuts opened up the floor for everybody else. This was the man they've been waiting to see, waiting to play with since Rose tore the medial meniscus in his right knee. This is the man who can lead the Bulls to a championship. Most importantly, this is the man who gives them hope.
[+] Enlarge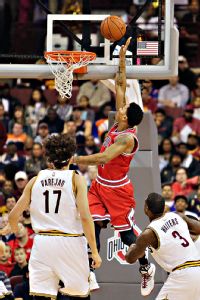 AP Photo/Jay LaPreteDerrick Rose's vintage effort against the Cavs served as a reminder to LeBron and the league that he and the Bulls are going to be a force in the East if they can stay healthy.
"It [brought] up old memories, man," Bulls power forward
Taj Gibson
said happily. "Just a good positive thing to take from this game. Derrick looked great."
For the first time in almost a year, Rose looked once again like the player he used to be before his initial ACL injury in the first game of the 2012 playoffs. He looked like the type of player who could put a team on his back and carry it to a different place. For the Bulls, watching Rose dominate offensively was like watching an old favorite movie for the first time in a while. His play brought up the confidence level of everybody around him.
"You're talking about an MVP-caliber player," Bulls head coach Tom Thibodeau said. "So it makes the game easy for everybody. He's getting easy baskets in transition, he's attacking in the pick-and-roll, he's in the paint making plays, so it's a positive."
It's also a large negative for the rest of the league if Rose can continue turning back the clock like this. While there is no such thing as a statement game in October, Rose offered up a large reminder to
LeBron James
and the rest of the league that he and the Bulls are going to be a force in the Eastern Conference if they can stay healthy.
Rose didn't want to come out and say this was his best preseason game to date, but it was obvious after listening to those around him speak: This wasn't just Rose's best game in the preseason, this was Rose's best game in a while. He wanted to send a message to James and
Kyrie Irving
, the player who started ahead of him on Team USA this summer, that he can still be the dominant force he used to be.
"The team is feeling more comfortable with me being on the floor," Rose said. "Feeling comfortable with me just picking my spots, getting people involved and just trying to pick spots in the game where I can really affect the game."
Rose is such a transcendent talent, and so important to the Bulls' future, that he has the ability to affect more than just the game. On this night, he affected the entire organization's mood. The relief from Bulls personnel throughout the building was palpable. This was the man they hoped they would see again. This is the man who can deliver them to where they want to go.
"It feels great," Bulls center
Joakim Noah
said of Rose's performance. "Just seeing him move like that is big for our team. He's definitely one of our big guns -- he's our big gun -- so just to see him play like that, I know how hard he's worked to get there. I just feel like if we just keep improving we can do something special."
October, 20, 2014
Oct 20
8:45
PM CT
Associated Press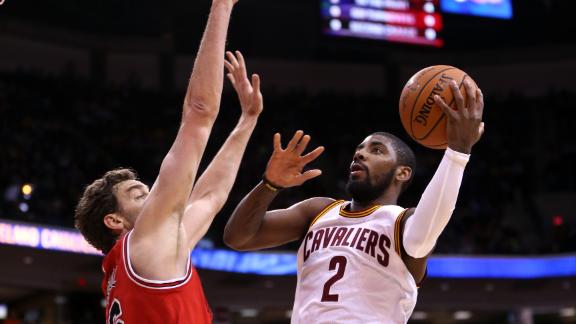 COLUMBUS, Ohio -- LeBron James was the star attraction but Kyrie Irving stole the show with 28 points to lead the Cleveland Cavaliers to a 107-98 win against the Chicago Bulls in an exhibition game Monday night at Ohio State.
Irving had 20 points in the second half. James had 18 points in 31 minutes in his first game in Columbus since rejoining the Cavaliers this summer from the Miami Heat.
Derrick Rose led Chicago with 30 points.
Chicago was without guard Jimmy Butler (thumb). His replacement in the starting lineup, Kirk Hinrich, had two points in 16 minutes.