July, 13, 2014
Jul 13
9:59
PM CT
LAS VEGAS -- When the final story of the 2014-15
Chicago Bulls
is written, this past weekend will serve as one of its seminal points in time. It started Saturday afternoon a few hours before the Bulls' summer league team played its first game. That's when the organization came to the realization that
Carmelo Anthony
was staying in New York for sure and taking all the extra millions that came with that decision.
[+] Enlarge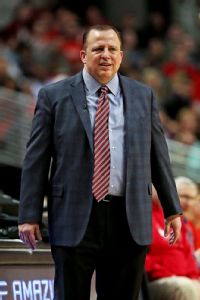 Jonathan Daniel/Getty ImagesTom Thibodeau will have an improved roster to work with in 2014-15 after the Bulls' busy weekend in free agency.
The Bulls were upset. They felt confident Anthony understood and appreciated their direction and the opportunity to contend for championships right away. But instead of sulking over the choice, they went into action with their contingency plans.
Pau Gasol
announced he was headed to Chicago soon after Anthony made his decision. The Bulls came to terms with veteran
Kirk Hinrich
on Sunday -- and then a few hours later, prized European prospect Nikola Mirotic tweeted out that he was headed to Chicago. In a 36-hour span, the Bulls improved a roster that was already solid.
Is it a roster that can contend for a championship? Only time will tell -- the Bulls still lack the type of create-your-own-shot scoring that Anthony would have provided -- but it is unquestionably deeper on paper than it was at any point in the past season. Obviously, the health of
Derrick Rose
hovers over everything the Bulls do, but the front office did a nice job of loading up the rest of the rotation with players who should be able to contribute in several ways.
Rose is the key, but
Joakim Noah
,
Taj Gibson
,
Mike Dunleavy
, Hinrich and Gasol are all proven veterans who know how to play.
Jimmy Butler
is one of the best defenders in the league and, if he develops a consistent shot, will make himself a lot of money.
Tony Snell
struggled at various points this past season but has played well to start summer league. Rookie
Doug McDermott
has also looked solid to start summer league play and is being counted on to help the Bulls stretch the floor with his shooting prowess. Mirotic remains a bit of a question, in the sense that he has never played an NBA game, but the Bulls' front office has always believed he would produce at this level, and his length should help spread the floor for Rose.
That's 10 players Thibodeau should be able to count on to produce in some form this year. What is left for the front office in the coming weeks? They have to decide if they think second-round pick
Cameron Bairstow
can make the roster this year. No matter what, they must continue to try to add another backup center to take a little pressure off Noah. Veteran
Nazr Mohammed
remains interested in playing for a third season in Chicago, but it remains unclear if he'll be back.
The Bulls must continue to evaluate backup point guard options. With their recent moves, they have the ability to wait and see how the market unfolds, but the return of popular veteran
D.J. Augustin
is unlikely, given how the Bulls have already spent. Bulls GM Gar Forman needs another veteran in the mix for this role and has had good luck filling that need the past few seasons.
No matter how the rest of the roster is filled, the Bulls' have their core in place. These are the players who will decide how far the Bulls go in the playoffs next season. These are the ones Thibodeau must mold into a contender over the next nine months. The Bulls badly wanted Anthony, but they did the best they could, given the circumstances. It's a tired refrain for frustrated Bulls' fans, but the belief within the organization is that this is still a team that has the ability to contend for a championship right away. The pieces are in place -- now it's time to find out if there's enough talent.
July, 13, 2014
Jul 13
6:16
PM CT
LAS VEGAS -- Nikola Mirotic is finally headed to play for the Chicago Bulls. The European star tweeted Sunday that he was coming to the NBA.
I am very happy and excited to announce that next season I will be playing with the @chicagobulls . Today I fulfill a dream. #BullsNation

- Nikola Mirotic (@nikolamirotic12) July 13, 2014
Mirotic was acquired by the Bulls in a draft-day deal in 2011 from the Houston Rockets. Since it has been three years since he was drafted, he is no longer bound to a rookie scale contract. Yahoo! Sports reported that the Mirotic agreement was for $17-plus million over three years.
Bulls coach Tom Thibodeau declined comment, but the front office has been hoping to bring over Mirotic for several years. Thibodeau acknowledged on Saturday that it looked like Mirotic was headed to Chicago.
"[Executive vice president of basketball operations] John [Paxson] and [general manager] Gar [Forman] have been in contact with him for a long time because we have his draft rights," Thibodeau said before the Bulls' first summer league game on Saturday night. "Hopefully, something will be worked out. At some point, he will hopefully come, then we'll see where he is."
July, 13, 2014
Jul 13
8:00
AM CT
LAS VEGAS -- Coach Tom Thibodeau is hoping that, after three years, prized European prospect Nikola Mirotic is finally ready to come to the
Chicago Bulls
.
Mirotic recently
worked out a buyout with Real Madrid
, and the Bulls sound ready to find a way to make it all work. After
finalizing the deal
for
Pau Gasol
, their focus will turn back to Mirotic so that he will be ready to come over for the upcoming season.
"[Executive VP of basketball operations] John [Paxson] and [general manager] Gar [Forman] have been in contact with him for a long time because we have his draft rights," Thibodeau said before the Bulls' first summer league game on Saturday night. "Hopefully, something will be worked out. At some point, he will hopefully come, then we'll see where he is."
Thibs happy for James:
Thibodeau didn't mention
Carmelo Anthony
by name on Saturday after
being spurned at the altar in free agency
, but the veteran coach did sound happy for Anthony's good friend and
Cleveland Cavaliers
megastar
LeBron James
about his return to Cleveland.
"It's good," Thibodeau said of James' decision. "That's what he felt was best. The one thing about LeBron, he's always stayed true to himself. So it's good."
Was he surprised by James' choice?
"I didn't really think about it, to be honest with you," he said. "He's a great player. He's been great for the league. It's a great story. [We will] just get ready for next season."
July, 12, 2014
Jul 12
9:29
PM CT
LAS VEGAS -- It's the middle of July and Tom Thibodeau is already in midseason form.
The
Chicago Bulls
coach spent a few minutes with the media before his team's opener in the Las Vegas Summer League, and it was like talking to him before a regular-season game in Milwaukee in March.
The basketball lifer was obviously disappointed by the fact that
Carmelo Anthony
decided to stay
with the
New York Knicks
-- Thibodeau and the Bulls invested a lot of time and effort into their recruiting pitch to Anthony -- but he didn't show his frustration. He didn't even mention Anthony by name.
[+] Enlarge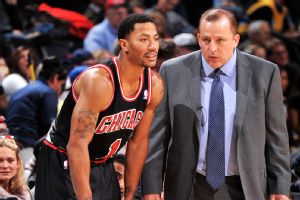 Garrett W. Ellwood/NBAE/Getty ImagesThibodeau's loyalty to his players is displayed in his restraint when speaking publicly about them, and his confidence in them shows in his resiliency in response to missing out on Carmelo Anthony.
Did he think the Bulls' pitch to Anthony went well?
"At this time of the year, [executive VP of basketball operations] John [Paxson] and [general manager] Gar [Forman] have talked to a number of players," Thibodeau said. "You make your presentation, we think we have a lot to offer. We feel we have some good options, and we're looking forward to the challenge of next year."
That's as deep as Thibodeau will go. Anybody who has followed the Bulls over the past four seasons knows to read the tea leaves with the veteran coach, though. His refrain will always remain the same: Whether Anthony landed in Chicago or not, Thibodeau was always going to be of the belief that the Bulls have more than enough to win. It's a mantra that has defined his coaching career and his tenure with the Bulls.
But there's no doubt Thibodeau will motivate his players next season by reminding them that, in the end, Anthony spurned Chicago. Anthony turned his back on Thibodeau and what was widely believed to be the best situation to win a title right away. Even if Thibodeau understands how much Anthony fought with the decision and how much money he would have left on the table, Thibodeau will use Anthony's choice as yet another motivational ploy in firing up his team. He thrives on the "us against the world" mentality and will remember that in the future when the Bulls face the Knicks.
July, 12, 2014
Jul 12
9:02
PM CT
LAS VEGAS --
Chicago Bulls
coach Tom Thibodeau reiterated Saturday night that he expects to see star point guard
Derrick Rose
participate in Team USA's camp at the end of the month as it prepares for the World Cup of Basketball later this summer in Spain.
Rose, who has played just 49 games in the past three seasons because of various injuries -- including two serious knee injuries -- practiced with the Bulls' summer league team as it prepared for to leave for Las Vegas over the past week.
"He had a very productive week," Thibodeau said. "That was the next step. So he'll continue to work, and then the next phase will be with Team USA. He's going step by step, doing great and he's looking forward to it."
Rose put doubt into his Team USA plans in an interview with Yahoo! Sports late last month, saying he would make the decision to play after conferring with his agent, and former Bull,
B.J. Armstrong
.
"I still don't know yet," Rose told Yahoo! "If I'm feeling right and the time is [right], for sure I will go out there. My body is responding good, but you never know.
"Right now, I haven't really thought about that. I am just worrying about just trying to get back every day, and I'm really taking rehab one day at a time instead of trying to think about competing."
Rose's words came as a surprise to many within the organization, given that Thibodeau, Bulls GM Gar Forman and Team USA coach Mike Krzyzewski all were hopeful that he would participate. Thibodeau will be able to keep a close eye on Rose if he does participate in the camp -- he is an assistant on Team USA's staff.
July, 12, 2014
Jul 12
9:00
PM CT

By Tim MacMahon
ESPNChicago.com
Archive
The
Dallas Mavericks
will acquire minimum-salaried reserve big man
Greg Smith
in a trade with the
Chicago Bulls
as soon as Monday, a source confirmed.
The 6-foot-10, 250-pound Smith averaged 5.3 points and 4.1 rebounds in 14.4 minutes per game over the last three seasons with the
Houston Rockets
. The Bulls signed him through next season after Houston waived him in April.
According to the source, the Mavs are giving up "nothing" in the deal, which was first reported by Yahoo Sports. The Bulls are simply dumping a little bit of salary to help them make another move.
Smith, who will make $948,163 in 2014-15, fills the Mavs' need for a low-priced banger off the bench, the role filled by
DeJuan Blair
last season. The Mavs are also likely to re-sign
Bernard James
to a minimum-salary deal, a source said.
July, 12, 2014
Jul 12
8:38
PM CT
The Chicago Bulls just never seem to get their man. That's a strange observation to make about a franchise with six NBA titles, but it's true when it comes to the history of Chicago's free agent pursuits. It's been that way since Michael Jordan left the team in 1998, and continued Saturday when Carmelo Anthony pledged to return to the New York Knicks.
In Chicago at least, nice guys finish second, and they end up with players like Pau Gasol. The problem with Chicago's recurring Plan B is that while it keeps the Bulls relevant, they remain on the perimeter of the title chase, rather than in the middle of it. To get off that second-tier, the Bulls needed a bold move. If Anthony had chosen the Bulls, that would have certainly qualified. But by rushing into the Gasol acquisition, they leave themselves in the same spot they've been too many times: an also-ran.
July, 12, 2014
Jul 12
8:05
PM CT
CHICAGO --
Pau Gasol
has already filled the role of
Carlos Boozer
for the
Chicago Bulls
in more ways than one. Forget for a moment the impact he will have on the floor -- Gasol is the consolation prize in free agency, like Boozer was in the summer of 2010. He is
a solid player who will make the Bulls better
, but he isn't the man the Bulls had their hearts set on. That man would be
Carmelo Anthony
, who
appears to be taking all the guaranteed money and staying
with the
New York Knicks
.
[+] Enlarge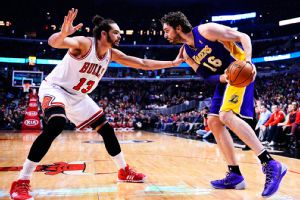 Mike DiNovo/USA TODAY SportsGasol's ability to score facing up or with his back to the basket adds an element the Bulls and Joakim Noah have lacked recently.
Gasol is going to be a solid fit in Chicago. By all accounts, he seems like a great teammate, he's an NBA champion, one of the best passing big men in the game and will fit in well in the Bulls' no-nonsense locker room. But as fans process the flurry of free-agent activity that started Friday afternoon when
LeBron James
announced his decision to go back to the
Cleveland Cavaliers
, the question now is how much better does Gasol make the Bulls? More importantly, does Gasol's addition give the Bulls a legitimate chance to win a title this season?
Gasol averaged 17.4 points and 9.7 rebounds for the
Los Angeles Lakers
last season, but he also just turned 34 years old and missed chunks of the past two seasons because of injuries. His ability to create space on the floor because of his passing and vision should mesh well with
Joakim Noah
. Gasol also gives the Bulls a back-to-the-basket scorer, something they thought they were getting when they signed Boozer four summers ago.
Gasol is absolutely a better all-around player than Boozer, but he has never been known for playing consistent, high-level defense. Like Boozer, there's a solid chance Gasol could end up sitting late in the fourth quarter of games as coach Tom Thibodeau decides to go with one of the best defensive combos in the league in Noah and
Taj Gibson
. While Gasol isn't as defensively challenged as Boozer, he isn't the best option to close down games on this roster.
The larger issue with the Gasol deal is the same one it was going to be with any player the Bulls landed who wasn't Anthony: Does Gasol -- and Nikola Mirotic, assuming the Bulls finally hammer out a deal with the European star -- put the Bulls that much closer to a title? The Bulls would be a better, deeper team with Gasol and Mirotic in the fold, but the issue for them is the same: Who scores late baskets for them in the playoffs?
Derrick Rose
is expected to come back in fine form to start the season and has looked great in summer league practices, according to several people who have seen him play, but the Bulls have seen before how this story ends.
The interesting wrinkle about the Gasol news is that it likely pushes the Bulls out of the conversation for a potential deal with
Minnesota Timberwolves
star
Kevin Love
for now. With Gasol, Noah, Gibson and Mirotic likely headed to the NBA, the Bulls are loaded with big men and will still try to add a backup center in free agency.
Still, even if Rose stays healthy -- which is a huge "if" given he's played only 49 games the past three seasons because of various injuries -- Gasol isn't the type of "create your own shot" player the Bulls have been lacking. He's a skilled offensive big man who is past his prime. The Bulls still have a chance to contend in the weak Eastern Conference -- but the goal is to find ways to win championships. Gasol's addition puts them closer to that goal, but not by much.
July, 12, 2014
Jul 12
5:53
PM CT

By Jon Greenberg
ESPNChicago.com
Archive
CHICAGO -- The best-laid schemes of Bulls and men often go astray, especially when it comes to the Kobes, LeBrons and Carmelos of the world.
A day after
LeBron James
surprised many by returning to Cleveland,
Carmelo Anthony
shocked exactly no one by spurning Chicago and negotiating to stay in New York.
If I had a dollar for every time the Bulls came up second in a chance to land a great NBA player, I'd have enough to self-publish my book, "The 50 Greatest Deals the Bulls Almost Made."
[+] Enlarge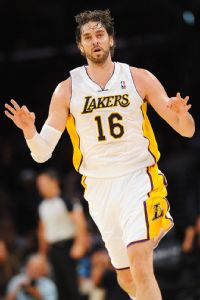 Noah Graham/NBAE/Getty ImagesThe Bulls won't be getting Carmelo Anthony, but Pau Gasol isn't a bad consolation prize.
I'm guessing that John Paxson, Gar Forman and the gang won't read that in hardcover, paperback or Kindle. They lived it.
Here's what the Bulls get for finishing second for Anthony:
Pau Gasol
, who
tweeted that he was joining the Bulls
on Saturday afternoon, likely Nikola Mirotic, probably
Kirk Hinrich
, again, and a swingman to be named sooner rather than later.
Good thing the Bulls saved all that cash on the
Luol Deng
exile last year. They can use it to pay
Carlos Boozer
's salary after he's amnestied. No sign and trade for you, Mr. Reinsdorf!
Expectations for the Bulls? Well, it's been title or bust since the 2010-11 Bulls won the No. 1 seed.
Four years after the Bulls went from 8-seed to championship contender behind Tom Thibodeau and the remaining core of
Derrick Rose
,
Joakim Noah
and
Taj Gibson
, the Bulls find themselves still contending, but with no clear prediction on how they match up with other contenders, let alone the Western Conference.
Anthony would have provided some clarity. His addition would have made the Bulls clear favorites in the East, as James tries to meld with his new young team and the
Washington Wizards
try to build off last season. (I'm not high on Indiana or Miami.)
With James' move home, the East is wide open. The Bulls join Cleveland, Washington, Indiana and sure, the Knicks, as the frontrunners to get mopped up by a Western Conference team.
I like the Bulls' chances, provided, of course, Rose stays healthy. Anthony would've been the perfect addition for an offensively challenged team, but Rose with a team full of "floor spacers" isn't bad. Now they just need one other guy who can create his own shot late in games.
Rose is due for some good fortune, right? Ever since he's got his money, Rose has dealt with bad knees and worse press, but I have a sneaking suspicion his return will be almost as electrifying as James' in Ohio.
Gasol isn't a bad consolation prize, given the Bulls are looking for an immediate title shot, and he's not getting Carlos Boozer money.
July, 12, 2014
Jul 12
4:39
PM CT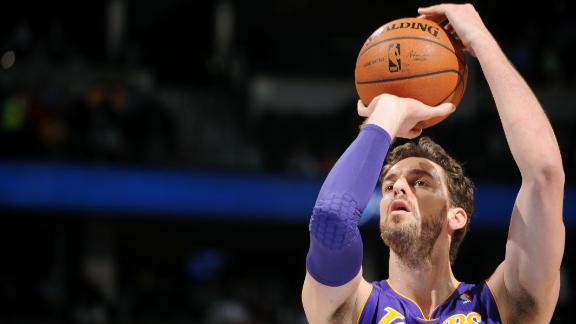 The Chicago Bulls have reached an agreement with free-agent center Pau Gasol on a multiyear deal.
Gasol announced that he had chosen the Bulls on his Twitter feed Saturday.
It hasn't been easy. After meditating it a lot I've chosen to play with the Chicago Bulls. Looking forward to this new chapter of my career

- Pau Gasol (@paugasol) July 12, 2014
Discussions between Chicago and the Los Angeles Lakers on a sign-and-trade deal for Gasol broke down, so the four-time All-Star will sign directly with the Bulls, sources told ESPN.com.
Chicago currently does not have salary-cap space, so it will have to make roster moves to free room to add Gasol.
If the Bulls are unable to work a last-minute trade of Carlos Boozer, it likely means they will have to release him via the amnesty provision and clear the forward's $16.8 million off their salary cap to make room for Gasol. The deadline for such a move is Wednesday.
Boozer then would be placed on waivers and teams with cap space could bid to pick up a portion of his contract. The team with the highest bid would get his services. With so many teams currently owning cap space, it is doubtful Boozer would pass through and become an unrestricted free agent.
The Bulls are also hoping to create additional cap space to sign 2011 first-round draft pick Nikola Mirotic, who reached a buyout agreement with his Spanish team last week with the intention of coming to the NBA. The 6-foot-10 power forward has been seen as an offseason priority for the Bulls as they look to bolster a strong front line that already includes Joakim Noah
July, 12, 2014
Jul 12
12:30
PM CT
ESPN.com news services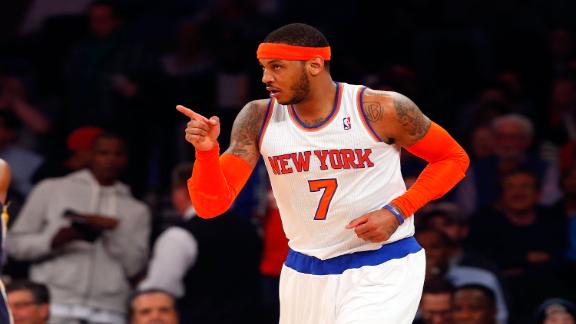 Representatives for Carmelo Anthony were finalizing negotiations Saturday on a contract that will bring him back to the New York Knicks, sources told ESPN's Stephen A. Smith.
The Chicago Bulls and the Houston Rockets have been told by Anthony's representatives to move on, the sources said. Both teams were hoping to sign the star free agent.
A source close to Anthony told ESPNNewYork.com that an announcement of a Knicks deal could come from the seven-time All-Star as soon as Sunday.
The contract will be for more than $122 million but less than the five-year, $129 million max figure, a source told ESPN The Magazine's Chris Broussard.
Knicks president Phil Jackson indicated Saturday night to reporters that he was taking a patient approach.
"We don't have anything yet to stack up so rather than talk about it, I won't," Jackson said. "We'll wait. We'll be there."
Anthony has said that he'd be open to accepting a contract that was worth less than the maximum allowed. Doing so wouldn't give the Knicks any extra money to offer free agents this summer, as they are over the salary cap. But if Anthony took a pay cut, it could provide more money for the Knicks to offer free agents in the summer of 2015, when they are expected to have at least $20 million available.
"It's exciting to hear that it's still possible and that at least it's close to being real," Knicks coach Derek Fisher said. "But I've been around a long time, so until it's done and it's real, we can't assume that it's a definite thing."
Fisher said he hasn't spoken to Anthony since Saturday's reports about the two sides closing in on a deal surfaced. Now, he's waiting to hear from the men up top.
"Phil [Jackson] and Steve [Mills] will know more than me in terms of the timing and if it's going to happen really soon," Fisher said of the team's president and general manger, respectively. "But I'm definitely encouraged by what I'm hearing. It sounds a lot more positive."
The Bulls had moved Anthony down on their priority list as recently as Friday, as sources told ESPN.com's Marc Stein that they were prioritizing their pursuit of free-agent forward Pau Gasol
July, 12, 2014
Jul 12
2:17
AM CT
ESPN.com news services
Pau Gasol is inching closer to becoming a Chicago Bull, with a source telling ESPN.com's Ramona Shelburne that a deal between the two sides "should be done [Saturday]."
The Spanish newspaper Marca first reported late Friday that the Bulls were closing in on a deal with Gasol despite the absence of a sign-and-trade agreement with the Los Angeles Lakers.
Sources close to the situation told Shelburne late Friday that a sign-and-trade arrangement had not been struck, with the Lakers still looking for draft compensation -- as they received in Friday's earlier trade with the Houston Rockets to take back the contract of Jeremy Lin -- as the primary return for Gasol.
ESPN.com reported earlier Friday that the Bulls and San Antonio Spurs had emerged as the two leading candidates to land Gasol, with San Antonio poised to land the Spaniard if the Bulls and Lakers could not finalize a sign-and-trade deal.
Sources told ESPN.com late Friday that the Bulls were prioritizing their pursuit of Gasol even ahead of their long-running efforts to sign Carmelo Anthony, fearing that Anthony is likely to stay with the New York Knicks.
July, 11, 2014
Jul 11
11:34
PM CT

By Ian Begley
ESPNChicago.com
Archive
So
it's down to Chicago and New York
for
Carmelo Anthony
.
Here's a brief look at the factors facing Anthony as he nears his decision.
Money:
The Knicks have offered Anthony a max contract worth $129 million over five years. Phil Jackson told reporters in Las Vegas that he has five different offers to Anthony. Some of those offers presumably include options for Anthony to accept less than maximum money.
The Bulls can offer Anthony a four-year, $73 million deal. Chicago can offer Anthony more if it acquires him in a sign-and-trade. Anthony would have to tell the Knicks that he is not going to return to New York before they would consider a sign-and-trade. The most Anthony can sign for in a sign-and-trade is a four-year, $96 million deal, that might strip Chicago of valuable assets.

The Rosters:
The Knicks are coming off of a season in which they won just 37 games. They upgraded at point guard with
Jose Calderon
. Anthony is said to be in favor of the move but is it enough to convince him to re-sign? If Anthony signs a maximum contract, the Knicks could still have approximately $20 million in cap space to pursue free agents in the summer of 2015. The Knicks also have a first-round pick in the 2015 draft, which gives Jackson a chance to build around Anthony.
Carmelo has stated that he wants to put himself in position to contend for an NBA championship. So it's easy to see why he would be enamored with Chicago's roster. If he ends up in Chicago, Carmelo could be among a starting five of
Derrick Rose
,
Joakim Noah
,
Taj Gibson
and
Jimmy Butler
.
Rose's health, though, is unknown. The 25-year-old has played in just 49 games over the past three years because of injury.
Coaches:
Tom Thibodeau is widely considered one of the top coaches in the NBA. He specializes at coaching defense, an area in which Anthony is most often criticized. Thibodeau could either hide Anthony's flaws on that end of the floor or scheme well enough to cover them up.
Derek Fisher is a first-year head coach who will be closely aligned with Jackson. Anthony has said that he's in favor of Jackson hiring Fisher. But there is an inherent risk in joining a team with a first-year head coach.
What about Pau:
Pau Gasol
seems to be
on the verge of joining the Bulls
. ESPN sources say he is deciding between the Bulls and Spurs.
If the Bulls ink Gasol as a free agent, it would cut into the cap space they have to offer Anthony. If they receive him in a sign-and-trade, it would take away some pieces they have to offer the Knicks in a sign-and-trade for Anthony. So a Gasol signing seems to make it more difficult for Chicago to obtain Anthony, but it wouldn't totally eliminate the Bulls from contention.
The Knicks appear to be on the outside looking in when it comes to Gasol. Jackson tried to trade
Amar'e Stoudemire
and
Andrea Bargnani
's contracts in trades to create cap space with the hope of making a more competitive offer for Gasol, but it seems the Knicks are long-shots in the Gasol pursuit at this point.
Question:
If you were Carmelo, would you go with the Knicks or the Bulls?
You can follow Ian Begley on Twitter.