January, 28, 2015
Jan 28
2:32
AM CT

By Nick Friedell
ESPNChicago.com
Archive
OAKLAND, Calif. --
Derrick Rose
made history on Tuesday night.
In the midst of the
Chicago Bulls
' best win of the season, an emotional 113-111 overtime triumph over the
Golden State Warriors
, who were denied their 20th straight win at home, Rose pulled off a never-before-seen NBA feat. He became the first player in league history to score at least 30 points, turn the ball over at least 10 times (he had 11) and have one assist or fewer, according to Elias Sports Bureau research.
But as usual with Rose, and these Bulls, the numbers don't tell the entire tale.
[+] Enlarge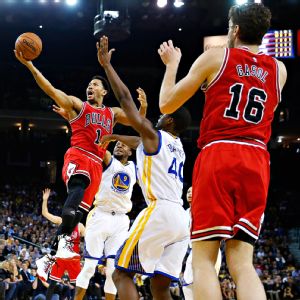 Bob Stanton/USA TODAY SportsDerrick Rose missed 20 shots against the Warriors but he did deliver when the Bulls needed him most.
For instance, Rose missed 20 of his 33 shots, but he drilled the game-winner with 8.4 seconds left in overtime with the type of icy confidence that he displayed during his MVP season of 2010-11. He played 43 minutes in a game, the most he has played in one contest in almost three seasons. Most importantly, when his team needed him to hit the biggest shot of the night, he had no hesitation taking it.
"A player like myself, I want them moments," Rose said. "I want that shot. My teammates gave me the ball to take the shot and it looks good on the resume. I'm not running away from them shots, I'm not turning them down. If anything, my teammates are going to give me the ball to take the shot, so that's a good feeling."
As has been the case all season with the Bulls, they find a way to win games they're not supposed to win, while finding ways to lose games to lesser opponents that they have no business losing. The Bulls won on a night in which they played without two starters (
Jimmy Butler
and
Mike Dunleavy
) and against a team that has been virtually unbeatable at home.
But Tuesday offered another reminder that the Bulls will go only as far as Rose and his rebuilt knees can take them. As important as
Joakim Noah
,
Pau Gasol
and Butler are, Rose remains the largest potential difference-maker because of his ability to take over games late and deliver in the most pressure-packed situations. He has the type of superstar ability that the rest of his teammates feed off each night. When the game is on the line, they try to find the former MVP on the floor, no matter how poorly he has played to that point.
"I think we feel comfortable with Derrick taking responsibility in those moments because he definitely doesn't hide and he's very aggressive," Gasol said. "And tonight I think he was very aggressive all night long. I think it says a lot about his confidence level, how confident he is, that even if he had a tough shooting night and a tough night offensively, as far as taking care of the ball, he still feels comfortable shooting that last shot and knocking it down.
"I think that's important, that's a big factor, and it definitely gives us confidence going forward."
The differences in Rose's game underscore the differences for the Bulls as a whole. So often during Tom Thibodeau's five-year tenure as head coach, the Bulls' effort was never in doubt. Win or lose, the Bulls were almost always going to play tough, physical basketball and grind against teams until the very end. Before Rose's ACL tear in April 2012, fans knew what to expect from Rose each game. He was quicker and more aggressive than almost everyone on the floor and would find ways to take over the game when it mattered most.
Three seasons later, things have changed for the Bulls and Rose. The Bulls' inconsistent effort is a point of frustration for Thibodeau. Too often this season it looks as though players are just coasting through games and not executing properly on a team that is playing with the weight of championship expectations on its shoulders. Meanwhile, Rose remains more of a wild card than a sure thing on most nights. Some nights he looks engaged on both ends and takes over, as he did on Tuesday. Other nights he looks passive and relies too much on an inconsistent 3-point shot (31.3 percent).
The difference now is that the Bulls don't rely on Rose as much as they did in seasons past. They are deeper and more talented on the offensive end than they've ever been in the Thibodeau era. For as deep as they are, the Bulls still need Rose to be the player he used to be some nights. They need the old Rose to strike fear in their opponents every now and then to remind other teams, and themselves, just how dangerous they can be when he gets rolling.
"He didn't allow missed shots … to take away from the belief that he could still make and take a big shot," Thibodeau said. "That's all a sign of his greatness and him working his way back to being the player we all know he can be."
If the Bulls want to win a championship this year, they are going to need this Rose to show up even more during the final few months of the season. Good news for them is that he can still be that superstar when needed. Just ask the Warriors.
January, 28, 2015
Jan 28
12:16
AM CT

By Ethan Sherwood Strauss
ESPNChicago.com
Archive
OAKLAND, Calif. -- The
Golden State Warriors
' 113-111 overtime loss to the
Chicago Bulls
on Tuesday night was like a checklist for commentators who've expressed doubts about the Warriors' title bona fides.
"They're a jump shooting team," is a consistent
Charles Barkley
lament, which the Warriors validated by missing their last 13 3-point attempts. "I don't trust them without
Andrew Bogut
," is another critique, and Bogut missed this game with the flu. "Curry is turnover prone," is about the only blemish in the superstar point guard's game, but one highlighted on a crucial turnover late in regulation.
All these doubts will persist unless the Warriors do, indeed, win the title. All these doubts found fuel in a hyped, thrilling game against the battle-tested Bulls.
And yet, the Warriors nearly won. Not even nearly, as they led all but the final 16 seconds of the fourth quarter, before
Kirk Hinrich
's brilliant swipe and swish. They had their 20th consecutive home win in their grasp before Curry's pass was intercepted. In overtime,
Klay Thompson
's runner nearly forced an extra stanza.
[+] Enlarge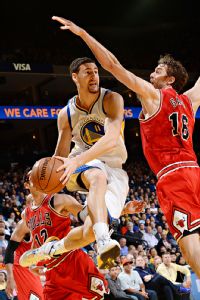 Noah Graham/NBAE/Getty ImagesKlay Thompson (30 points, 10 rebounds) missed a final shot and saw the Warriors lose their first game to an Eastern team.
This is probably why Warriors coach Steve Kerr didn't look particularly depressed or incensed after the game. He was mostly smiles, a couple laughs, oozing acceptance. "Can't win em' all," he said with a shrug.
Many Warriors fans might disagree, having gotten quite used to home dominance. The last time the Warriors lost in Oakland, it was Nov. 11, 2014. Home games have so frequently been blowouts that this may well have been the first time in months that the Oracle crowd was actually, palpably nervous. There were murmurs of concern in the arena as each of the last 13 3-point attempts clanked. The rims carry loud microphones, making every miss sound in rhythm with a drumbeat of dread. It had been a while since possessions had stakes attached.
This was, above all else, a fantastic game. The pace was fast, the whistles were few, and the plays were massive.
Derrick Rose
was firing misses like a punctured hose until finally hitting the game-winner on his 33rd shot. Hinrich's defense was vicious.
David Lee
had his performance of the season.
Draymond Green
soared between
Pau Gasol
and
Joakim Noah
to force overtime by the tip of his fingernail.
Speaking of Draymond, he's another player cited in the doubts over Golden State, due to being a post player with the height of a wing. Though his post defense is stout, he doesn't fit the power forward prototype in the minds of some. He's also resolutely not buying into the idea that Golden State has some fatal flaw that begs addressing.
After the game, he sarcastically noted, "Obviously we can't handle the heavyweights. Because we shoot a lot of jump shots." Of that particular critique his actual response was, "Them jump shots must fall a lot this year. Thirty-six and seven don't come easy. They must fall a lot."
His closing sentiment encapsulates how many Warriors took the rare defeat: Lost by two. Probably won't happen often. So you move on.
And they will. Curry isn't going to go 9-of-23 often, the Warriors certainly won't miss 13 consecutive 3-point attempts often. As the season moves along, reasons for concern may present themselves. Not yet, though -- not even after a disappointing loss. A flirtation with fallibility isn't a disaster. It made for a great game, though.
January, 28, 2015
Jan 28
12:31
AM CT
Associated Press
OAKLAND, Calif. -- Derrick Rose hit a step-back jumper with 7 seconds remaining in overtime, and the Chicago Bulls ended Golden State's franchise-record 19-game home winning streak with a thrilling 113-111 victory over the Warriors on Tuesday night.
Rose dribbled to his left and created space to get the shot off over Klay Thompson, skipping around the court after the Warriors called timeout. Rose finished with 30 points, and his final basket overshadowed a night when he committed a career-high 11 turnovers and made just 13 of 33 shots.
Thompson misfired on a running bank shot as time expired to finish off Golden State's first loss at rowdy Oracle Arena in more than two months.
The Warriors forced overtime on Draymond Green's tying tip-in with 1.4 seconds left.
January, 27, 2015
Jan 27
2:06
PM CT
By Matt Walks
ESPNChicago.com
Archive
During Kid's Day at the United Center on Sunday, the Chicago Bulls unveiled a fun promo called "Kid Picasso," where elementary students are commissioned to draw pictures of the team. The players then try to guess the portrait's subject.
The results are ... abstract, as Joakim Noah points out. Take a look.
That second one was pretty spot-on. In any case, I think we can agree that Miles Brown stole the show as co-emcee.
January, 25, 2015
Jan 25
4:15
PM CT

By Nick Friedell
ESPNChicago.com
Archive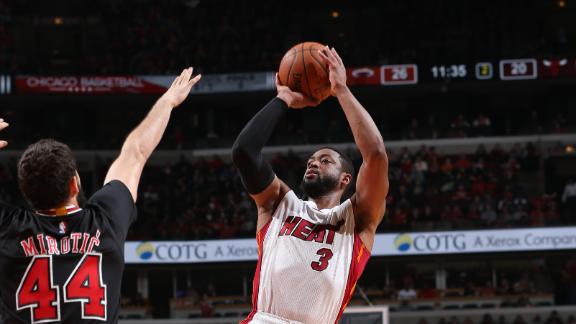 CHICAGO -- The
Chicago Bulls
aren't as bad as they played in Sunday afternoon's deflating
96-84 loss
to the
Miami Heat
.
But they aren't as good as they played in wins over the
San Antonio Spurs
and the
Dallas Mavericks
a few days ago. They are caught in the middle of an emotional rut that they can't pull themselves out of just yet.
"We just got to do better," said
Pau Gasol
in a quiet Bulls locker room. "I don't know if there's a straight explanation for it.
"We understand the importance of every game, especially here at home, we're trying to do better. We're trying to get ourselves going and get some kind of momentum."
But just when it appears the Bulls are gaining some momentum, they take another big step back. In hindsight, that's why Sunday's loss shouldn't come as much of a surprise. The Bulls, who are now just 13-11 at home, continue to struggle playing with a consistent effort at the United Center. They sleepwalk through too many games against sub-.500 teams and then try to fight back when it's too late. It's a trend that this proud group can't seem to shake.
On a broader level, the Bulls are still adjusting to their expectations before the season. Under Tom Thibodeau, the Bulls have always thrived as the underdog. They enjoy proving people wrong and winning games that many don't think they can win. But this season, they have excelled at finding ways to lose those games.
They don't play with the same fire against teams they believe they can beat, a fact that the players have admitted to throughout the season.
"It's a number of things," said Bulls power forward
Taj Gibson
. "[We] tend to get too lax at home. We got to have the right kind of energy. Sometimes I just think that in our head we think that we're good enough that we'll just step on the court [and win], and it's tough.
"Teams are out here gunning for us. [There's] a lot of speculation about how good we can be and how good we are and teams take pride in that and try to beat us, see how far they can go. We just got to learn from it, that's the only thing."
That's the only thing the Bulls can do at this point. They've got to continue learning from their mistakes. They've got to keep learning from each other. The belief was that Tuesday's team meeting put all the issues on the table for the Bulls. The feeling was that the players said what they had to say to Thibodeau and vice versa -- but everyone in the group was back on the same page. However, Sunday proved that all the issues haven't been corrected yet.
Now the Bulls embark on a six-game road stretch that will be split into two separate trips over the course of the next two weeks. They won't be favored in Tuesday's showdown against the
Golden State Warriors
, so they won't have to worry about playing down to their competition. But at some point they are going to have to figure out how to play with more passion against teams they should beat, especially at home.
The issue has moved past the point of being a trend this season -- now it's just a big problem.
When asked about that problem, Bulls point guard
Derrick Rose
offered a common refrain that sums up the feeling within the Bulls' locker room on Sunday.
"I really don't know," Rose said. "If I had an answer I swear I'd tell you, but I just don't know."
January, 25, 2015
Jan 25
4:48
PM CT
By ESPN Stats & Information
ESPNChicago.com
Archive
David Banks/USA TodayHassan Whiteside (21) set a Heat franchise record with 12 blocked shots.
A player who entered this season with 19 games of NBA experience had one of the most impressive all-around games in
Miami Heat
history Sunday.
Hassan Whiteside
came off the bench for the Heat and registered 14 points, 13 rebounds and 12 blocked shots in their 96-84 win over the
Chicago Bulls
.
Whiteside became the first player with at least 12 points, 12 rebounds and 12 blocked shots in a game since
Shawn Bradley
in 1997-98 with the
Dallas Mavericks
. In the past 25 years, the only other players to meet those marks have been Shaquille O'Neal (1993-94, with the
Orlando Magic
) and
Dikembe Mutombo
(1992-93,
Denver Nuggets
). Like Whiteside, Bradley came off the bench when he had his triple-dozen.
Whiteside broke the Heat franchise record of nine blocked shots (done by Alonzo Mourning six times). He had the first triple-double that includes blocked shots since
Joakim Noah
, who had 23 points, 21 rebounds and 11 blocked shots on Feb. 28, 2013.
All 12 of Whiteside's blocked shots were within six feet of the basket. Seven came when he was a help defender.
Taj Gibson
was particularly affected by Whiteside. Five of Gibson's 10 shots were blocked by Whiteside. No team had blocked five Gibson shots in a game before Sunday.
Whiteside's defense helped the Heat hold the Bulls to their third-worst field goal shooting percentage (35.6 percent) this season. The Bulls shot 33.3 percent in a loss to the Utah Jazz on Jan. 7 and 34.5 percent in a victory at Indiana on Dec. 29.
Whiteside played 19 games with the
Sacramento Kings
in 2010-11 and 2011-12 and was out of the NBA for two seasons. He became the eighth player in Heat history to post a triple-double, joining
LeBron James
,
Dwyane Wade
, O'Neal, Lamar Odom,
Billy Owens
, Steve Smith and Rory Sparrow.
Whiteside got all of that accomplished in 25 minutes on the court. The last player with 12 or more blocks in 25 minutes or less was Manute Bol in March 1989 for the Golden State Warriors against the Portland Trail Blazers (13 blocks in 20 minutes).
January, 25, 2015
Jan 25
2:49
PM CT
Associated Press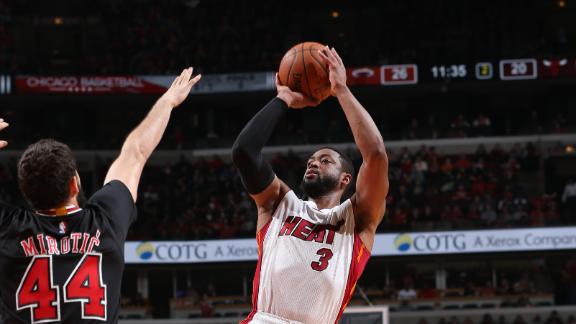 CHICAGO -- Dwyane Wade scored 26 points, Chris Bosh finished with 20 and Hassan Whiteside had unconventional triple-double to help the Miami Heat beat the sluggish Chicago Bulls 96-84 Sunday.
Whiteside had a career high 11 blocks to go with 14 points and 13 rebounds.
Luol Deng scored 15 in his return to Chicago. Mario Chalmers had 15 points, and the Heat squashed whatever momentum the Bulls appeared to be building after beating San Antonio and Dallas.
Miami led by 10 at halftime, 12 going into the fourth quarter and remained in control the rest of the way.