December, 17, 2013
Dec 17
4:19
PM CT
DEERFIELD, Ill. -- The
Chicago Bulls
did work on layups on Tuesday.
Bulls coach Tom Thibodeau wasn't going to ignore his players' constant struggles around the rim against the
Orlando Magic
on Monday and made them practice scoring inside on Tuesday. The Bulls missed 22-of-34 shots in the paint, including a potential game-winning layup, against the Magic.
"We got some extra work on shooting today," Thibodeau said. "We did work on our layups. Hopefully, that will be better. We shot a very low percentage in the restricted area. That's something we have to improve.
"It's probably a combination of things. Obviously, we can finish stronger. I think people are collapsing right now because we've got to make perimeter shots. That will improve the spacing. You have to knock some shots down. We have to be able to make some 3s. If we do that, that will open things up."
December, 17, 2013
Dec 17
2:35
PM CT
DEERFIELD, Ill. --
Chicago Bulls
point guard
Kirk Hinrich
is questionable to play against the
Houston Rockets
on Wednesday, coach Tom Thibodeau said Tuesday.
Hinrich, who is averaging 8.6 points, 5.2 assists and 3.2 rebounds, has missed the Bulls' past two games because of back stiffness.
"I don't know," Thibodeau said of Hinrich's status after Tuesday's practice at the Berto Center. "If he improves again, there's a possibility. So, we'll see [Wednesday]. I don't want to speculate and say it looks good or it looks bad. He's better today. He did shooting today, which is a good sign."
Thibodeau said he hasn't decided on a starting point guard against the Rockets if Hinrich can't play.
Marquis Teague
started at point guard against the
Orlando Magic
on Monday and had zero points and zero assists in 11 minutes.
D.J. Augustin
came off the bench and had 14 points and eight assists in 37 minutes.
"I thought he played very, very well," Thibodeau said of Augustin.
The Bulls are entering a two-game road trip against the Rockets on Wednesday and in Oklahoma City on Thursday.
December, 17, 2013
Dec 17
11:08
AM CT
CHICAGO -- Even
D.J. Augustin
was a little surprised that he played 37 minutes on Monday night. But with
Kirk Hinrich
still out because of back stiffness and
Marquis Teague
still searching for his confidence, Augustin was thrust into the lineup Monday night and opened some eyes.
[+] Enlarge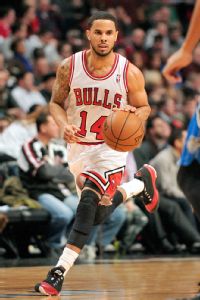 Rob Grabowski/USA TODAY SportsNew Bull D.J. Augustin missed 10 of 15 shots Monday, but Tom Thibodeau liked his aggressiveness.
Signed Friday morning, Augustin had 14 points and eight assists against the
Orlando Magic
on Monday night. In the process, he also earned some more playing time.
"I didn't expect it," Augustin said of playing all the minutes. "But you never know. I'm not complaining. We went out there, we fought hard, it was a tough loss for us tonight."
But, given the circumstances, it was a good night for Augustin. By waiving
Mike James
on Monday, the Bulls opened up a spot for the Texas alum to show what he can do the rest of the season.
"D.J. played great," Bulls forward
Luol Deng
said. "He got us in our offense. It's hard for him (because) he doesn't know the plays. But he did a good job of just coming in; this is the NBA. It's not easy to just come in and play that many minutes with a new team. I thought he did a great job."
Those were the sentiments throughout the locker room.
"I think he's doing a lot of great things out there," Bulls center
Joakim Noah
said. "All of us -- I think Marquis has got to keep grinding, keep going. I think D.J.'s getting in the swing of things, learning the plays, learning the defensive system. I think he's doing a good job."
Augustin, who spent last season with the Pacers and played just 10 games this season with the Raptors before being released, is just happy to have another chance to prove he belongs in the NBA.
"I think I know (the plays) pretty well now," he said. "And the more games I play the comfortable I feel."
Noah clarifies comments:
Many fans wondered if Joakim Noah was talking about
Carlos Boozer
when he said that his players' "true colors" would come out amidst all the losing the Bulls have endured. After Monday's loss, Noah seemed to make a point of clarifying what he was trying to say -- while also discussing the mindset he wants his team to have moving forward.
"You win together, you lose together," he said, while discussing the fact that Thibodeau tried to take the blame for his team missing so many layups. "It's nobody's fault. It's not pointing fingers at anybody when things get hard. It's what we can do better as a team. I'll never, ever, ever at any player or any coach or anybody. It's just all of us as a unit. We have to do a better job of getting this done."
What's next:
The Bulls practice at the Berto Center Tuesday afternoon before flying to Houston.
The last word:
Thibodeau, on Mike James: "Mike's done a great job throughout his career. He did a great job for us. We certainly appreciate all that he brought to our team. For us, we just wanted to keep some flexibility as we move forward but Mike's a terrific player. He's a great guy, he did a great job for us."
December, 17, 2013
Dec 17
12:35
AM CT
[+] Enlarge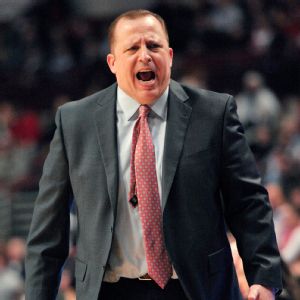 Rob Grabowski/USA TODAY SportsTom Thibodeau's Bulls are losing to teams such as Utah, Cleveland, Milwaukee, Toronto, New York and now the 8-17 Magic.
CHICAGO -- Mike Dunleavy did it.
With the game ending, he unleashed a half-court 3-pointer that sailed out of his hands before the shot clock turned red and landed through the net.
Pandemonium at the United Center, right? Not quite.
The Bulls still lost to Orlando 83-82. But here's the silver lining: At least they broke 80.
In four of their previous five games, they failed to do that.
Moral victories, folks.
The joke around the Bulls is that they should start giving away Big Macs when they score 80 instead of when they score 100. I probably heard that 20 times Monday night in a listless, defeated United Center, where everyone but Tom Thibodeau and Benny the Bull are counting down until the season is over.
It's going to be a very long, very cold season unless things change dramatically.
What needs to change? Well, D.J. Augustin playing like Derrick Rose would help. Because this is a max-effort team with a max-effort coach that's getting minimal results. This could get really ugly.
December, 16, 2013
Dec 16
11:54
PM CT
CHICAGO --
Luol Deng
looked the way Chicago Bulls fans are feeling these days as he sat in front of his locker late Monday night. His head was down and both knees had big ice packs on them, while his feet sat in a vat of ice. The proud veteran had just played 42 minutes, scoring 26 points and grabbing eight rebounds, but it was the two points that he missed late that raced through his mind as a box score floated in the icy water.
With 2.9 seconds left to go, Bulls center
Joakim Noah
delivered a beautiful pass to Deng as he sliced down the lane. The Bulls were down by two as the All-Star forward caught the ball and made a beeline for the basket. The only problem is that Deng, who had been the Bulls' lone offensive weapon for most of the night, went up for the shot and couldn't convert.
[+] Enlarge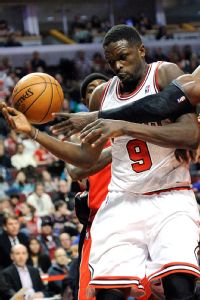 David Banks/USA TODAY SportsDespite Luol Deng's 26 points, the Bulls' 34.6 percent field goal percentage sunk the Bulls Monday night against the lowly Magic.
"When it left my hand I knew I missed it," Deng said. "I couldn't really grab it back. ... Just a bad, bad miss. My fault."
Deng's admission is admirable. It shouldn't come as a surprise given how well respected he is throughout the Bulls' locker room. But the miss served as a microcosm of what the Bulls have been going through as a team over the past few weeks. They are playing hard enough to win games -- they are just finding new ways to lose them down the stretch.
"I think guys are playing hard, giving everything they got," Bulls center
Joakim Noah
said. "But we just got to do a better job of finding ways to put the ball in the hole. Everything seems to be hard right now. We're not getting any easy baskets. Our spacing isn't very good. We just got to find a way to correct it, stay positive; we're going through a rough stretch right now."
This is without question the roughest stretch of the Tom Thibodeau era. The Bulls are now 3-11 over their past 14 games. Deng's missed layup served as a reminder that this team's biggest problem is that they can't find ways to score. As Noah pointed out, everything is a battle for the Bulls offensively. They can't get into a rhythm and they continue to get frustrated while trying to run through the offense. It's an issue that is driving Thibodeau even crazier than usual.
"The mental part of it is critical," Thibodeau said. "We have to understand what we're doing. We have to have everyone do their job, understand what their job is. It's really all the little things, that's what separates teams. It's the intensity in which you do all those little things."
The intensity that has come to define Thibodeau's teams in Chicago is missing. Not so much by the fact that the Bulls aren't putting forth a good effort, but more by the fact that the precision by which they used to run and execute offensive sets hasn't been the same.
"So if you're asked to set a screen, take your screen to the man," Thibodeau said. "If you're asked to cut, finish your cut to the basket and finish your cut outside the 3. Keep the ball moving. If you're asked to set three screens, set three, don't set two. Set three. If the ball goes into the post, get down to the baseline, get outside the hash, help your team. Don't get wrapped up in any personal dilemmas. If you're not shooting the ball well, there are a lot of other things you can do to help your team win and that's all anybody should be thinking about. So I think we have more than enough."
The problem for Thibodeau is that as far as offensive talent goes, that's just not the case. His team still hasn't gotten completely down on itself, but the time will come soon if the Bulls can't find a way to win some games -- and quick.
"It's a little bit of stuff here, a little bit of stuff there," Bulls guard
Mike Dunleavy
said. "But if we can just string together a couple and start feeling a little bit better about ourselves, we're going to hang in there, we're going to grind, but we can see the results with some wins. This team, we're right there. I don't think anybody will deny that. We're not getting wins right now, it's not showing up in the win-loss record, but we're closer than you think and we get a little rhythm and do that I think we'll be all right."
December, 16, 2013
Dec 16
9:39
PM CT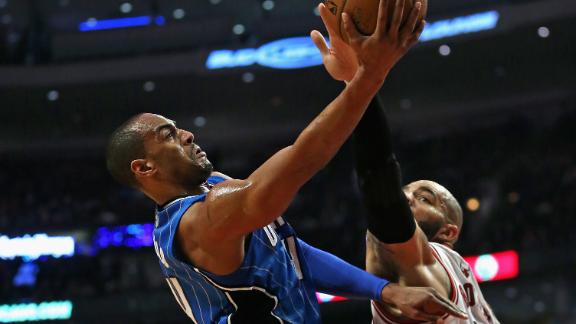 CHICAGO -- Let's take a quick look at how the
Orlando Magic
earned an 83-82 win over the
Chicago Bulls
on Monday night at the United Center.
How it happened:
Arron Afflalo
torched the Bulls throughout the night. The veteran swingman had 23 points, eight rebounds and four assists.
Nikola Vucevic
added 10 points and 11 rebounds.
Luol Deng
was the only bright spot for the Bulls, with 26 points and eight rebounds, but he missed a layup that would have tied the game in the final seconds.
What it means:
It's the same old story for Tom Thibodeau's team. The Bulls can't score. No matter what they do on the floor, they can't find a way to make baskets. It has been an ongoing problem for and one that doesn't appear to be changing anytime soon.
Kirk Hinrich
's return to the lineup isn't going to change much for a team that doesn't have a go-to scorer. The Bulls are still playing hard -- they just don't have the offensive talent to compete most nights.
Hits:
D.J. Augustin
had a nice game off the bench for the Bulls, scoring 14 points and dishing out eight assists. The veteran started the second half in place of struggling second-year point guard
Marquis Teague
. Expect him to get even more playing time if Hinrich (back stiffness) stays out of the lineup.
Misses:
Jimmy Butler
was just 1-for-11 from the field.
Stat of the night:
The Bulls shot just 34.6 percent from the field.
What's next:
The Bulls take on the
Houston Rockets
on Wednesday night.
December, 16, 2013
Dec 16
1:24
PM CT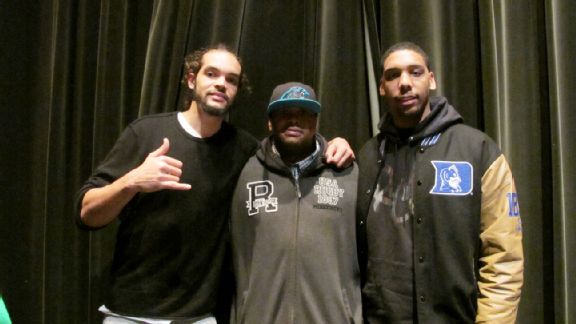 Adam ShopkornJoakim Noah, Lenny Cooke and Jahlil Okafor attend a screening of the documentary
HE WAS BETTER than LeBron and Melo. That was the rap on Lenny Cooke. But that was more than a decade ago -- when high schoolers still reigned over the NBA lottery and the Brooklyn native was the top-ranked prep player in the country. Back then, Joakim Noah, a younger AAU teammate, watched from the bench as Cooke's star rose and then epically flamed out. Which is why, in part, the Bulls forward signed on as executive producer of "Lenny Cooke," a new documentary that shows the entire cautionary tale -- from Cooke's epic battles with future All-Stars to his quiet struggle to come to grips with reality. "Cooke" is showing in select cities nationwide.
Elena Bergeron: How did you get involved with the film?

Joakim Noah: I've known Lenny since I was 12 years old. We both played on the same basketball team. He got very good, very fast and became the No. 1 player in the country. I wasn't playing a lot, so I got to see it all from the bench. Adam [Shopkorn, producer of the doc] had been following Lenny around with cameras, and he asked me to be a part of it, to help Lenny out. It was a no-brainer.
December, 16, 2013
Dec 16
1:20
PM CT
CHICAGO -- The Bulls waived veteran point guard
Mike James
on Monday.
James was brought in as an insurance policy before the season but didn't see the floor much, playing in just seven games.
"Mike's done a great job throughout his career," coach Tom Thibodeau said. "He did a great job for us. We certainly appreciate all that he brought to our team. For us, we just wanted to keep some flexibility as we move forward but Mike's a terrific player, he's a great guy, he did a great job for us."
After
Derrick Rose
went down with a season ending medial meniscus tear in his right knee, James worked his way into Tom Thibodeau's rotation ahead of second-year guard
Marquis Teague
. But James sprained his knee two weeks ago and fell out of the rotation and the Bulls have decided to go with Teague and newly-acquired guard
D.J. Augustin
.
The Bulls now have 13 players on their roster.
December, 16, 2013
Dec 16
11:55
AM CT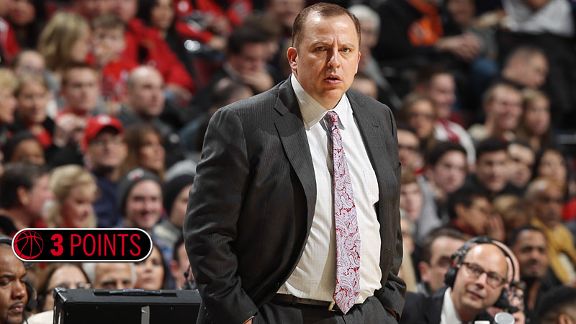 Gary Dineen/NBAE/Getty ImagesAside from Derrick Rose, Tom Thibodeau might be the Bulls' most valuable asset.
Every week, ESPNChicago.com Bulls writer Nick Friedell is joined by two other ESPN writers to weigh in on three questions that are on the minds of Bulls followers.
1. Would you trade Tom Thibodeau for a lottery pick?
Nick Friedell:
No. Thibs is still one of the biggest assets the Bulls have. I wouldn't give him up -- especially if you had no idea where the pick would fall. There are some great players in the 2014 draft but as is always the case in any draft -- nobody knows exactly how players will respond once they get in the league. The only way any deal happens is if Thibs and the front office decide they just can't get along anymore.
Jon Greenberg:
In theory, are you nuts? Given some context about the team's situation, the Bulls' front office should think about it and then forget it. I know Marc Stein has
posited that the Knicks could make a run at Thibs
, the ex-assistant who was canned years back, but they don't have a lottery pick so they're out of this theoretical conversation. To me, a coach like Thibodeau is more valuable than a lottery pick in all but the rarest of circumstances. While it's a "player's league," Thibodeau is unique. He's easily a top-five coach and, as his former player Brian Scalabrine told me a couple of years ago, a culture changer, an unofficial position usually reserved for players. "That's an unbelievable thing for a coach to do," Scalabrine said. The question lingering over the team is: Can Thibodeau and the front office co-exist for a long period of time? Both parties are headstrong, but they can and have worked together. Almost every team has a similar situation as the front office and the head coach sometimes have to approach a situation from different vantage points. To give up on Thibodeau now, for a chance, just a chance, at a talented rookie seems absurd. And a lot of teams would probably think giving up on a lottery pick for a coach is just as crazy.
Scoop Jackson:
Never. What they need to do is look into a bigger problem they have other than coaching (but I'll let them figure that out and keep my mouth shut). Trade Thibs for a lottery pick? Then who's going to coach
that
team once it gets finalized? Thibs is the most important person associated with the Bulls' organization next to
Derrick Rose
, and I don't hear anyone talking about trading or getting rid of him.
2. Does Thibodeau risk losing his players at some point during another lost season?

Nick Friedell:
Thibs is as hard-charging a coach as they come, but he's got to pull back on the reins a little bit now. He knows this team can't compete for a title this season. He can't push as hard with this group knowing that they are still having a hard time getting over the fact Rose got hurt again.
Jon Greenberg:
Not really. Will he grate on them more if they're losing? Yes. But he's a lot more savvy than he's given credit for. Yes, he's extremely exacting, and the players grumble about his machine-gun pace behind the scenes, but he knows this league. He's coached in it his entire life, and he's been on the staffs of horrible teams and contenders and everything in between. Look at how he coached
Nate Robinson
last season, especially late in the season. Thibodeau will do whatever it takes to win, but he is also cognizant of limits. While the Bulls don't always like Thibodeau, they respect him and he respects them (or most of them). I just hope his head doesn't explode one day on the sidelines.
Scoop Jackson:
Never, again. First, no one on this teams knows for sure if they'll be back next season so why devalue themselves by not playing and purposely tanking? Second, the players respect Thibs too much to do that to him. When players tune coaches out it's for personal reasons, and every player in the Bulls' locker room knows that what's happened to this team has nothing to do with Thibs. They know none of this is his fault.
3. What is the biggest positive that can be gleaned from this season?
[+] Enlarge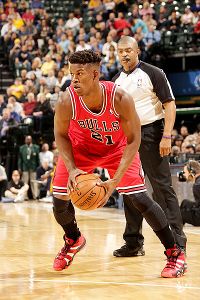 Ron Hoskins/NBAE via Getty ImagesThe development of Jimmy Butler might end up being one of the few positives from this season.
Nick Friedell:
In reality, nobody within the organization will say this, but the Bulls may be better off when they lose. Thibodeau is not going to let his team tank so it's a tricky balance, but what are the Bulls playing for this season? The chance to maybe make it into the second round? The key for Thibodeau is to try to get his team to still play hard. Bulls general manager Gar Forman has talked about keeping the culture the Bulls have built in place. Playing hard and still losing some games and getting a better spot in the lottery might be the best long-term situation for the organization.
Jon Greenberg:
If you're medically cleared to watch Bulls basketball this season, you can hopefully take solace in the development of three exciting players:
Taj Gibson
,
Tony Snell
and
Jimmy Butler
. These are athletes the Bulls need to complement Rose -- when he can play again, that is. Gibson's game has expanded after a disappointing, injury-hindered season. So far, he looks like he's worth every bit of that $38 million contract extension. Gibson is a potential All-Star, the successor to
Luol Deng
as the shining example of Thibodeau's team-first system. Snell has been pressed into action because of injuries and he's been a revelation as the team has foundered. Snell looks like a 40 percent 3-point shooter with an ability to finish at the rim and defend. And, of course, there's Butler, who was everyone's pick to take "the next step" this season as a full-time starter. Finally back from a turf toe injury, he needs to show that last season was no fluke and he can be a two-way player. While the Bulls will be tough to watch for much of the season, focus on these three.
Scoop Jackson:
That the East as a conference is just as bad as the Bulls are as a team. But at least the Bulls have excuses in injuries and Murphy's Law. The Eastern Conference as a whole has no excuse. The Bulls being surrounded by so many bad teams almost makes them look good. They are six games under .500 and are still holding down the eight spot if the playoffs began today. And we all saw last season what type of "miracles" can happen once the playoffs start.
December, 16, 2013
Dec 16
11:44
AM CT
[+] Enlarge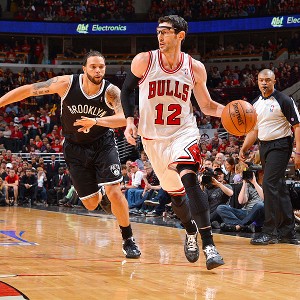 Jesse D. Garrabrant/NBAE/Getty ImagesVeteran Bulls guard Kirk Hinrich (stiff back) missed a game for the first time this season Saturday.
CHICAGO -- Chicago Bulls guard Kirk Hinrich will miss Monday night's game against the Orlando Magic because of back stiffness, according to coach Tom Thibodeau.
Hinrich, who missed Saturday's game against the Toronto Raptors, did not go through Monday's shootaround.
"He's feeling a little better," Thibodeau had said after the shootaround. "But he didn't do anything this morning, so we'll see where he is tonight."
Thibodeau will likely use a combination of Marquis Teague and D.J. Augustin to fill the void. The Bulls waived veteran guard Mike James on Monday.
Teague started in Hinrich's place Saturday, scoring seven points in 28 minutes. Augustin is 1 for 10 from the field in his first two games as a Bull after signing as a free agent last week.
December, 16, 2013
Dec 16
10:00
AM CT
CHICAGO -- Now that
Jimmy Butler
and
Luol Deng
have come back from injury, one player seems to have fallen out of
Chicago Bulls
coach Tom Thibodeau's rotation:
Tony Snell
.
[+] Enlarge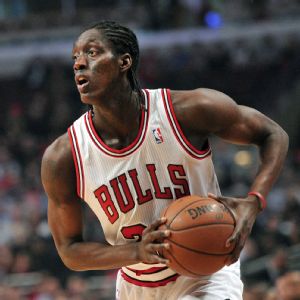 Rob Grabowski/USA TODAY SportsRookie Tony Snell is poised to assume a larger role in the rotation if the Bulls decide to move Luol Deng in a trade.
The rookie swingman has started eight games this season, the first of which came Nov. 25 against the
Utah Jazz
, and has played with more confidence as the season has progressed. But he played just five minutes in Saturday night's blowout loss to the
Toronto Raptors
, and now he finds himself searching for playing time again with Butler and Deng back in the fold. When asked about the situation after Saturday's game, Thibodeau was noncommittal regarding Snell's minutes in the near future.
"We'll see," he said. "We'll see how things unfold."
Thibodeau isn't wrong for sticking with Deng and Butler at this point in time. Both are more established players and Deng is a two-time All-Star. They should get the bulk of the minutes. But Snell's development will be stunted if Thibodeau doesn't find more time for him, a fact that shouldn't be lost on the front office.
That's why
the argument to get whatever they can
for Deng will likely grow louder than ever over the next month if the Bulls continue to lose. If the organization isn't going to pay Deng what he wants and he's not going to take a serious pay cut, then why not give Snell opportunity to show what he can do in the middle of another lost season?
It's a question that Bulls GM Gar Forman must continue to wrestle with if Snell continues to sit on the bench.
Deng remains focused:
After missing the past four games because of a sore Achilles, Deng was happy to be back on the floor with his teammates Saturday night. He still believes the Bulls can turn things around.
"I'm definitely confident," he said. "We're going through it right now up and down, guys getting hurt. We've had seasons where everybody was healthy and at the end of the year people got hurt. So hopefully, this year it's the other way around. We just got to stay positive. I think we're going to get better as the year goes on. Hopefully, guys can stay healthy. It's a long season. It's a long season, and we've learned in the past it's really who's the healthiest team and the team that has the best rhythm at the end of the year. Most of the time that's the team who's going to win it."
As a leader of the team, Deng admitted that he would talk to some of his teammates about keeping their head up if the situation presented itself.
"You just got to be an example," he said. "Guys are looking at you. You got to be positive. You got to talk guys and just staying positive and sticking with it. It's not always going to go your way, but being on both sides [in my career] -- the winning side and the losing side -- you just got to stick with it. And when things aren't going your way, you work harder and try to get things right. You can't just let it beat you up. Whether you get in the gym, watch film, try harder and harder until you get it right."
What's next
: The Bulls take on the
Orlando Magic
on Monday at 7 p.m. CT.
The last word
:
Joakim Noah
, after Friday's last-second win over the
Milwaukee Bucks
, regarding his emotional status.
"I was talking about it with
Mike [Dunleavy]
. It's crazy how levelheaded he is. Every day he comes with the same mindset, same mentality. Whether you win or you lose, he's the same.
Derrick [Rose]
's like that. I'm like the complete opposite. I'm like an emotional roller-coaster, so I got to try and do a better job of dealing with my highs and lows and try to be more consistent with the next play, moving on, things like that."
December, 16, 2013
Dec 16
8:50
AM CT
Associated Press
HIGHLAND PARK, Ill. -- Michael Jordan's 56,000-square-foot home in suburban Chicago has failed to sell at auction after the bidding fell short.
Jordan spokeswoman Estee Portnoy says nobody offered the reserve price of $13 million for the 7-acre estate in Highland Park, north of Chicago.
Portnoy says Concierge Auctions publicized Monday's auction well but that market conditions aren't ideal. She says options for the property will be evaluated next year.
The former Chicago Bulls superstar's home originally was listed at $29 million in early 2012.
It has nine bedrooms, 15 full bathrooms, a pool pavilion and a regulation-size indoor basketball court. It also features what is described as a "gentleman's retreat," complete with a library, wet bar and the original doors from the Playboy mansion in Chicago.
Jordan now owns the Charlotte Bobcats.