December, 27, 2014
Dec 27
10:59
PM CT

By Nick Friedell
ESPNChicago.com
Archive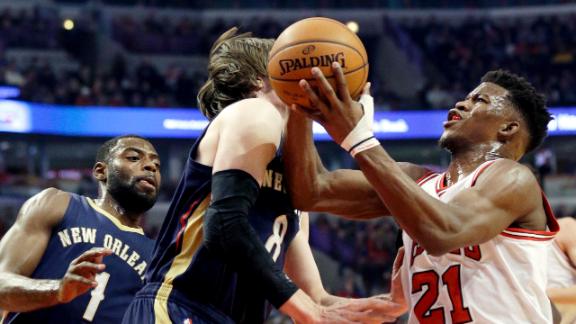 CHICAGO --
Anthony Davis
is just 21 years old.
New Orleans Pelicans
coach Monty Williams made that public service announcement after watching Davis rack up 29 points, 11 rebounds, six blocks and two assists in a 107-100 loss to the
Chicago Bulls
on Saturday night. It's hard to believe how young the superstar big man is while watching him dominate grown men up and down the floor.
"He's just got to keep working," Williams said. "He's 21 ... he's just got to keep working. He's a fantastic player. He can shoot, he can pass, he can defend. As he gets stronger and as his mind develops, he's going to become an even better player. But he's just 21 years old."
What made this particular Davis performance even more impressive was the fact that he did it in front of friends and family. Davis, who went to Perspectives Charters School just a few miles away from the United Center, played his first NBA game in his hometown and admitted the experience was a little emotional. After missing the Pelicans' games in Chicago the past two seasons because of injury, Davis was excited about his chance to finally play at home.
He didn't disappoint.
[+] Enlarge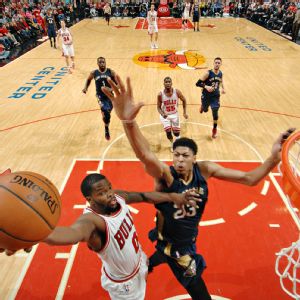 Randy Belice/NBAE/Getty ImagesAnthony Davis played in Chicago for the first time as a pro and left a good first impression.
Bulls swingman
Jimmy Butler
might have scored more points (33) than Davis as he continues his path toward becoming the league's most improved player, but Davis reminded everyone throughout the night who the best player on the floor was. The stats have been impressive for several years, but it's the fear and awe that his opponents show toward him that is most telling.
"He just erases mistakes," Bulls coach Tom Thibodeau said while raving about Davis before the game.
Thibodeau got a firsthand look at Davis over the summer, while serving as an assistant coach on Mike Krzyzewski's Team USA staff. Everybody in the league knew how good Davis was, but as Williams alluded, the scariest part for the rest of the league is Davis is getting even better.
"He is better than advertised, and that says a lot," Thibodeau said after the game. "It's amazing what he does. The game is easy for him. I shouldn't say easy because I know how hard he works to prepare himself to play well ... he is a great leader. We learned that this summer with team USA. He is a great teammate. His team loves playing with him."
Everybody else hates playing against him.
Bulls All-Star center
Joakim Noah
respectfully called Davis a "freak" before the game. After it was over, he came away even more impressed than before.
"He's a great player," Noah said. "Great, well beyond his years. I thought that for somebody to come in, playing in front of your hometown, usually there's some anxiety. I just saw a lot of composure out of him tonight. He came in, first shot, boom, knocked it down. You can't give him any open looks at his size. He's a very, very talented kid."
All the praise in the world wasn't going to make Davis feel much better after this game. He wanted to come back to his city and lead his team to victory, just like he did in August during a Team USA exhibition win over Brazil.
"It doesn't matter if we don't win," Davis said of performing well in front of friends and family. "I don't really care about that. I just want to win. I could have had 50 and we lose -- it really doesn't matter because it doesn't mean anything."
That's not how many in attendance felt, though. Just like he did while playing for his country in August, Davis electrified a sellout crowd in his hometown and dominated play on both ends of the floor. Davis might not appreciate this moment right now, but he left an indelible mark in his first NBA game in Chicago. The city has seen great players before, but nobody has seen anyone quite like Anthony Davis.
December, 27, 2014
Dec 27
9:34
PM CT
Associated Press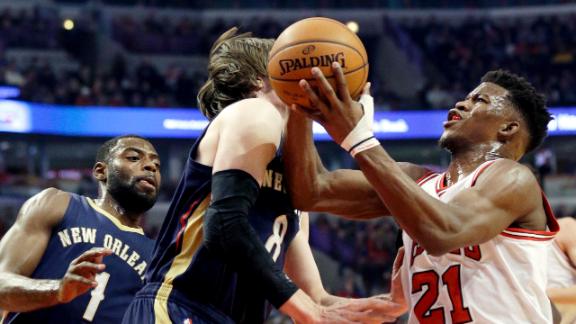 CHICAGO -- Jimmy Butler scored 33 points, Derrick Rose had 19 and the Chicago Bulls beat the New Orleans Pelicans 107-100 on Saturday night for their sixth consecutive victory.
The Bulls (21-9) also had three reserves score in double figures in their ninth win in 10 games. Aaron Brooks scored 13 points, and Taj Gibson added 12 points and 10 rebounds. Nikola Mirotic finished with 10 points.
Anthony Davis had 29 points, 11 rebounds and six blocked shots in his first NBA game in his hometown. Tyreke Evans scored 26 points for the Pelicans, and Jrue Holiday had 19 points and seven assists.
The Pelicans (15-15), who were coming off a 97-90 victory over San Antonio on Friday night, were outrebounded 45-37 by the Bulls.
New Orleans pulled within seven with 2:58 remaining on consecutive layups by Austin Rivers and Evans, but Rose then drove inside for a dunk. After Evans converted another layup, Butler had a three-point play that made it 104-94 with 1:49 to go.
Davis was greeted with mostly cheers from the crowd of 21,935. The No. 1 overall selection in the 2012 draft had a mild concussion when New Orleans visited Chicago during his rookie year, and he broke his left hand before the Pelicans' road game against the Bulls last December.
The 6-foot-10 Davis got a chance to play at the United Center in August with the U.S. national team and scored 20 points in a 95-78 victory over Brazil in a tuneup for the World Cup of Basketball. Davis then helped Team USA win the gold medal in Spain, and carried over his stellar play into his third season with New Orleans.
It was more of the same in his return to Chicago, with Davis showing off his breathtaking game on both ends of the court. In one typical sequence in the first quarter, he blocked a shot by Pau Gasol, and then used a spin move to set up a nifty left-handed layup that gave the Pelicans a 22-21 lead.
December, 27, 2014
Dec 27
11:59
AM CT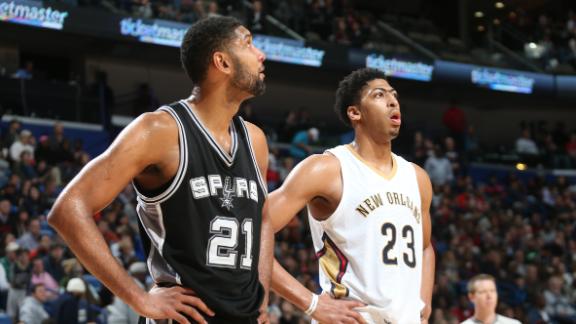 CHICAGO -- All-Star center Joakim Noah has high praise for New Orleans Pelicans All-Star big man Anthony Davis.
"He's a freak," Noah said after Saturday morning's shootaround, in advance of Saturday night's game between Pelicans and the Chicago Bulls. "He can shoot the ball -- there's not a lot of things he can't do on a basketball court. He affects the games in a lot of ways. Even though his stats are crazy, there's a lot of things that he does that you don't even see on a stat sheet that affect the game. He's a hell of a talent."
Saturday's game marks the first time Davis will be playing in an NBA game in Chicago. Davis missed games in his hometown the last two years because of injury. The Bulls know they have a tough challenge on their hands.
"You don't guard a great player in this league individually," Bulls coach Tom Thibodeau said. "That's impossible. So we're going to have to have great team awareness. And [Davis is] so good in so many different areas. He's great in transition, he's great in the pick and roll. He's become very effective in the post. He can face you up. His first step is lightning. He's got great touch, he's a real active second jumper, you can throw the ball to the top of the backboard, he can go get it. There's not much he can't do and he plays for the team. He plays to win."
Davis, who went to Perspectives Charter School, put on a show for Team USA last summer during an exhibition game against Brazil at the United Center and acknowledged after the game how much fun he had playing in front of his hometown fans. Thibodeau, who was an assistant on Team USA's staff, got a firsthand look at how dominant Davis can be.
December, 26, 2014
Dec 26
7:16
PM CT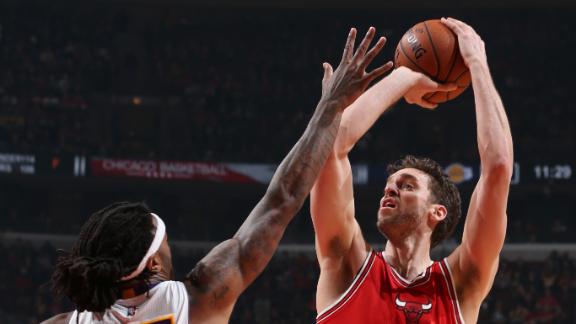 CHICAGO -- So it's obvious to pretty much everybody what the Chicago Bulls have now, particularly to the Bulls. It's not just the five straight wins, or that Pau Gasol is so reinvigorated, or that Jimmy Butler is now one of the very best two-way players in the league, or even that Derrick Rose is on the verge of striking that hard-to-find balance between self and others, warp speed and slow dance.
It's that as the Bulls leave the first stage of the NBA season and head with a little more determination toward the All-Star break, it seems they have pretty much every element a team needs to have serious championship aspirations.
Byron Scott, given to old-school reserve when it comes to assessing opponents, said of the Bulls after their 20-point win over his Los Angeles Lakers on Christmas night, "They are the best we have played so far in the East. They are good. They have length and athleticism. They have two of the best passing big men in the game. They are unselfish. They have a rising star in Jimmy Butler. They have a great basketball team."
The middle of the five-game winning streak is what has gotten the league's attention, even out West. You don't win in Memphis, in Chicago against Toronto, and back on the road against Washington unless a lot of important elements are coming together.
December, 26, 2014
Dec 26
2:17
PM CT

By Scott Powers
ESPNChicago.com
Archive
CHICAGO --
Chicago Bulls
coach Tom Thibodeau knew like everyone else
Anthony Davis
had plenty of ability before coaching him with Team USA.
Thibodeau learned a lot more about Davis over the summer.
"It's funny," Thibodeau said on Friday. "You really don't know somebody until you're around them, and you have an opportunity to coach them. So, you can see the talent. That part I knew. But once you're around him and see how serious he is and what a great teammate he is and just how he carries himself, he was a pleasure to be around."
Davis may not be such a pleasure come Saturday when he and
New Orleans Pelicans
face the Bulls. Coming off his summer experience with Team USA, Davis is having an MVP-type season, averaging 24.5 points, 10.1 rebounds and 2.9 blocks.
"He's something," Thibodeau said. "I was around him all summer, and I don't know if there's any big that's more talented than him. There's nothing that he can't do. He's got great touch, he can post, put it on the floor. He's got great hands, he's great defensively. He's got the skills of a guard, and the speed and quickness of a guard and obviously the size of a big. So, it's a tough combination."
Davis, a Chicago native, may have some extra motivation Saturday as it's his first NBA game back in Chicago. He missed the Pelicans' past two games in Chicago because of injuries. He did play at the United Center for Team USA over the summer.
Davis played in high school at Perspectives Charter Schools' Joslin campus, which is about 4.4 miles from the United Center. He was an unknown high school player until he blew up on the club scene prior to his senior season. He became the No. 1 player in his high school class and went on to play at Kentucky for one season.
December, 26, 2014
Dec 26
1:30
PM CT

By Marc Stein
ESPNChicago.com
Archive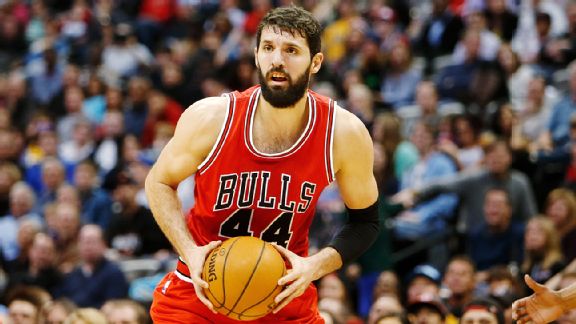 Chris Humphreys/USA TODAY SportsNikola Mirotic has made an immediate impact with the Bulls after six years playing in Spain.
Rookie Of The First Trimester: Nikola Mirotic, Chicago
A draft for the ages, huh?
Not quite.
Not yet.
The NBA's much-hyped Class of 2014, as a collective, is in the midst of a thoroughly forgettable and deflating introduction to the pros. Only two rookies --
Andrew Wiggins
and
Jabari Parker
-- are scoring in double figures. And that's with Wiggins leading all rookies at a mere 12.6 points per game, with Parker, after going No. 2 overall, suddenly out for the season after a knee tear that has sadly shelved him just like No. 3 pick
Joel Embiid
(foot), No. 4
Aaron Gordon
(foot) and No. 7
Julius Randle
(leg).
So you could make the argument, in this climate, that we should have skipped this category entirely for Trimester purposes. The problem there is that some youngster
is
eventually going to win Rookie of the Year honors in late April or early May, no matter how underwhelming his production might be, so we're somewhat duty-bound to try to identify a leader at the one-third stage.
Which brings us to Mirotic.
Perhaps he's not a rookie in the truest sense after spending more than half a decade in Real Madrid's system before finally matriculating to Chicago, but what qualifies as big league production from Mirotic in the month of December -- averages of 10.9 points, 5.9 rebounds and .419 shooting from 3-point range -- is enough to put him in the lead.
Who else could we conceivably propose here? Wiggins and
Nerlens Noel
have shown occasional flashes, as has Noel's Philly teammate
K.J. McDaniels
, but none of those more celebrated recent draftees is clearly on an upward career arc at this juncture.
As of Christmas morning, Mirotic was the only rookie in circulation with a PER above the league average of 15.0, sitting at a promising 18.2. No. 11 overall pick
Doug McDermott
was actually supposed to be Chicago's marquee rookie, but McDermott's own Year 1 knee woes have helped open the door for his 23-year-old fellow rook to establish himself as a rotation player.
Who else can say so, for teams with legit playoff aspirations, besides Houston's
Kostas Papanikolaou
or Brooklyn's
Bojan Bogdanovic
?
It also doesn't hurt Mirotic's Trimester cause that his new Three-kola nickname, meant to be shouted with the gusto of the guy in the Ricola cough drops commercials, is pretty catchy.
December, 26, 2014
Dec 26
11:30
AM CT

By Marc Stein
ESPNChicago.com
Archive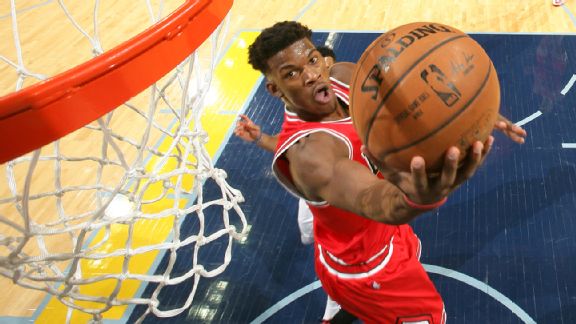 Joe Murphy/NBAE/Getty ImagesJimmy Butler, the East's reigning Player of the Month, is the early runaway favorite for MIP honors.
Most Improved Player of the First Trimester: Jimmy Butler, Chicago
After years and years (and years) of whining from us about how hard it is to sift through the wide range of players who are nominated for this award and then zero in on a name or three, 2014-15 appears poised to give us our first overwhelming MIP favorite in memory.
Have to believe Chicago's Jimmy Butler would be a unanimous hoister of the MIP trophy if the voting were done on Christmas.
Even with
Draymond Green
making his own mega-leap in Golden State, what Butler has achieved defies explanation, even after we've had a couple of months to let the transformation sink in. He's hiked his shooting percentage from .397 last season to .483, which bumped his scoring average from 13.1 PPG to 21.6 PPG and, more than any other Bull, has helped Tom Thibodeau cope with the steady stream of injuries Chicago has faced by happily taking on a league-leading 40.1 minutes per game.
He's tireless. The offensive spike means he's now an impact player at both ends. And Butler has been seen taking shifts at every position but center, which is why Green -- despite his transformative emergence as a perimeter threat out West -- would have to make another leap in-season to close the gap on the guy setting the MIP pace.
The guy who won Eastern Conference Player of the Month honors for October/November out of nowhere.
Rewind to Halloween and Butler was in the headlines thanks to his thoroughly unsatisfying contract extension talks with the Bulls, who were unwilling to offer more than $40-44 million over four years. Now? Butler and agent Happy Walters look rather wise to have opted for patience, with rival GMs routinely saying that Butler is on course to generate four-year max offers as a restricted free agent come July, a la
Gordon Hayward
last summer from Charlotte.
Best of all? Butler and Green have been so good that we don't even have to launch into our usual speech about how second-year players (like our beloved
Dennis Schroder
and
Giannis Antetokounmpo
) and high lottery picks who are supposed to keep developing toward stardom (like
Klay Thompson
and that
Anthony Davis
kid) really aren't the sorts of candidates we're looking for in keeping with the true spirit of this award.
An agony-free MIP dissertation?
Butler did it.
December, 26, 2014
Dec 26
12:44
AM CT

By Jon Greenberg
ESPNChicago.com
Archive
CHICAGO -- Unlike fellow class of 2010 free agent
LeBron James
,
Carlos Boozer
wasn't welcomed back to his old stomping grounds with a video tribute on Christmas.
Of course, he didn't win two titles with the
Chicago Bulls
, either.
And yes, Bulls fans yelled "Boo," not "Booz," during the Bulls' 113-93 win over the
Los Angeles Lakers
on Thursday night.
[+] Enlarge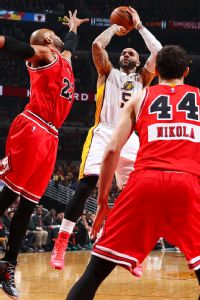 Gary Dineen/NBAE/Getty Images"This is like a second home for me," Carlos Boozer said of his return to Chicago. "I know everybody here. We became like a family over the years."
Boozer, the Bulls' consolation prize four summers ago, was "amnestied" after last season to give the Bulls salary-cap room for a new crop of free agents. It was an expected move -- and the right one as his minutes atrophied over his last season. Outside of the locker room, he's not exactly missed, especially with the way his replacement,
Pau Gasol
, is playing.
Now a backup power forward for the Lakers, Boozer had an efficient game in his return to Chicago, scoring 14 points on 7-for-11 shooting and adding five rebounds in 17 minutes, 19 seconds off the bench. He is averaging 13 points and 7.3 rebounds per game in 26 minutes for the 9-20 Lakers.
The Bulls are a mirror opposite of Boozer's new team at 20-9.
While the Bulls are much better off with newcomers Gasol and
Nikola Mirotic
teaming up with frontcourt holdovers
Joakim Noah
and
Taj Gibson
, the United Center is certainly a quieter place without the voluble Boozer, one of the louder players in the NBA.
"He was pretty quiet tonight, actually," Noah said after the contest. "But overall, I thought he had a good game."
While he wasn't a fan favorite -- and often spent fourth quarters marooned on Tom Thibodeau's bench because of his defensive liabilities -- Boozer still has plenty of fans in the Bulls organization, from the trainers to the PR staff to the players and coaches. His trademark saying/hashtag, "Holdat," remains popular with the team.
"This is like a second home for me," Boozer said. "I know everybody here. We became like a family over the years."
And he can still scream with the best of them.
Take the start of his postgame news conference, which took place in the hallway outside the visitors locker room, for example.
A Lakers TV reporter said, "Carlos, what was this like for you --"
"Easy!" Boozer yelled to Bulls assistant Ed Pinckney, who was down the hall. "Don't leave yet!"
Then, he seamlessly looked at the reporter and said, "Go ahead."
"What was it like for you to come back to a place I know you have strong feelings for?"
As you might surmise, Boozer said it was "weird" to play against his "brothers" out there, but he still wanted to get a win.
"I'm just playing," he said. "You just got to play out there. I'm just out there hooping. I was just trying to be efficient when I'm out there."
Coming off the bench as an offensive threat seems like a good niche for Boozer to end his career.
"It was cool to see Booz, seeing him out there, just doing his thing out there, just competing," Noah said.
The Bulls have won five in a row and are very deep. Against the Lakers, nine guys played at least 14 minutes, led by Jimmy Butler's 42:11. Gasol led the Bulls with 23 points, Butler added 21 and Rose 20. Gasol can finish inside, and Mirotic is a 3-point threat.
Boozer found out what it's like as an opponent playing against this team, which is pretty healthy for the moment.
"They came in waves, man," Boozer said. "Jimmy played well, D-Rose played well late, Pau was amazing all game long."
Boozer visited with his ex-teammates in the home locker room after the game. His locker now belongs to Gasol, a fan favorite who will try to do what Boozer couldn't: win the Eastern Conference and get to the Finals.
December, 25, 2014
Dec 25
11:34
PM CT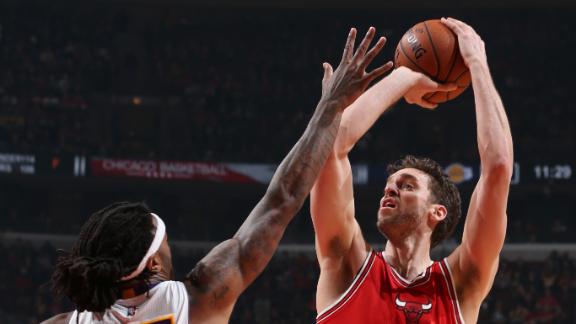 CHICAGO -- Veteran big man Pau Gasol admitted after Thursday night's 113-93 win over the Los Angeles Lakers that it was "weird" facing his former team for the first time since signing with the Chicago Bulls in the summer.
"It's weird," Gasol said after racking up a game high 23 points and 13 rebounds. "Obviously it's an emotional game because you find yourself on the opposite side of a team that you've played for for so many years and you've been through so much [with them]. So it was weird, difficult at first to kind of get going and once you start playing you're just playing the game the best way you can."
Gasol said he spent some time speaking to former teammate Kobe Bryant on Wednesday and was sad that the Laker legend didn't play against the Bulls. Bryant sat the game out with soreness.
"We saw each other for a while," Gasol said. "We sat down for over two hours. Just catching up. It felt good to really to hang out, to talk, spend quality time together. I really enjoyed it. Obviously I miss him, I don't get to see him that much now for obvious reasons, but he's like a brother to me and I wish him the best. I have the utmost respect for who he is and we're always going to support [each other]."
Gasol didn't reveal exactly what was said in the conversation but did note that it had little to do about basketball. He is hopeful that Bryant will be back on the floor soon.
December, 25, 2014
Dec 25
9:41
PM CT
Associated Press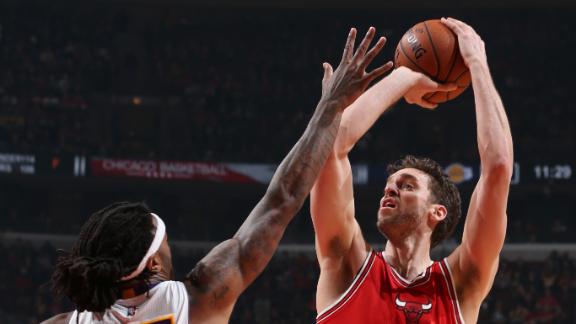 CHICAGO -- Pau Gasol had 23 points and 13 rebounds against his former team and the Chicago Bulls beat Los Angeles 113-93 on Thursday night with Lakers star Kobe Bryant resting his sore body.
Jimmy Butler added 21 points, and Derrick Rose had 20 points and six assists to help the Bulls win their season-high fifth straight.
With Bryant missing his second straight game, the Lakers were unable to pull off another upset. They stunned Golden State on Tuesday night but came up short against the Central division leaders.
The Bulls hung on after a 16-point second-quarter lead dwindled to two in the third. They pulled away in the fourth, sending the Lakers to their fourth loss in five games.
Gasol, a two-time champion in six-plus seasons with the Lakers, was 9 of 14 from the field in his first game against Los Angeles since joining the Bulls in the summer.
December, 25, 2014
Dec 25
7:33
PM CT

By Baxter Holmes
ESPNChicago.com
Archive
CHICAGO -- No
Kobe Bryant
-- and no
Los Angeles Lakers
blowout win, either.
After pummeling the
Golden State Warriors
without Bryant earlier this week, the Lakers scrapped against the
Chicago Bulls
here but came up short after shooting 39 percent from the field.
Bryant sat out again to rest, which was unexpected since it meant missing a nationally-televised Christmas Day matchup, but the Lakers held their own for most of the game, coming to within 2 of the Bulls in the third quarter.
In the end, the Bulls, who led by as much as 22, had too much firepower, dropping the Lakers to 9-20. The Lakers did maintain their balance, with five players scoring in double figures, led by
Wesley Johnson
, who scored 19 points to go along with nine rebounds.
Player of the game:
This one goes to Bulls forward
Pau Gasol
, who scored 22 points on 9-of-14 shooting and grabbed 12 rebounds against his former team.
Not so Swaggy:
Nick Young
struggled for the Lakers, scoring just 3 points on 1-of-6 shooting in 18 minutes off the bench. Without him and Bryant, the Lakers really lacked a scoring punch.
More reunions:
Lakers forward
Carlos Boozer
scored 14 points and grabbed five rebounds off the bench against his former squad.
Up next:
the Lakers head to Dallas to play the Mavericks on Friday. Bryant said there's a "slim" chance that he plays in the game.
December, 25, 2014
Dec 25
5:40
PM CT
CHICAGO -- Lakers star Kobe Bryant missed Los Angeles' 113-93 loss to the Chicago Bulls on Thursday night.
The 36-year-old Bryant sat out to rest for the second straight game, Lakers coach Byron Scott announced before the game.
"It's extremely difficult, especially playing here, playing on Christmas Day and playing in this city. I love playing here," Bryant said. "The fans have always been great. There's always a lot of energy in the building.
"At the same time, I've just got to try to be smart. It's really going against my nature, but I've got to be smart about this."
When asked if there was any particular injury hampering him, Bryant cited age and soreness.
"Old age. My knees are sore at this stage of the season," he said. "My Achilles are sore -- both of them. My metatarsals are tight, back is tight. I just need to kind of hit the re-set button."
Bryant also said he'll likely play fewer minutes going forward. When asked about the chances that he'd play Friday in Dallas against the Mavericks, Bryant said, they're "slim right now."
Bryant was listed as probable to play in his 16th career Christmas Day game, but Scott said Bryant notified him of general soreness Thursday morning and decided to sit him out. Scott said he didn't get much resistance from Bryant.
Bryant is averaging 24.6 points, 5.1 rebounds and 4.9 assists per game this season.
December, 25, 2014
Dec 25
11:21
AM CT
Associated Press
NEW YORK -- Cleveland's LeBron James and Stephen Curry of Golden State are the leading vote-getters in the first returns from NBA All-Star fan voting.
James had about 553,000 votes at the Eastern Conference frontcourt spot, where New York's Carmelo Anthony ranked second and Chicago's Pau Gasol was third in the results released Thursday. Washington's John Wall topped East guards, and No. 2 was James' former Miami teammate, Dwyane Wade.
Curry had more than 549,000 votes to lead second-place Kobe Bryant among West guards. New Orleans' Anthony Davis had the most votes in the West frontcourt, followed by the Clippers' Blake Griffin and Memphis center Marc Gasol.
Voting runs through Jan. 19, and starters for the Feb. 15 game in New York will be announced Jan. 22.