January, 25, 2015
Jan 25
4:15
PM CT

By Nick Friedell
ESPNChicago.com
Archive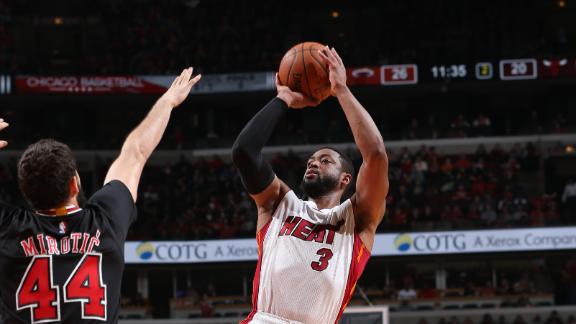 CHICAGO -- The
Chicago Bulls
aren't as bad as they played in Sunday afternoon's deflating
96-84 loss
to the
Miami Heat
.
But they aren't as good as they played in wins over the
San Antonio Spurs
and the
Dallas Mavericks
a few days ago. They are caught in the middle of an emotional rut that they can't pull themselves out of just yet.
"We just got to do better," said
Pau Gasol
in a quiet Bulls locker room. "I don't know if there's a straight explanation for it.
"We understand the importance of every game, especially here at home, we're trying to do better. We're trying to get ourselves going and get some kind of momentum."
But just when it appears the Bulls are gaining some momentum, they take another big step back. In hindsight, that's why Sunday's loss shouldn't come as much of a surprise. The Bulls, who are now just 13-11 at home, continue to struggle playing with a consistent effort at the United Center. They sleepwalk through too many games against sub-.500 teams and then try to fight back when it's too late. It's a trend that this proud group can't seem to shake.
On a broader level, the Bulls are still adjusting to their expectations before the season. Under Tom Thibodeau, the Bulls have always thrived as the underdog. They enjoy proving people wrong and winning games that many don't think they can win. But this season, they have excelled at finding ways to lose those games.
They don't play with the same fire against teams they believe they can beat, a fact that the players have admitted to throughout the season.
"It's a number of things," said Bulls power forward
Taj Gibson
. "[We] tend to get too lax at home. We got to have the right kind of energy. Sometimes I just think that in our head we think that we're good enough that we'll just step on the court [and win], and it's tough.
"Teams are out here gunning for us. [There's] a lot of speculation about how good we can be and how good we are and teams take pride in that and try to beat us, see how far they can go. We just got to learn from it, that's the only thing."
That's the only thing the Bulls can do at this point. They've got to continue learning from their mistakes. They've got to keep learning from each other. The belief was that Tuesday's team meeting put all the issues on the table for the Bulls. The feeling was that the players said what they had to say to Thibodeau and vice versa -- but everyone in the group was back on the same page. However, Sunday proved that all the issues haven't been corrected yet.
Now the Bulls embark on a six-game road stretch that will be split into two separate trips over the course of the next two weeks. They won't be favored in Tuesday's showdown against the
Golden State Warriors
, so they won't have to worry about playing down to their competition. But at some point they are going to have to figure out how to play with more passion against teams they should beat, especially at home.
The issue has moved past the point of being a trend this season -- now it's just a big problem.
When asked about that problem, Bulls point guard
Derrick Rose
offered a common refrain that sums up the feeling within the Bulls' locker room on Sunday.
"I really don't know," Rose said. "If I had an answer I swear I'd tell you, but I just don't know."
January, 25, 2015
Jan 25
4:48
PM CT
By ESPN Stats & Information
ESPNChicago.com
Archive
David Banks/USA TodayHassan Whiteside (21) set a Heat franchise record with 12 blocked shots.
A player who entered this season with 19 games of NBA experience had one of the most impressive all-around games in
Miami Heat
history Sunday.
Hassan Whiteside
came off the bench for the Heat and registered 14 points, 13 rebounds and 12 blocked shots in their 96-84 win over the
Chicago Bulls
.
Whiteside became the first player with at least 12 points, 12 rebounds and 12 blocked shots in a game since
Shawn Bradley
in 1997-98 with the
Dallas Mavericks
. In the past 25 years, the only other players to meet those marks have been Shaquille O'Neal (1993-94, with the
Orlando Magic
) and
Dikembe Mutombo
(1992-93,
Denver Nuggets
). Like Whiteside, Bradley came off the bench when he had his triple-dozen.
Whiteside broke the Heat franchise record of nine blocked shots (done by Alonzo Mourning six times). He had the first triple-double that includes blocked shots since
Joakim Noah
, who had 23 points, 21 rebounds and 11 blocked shots on Feb. 28, 2013.
All 12 of Whiteside's blocked shots were within six feet of the basket. Seven came when he was a help defender.
Taj Gibson
was particularly affected by Whiteside. Five of Gibson's 10 shots were blocked by Whiteside. No team had blocked five Gibson shots in a game before Sunday.
Whiteside's defense helped the Heat hold the Bulls to their third-worst field goal shooting percentage (35.6 percent) this season. The Bulls shot 33.3 percent in a loss to the Utah Jazz on Jan. 7 and 34.5 percent in a victory at Indiana on Dec. 29.
Whiteside played 19 games with the
Sacramento Kings
in 2010-11 and 2011-12 and was out of the NBA for two seasons. He became the eighth player in Heat history to post a triple-double, joining
LeBron James
,
Dwyane Wade
, O'Neal, Lamar Odom,
Billy Owens
, Steve Smith and Rory Sparrow.
Whiteside got all of that accomplished in 25 minutes on the court. The last player with 12 or more blocks in 25 minutes or less was Manute Bol in March 1989 for the Golden State Warriors against the Portland Trail Blazers (13 blocks in 20 minutes).
January, 25, 2015
Jan 25
2:49
PM CT
Associated Press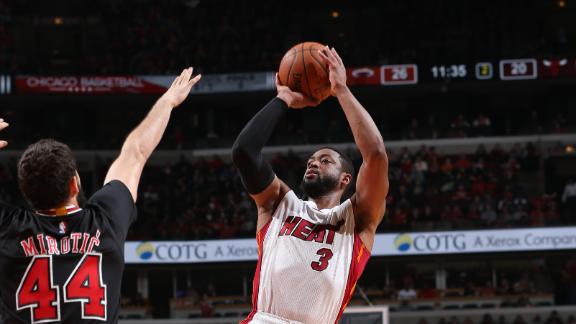 CHICAGO -- Dwyane Wade scored 26 points, Chris Bosh finished with 20 and Hassan Whiteside had unconventional triple-double to help the Miami Heat beat the sluggish Chicago Bulls 96-84 Sunday.
Whiteside had a career high 11 blocks to go with 14 points and 13 rebounds.
Luol Deng scored 15 in his return to Chicago. Mario Chalmers had 15 points, and the Heat squashed whatever momentum the Bulls appeared to be building after beating San Antonio and Dallas.
Miami led by 10 at halftime, 12 going into the fourth quarter and remained in control the rest of the way.
January, 23, 2015
Jan 23
11:54
PM CT

By Nick Friedell
ESPNChicago.com
Archive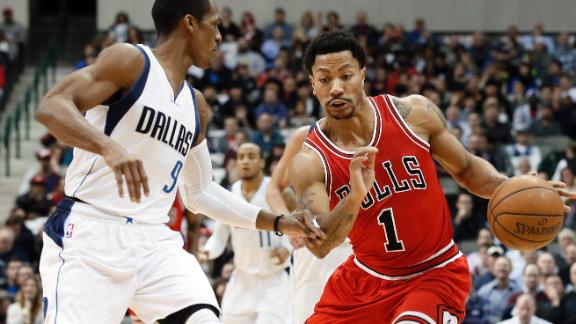 DALLAS --
Joakim Noah
knew his team was stuck at a gigantic fork in the road.
After another embarrassing defeat to the
Cleveland Cavaliers
on Monday night, the
Chicago Bulls
' sixth in their past eight games, the emotional center knew his team's entire season was headed in the wrong direction. The Bulls weren't fighting hard together, they weren't communicating enough on the floor and the hard-nosed defense which had defined them over the past four seasons went missing.
Noah, who was sitting out the Cavs game because of a sprained right ankle, knew that neither he nor his team was having any fun. The Bulls held a team meeting on Tuesday and talked about the issues they were having, but nobody knew whether airing out all the issues would have an impact on the floor.
Three days later, it appears that meeting might have saved the Bulls' season and gotten it back on track.
Noah, who returned to the lineup in Friday night's impressive
102-98 win
over the
Dallas Mavericks
, after missing four games because of the ankle injury, wore the look of a proud and relieved older brother as he spoke after the game.
"I think when you go through adversity like that, you either go two ways," he said. "You either come together or you start to point fingers, and that's not who we are. At the end of the day, I think everybody wants to win here. It was definitely a humbling couple of weeks, but we just got to regroup and we still got work to do. We're not satisfied. We know we got to get better, and I think we're all more than capable of doing that."
But why did the message suddenly take? The Bulls always had talent, and they rattled off plenty of wins before their recent spiral. Why did it take so long for the players to buy into what they were trying to do together and get out of their funk?
[+] Enlarge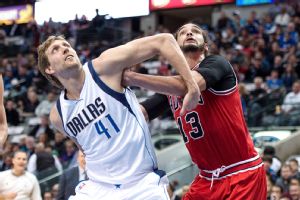 Jerome Miron/USA TODAY SportsJoakim Noah returned to the lineup and helped deliver an impressive road win over Dirk Nowitzki's Mavericks.
"That's a good question," Bulls guard
Jimmy Butler
said. "I really can't tell you. I think we just all needed to sit down and get our feelings out and tell each other what we see was wrong, and we did that and turned it around for right now."
Lots of things were said in that meeting. Veteran
Pau Gasol
said coach Tom Thibodeau encouraged players to say what was on their mind, but after watching the Bulls roll through the defending NBA champion
San Antonio Spurs
on Thursday night and then squeeze out an even more impressive road win over the Mavericks on Friday night, one of the subtle, noticeable differences in the short term is that Thibodeau has changed his tone toward his players a little bit.
The hard-charging coach still destroys referees all night, but he is not as outward with his criticism of his own players in recent days as he has been in years past. His players have always wondered whether the veteran coach could take his foot off the gas ever so slightly, a point undoubtedly touched upon in the meeting. In that regard, at least in the short term, it appears he has.
The Bulls players, coaches and executives aren't na´ve enough to think two good wins are the cure-all for a team that struggled so mightily in recent weeks, but it's a hell of a start for a group that has regained a championship belief in itself. They have started better in games.
Derrick Rose
has been more aggressive to start those games, as evidenced by the fact he scored 13 of his 20 points in the first quarter and drove to the rim. But most importantly, they are playing better defense and appear more unified on the floor. Thibodeau is cautiously optimistic his team is mentally back where it needs to be.
"I think you got to be careful," Thibodeau said. "You just got to keep building. Because you play two games, you got to keep putting the intensity into it, the concentration into it. Don't feel good. The games will keep coming. We got a quick turnaround with Miami, but I like the direction we're moving in. The last three or four days have been very good and productive.
"The words are good, but the actions are better. So it's about the work."
The work is what has made Thibodeau one of the very best coaches in the league over the past five seasons, but it's the words spoken by him, and his players, that might have saved this season.
"Having meetings when things are not going well, I think it's positive because you hear everyone out and you understand we're all in the same boat and we all have to row together to get to port, get to land," Gasol said. "If we don't do that, we're just going to continue to not accomplish what we want to accomplish. So once that's said, now let's take action. Actions speak louder than words, and now we have to bring it to the floor. Now we have to prove what we are talking about -- to ourselves first and then to other people. I think that's kind of what happened."
January, 23, 2015
Jan 23
9:48
PM CT
Associated Press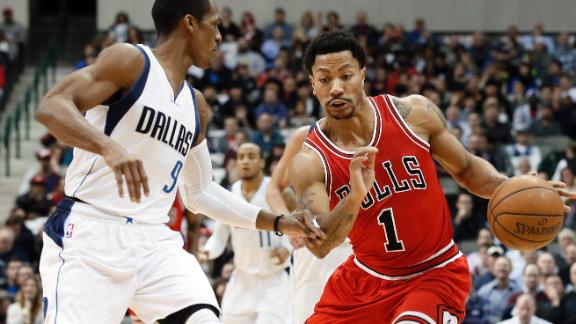 DALLAS -- Derrick Rose scored 20 points, Jimmy Butler had 14 of his 20 in the second half and the Chicago Bulls beat the Dallas Mavericks 102-98 Friday night.
The Bulls beat a Western Conference playoff contender for the second night in a row after losing six of their previous eight games. They handed defending champion San Antonio its most lopsided loss of the season in Chicago on Thursday.
Pau Gasol had 13 points and 16 rebounds, and Joakim Noah added six points and seven boards in his return after missing four games with a sprained right ankle.
Dirk Nowitzki scored 24 points to lead the Mavericks, who had won three straight and were trying to get coach Rick Carlisle his 600th career victory.
January, 23, 2015
Jan 23
7:02
PM CT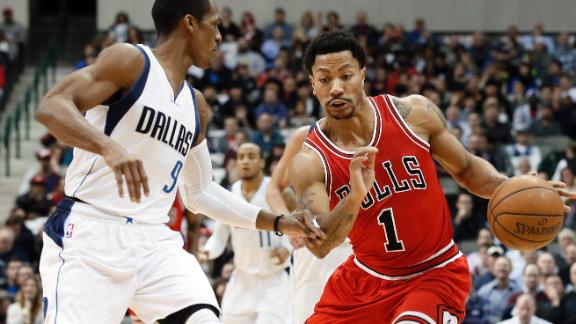 DALLAS -- Chicago Bulls center Joakim Noah played Friday night against the Dallas Mavericks after missing the last four games because of a sprained right ankle.
Noah has been dealing with the same ankle injury since early December. He also has had ongoing issues related to offseason left knee surgery.
After winning the NBA Defensive Player of the Year award last season, Noah is averaging just 7.6 points and 9.4 rebounds this season, and does not look as quick moving around on the knee.
Noah was upbeat before Friday's 102-98 win over the Mavs and appeared excited to face his good friend, Mavericks forward Chandler Parsons.
Bulls coach Tom Thibodeau said Noah will remain on a minutes restriction, but is confident he will find his form in the second half of the season.
"When you look at the rebound and assist numbers, they're very similar to what they were a year ago," Thibodeau said. "He hasn't scored the way he did last year, but that will come."
Bulls forward Mike Dunleavy missed his 11th consecutive game Friday night because of a right ankle injury suffered Jan. 1.