February, 28, 2015
Feb 28
2:15
PM CT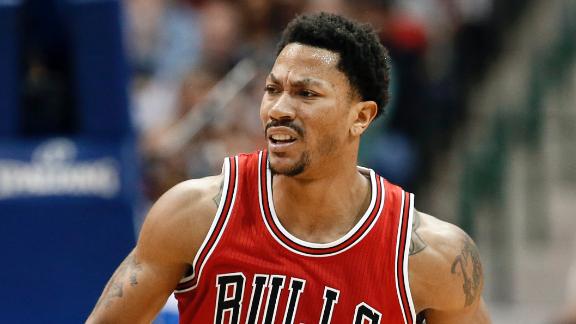 CHICAGO -- Just one day after having a meniscectomy to repair a torn medial meniscus in his right knee, Derrick Rose was back at the Chicago Bulls' training facility on Saturday beginning his rehab process.
"He's good," Bulls coach Tom Thibodeau said. "He came in, started his rehab, it's good."
Bulls general manager Gar Forman said Friday the organization expects Rose to be back on the floor within 4-6 weeks. Thibodeau wouldn't divulge exactly what Rose was able to do, but did say the process was moving forward.
"It's just the initial steps," Thibodeau said. "But we're cautiously optimistic, he's in good spirits. He's on it, so it's good."
Thibodeau did acknowledge that Rose's rehab process has already been scheduled with the help of Bulls team doctors and trainers.
"It's mapped out with the medical people," Thibodeau said. "The one thing about Derrick is he's been through a few of them. He'll follow the plan and hopefully everything goes fine."
Like many within the organization, Thibodeau is hopeful that Rose will be able to bounce back from the mental hurdle of this latest setback quicker than he has in the past given that the latest procedure isn't as in depth as the last two. Rose tore the ACL in his left knee on April 30, 2012, and tore the medial meniscus in his right knee for the first time on November 22, 2013.
"He's been through two tough ones," Thibodeau said. "I think he's gained confidence from that. The ACL knee is great and he knew [a re-tear] was a possibility going in. He's in a good place and he'll deal with it. He'll get past this."
February, 27, 2015
Feb 27
11:12
PM CT

By Nick Friedell
ESPNChicago.com
Archive
CHICAGO --
Joakim Noah
was back in his comfort zone Friday night.
Without
Derrick Rose
(knee) or
Pau Gasol
(illness), and with
Taj Gibson
going down with an ankle injury after just nine minutes, the remaining Bulls had to pull together and do a little more. For Noah, that meant he was back in a familiar role as a "point center," a role he played extremely well without Rose on the floor over the past two years. With Noah back at the high post, he looked more confident on the floor, as he racked up 11 points, 12 rebounds and eight assists in a 96-89 win over the
Minnesota Timberwolves
.
"That's what Jo wants to do -- handle the ball," Bulls swingman
Jimmy Butler
said. "He makes great decisions when he's passing it, and he's aggressive when he gets it. Whenever you have a big man like that, it's hard to guard all five people on the floor."
Noah had much more space on the floor offensively, without Gasol down on the blocks. The pair know they need one another to reach their ultimate goal, but they have not played well together throughout much of this season. Noah thrives in a situation in which he can pass the ball in various sets from the high post.
"That part I think is innate," Bulls coach Tom Thibodeau said of Noah's passing ability. "He had great vision and decision-making ability. He's got a very unorthodox game in many ways. But he's got great vision, and if a guy's open just a little bit on a cut, he can get it there. So it's a big plus when you have a big guy that can pass like that."
For his part, Noah wasn't biting on how much fun he was having in his old role. He discussed how the Bulls run a read-and-react offense and try to find the open man.
"I enjoy winning," Noah said. "It was fun to win today. We just got to keep improving."
Noah's offensive game has taken a back seat to Gasol's throughout the season. Now that Noah is back to feeling like himself as he continues to shake off the lingering effects of offseason knee surgery, it's going to be interesting to see how his game responds once Gasol and Rose are back on the floor. In the meantime, Noah, like the rest of his teammates, is just hopeful Rose will be back sooner than later.
"It's tough when your best player is out," Noah said. "But I think today was positive news. Derrick's a warrior. He's going to fight as hard as he can to try his best to come back this year. We just got to keep building and keep getting better until he gets back."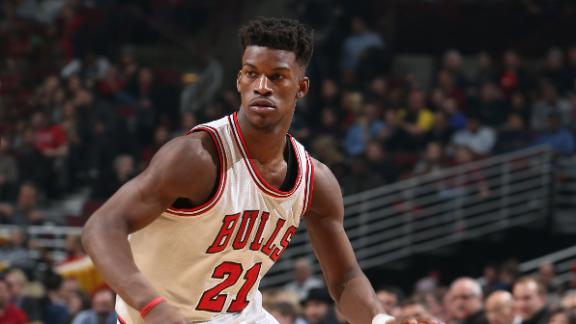 February, 27, 2015
Feb 27
9:44
PM CT
Associated Press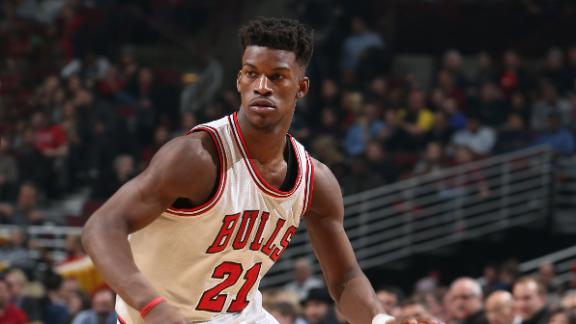 CHICAGO -- The Chicago Bulls got a positive update on Derrick Rose, and then used another big night by Jimmy Butler to beat the Minnesota Timberwolves 96-89 on Friday.
Butler had 28 points and 12 rebounds and Chicago won for the seventh time in its last nine games. Mike Dunleavy made five 3-pointers on his way to 21 points, and Joakim Noah finished with 11 points, 12 rebounds and eight assists. The Bulls trailed 85-84 before Kirk Hinrich drove inside for a layup with 4:29 remaining, and then Tony Snell made a smart pass to Dunleavy for an open 3 that made it 89-85. Butler added a clutch bank shot to help Chicago improve to 10-1 in its last 11 games against Minnesota.
Kevin Martin scored 18 points for the Timberwolves, who have lost four of six. Ricky Rubio had 15 points and 10 assists, and Andrew Wiggins finished with 14 points.
February, 27, 2015
Feb 27
2:37
PM CT

By Jon Greenberg
ESPNChicago.com
Archive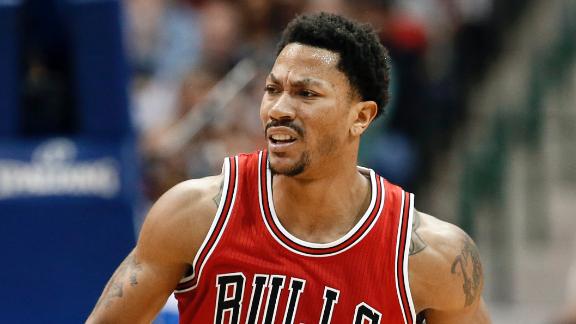 CHICAGO -- On my way into the United Center for Gar Forman's "State of the
Derrick Rose
" press conference, I saw
Pau Gasol
walking to his white Range Rover.
Given that the
Chicago Bulls
' shoot-around for Friday's game against Minnesota was just beginning, it seemed like an ominous sign.
But as it turned out, Gasol is just sick and Rose's knee is in better shape than we thought after seeing Tuesday night's apocalyptic press release.
[+] Enlarge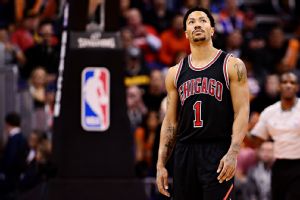 Jennifer Stewart/USA TODAY SportsDerrick Rose could be back around the end of the regular season for the Bulls.
Forman, the Bulls' general manager, revealed
Rose's meniscectomy surgery
, where "the torn part or the damaged part of the meniscus was removed," was a success, as all sports surgeries are immediately classified. But the real news is, well, rosy.
The Bulls predict Rose will be back in four to six weeks, putting the latest "return" optimistically around the end of the regular season.
No speculation this time. Just a goal.
So there's a chance, a good chance it seems, that Rose won't miss his fourth-straight postseason since blowing out his left ACL in the first game of the 2012 playoffs.
For the second straight season, the Bulls gave a timeline for Rose's return, and it's not an accident.
Cynics would say the Bulls were just trying to control the message. I'd argue there's truth to that, but given this injury is much less serious than Rose's previous ones, I'd argue they also just wanted to share the good news.
When Rose previously tore his medial meniscus in Nov. 2013, the Bulls immediately ruled him out for the season after his surgery.
From a public relations standpoint, that was a smart move too.
The previous season, the Bulls, Rose and his advisors all but eradicated the goodwill he enjoyed in Chicago and around the NBA by letting vague, conflicting reports dominate the coverage of his return from an ACL tear that wildly altered Rose's legacy and the fates of a formidable team.
It started at media day in Sept. 2012, when Forman, while optimistic of Rose's chances to return, said there wouldn't be regular updates on Rose's condition.
Reporters, and the fans, never knew if and when he was returning, and it created a speculative narrative that Rose was selfish and controlled by his brother and agent. Reggie Rose made things much worse for his brother in an amazingly candid interview with our Scott Powers.
What some people don't get is that Rose, while quiet, is both very pensive and very stubborn. Yes, he hears his agent and his brother, but other people close to him have told me over the years that his intractability is internal. Or as one friend said to me, "He don't listen to no one."
In reality, Rose was just being careful with his knee and his body in 2012. Overly careful? Maybe. A little too worried mentally? Perhaps.
But an ACL tear is serious business, and Rose's game is about explosion. So it made sense to be careful at 24. But the whole situation was communicated poorly, illuminating other problems around the organization. It was also annoying for reporters and fans, who lived in a state of limbo.
Reporters like myself found ourselves lingering around the court before games, watching Rose shoot, never knowing when he'd be back. Once, I made a Vine of him driving to the rim, and it wasn't much of a drive, and the next thing I knew it was on "SportsCenter" and "Pardon the Interruption."
That's how thirsty we were for real news.
The Bulls were proactive this time. They sent out a succinct press release at 9:30 p.m. Tuesday, albeit scaring everyone in Chicago with news of another surgery.
Since then, the Bulls let it be known they were optimistic Rose's injury was minor, in comparison to his previous ones, and that he could return this season.
Forman, like many in his position nowadays, never has much on-record content to share. But this press conference, which lasted around 15 minutes, was fairly forthright.
"I would think when we have news, we'll update," he said. "We tried to be really transparent earlier this week on what was going on, when he was having the surgery and now to let you know how the surgery was and where's he at. We'll be as transparent as we can be with what's going on with it."
That's not a flare to Rose that he has to come back or else. You can read it this way. But think about it this way: If you were Rose, would you want to sit out again? If you were his advisors, wouldn't you be aware that his reputation, and yes, his legacy, can't handle another missed postseason?
When Rose speaks, he should try to be positive about the challenge. Sometimes his words belie his actions.
"You look at Derrick. Derrick's a basketball player and he wants to play basketball," Forman said. "And what he's had to go through the last few years, take anything any of us don't enjoy doing and say you have to do that several hours a day, 365 days a year and that's difficult. But he's fought through that, and he's come back. And I thought he showed this year, he came back and was in a good place physically."
Joakim Noah
, who has spent the season working through his own offseason knee surgery, thinks Rose will push himself to return sooner rather than later.
"I'm happy that he's going to be all right," Noah said. "Time will tell. Rehab is no joke. Especially (since) he's been doing it for three years now. I think it's mental at this point, having to put in all this work all the time. It's repetitive, it's very boring, especially when the games are going on. You want to play."
For all the criticism about Rose's errant shooting this season, he had only missed three games from December until now. He kept telling people his game would come together.
Now, his only goal is to make it back before the playoffs. If he does, it will do a lot to exorcise the bad mojo that surrounds his name.
Until then, I'll be courtside, aiming my phone at Rose and hoping to capture some truths along the way.
February, 27, 2015
Feb 27
12:54
PM CT

By Nick Friedell
ESPNChicago.com
Archive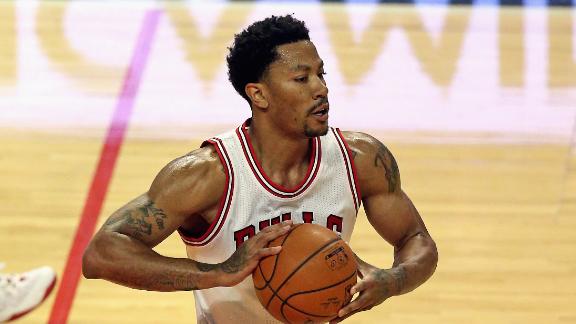 Chicago Bulls guard Derrick Rose underwent knee surgery,
it was announced Friday
. It's the next chapter in Rose's long odyssey with knee injuries, which stretches back to the 2012 NBA playoffs. There might be some cause for hope, however, as Bulls GM Gar Forman said he expects Rose to return later this season.
While Bulls fans prepare to see their homegrown superstar endure another cycle of rehab, here's a brief timeline of how we got here.
May 20, 2008: Bulls win draft lottery
The Bulls had just a 1.7 percent chance to land the No. 1 pick in the 2008 NBA draft lottery, but they came away with it and drafted Rose. The Simeon High School product was thrilled to be selected by his hometown team.
April 22, 2009: Rose earns rookie of the year award
Rose couldn't hide his excitement after winning the award.
"When I first came into the season, my biggest thing was to get this award,"
Rose said
. "I was telling you all that I didn't care, but I did. You really do want this award. There was a lot of talent out there that I had to go against."
Feb. 14, 2010: Rose makes first All-Star Game
Rose scored eight points at Cowboys Stadium and was excited for his premiere on one of the league's biggest stages. As he walked out for warmups,
LeBron James
and several others watched on the enormous screens as replays of Rose's dunk over the
Phoenix Suns
'
Goran Dragic
played. Like the rest of the basketball world, they were in awe.
Sept. 27, 2010: Rose calls his MVP shot
After a summer that included winning gold for Team USA at the world championship in Turkey, Rose entered training camp feeling more confident than ever.
"It's high," Rose
said of his self-confidence
. "The way I look at it within myself, why not? Why can't I be the MVP of the league? Why can't I be the best player in the league? I don't see why [not]. Why can't I do that?"
May 4, 2011: Rose becomes youngest MVP in league history
Rose knew he could reach another level in his career -- and he did. He gave an emotional acceptance speech in which he tearfully thanked his mother, Brenda Rose, among others. Teammates and coaches filled the back of a conference room in a suburban hotel to celebrate with the 22 year-old star.
May 26, 2011: The Heat best Rose in Eastern Conference finals
The Bulls destroyed the Heat in Game 1 of the Eastern Conference, but they dropped the next four as James and his teammates overpowered the young Bulls. James has been the Bulls' postseason kryptonite -- no matter which team he has been on.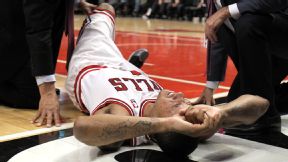 Jonathan Daniel/Getty ImagesRose's knee troubles began with an ACL tear in the 2013 NBA playoffs.
April 30, 2012: Rose tears his ACL
Rose dominated at times during Game 1 of the Eastern Conference quarterfinals against the
Philadelphia 76ers
, but the entire tenor of his career changed late in the fourth quarter, when he went to the ground after a jump stop down the lane. Rose tore the ACL in his left knee, and his career hasn't been the same since.
Oct. 29, 2013: Rose plays first regular-season game in more than a year and a half
Rose took plenty of criticism throughout Chicago -- and the basketball world -- for not coming back during the 2012-2013 season despite being cleared to play in March 2013. Fast-forward seven months, and Rose plays poorly in a loss to the
Miami Heat
.
Nov. 22, 2013: Rose tears the medial meniscus in his right knee
In just the 10th game of his return, Rose injures his right knee in the second half against the
Portland Trail Blazers
. Yet another non-contact injury ends Rose's season. The Bulls go into an emotional funk immediately after Rose's injury but are able to bounce back before getting knocked out in the Eastern Conference semifinals against James and the Heat.
Feb. 24, 2015: Rose tears the medial meniscus in his right knee -- again
Although it remains unclear exactly when the latest injury occurred, Rose finds himself in the middle of another injury nightmare. Through 46 games in his second comeback season, Rose shows flashes of brilliance, but his consistency is not the same, as he continually settles for too many 3-pointers. Rose is currently shooting 28.6 percent from beyond the arc.
February, 27, 2015
Feb 27
10:46
AM CT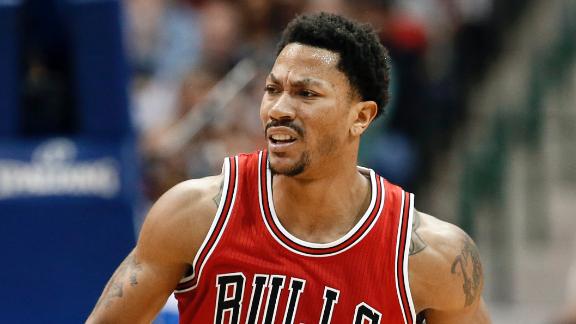 CHICAGO -- Derrick Rose's knee surgery was successful, and the Bulls guard should be cleared to return to the team in four to six weeks, general manager Gar Forman said Friday.
For Rose, the former MVP who had missed most of the previous two seasons with surgeries to both of his knees, this was positive news.
"There's the old saying that surgery's minor as long as it's on somebody else," Forman said. "But in this case, in comparison to what Derrick's had to go through the last several years, this surgery really was minor."
On Tuesday evening, the Bulls surprisingly announced that Rose tore the medial meniscus in his right knee for the second time in 15 months and would undergo surgery. But unlike his previous surgery, which knocked him out for the 2013-14 season, the Bulls believed this was a more minor injury.
Those beliefs, based on his exam and MRI results, were borne out Friday morning when team physician Brian Cole performed the meniscectomy surgery, where "the torn part or the damaged part of the meniscus was removed," Forman said.
"It was an anthroscopic outpatient surgery, so Derrick at this time is full weight-bearing," Forman said. "It was a quick procedure. He had it done and he was able to walk out of the hospital."
Rose could start working out at the team's practice facility Saturday, Forman said.
"We just got to be patient and just give him the time he needs to get through the rehab," Bulls coach Tom Thibodeau said. "This rehab is much shorter. The other ones, they were expected to be long."
February, 26, 2015
Feb 26
9:15
PM CT
ESPN.com news services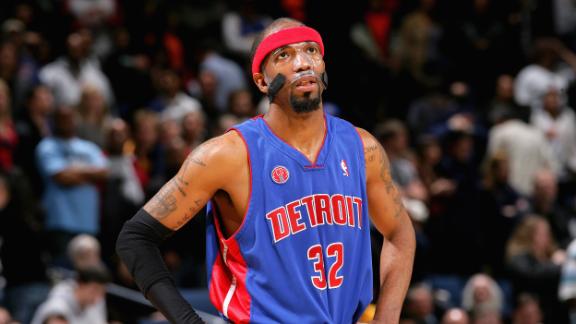 Richard Hamilton has retired from basketball.
The former UConn and Detroit Pistons guard announced his decision Thursday during an appearance on ESPN's "His & Hers" show. He hadn't played in the NBA since 2012-13, when he ended an injury-plagued, two-year stint with Chicago.
"Today is a very special day for me because today is the day that I take my shoes ... and I find a little street corner down the street and throw my sneakers on the power lines because today I officially retire from the NBA," Hamilton said on "His & Hers."
He was a three-time All-Star and spent 14 years in the league, averaging 17.1 points, and helped the Pistons upset the Los Angeles Lakers for the 2004 NBA championship.
Hamilton was the Most Outstanding Player of the 1999 Final Four, leading UConn to its first national championship. He was the No. 7 pick by Washington in that year and spent three seasons there before being dealt to Detroit, where he played nine years.
"Last year I took a year off to get an opportunity to hang out with my kids, let my body recover from the long NBA season," Hamilton explained of sitting out the 2013-14 season.
However, what he called a freak foot injury in October made Hamilton realize it was time to hang them up.
"I looked myself in the mirror and said, 'Hey, you know what, it might be my time. I've got a lot of miles on my body, I think I just need to let it go.' "
Information from The Associated Press was used in this report.
February, 26, 2015
Feb 26
4:38
PM CT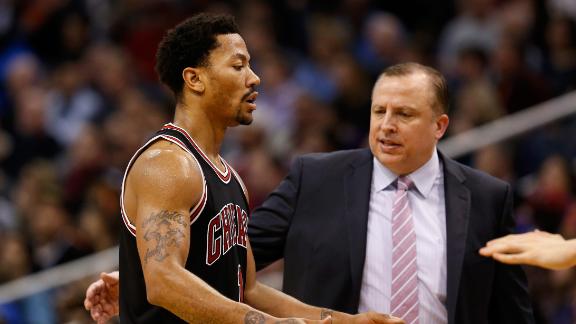 CHICAGO -- Derrick Rose will have surgery Friday morning on the torn medial meniscus in his right knee, the Chicago Bulls announced Thursday.
The Bulls said that Rose will undergo a meniscectomy, or a "surgical removal of all or part of a torn meniscus," according to WebMD.
This is the second time Rose has torn the medial meniscus in his right knee. The first came in November 2013, in a loss to the Portland Trail Blazers. The first time Rose suffered the injury, he chose to fix the meniscus instead of taking all or part of it out. This time, a different decision has been made.
Bulls team physician Dr. Brian Cole will perform the surgery Friday. He also performed the surgery on Rose in 2013, as well as one in May 2012 after Rose tore the ACL in his left knee in the first game of the Eastern Conference playoffs.
Depending on what Cole sees Friday during surgery, there is a belief among many within the organization that Rose could come back at some point this season.
"It's all based on tomorrow," Bulls executive VP John Paxson said at a Bulls charity event on Thursday night. "And them going in and [seeing the knee]. Our anticipation is that it's going to be -- nothing's an easy procedure but there's an area that's going to get taken care of. And the hope is that he will [play this year]. We still got about two months of the regular season and we're all hoping that he does [play this year]."
Paxson said that Rose is trying to stay mentally strong despite the latest setback.
February, 26, 2015
Feb 26
4:01
PM CT