September, 22, 2014
Sep 22
2:45
PM CT
By Staff
ESPNChicago.com

Center
Nazr Mohammed
will return for a 17th NBA season after re-signing with the
Chicago Bulls
on Monday.
The 6-foot-10, 250-pound Mohammed, 37, will be back for a third season with his hometown Bulls, one of eight teams he has played for since being a first-round draft pick of the
Utah Jazz
in 1998. He played in 80 games with the Bulls last season, averaging 1.6 points and 2.2 rebounds in 7 minutes a game.
Thanks to everyone for the "welcome back" wishes. I'm happy to continue my career and especially as a @chicagobulls. #BornAndRaisedHere

— Nazr Mohammed (@NazrMohammed) September 22, 2014
September, 19, 2014
Sep 19
10:26
AM CT
When we rolled out Real Plus-Minus last year at ESPN, I quickly realized that the stars of the system weren't the usual super-celebs we all know about, but the glue guys we've always known are important, but never have quite been able to quantify. Of course year-in, year-out RPM leaderboards are dominated by the one-name guys. But sprinkled among all those media darlings were some less-known performers, like Andre Iguodala, Amir Johnson, Anderson Varejao, Nick Collison and DeMarre Carroll.
Players like these make a major impact on the floor by contributing in ways other than scoring, which is typically the category that earns the huge contracts and endorsement deals. Contending teams need role players who effectively fill the gaps left by cornerstone players, and the better a player is at his specialty, the more it's going to help that team.
With that in mind, let's look at three role players from contending teams who won't be the subject of many preseason previews, but will have a major impact in their projected role.
September, 18, 2014
Sep 18
1:36
PM CT
CHICAGO -- The
Chicago Bulls
have signed former
Orlando Magic
guard
E'Twaun Moore
.
The team didn't announce contract terms Thursday. Moore, 6-5 and 191 pounds, played in 79 games with the Magic last season, averaging 6.4 points and 1.7 rebounds per game. He shot 43 percent from the field.
He was with Orlando for two seasons and the
Boston Celtics
for one season. Boston drafted him in 2011 out of Purdue.
Moore is from East Chicago, Indiana.
September, 16, 2014
Sep 16
1:39
PM CT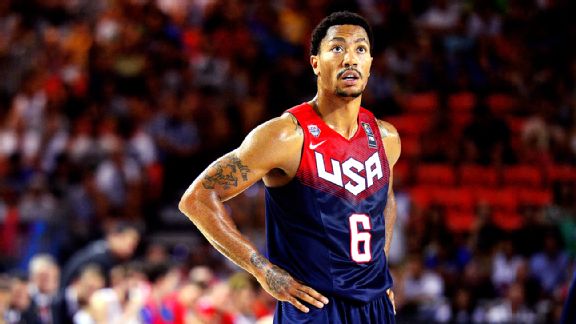 David Dow/NBAE/Getty ImagesDerrick Rose's shot wasn't there during the FIBA World Cup, but he showed he can still be explosive.
Now it's over. Now, it finally begins.
In two weeks, the real, real return of Derrick Rose begins. Inside the new facilities, inside a Chicago Bulls (not Team USA) practice jersey wearing the No. 1 instead of Nos. 41 or 6, between the Atlantic and Pacific oceans where his jump shot falls. Not fails.
He gave himself an A, when asked how would he grade his overall performance during the FIBA Basketball World Cup. Despite the suspect assist-to-turnover ratio, the anemic outside shooting, the visible problems he had finishing, and the fact that once he lost his starting spot to Kyrie Irving he never got it back, Rose still personally won.
That's why Rose is looking at this whole experience differently than everyone else. He has no other choice.
"I'm going to transfer this on to next season with the Bulls," Rose said Sunday. "It's really helped me with my recovery. Being off the floor, taking care of my body, eating right. I was feeling good every time I stepped on the floor, stretching every time; I think it's going to help me with the Bulls season."
If we want to read deep into Rose's comments, a conclusion could easily be drawn that once he made the team he took his foot off the gas. Saving himself for the long haul, for when he's really going to be needed, for his legacy.
September, 14, 2014
Sep 14
6:38
PM CT
By Mark Woods
Special to ESPN.com
Archive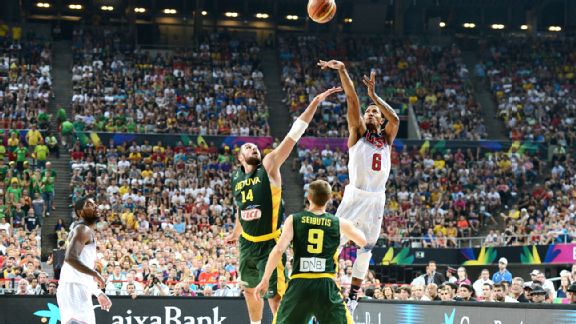 Garrett Ellwood/NBAE via Getty ImagesGoing 0-for-4 Sunday didn't lessen the championship experience for Derrick Rose.
MADRID –- Four shots. Four misses. But a second gold medal. It was not a personal performance that will rank highly among
Derrick Rose
's finest but it was, said the
Chicago Bulls
guard, still a night he will never forget as the United States secured their second straight FIBA Basketball World Cup with a 129-92 rout of Serbia in Madrid.
"I got the gold without even scoring," Rose smiled. "It feels good. We came here with a goal and that was to win a championship. We took it one shootaround at a time, one practice at a time, and one day at a time. That's the recipe for winning a championship."
It came without the former NBA Most Valuable Player needing to overextend himself -- with Rose used sparingly in playing just 16 minutes in the final. That he survived intact through 50 days of national team duty without any reason to believe that his knees will be a significant issue during the coming season will be a huge relief to the Bulls as training camp approaches.
"Physically he's great," said Bulls coach Tom Thibodeau, who shared in the victory as assistant to USA head coach Mike Krzyzweski. "Mentally he's great. We had five games in six days. He handled that. There was a lot that was real good."
Rose, who averaged 4.8 points and 3.1 assists in Spain, has shown glimpses of what he once was but without -- as yet -- the consistency that marked him out among the world's best.
The second part of his rehabilitation, he hopes, will arrive when he returns to Chicago next week following a brief post-tournament break.
"I'm going to transfer this onto next season with the Bulls," he said. "It's really helped me with my recovery. Being off the floor, taking care of my body, eating right. I was feeling good every time I stepped on the floor, stretching every time, I think it's going to help me with the Bulls season.
"This has gotten my body accustomed. I haven't been playing in a long time. I still have to get my rhythm back. But as far as I'm concerned, I think I performed well. Making this team was enough for me. The championship was the cherry on top, just coming here, performing in front of this great crowd. Just coming here. Now, sad to say, I have to put this behind me and concentrate on playing for the Bulls."
He was not a complete non-factor as the USA overturned a surprise early deficit to blow apart Serbia with a 15-0 run before the Bulls guard had even entered the game.
Ending with six assists, and leading what passed for a second unit on a still-potent American roster, there were pluses to take away from using his explosiveness off the dribble with less frequency and using his mind as a primary weapon.
"I can control the game without scoring," he said. "I think I'm that good. Just going out there, I had some turnovers but that came from trying to get guys the ball.
"But I think I'm going good. I'll go back and get in the lab again and get used to the NBA ball and really go after it."
September, 12, 2014
Sep 12
5:32
PM CT
When the
Cleveland Cavaliers
acquired
Luol Deng
in a January trade with the Bulls, they received a player who had been run "into the ground" by Chicago, according to a leaked scouting report used by the
Atlanta Hawks
.
The Atlanta Journal-Constitution and Atlanta's WSB-TV released the Hawks' now-infamous
scouting report
on Deng via their websites Friday.
[+] Enlarge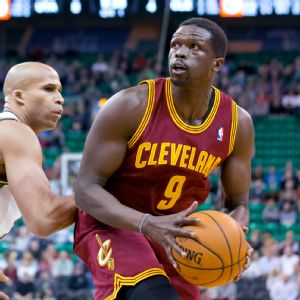 Russ Isabella/USA TODAY SportsThe scouting report claims Luol Deng had been run "into the ground" by the Bulls when the Cavs got him in a January trade.
The then-unseen report was made famous by Hawks general manager Danny Ferry's comments, heard in a leaked audio recording in a talk with team owners, using Deng's African ethnicity as a negative. This has led to Hawks co-owner Bruce Levenson selling his share in the team and making public his own email in which he makes critical comments about African-American fans in Atlanta.
According to the redacted five-page paper scouting report, which includes media stories as well as interviews with people connected to Chicago and Cleveland, that description of Deng originally came from someone in the
Cleveland Cavaliers
organization, to which Deng was traded in January. Ferry, who has taken a
a leave of absence
, apparently repeated it in a conference call with the Hawks' ownership group.
While the Hawks were interested, Deng wound up signing a two-year, $20 million free-agent deal with the
Miami Heat
. Deng has a player option after the first year.
In the report, dated June 6, 2014, the Cleveland front-office member notes, "From a physical, when we got him, Chicago had run him into the ground."
This is what follows:
"He's a good guy on the cover, but he's an African. He has a little two-step in him = says you like to hear, but behind closed doors he could be killing you. Con isn't bad, but it's there. African-like, store front looks great but there's a black market section in the back."
The Cleveland source said he heard Deng was well-liked in Chicago, but "complained about things like not enough jerseys in the team store, or that his bobble head was last during the year."
But in at least eight reports from people with Chicago connections, Deng, drafted by the Bulls in 2004, was praised as an ideal teammate and a hard worker.
Before this physical scouting report was released, Bulls vice president of basketball operations John Paxson was asked Friday about the situation at the opening of the team's new training facility, but wouldn't comment.
While most of the Bulls' sourcing was positive, there was a retelling of two messy situations between Deng and the team that had been widely reported on over the past couple of years: the 2012 wrist injury and the spinal tap situation from the 2013 playoffs.
In one scouting report, a Bulls staff member is quoted in an in-depth report: "He's a great guy, as good as you've heard, guys loved him in our locker room. A lot of stuff with us was medical related and distrust between (redacted). The spinal tap issue was a big one. He didn't need it and they convinced him to get it. Things went wrong (redacted), Luol called me and told me he was really sick and had to go to the hospital. This was when we were in Miami in the playoffs ... soon after I get off the phone with Luol (redacted) play, that he's on his way to Miami. I told Thibs there is no way, he's on his way to the hospital, it was a bad situation. He blamed the team and they put pressure on him to play when he was seriously sick."
Initially, coach Tom Thibodeau said the flu kept Deng out of Games 6 and 7 of the Bulls' first-round playoff series against the
Brooklyn Nets
in 2013. But eventually it was revealed that Deng had to undergo a spinal tap and was very sick. Deng tweeted that he "suffered the worst headache I've ever experienced and been the weakest I've ever felt." He later said he lost 15 pounds during his ordeal, which also kept him out of the Bulls' second-round series against the Heat.
Paxson said in January soon after trading Deng to the Cavaliers that the Bulls could have handled the situation better.
"You learn a lot from situations," Paxson said on Jan. 8. "We did not handle that as well as we could have and should have. I guess we didn't understand the gravity of it in that moment from his perspective. And that's on us. But over the summer we talked to both Lu and [agent] Herb [Rudoy]. We apologized. That's something we dropped the ball on and hopefully learn from, but in terms of injuries and things like that over Lu's career, I think we've been really supportive of how he's gone about things."
The source in the scouting report goes on to talk about a fissure between the team and Deng over his left wrist, which he injured in a Jan. 21, 2012, game. It states "management convinced him not to get surgery until after the season. Luol did what they asked. That summer, Luol wanted to play for the English National Team and put off surgery and (redacted)."
The source said the Bulls gave him "mixed messages" on playing for the national team and "this really bothered him." The source then went on to discuss how the recent lack of contract talks bothered Deng, and reiterated what Deng has said, the Bulls gave him only a "take it or leave it offer" before they traded him to the Cavs. "The coaches wanted him here."
Another apparent Bulls source (listed under "staff change") said, "Tibbs (sic) loves him...admires him. Lou is his guy."
One ex-teammate noted, "I love him. I can't say enough good things about him. He is such a smart player, plays the game the right way & is SUCH A GOOD DUDE. He's a culture setter. He's a leader."
Another ex-teammate is quoted as saying, "He would sing, dance, crack jokes, play soccer in practice, just an all-around happy guy and he's another great teammate that I've played with."
A former coach noted, "He's a very proud person. Very proud. Wants to do everything the right way. Perfect fit for the organization in that way. Physically he is a lot stronger than he looks."
September, 12, 2014
Sep 12
1:50
PM CT
CHICAGO -- The
Chicago Bulls
are keeping tabs on
Derrick Rose
's play in the FIBA Basketball World Cup in Spain, but they're not admitting to counting his missed shots.
[+] Enlarge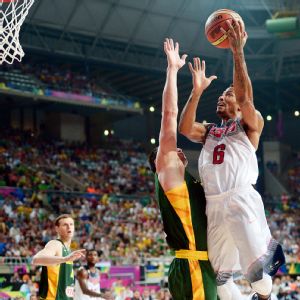 AP Images/Manu FernandezThe shots haven't been falling for Derrick Rose, but John Paxson likes the way he is moving on the floor with Team USA.
That's tough to do when you're lighting candles and saying multidenominational prayers for his good health.
Coming off the bench for the first time ever, Rose is averaging 5.4 points in 17.3 minutes a game, shooting 27.3 percent (15-for-55) and has made just 1-of-17 3-point tries through eight games. Most important is that after almost two years away from the game with knee injuries, Rose has adapted to the condensed schedule of the tournament with no setbacks. Rose looks good, even if his shot is off.
"I know that everyone is paying attention to his numbers," Bulls vice president for basketball operations John Paxson said Friday at the opening of the team's new practice facility. "I'm certainly not. I've liked the way he's moved on the floor, his explosiveness. You see at times where he just turns on the jets and explodes. Those are the things I focus on.
"If you remember last year when he played those 10 games, he struggled, there was rust on him. There's going to be. He hasn't played much in two years. But he looks good; his movement is good and his athleticism's good."
Bulls general manager Gar Forman said the team is "very encouraged" by what they've seen from Rose.
"The biggest thing for us is to see him make Derrick Rose-type plays again, and he's showed us that," Forman said.
The United States team takes on the France-Serbia winner Sunday in the final. So there won't be a showdown between Rose and his new teammate,
Pau Gasol
.
Gasol's highly regarded Spain team lost to France in an upset, but he finished the tournament as the fourth-leading scorer, averaging 20 points per game. Gasol shot 63.5 percent from the field and 27.3 percent on 3-pointers.
Paxson and Forman described Gasol's World Cup performance as "great."
"He looks healthy, and he's moving well," Forman said.
The Bulls will start practicing at the end of September. Their first preseason game is Oct. 6.
September, 12, 2014
Sep 12
1:35
PM CT
CHICAGO -- The
Chicago Bulls
unveiled their new 60,000-square-foot practice facility, the Advocate Center, on Friday.
Opened just 15 months after the organization broke ground in the parking lot across the street from the United Center, it's a gleaming basketball palace (estimated to cost $25 million) with a naming rights deal (Advocate Health Care), two full practice courts, spacious training areas to work out and rehab and a film room with a 95-inch TV that will combine ambiance and comfort with the "A Clockwork Orange"-like film study that coach Tom Thibodeau prefers.
It's certainly a long way from Angel Guardian. When the Chicago Bulls last practiced in Chicago, it was in a cramped gymnasium of an old orphanage in Rogers Park.
"My first meeting with the team in 1985 was at Angel Guardian and you couldn't even stand up straight in what was called the locker room," Bulls chairman Jerry Reinsdorf said Friday.
"Then [now retired senior vice president] Irwin Mandel came up with the [Deerfield] Multiplex and we thought that was fantastic. But pretty soon we found that the players showering with members of the Multiplex wasn't a great idea."
September, 10, 2014
Sep 10
1:14
PM CT
Associated Press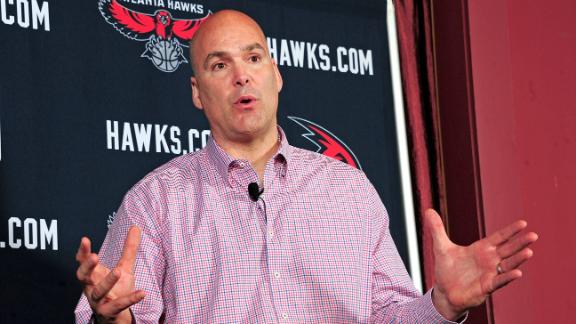 ATLANTA -- The Atlanta Hawks cancelled a scheduled meeting between their CEO and city civil rights leaders Wednesday, prompting one of the group's leaders to say his community was greatly offended.
The Rev. Markel Hutchins said the meeting with CEO Steve Koonin was called off "at the last minute." He later said he received a call from Hawks spokesman Garin Narain on Tuesday night asking the appointment be postponed.
Hutchins said he needed to hear that request from Koonin, and because Koonin didn't personally cancel the meeting, the group of 12 civil rights leaders showed up as planned.
When they entered Philips Arena and were told there would be no meeting, Hutchins and the other leaders said they were insulted.
"The entire civil rights community, locally and nationally, have been offended, the likes of which we have not seen in this community in decades," Hutchins said.
The group asked for the meeting to discuss what Hutchins said was the Hawks' "disrespect for people of color." The request followed racially charged comments by Hawks co-owner Bruce Levenson and general manager Danny Ferry.
In a statement Wednesday, the Hawks asked for patience from the community and said they want to reschedule the meeting.
"Koonin postponed today's meeting last night," the Hawks' statement said. "This conversation is a priority for us. We are committed to having this meeting and will work with community leaders to reschedule as soon as possible. We ask our community to work with us, be patient with us, and help us heal."
The Hawks did not say why the meeting was cancelled.
Levenson said Sunday he will sell his majority share of the team. Koonin said Tuesday Ferry has been punished but won't be fired.
September, 10, 2014
Sep 10
11:03
AM CT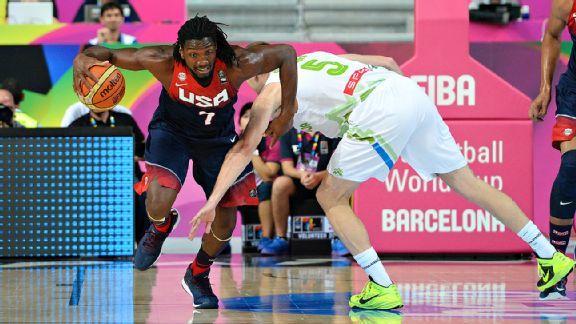 BARCELONA, Spain -- Derrick Rose has convinced at least one prominent member of the American basketball community that he has turned a significant corner in his comeback from two seasons lost to serious knee trouble.
"He's ready to be Derrick," Team USA coach Mike Krzyzewski proclaimed Wednesday.
It was the day after Rose rung up a productive 12 points and five assists during Tuesday night's quarterfinal victory over Slovenia at the Palau Sant Jordi.
And the declaration came two days after Krzyzewski, in a one-on-one meeting with Rose, urged the Chicago Bulls' star to stop focusing so much on facilitating and fitting in at the 2014 FIBA Basketball World Cup and turn his attention inward for a change.
The result?
"It's kind of a stark contrast really," Krzyzewski said of the rim-attacking Rose he saw against Slovenia compared to the tentative player who converted only 8 of 37 shots from the floor in Team USA's first six games in Spain.
"We believe in Derrick, " Krzyzewski said. "And I think the lid came off or the jar was open or whatever you want to say. He had his look."
"You could see in his face he was different," Krzyzewski continued. "And I'm glad. I think this starts the journey back to being who he is. And I think it'll happen."
Rose was similarly confident after the game Tuesday night, telling reporters: "I know that I have it. I know what type of player I am. I know I'm great."
After a light workout Wednesday to prepare for Team USA's semifinal showdown with Lithuania on Thursday night, Krzyzewski provided a glimpse into the message he gave Rose in Tuesday's pep talk.