October, 20, 2014
Oct 20
5:26
PM CT
COLUMBUS, Ohio --
Chicago Bulls
swingman
Jimmy Butler
will not play Monday night against the
Cleveland Cavaliers
because of a sprained left thumb. He is scheduled to undergo an MRI on Tuesday when the Bulls return to Chicago.
"As of right now it's just day-to-day," Bulls head coach Tom Thibodeau said before the game. We'll know more after [Tuesday]."
Butler injured the thumb during Sunday night's win over the
Charlotte Hornets
after going for a steal in the first quarter. He stayed in the game for a few more minutes after the initial injury but was taken out and never returned. He wore a splint on the thumb while working out on Monday night.
Veteran guard
Kirk Hinrich
will start in Butler's place.
As for
Derrick Rose
and
Joakim Noah
's status, Thibodeau was non-committal regarding whether or not they would play in the fourth quarter as they did on Sunday night against the Hornets. For the first time in almost a year, Rose was on the floor on Sunday to close out a game. The Bulls have taken a cautious approach with both Rose and Noah as each recovers from knee surgery.
October, 20, 2014
Oct 20
11:57
AM CT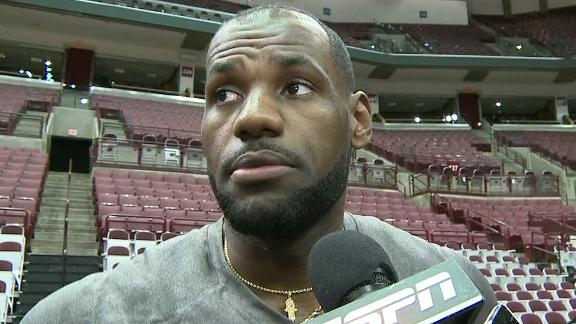 COLUMBUS, Ohio -- Less than two weeks before their first regular-season meeting, LeBron James believes the Chicago Bulls are better than his Cleveland Cavaliers.
The two teams play Monday night in a preseason game at Ohio State University. The Cavs are calling it their most important preseason game, not just because they're facing a potential Eastern Conference rival but because James, Kevin Love and Kyrie Irving will start together for the first time against an NBA team.
"[The Bulls] are a team that's much better than us right now just off chemistry," James said. "They've been together for a while, we've got a long way to go."
James has faced the Bulls in the playoffs three times in the past five seasons, once with the Cavs and twice with the Miami Heat. He has a long history not only against Derrick Rose and Joakim Noah but also coach Tom Thibodeau, who designed the defense against James in two playoff series when Thibodeau was an assistant coach with the Boston Celtics.
October, 19, 2014
Oct 19
11:36
PM CT
CHICAGO --
Taj Gibson
spoke for the entire
Chicago Bulls
' organization Sunday night when he described what it was like to have
Derrick Rose
back on the floor to close out games as he did in a win over the
Charlotte Hornets
.
"It's a dope feeling," Gibson said. "We know who's going to take the shot. Either Pau [Gasol], Derrick. We got Joakim [Noah] making solid plays. We got guys that's back in the rotation, and even with Derrick, he's stepping in and taking that strong midrange when he needs to take it, and it showed tonight."
Rose's stats were solid against the Hornets, but out of his 27 minutes played, it was the final 7:22 that were most crucial. That's because that marked the first time in almost a year that Rose was on the floor to close out a game. While the former MVP has downplayed the significance of being on the floor late for preseason games, it's clear his teammates and coaches were thrilled to see him back in the pressurized, late-game saddle on Sunday. They know they need him out there late and were happy to see his stabilizing presence on the floor as the final minutes wound down.
[+] Enlarge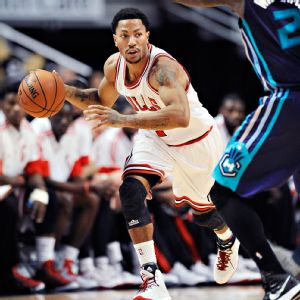 AP Photo/Paul BeatyDerrick Rose was on the floor in the fourth quarter Sunday -- a welcome sight for fans, teammates and coaches alike.
"I think it's a positive thing," Gasol said. "It's great that we can have him down the stretch. He also gets used to playing those minutes where every decision is important. So, yeah, it's nice to have him on the floor."
Rose still has a lot of rust in his game. It's noticeable on his drives to the rim and in some of his shots, and it will likely take months before he consistently feels like himself again with the ball. But the mental aspect of Rose's return is huge for both him and his teammates, and even if Rose isn't the same player he once was (right now), he's still a talented point guard who can create space -- and shots -- for his teammates. His ability to cut into traffic makes his teammates feel better about their chances.
That's why head coach Tom Thibodeau has to be pleased with what he saw Sunday. It was the best all-around performance his team has had in the preseason, and it ended the way he's hoping many games this season do -- with the ball in Rose's hands as the contest is coming to a close.
"The intensity's different," Thibodeau said of the fourth quarter. "The defense is different. You have to look at the strengths and weaknesses of the team, understand how they're defending you, what you can take advantage of, what the openings are. Who are they rotating to? How far off are they? And then you want to make them pay. Usually for a player like that, any time you put two [defenders] on him, there's somebody open. And he's got to have the ability to read that and make that decision quickly. I think that comes back by being out there."
Rose took another small but important step in his latest comeback Sunday. He closed out a game with the rest of the starters (
minus the injured
Jimmy Butler
) and remembered what it was like to take pressure-packed shots -- and make them. Thibodeau has said many times the past few months that the best thing Rose can do to knock the rust off is play.
Although Rose's confidence is still a work in progress, the confidence his presence breeds in those around him can't be overstated. The Bulls are hoping a lot more nights in the future end like Sunday did -- with Rose on the floor and a victory in hand.
October, 19, 2014
Oct 19
9:42
PM CT
Associated Press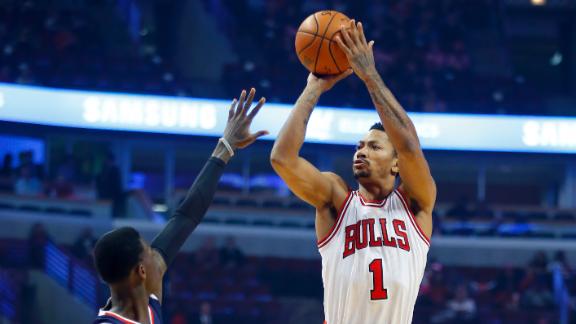 CHICAGO -- Kirk Hinrich scored 26 points on 11-of-14 shooting and the Chicago Bulls beat the Charlotte Hornets 101-96 in an exhibition game Sunday night.
Pau Gasol added 15 points and 10 rebounds to help the Bulls (4-2) win their fourth straight game.
The Bulls led by 18 and entered the fourth up 83-70, but Charlotte rallied to cut it to one with 1:30 left on Michael Kidd-Gilchrist's three-point play. Derrick Rose answered with a jumper and, after the teams traded misses, Charlotte's Gary Neal missed a potential tying 3-pointer with 13 seconds left.
Rose had 17 points in almost 28 minutes and saw his first action in the fourth quarter as he comes back from a right knee injury 10 games into last season.
Lance Stephenson and Kidd-Gilchrist led the Hornets (3-3) with 14 points. Stephenson returned to the Charlotte lineup after missing a game because of a strain right groin.
October, 19, 2014
Oct 19
8:19
PM CT
CHICAGO --
Jimmy Butler
will miss the rest of Sunday night's preseason game against the
Charlotte Hornets
after he injured his left thumb. The injury, dubbed a sprained thumb by the
Chicago Bulls
, occurred with about five minutes left in the first quarter, when Butler went for a steal. He stayed in the game at the time but was taken out toward the end of the first quarter and never returned.
Butler, who is having the best preseason stretch of his career, has been the Bulls' most consistent all-around player since training camp opened.
Bulls head coach Tom Thibodeau said Butler would be re-evaluated Monday. While Thibodeau wasn't sure of the exact protocol, it's likely Butler will get an MRI to make sure his ligaments are intact. Thibodeau did say there was some swelling in the thumb.
"It's a sprain," Thibodeau said. "So they'll know more [Monday]. We'll see."
As for Butler's availability Monday against the Cleveland Cavaliers, Thibodeau said that would be determined later.
"I don't know yet," Thibodeau said. "[Athletic trainer Jeff Tanaka] basically told me it's day-to-day right now, until they can re-examine him and then go from there."
October, 19, 2014
Oct 19
12:31
PM CT

By Doug Padilla
ESPNChicago.com
Archive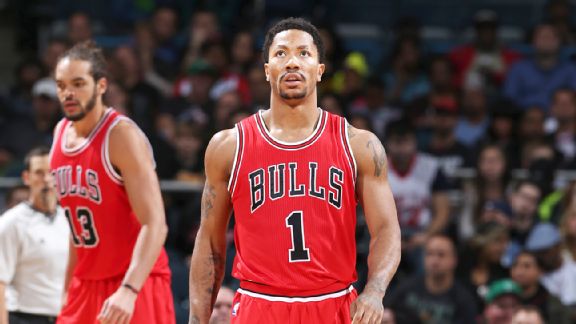 Gary Dineen/NBAE/Getty ImagesThe Bulls are still monitoring Derrick Rose's minutes as the end of the preseason draws near.
CHICAGO -- By coach Tom Thibodeau's timetable, the last of the
Chicago Bulls
' preseason games will take place Sunday night at the United Center against the
Charlotte Hornets
.
Sure, two more unofficial games remain before the team's season opener at New York on Oct. 29, but Thibodeau will treat Monday's contest at Cleveland and Friday's tilt against Minnesota as if it were the real thing.
"The last two, you sort of narrow it down to get more toward your rotation," Thibodeau said after shootaround Sunday morning. "But usually, the first five or six (games) you're trying to get a look at different combinations and different people, that sort of thing."
While that means minutes for key players -- especially starters -- are expanding, point guard
Derrick Rose
remains a unique situation. He still isn't playing key fourth-quarter minutes as evidenced by the fact that he was on the bench when the Bulls rallied for a victory Thursday against Charlotte.
But there are also limited chances to get Rose's minutes to where they need to be.
"Yeah, to me, (with) his injury, he is different," Thibodeau said. "He's been out for basically 2½ years. We just have to continue to be patient. He's feeling better and better, so that's a good sign, and he'll be fine."
Rose played 21 minutes Thursday, but every other starter played more, including workhorse
Jimmy Butler
, who played 31 minutes and still hit the game-winning 3-pointer at the buzzer. In fact, two reserves --
Taj Gibson
and
Kirk Hinrich
-- played more minutes than Rose, while
Tony Snell
matched the former MVP's playing time.
"Just keep building," Thibodeau said when asked if Rose will get more fourth-quarter minutes soon. "We're not fixated on, 'Is it 21 minutes, is it 28 minutes, is it ...?' Just keep building. Just keep moving forward. I think that's the best way to approach it. We want him to make sure he feels good about it and we're going to go from there."
Perhaps as big of a concern for the Bulls is that they are running out of time to get into a flow among so many new faces that include
Aaron Brooks
,
Pau Gasol
,
Doug McDermott
and
Nikola Mirotic
.
"There is always jelling to do; it's basketball,"
Joakim Noah
said. "You need to build that chemistry and I think it's going to keep getting better and better.
"Every time you step on the court, every time you step together as a team it's good ... if you put the work in."
Asked about Thibodeau's tactic early in training camp to ramp up preparation because the team wasn't where it needed to be, Noah gave a crooked smile.
"It doesn't matter; right now that's not my focus," Noah said. "My focus is just being as ready as possible as possible for the regular season and taking it day-by-day. I'm excited. I think we have a very good group, guys who work hard, guys who are focused on the right things, so I think it's going to be great."
October, 19, 2014
Oct 19
12:17
PM CT

By Doug Padilla
ESPNChicago.com
Archive
CHICAGO -- The run of relative good health has continued for the
Chicago Bulls
, despite coach Tom Thibodeau's intense preseason regimen.
The latest scare came in practice Saturday when forward
Nikola Mirotic
took a finger to the eye, but he participated in shootaround Sunday and is expected to play his full complement of minutes in Sunday night's matchup with the
Charlotte Hornets
.
[+] Enlarge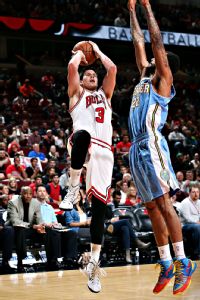 Gary Dineen/NBAE/Getty ImagesDoug McDermott has spent time in the starting lineup during the preseason.
Forward
Mike Dunleavy
twice has been slowed by a sore knee and did not play Thursday, but Thibodeau did not list the veteran among the ailing Sunday morning. Even
Joakim Noah
said he is rounding into form after being slowed early in training camp.
"Yeah, I feel a lot better than I did two weeks ago," Noah said. "It's a work in progress, but overall I'm very happy. I have no swelling in my knee and I can keep building."
Thibodeau already has taken away a planned off-day for the team this preseason and put his squad through a two-hour practice that afternoon instead. And while extra practice time gets his team closer to where he wants it to be, a heavy workload at this time of the year can also expose the roster to injury.
Instead, the Bulls have ended up with the best of both worlds: good health and extra court time in order to mesh four newcomers --
Aaron Brooks
,
Pau Gasol
,
Doug McDermott
and Mirotic -- into the mix with returning players.
The rookie McDermott started in Thursday's victory over the
Atlanta Hawks
, but Thibodeau has not named the Creighton product as one of the five that will take the court when the season begins Oct. 29 at New York.
"There are still (things to be determined), because you haven't seen guys play together for an extended period of time," Thibodeau said after shootaround Sunday morning. "But yeah, the guys who have been here before, you have an idea of what they can do together because they have been here, but there are a lot of new guys.
"You have the two rookies, you have Aaron, you have Pau. That's a lot. We have to be ready. When that first game comes, everyone's game has to be sharp. You have to be on top of it. There are no shortcuts in preparation. There are not. I have never seen that before. The work has to be done."
October, 18, 2014
Oct 18
2:53
PM CT
CHICAGO --
Pau Gasol
would take it personally if he wasn't on the floor to close out games for the
Chicago Bulls
.
"That's not a good sign," Gasol said after practice Saturday. "That's not a good sign when you're put in that position because a coach doesn't rely on you to deliver in those minutes. So, basically he doesn't trust you. He trusts somebody else to do that job. So, it's not a good sign for you."
Gasol said he has never been on the bench on a consistent basis late in games, and it was something he talked to the Bulls about before joining the team.
Carlos Boozer
was the Bulls' starting power forward last season, but he wasn't often the power forward that closed out games for them.
"Obviously I'd like to be on the floor when the game is on the line," Gasol said. "That's what I've been getting paid for my entire career. That's what I want to continue to do."
Bulls coach Tom Thibodeau said Saturday he hasn't determined how he will close out games yet. One of his objectives is still to see how everyone meshes together in those late minutes.
"I haven't seen everyone, so that's hard to make that decision," Thibodeau said. "You have a pretty good idea. You want to see them together. That's the big thing. To see what works best, how they can be utilized. That's still a work in progress. We want to get a look at that.
"Whatever you have to do, whatever makes the most sense for your team, that's what you're going to do. And we'll see. I know
Derrick [Rose]
and
Joakim [Noah]
have finished games for us before. Joakim and
Taj [Gibson]
have obviously finished a lot of games for us. Now I want to see Pau. I want to see him out there with those guys to see how it all fits. Maybe it is game by game. You don't know. They have to be out there to make that determination. We have to get a look at it."
Thibodeau thought Gasol's game has varied throughout the preseason, but he was pleased overall with what Gasol can provide the Bulls.
"Some good, some bad, some in the middle," Thibodeau said of Gasol's play. "He's been around a long time. He's learning his teammates. His teammates are learning him. But I like his overall play. He's just a good player. He plays both sides of the ball, the length, the shot blocking at the rim are huge for us. And offensively, he can score different ways. He can shoot. He can post. I like his passing. I just think his passing makes everyone better. That's important."
Gasol thought he could fine-tune a few areas, but was happy with his performance so far. He also reported his body felt good.
"Right now, I'm pretty happy with what I've been able to do out there," Gasol said. "Try to get a little more into the flow of the game, try to get a little more rhythm, establish myself a little more, but so far just getting a feel for the game. As for my minutes on the floor, it's been positive for the team as far as what I've seen in the plus/minuses after every single game."
October, 18, 2014
Oct 18
2:36
PM CT
CHICAGO --
Chicago Bulls
guard
Derrick Rose
could take the next step in his return and have his minutes increased in the team's sixth preseason game Sunday, coach Tom Thibodeau said on Saturday.
Rose hasn't played more than 22 minutes in any of the Bulls' first five preseason games. The Bulls have three preseason games remaining. They play the
Charlotte Hornets
in Chicago on Sunday.
"I want to see how it unfolds in terms of where he is, where we are in the game," Thibodeau said after practice Saturday. "Ideally, he plays more. I think he's ready for that. I want to see it first. I want to make sure."
Rose cut himself off after 21 minutes in the Bulls' last preseason game Thursday. Rose said then he wasn't concerned about not playing a larger workload yet.
"I think my body is going to hold up," Rose said Thursday. "I think I worked too hard. I'm not worried about minutes. I could care less about them. Just trying to be patient and do exactly what they tell me to do."
Thibodeau said Saturday the priority was how Rose's body was feeling, but Rose's minutes were also important to him.
"Everything is important," Thibodeau said. "I want to feel him good. That's the biggest thing. The only way he's going to shake the rust off is by playing. But we'll see. We'll see how it unfolds. I think the next game will be good, will be a good test for him."
Dunleavy back:
Bulls small forward
Mike Dunleavy
is expected to play Sunday after missing the last two games with left knee soreness, Thibodeau said.
October, 18, 2014
Oct 18
12:14
PM CT
CHICAGO -- The
Chicago Bulls
waived guards
Kim English
and
Ben Hansbrough
and forward/center
Solomon Jones
on Saturday.
All three players signed with the Bulls as free agents on Sept. 26.
The Bulls' roster is down to 14 players. Chicago has three games remaining in the preseason.
October, 17, 2014
Oct 17
3:51
PM CT
CHICAGO --
Jimmy Butler
's performance during Thursday night's win over the
Atlanta Hawks
prompted excited cheers from all over the basketball universe.
How big was Butler's 20-point fourth quarter, coupled with a winning 3-pointer at the buzzer? Actor Mark Wahlberg sent Butler a shoutout on Instagram, congratulating him on his late-game heroics. Butler and Wahlberg became friendly after meeting a couple of summers ago while the actor was in town to film a movie.
[+] Enlarge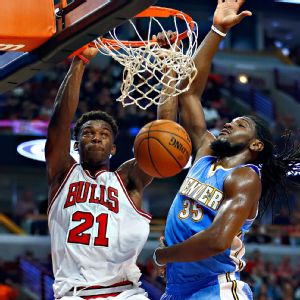 AP Photo/Jeff HaynesJimmy Butler is shooting 60.4 percent from the floor in the preseason.
If Butler, who is averaging 18.6 points a game on 60.4 percent shooting in the preseason, continues playing the way he has, then he's going to catch the attention of even more A-listers on his way up the NBA food chain.
But as Butler continues to make a name for himself as being the best Bull on the floor during this preseason, the question remains: How did he get so much better? Bulls coach Tom Thibodeau believes it starts with Butler getting into even better shape over the summer, losing about 10 pounds.
"It wasn't that he was fat," said Thibodeau of the 6-foot-7 Butler, who is listed at 220 pounds. "It was that he bulked up a little bit. I think he's at a great weight. I think he's in great shape. I think he feels good, and he's put a lot of work into it in preparing for the season."
Aside from the physical condition, the biggest key might be motivation. The deadline for Butler, 25, to sign an extension with the Bulls is Oct. 31. If the two sides do not come to an agreement, then Butler would become a restricted free agent at the end of the season.
Butler says he's not thinking about a new deal, but who wouldn't be thinking about his future in his situation? As he waits for some clarity on the situation, he's doing the best he can to control what he can on the floor.
"My confidence is high, and that's the way you have to play this game," Butler said. "All summer I worked on my game, the biggest thing is just confidence, taking shots I know I can make. I'm really happy on the way that I'm going right now, but I still got to keep going."
His teammates can see the difference in his confidence early on. They know how hard he's worked on his game, especially on his jumper, and they are happy to see him having success.
The big difference in Butler's game right now is that he is getting to the foul line more than ever. He was 12-for-16 from the free throw line, and teammate
Derrick Rose
noted that Butler plays better when he is looking for contact on the floor.
"He's playing great," Rose said. "His confidence is growing, it's definitely what we need right now. And I'm happy for him."
Will he be able to maintain it over the course of the season? Nobody is sure of that -- but what they know is that Butler has impressed in the preseason.
"He's just a good player, that's what he is," Thibodeau said. "He's going to score in transition. He can score in the post, he can score moving without the ball, cutting, he gets to the free throw line, he can make shots. ... He's an all-around scorer. He'll find different ways to put the ball in the basket."
October, 17, 2014
Oct 17
12:41
AM CT
CHICAGO -- The most intriguing moment of Thursday night's game did not come when
Jimmy Butler
drained a winning 3 at the buzzer over some
Atlanta Hawks
bench players. It came with 6 minutes, 7 seconds left in the fourth quarter, when Butler came to the scorer's table to check back into the game with
Joakim Noah
and
Pau Gasol
.
That instance was a lot more important than a meaningless preseason win because of who was not with Butler, Noah and Gasol when they went to check in:
Derrick Rose
.
After saying since training camp opened that players need to learn how to play with Rose again, coach Tom Thibodeau decided to leave his star on the bench when he brought back the rest of the core of his starting unit. After the game, the veteran coach brushed the decision aside, saying he expected Rose to play in the fourth quarter of the
Chicago Bulls
' final three preseason games.
[+] Enlarge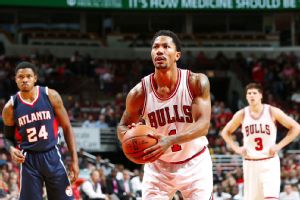 Gary Dineen/Getty ImagesDerrick Rose is being dutifully patient with playing time and wasn't concerned about limiting his availability late in Thursday's tilt. "Just when the time is right, it's right," he said.
"[He's] still not comfortable yet, but he's getting there," Thibodeau said of Rose. "Just want him to be ready when he does go in there. He's close, though. He's close."
But he's feeling fine?
"He said to [Bulls athletic trainer Jeff Tanaka] that he was done," Thibodeau said. "He was going pretty hard in the third. So [we'll] wait another game, see [how he's feeling], make sure."
The patient approach is a prudent one when it comes to Rose's status. The Bulls should go to extreme lengths given Rose's recent health history to make sure he is comfortable when he's on the floor, especially in just the fifth preseason game of a long NBA season.
But that Thibodeau didn't go back to Rose -- and that Rose didn't sound too concerned about not being in for the stretch run -- is telling. If nothing else, it shows a distinct change in philosophy from player and coach.
During Rose's last four preseason games a year ago, the former MVP averaged almost 32 minutes per game. He played down the stretch in games and became accustomed to taking pressure shots again. He wanted to be back on the floor all the time to show the rest of the world, and himself, he could still play at a high level.
A year later, Rose, at least outwardly, seems content to allow the preseason to play out at a slower pace, appreciating the long grind of a new basketball campaign.
"I think my body is going to hold up," Rose said. "I think I worked too hard. I'm not worried about minutes. I could care less about them. Just trying to be patient and do exactly what they tell me to do."
Rose always has been a people pleaser, but he seems intent on listening to himself, and his body, more than ever. That's what makes the present situation a little trickier this time around for Thibodeau and the Bulls.
The coach has voiced his displeasure several times about the medical restrictions being placed Rose and Noah during the preseason. But on the night Noah took another step in his progression by coming back into the game in the fourth quarter, Rose sat quietly on the end of the bench watching the action.
Should fans be worried because Rose didn't come back, or should they be excited that he is taking a different approach to his latest comeback?
Rose said he would like to have been in the game late, but he knows there will be more to play for in the future. He said he didn't talk to Tanaka about the 20-minute runs he's been getting in the preseason. It just kind of happened.
"I would [like to be out there], but at the same time be patient," Rose said. "It's no rush at all. Knowing how hard I worked, I'm not worried about it. Just when the time is right, it's right."
If Rose isn't worried about his playing time, should the rest of us be? It's an interesting quandary for the entire organization.
On one hand, Thibodeau has said all summer that in order for Rose to find his rhythm again, he must play. On the other, Thibodeau doesn't want to upset his star player and risk putting him into a situation he's not ready for right now.
Maybe Thursday's decision not to come back into the game will be insignificant over time as Rose eases his way back into playing after so much time off. But in the short term, the Bulls know they must play together in order to find the consistency that has eluded them throughout much of the preseason.
"We just have a lot of work to do," Noah said. "And yeah, continuity's important. Right now we're in a situation where we got to find the right balance. We've got guys coming back from injuries; that's a reality. And continuity is very important as well, so we got to find the right balance.
"It's not pointing fingers at anybody. We just got to find ways as a team to make this work, and I know we will."
Nobody is blaming Rose for his decision to sit a few extra minutes Thursday night. His teammates and coaches all want what's best for him in the long term, and they know they can't win a championship without him. After all, championships aren't won in October.
But the seeds of a championship run are planted now.
The confidence that has defined Rose's game has to be built up again.
In order to do that, the former MVP has to trust his body can withstand all the minutes coming his way. He'll get plenty of chances in the near future to prove he does.