March, 25, 2015
Mar 25
11:00
PM CT
ESPN.com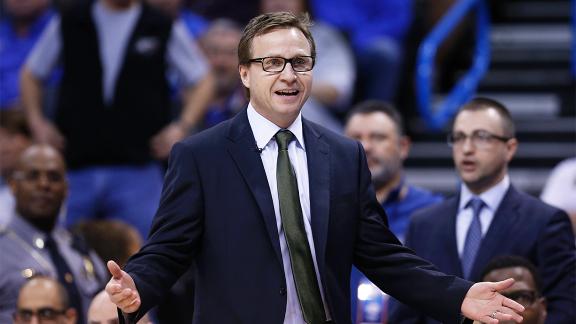 March, 25, 2015
Mar 25
10:52
PM CT

By Nick Friedell
ESPNChicago.com
Archive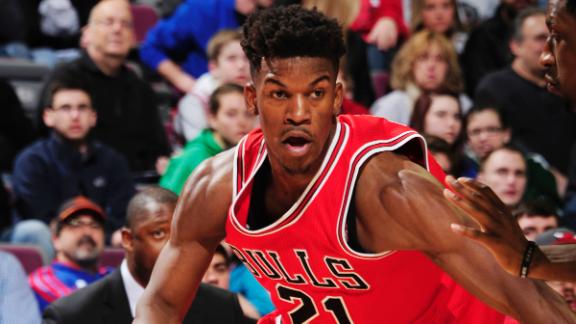 TORONTO -- The Chicago Bulls don't have the best record in the league, but they might lead the NBA in confidence. Despite all the ups and downs they've dealt with on and off the floor this season, the Bulls believe they can knock off anybody. That confidence was on display in a 116-103 win over the Raptors on Wednesday as the Bulls outscored Toronto 39-21 in the fourth quarter.
"We don't play to lose that's for sure," Bulls swingman Jimmy Butler said. "I think we can beat anybody. So I don't think it matters what seed we end up in. We just want to win as many games and get in a rhythm and get rolling heading into the playoffs."
While it might be more advantageous for the Bulls to slide into the fourth or fifth seed in the Eastern Conference playoffs -- avoiding a potential second-round matchup with the Cleveland Cavaliers -- Chicago is taking on a "win now" mentality with just nine regular-season games left.
[+] Enlarge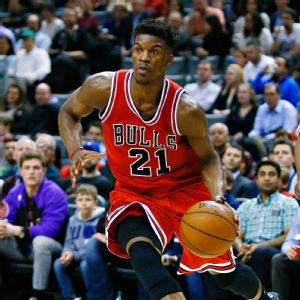 John E. Sokolowski/USA TODAY SportsJimmy Butler led the Bulls with 23 points on 7-of-8 shooting from the field and 7-of-9 from the free-throw line.
Bulls center Joakim Noah said earlier this week that he believes his squad is "the toughest team to beat in a seven-game series." He isn't backing off those words as the Bulls get set for one of the most important postseason stretches in recent memory.
"I think we're a team that's gone through a lot," Noah said. "A lot of adversity. And I think our time is coming. I think we're a very talented group. And when you put all that talent together and we all play for the right reasons, I think we're going to have a shot and that's all you can ask for."
Bulls coach Tom Thibodeau certainly doesn't believe in playing to lose for a better seeding placement. He has trained his team over the past five years to try to win every game. He believes in going right at an opponent, instead of avoiding one for as long as possible. His players have taken to that mentality as well.
"You play to win," veteran Pau Gasol said. "We are aware and we want to get the highest seed possible just like everyone else. But at the same we understand that with winning games that's what we're going to accomplish. You can't focus on trying to get a specific seed."
The Bulls set a season high on Wednesday night by shooting 60.8 percent from the field, according to ESPN Stats and Info. Noah knows his team has a lot of room for improvement, but is confident that they are making strides in the right direction.
"I know that to win, these games are won on one, two possessions," Noah said. "And we all have to be on the same page. There's definitely another level we need to get to defensively. We're still making too many mental mistakes. But offensively, this is the best offensive team I've been on by far. So if we can just tighten up a little bit defensively it's going to be great."
Defense has been a Thibodeau staple over his tenure in Chicago, but the Bulls have struggled to defend at times. With so much hype surrounding a potential championship run, and so much uncertainty surrounding Thibodeau's future in Chicago, it will be interesting to see how this proud team handles the next round of play.
But in the short term, Noah and his teammates are trying to just focus on the positives. With Butler and Taj Gibson back on the floor, they are healthier than they've been most of the year. They're also confident that at some point in the next few weeks they will get Derrick Rose back as he recovers from a meniscectomy.
That's why Noah was smiling as he got ready to leave the visitor's locker room at the Air Canada Centre on Wednesday night. He's happy about the present, but he's even more excited about the future.
"Right now we just got to stay focused on us," Noah said. "That's the truth. We just got to focus on us and getting better. Guys are coming back from injuries and we feel like we have the deepest team in the league so it's a good feeling. We got a lot of weapons. We just got to keep getting better as a unit, keep polishing our games individually and it's exciting."
March, 25, 2015
Mar 25
8:37
PM CT
Associated Press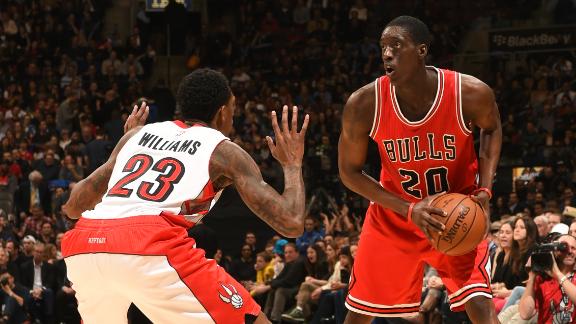 TORONTO -- Jimmy Butler scored 23 points, Pau Gasol had 18 and the Chicago Bulls beat Toronto 116-103 on Wednesday night for their fifth consecutive victory against the Raptors.
Tony Snell scored 17 points as the Bulls moved 1 1/2 games ahead of the Raptors for third in the Eastern Conference. Aaron Brooks had 16 points, and Nikola Mirotic finished with 15.
Toronto has dropped three of four. It hasn't defeated Chicago since Dec. 31, 2013.
Greivis Vasquez had 22 points for the Raptors, and DeMar DeRozan scored 20. Vasquez also matched a career high with six 3-pointers.
March, 25, 2015
Mar 25
12:34
PM CT

During an injury-filled season for Chicago, rookie Nikola Mirotic has emerged as a reliable offensive weapon for the Bulls.

March, 25, 2015
Mar 25
10:47
AM CT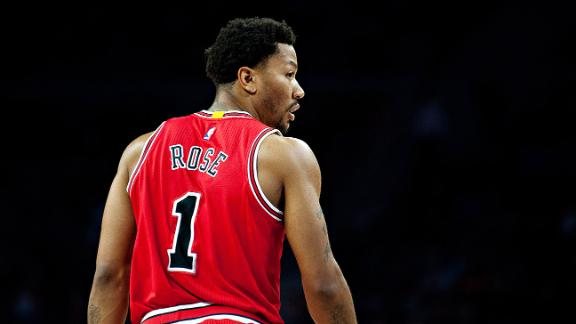 TORONTO -- Chicago Bulls point guard Derrick Rose said Wednesday he has no pain in his surgically repaired right knee and remains optimistic that he can return before the regular season ends.
Rose, who had a meniscectomy on his right knee Feb. 27, is hopeful that he can start taking contact in practice "this week or next week."
"That would be the plan, but who knows?" Rose said before Wednesday morning's shootaround in advance of the Bulls' 116-103 win over the Toronto Raptors. "Whenever I'm ready to come back, that's when I'm going to come back."
Rose, who tore the ACL in his left knee in April 2012 and the medial meniscus in his right knee in November 2013, is feeling good about how this particular rehab process is coming along. The Bulls announced after the latest surgery that he would be out four to six weeks.
While Rose has been noncommittal regarding a comeback date, he says the process has been "smooth, same as the other two" and that there has been no pain or swelling in the knee.
"I don't have it," Rose said. "I don't have any. So that's a good sign. The swelling is gone. So it's all about just getting on the court."
Rose is hopeful that after a week or two of taking contact in practice that he could return to the floor, but he isn't sure exactly how his body will respond. Bulls coach Tom Thibodeau said Rose has been doing everything in practice aside from taking contact and likes the way the former MVP is progressing.
March, 25, 2015
Mar 25
8:16
AM CT
Associated Press
CANTU, Italy -- Former NBA All-Star Metta World Peace has signed for Italian team Pallacanestro Cantu for the remainder of the season.
After a series of teasing tweets from the 35-year-old World Peace -- such as "whatever you can do I Cantu better" -- Cantu confirmed the news, calling it "the coup of the century."
World Peace, who changed his name from Ron Artest, was playing for the Sichuan Blue Whales in the Chinese Basketball Association after a long NBA career that included stints with the Chicago Bulls, Indiana Pacers, Sacramento Kings, Houston Rockets, Los Angeles Lakers and New York Knicks.
"When Daniele (sporting director Daniele Della Fiori) told me about the possibility of signing Metta World Peace, I thought that this could be the right shock to boost the squad at a crucial time in our season," Cantu president Anna Cremascoli said. "Metta will bring a wave of enthusiasm to the whole of Italian basketball and not just to Cantu."
World Peace, 35, averaged 19 points and six rebounds in 15 games for Sichuan -- where he also changed his name to "The Panda's Friend" -- but with the Chinese season over, he has turned to Italy.
World Peace won the NBA title in 2010 with the Lakers, where he also spent a season with Darius Johnson-Odom, who has been at Cantu since August.
"I'm happy, obviously," Johnson-Odom said. "I've spoken to Metta on the phone and he's very excited about this new adventure. I'm sure he will give us a great contribution, because we're talking about an absolute champion."
March, 25, 2015
Mar 25
8:09
AM CT
ESPN.com