March, 11, 2014
Mar 11
10:19
AM CT
CHICAGO -- The national love affair with
Joakim Noah
is starting to extend past the Bulls center as he continues to have the best stretch of his career. Now it's Noah's famous father, Yannick, who has caught the eyes (again) of sports fans all over the country.
[+] Enlarge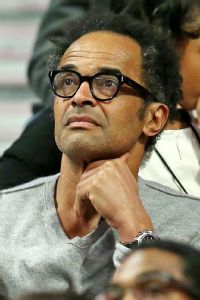 Jonathan Daniel/Getty ImagesYannick Noah cheered on his son in the Bulls' victory over the Heat on Sunday.
That's because Yannick, who was interviewed on the ESPN telecast of the Bulls-Heat game Sunday by Lisa Salters, showed the emotion -- in the stands -- that has come to define his son's game. He was shown cheering and yelling with his daughter, Yelena, each time Joakim made a play. His joyous reaction was replayed on television and social media throughout the day.
"I just know that he's happy right now," Joakim said after the game. "I can't wait to see him and celebrate this win with him. I don't get to see him a lot, but my father's always been there for me my whole life. To be able to share these moments with him; I know that he's a nervous wreck during games. I always tell him to drink a brewski and just chill. But I know how he is so I can't wait to celebrate with him."
Noah said after Monday's practice that that's exactly what they did Sunday night.
Bulls coach Tom Thibodeau was happy to see the father and son have some time together on Sunday.
"Of course, he's done great things in his own career," Thibodeau said of Yannick, who is now a famous pop star in France. "But Jo and his dad have a great relationship, and it's great to see."
Thibodeau said he's gotten to meet Yannick, a former French Open champion, and appreciates the bond Noah has with his father.
"What that guy did (as a tennis player), and then he's gone on to another career (as a singer) -- and he's been just as great there," Thibodeau said. "But I've gotten to know him a little bit, I know they're very proud of each other. Whenever you see that type of relationship, it makes you feel good."
What's next:
The Bulls take on the
San Antonio Spurs
, who Thibodeau has called the "gold standard" of the NBA, at 7 p.m. Tuesday night.
The last word:
Noah, on all the accolades he has been receiving, including chants of "M-V-P" during Sunday's game: "I don't like it. I don't really like it. It's not what matters."
The only thing that matters to Noah is a championship. He's said it over and over again throughout the years.
"We're hungry, man," Noah said after Sunday's game. "We're a hungry group. That's all I want. I just want everybody in this locker room, when you wear a Bulls jersey, we're going for one thing -- and that's the championship. One day I want to party in Chicago and I want to see what the feels like. One day."
March, 10, 2014
Mar 10
4:53
PM CT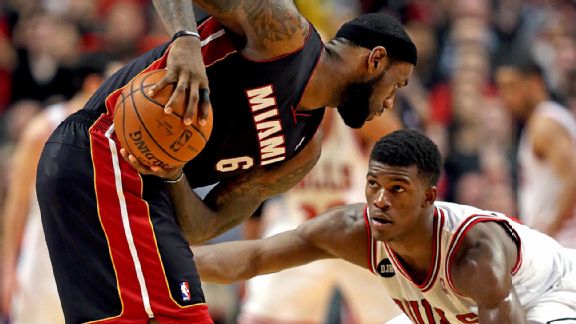 Jonathan Daniel/Getty ImagesJimmy Butler held LeBron James to 2-of-11 shooting when he was guarding the Heat star.
The
Chicago Bulls
'
Jimmy Butler
came into the NBA with a reputation as a good defender, and three years later his coach believes the guard is now among the best in the NBA.
Asked if Butler has matured into a top-10 or even top-five defensive player in the NBA, especially since he can guard 2-guards and small forwards, Tom Thibodeau took the praise a step further.
"I sure would and don't stop at 2 and 3 because he's guarded 1s and 4s as well," Thibodeau said Monday on "The Waddle & Silvy Show" on ESPN Chicago 1000. "Great individual defense, great team defense. Offensively the last three or four weeks I think he has been very good. He got off to a slow start this year, and I think that might be attributed to the injuries. Every time he started to get on track he got nicked up again. He had a knee, he had a rib, but he's finally gotten healthy and he's in a really good rhythm right now. He's really coming on, and I think that's been a big, big plus for us."
Butler did a commendable job holding
LeBron James
in check in a victory over the
Miami Heat
Sunday. The reigning MVP was held to 17 points on 8-of-23 shooting in the Heat's third straight loss, a 95-88 overtime defeat in Chicago. James particularly struggled against Butler, shooting 2-of-11 when being defended by the Bulls guard, according to ESPN Stats and Information.
Thibodeau said the defensive accolades might not come Butler's way until next season.
"I don't know the reason why but usually that's the case," Thibodeau said. "When you earn it it's usually a year after that. Jimmy has been terrific from his rookie year on. He came on in a tough year. His first year was the year after the lockout so you're behind the eight ball missing summer league, the fall stuff and it's a condensed schedule so there's minimal practice. That's a tough way to come in and start your career, but he was very good that year defensively.
"He's got great balance, feet, just the way he can position himself. Got great hands. And now I think he knows the players well, he knows what the teams are trying to get to so he's about as good as it gets."
March, 10, 2014
Mar 10
2:13
PM CT
DEERFIELD, Ill. --
Chicago Bulls
coach Tom Thibodeau maintains that rehabbing point guard
Derrick Rose
is "nowhere near ready" to practice, but Rose is starting to do a little more on the court as he recovers from a torn meniscus in his right knee.
[+] Enlarge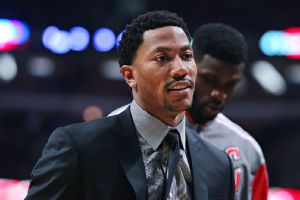 Dennis Wierzbicki/USA TODAY SportsDerrick Rose is "nowhere near ready" to practice, coach Tom Thibodeau says.
"He's basically about the same," Thibodeau said. "He's doing a little bit more, a little bit more running now. But he's still nowhere near ready to practice. But he's doing well. His spirit's strong, body feels good, so just keep concentrating on the rehab, be a great teammate, and that's what he's doing."
Rose is starting to jump more while taking shots, at least in the brief snippet of practice the media has been able to watch. Up until this point, Rose has usually just taken set shots while warming up on the floor.
Thibodeau didn't exactly rule out the possibility of Rose practicing, but he has made it clear that Rose will not play this season.
"We'll see where we are at the end of the year if he gets cleared to practice," Thibodeau said. "But there's no timetable on that. Just put everything you have into each and every day with the rehab, get stronger. We want to make sure he's completely healthy before he moves forward."
When asked specifically if Rose would be ruled out of practicing, Thibodeau was noncommittal.
"I don't even want to speculate," Thibodeau said. "If he can, he will. He's not close right now."
March, 9, 2014
Mar 9
7:21
PM CT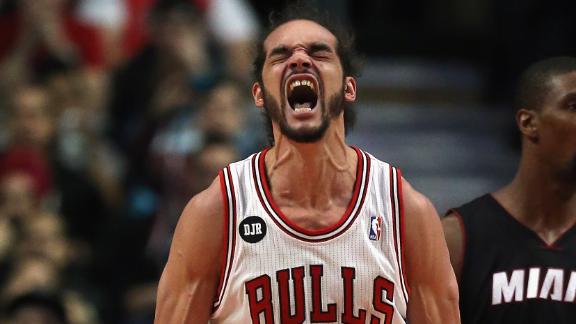 There's nothing he can do to get Derrick Rose back right now, nothing he can do to reverse the subsequent trade that sent another beloved teammate, Luol Deng, to Cleveland as the Bulls prepared for the long term. But as consolation prizes go, Joakim Noah knows what he values more than anything else he can imagine: beating Miami. They all do, really, every single Bulls player. It doesn't matter to them, this storyline that they can't beat Miami four times in May. They want Miami.
Some teams get a collective headache when LeBron James comes to town; the Bulls would happily send a plane for LeBron and the champs. Noah called it "playing with hate," and the Bulls ratcheted up their obsession with Miami to beat the Heat in another regular-season game, this one in OT -- just as they stopped Miami's winning streak at 27 games a year ago, just as they push and shove and annoy the champs like nobody else in the NBA.
The lasting visual from the game that didn't involve Noah had to be the sight of Jimmy Butler and LeBron, tangled on the baseline after a missed shot, kicking and flailing at each other with no real menace intended, just strength and determination. But as often happens in the games between these two, the Bulls somehow got under Miami's skin. And nobody eats at Miami quite like Noah, whose 20 points, 12 rebounds, 7 assists and 5 blocked shots was another in a string of sublime performances over the past six weeks that has Noah possibly behind only LeBron James and Kevin Durant as MVP of the league.
March, 9, 2014
Mar 9
6:13
PM CT
CHICAGO --
Jimmy Butler
embodies all the characteristics
Chicago Bulls
coach Tom Thibodeau wants his players to have. He's tough, he plays hard, he plays to win, he never gives up, but most important he's not scared. Butler isn't afraid to mix it up or get down and dirty on the floor. Never was that more evident than at times during the
Chicago Bulls
' impressive 95-88 overtime win on Sunday afternoon.
[+] Enlarge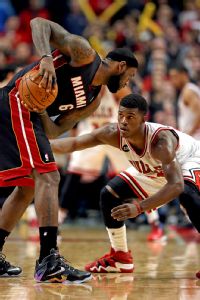 Jonathan Daniel/Getty ImagesJimmy Butler's tenacious defense and approach for the Bulls characterizes the toughness the team has shown this season.
It was Butler who found himself in a scrum with
LeBron James
under the basket in the first half and didn't back down -- kicking him in the face and taking a shot to the mouth -- as both players picked up technical fouls.
It was Butler who made arguably the play of the day in the final seconds of regulation when he stripped James cleanly and forced the game into overtime. It was Butler, who in the midst of describing his attitude against James, ended up describing his entire team's mindset in the process.
"I don't back down," he said proudly. "Let's just put it like that."
That line of thinking is why the Bulls continue to surprise many around the league, but it's also what sets the third-year Marquette alum apart from many of his peers. Even when he's having a bad day offensively, he has learned that he can still make a difference in the game. He proved that again Sunday by locking up James to the tune of just 2-for-11 shooting when the players were matched up with one another, according to ESPN Stats & Information data.
"I'm pretty happy with the way he guarded [James]," Bulls center
Joakim Noah
said. "Jimmy was a warrior tonight. He's one of those guys, too, when things aren't going his way he can do so many things on the basketball court to affect winning. And you need guys like that."
The key for Butler is that he has taken that advice -- from teammates and coaches -- to heart. He was only 4-for-15 from the field, but his defense on James, and at times on
Dwyane Wade
, was one of the biggest reasons why the Bulls were able come back and win.
"Effort," Butler said. "I feel like that's what a lot of defense is. Just the want to and the will to fight through a screen. Just to try to never give up on a play, I feel like that's what I did."
March, 9, 2014
Mar 9
3:11
PM CT
Associated Press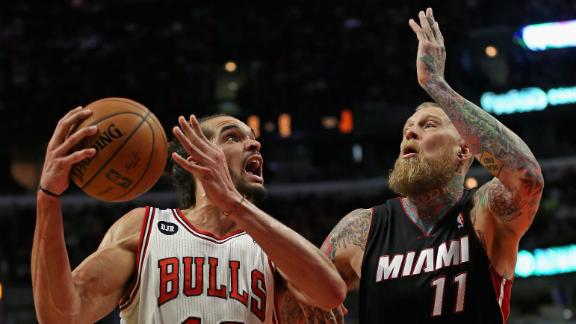 CHICAGO -- Joakim Noah had 20 points and 12 rebounds, D.J. Augustin scored 22 and the Chicago Bulls beat the Miami Heat 95-88 in overtime Sunday after Jimmy Butler blocked LeBron James at the end of regulation.
Dwyane Wade scored 25 for Miami, but with James struggling again, the Heat dropped their third straight to match their longest losing streak of the season.
James scored 17 points on 8-of-23 shooting and couldn't come through after Miami blew a 12-point lead down the stretch. With a chance to win it at the end of regulation, he got stripped by Butler on a layup.
In overtime, it was all Bulls.
Chicago outscored Miami 9-2, starting with Augustin's 3 just under a minute in. Butler added a jumper from the wing, Noah scored on a putback and Butler added two free throws to make it 95-86 with 1:33 left before James made a layup.
March, 9, 2014
Mar 9
4:02
PM CT
March, 9, 2014
Mar 9
2:59
PM CT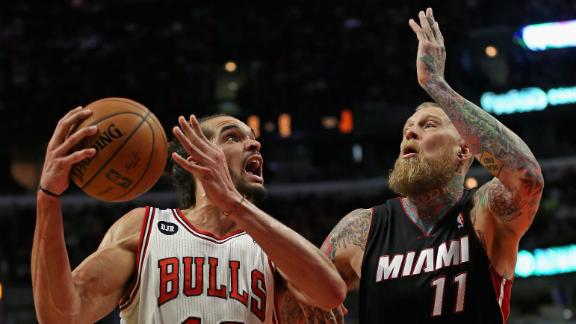 CHICAGO -- Let's take a quick look at how the
Chicago Bulls
earned a hard-fought 95-88 overtime win over the
Miami Heat
on Sunday afternoon at the United Center.
How it happened:
D.J. Augustin
led the Bulls with 22 points while
Joakim Noah
had another huge game with 20 points, 12 rebounds and seven assists as the Bulls earned arguably their most emotional win of the year. Dwyane Wade led the Heat with 25 points, but Miami didn't make enough plays down the stretch and into overtime while the Bulls did.
What it means:
Noah hated the way his team performed in its second-half collapse a few weeks ago in Miami. He challenged his teammates to play with more passion and energy against the team that has given them so many problems over the years. They answered the bell Sunday. The Bulls came back from a 12-point deficit in the fourth quarter and did all the little things late that have defined them under Tom Thibodeau. Their defense was on point and came up huge in the waning moments. They never quit on the game and rose to the challenge when they needed a boost. A win like this will push their confidence even higher as they enter the final stretch of the season.
Hits:
Jimmy Butler
had 16 points and 11 rebounds, but it was his strip of
LeBron James
at the end of regulation that pushed this game into overtime and helped the Bulls earn the win.
Misses:
Carlos Boozer
was 4-for-14 from the field.
Stat of the night:
Second-chance points: Bulls 27, Heat 6.
What's next:
The Bulls face the
San Antonio Spurs
on Tuesday night.
March, 8, 2014
Mar 8
9:33
PM CT
DEERFIELD, Ill. -- Tom Thibodeau has been around professional basketball for well more than two decades. He has a passion for the game and the intricacies that separate the good players from the great ones. He studies compulsively to try to make sure his
Chicago Bulls
team always has an advantage when it steps onto the floor. That's why his praise of
Miami Heat
superstar
LeBron James
is so telling. When asked Saturday to compare James to another player he's watched or coached against in years past, Thibodeau didn't hesitate.
"Nobody," Thibodeau said.
"Because you're combining the speed, the power, the skills, the passing, the vision. I can't recall anyone that I've coached against that's like that. There's nothing that he doesn't do. He's great with the ball, great without the ball, can post, can drive, can shoot, can really pass. If you overcommit to him he's going to make you really pay. And he keeps getting better every year. So he's an all-time great."
Thibodeau always talks about how the Bulls must play team defense against a player like James. But the reality, as the veteran coach knows, is that it's much, much easier said than done as his team once against gets set to host James and the Heat on Sunday afternoon. James is the best player in the world, and he can take over the game virtually whenever he wants.
[+] Enlarge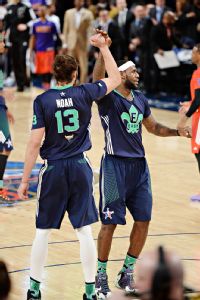 Noah Graham/NBAE/Getty ImagesJoakim Noah was an All-Star teammate of LeBron James, but has been known to get fired up about how his Bulls play James' Heat -- as they will Sunday.
"The guy's 6-foot-9 and he's 280 pounds," Bulls center
Joakim Noah
said before a game against Miami in 2011. "And he can play the point guard. He's different. He's built different. He's pretty good, too."
The Bulls saw that again firsthand a couple weeks ago when they got throttled by the Heat in the second half of a game they would go on to lose. The performance infuriated Noah so much that he called out his entire team and the way the Bulls played. No matter how many times Thibodeau might try to downplay a matchup against the Heat, Noah and his teammates understand that these games always mean a little more.
"When we play the Miami Heat, our intensity has to be through the roof for 48 [minutes]," Noah said after the loss Feb. 23. "Regardless [if] shots are going in or not. Of course you want to win the game, but the way we're going to win is our edge -- our intensity has to be better than theirs throughout the game."
The fact that Miami has knocked out the Bulls in two of the past three postseasons is not lost on Thibodeau or his players. He liked the fire with which Noah spoke after that game, but he has always believed that actions speak much louder than words.
"You got to be ready to have the fight necessary to succeed," he said. "I think that we were disappointed that we didn't play 48 minutes against them. And we know that that's necessary in order to win. So hopefully we can bring better effort."
Effort isn't the only thing the Bulls will need Sunday. They need better execution as well. They've won 10 of their past 13 contests, but if they don't find ways to score and make the effort plays that have defined them under Thibodeau, James will find ways to break them down as he has done in the past. Thibodeau acknowledged that a case could be made that the Heat are a dynasty, having played in three consecutive NBA Finals and won two titles in a row.
The key for his team is to find the intensity that was missing in Miami. In order to do that, the Bulls must find a way to slow down James and stay in front of him. It's an assignment that Thibodeau hopes his team is ready for against the best player -- and the best team -- in the game.
"That's the challenge," he said. "In this league you're going to be challenged every day that you're in it. It doesn't matter who you are, if you're a player, coach, executive, first-year player, 15-year player -- it doesn't matter. You're going to be challenged and that's what brings out the best in people. So we're looking forward to it. We know they're tough on both ends of the floor and we got to be ready."
March, 7, 2014
Mar 7
11:16
PM CT
CHICAGO -- The
Memphis Grizzlies
beat
Joakim Noah
and the
Chicago Bulls
at their own game Friday night, and the All-Star center knows it.
Like the Bulls, the Grizzlies use tough defense, especially on the interior with
Zach Randolph
and
Marc Gasol
, to take over games down the stretch. That's exactly what happened late in this one as the Grizzlies tightened things up and clamped down on Tom Thibodeau's offense in the waning minutes for an 85-77 win.
[+] Enlarge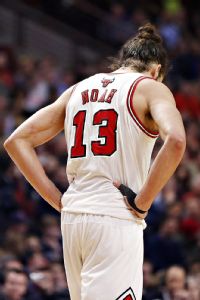 AP Photo/Charles Rex ArbogastJoakim Noah wasn't at all pleased with his six-turnover performance in the Bulls' home loss to the Grizzlies on Friday night.
"They outplayed us," Noah said. "They're a tough team. Marc Gasol and Z-Bo are a handful down there. And then you put
Tony Allen
[in the mix]. I think Tony Allen was really the difference of the game. He just disrupted everything out there with his defense. ... They hit shots. We didn't."
The Bulls were only 2-for-13 from beyond the arc and that killed their ability to spread the floor. But in Thibodeau's mind, the turning point of the game wasn't defined by the lack of made shots. It was based on the fact the Grizzlies outrebounded the Bulls and made plays in the second half that Chicago wasn't able to respond to.
"Rebounding was the name of the game," Thibodeau said. "In the third quarter they had 30 points. The last five minutes of the third quarter was a disaster."
The Grizzlies did all the little things that the Bulls usually do to beat teams. They got the extra rebound, they made the extra defensive rotation, they knocked down a shot when they needed to have it. Noah and his teammates knew what to expect on Friday night, they just couldn't execute correctly. The attention to detail was crucial in this game and that's one of the reasons why Noah was so frustrated by his six-turnover performance. The mental mistakes cost the Bulls -- especially in the end.
March, 8, 2014
Mar 8
3:21
PM CT
Zach Lowe of Grantland wrote recently about how "unlikely" bonuses in player contracts could potentially put some non-taxpaying teams past the tax thresholds. One of the subjects of his piece was Chicago Bulls center Joakim Noah, whose $500,000 bonus for making first-team All-NBA would push the Bulls' payroll into tax territory.
Fortunately for Chicago's bean counters, the play of Dwight Howard and the subsequent rise of the Houston Rockets, particularly over the last two months, make Noah's candidacy for a spot on the first team more and more unlikely as the season winds down.
But there's another question to be answered by Bulls management: Even when (if?) hometown hero Derrick Rose returns to full health, isn't Noah really the centerpiece of the franchise? Is Noah the face of the Bulls?
To continue reading this article you must be an Insider
March, 7, 2014
Mar 7
8:31
PM CT
CHICAGO -- Let's take a quick look at how the
Memphis Grizzlies
earned an 85-77 win over the
Chicago Bulls
on Friday night at the United Center.
How it happened
:
Marc Gasol
had 18 points and 10 rebounds, and
Zach Randolph
had 10 points and 11 rebounds to pace the Grizzlies.
Taj Gibson
had 18 points to lead the Bulls, but they couldn't make shots down the stretch and it cost them.
What it means
: This game unfolded exactly as expected. It was a tough, hard-fought battle full of defense and missed shots. The difference was that the Grizzlies made plays when they had to and stuffed the Bulls defensively when they needed stops. The Bulls offense stalled and, unlike in games in the past few weeks, it had no answers. They couldn't hit shots from the outside and couldn't penetrate on the inside when they needed to because of Memphis' solid interior defense. The Bulls didn't score in the final 3:15 of regulation.
Hits
:
Joakim Noah
had 15 points, eight rebounds and six assists, but he had several costly turnovers as well.
Misses
:
Mike Dunleavy
was 2-for-10 from the field.
Stat of the night
: The Bulls went 2-for-13 from beyond the arc.
What's next
: The Bulls have a showdown against the
Miami Heat
on Sunday afternoon.