September, 16, 2014
Sep 16
1:39
PM CT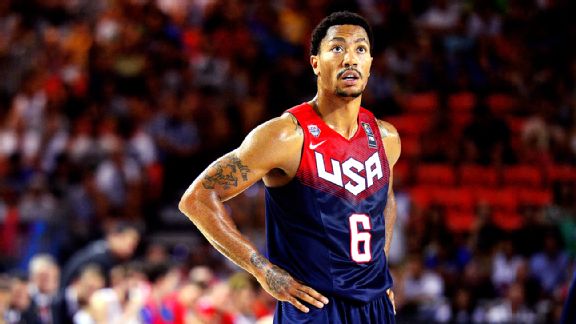 David Dow/NBAE/Getty ImagesDerrick Rose's shot wasn't there during the FIBA World Cup, but he showed he can still be explosive.
Now it's over. Now, it finally begins.
In two weeks, the real, real return of Derrick Rose begins. Inside the new facilities, inside a Chicago Bulls (not Team USA) practice jersey wearing the No. 1 instead of Nos. 41 or 6, between the Atlantic and Pacific oceans where his jump shot falls. Not fails.
He gave himself an A, when asked how would he grade his overall performance during the FIBA Basketball World Cup. Despite the suspect assist-to-turnover ratio, the anemic outside shooting, the visible problems he had finishing, and the fact that once he lost his starting spot to Kyrie Irving he never got it back, Rose still personally won.
That's why Rose is looking at this whole experience differently than everyone else. He has no other choice.
"I'm going to transfer this on to next season with the Bulls," Rose said Sunday. "It's really helped me with my recovery. Being off the floor, taking care of my body, eating right. I was feeling good every time I stepped on the floor, stretching every time; I think it's going to help me with the Bulls season."
If we want to read deep into Rose's comments, a conclusion could easily be drawn that once he made the team he took his foot off the gas. Saving himself for the long haul, for when he's really going to be needed, for his legacy.