December, 12, 2013
Dec 12
9:00
AM CT
NEW YORK -- Tom Thibodeau is the Bill Belichick of the NBA.
He is a hard-charging coach who has spent most of his life around the game. He expects his teams to play tough, physical basketball all the time. He also wants to give his teams every advantage he can to produce a win. That's a huge reason why Thibodeau is so guarded with his daily injury reports. He doesn't want any team to know exactly what is going on with his team's injuries. That's why media members have to read between the lines of his comments day after day.
After Tuesday morning's shootaround, Thibodeau, after giving updates regarding injured players
Luol Deng
(Achilles),
Jimmy Butler
(turf toe) and
Mike James
(knee), was asked if anyone on the roster was dealing with any kind of injury.
"No," he replied.
Only problem was that only a few hours later, Bulls center
Joakim Noah
revealed that he was dealing with a knee contusion. Thibodeau said he was just as surprised as fans and media were when he found out Noah was sitting.
December, 12, 2013
Dec 12
7:19
AM CT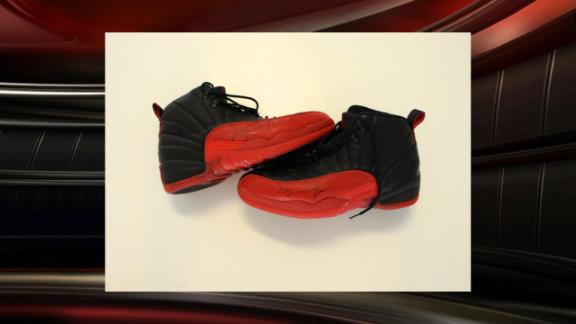 The shoes Michael Jordan wore in his famous "Flu Game" sold for $104,765 early Thursday morning, shattering the record price paid for a pair of game-worn shoes in any sport.
The shoes, brought to the market by Grey Flannel Auctions and consigned by former Utah Jazz ball boy Preston Truman, were worn by Jordan during Game 5 of the 1997 NBA Finals in which Jordan scored 38 points for the Chicago Bulls despite laboring up and down the court from feeling sick that day.
The identity of the winning bidder was not immediately made public, but the amount paid blew away the previous record paid for a pair of game-used shoes, which were also worn by Jordan. A collector paid $31,070 just last month for a pair that Jordan wore in his rookie season.
Truman was able to secure the shoes, after developing a relationship with Jordan, which started when he says he one day fetched Jordan's traditional pregame applesauce during the 1996-97 season.
When Jordan came back to Utah for the Finals that year, Truman says he brought Jordan applesauce even though Jordan wasn't in an eating mood. While Jordan was said to be suffering flu-like symptoms, Jordan's trainer Tim Grover said years later that he was sure it was from food poisoning from a pizza Jordan ate the night before.
After the game, which put the Bulls up 3-2 and one game from winning their fifth title, Jordan gave Truman his shoes from the game.
Besides the story, Truman provided the auction with a photo of Jordan signing the shoes for him that night, which matched the suit from pictures of him leaving the Delta Center.
December, 12, 2013
Dec 12
12:07
AM CT
NEW YORK -- With the way the
Chicago Bulls
' season has gone over the past few weeks,
Taj Gibson
and his teammates have two choices with regard to how they could feel. They could cry because of all the heartbreak and injuries they continue to endure, or they could laugh at all the bad luck they've had and smile with the hope that better days are ahead.
[+] Enlarge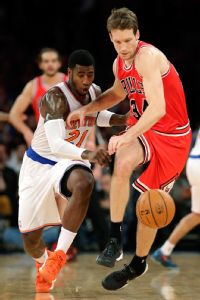 AP Photo/Kathy WillensDespite all the injuries and losses, the Bulls remain confident that things will turn around in the near future.
While the Bulls are understandably frustrated with the way they have been playing lately, especially after Wednesday night's 83-78 loss to the lowly
New York Knicks
-- their ninth in the past 11 games -- Gibson and most of his teammates chose the latter when it came to how they were handling their emotions.
"We just got to get guys back healthy, man," Gibson said. "Having [
Luol Deng
] out and
Jimmy [Butler]
out is real tough right now."
Then Gibson did something that has been rare to see around this team in recent weeks -- he actually cracked a smile.
"You can see I'm guarding 3's," he said. "I'm guarding twos, I'm even playing the three spot at times. It's kind of awkward, but we're just trying to find ways to win."
That's the thing about these Bulls. They are still broken-hearted over the fact
Derrick Rose
suffered another season-ending knee injury. They are still in an emotional rut because of the recent turn of events. But amid all of the bad things, they remain confident that at some point in the near future things will turn around. They came back from a 23-point deficit in Wednesday's game and almost pulled out a win. Coach Tom Thibodeau doesn't do moral victories, but he knows his team is getting closer to turning things around.
"The fight is good and we're capable of doing better," Thibodeau said. "The important thing is for us to understand that every game is winnable. It always comes back to the three things that you talk about to be in position to win. Your defense, your rebounding and low turnovers. If you do those three things you'll be in position to win."
December, 12, 2013
Dec 12
12:03
AM CT
NEW YORK -- Although an official announcement has yet to be made, all signs point to the Chicago Bulls signing veteran point guard D.J. Augustin on Thursday.
Yahoo! Sports reported Wednesday that Augustin would sign with the Bulls on Thursday after passing a physical, and team personnel at Wednesday night's 83-78 loss to the New York Knicks also were expecting the move to become official.
Bulls forward Taj Gibson was a fan of the move.
"That's great," he said. "More bodies for us. The more bodies we can get, it will help us because right now we feel we have a great shot, it's just that we're missing two of our veteran warriors that we normally go to battle with."
The Bulls (8-12) have been searching for answers at backup point guard since Derrick Rose went down with another season-ending knee injury Nov. 22 in Portland. Kirk Hinrich has struggled to find his shot in place of Rose, while second-year guard Marquis Teague was sent to the D-League last week only to be recalled after veteran Mike James sprained his knee.
"He's a phenomenal, phenomenal guard," Gibson said of Augustin. "I've been going against him since I was at USC. We beat [Augustin's Texas Longhorns] in the second round [of the NCAA tournament]. He played with Kevin Durant. He's a great point guard, a great scoring point guard at that."
December, 11, 2013
Dec 11
9:56
PM CT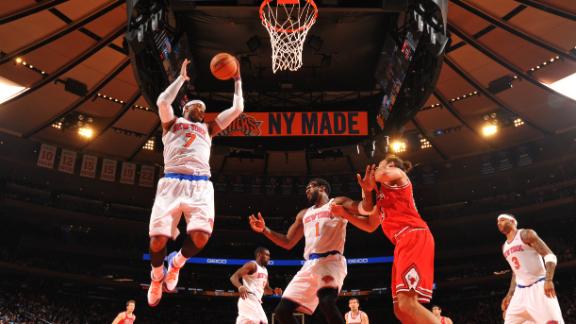 NEW YORK -- Let's take a quick look at how the
New York Knicks
earned an 83-78 win over the
Chicago Bulls
on Wednesday night at Madison Square Garden.
How it happened:
Carmelo Anthony
led all scorers with 30 points to go with 10 rebounds, as the Knicks finished off a struggling Bulls team.
Mike Dunleavy
led the Bulls with 20 points and eight assists, but it wasn't enough as the Bulls created too big of a hole. The Bulls are now 2-9 in their last 11 games.
What it means:
This was a matchup between two bad teams. The Knicks did enough to win the game at the end, but they're still dismal. Despite the loss, Bulls coach Tom Thibodeau has to be happy his team showed some fight late after looking lifeless in the first half. The Bulls pulled erased a 23-point Knicks' lead, but they didn't have enough firepower to get all the way over the hump. The Bulls can't seem to find a way to make shots when they need them the most.
Hits:
Joakim Noah
had 12 points, 11 rebounds and four assists.
Misses:
Kirk Hinrich
and
Tony Snell
were a combined 4 for 18 from the field.
Stat of the night:
The Knicks went on a 19-0 run in the first half. The Bulls went on a 33-10 run in the second half.
What's next:
The Bulls have a day off before facing off against the
Milwaukee Bucks
in Wisconsin on Friday night.
December, 11, 2013
Dec 11
8:43
PM CT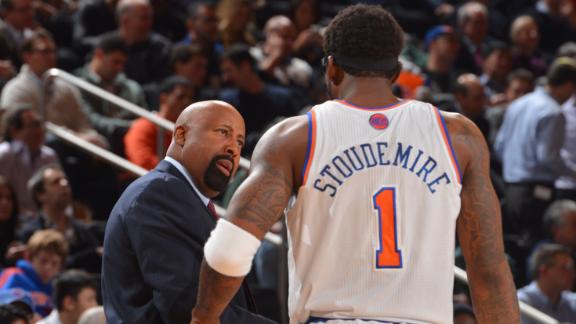 NEW YORK --
Chicago Bulls
coach Tom Thibodeau rarely wants to talk about the past and never wants to discuss the future.
So it should come as no surprise that the veteran coach didn't want to discuss
Marc Stein's story that Thibodeau could become a possible target
for the
New York Knicks
at season's end if they decide to fire Mike Woodson.
"I have no comment on any of that stuff," Thibodeau said before Wednesday's game against the Knicks. "Mike's a hell of a coach. I've got a great job. I love my team."
Thibodeau wants only to focus on the task at hand. That's what he tells his players when their names pop up in trade talks and that's the message he wants to impart when he sees his name pop up in reports.
"I don't pay any attention to that stuff," he said. "To me, the only thing I have to do is concentrate on our team, our next opponent, our improvement, and never get away from that. There's a lot of stuff that gets thrown out there that's just B.S. So if you pay any attention it does no good. It takes you away from what's important and what's important right now is our improvement and getting ready for the next game."
Thibodeau was asked whether the perceived rift between him and the front office that comes up in conversations bothers him. (Thibodeau, Bulls GM Gar Forman and executive VP
John Paxson
have said publicly that the trio has a solid working relationship.)
"No, because I deal with those guys every day," Thibodeau said. "It's what we think and it's what we know. So we're not going to react to the stuff on the outside. We got a challenge in front of us that we're looking forward to. Like I said, I've got a great group of guys that I work with every day. So we're trying to find the answers. We look forward to this. This is a great opportunity for all of us. And that's all we're thinking about. So all that other stuff is nonsense."
Thibodeau is trying to get his beleaguered team over the emotional hurdle of losing
Derrick Rose
for the second consecutive season; it's been an understandably difficult task. The Bulls came into Wednesday's game with an 8-11 record, but Thibodeau is trying to get his players to view the rest of this season as a new challenge.
"Each year has been totally different," Thibodeau said. "The first year Carlos [Boozer] was out for a significant amount of time and then [
Joakim Noah
] was out for three months and we were able to overcome that. The second year Derrick missed half that season so we were able to overcome that. Last year Derrick missed the entire season. We had a lot of guys step up and do a great job.
"So this year we've been hit with a lot of injuries. It's early in the season and we have to take this challenge and we need everyone putting everything they have into it. And I believe we'll be successful."
December, 11, 2013
Dec 11
7:49
PM CT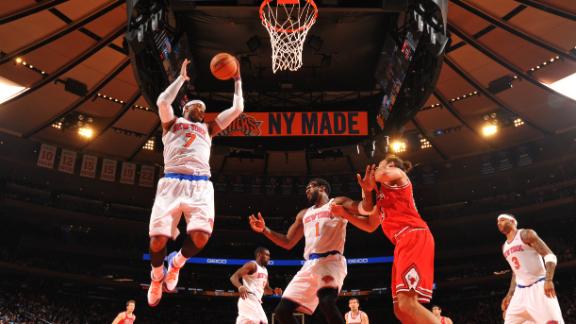 NEW YORK CITY -- Luol Deng missed his third straight game because of an Achilles injury in Wednesday night's 83-78 loss to the New York Knicks. Bulls swingman Jimmy Butler missed his 11th consecutive game because of turf toe.
The Bulls did get some good news on the injury front, though, as center Joakim Noah started the game after missing Tuesday night's contest against the Milwaukee Bucks because of a knee contusion.
Noah had 12 points and 11 rebounds in 37 minutes as the Bulls erased a 23-point deficit before falling.
Noah said after the loss that he had his knee drained Tuesday.
"My knee feels all right," he said. "I got it drained [Tuesday]. I got in the quad, and my knee for some reason just swelled up real bad. So I got it drained and I feel better."
The All-Star center also shed some light as to when the initial injury took place.
"[The injury] happened a week ago," Noah said. "And I was playing on it, playing on it and my knee was just getting bigger. I couldn't ... the swelling was just accumulating. It just happens."
As for Deng, he was hopeful to be back on the floor Wednesday night but now isn't sure when he will return.
"I don't know," he said. "I wanted to play today. I kind of set this game as a target to play and I just didn't feel well warming up. We're just really cautious right now [of] coming back and then having a setback. So I'm going to try and practice [Thursday], or try to do more, see how much I can do, and hopefully I'll be back on the court soon."
December, 11, 2013
Dec 11
4:17
PM CT
If you're into looking for potential coaches for the
New York Knicks
, you're advised to spend some time scouting the visitors' bench Wednesday night.
Because ...
While there's no such thing as a safe bet in the unpredictable world of James Dolan, suggesting he'll try someday to import Tom Thibodeau from Chicago to coach the Knicks is, at the very least, in the right zip code.
Read full post
December, 11, 2013
Dec 11
3:40
PM CT
The cost to see
Derrick Rose
at United Center went up again this season, but the reality of him missing another season has dramatically cut the value of
Chicago Bulls
tickets.
According to Team Marketing Report's newly released 2013-14 NBA Fan Cost Index, the average price of a Bulls ticket is up 8 percent to $77.65, the fourth-highest in the league behind the
New York Knicks
($129.38), the
Los Angeles Lakers
($102.25) and the
Miami Heat
($78.30).
The average NBA ticket is up 3.1 percent to $52.50, according to the Fan Cost Index, which was released Wednesday.
December, 11, 2013
Dec 11
10:12
AM CT
What are some of the questions NBA general managers face on a daily basis? Well, for each team we're going to ask those questions and then try to answer them, starting today with the
Chicago Bulls
.

Whether a team is aiming for a title this season or is angling for a choice lottery pick, the process of reassessing an organization is always evolving. However, the overriding question never changes: How do we get from here to a championship?
1. Where do the Bulls reside on the arc of contention?
With Derrick Rose sidelined for a second straight season, the Bulls are not title contenders in 2013-14. The most recent results of John Hollinger's NBA Playoff Odds project the Bulls for 38 wins and give them just a 0.1 percent chance at a title. Before the season, when it was cautiously projected that Rose would play in most of Chicago's games at a level not far off his pre-injury productivity, the Bulls were viewed as a fringe title candidate. The consensus was that Chicago was in the mix with Brooklyn and Indiana for a No. 2 seed in the East, but was still on a lower tier than the two-time defending champion Miami Heat.
To continue reading this article you must be an Insider
December, 11, 2013
Dec 11
9:16
AM CT
[+] Enlarge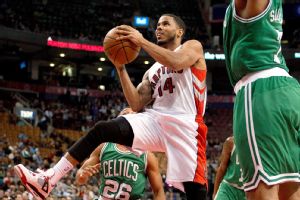 AP Photo/The Canadian Press/Frank GunnGuard D.J. Augustin averaged 2.1 points in 10 games with Toronto before his release this week.
CHICAGO -- The Chicago Bulls are interested in signing free agent D.J. Augustin, according to a league source.
The veteran point guard, who was released by the Toronto Raptors on Monday, can clear waivers at 5 p.m. ET Wednesday and be free to sign.
Augustin would give the Bulls four healthy point guards on the roster. They already have veterans Kirk Hinrich and Mike James as well as second-year man Marquis Teague. James and Teague have played sparingly over the past few weeks as the Bulls have dealt with the reality of losing Derrick Rose again to season-ending knee surgery.
Teague has struggled with his confidence and was sent to the D-League last week before being recalled the same day after it was revealed that James had a sprained knee.
December, 11, 2013
Dec 11
9:00
AM CT
CHICAGO -- In a season full of low points, the
Chicago Bulls
hit another Tuesday night. Not only did they lose an ugly 78-74 game to the lowly
Milwaukee Bucks
, they appeared as lifeless on the floor as they've been in a while.
Hampered by injury problems throughout the season, the Bulls look and sound like a team that's just ready to play out the remaining schedule.
The problem is they still have 63 games.
There are a host of reasons why this once-proud team has fallen on hard times. Losing
Derrick Rose
for the season due to a knee injury has rocked Tom Thibodeau's team into an emotional rut from which they can't seem to dig out. The Bulls also are playing without
Joakim Noah
(knee contusion),
Luol Deng
(Achilles) and
Jimmy Butler
(turf toe).
Any team would struggle with that amount of talent out of the lineup, and the Bulls, as evidenced by their 8-11 record, are no different. But their collective mindset appears to have changed as the injuries have piled up.
No longer can Thibodeau sell his players on being able to contend for a championship this season. The Bulls have always been a prideful group with veterans like Deng and Noah leading the way, but pride is all they can play for the rest of the season, and that reality is starting to set in throughout the locker room.
So often over the last three years, several Bulls played through various injuries. They would find ways to be on the floor no matter how much discomfort they were in. They didn't want to disappoint Thibodeau or let down their teammates. They knew they were playing for something more every time they went onto the court; they knew they were playing for a shot at a championship.
When Rose went down in Portland on Nov. 22, the Bulls' championship aspirations went down with him. That's the part that Thibodeau, ever the motivator, is having a hard time getting his team past right now.
That's also what will cause Thibodeau more frustration than ever.
Players like Deng and Noah are too proud and have too much respect for the game to sit out a contest just because they don't want to play. Butler wants to be back on the floor to be in the fight with his teammates again.
But maybe Rose's injury has reminded all three players, and the rest of the Bulls' locker room, that there are more important issues at play than dragging yourself onto the floor for a relatively meaningless game in December.
If a player has an injury, maybe he'll listen to his body a little more in light of what has happened to Rose. That remains to be seen in what has become a lost season for this organization. Thibodeau would never intentionally make his players play if he knew they were injured, and almost all of the players in his locker room are too proud to sit if they aren't hurting badly.
But where is the line?
Every pro sports franchise deals with that question over the course of a season. But rarely does a team built around one superstar go from having championship expectations to really no expectations at all in one fell swoop, as has happened to the Bulls over the course of the past few weeks.
How hard are Thibodeau's players willing to push after going through the emotional roller coaster of last season?
Rose's possible return hovered over this team all year because the players and coaches were convinced that at some point he would bring them back to prominence. Now that he has been ruled out for the season, the rest of the players are trying to figure out exactly what they are playing for.
They killed themselves last season while trying to play through injuries. They gutted out a memorable Game 7 win against the
Brooklyn Nets
in the first round before being bounced in the second round by the
Miami Heat
.
The Bulls' players still respect Thibodeau for the job he has done and they still want to win, but are they willing to win at all costs and sacrifice their bodies the way they have in the past?
Are they willing to push their bodies to the max to possibly reach the second round again? Is that worth it to them?
Are they worrying more now about their futures than they did before?
Will Thibodeau be able to deal with the fact that his players may not want to play through all the aches and pains that they have put up with in recent years?
All of these questions will be answered in due time. But one certainty for the Bulls now is that the answers are more complicated than ever.