April, 19, 2014
Apr 19
11:08
PM CT

By Nick Friedell
ESPNChicago.com
Archive
DEERFIELD, Ill. --
Joakim Noah
could do no wrong in Tyrone Green's eyes.
Green, Noah's beloved mentor who died earlier this week, knew his prized pupil wasn't perfect all the time -- but he loved him. He always saw the good in Noah's heart and defended him when people doubted the lanky big man running up and down the court.
After spending the day with Green while writing a feature on Noah in the summer of 2010, and subsequently seeing him periodically throughout the years, it was easy to see that the love between the two men never waned. Green believed in Noah when few others did and referred to him as the "the son I never had."
[+] Enlarge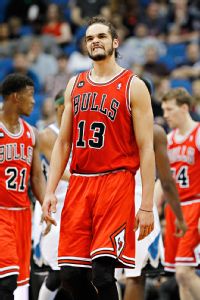 AP Photo/Ann HeisenfeltJoakim Noah has always been an emotional player, something his mentor, Tyrone Green, told him he needed to watch. Green died earlier this week in New York.
"I sometimes feel like crying," Green said at the time, while describing how proud he was of Noah. "I wish my wife was here to see that, too. I'm so proud of him. My chest is out as big as the Empire State Building. That's how big my chest is."
Noah felt the same about the man he always referred to as "Mr. Green."
He trusted him. That trust was built up over a number of years while Noah lived with Green and tried to make a name for himself on the tough New York City basketball circuit.
"I've never seen a kid work so hard in my life," Green said. "Everybody used to laugh at Jo. At one time, I had him,
Charlie Villanueva
. We had one of the best teams in the country. The Long Island Panthers, a real big program. We had
Lamar Odom
,
Speedy Claxton
, and they used to laugh at Jo, and I said, 'This is the kid.'
"I knew since Jo was 13 that he was going to go to the NBA, and I told his father and his mother that, and they laughed at me. I said, 'This guy's going to be an NBA player because [of] the passion he has for the game and he can motivate.' He motivates kids now. Everybody [says] 'I want to be like Jo.' He's the type of kid that could go in a room and everybody stops and listens to what he says."
Whenever Green entered a room, it was Noah who always stopped to listen.
He always wanted to make Green proud.
For as much pride as Green took in Noah's maturation and development, Noah took as much pride, if not more, in the fact that he was able to live up to being the player Green always thought he could be. As the years wore on, Green grew to love Noah even more because he saw some of himself and his own personality when Noah was playing.
"He wants to win," Green said. "And he don't care. When they hate him he plays better and better and better. He wants them to hate him. That's why he laughs everything off. He doesn't care. Jo does his own thing, and he doesn't care who likes him. He's like me. If I feel something's wrong, I'm not going to keep it [in]. I'm going to tell you how I feel about it, and that's why I think I get along with people and kids of the world. I'm not going to say you're a superstar, and Jo will tell you -- I have never told Jo he was a good ball player. Never. … He's the type of kid that, he don't need nobody to praise him. He's going to do what he has to do and that's it."