December, 15, 2014
Dec 15
11:16
PM CT

By Nick Friedell
ESPNChicago.com
Archive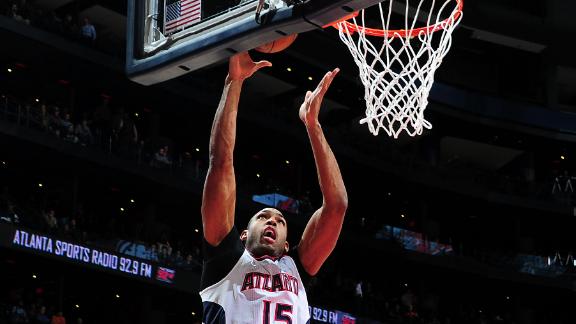 ATLANTA --
Derrick Rose
missed 15 of the 21 shots he took in Monday night's 93-86 loss to the
Atlanta Hawks
. He turned the ball over six times. He was 0-for-7 from the 3-point line and made several poor decisions with the ball in his 31 minutes, 30 seconds of play.
But as a tired
Bulls
squad got dressed and made its way on to the bus awaiting outside Phillips Arena, Rose and Bulls coach Tom Thibodeau believe Monday's game was a positive development.
That's because Monday marked Rose's 11th consecutive game on the floor. It also marked just the second time all season he has started and finished back-to-back games. After watching Rose struggle to stay healthy throughout the first month of the season, Thibodeau seems relieved Rose is able to continue playing.
[+] Enlarge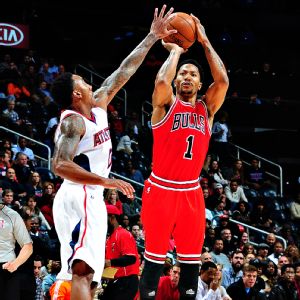 Scott Cunningham/NBAE via Getty ImagesDerrick Rose struggled with his shot on Monday, but his play has picked up since being pulled from a game on Nov. 25.
"There's no negative," Thibodeau said. "There's no negative. The only way he's going to come back is by playing and working. That's it. Even if he were 100 percent, not every game is going to be perfect. And when it's not perfect, you got to try and do something else to help us win: play defense, move the ball, break the defense down.
"There's a lot of things to the game that he can do to help us. Overall, I think he's doing well. It's not going to be perfect."
While Monday's game illustrated one of those times when things weren't perfect for Rose, he came into the game playing some of his best basketball since before he tore the ACL in his left knee in April 2012. Since being pulled from a Nov. 25 loss against the
Denver Nuggets
, Rose came into Monday averaging almost three more points a game (18.1 compared to 15.7 before the move, according to ESPN Stats & Information). Over the three contests entering Monday's game, he was averaging 22.7 points per game and shooting 53 percent from the field.
Most importantly to Thibodeau and the Bulls, Rose came into this game playing with so much more confidence going to the rim. Through his first seven games, he averaged 4.6 shots in the paint. Since the Denver game, he came in averaging 7.4 shots in the paint, and he took eight against the Hawks on Monday.
On Monday, he struggled with his jumper and didn't go to the rim as much. The Hawks packed the paint, daring Rose to shoot from the outside. He didn't seem bothered by the looks, believing that they were the right play.
"Shots that I normally hit, tonight they were flat," said Rose, who had 14 points, 8 assists and 5 rebounds. "Just didn't have no lift to them. I guarantee you, next game, that won't happen."
But that's one of the other small differences. The pre-injury Rose would have seen that his shot wasn't working and driven it to the rim. He would have either gotten fouled at the basket or created more space for his teammates on the drive. Twenty-four games into this season, there is still some hesitancy.
"I want him attacking," Thibodeau said. "When he attacks, he's special. When he tries to pace himself, that's not going to work. He's got to be aggressive. As I said, it's not perfect. But over the course of the game, he's going to make a lot more good plays than he is bad, and that's all good for us. He can't be afraid to take a chance, he's got great instincts, he's got great ability. I want him to go. It didn't work out this time, but it will work out next time."
Thibodeau and Rose are taking the right course of action: continue pumping the positivity and hope that everything clicks again consistently for the former MVP. Whether it's fair or not, Rose was so good before the first injury and raised the expectations so high on his game that it's still tough for all involved to get used to seeing him find the way back into a rhythm.
Back in the pre-injury days, the Bulls knew what they were getting from Rose every game. There were nights like Monday night when he wouldn't shoot well or turned the ball over a lot, but everyone knew that when the game was on the line, Rose would be the one making the right plays. No one knows whether Rose will become that player again.
"It's all a read," Rose said of his aggressiveness. "If someone's going, I'm not going to try and affect the game with just shooting up crazy shots, or shooting up a shot that I have no business shooting up just because I haven't shot a shot. I'm going to feel the game, see how things are going to go and try to involve myself in the game at some point."
That is a distinct change from seasons past, and it remains to be seen whether that will work over the long haul. The Bulls have more offensive talent than they did in Rose's first few seasons. They aren't leaning on him as much as they used to, but to get to where they want to go they're going to have to turn back the clock.
"I think they can attack you in a lot of different ways," Hawks coach Mike Budenholzer said of the Bulls. "They have more options and really talented offensive guys. I do think he's striking that balance. There probably have been times over the last three or four years where so much was expected from him. As a group, they have more ways to attack you offensively and maybe the burden isn't on him. That's a great thing for any player. I think he's finding that rhythm and balance of both. It's not good for the rest of us."