December, 18, 2014
Dec 18
12:57
PM CT
CHICAGO --
Carmelo Anthony
(left knee soreness) and
Derrick Rose
(illness) are both questionable for Thursday night's game between the
New York Knicks
and the
Chicago Bulls
. Anthony, who said his knee started acting up again in Tuesday night's loss to the
Dallas Mavericks
, admitted he has people close to him trying to get him to shut things down for a few weeks.
"I have multiple people say kind of just shut it down," Anthony said before Thursday's shootaround. "Or just take time off. But at the end of the day, it's hard for me to just do that right now in the midst of what's happening with the team and this season. So just trying to be smart about that."
Anthony said he didn't do much during Wednesday's practice and wanted to warm up Thursday night before making a final decision.
"It gets frustrating," he said. "Not knowing what's going to happen kind of with your body. So for me it's just taking it as the days come."
Thursday's game marks the first time Anthony has been back at the United Center since spurning the Bulls in free agency over the summer. The All-Star small forward said it wasn't weird for him being back in the building he toured alongside Bulls coach Tom Thibodeau and several other members of the organization.
"Not at all, man," Anthony said. "I came here this summer and visited. I had great meetings, but as far as being weird, it wasn't no connection like that for it to be weird. Not at all."
Anthony also noted that he wasn't concerned about being booed by Bulls fans.
"That's not something I'm thinking about right now or worried about," he said. "I got to worry about how I feel. So if I'm thinking about whether somebody's going to cheer for me or boo me, I can't do that right now. I can't worry about that."
Thibodeau isn't concerned about the reunion or what might have been had Anthony signed with the Bulls in the summer.
"I have great respect for what he's done," Thibodeau said. "He's a great talent, but he's a great person, too. I got to know him a little bit through USA [Basketball], coach [Jim] Boeheim. And the things that Coach [Mike] Krzyzewski and Coach Boeheim said about him told me that he would be a great fit for any team. When you look at his career, it speaks for itself. The numbers are incredible. [He] probably doesn't get the credit for being the passer that he is, playmaker. But that's what the people with USA Basketball said that's the role he played for that team. So [I have] great respect for him. Every player has to do what they feel is best for himself and his family, and I think that's what he did. I think he was totally honest with everybody."
If Anthony doesn't play, he will join Knicks big man
Amar'e Stoudemire
on the bench. The veteran power forward said he was sitting out Thursday's game to rest.
"A lot of games have been crunched into the early part of the season," Stoudemire said. "I've been called on to play a lot more than I was expected to, so it's a smart decision to rest and get ready for another brutal month."
Knicks swingman
J.R. Smith
did not travel with the team to Chicago as he continues getting treatment for a plantar fascia injury.
As for Rose, Thibodeau said he was not feeling well and did not go through shootaround. Rose has already missed eight games this season because of injury. Bulls forward
Taj Gibson
also did not participate in shootaround. He is questionable because of a right ankle injury. Bulls center
Joakim Noah
did go through shootaround and is expected to play after missing the last four games because of lingering ankle and knee problems.
December, 18, 2014
Dec 18
11:23
AM CT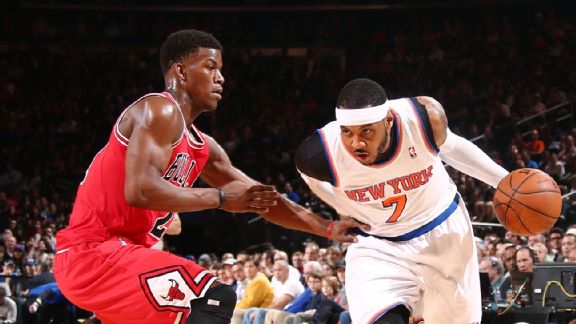 Nathaniel S. Butler/NBAE via Getty ImagesCarmelo Anthony is scoring 23.4 points per game, but the Knicks are just 5-22 this season.
CHICAGO -- Few who were deeply involved in the
Chicago Bulls
' pursuit of
Carmelo Anthony
last summer want to talk about it. Anthony told reporters in New York on Wednesday that he didn't want to second-guess himself regarding his decision to stay with the Knicks.
Bulls coach Tom Thibodeau and center
Joakim Noah
, both of whom tried hard to lure the All-Star small forward to Chicago, believe that their team is in good shape despite the fact that they didn't land Anthony. But as the Knicks star heads back to Chicago for the first time since spurning the Bulls in free agency, it's worth taking a look back at what might have been.
It appears many fans feel the Bulls are better off without Anthony and should be happy with
Pau Gasol
and
Nikola Mirotic
and the depth and talent they provide. And that group is growing steadily throughout the season as Anthony and the Knicks struggle. The Knicks are 5-22 heading into Thursday's affair, while the Bulls are 15-9 and getting closer to hitting their stride. That's one of the reasons why the Bulls organization isn't concerned about Anthony's return.
Veteran
Mike Dunleavy
, the man who would likely have been traded if Anthony had signed with the Bulls last summer, put a funny spin on things after Thursday's practice when asked if he ever pondered what his life would be like if Anthony had come to Chicago.
"Not really," Dunleavy said. "I'd be playing basketball -- somewhere. Obviously, I'm really happy to be here, we got a pretty good team. Sometimes it's nice to have a Bentley, but a Honda Accord will get you there as well."
But to expound on Dunleavy's analogy, can a team full of dependable Accords, led by a Bentley which has been in for several repairs over the past few years (
Derrick Rose
), take this team to a championship? That remains to be seen. The Bulls have talent and skill, and the core of Rose, Noah,
Taj Gibson
and
Jimmy Butler
have been together for more than four years now. But as Anthony returns to Chicago, it's worth remembering why the Bulls went so hard after him in the first place: They know superstar players win in the playoffs.
They knew that Anthony, despite some of his flaws, would be a great fit on this team because of his ability to score and create for himself offensively. After meeting with him on the first day of free agency, they came away even more convinced. For about a day and a half in July, there was a genuine feeling within the Bulls' organization that Anthony was coming to Chicago, a feeling backed up by
Anthony's comments
in an MSG Network documentary.
Gasol has had a phenomenal start to the season and could be headed to another All-Star Game in February, but how much will the Bulls be able to lean on him in the playoffs to create if Rose still hasn't found the consistency in his game or is getting harassed by two or three defenders at a time?
The Bulls have talented players -- but how many true superstars do they have on this team? Rose is a former MVP, but he has struggled to find his game at times after missing a majority of the past two years because of two serious knee injuries. Noah is the reigning Defensive Player of the Year, but has not looked the same this year after offseason knee surgery. Gasol seems revitalized to be playing in Chicago, but at 34, does he have enough gas in the tank to continue playing 35-plus minutes a night until mid-June?
The biggest wild card in this group, and in this particular discussion, is Butler. After turning down the Bulls' contract extension before the season, he has exploded this season to the tune of 20.9 points a game, almost eight more than he had per game a season ago. He looks more confident on the floor and is driving to the rim all the time. If Anthony had taken less to sign with the Bulls, Butler likely wouldn't have been able to make the huge ascension this season toward stardom. But as the season wears on, and Butler is asked to continually guard the opposition's best perimeter player, will Thibodeau be able to bank on getting 20-plus points from him every night?
From a financial perspective, the path toward this reworked Bulls squad is a reminder of just how much the Bulls wanted Anthony. The Knicks made it clear they did not want to work out a sign-and-trade for the All-Star. If he were going to leave, he was going to have to take less money, in this case being the Bulls' offer of about $17 million a year to start, to do it. The same goes for the Lakers and Gasol. They made it clear they weren't interested in a sign-and-trade for the big Spaniard that would have included
Carlos Boozer
-- a player they ended up getting anyway after the Bulls exercised their amnesty rights on the final year of his deal.
As Thibodeau and Noah noted on Wednesday, the Bulls are happy with the way things ultimately worked out. The team that Bulls GM Gar Forman and executive VP John Paxson built has a legitimate chance to win a championship this season. But if they can't win the organization's seventh title later this summer, they'll look back and wonder what might have been if Anthony had signed in Chicago. Maybe that's why, still many months later, several Bulls officials still use the same phrase in analyzing Anthony's decision:
"He made a mistake."
December, 17, 2014
Dec 17
2:27
PM CT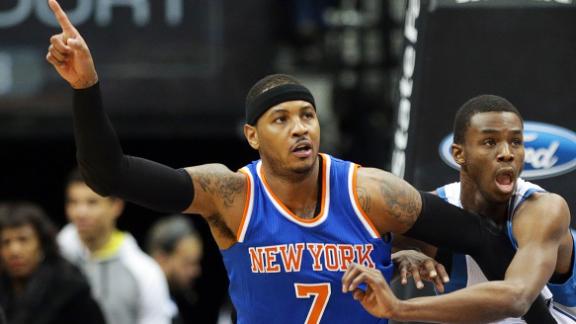 GREENBURGH, N.Y. -- As he heads to Chicago for the first time since picking the New York Knicks over the Bulls in free agency in July, Carmelo Anthony won't allow himself to think what if.
What if he had signed with the Bulls? How good would Chicago be with Anthony and Derrick Rose? How happy would Anthony be winning games -- and presumably winning a lot -- alongside coach Tom Thibodeau?
Anthony won't allow himself to entertain the notion of what could have been.
"If I start doing that and saying what if to myself and second-guessing and questioning myself, it won't be right," Anthony said after practice Wednesday as the Knicks prepare for Thursday night's game at Chicago. "For me, mentally it won't be right, so I will not allow myself to sway toward asking myself what if with this situation or that situation."
Anthony visited Chicago in July and came away thinking that he could have been a Bull. In an MSG Network documentary on his free agency, he said at one point that he thought he would sign with the Bulls and that it was a "perfect fit for me in Chicago."
He said he was thoroughly impressed with the organization and Thibodeau. But after also visiting the Los Angeles Lakers, Houston Rockets and Dallas Mavericks, Anthony opted to re-sign with the Knicks for $124 million over five years.
December, 17, 2014
Dec 17
2:19
PM CT
[+] Enlarge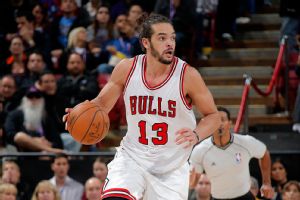 Rocky Widner/Getty ImagesJoakim Noah says he's ready to return to the Bulls' lineup after missing the past four games because of lingering issues with his ankle and knee.
CHICAGO -- Bulls All-Star center Joakim Noah says he will play Thursday night against the New York Knicks after missing the past four games because of lingering issues with his ankle and knee.
Noah, who is still recovering from offseason knee surgery, initially sprained his right ankle on Dec. 2 in a loss to the Dallas Mavericks and then re-sprained it in a win over the Charlotte Hornets on Dec. 3. He played 33 minutes in a loss to the Golden State Warriors on Dec. 5, but has not played since.
"My knee feels good," Noah said. "This is more of my ankle. I think it was good just to get some lifts and just take care of my body during this time, let it heal, and I feel pretty good and I'm excited to be able to play tomorrow."
Bulls coach Tom Thibodeau said Noah went through all of practice and sounded hopeful Noah will be able to contribute against the Knicks.
December, 15, 2014
Dec 15
11:16
PM CT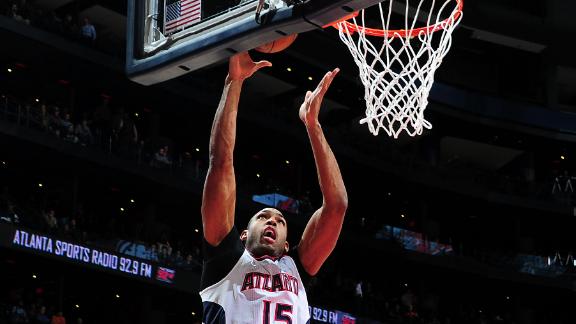 ATLANTA --
Derrick Rose
missed 15 of the 21 shots he took in Monday night's 93-86 loss to the
Atlanta Hawks
. He turned the ball over six times. He was 0-for-7 from the 3-point line and made several poor decisions with the ball in his 31 minutes, 30 seconds of play.
But as a tired
Bulls
squad got dressed and made its way on to the bus awaiting outside Phillips Arena, Rose and Bulls coach Tom Thibodeau believe Monday's game was a positive development.
That's because Monday marked Rose's 11th consecutive game on the floor. It also marked just the second time all season he has started and finished back-to-back games. After watching Rose struggle to stay healthy throughout the first month of the season, Thibodeau seems relieved Rose is able to continue playing.
[+] Enlarge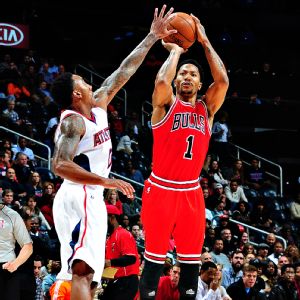 Scott Cunningham/NBAE via Getty ImagesDerrick Rose struggled with his shot on Monday, but his play has picked up since being pulled from a game on Nov. 25.
"There's no negative," Thibodeau said. "There's no negative. The only way he's going to come back is by playing and working. That's it. Even if he were 100 percent, not every game is going to be perfect. And when it's not perfect, you got to try and do something else to help us win: play defense, move the ball, break the defense down.
"There's a lot of things to the game that he can do to help us. Overall, I think he's doing well. It's not going to be perfect."
While Monday's game illustrated one of those times when things weren't perfect for Rose, he came into the game playing some of his best basketball since before he tore the ACL in his left knee in April 2012. Since being pulled from a Nov. 25 loss against the
Denver Nuggets
, Rose came into Monday averaging almost three more points a game (18.1 compared to 15.7 before the move, according to ESPN Stats & Information). Over the three contests entering Monday's game, he was averaging 22.7 points per game and shooting 53 percent from the field.
Most importantly to Thibodeau and the Bulls, Rose came into this game playing with so much more confidence going to the rim. Through his first seven games, he averaged 4.6 shots in the paint. Since the Denver game, he came in averaging 7.4 shots in the paint, and he took eight against the Hawks on Monday.
On Monday, he struggled with his jumper and didn't go to the rim as much. The Hawks packed the paint, daring Rose to shoot from the outside. He didn't seem bothered by the looks, believing that they were the right play.
"Shots that I normally hit, tonight they were flat," said Rose, who had 14 points, 8 assists and 5 rebounds. "Just didn't have no lift to them. I guarantee you, next game, that won't happen."
But that's one of the other small differences. The pre-injury Rose would have seen that his shot wasn't working and driven it to the rim. He would have either gotten fouled at the basket or created more space for his teammates on the drive. Twenty-four games into this season, there is still some hesitancy.
"I want him attacking," Thibodeau said. "When he attacks, he's special. When he tries to pace himself, that's not going to work. He's got to be aggressive. As I said, it's not perfect. But over the course of the game, he's going to make a lot more good plays than he is bad, and that's all good for us. He can't be afraid to take a chance, he's got great instincts, he's got great ability. I want him to go. It didn't work out this time, but it will work out next time."
Thibodeau and Rose are taking the right course of action: continue pumping the positivity and hope that everything clicks again consistently for the former MVP. Whether it's fair or not, Rose was so good before the first injury and raised the expectations so high on his game that it's still tough for all involved to get used to seeing him find the way back into a rhythm.
Back in the pre-injury days, the Bulls knew what they were getting from Rose every game. There were nights like Monday night when he wouldn't shoot well or turned the ball over a lot, but everyone knew that when the game was on the line, Rose would be the one making the right plays. No one knows whether Rose will become that player again.
"It's all a read," Rose said of his aggressiveness. "If someone's going, I'm not going to try and affect the game with just shooting up crazy shots, or shooting up a shot that I have no business shooting up just because I haven't shot a shot. I'm going to feel the game, see how things are going to go and try to involve myself in the game at some point."
That is a distinct change from seasons past, and it remains to be seen whether that will work over the long haul. The Bulls have more offensive talent than they did in Rose's first few seasons. They aren't leaning on him as much as they used to, but to get to where they want to go they're going to have to turn back the clock.
"I think they can attack you in a lot of different ways," Hawks coach Mike Budenholzer said of the Bulls. "They have more options and really talented offensive guys. I do think he's striking that balance. There probably have been times over the last three or four years where so much was expected from him. As a group, they have more ways to attack you offensively and maybe the burden isn't on him. That's a great thing for any player. I think he's finding that rhythm and balance of both. It's not good for the rest of us."
December, 15, 2014
Dec 15
9:00
PM CT
Associated Press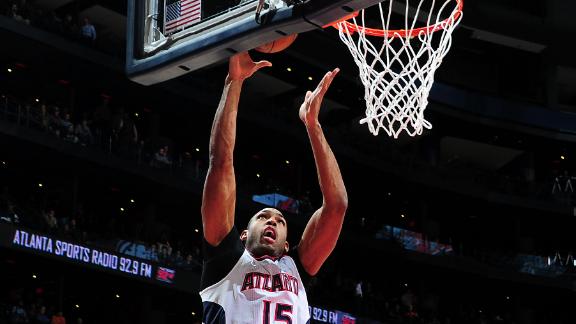 ATLANTA -- Al Horford scored 21 points, including a huge jumper with just under a minute remaining, and the streaking Atlanta Hawks won for the 10th time in 11 games with a 93-86 victory over the Chicago Bulls on Monday night.
The Hawks led most of the way, but never by more than 10 points. After Taj Gibson's dunk with 1:13 remaining brought the Bulls to 87-84, Horford got loose for a 19-footer on the wing and knocked it down.
Pau Gasol followed his own miss to make it 89-86 with 23.7 seconds left, giving the Bulls one more chance. But the Hawks grabbed possession on a jump ball and sealed the victory at the foul line, ending Chicago's three-game winning streak.
Jimmy Butler led the Bulls with 22 points.
December, 15, 2014
Dec 15
6:29
PM CT
ATLANTA --
Chicago Bulls
center
Joakim Noah
will not play Monday night against the
Atlanta Hawks
. It is the fourth straight game the All-Star center has missed because of lingering ankle and knee injuries.
Noah
"He's doing more and more," Bulls coach Tom Thibodeau said before the game. "I think he's getting close. He's feeling a little bit better. But we're just going to take it day by day, let him continue to work. He's doing more on the floor now, running, jumping, stuff like that."
Thibodeau said the right ankle injury is of bigger concern to the Bulls right now. Noah initially sprained the ankle last week in a loss to the
Dallas Mavericks
and then sprained it again in a win over the
Charlotte Hornets
. He played Dec. 13 against the
Golden State Warriors
but has not played again since.
Thibodeau was non-committal when asked if Noah would be able to return Thursday night against the
New York Knicks
.
"The ankle right now is the [bigger issue]," Thibodeau said. "He's got to get that where he's comfortable enough to get out there. He's working hard and we just got to be patient."
December, 15, 2014
Dec 15
6:07
PM CT
December, 14, 2014
Dec 14
9:28
PM CT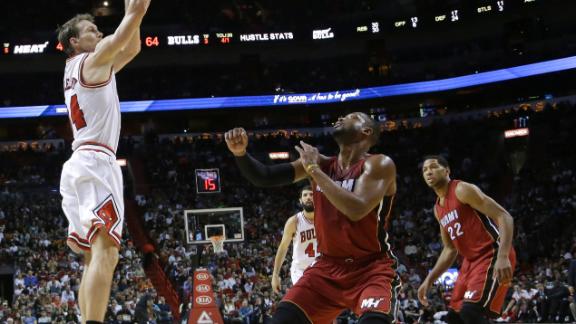 MIAMI --
Luol Deng
made big plays and provided great moments throughout much of his 9½-year tenure with the
Chicago Bulls
, but it was one of his last decisions as a member of the Bulls that may provide the biggest dividends for the organization in the future. That's because when Deng decided to reject the Bulls' three-year, $30 million extension in January, Bulls GM Gar Forman and executive VP
John Paxson
made the swift decision to deal Deng -- to the
Cleveland Cavaliers
.
As much as the organization respects Deng, and as much he endeared himself to head coach Tom Thibodeau and his teammates, especially in the past few seasons, that was the right decision for Forman and Paxson to make. That was even clearer Sunday night as the Bulls faced off against Deng for just the second time, the first as a member of the
Miami Heat
, in a 93-75 win.
[+] Enlarge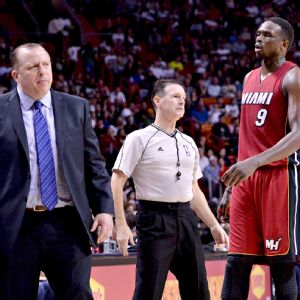 Steve Mitchell/USA TODAY SportsBulls coach Tom Thibodeau admires Luol Deng but his team may be better off without him.
Deng and his agents felt disrespected by what they considered a low offer from the Bulls, but in hindsight Forman and Paxson pegged Deng's value on the open market. The trade happened shortly after the contract rejection -- with Deng ultimately signing a two-year deal in Miami for $20 million later in the summer. But because of Forman and Paxson's decisiveness, they actually made themselves even better without the All-Star forward on several levels.
In the short term, the cap space money that was freed up in the Deng deal, which brought back Andrew Bynum's contract -- which was quickly waived -- took the Bulls out of the luxury tax. That's important given the fact that if they kept Deng they would have been over the luxury tax threshold for the second straight year and would have faced the punitive repeater tax moving forward.
From a broader perspective, the Deng deal, coupled with amnestying the final year of
Carlos Boozer
's contract, allowed the Bulls to chase hard after
Carmelo Anthony
, and ultimately, end up with
Pau Gasol
in the 2014 free-agent sweepstakes. Gasol has been arguably the Bulls' best all-around player over the first two months of the season, averaging a double-double and becoming a huge presence down low for Thibodeau. Deng was, and still is, a skilled offensive player, but Gasol gives the Bulls a back-to-the-basket presence that Deng was never going to provide on the blocks.
Deng's decision also gave
Jimmy Butler
more of an opportunity to showcase what he can do. Butler has taken over Deng's role as Thibodeau's workhorse, racking up 21 points a game and taking the challenge of guarding the opposition's best perimeter player each night. After spending countless hours in the gym over the summer, Butler's game has reached a new level offensively. At 25 and in just his fourth year in the league, he doesn't have the mileage on his legs that Deng, 29, has piled up after 10 seasons in the league.
Deng's decision also helped pave the way for the Bulls to land two promising rookies.
Nikola Mirotic
still may have come over to Chicago on the mid-level exception, but the Bulls may not have chased as hard after
Doug McDermott
in a draft-day deal if they knew Deng was in the fold. While McDermott hasn't panned out up to this point, and is now expected to be out for 4-6 weeks after arthroscopic surgery on his right knee, the Bulls are still confident he will contribute at some point.
Many fans voiced displeasure with the Deng move last season because they thought the Bulls, who got Bynum, one potential first-rounder from Sacramento and two future second-round picks, did not get enough in return for the former All-Star. But with Sacramento appearing to get a little better behind the play of
DeMarcus Cousins
and
Rudy Gay
, that pick, which is top-10 protected for the next three seasons, looks a little bit better.
Deng said before Sunday's game that it wasn't difficult for him watching his former team, and said that he "had to move on," but it was clear from all parties involved that Sunday's affair was a little different because of the circumstances.
"I think it's always going to be strange for me facing the Bulls," Deng admitted. "Obviously because it's Chicago, but just the guys on the team. It's still really the same guys. You just got Boozer, Boozer's gone, now it's Gasol instead. But most of the guys it's still really the same faces. It's more than a game with those guys. So when I see them it's friends, it's family, it's guys that I've done a lot with. [They] know a lot about me, I know a lot about them."
The cold reality of the business of basketball is that Forman and Paxson knew that if Deng wasn't going to sign for their price, it was time to move on. They just didn't realize how lucky they got when Deng said no to their offer. The Duke alum is still a good player, and his presence is missed by his teammates, but he is on the downside of his career. With Gasol in the fold, and Butler growing into a star, the Bulls have a better chance of getting to their ultimate goal of winning a championship. Maybe that's why Thibodeau said it wasn't strange for him to coach against one of his all-time favorite players in Deng.
"I know the type of competitor he is," Thibodeau said. "We want to beat them, I know he wants to beat us. I think you guys know how I feel about him. I've got great respect for him, not only as a player, but as a person. His story is an incredible story and to be where he is, it's remarkable. Just the way he carries himself, he's a great guy."
But the Bulls had to take their personal feelings out of this decision, and they are better off for doing so. Deng's numbers have slid slightly in Miami as the Heat have struggled to string wins together. The Bulls, who have now won three straight games, appear poised to make a run towards the top of the Eastern Conference standings.
As much as the Bulls' players acknowledge how strange it is to face the man many considered to be like a brother, they understand the business of basketball. While nobody in the locker room wants to admit it, the Bulls are in a better place without Deng than they would be with him.
"Yeah, it's weird," Bulls guard
Derrick Rose
said of facing Deng, the first time he had done so in his career. "Especially with me and Lu and I think a couple of other guys on the team, we really have relationships with him off the court. Hanging around, going out to eat with one another, going to each other's house, stuff like that you tend to miss. But this is a business and you can do that in the offseason."
December, 14, 2014
Dec 14
8:03
PM CT
With a second-quarter free throw against the Minnesota Timberwolves, Kobe Bryant passed Michael Jordan for third all-time on the NBA's scoring list.
The world, naturally, noticed.
Here's how star athletes and other celebrities reacted on Twitter:
And although MJ is not on the social media network, Jordan weighed in with his own statement to the Associated Press.
December, 14, 2014
Dec 14
7:34
PM CT
Associated Press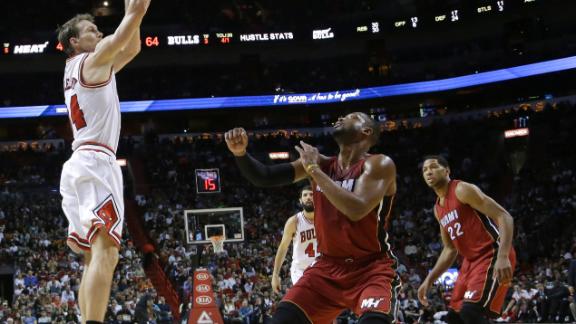 MIAMI -- Mike Dunleavy scored 22 points and the Chicago Bulls overcame a sloppy start Sunday to beat the offensively inept Miami Heat, 93-75.
Heat leading scorer Chris Bosh (calf strain) missed a game for the first time this season, which left them without enough punch or size to challenge Chicago. Miami shot a season-low 35 percent, including 4 for 22 from 3-point range.
Dunleavy was shut out in the first half but scored 19 points on eight shots in the third quarter, when Chicago outscored Miami 33-16. Dunleavy finished 4 for 5 from 3-point range, while the Bulls shot 9 of 18 beyond the arc and 47 overall.
Jimmy Butler had 17 points for the Central Division-leading Bulls. They improved to 11-3 on the road, best in the Eastern Conference.
Dwyane Wade and Luol Deng led Miami with 17 points apiece. The Heat's point total matched their season low.