October, 1, 2014
Oct 1
3:35
PM CT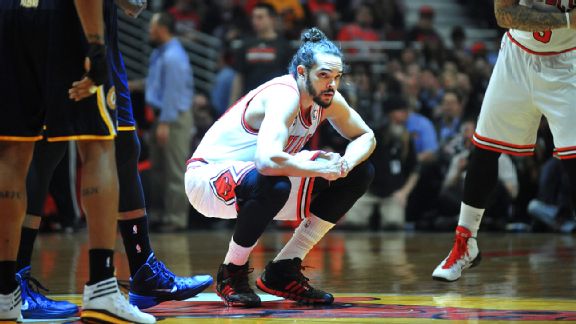 David Banks/USA TODAY SportsJoakim Noah is still recovering from a knee injury as the Bulls head to camp.
CHICAGO --
Joakim Noah
doesn't pull punches.
In order to get a straight answer from the
Chicago Bulls
All-Star center, media members are required to ask a fully-formed, thoughtful, question. Anything less than that and Noah usually gives a half-hearted answer. To his credit, the emotional center can be one of the most honest quotes in the league when he feels like it. Wednesday's media session provided the latest example of that.
As Noah continues recovering from arthroscopic left surgery in May, he was asked if he is now "100 percent" healthy heading into the season.
"I haven't been 100 percent in years," he said.
He didn't say it as a joke. And surely that's the way many players around the league feel as they embark on another year of their careers. But the fact that he said it at all is one of the things that makes Noah different. He's feeling better than he did at the end of the season when he was hobbling up and down the floor against the
Washington Wizards
in the Eastern Conference playoffs, but the 29-year-old knows that no matter how much offseason work he puts in he's never going to feel as good as he wants to. Injuries pile up over time in the meat grinder that is the NBA schedule. Among the things Noah has dealt with during his seven-year career are plantar fasciitis, a badly sprained ankle, torn ligaments in his thumb and now knee surgery.
October, 1, 2014
Oct 1
2:23
PM CT
CHICAGO -- Tom Thibodeau is not an easy man to impress.
The veteran coach has lived and breathed basketball his entire professional life so it's not often Thibodeau goes out of his way to praise young players early on, especially rookies making their first appearance on an NBA stage.
[+] Enlarge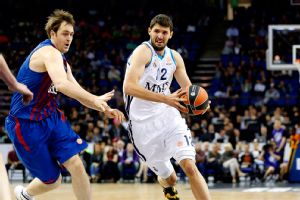 AP Photo/Lefteris PitarakisNikola Mirotic quickly impressed the Bulls' coaches and players.
But
Nikola Mirotic
is not your average rookie.
The 23-year-old has been playing professionally in Europe for years and has already started opening eyes in his first few days with the
Chicago Bulls
.
"I thought he had a really good first day," Thibodeau said after Wednesday's practice. "And then after watching the film it was even better than I thought."
The Bulls' front office has always been high on Mirotic since picking him up on draft day three years ago, and the early reviews of Mirotic's game have been strong from Thibodeau and his players.
October, 1, 2014
Oct 1
9:00
AM CT
CHICAGO --
Doug McDermott
wasn't about to take any chances. As he got ready to go to sleep Monday night, in advance of the
Chicago Bulls
' first official practice of the year on Tuesday, the rookie from Creighton did what many young people would do in preparation for their first day on the job: He set three alarms so he wouldn't be late for work.
"The butterflies came more [Monday] night," McDermott said after completing his first practice. "Once I step on the floor, it's just basketball. [Monday] night, I set like three alarms. I woke up every hour. I just had Thibs' voice in my head. I don't want to miss my first day. I was here bright and early. The nerves are gone. It's just basketball now, and I'm glad we're finally underway."
The Bulls have been high on the sharp-shooting swingman for several years and were thrilled when they swung a deal on draft night to acquire his rights from the
Denver Nuggets
. They believe he can become a shooting presence alongside
Derrick Rose
for years to come -- a fact Tom Thibodeau has acknowledged since the moment McDermott became a Bull.
"So far, what I'm seeing from Doug, in the USA setting and summer league, is his ability to shoot," Thibodeau said. "And I see how people react to his ability to shoot. When you have someone like that, it opens up the floor."
[+] Enlarge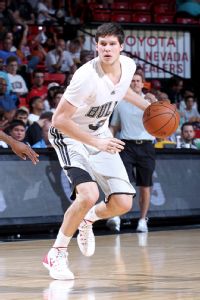 Jack Arent/NBAE via Getty ImagesWith the nerves appropriate for a Jordan-era Midwestern kid, Doug McDermott couldn't sleep the night before his first Bulls practice.
Aside from the shooting prowess, the key for McDermott -- and the Bulls -- is the rookie seems to already have a good feel for what it takes to be a Bull in Thibodeau's system. It will take time for him to earn the veteran coach's trust, especially on the defensive end, but Thibodeau usually gives the benefit of the doubt to players who work hard all the time. McDermott wants to become one of those guys, and the fact that he is already hearing Thibodeau's voice in his dreams means he's adapting quickly to his new way of life in the NBA.
"I went to bed early, woke up and thought it was time to go, but I looked at my phone and it was like 3:30 [a.m.]," McDermott said. "That's part of what's made me good. I'm kind of a perfectionist. I like being on time, and that's kind of the Bulls' way, anyway."
Now that practices have officially begun, McDermott's new teammates just want him to get used to playing in the NBA. Rose noticed McDermott seemed to be pressing during Tuesday's first workout.
"I think Doug's biggest problem right now is just his nerves," Rose said. "His nerves are up right now, and I think just playing in his first game or just playing in preseason is going to calm down his nerves so that he's more relaxed. The teammates, us as a team, we're going to really have to put our hands around him and calm him down because he's a great player, but nerves have something to do with just coming in and starting in your first year."
Like most rookies, McDermott, the reigning college national player of the year, admitted the speed of the game is different in college and the pros. He knows it's going to take time to adjust, and he knows he's going to have to deal with the initiations from veterans that come during many rookies' first year -- Rose joked McDermott didn't bring doughnuts to the gym Tuesday -- but the affable rookie is enjoying being a Bull. Given how hard Thibodeau can be on players, that alone is a good first sign for an organization so high on McDermott's potential.
"It's crazy -- being a Midwest kid growing up, I have to pinch myself at times," McDermott said. "Driving by those banners is pretty cool. I'm not going to take it for granted. I know how lucky I am and how blessed I am to be here and just want to take advantage of it."
September, 30, 2014
Sep 30
4:24
PM CT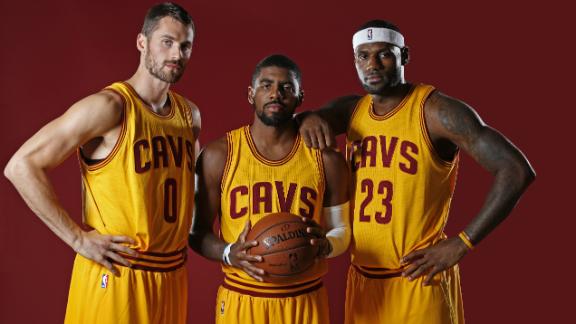 With LeBron James back in uniform, the Cleveland Cavaliers are expected to win more games than any other team, according to one Las Vegas sportsbook.
But it's close.
The Westgate SuperBook posted its NBA season win totals Tuesday. The SuperBook opened the Cavaliers' season win total at 58.5. The Oklahoma City Thunder (57.5), defending champion San Antonio Spurs (56.5), Chicago Bulls (55.5), Los Angeles Clippers (55.5) and Golden State Warriors (50.5) also are projected to win 50-plus games.
Last season, the SuperBook set the Cavs' season win total at 40.5. Cleveland went 33-49 but significantly upgraded its roster with the return of James and the trade for All-Star forward Kevin Love.
In James' first seven seasons in Cleveland, the Cavaliers averaged 50.7 wins. They averaged just 24.5 wins the previous four years while James was with the Miami Heat.
"The Cavs' number was made with their new team in relation to the East and past years' numbers that we used for the Heat," said Jeff Sherman, head NBA oddsmaker for the SuperBook. "Their number is slightly lower than Heat's in the LeBron years, with this being the Cavs' new players first year together."
The Heat's win total last season was 60.5. Without James, this year's number at the SuperBook is 43.5.
September, 30, 2014
Sep 30
2:20
PM CT
CHICAGO --
Derrick Rose
isn't worried about the milestones he continues to pass as he makes his way back from another knee injury. The
Chicago Bulls
' first practice came and went on Tuesday without incident as Rose confidently answered questions about his status and impressed teammates and coaches along the way.
[+] Enlarge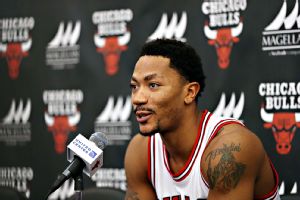 Jerry Lai/USA TODAY SportsDerrick Rose is working on a more patient approach to his comeback from his second knee surgery in as many years.
"There really wasn't any emotions like that," Rose said of being back on the floor with his teammates. "I just wanted to get the first one over with. I really want the season to come around. Of course you have to go through this part, it's part of the process of building a team. But when you miss two years you kind of want games right away, and that's the position I'm in right now where I wish we had a game [Wednesday] but we got to wait a couple of more days so that we can play."
The Bulls' first preseason game isn't until Monday against the
Washington Wizards
, but Rose is just happy to have a part with the team again. Having played just 10 games in two years because of two knee surgeries, Rose is trying to change the mental approach to his game even more than the physical one.
"That's the part of the game I'm learning right now, just the patience side," Rose said. "Just having patience. Doing everything, getting the most out of every day, recovery-wise, on the court, really working my butt off. Just trying to work out hard, doing all the little things, the fundamental parts that people overlook. Just trying to play with a lot of confidence, and that's what I did today when we were playing in the scrimmage."
Rose practiced with the starters' group alongside
Joakim Noah
,
Pau Gasol
,
Jimmy Butler
and
Mike Dunleavy
. Bulls coach Tom Thibodeau is confident that Rose's newfound patience is having a solid impact on his team.
"We talked about that at length before [Team] USA [camp started]," Thibodeau said. "I think his experience has helped him. I think last year he was trying to get it all back in one day. I thought right before he got reinjured he started to find a good rhythm again. He was 10 games into [the season]. This time, he's not rushing like he did. But there's still a fine line for him. Still be aggressive, find a rhythm, but not force it.
"I don't want him overthinking it, I want him to play. That's why I think it's so important for him to play. The only way you get that timing ... basketball's not an individual sport, it's not tennis. You got to work with your teammates. The only way you get to do that is being out there with them."
Having Rose on the floor again has given a big jolt to his teammates as they embark on what they believe will be a championship journey.
"I think [Rose] was outstanding today," said newcomer Gasol after his first Bulls practice. "He looked great out there. I look forward to continue to see more of him and play more with him."
As for specific differences in his game, Rose drew a laugh from the assembled media when asked how his game will be different this time around.
"Everybody keeps asking that. I don't know. What more do y'all want?"
"I'm just going to try and play my regular game. Take shots, see what's missing first. If it's missing, rebounding, assists, whatever category's missing, I'm just going to try and fill it in with the way that I play."
Thibodeau is just glad to have his star back on the floor and remains hopeful that Rose will be able to avoid another serious injury this season.
"Hopefully he's got past the hurdle of, 'How do you feel?'" Thibodeau said. "He went through all of that. Played the five games in six days [in the World Cup of Basketball]. [Went through] the schedule and handled all of it well. So now the challenge for him is to play well, to play up to his capability, and the only way he can shake rust off is by playing, so that's critical."
September, 30, 2014
Sep 30
1:00
PM CT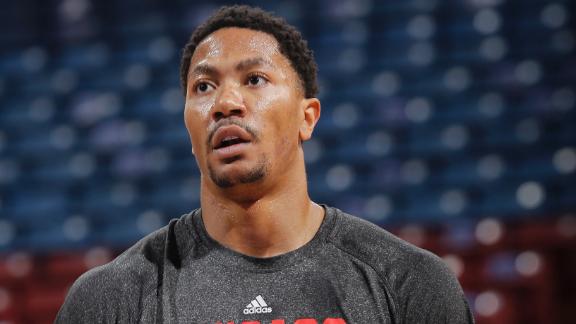 CHICAGO -- When Derrick Rose raised the MVP trophy in 2011 after a 60-win season, there was a feeling throughout Chicagoland that the Bulls were entering a new era of greatness after the long post-Michael Jordan darkness. Key word in there being "era."
That concept has now been long forgotten, there's no longer time for the Bulls to lean on the long run. If they are going to make something happen with what was once a promising core of young players, then the time is likely right now.
That's the reality the Bulls carry as they enter the 2014-15 season. The Cleveland Cavaliers' potential super team, with roles to define and some holes to fill, is perhaps now as vulnerable as it will be for the next few years. The Indiana Pacers are devastated with Paul George's injury. The four-time defending East champs in Miami have taken a step back. Derrick Rose is as healthy as he's been since his ACL tear but his reliability is in question. Joakim Noah is wearing down a bit, coming off knee surgery that he has said will change his life. Their huge free-agent pickup, Pau Gasol, is 34 years old with his own history of knee problems. Taj Gibson turned 29 over the summer.
Simply put, there's no more waiting for next year for the Bulls.
September, 29, 2014
Sep 29
8:19
PM CT
CHICAGO -- Unlike Chicago Bulls tickets and food on Randolph Street, talk is one thing that's still cheap on the West Side.
So while Bulls media day is a time for endless optimism and empty promises, Derrick Rose knows his quotes about returning (again) from a season-ending knee injury are worth about as much as a preseason victory.
"I can sit here and say a million times that I'm going to be fine, but think the only way to answer all the critics and everyone asking about me is actually being on the court and actually playing," Rose said Monday at the team's new West Side training facility.
Actually Playing is a good sub-theme for The Return, Part 2.
For the past two seasons, give or take a couple months, Rose has been a basketball bystander thanks to a pair of knee surgeries. And while he sat in a suit, the vacuum was filled by endless chatter about his heart, his mind and his dedication. That's what happens when a star is dimmed in a big market.
Does anyone still care whether or not he no-look-passed the dinner rolls to Carmelo Anthony? I thought not.
The silly season is over. A city looks forward to watching Rose play basketball again without the weight of a franchise on his shoulders.
"I see him in the gym, he's so happy right now," Bulls forward Taj Gibson said.
Wait 'til coach Tom Thibodeau starts yelling. If Rose smiles through that, you know he missed basketball.
Training camp begins this week at Camp Thibs -- now at the sparkling new Advocate Center across the street from the United Center -- and of course, Rose is the lead story.
September, 29, 2014
Sep 29
6:35
PM CT
CHICAGO -- Derrick Rose's confidence remains high despite the fact the former MVP has played just 10 games in the last two years because of two major knee injuries.
He made that clear during Chicago Bulls' media day on Monday when he reaffirmed his belief that a championship is in his future.
"I try my hardest to stay away from [the predictions]," Rose said. "But we know we have an opportunity ahead of us. It may not be this year, it may not be the next year or whatever, but I know that we have one [in us]. I know I'm going to win a championship soon so I'm not worried about that."
Rose's proclamation came on a day in which confidence permeated the Advocate Center, the Bulls' sparkling new downtown training facility. With a healthy Rose in the fold, alongside All-Star Joakim Noah and former All-Star Pau Gasol, many believe the Bulls have a legitimate chance to win a championship this season.
Obviously, that will only happen with a healthy Rose, a fact the 25-year-old understands. He's also embracing the reality that he will have to answer questions about his health for the rest of his career because of the way his body has broken down over the past few years.
September, 29, 2014
Sep 29
5:00
PM CT
By
Royce Young
| ESPN.com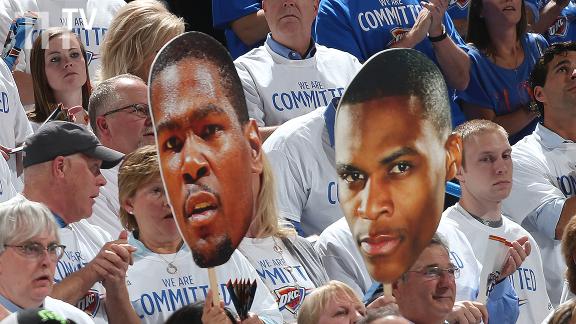 OKLAHOMA CITY -- Thunder coach Scott Brooks believes that Russell Westbrook is the "best point guard in basketball" -- and Westbrook couldn't argue with his coach's assessment Monday.
Brooks almost seemed eager to bestow the label on his player as the coach addressed reporters at the team's media day.
"I believe Russell is the best point guard in basketball," Brooks said, unprompted. "That's happened over time. I've seen Russell every practice, every game, every film session, and he's really put a lot of time into being the best point guard in basketball."
Westbrook certainly has a strong case, but the point guard position is as deep as it has ever been. Chris Paul, Stephen Curry, Damian Lillard, Derrick Rose, Kyrie Irving, Tony Parker and John Wall, among others, are pretty stiff competition.
As you'd expect, though, Westbrook concurred with his coach's statement.
"I do," he said. "I'm very honored to hear him say that, but that's how I feel. I mean, I don't know what to tell you."
Westbrook has never been short on confidence, playing with a brash sense of self-assurance despite occasional outspoken criticism. Even playing alongside as prolific a player as Kevin Durant, Westbrook rarely hesitates when it comes to putting his mark on a game.