July, 9, 2014
Jul 9
11:03
AM CT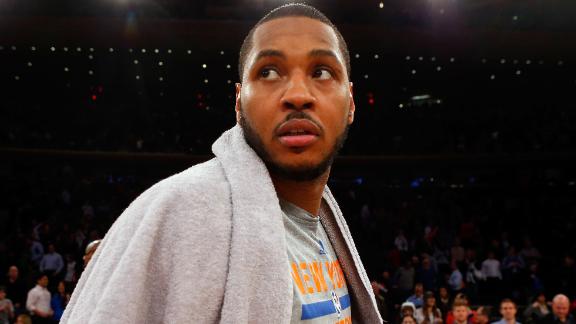 A number of rival teams increasingly believe that New York Knicks star Carmelo Anthony plans to hold off on announcing any decision about his future until LeBron James reveals where he'll be playing next season, according to sources close to the process.
Sources told ESPN.com that Anthony, whose decision was widely expected before a resolution to James' situation when free agency began, has kept the Knicks, Los Angeles Lakers and other suitors waiting at least in part to see where James goes and whether there would be any option to join his close friend.
Sources say that the Knicks thought they'd know by Monday if Anthony was prepared to commit to new team president Phil Jackson for the long term or sign with the Lakers instead. The Knicks can offer Anthony a five-year maximum deal valued at $129 million, with the Lakers' max offer topping out at $96 million over four years.
The Lakers' pitch to Anthony included a conversation with Hall of Famer Magic Johnson, according to ESPN. Johnson called from his European vacation because, as one source put it, "He will always be a Laker. If he was in town, he'd have been in the meeting."
Los Angeles is determined to wait on James and Anthony before moving on in its pursuit of other free agents. James and Anthony are the Lakers' main targets, but with each passing day, the franchise gets antsy about potentially missing on other free-agent targets such as Pau Gasol and Trevor Ariza.
Anthony has gone as silent as James with free agency now more than a week old, sparking the belief that he's waiting to see if there is a viable opportunity for the two stars to team up.
"He wants to see what LeBron does," one source with knowledge of Anthony's thinking told ESPN. "But he can't wait forever."
The Knicks have tried to maintain their long-held confidence that Anthony will stay in New York, sources said, but the delay has definitely frayed some nerves, with no indication as of Wednesday morning when either Anthony or James plan to make their decisions known.
Anthony held meetings last week with Chicago, Houston, Dallas and the Lakers before granting last word to the Knicks on his interview tour. But there's been a strong belief over the past few days that the 30-year-old is likely to choose between New York and Los Angeles, both cities in which his family is very comfortable.
Anthony's hope of going where James goes, meanwhile, would appear to depend on Chris Bosh
July, 8, 2014
Jul 8
7:37
PM CT
By
Ian Begley
| ESPNNewYork.com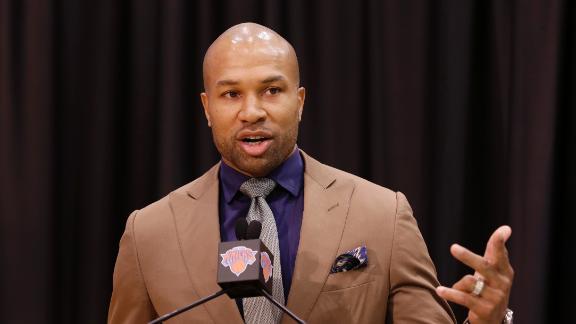 One of Carmelo Anthony's goals in free agency is to put himself in position to compete for an NBA championship.
That would appear to be one knock against the New York Knicks' pursuit of Anthony. The Knicks won just 37 games with Anthony last season.
But Knicks head coach Derek Fisher said Tuesday that he has assured Anthony that the Knicks will be "a better basketball team" than they were last season, according to published reports.
Fisher, team president Phil Jackson and general manager Steve Mills met with Anthony and his representatives in Los Angeles last Thursday to offer their sales pitch to the free agent.
Fisher, speaking in Las Vegas at the team's summer league practice on Tuesday, said he gathered during the meeting that one of Anthony's top priorities is to put himself in a winning situation. And the first-year coach made it clear to Anthony that he felt the Knicks could turn things around in 2014-15.
"He wants to win, wants to be successful," Fisher told reporters of Anthony. "The time I had the visit with him I just shared with him we'll be a better basketball team because we'll play the game a better way, play as a team, play with a system and format to allow the game to be easier for him for him and his teammates.
"I'm not sure if it hit home,'' Fisher added. "I guess we'll find out. Hopefully we'll find out soon."
July, 8, 2014
Jul 8
3:49
PM CT
First-round pick
Doug McDermott
will lead the
Chicago Bulls
summer league team into action as it begins play on Saturday in Las Vegas.
The Bulls' summer league roster was announced Tuesday and includes last year's first-round pick
Tony Snell
and this year's second-round selection
Cameron Bairstow
. Bulls assistant
Adrian Griffin
will be the head coach with assistants Andy Greer, Ed Pinckney, Mike Wilhelm and Coby Karl.
Bulls coach Tom Thibodeau said on draft night that he expected
Derrick Rose
to practice with the summer league team, but he wouldn't play. The Bulls open the summer league slate on Saturday night against the
Los Angeles Clippers
.
July, 8, 2014
Jul 8
1:04
PM CT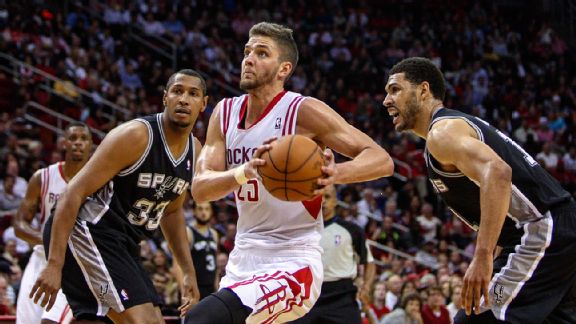 Troy Taormina/USA TODAY SportsChandler Parsons, a second-round pick in 2011, is in for a big payday this summer.
As the basketball world awaits a decision from the top stars in the NBA, the
Chicago Bulls
have to continue planning for the future despite the uncertainty of the present.
If
Carmelo Anthony
does not sign in Chicago, the Bulls are going to have a lot of choices to make in a short amount of time. Like many teams, the Bulls have money to spend but there is a lot of competition to land second- and third-tier free agents. Once the first big dominoes of free agency fall when
LeBron James
and Anthony make their decisions, everything else will come down quickly.
The Bulls have several contingency plans in order and they must act decisively if they are left at the alter by Anthony.
With that in mind, here are a few of the options Gar Forman and John Paxson will have to consider if Anthony passes on the Bulls:
It always seemed like Houston would end up matching whatever offer materialized for the restricted free agent. But if the Rockets end up landing
Chris Bosh
, maybe the game changes for a team like the Bulls. At 25, Parsons is sure to have many suitors -- the interesting aspect of his deal, as my colleague
Tim MacMahon from ESPNDallas.com noted
, is that any team that signs Parsons to an offer sheet may then have to wait three full days to see if the Rockets would match the offer.
If James still hasn't made his decision in a few days and Bosh is waiting to see what happens, would a team like the Mavericks or Bulls be willing to gamble on signing Parsons to the offer sheet, in the event that Anthony picks a team?

There are a lot of moving pieces in this scenario, but it's hard to envision the Bulls making that choice knowing that they may not end up with any of their targets if they tie up their money in the offer for three days and then Houston ends up matching anyway.
Parsons would fill a huge need for the Bulls in the form of outside shooting, but would the Bulls be willing to create enough cap space to land him? According to ESPN capologist Larry Coon, the Bulls would have about $13 million in available cap space if they use the amnesty provision to eliminate the final year of
Carlos Boozer
's deal and trade
Mike Dunleavy
. With Nikola Mirotic's arrival looming on the horizon, the Bulls wouldn't even come close to offering Parsons a competitive offer if Mirotic wants somewhere between $6 million and $8 million.
As Coon noted, the Bulls can't offer Parsons the same kind of "poison pill" contract the Rockets offered former Bull
Omer Asik
because Parsons has already been in the league for three years and is not bound to the same contract restrictions. Plus, if the Mavericks, or another team swoop in to sign Parsons to a big offer sheet, then the Bulls are out of contention anyway. Parsons is a close friend of Bulls center and fellow Florida product
Joakim Noah
, but that tight bond probably isn't going to be enough to bring him to Chicago.
Gasol
Gasol's name has been on the Bulls' radar for a while. The front office flew out to meet with Gasol last week in Los Angeles and he seems to be at the forefront of any non-Anthony contingency plan. As with Parsons, there are a lot of teams contending for his services. The Bulls don't figure to offer Gasol nearly as much as the Lakers will, but they can sell playing on a team that believes it has a legitimate chance to contend next season in the much weaker Eastern Conference. Still, landing Gasol is going to be tough because of the quality of suitors in the hunt for him.
Stephenson
The mercurial 23-year-old Pacers swingman has already turned down a five-year, $44 million deal from Indiana and
ESPN.com's Chris Broussard reported
Monday that the two sides are still "far apart on a deal." I still don't believe the Bulls will make a serious run at Stephenson because of his documented ability to upset a locker room, but if they whiff on other names, he remains a possibility, especially if the Pacers can't come to terms with him.
Deng
Don't hold your breath for a Deng reunion with the Bulls. Deng already turned down a three-year, $30 million deal last season. He and his camp were not happy with how the Bulls approached the contract process and there are still lingering feelings on both sides. Plus, adding Deng after potentially missing out on Anthony & Co. would not satisfy a fan base that already knows what kind of team the Bulls are with Deng in the fold.
Ariza
The
Washington Wizards
swingman would fit into the Bulls' system on many levels. He is a solid defender and can knock down open jumpers -- as evidenced by some of his performances in the Wizards' first-round playoff win over the Bulls. Washington would still like to re-sign him, but he could be an answer if the Bulls are willing to splurge a little.
As the Bulls' front office tries to filter through all the scenarios, the big problem they have is the same one every team is dealing with. Many organizations have a lot of money to spend this summer.
As the Bulls learned in the past with Carlos Boozer, and others, teams usually have to overpay in free agency. That's why it's more imperative than ever for the Bulls to target one big free agent and lock him up right away if Anthony isn't ready to come to Chicago. The Bulls aren't going to have time to wait and see what happens in a crowded marketplace.
July, 7, 2014
Jul 7
5:51
PM CT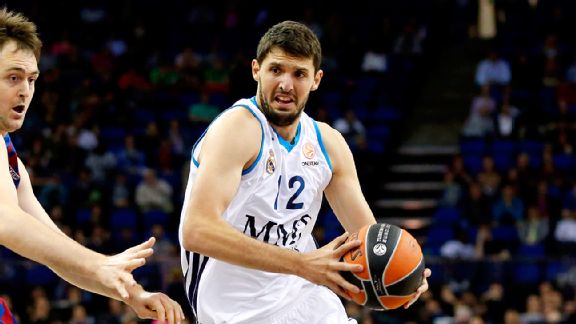 AP Photo/Lefteris PitarakisWhen asked for an NBA comparison, Fran Fraschilla likened Nikola Mirotic to a young Hedo Turkoglu.
CHICAGO -- Nikola Mirotic isn't ready to become the next
Dirk Nowitzki
, according to ESPN analyst Fran Fraschilla, but he is still a solid player who would have been a top-four selection in this year's draft had he been available.
"I think he would have been the guy like we said with
Jabari Parker
, he's the most ready to play in an NBA game right now," Fraschilla said on ESPN 1000's "Waddle and Silvy Show" on Monday. "And we might have even made the statement
Andrew Wiggins
may have the most upside, but I honestly think he would have been in the top [few picks]. Let's assume a healthy
[Joel] Embiid
, you're definitely talking about [Mirotic being] a top-four pick."
Mirotic, who was picked up by the
Chicago Bulls
in a draft day deal in 2011, has worked out a buyout to get out of his deal with Real Madrid, according to reports out of Europe. As the Bulls wait for
Carmelo Anthony
to make a decision as to where he will play next season, they're also trying to figure out just how much it will take to land Mirotic, who is not bound to the rookie scale because he was drafted three years ago.
When asked for an NBA comparison, Fraschilla compared Mirotic to a young
Hedo Turkoglu
, a player who can space the floor for
Derrick Rose
and knock down jumpers. But he also noted that fans should not expect too much too quickly.
"I think the Bulls are getting a really solid player here," Fraschilla said. "But they're not getting Dirk Nowitzki, certainly not at this stage of his career."
Fraschilla used a baseball reference to illustrate his point.
"Playing at the level he has for the last four years, he's hitting .330 in Triple-A," Fraschilla said. "And now you're bringing him up to the big leagues. If you're the
Chicago Bulls
, for example, you're hoping he's going to be a .290 hitter right off the bat."
July, 7, 2014
Jul 7
2:29
PM CT
By
David Purdum
| Special to ESPN.com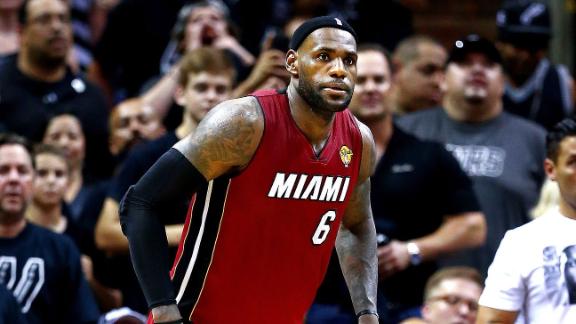 More bets have been placed on the Cleveland Cavaliers to win the 2015 NBA title than on any other team at the Las Vegas Superbook.
"They are our biggest liability right now," said MGM VP of Race and Sports Jay Rood. "We took a dime ($1,000) on them at 40-1."
The Cavs are currently down to 10-1 at the MGM.
The story's the same all over Vegas, as reports surfaced about LeBron James' potential interest in returning to Cleveland. Las Vegas Superbook assistant manager and head NBA oddsmaker Jeff Sherman told ESPN.com that none of the bets on the Cavs have been "significant" in size, but, altogether, the wagers were enough to cut Cleveland's odds in half, from 60-1 to 30-1.
The defending champion San Antonio Spurs (9-2) and the Chicago Bulls (7-1) are the only teams that have attracted more money than the Cavaliers, but no team has received more overall bets (28) than Cleveland since odds went up on June 9. In comparison, the Miami Heat, the favorite at 5-2, had attracted only one bet at the Superbook.
Sherman cautioned that the NBA futures pool is only a month old, however. And some sports books, notably the Wynn, are not taking bets until free agency shakes itself out.
William Hill U.S. director of bookmaking Nick Bogdanovich said in a text message that his shop also had seen a recent influx of betting interest on the Cavs, "but nothing over the top." It's been enough, though, to shorten Cleveland's championship odds from 50-1 on June 16 to 20-1 currently at William Hill's Nevada book.
July, 7, 2014
Jul 7
1:00
PM CT
CHICAGO -- Just a few hours after beginning the recruiting pitch to bring
Carmelo Anthony
to Chicago,
Bulls
general manager Gar Forman exited the United Center, walking out the same entrance that Anthony had come in. It was just before 6 p.m. CT on Tuesday as Forman strolled to the parking lot alongside Chicago Blackhawks president and CEO John McDonough. The basketball lifer was in good spirits as he headed to his car.
[+] Enlarge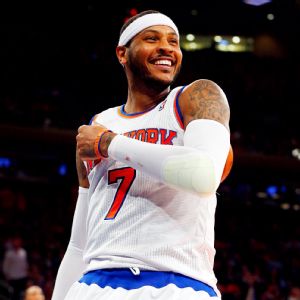 Jim McIsaac/Getty ImagesCarmelo Anthony appears likely to take a max contract from either the Knicks or Lakers.
The first part of the meeting had apparently gone off without much of a hitch. Anthony had been whisked into the United Center by a van carrying, among others, coach Tom Thibodeau. He was given a private tour of the Bulls' new practice facility and was sold on the belief among many within the organization that the Bulls gave him the best chance to compete for a championship right away.
Signs of Anthony wearing a No. 7 Bulls jersey alongside the Larry O'Brien Trophy dotted the sides of the building. As Forman got into his car, he had a lot to feel good about. He and assistant GM
Randy Brown
were among several members of the organization headed over to continue speaking with Anthony at a downtown hotel. Optimism was the prevailing theme of the day as Forman left that day.
Six days later, all that optimism has been replaced by reality.
Anthony is now expected to decide between taking a five-year max contract with the
New York Knicks
for about $129 million or a four-year max contract with the
Los Angeles Lakers
for $96 million. The Bulls' offer would have started at only about $17 million next year, given that the organization would like to keep its core of
Derrick Rose
,
Joakim Noah
,
Taj Gibson
and rookie
Doug McDermott
intact.
According to one source with knowledge of the discussion, it was a strategy that Anthony seemed to be on board with, especially when it came to keeping Gibson. He knew the Knicks had to gut their roster when they made the original deal to acquire him from the
Denver Nuggets
during the 2010-11 season. He didn't want to have to endure that again if he landed in Chicago.
So does that mean Forman and executive vice president
John Paxson
should be criticized because it appears Anthony is going to take max money, even when he went on record earlier in the year saying that money wouldn't be the most important factor in his decision?
No, but a large portion of the Bulls' fan base will anyway.
That's because of the cumulative letdown of big-time free agency over the past four years. Forman and Paxson did not land
LeBron James
,
Dwyane Wade
and
Chris Bosh
in the summer of 2010. Some fans still haven't gotten over that and never will. Now that it appears Anthony is headed elsewhere, all those old feelings are resurfacing.

Forman and Paxson aren't blameless in this situation. It's up to the front office to find a way to make the team better, but it's hard to fault them when a player wants to take more money elsewhere.
The larger issue with Forman and Paxson is what happened in the days since Anthony's meeting. That's when
ESPN.com's Chris Broussard reported
that, according to sources, Rose wasn't actually part of the formal recruiting pitch to Anthony and was "shocked" to see Anthony there. On the surface, that's hard to believe considering last Tuesday marked the first time since the Game 5 playoff loss to the
Washington Wizards
on April 29 that the basketball floor at the United Center was down, according to several sources.
But the perception remains that the division between the Bulls' front office and Rose's camp seems only to be growing over time. It started just before the All-Star break last season, when Rose admitted that he was still a long way from returning to the floor, even though many within the organization believed he was just a few weeks away from making his return from an ACL injury he suffered in April 2012. The disconnect grew deeper a couple of weeks later, when Rose's brother, Reggie, voiced his displeasure to ESPNChicago.com regarding the lack of movement from the front office to put better players around his brother.
It's the job of Forman and Paxson to form a united front within the organization. But between the Rose drama and the on-again, off-again drama surrounding Thibodeau's future in Chicago, the Bulls have looked anything but unified at various points in the past two seasons.
Forman and Paxson aren't alone in the blame game. Rose, once the most universally beloved athlete in town, is now one of the most questioned. He has only played 49 games in the past three years and has repeatedly said he didn't want to recruit players. Bulls officials have played coy from the beginning about what Rose's actual involvement was last Tuesday, but they would much rather their star swallow his pride and sell some of the league's brightest stars, like Anthony, on the virtues of playing in Chicago.
Whether Rose went out of his way to speak to Anthony for hours may not have made much of a difference in the end, especially if Anthony was just going to head to the biggest payday all along, but the perception is that Rose and his camp aren't on the same page with the front office. It's a perception that all involved can't shake and one that reflects poorly on the entire group.
Rose still believes he is the best player in basketball. It's that inner confidence that allowed him to become the league's youngest MVP in 2010-11, and it's that belief that elevated the Bulls to new heights in the post-Jordan era. But now that confidence -- and stubbornness -- seems to be hurting the Bulls more than helping them, which is why Rose is facing more criticism than ever from a fan base that misses watching him play at the highest level.
Passing out blame is usually one of the stages of grief fans go through when their team and city is jilted in free agency. They need a scapegoat and an outlet for the feelings of sadness. The reality for the Bulls is that maybe the blame in this situation should be chalked up more to bad luck than anything, or anyone, else.
If Rose hadn't been hurt, it wouldn't have changed the entire course of the organization. Maybe they would have been able to claw past LeBron James and the
Miami Heat
in 2011-12 the way many within the organization still believe. Maybe Anthony would, in fact, sign in Chicago for less knowing that Rose is still one of the top players in the league, not a question mark coming off his second major knee surgery in two years.
Several people deserve at least some blame for the fact that Anthony doesn't appear to be heading to Chicago, but none of them could have overcome the one thing that has hovered over the Bulls since Rose went down with his first knee injury: bad luck.
July, 5, 2014
Jul 5
8:19
PM CT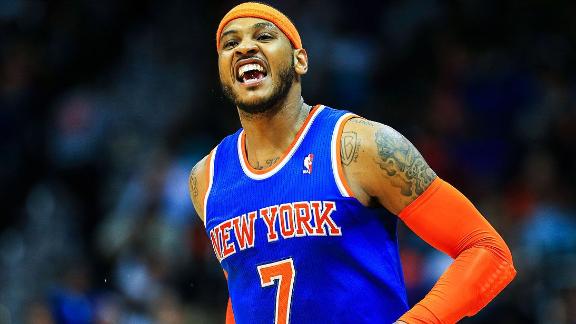 In a surprising twist, the Los Angeles Lakers have emerged as the team that most worries the New York Knicks in their attempt to re-sign superstar free-agent forward Carmelo Anthony, sources with knowledge of the situation told ESPN.
While the Knicks remain confident in their chances to convince Anthony to return to the Big Apple, the Lakers' pitch -- of teaming Anthony with Kobe Bryant, Pau Gasol and prized rookie Julius Randle on a team with no long-term salary obligations -- made what one source described as a "strong impression" on Anthony, who is living and training in Los Angeles this summer, and has made his decision over the holiday weekend "tough," according to another source close to the situation.
There was a growing sense circulating through the league Sunday that Anthony is likely to choose between the Knicks and the Lakers, who are the only two teams that can offer him max money without needing to make roster moves first. New York can offer him a five-year deal worth $129 million, while Los Angeles can offer a four-year deal valued at $97 million.
But sources close to the situation told ESPN.com's Marc Stein said that, as of 6 p.m. Sunday, Anthony had not formally notified any of his suitors that they are out of contention. The 30-year-old had sitdowns this week with Chicago, Houston and Dallas before meetings with both the Lakers and Knicks on Thursday in L.A. Anthony then retreated from the spotlight to take the holiday weekend to make his decision.
July, 4, 2014
Jul 4
12:55
PM CT
[+] Enlarge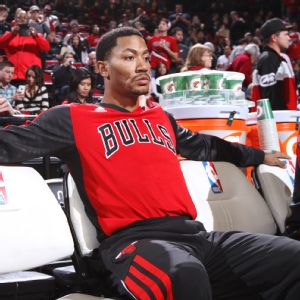 Sam Forencich/Getty ImagesDerrick Rose just happened to be at the United Center when Carmelo Anthony visited Tuesday and wasn't part of the team's official presentation to the free agent, sources told ESPN.com.
It turns out that Derrick Rose was not a part of the Chicago Bulls' pitch to Carmelo Anthony after all.
Rose, Chicago's star point guard, happened to be in the middle of his daily workout routine when Bulls officials brought Anthony into the United Center on Tuesday afternoon, according to sources with knowledge of the situation.
Rose actually was surprised to see Anthony, one source said. He had no idea what time the Knicks' free agent would be visiting the Bulls.
Rose broke up his workout to approach Anthony and said a brief hello, but that was the extent of his participation in the Bulls' recruitment.
Chicago took Anthony through a prepared recruitment presentation for Anthony, and Rose's impression was that teammates Joakim Noah and Taj Gibson were officially part of it, sources said.
But the Bulls' front office never asked Rose to join in.
July, 4, 2014
Jul 4
8:50
AM CT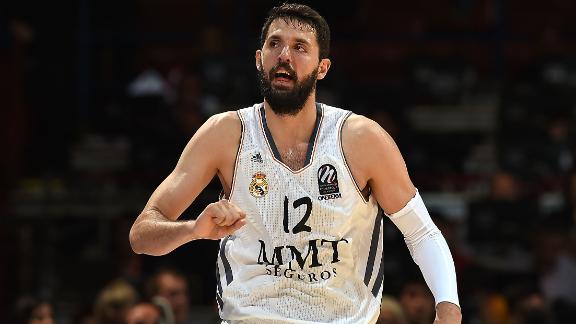 While they chase Carmelo Anthony and Pau Gasol, the Chicago Bulls may be close to landing what they believe is a major addition to their roster as they work to secure 2011 first-round draft pick Nikola Mirotic, sources told ESPN.com.
The Bulls traded for Mirotic's rights in 2011 when he was the No. 23 pick in the draft and have watched as he's developed into one of the best forwards in Europe. Known for his shooting touch, the 6-foot-10 Mirotic secured a buyout Thursday for $3 million with Real Madrid, according to several reports in Europe. He is now free to join the NBA.
Starting the process of bringing Mirotic, 23, over to play now will require the Bulls to make some roster moves. Because he was drafted three years ago, Mirotic is not subject to the rookie salary-cap scale, and the Bulls likely will need to use some of their cap space to contribute to his buyout and sign him to a long-term contract.
The Bulls can pay up to $600,000 toward Mirotic's buyout, but anything over that amount would be considered a signing bonus and be charged to the Bulls' cap. Such a move would not preclude the Bulls from acquiring Anthony as a free agent, but that route would almost certainly mean they would have to do it with a sign-and-trade using Carlos Boozer. That would require the New York Knicks' cooperation.
After meeting with five teams this week and getting a verbal five-year, $129 million max contract offer from the Knicks on Thursday, Anthony is expected to decide his future over the weekend, sources told ESPN.com.
July, 4, 2014
Jul 4
2:00
AM CT

By Ian Begley
ESPNChicago.com
Archive
Carmelo Anthony
's top priority in free agency is to put himself in position to win a title.
We don't know where money ranks on his list of priorities, but we assume it'll factor in to the final decision.
With that in mind, let's take a quick look at the offers from each of Anthony's suitors and approximately how much money he'd be leaving on the table if he left New York:
New York:
The Knicks on Thursday verbally offered Anthony a max deal of $129 million over five years. This offer is the largest contract in terms of total dollars that any team can offer Anthony. Any other Anthony suitor can offer a maximum of only $96 million over four years.
Chicago:
The Bulls can either sign Anthony as a free agent or execute a sign-and-trade to acquire him. If they want to keep their core of
Joakim Noah
,
Derrick Rose
,
Taj Gibson
and
Doug McDermott
in tact, the most Chicago will be able to offer Anthony is a four-year deal starting at approximately $17 million a year. That would give Anthony about $70 million over the life of his contract, so he'd have to take a pay cut of approximately $60 million in total to sign in Chicago.
Los Angeles:
The Lakers made it clear to Anthony during their Thursday meeting with him that they are prepared to offer him a max contract, according to ESPN.com's Ramona Shelburne. That means Anthony can make $96 million over four years in Los Angeles. That also means that Los Angeles would have approximately $46 million dedicated to Anthony and
Kobe Bryant
next season. Bryant will be in the first season of a two-year, $48.5 million extension. The salary cap is set at $62.5 million, so the Lakers front office would have to spend wisely in filling out the rest of the roster.
Dallas:
Dirk Nowitzki
re-signed with the Mavs on Thursday for a contract worth approximately $30 million over three years. Nowitzki left a lot of money on the table, but it may not be enough to attract Anthony. According to ESPN Dallas' Tim MacMahon, the Nowitzki deal leaves Mavs owner Mark Cuban with approximately $17 million in cap space. Let's say Cuban uses all of it on Anthony (which he wouldn't). That would leave Anthony with a contract worth approximately $70 million over four years. So Anthony would have to take a pay cut of approximately $60 million in total dollars to sign with Dallas -- the same as he would with Chicago.
Houston:
The Rockets hopes to be in position to offer Anthony or
LeBron James
a maximum contract in free agency. If they can create enough cap space to do so (dealing away
Jeremy Lin
is a prerequisite to getting there), then they can offer Anthony a four-year, $96 million contract. That's $33 million less in total dollars than the deal that Anthony can sign with the Knicks. Of course, the Knicks' offer is for five years. So Anthony can sign a new contract after his four-year pact with Houston expires. He will make up some of the $33 million difference in the first year of his new contract. But it's highly unlikely that Anthony would sign a deal worth more in the first season than the $29 million he'd earn in the final year of his contract with the Knicks.
Question: If you were Anthony, which destination would you choose given the contract offers in front of you?
You can follow Ian Begley on Twitter.
July, 3, 2014
Jul 3
9:40
PM CT
ESPN.com news services
Pau Gasol will meet with the Miami Heat in Los Angeles, a source told ESPN.com's Ramona Shelburne.
Heat president Pat Riley and coach Eric Spoelstra will be there to make the pitch, the source said.
Miami, though, certainly will have competition for the free agent center.
The Bulls met with Gasol on Thursday in Los Angeles, with Joakim Noah part of Chicago's contingent, sources told ESPN.com's Marc Stein.
ESPN reported Wednesday night that the Oklahoma City Thunder duo of Kevin Durant and Russell Westbrook made a strong case to Gasol during a face-to-face pitch Wednesday in Los Angeles. Thunder general manager Sam Presti also spoke Wednesday by phone to Gasol, ESPNLosAngeles.com reported. The Thunder have emerged as a surprising front-runner despite their financial limitations, according to sources close to the process.
One source described Gasol as "opening up to the possibility" of joining forces with Durant and Westbrook even though Oklahoma City is limited to roughly $5 million in spending cash under the luxury-tax line at present.
July, 3, 2014
Jul 3
7:05
PM CT
CHICAGO --
Carmelo Anthony
remains the apple of the
Chicago Bulls
' eye. The organization continues to hope that Anthony turns down the financial security of a max offer, or near-max offer, from the
New York Knicks
as he makes his final decision on where to play in the coming days. While the Bulls remain confident in the recruiting pitch they gave to Anthony, Bulls officials understood that it was always going to be toughest to convince Anthony to leave New York. The feeling from many within the organization after Tuesday's pitch is that this is a two-team race between the Knicks and the Bulls.
The question, as has been the case all along, remains whether Anthony is willing to leave millions of guaranteed dollars on the table in order to chase a championship in Chicago. With the help of ESPN salary capologist Larry Coon, the Bulls' numbers, in regards to an Anthony deal, stack up this way. If the Bulls keep a preferred core of
Derrick Rose
,
Joakim Noah
,
Taj Gibson
and rookie
Doug McDermott
intact, they will be able to offer Anthony roughly $17 million next season. What that also means is they'd have to fill up the rest of the roster with a majority of minimum-salary players.
While the Bulls are holding out hope that Anthony decides to join forces with Rose and Noah, the feeling from several sources remains that Anthony will decide to stay with the Knicks. With that in mind, let's take a look at the next few options the Bulls will have if they do indeed miss out on their top target.
1. Make a push for Kevin Love again
The Bulls have kicked the tires on a Love deal with the
Minnesota Timberwolves
for several years. If they don't land Melo, expect them to make some more calls to Timberwolves coach and president of basketball operations Flip Saunders to see if they can work something out. Since Love wasn't moved before the draft, there's a solid chance that Saunders will try to persuade Love to stay one more time before potentially dealing him before the trade deadline in February.
2. Go for Gasol
The Bulls were scheduled to meet with
Pau Gasol
on Thursday in Los Angeles as he ponders his own future, according to ESPN.com's Marc Stein and Ramona Shelburne. Having made a little more than $19 million last season, Gasol figures to be in line for a pay cut, but interested teams have to figure out just how much of one he's willing to take. From the Bulls' perspective, Gasol would fill a need as a back-to-the-basket offensive weapon and a solid presence in a tight locker room. According to Coon, if the Bulls
amnesty
Carlos Boozer
and deal away veteran
Mike Dunleavy
, they would have roughly $13 million in available cap space.
With a number of high-quality teams
pitching for Gasol's services
-- and the fact that the Lakers can still offer big money -- the Bulls need to make a strong financial offer and tie it around the fact that they are ready to contend for a title right away. Even then, that might not be enough depending on the other offers Gasol figures to get.
3. Bring Nikola Mirotic over
[+] Enlarge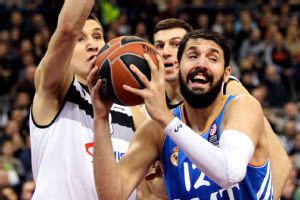 AP Photo/Darko VojinovicMirotic's Bulls future is bright, but he would be no substitute for Anthony if the team decided to sign him for the upcoming season.
There's been a lot of speculation regarding Mirotic's status in recent days, a fact that hasn't gone unnoticed by the Bulls front office as it tries to figure out its next move. For the moment, Mirotic's status with the Bulls this season is uncertain. The organization had always hoped it could land Mirotic for the midlevel exception, but now, in order to bring him over, it'll have to dip into its cap space to make it happen. Is Mirotic worth $7 million to $8 million per year? How much of an impact would he be able to have during his first season in the NBA? The Bulls remain high on Mirotic, but the idea that his addition would put the Bulls that much closer to a championship in his first season in the league is far-fetched at best.
4. Worst-case scenario
If the Bulls fail in Options 1-3, the frustration of the fan base will permeate throughout every aspect of the organization. Assuming they don't find any takers for a Boozer sign-and-trade, the Bulls could still amnesty the final year of his deal and move Dunleavy -- but what would they do with the $13 million left in cap space?
Lance Stephenson
appears to be a last-ditch possibility. I don't believe he would work well in coach Tom Thibodeau's locker room, but he has the type of talent that could continue to blossom in the right situation. The Bulls will keep tabs on
Chandler Parsons
, a good friend of Noah's, but it's hard to believe the Rockets will let him walk as a restricted free agent -- especially if they don't land Anthony or
LeBron James
.
The Bulls' biggest problem is the same one it faced as free agency began: There are some solid names and possibilities on this list, but if it doesn't land Anthony or Love, the organization can't feel confident in the notion that it would start the upcoming season as a legitimate title contender.
July, 3, 2014
Jul 3
6:02
PM CT

By Tim MacMahon
ESPNChicago.com
Archive
Shawn Marion
has no shortage of suitors for what might be the final contract of his NBA career.
The
Miami Heat
,
Houston Rockets
,
Chicago Bulls
and a few other teams join the
Dallas Mavericks
among those who have expressed interest in Marion, a source said.
Marion, 36, a 15-year veteran, said that he planned to play two more seasons. He has made it clear that his priority in free agency is finding a team that has a chance to compete for a championship, a group that he believes includes the Mavs.
"I'm going to weigh my options out and see what it's going to take for me to get another championship ring," Marion said the day after the Mavs' season ended. "I would love to add to the ring I have."
The market for Marion, who remains an outstanding, versatile defender, is expected to be in the range of $5 million per year.