December, 5, 2013
Dec 5
11:25
PM CT
CHICAGO -- Let's take a quick look at how the
Chicago Bulls
earned an impressive 107-87 win over the
Miami Heat
on Thursday night at the United Center.
How it happened:
Carlos Boozer
finished with 27 points and nine rebounds to lead the Bulls.
Taj Gibson
had another big game off the bench, going off for 19 points and six rebounds.
LeBron James
led the Heat with 21 points and five rebounds but the Bulls stuck it to Miami early and never let up.
What it means:
When fans hear teams, especially the Bulls, say that every game is just one in an 82-game season, they shouldn't believe them. This was the most energy the Bulls have played with since
Derrick Rose
went down. It wasn't hard for
Joakim Noah
and his teammates to get up for a game against their hated rival. The key for Tom Thibodeau will be to try and find a way to get his team to continue playing this way. They have not been consistent since Rose went down, but maybe this game will help them get out of their funk.
Hits:
Noah played his best game in several weeks. He was active on both ends of the floor, scoring 17 points and pulling down 15 rebounds.
Misses:
The Heat got outworked most of the night -- second-chance points: 24-6 Bulls.
Stat of the night:
The Bulls outrebounded the Heat 49-27.
What's next:
The Bulls face the
Detroit Pistons
on Saturday night.
December, 5, 2013
Dec 5
9:57
PM CT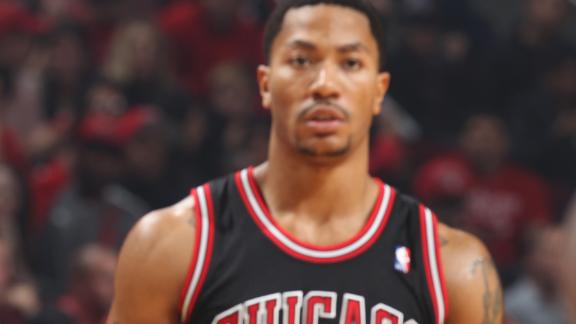 The moment the sentence was out of his mouth it was going to tilt the conversation. "If I'm healthy and the situation is right, if my meniscus is truly healed, of course … "
Life would have been so much easier had Derrick Rose not gone there. This time the Chicago Bulls did the right thing and protected him. This time the organization shut down all the"how-soon-can-he-get-back-on-the-court" talk by declaring Rose out for the rest of this season after the surgery to repair his torn meniscus. The team's decision-makers did exactly what they should have done following his ACL tear, which would have averted the open season of criticism last spring … but there was Rose opening the door on a return this spring, even if it was only a tiny crack.
Look, you can parse every sentence, every word out of his mouth if you want and obsess over the possibility that Rose, should the Bulls reach the playoffs, could come back. Of course, you would have learned absolutely nothing from the first knee injury and time missed subsequently, which is to say you can't miss months and months of time with an injured knee, walk back into the lineup -- especially at playoff time -- and be an effective professional basketball player, because that's fantasy stuff. Rose, unlike so many of today's athletes, doesn't have an agenda in mind when he answers a question.
It was probably best for all involved that Thibs, when faced with the media before the Bulls-Heat game, said, "To me, he's out for the season." Thibs backslid a bit when he added, "If something happens along the way … " but gathered himself to conclude, "We want him to be completely healthy … it's been determined he's out for the season."
December, 5, 2013
Dec 5
9:15
PM CT
CHICAGO -- Thursday night's matchup at the United Center, which had the potential to include the past two players to win an MVP award, won't come off as planned. And the Miami Heat's
LeBron James
is not too thrilled about it.
The Chicago Bulls'
Derrick Rose
, winner of the 2010-11 MVP award, is out of action and likely lost for the season after tearing the meniscus in his right knee two weeks ago in a game at Portland. He had played in just 10 games after returning from an 18-month absence because of a torn left anterior cruciate ligament.
James, who welcomed Rose back to action before the Oct. 29 season opener, was shocked and saddened about Rose's latest setback.
December, 5, 2013
Dec 5
8:34
PM CT
Nike's most important active basketball player is hardly wearing the latest version of shoes that bear his name.
The Wall Street Journal reported Thursday that Miami Heat star LeBron James has only worn his new shoes, the LeBron 11, for two complete games this season. Sources confirmed to ESPN.com that James has had an issue with the fit of the shoe and as a result has been mostly wearing last year's model.
On Thursday night, before the team's game against the Chicago Bulls, James addressed the situation.
"I just want to be able to wear them," James told ESPN.com. "It has been a frustrating process. But obviously, I know that Nike wants to do what's best. They're not going to put me out there in harm's way. So we're redefining the shoe to fit what's best for my foot."
Sneakerhead message boards have tracked when James has attempted to wear his new shoes and when he switches back to last year's model, which has happened as soon as the first timeout or in between quarters.
"I could wear them, but they don't feel as great as I want them to feel," James said. "So we're redefining them, and I feel like this next round is going to be perfect."
The shoe is the lowest cut James has worn, with Nike saying at its release that the idea was for James to "feel the court."
"The LeBron 11 is one of the most innovative Nike basketball shoes to date, and we look forward to LeBron stepping back on the court in his latest signature shoe soon," Nike spokesman Brian Strong said in a statement.
December, 5, 2013
Dec 5
3:53
PM CT
CHICAGO --
Derrick Rose
's attitude during Thursday's press conference can be summed up in one word: defiant.
The
Chicago Bulls
star never wavered in his emotions as he made his first public comments since having surgery to repair a torn medial meniscus in his right knee. He made it clear that he still believes he can come back and be the same player, if not better. He made it clear that he still believes he has a chance to come back this season, and that he doesn't want to recruit players to come to Chicago. But most of all, he made it clear that people shouldn't doubt him.
[+] Enlarge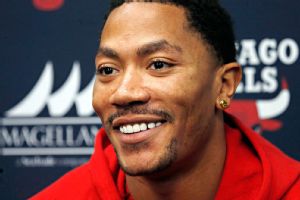 AP Photo/Charles Rex ArbogastDerrick Rose is doing his best to stay positive for another knee rehab.
The 20-minute media session was vintage Rose.
The most intriguing part came after he was asked if he believes the Bulls can still build around him despite all his recent injuries. Rose paused for about 10 seconds while trying to find the right thing to say.
"You can be a fool if you want to," he said. "I know I'm going to be all right."
The problem for Rose is that in that context, there are plenty of fools out there now. Some fans/media believe Rose will never come back and be the same player that he was before the knee surgeries, but the former MVP doesn't care. He thrives around that kind of doubt and will use it as motivation as he tries to make his way back -- again. He views the injury as a positive in the sense that he didn't tear the ACL in his right knee this time around.
"They say usually when you tear your meniscus you tear your MCL or you tear your ACL along with it," Rose said. "It was just the meniscus. So it's something I just got to deal with, but I'm used to being in this position. I've been in this position my whole life as being an underdog. I could care less what people say about me, or criticize my game or whatever, or how I play. How I play is how I play and that's hard. I could tear it 10 more times, as long as I'm playing hard and giving the game my all I could live with it for the rest of my life."
Rose said he doesn't care what people think, but that's only true to a certain extent. He cares deeply about his fans and that's why he wouldn't completely shut the door on a return this season, despite the fact Bulls general manager Gar Forman told ESPNChicago.com that he's "really out" for the year, no matter how far the Bulls may go in the playoffs.
In that regard, Rose handled his press conference about as well as could be expected. What else was he supposed to say when it comes to his future? His game has always been based on speed and power, but a key aspect in his ascent to the game's elite has always been his confidence. He has always believed that he was the best player on the floor. If he starts doubting himself now and saying that he won't ever return to being the same player, then he never will be.
Rose has got to keep thinking the same way in order to make it through another arduous rehab. The issue now for him, and his team, is that he will have to sit and watch for the second straight season. Out of all the mental hurdles he will have to cross over the next six months, that will be one of the toughest for him to clear again.
"It's hard," he admitted. "I could complain and pout about it, but that's not going to do anything. I got a long time until I come back so I'd rather smile than be sad."
December, 5, 2013
Dec 5
1:39
PM CT
CHICAGO --
Derrick Rose
's latest knee injury hasn't changed the way he feels about recruiting players to come to Chicago.
"I don't think I'll ever recruit," he said during his Thursday press conference. "I think if you're a hooper and you know as a basketball player if you can play with someone, I don't think it's a problem with just coming to a team. I think we never had them problems with stopping anyone from coming. I think I'll never recruit. I'll play with anyone. I think I can play with anyone. But I'll never recruit."
[+] Enlarge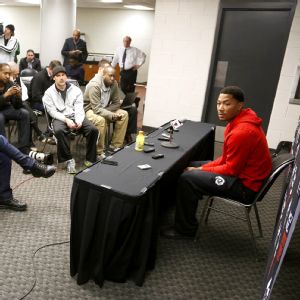 AP Photo/Charles Rex ArbogastDerrick Rose talked publicly about his knee injury for the first time Thursday during a press conference at the United Center.
Before last season, Rose said he called
Kirk Hinrich
to talk to him about coming back to Chicago, but the former MVP has said over and over that he won't go out of his way to bring players in to play with him.
As for a message he would like to deliver to his fans, Rose reiterated that his final story has yet to be written.
"That I'm not done," he said. "I know that [God] is preparing me for something bigger. Of course right now when you're living in the moment you just don't understand certain things. But I think if I were to look 10 years from now or so, just be in the future and looking back, I think this is going to be minor. It's something that just happened, and I'm never going to stop. I could tear or hurt myself 10 more times, I'm never going to stop, never."
Rose stayed mostly upbeat during his 20-minute session with reporters, showing no doubt that he will come back and be the player he used to be.
"It's kind of frustrating at first knowing that I'm going to miss a long period of time without playing the game that I love playing," he said. "It's tough right when it happened but me having these days just to think about it and just being appreciative of me going out there and showing glimpses of how I used to play, that's encouraging. And just knowing that I have a bright future, I'm all right. I think that my faith is good, my spirit is good, and I'll be back."
Coach Rose?:
Bulls coach Tom Thibodeau said Rose wasn't going to sit on the bench at this point, but it would happen in the near future. He is just happy to see Rose back around the team.
"He'll be around the team," Thibodeau said. "He talks to me a lot so we talk about the team, we talk about our opponents, things like that so he's involved. Mentally he's very involved."
Thibodeau is confident that Rose will stay positive throughout his latest round of rehab.
"If you look at it, most players at some point in their career, they're going to deal with injury," Thibodeau said. "So I think the fact that he made it through the ACL, and he got through that very well, that recovery is complete. He's completely healthy, he's explosive, so I think that gives him a frame of reference to deal with this one. This [injury] is not nearly as severe, and he's already mapping out his preparations for next season and getting ready. So at the end of the day hopefully it will be nothing more than a bump in the road. He can get completely healthy and move forward."
Does Thibodeau think Rose could be a coach in the future?
"I hope so," he said. "I told him, I've got a chair for you. He's got great insights, we talk quite often, and I think it will help his development as well to look at it from maybe a different perspective. He's a student of the game. He studies the game. It will be good."
December, 5, 2013
Dec 5
12:20
PM CT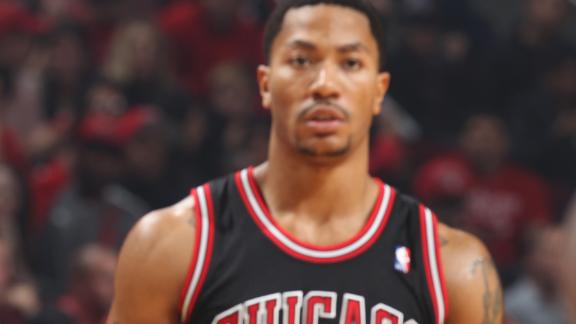 CHICAGO -- Chicago Bulls guard Derrick Rose said Thursday he won't close the door on returning for the playoffs if his surgically repaired knee is up to it.
"If I'm healthy and the situation is right, I'm going to be back playing," Rose said Thursday during a news conference in his first public comments since tearing the meniscus in his right knee Nov. 22. "If I'm healthy and my meniscus is fully healed, of course I'll be out there playing. But if it's something totally different and the outcome is not how I would want it to be, there's no need."
The Bulls declared Rose out for the season after he had surgery on the meniscus Nov. 25. General manager Gar Forman told ESPNChicago.com last week that Rose is "really out" for the season regardless of the Bulls' potential for a postseason berth.
Coach Tom Thibodeau was a bit more cautious in his assessment than Rose.
"To me, he's basically -- he's out for the season," Thibodeau said. "If something changes along the way, but we want him to be completely healthy before he moves forward.
"... He'll do his part, we have to do our part. We can't worry about whether he may come back or not. Right now, it's been determined that he's out for the season so that's the way we're going to approach it."
Whenever he returns, Rose is confident he'll still be an elite player.
Asked how he would respond to those who question whether he can still be a franchise cornerstone, Rose said after a 10-second pause: "You can be a fool if you want to. Dead serious. I know I'm going to be all right. I believe that I'm a special player."
Rose said he hasn't had time to consider that the Bulls' core group might look different when he returns next season. Forman has acknowledged that moves might have to be made given Rose's absence.
December, 5, 2013
Dec 5
2:00
AM CT
ESPN.com
The Knicks -- losers of nine straight -- and Nets have a combined record of 8-26 this season. What's wrong with NBA basketball in New York? Our writers give their thoughts on both struggling teams.
1. Why are the Knicks so bad?
Jeremy Gordon, Brooklyn's Finest: Call it a limited formula reaching its nadir. There was always a ceiling to the Knicks as built around Carmelo Anthony and the wheels have fallen off: Their shooters aren't shooting and their defense sans Tyson Chandler has looked like what you'd expect an Andrea Bargnani-patrolled paint to look like.
Mike Kurylo, KnickerBlogger: Shooting. With Chandler out, the defense was supposed to suffer, but not the offense, right? J.R. Smith (42.4 percent TS%) and Raymond Felton (45.5 percent TS%) are dragging the team down. Anthony's true shooting percentage of 51.4 percent is his lowest since his rookie year, and 31 points below his career average. New York shot 37.6 percent last year from 3, but is only making 32.2 percent this year.
Mike Mazzeo, ESPN New York: Their roster is flawed. Chandler has been hurt. They lack a second star to complement impending free agent Anthony. They are too reliant on the 3-pointer. Those computer projections are looking pretty good so far.
Brian Windhorst, ESPN.com: They have no identity, especially offensively. This is a major difference from last season when they played small, spread the court and were a great shooting team. They have leadership and injury issues, too, but things would be a lot better if they had a trusted style to hang their hat on.
December, 4, 2013
Dec 4
9:33
PM CT
In his weekly "Crossover" column, Joe Kaiser scours the league and offers his fantasy insight with the help of Insider's team of experts, including Kevin Pelton, Bradford Doolittle, Amin Elhassan, Chad Ford, Tom Haberstroh and David Thorpe. Also included is Joe's injury update chart.
In the Chicago Bulls' three-overtime loss to the New Orleans Pelicans on Monday, Luol Deng played played a whopping 56 minutes as the Bulls, without Derrick Rose and Jimmy Butler, were essentially reduced to a seven-man rotation.
Playing big minutes is nothing new for Deng; he led the NBA in minutes per game in 2011-12 (39.4) and again last season (38.7), and has averaged at least 37.9 mpg in each of the past five seasons.
Yet for whatever reason, Deng tends to be overlooked. Maybe it's because his game is more substance than style, or maybe it's because he's often regarded as a solid third option on a good team, which is never a flattering endorsement.
To continue reading this article you must be an Insider
December, 4, 2013
Dec 4
3:50
PM CT
DEERFIELD, Ill. -- Nearly two weeks after
Derrick Rose
was diagnosed with a meniscus tear that ended his season,
Chicago Bulls
players are still trying to come to grips with the loss.
[+] Enlarge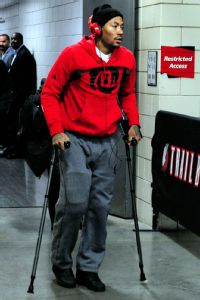 Steve Dykes/USA TODAY SportsTom Thibodeau says the Bulls have to follow Derrick Rose's lead and move on from his injury.
"It's tough,"
Joakim Noah
said Wednesday. "We have to fight through the adversity and keep fighting."
Rose arrived at the Berto Center on crutches during Wednesday's practice and has been around the team ever since it returned from the long road trip late Saturday night.
The Bulls know what it is like to play without Rose after the former MVP has barely played over the past three seasons. That is actually bad news, but coach Tom Thibodeau continued his attempt to milk the positive out of it.
"Well, we know what we have to do," Thibodeau said. "You could use that [as an excuse] all you want, but you've got to be ready to play, you've got to move on. Frankly, we have to take on Derrick's approach. Derrick has already moved past it. He's thinking about what he has to do the rest of the way, this summer, being ready for next year, talking to me about the team, what we have to do."
Thibodeau claims the team isn't demoralized despite the Rose news and the triple-ovetime defeat to the
New Orleans Pelicans
on Monday at the United Center.
Now comes a stern test as the
Miami Heat
arrive at the United Center on Thursday night, two days after their 10-game winning streak was ended at the hands of the
Detroit Pistons
.
"I don't see anyone hanging their head," Thibodeau said. "He's not going to be here, we know that. We've got more than enough here. Just concentrate on what we have to concentrate on."
December, 4, 2013
Dec 4
3:16
PM CT
DEERFIELD, Ill. -- The knee injury to
Chicago Bulls
backup guard
Mike James
that forced fellow guard
Marquis Teague
to return from the NBA Development League after just a few hours might not be as bad as originally believed.
[+] Enlarge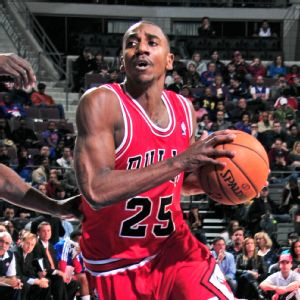 D. Williams/Einstein/NBAE via Getty ImagesMarquis Teague is back with the Bulls because of Mike James' injury.
James did not practice Wednesday, but he did shoot around following the team workout.
"He actually got good news," coach Tom Thibodeau said. "It's just a sprain, so at this point it's basically maybe a week, it could be a little longer. We'll see."
Teague never had a chance to play with the Iowa Energy after arriving in Des Moines on Tuesday. He made it as far as the team's practice facility before getting the call to return to Chicago.
"As soon as I landed they told me to come right back so it was crazy," Teague said.
The former first-round draft pick in 2012, who played one season at Kentucky, took his demotion to the D-League in stride.
"Actually, I wasn't as upset as people probably thought I was because I was going to get a chance to play quality minutes," Teague said. "I got called back so I was happy about that. I'm just getting ready."
Teague has not been productive in limited minutes over the past two seasons as he has appeared to struggle with confidence. Add the demotion on top of that for the 6-foot-2, 190-pound guard and Thibodeau was asked if he's worried about Teague's state of mind.
"I think he's in a good place; that wasn't about punishment," Thibodeau said. "That was about playing time. Because (Iowa) is so close, we can call him back after a day, and we ended up doing that. But we talked about that before we even sent him down. We talked about him getting some playing time would be good.
"We have confidence in him, he's just got to be ready to go. That was never a long-term situation. It was done with the idea of him getting some playing time."
Teague has averaged just 1.2 points and 0.8 assists in the nine games (8.9 minutes) he has played.
December, 4, 2013
Dec 4
2:28
PM CT
ESPNChicago.com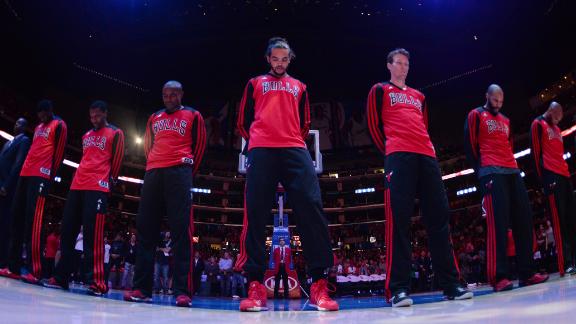 Sacramento Kings center DeMarcus Cousins took to Twitter on Wednesday to walk back what appeared to be a shot at injured Chicago Bulls guard Derrick Rose.
After missing Tuesday's game against the Oklahoma City Thunder because of a sprained right ankle, Cousins was asked if he would play Friday.
"Probably not, think I'll be out rest of the season and I can get a comeback commercial," Cousins was quoted as saying by KXTV-ABC in Sacramento. It was an apparent reference to Rose, who underwent ACL surgery in May 2012 and was featured in a series of shoe commercials about his return to the court, only to sit out the 2012-13 season.
On Wednesday afternoon, Cousins tweeted:
Let me clear this up now! In no way shape or form was I taking a shot at drose! Stop trying to make a story!!!

— demarcus cousins (@boogiecousins) December 4, 2013
Rose returned from the ACL injury this season but tore the meniscus in his other knee against the Portland Trail Blazers on Nov. 22. He was ruled out for the season following surgery Nov. 25.
December, 4, 2013
Dec 4
1:24
PM CT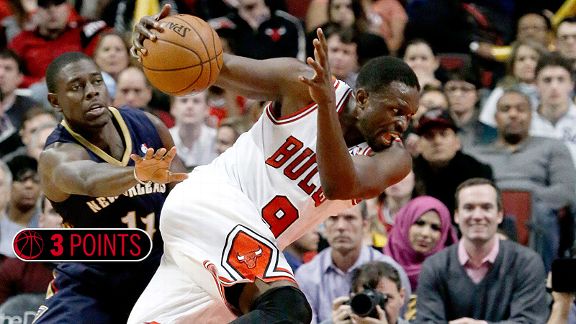 AP Photo/Charles Rex ArbogastThe Bulls and Luol Deng have said they won't talk contract until after the season.
Every week, ESPNChicago.com Bulls writer Nick Friedell is joined by two other ESPN writers to weigh in on three questions that are on the minds of Bulls followers.
1. Do the Bulls really believe they might be able to work out a new deal with Luol Deng this summer?
Nick Friedell:
No. There's been no indication that Deng will take a "hometown discount" and there's been no indication the Bulls will give him more money. Bulls general manager Gar Forman has to choose his words carefully because he can't come out and say, "We're trading Deng." That's not how the game works.
Scoop Jackson:
Only if they really feel Luol wants to stay here, which I'd be surprised if that's true. I think Luol and Thibs connect with each other in a way that no one else on the team does. And I think they know this and, to a degree, cherish it. Sometimes, regardless of how bad a player wants to or how smart it would be for said player to leave, a player knows how hard it is to be in-sync 100 percent with a coach. And if they have a chance to extend that, they will. So if Forman knows that he and the Bulls have that as leverage, then there is a chance that he will be back in a Bulls uni next season.
Doug Padilla:
Clouding that decision is Derrick Rose's status and whether the Bulls believe the former MVP can stay healthy and carry the team. If that answer is no, then don't be surprised to see the Bulls move on when it comes to Deng while also applying the amnesty escape clause to
Carlos Boozer
. That could free up the cash to find a new team leader on the open market and hope Rose can give them something down the road.
2. How would you assess Tony Snell's play?
[+] Enlarge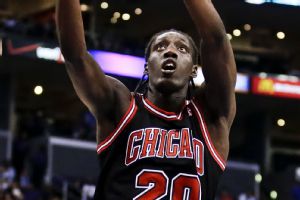 AP Photo/Chris CarlsonWith Jimmy Butler injured, rookie Tony Snell has gotten a chance in the starting lineup.
Nick Friedell:
Solid. The Bulls have been impressed with Snell since they drafted him in the first round in June. They love that he is long, athletic and can shoot, but most of all they love that he works hard in the gym. They believe the rookie is only going to get better.
Scoop Jackson:
Hard to say. Here's a cat who is damn near a pure shooter and only getting 3.5 shots per game. So to me, there's no fair way to assess Snell's play 16 games and four starts in. He's a rookie who has been thrown into the fire because of injuries to two key players. It's baptism by boiling water. I will say that I think we'll see more of the type of game he had against the Cavs than he did the Pelicans as he gets more comfortable with the responsibility thrown on him.
Doug Padilla:
After some limited minutes it remains difficult to assess Snell. His shooting ability, combined with his wingspan, suggests that he can be valuable in a number of ways. Coach Tom Thibodeau is reluctant to give rookies much playing time, but he has had to with Snell because of the injury to
Jimmy Butler
.
3. Will Marquis Teague ever live up to his first-round draft status?
Nick Friedell:
Not in Chicago. Once a player lands in Thibodeau's doghouse it's hard for him to get out. Teague has shown flashes of talent, but not enough to warrant a spot in Thibodeau's rotation. He has regressed this season.
Scoop Jackson:
Nope. I think he's scarred in much the same way Kwame Brown was scarred, the same way
Felipe Lopez
was scarred, the same way
Thomas Robinson
and
Austin Rivers
are scarred. In that he won't be able to overcome the trauma that Teague experienced once he entered the league. Almost as if it both haunts and stunts him. Even though it is on a much lower level than the aforementioned players, I do think that it's going to be tough for Teague to get over and past his first two years
and
this (albeit short-lived) demotion to the D-League.
Doug Padilla:
At this point, it would be hard to find somebody who believes Teague will eventually turn into first-round talent. He's only on the roster now because of
Mike James
' injury. Teague clearly lacks confidence in the rare minutes he does get and his smallish size doesn't translate into a player who Thibodeau would rely on much, especially on defense.