December, 19, 2014
Dec 19
9:46
PM CT
Associated Press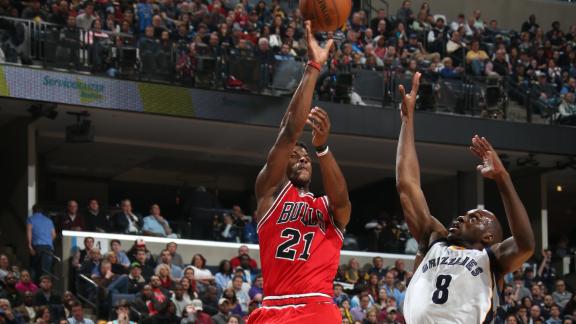 MEMPHIS, Tenn. -- Jimmy Butler scored 31 points, Nikola Mirotic added a season-best 27, and the Chicago Bulls snapped Memphis' six-game winning streak with a 103-97 victory over the Grizzlies on Friday night.
Butler connected on 11 of 21 in the game, while Mirotic connected on all six of his shots beyond the arc, setting a season standard for 3-pointers made. Aaron Brooks scored 17 points and Joakim Noah finished with 10 points and 13 rebounds. Butler also had 10 rebounds as the Bulls outrebounded Memphis 51-45.
Mike Conley led Memphis with 21 points, while Beno Udrih added 15 points before leaving with a hand injury in the fourth quarter. Marc Gasol had 13 points, but was 5 of 15 from the field, part of Memphis shooting 39 percent for the game. Vince Carter scored 10 for Memphis.
December, 19, 2014
Dec 19
6:59
PM CT
MEMPHIS, Tenn. -- Chicago Bulls point guard Derrick Rose (illness) and power forward Taj Gibson (sprained right ankle) sat out Friday night's 103-97 win over the Memphis Grizzlies.
It was the second consecutive game they missed. Rose did not fly with the Bulls to Memphis after their win Thursday night over the New York Knicks.
"If he was feeling better, we were going to fly him down," Thibodeau said before Friday's game. "He's feeling a little better but not good enough to play so [it's better] to keep him at home."
This was the 10th game Rose missed this season. He missed eight earlier in the year because of lingering ankle injuries.
"This time of the year people get sick," Thibodeau said. "You got to deal with it. Usually when it hits one guy, it goes through the team. Jimmy [Butler] was sick the other day; he had to deal with it for a couple days -- whatever. It happens."
Gibson remains day to day after reinjuring the same right ankle that has given him problems over the past year and a half and caused him to miss two weeks earlier this season.
In other injury-related news, rookie Doug McDermott is back traveling with the Bulls and is hopeful he can be back to playing in a few weeks after having arthroscopic right knee surgery to fix a small tear in his meniscus.
December, 18, 2014
Dec 18
11:50
PM CT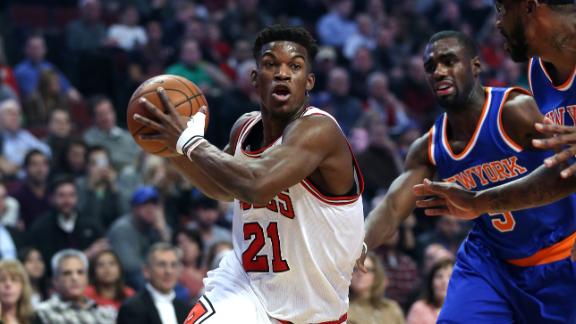 CHICAGO -- After watching
Jimmy Butler
rack up a career-high 35 points to go along with seven assists and five rebounds in a 103-97 win over the
New York Knicks
, Tom Thibodeau summed up the city of Chicago's feelings toward the 25-year-old
Chicago Bulls
ironman.
"Just thank God for Jimmy Butler," the Bulls coach said.
On a night when the Bulls didn't have
Derrick Rose
(illness) or
Taj Gibson
(right ankle), Butler took another step in his development in a season that has already been chock full of them. Butler, as has become the case several times this season without Rose, was the focal point of Thibodeau's sets -- the guy that the rest of his teammates look toward every time down the floor.
[+] Enlarge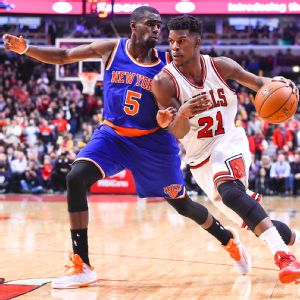 Mike DiNovo/USA TODAY SportsJimmy Butler scored a career-high 35 points on 11-of-21 shooting against the Knicks.
"You can't say enough about him," Thibodeau said. "What he does, he hits big shots, plays defense, gets to the line, makes plays, plays unselfishly, plays hard, doesn't take any possessions off. He's just having a phenomenal year."
Thibodeau and his players are running out of ways to sing Butler's praises. Just when people think Butler has hit a ceiling, he bursts through it and continues climbing. Butler, who bet on himself when he declined a contract extension before the Oct. 31 deadline, has become as consistent a player as the Bulls have. Thibodeau leans on him on both ends of the floor, but the biggest key is that the Bulls are now leaning on him night to night offensively.
Veteran
Pau Gasol
believes Butler is taking another step toward becoming a star.
"He's playing extremely well," Gasol said. "With a lot of confidence, with a lot of aggressiveness. Just asserting himself every single game, both ends of the floor. I look forward to seeing him continue to play at this level. It's not easy to do, but he's doing outstanding and I'm just proud of him."
But why is it happening now? Why is Butler averaging eight more points a game (20.9) this season and dominating the way he has at both ends? What changed for him?
"My confidence, it's up there," he said. "Like I always say, Chris Johnson, who was my trainer over the summer in Houston, he put that in me to know that, be confident in everything you do. Ball-handling, shooting, post, in transition. That guy did a lot for me."
But Butler and Thibodeau believe he can do even more, and after watching his development through the first two months of this season, why should anyone doubt them?
"My thing to him is why put a lid on it?" Thibodeau said. "Where can it go? I don't know. All I know is it keeps going up. That's the way I want him to approach it. He brings great concentration and great effort every day. And when you bring those things and you couple that with his talent, great things are going to happen and he's showing that.
"The best leadership you could have is by doing all the right things. You can't put any more into it than what he's putting into it right now."
December, 18, 2014
Dec 18
10:54
PM CT

By Ian Begley
ESPNChicago.com
Archive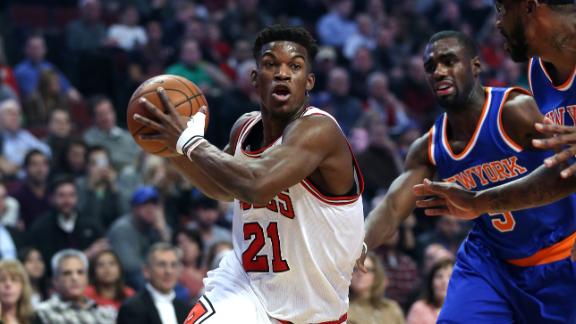 Effort wasn't an issue for the
New York Knicks
on Thursday night. Talent was.
The undermanned Knicks fought for 48 minutes against the
Chicago Bulls
but came up short to lose their third straight game.
New York fell to 5-23, the worst record in franchise history through 28 games.
With
Derrick Rose
out, Chicago was led by
Jimmy Butler
, who had 35 points on 11-for-21 shooting.
Pau Gasol
had 20 points, including a layup in traffic to put Chicago up three with under a minute to play. Gasol's layup basically sealed the win for the Bulls, who have taken seven straight home games against the Knicks.
Short-handed:
With
Carmelo Anthony
,
J.R. Smith
and
Iman Shumpert
out, the Knicks started five players that Derek Fisher probably never thought he'd ask to start a game.
Jose Calderon
and
Tim Hardaway Jr.
started in the backcourt along side
Travis Wear
,
Amar'e Stoudemire
and
Cole Aldrich
in the frontcourt.
The Knicks battled throughout, going on a 7-0 run to cut Chicago's lead to one with under five minutes to play. But they couldn't get over the hump. Anthony sat due to soreness in his right knee.
STAT suits up:
Stoudemire didn't think he was going to play in the morning but told reporters he was going to suit up with Anthony out. Say what you want about Stoudemire, but he has shown strong leadership qualities for a Knicks team in transition this season. Stoudemire had 16 points on 7-for-13 shooting.
Tim Hardaway Jr.
led the Knicks with 23 points.
Question:
Do you think Carmelo Anthony should sit out for an extended period?
December, 18, 2014
Dec 18
9:52
PM CT
Associated Press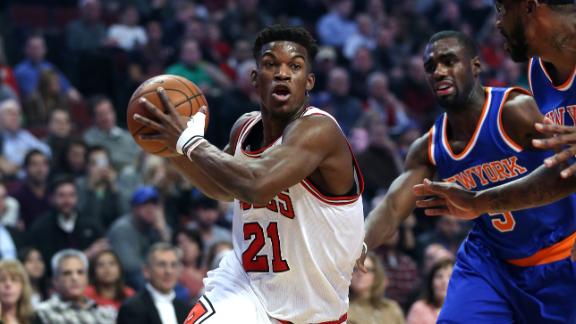 CHICAGO -- Jimmy Butler scored a career-high 35 points and the Chicago Bulls beat the New York Knicks 103-97 Thursday night in a game that was missing All-Stars Derrick Rose and Carmelo Anthony.
Playing without Rose, who sat out with an illness, the Bulls got another strong game from Butler. He was 11 of 21 from the floor with four 3-pointers, five rebounds, seven assists and four steals.
Still, the Bulls had trouble shaking a short-handed New York team that's lost three straight and 13 of 14. The Knicks were led by Tim Hardaway Jr., who had 23 points and five 3-pointers.
Samuel Dalembert made a basket with 2 seconds left in the third quarter to give the Knicks a 74-73 lead heading into the fourth. New York outscored the Bulls 29-21 in the third, holding Chicago to six field goals.
December, 18, 2014
Dec 18
6:07
PM CT
CHICAGO -- Derrick Rose did not play in Thursday night's 103-97 win over the New York Knicks because of an illness.
Bulls coach Tom Thibodeau said Rose, who was not at the United Center, would not travel with the Bulls after the game in advance of Friday's contest against the Memphis Grizzlies. He left open the door that Rose could rejoin the Bulls before Friday's game if he is feeling better.
"We'll see how he feels [Friday]," Thibodeau said.
This was the ninth game Rose has missed this season, after dealing with ankle injuries throughout the first month of the season.
Bulls forward Taj Gibson, who did not participate in Thursday morning's shootaround because of a right ankle injury, was ruled out after warming up. He will travel with the team on the charter flight to Memphis.
Center Joakim Noah played after missing the previous four games because of a sprained right ankle. He had four points and 13 rebounds in 34 minutes.
December, 18, 2014
Dec 18
4:04
PM CT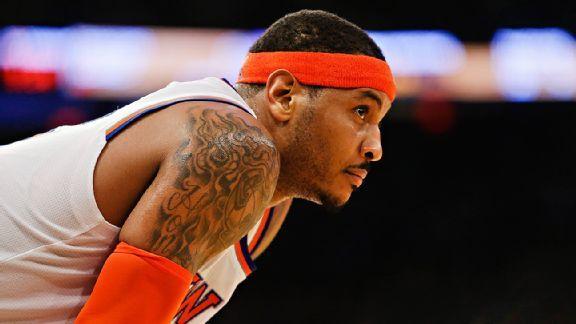 CHICAGO -- New York Knicks star Carmelo Anthony sat out Thursday night's 103-97 loss to the Chicago Bulls because of left knee soreness and admitted before Thursday's shootaround that people close to him are trying to get him to shut things down for a few weeks.
"I have multiple people say kind of just shut it down," Anthony said. "Or just take time off. But at the end of the day, it's hard for me to just do that right now in the midst of what's happening with the team and this season. So just trying to be smart about that."
Anthony said the knee started acting up again in Tuesday night's loss to the Dallas Mavericks, and he acknowledged that he didn't do much during Wednesday's practice. He wanted to warm up tonight before making a final decision.
"It gets frustrating," he said. "Not knowing what's going to happen kind of with your body. So for me it's just taking it as the days come."
Anthony was hopeful that his knee would feel better with a few more days of treatment and said that "some days are better than others" as far as the pain in the knee goes. He has been feeling soreness since the Knicks' second game of the season. The team's medical staff has told him his condition will not improve if he continues to play -- but it also will not worsen.
He isn't sure what it would take to finally make the decision to rest it for a while. He said earlier this month that he would consider surgery as a last option.
December, 18, 2014
Dec 18
12:57
PM CT
CHICAGO --
Carmelo Anthony
(left knee soreness) and
Derrick Rose
(illness) are both questionable for Thursday night's game between the
New York Knicks
and the
Chicago Bulls
. Anthony, who said his knee started acting up again in Tuesday night's loss to the
Dallas Mavericks
, admitted he has people close to him trying to get him to shut things down for a few weeks.
"I have multiple people say kind of just shut it down," Anthony said before Thursday's shootaround. "Or just take time off. But at the end of the day, it's hard for me to just do that right now in the midst of what's happening with the team and this season. So just trying to be smart about that."
Anthony said he didn't do much during Wednesday's practice and wanted to warm up Thursday night before making a final decision.
"It gets frustrating," he said. "Not knowing what's going to happen kind of with your body. So for me it's just taking it as the days come."
Thursday's game marks the first time Anthony has been back at the United Center since spurning the Bulls in free agency over the summer. The All-Star small forward said it wasn't weird for him being back in the building he toured alongside Bulls coach Tom Thibodeau and several other members of the organization.
"Not at all, man," Anthony said. "I came here this summer and visited. I had great meetings, but as far as being weird, it wasn't no connection like that for it to be weird. Not at all."
Anthony also noted that he wasn't concerned about being booed by Bulls fans.
"That's not something I'm thinking about right now or worried about," he said. "I got to worry about how I feel. So if I'm thinking about whether somebody's going to cheer for me or boo me, I can't do that right now. I can't worry about that."
Thibodeau isn't concerned about the reunion or what might have been had Anthony signed with the Bulls in the summer.
"I have great respect for what he's done," Thibodeau said. "He's a great talent, but he's a great person, too. I got to know him a little bit through USA [Basketball], coach [Jim] Boeheim. And the things that Coach [Mike] Krzyzewski and Coach Boeheim said about him told me that he would be a great fit for any team. When you look at his career, it speaks for itself. The numbers are incredible. [He] probably doesn't get the credit for being the passer that he is, playmaker. But that's what the people with USA Basketball said that's the role he played for that team. So [I have] great respect for him. Every player has to do what they feel is best for himself and his family, and I think that's what he did. I think he was totally honest with everybody."
If Anthony doesn't play, he will join Knicks big man
Amar'e Stoudemire
on the bench. The veteran power forward said he was sitting out Thursday's game to rest.
"A lot of games have been crunched into the early part of the season," Stoudemire said. "I've been called on to play a lot more than I was expected to, so it's a smart decision to rest and get ready for another brutal month."
Knicks swingman
J.R. Smith
did not travel with the team to Chicago as he continues getting treatment for a plantar fascia injury.
As for Rose, Thibodeau said he was not feeling well and did not go through shootaround. Rose has already missed eight games this season because of injury. Bulls forward
Taj Gibson
also did not participate in shootaround. He is questionable because of a right ankle injury. Bulls center
Joakim Noah
did go through shootaround and is expected to play after missing the last four games because of lingering ankle and knee problems.
December, 18, 2014
Dec 18
11:23
AM CT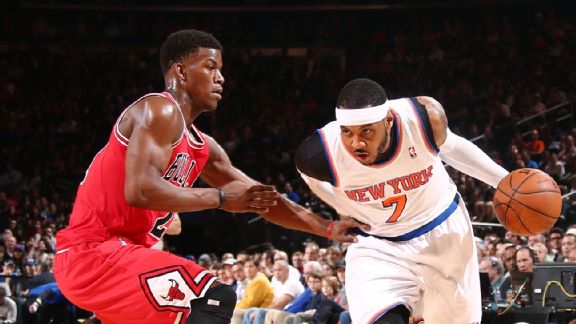 Nathaniel S. Butler/NBAE via Getty ImagesCarmelo Anthony is scoring 23.4 points per game, but the Knicks are just 5-22 this season.
CHICAGO -- Few who were deeply involved in the
Chicago Bulls
' pursuit of
Carmelo Anthony
last summer want to talk about it. Anthony told reporters in New York on Wednesday that he didn't want to second-guess himself regarding his decision to stay with the Knicks.
Bulls coach Tom Thibodeau and center
Joakim Noah
, both of whom tried hard to lure the All-Star small forward to Chicago, believe that their team is in good shape despite the fact that they didn't land Anthony. But as the Knicks star heads back to Chicago for the first time since spurning the Bulls in free agency, it's worth taking a look back at what might have been.
It appears many fans feel the Bulls are better off without Anthony and should be happy with
Pau Gasol
and
Nikola Mirotic
and the depth and talent they provide. And that group is growing steadily throughout the season as Anthony and the Knicks struggle. The Knicks are 5-22 heading into Thursday's affair, while the Bulls are 15-9 and getting closer to hitting their stride. That's one of the reasons why the Bulls organization isn't concerned about Anthony's return.
Veteran
Mike Dunleavy
, the man who would likely have been traded if Anthony had signed with the Bulls last summer, put a funny spin on things after Thursday's practice when asked if he ever pondered what his life would be like if Anthony had come to Chicago.
"Not really," Dunleavy said. "I'd be playing basketball -- somewhere. Obviously, I'm really happy to be here, we got a pretty good team. Sometimes it's nice to have a Bentley, but a Honda Accord will get you there as well."
But to expound on Dunleavy's analogy, can a team full of dependable Accords, led by a Bentley which has been in for several repairs over the past few years (
Derrick Rose
), take this team to a championship? That remains to be seen. The Bulls have talent and skill, and the core of Rose, Noah,
Taj Gibson
and
Jimmy Butler
have been together for more than four years now. But as Anthony returns to Chicago, it's worth remembering why the Bulls went so hard after him in the first place: They know superstar players win in the playoffs.
They knew that Anthony, despite some of his flaws, would be a great fit on this team because of his ability to score and create for himself offensively. After meeting with him on the first day of free agency, they came away even more convinced. For about a day and a half in July, there was a genuine feeling within the Bulls' organization that Anthony was coming to Chicago, a feeling backed up by
Anthony's comments
in an MSG Network documentary.
Gasol has had a phenomenal start to the season and could be headed to another All-Star Game in February, but how much will the Bulls be able to lean on him in the playoffs to create if Rose still hasn't found the consistency in his game or is getting harassed by two or three defenders at a time?
The Bulls have talented players -- but how many true superstars do they have on this team? Rose is a former MVP, but he has struggled to find his game at times after missing a majority of the past two years because of two serious knee injuries. Noah is the reigning Defensive Player of the Year, but has not looked the same this year after offseason knee surgery. Gasol seems revitalized to be playing in Chicago, but at 34, does he have enough gas in the tank to continue playing 35-plus minutes a night until mid-June?
The biggest wild card in this group, and in this particular discussion, is Butler. After turning down the Bulls' contract extension before the season, he has exploded this season to the tune of 20.9 points a game, almost eight more than he had per game a season ago. He looks more confident on the floor and is driving to the rim all the time. If Anthony had taken less to sign with the Bulls, Butler likely wouldn't have been able to make the huge ascension this season toward stardom. But as the season wears on, and Butler is asked to continually guard the opposition's best perimeter player, will Thibodeau be able to bank on getting 20-plus points from him every night?
From a financial perspective, the path toward this reworked Bulls squad is a reminder of just how much the Bulls wanted Anthony. The Knicks made it clear they did not want to work out a sign-and-trade for the All-Star. If he were going to leave, he was going to have to take less money, in this case being the Bulls' offer of about $17 million a year to start, to do it. The same goes for the Lakers and Gasol. They made it clear they weren't interested in a sign-and-trade for the big Spaniard that would have included
Carlos Boozer
-- a player they ended up getting anyway after the Bulls exercised their amnesty rights on the final year of his deal.
As Thibodeau and Noah noted on Wednesday, the Bulls are happy with the way things ultimately worked out. The team that Bulls GM Gar Forman and executive VP John Paxson built has a legitimate chance to win a championship this season. But if they can't win the organization's seventh title later this summer, they'll look back and wonder what might have been if Anthony had signed in Chicago. Maybe that's why, still many months later, several Bulls officials still use the same phrase in analyzing Anthony's decision:
"He made a mistake."
December, 17, 2014
Dec 17
2:27
PM CT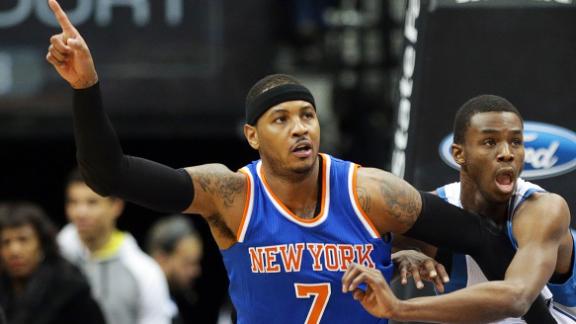 GREENBURGH, N.Y. -- As he heads to Chicago for the first time since picking the New York Knicks over the Bulls in free agency in July, Carmelo Anthony won't allow himself to think what if.
What if he had signed with the Bulls? How good would Chicago be with Anthony and Derrick Rose? How happy would Anthony be winning games -- and presumably winning a lot -- alongside coach Tom Thibodeau?
Anthony won't allow himself to entertain the notion of what could have been.
"If I start doing that and saying what if to myself and second-guessing and questioning myself, it won't be right," Anthony said after practice Wednesday as the Knicks prepare for Thursday night's game at Chicago. "For me, mentally it won't be right, so I will not allow myself to sway toward asking myself what if with this situation or that situation."
Anthony visited Chicago in July and came away thinking that he could have been a Bull. In an MSG Network documentary on his free agency, he said at one point that he thought he would sign with the Bulls and that it was a "perfect fit for me in Chicago."
He said he was thoroughly impressed with the organization and Thibodeau. But after also visiting the Los Angeles Lakers, Houston Rockets and Dallas Mavericks, Anthony opted to re-sign with the Knicks for $124 million over five years.