April, 23, 2014
Apr 23
4:14
PM CT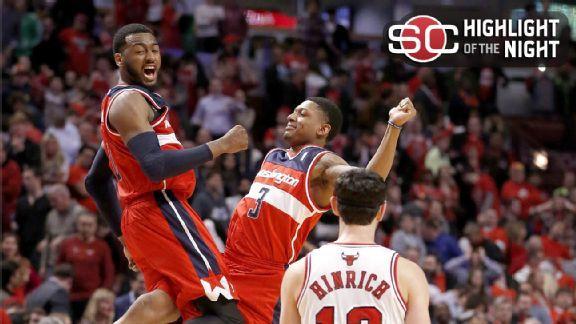 DEERFIELD, Ill. -- Chicago Bulls power forward Taj Gibson still can't believe he didn't get the benefit of two calls late in regulation of Tuesday night's Game 2 loss to the Washington Wizards. With 10.5 seconds remaining, Gibson dove on the floor for a loose ball and appeared to call time out but was not given the call by the officials.
"We looked at the film, we looked at the jump ball, that was crazy," Gibson said. "But the loose ball I called [time out] three times. I had it. Nobody else was around me. D.J. [Augustin] called [time out] a couple times. We had a lot of guys in [Bennie Adams'] face. He just didn't give us a time out ... he was looking right at me [as I was] saying it and he just called a jump ball."
Gibson said the Bulls did not receive an explanation.
"He didn't give us anything," Gibson said. "He didn't say anything."
The jump ball that came immediately after the time out might have irked the Bulls even more. Gibson thought he was held by Wizards' big man Nene.
"I felt like there was a lot of activity," Gibson said. "He just pushed me out of the play. I didn't know you could do that. But you learn something new every day. Can you do that? He took my whole arm and just threw me. I didn't know that was [legal]. You look at the film, he hits [referee] Joey [Crawford] in the face while he does it. So I don't know what to say."
Game 3 is Friday night in Washington, D.C. The Wizards lead the series 2-0.
April, 23, 2014
Apr 23
12:33
PM CT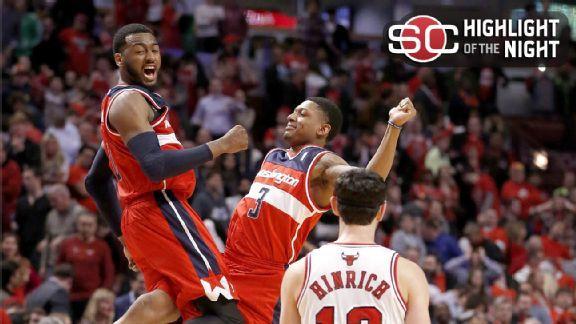 CHICAGO -- Not exactly jolly on his best days, Chicago Bulls coach Tom Thibodeau isn't one for being second-guessed after a soul-sucking playoff loss.
Preseason or postseason, his decisions might as well be carved in stone tablets, carried down from his Berto Center office for future generations to behold.
"Thou shalt not speaketh ill of my rotations. More than enough to win with-eth."
So, after a 101-99 loss to Washington that put Chicago in a 2-0 playoff series deficit, a reporter asked Thibodeau a perfectly logical question about fiddling with his rock-solid rotations after two woeful ends to two miserable losses. Thibodeau responded icily, "We look at everything."
Seconds of silence followed before he muttered, quite loudly, "Unreal."
Unreal is the wrong word. What looked like an unreal season could be coming to a very real end.
The worst scoring team in the NBA can't find a way to score late in the playoffs? You don't say!
The problem is the Bulls aren't defending that great either.
The Bulls led by 10 with seven minutes left Tuesday. In Sunday's 102-93 loss, they led by double digits midway through the third period. So they are getting better at squandering leads, I suppose.
This Bulls team is no mystery. Wins and losses are decided almost solely on effort, and that can ebb and flow given the situation. Don't tell Thibodeau, but these guys are human. But you can't always hustle the ball in the basket.
April, 23, 2014
Apr 23
9:33
AM CT
ESPN.com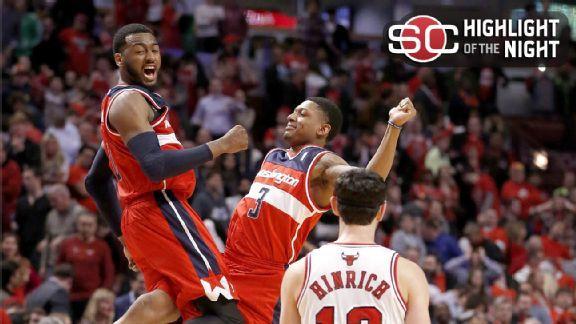 The Bulls, whom many people expected to (at least) advance past the first round, suddenly find themselves in a 2-0 hole to the Wizards. Chicago, after dropping its two home games, now heads to Washington with a tall task. Can the Bulls recover? Let's play Fact or Fiction!
---
1. Fact or Fiction: The Bulls are done.
Dan Feldman, Piston Powered: Fiction. Five words: Randy Wittman versus Tom Thibodeau. Wittman has done well so far, but the deeper a playoff series goes, the more coaching matters, and Thibodeau is still the better coach. That gives the Bulls at least a fighting chance to adjust and overcome their 2-0 hole.
Nick Friedell, ESPN Chicago: Fiction. The Bulls have too much heart and toughness to just roll over now. Thibodeau and Joakim Noah won't let them. But -- if they can't find a way to score late in games, all the heart in the world won't matter. The Bulls are being reminded of a lesson they've learned before: Talent usually wins out in the postseason.
Tom Haberstroh, ESPN Insider: Fiction. These two games have been way too close to call it for the Wizards just yet. The Bulls have blown two leads in the final five minutes of regulation. If Noah is healthy, I'm not declaring him or his team out of it. They're not done, but their backs are against the wall.
April, 23, 2014
Apr 23
2:22
AM CT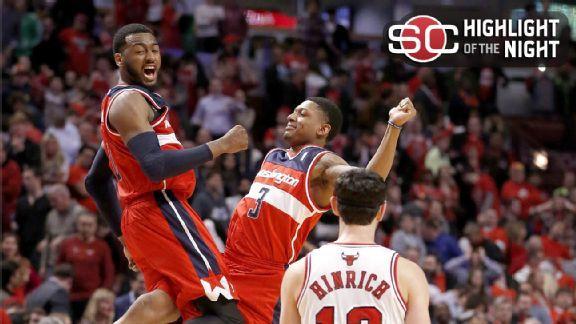 CHICAGO -- It's the 12 minutes that ought to drive Bulls management to extreme action in an offseason coming sooner than any of them expected.
Twelve minutes, four baskets. Twelve minutes of missed shots, turnovers, 24-second violations, confusion, ineptitude and, ultimately, a missed free throw.
Twelve minutes, the equivalent of a full quarter of basketball, and all the Bulls got, playing at home, was a hard drive to the basket by Joakim Noah, a Kirk Hinrich jumper, a Taj Gibson dunk that rattled seemingly every part of the rim and a Noah layup.
Eight minutes without a single basket for the Chicago Bulls, 12 minutes with just four. It's the blueprint for how to blow a 10-point lead midway through the fourth quarter of Game 2, a mere 48 hours after blowing a 13-point lead late in the third quarter of Game 1.
If romancing Carmelo Anthony isn't at the top of the Bulls priority list, one would ask, why the hell not? Free agents, trades, draft picks, players stashed in Europe -- every option ought to be explored to death to avoid another season of this. Two straight games playing at home the Bulls couldn't get a basket when they needed one, and now they're halfway to summer.
April, 23, 2014
Apr 23
1:39
AM CT
CHICAGO --
D.J. Augustin
was rolling.
With 8:08 left in regulation Tuesday's Game 2, the
Chicago Bulls
' diminutive point guard knocked down a 21-foot jump shot that gave him 25 points on the night. The jumper gave the Bulls an eight-point lead and they appeared to be on their way to evening up their Eastern Conference quarterfinals series with the
Washington Wizards
.
[+] Enlarge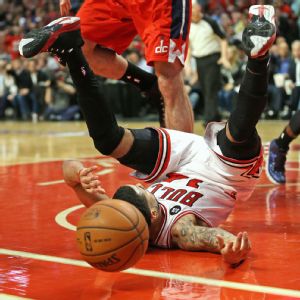 Jonathan Daniel/Getty ImagesD.J. Augustin had a rough finish to Game 2 after the Wizards made a defensive switch and held him scoreless down the stretch.
But that's when things went downhill for Augustin. It's also when things also went south for the Bulls. While there were plenty of reasons the Bulls couldn't close yet again late in a game, one of the single biggest reasons is that Wizards coach Randy Wittman switched veteran
Trevor Ariza
to defend Augustin.
Augustin didn't hit another shot the rest of the game -- a total of 13 minutes, 8 seconds that crushed the Bulls' offense.
"It was tough to score on him because he's 6-8," said Augustin, who stands just 6-foot. "He's long so it was tough to score on him, even to get open. I think it was a good strategy by them and we tried to counter it by going to other people, so we just got to be ready next game."
The reality that the Bulls' offense was shut down -- in large part -- due to the fact a long and athletic swingman switched onto a smaller point guard is going to give coach Tom Thibodeau and his staff nightmares as they prepare for Game 3. It's the same strategy that the
Miami Heat
have used in recent years to derail Thibodeau's offense. In the 2011 Eastern Conference finals, it was Miami's
LeBron James
who switched on to
Derrick Rose
and shut him down late in games. In the 2013 Eastern Conference semifinals, it was James who switched on to
Nate Robinson
and did the same thing.
Now it's Ariza who has provided the perfect antidote to defending a Bulls' offense that was rolling along behind Augustin. As has been the case in years past, once Augustin or Robinson or Rose stop scoring, the Bulls' offense stops working. The Bulls made only four field goals in the final 12 minutes, 16 seconds.
April, 23, 2014
Apr 23
1:24
AM CT

By Doug Padilla
ESPNChicago.com
Archive
CHICAGO – With the season hanging in the balance Tuesday at United Center,
Chicago Bulls
point guard
Kirk Hinrich
first couldn't muster any heroics, and then he couldn't handle the basics.
Late in regulation, Hinrich had two looks at long-range jumpers that wouldn't fall for a Bulls team struggling to score in the final quarter. A 10-point lead with seven minutes remaining melted away, sending the game into overtime.
[+] Enlarge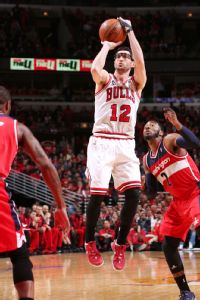 Gary Dineen/NBAE via Getty ImagesWith the game on the line, Kirk Hinrich went to the free throw line with a chance to tie -- and left empty-handed.
In the extra period, Hinrich found himself in the spotlight again. With the Bulls trailing by two, Hinrich missed a layup in traffic, but a foul sent him to the free throw line with a chance to extend the game into a second overtime.
But Hinrich missed the first free throw, intentionally missed the second, and the
Washington Wizards
grabbed the rebound along with the commanding 2-0 series lead after a 101-99 victory.
"Yeah, I mean I was upset. I felt I should have made the layup to be honest," Hinrich said. "But I just wasn't able to do it. I thought maybe I shot it a little quick, thinking about it now in my mind. But you have to move on and just stay confident."
Hinrich isn't the Bulls' No. 1 offensive option by any means, but without a primary scorer, his selections are limited while running the offense.
D.J. Augustin
led the Bulls with 25 points, but he had his own issues down the stretch in regulation, missing three shots in the final 3 minutes, 16 seconds.
Asked if he was satisfied with the long-range jumpers late in regulation, Hinrich shrugged.
"Well, I mean I got a good look, but I wasn't satisfied," he said. "I need to knock them down. Late in games, you have to be able to knock shots down. I missed a couple of good looks late."
It's the missed free throw that will be remembered most. The Bulls appeared destined to head into a second overtime but had the rug pulled out from underneath them.
And just as suddenly, they find themselves looking at the prospect of a quick elimination, instead of establishing themselves in the series.
A late jump shot or a pair of clutch free throws could have helped to get the Bulls into the thick of things, but Hinrich's teammates weren't about to turn on their veteran leader.
"I think it's all part of the process," Bulls center
Joakim Noah
said. "I love Kirk to death. He's one of the best teammates I ever had, college, pros, whatever. That's our captain, I love him to death. Things like that happen in this game. We just got to move on from it and I got his back 150 percent."
Taj Gibson
, who supplied energy during his 36 minutes off the bench, not to mention 22 points and 10 rebounds, echoed Noah's sentiment.
"Yeah, I was surprised. Things like that are going to happen," Gibson said of Hinrich's missed first free throw. "He's a tremendous player. He's been great for us all year long, been in that situation many times. If that happened in that time again, I would still go with Kirk. He's one of the captains on this team, one of the veterans on this team. I was just a little shocked when he missed, but it happens like that, he's human."
Now it will take something close to superhuman for the Bulls to get back in the series that shifts to Washington for Games 3 and 4.
"Both games we've given up [with] fourth-quarter leads, so we have to do a better job," Hinrich said. "Give them credit, though. They're playing well, and they've been resilient these two games. We have to bounce back strong."
April, 22, 2014
Apr 22
11:46
PM CT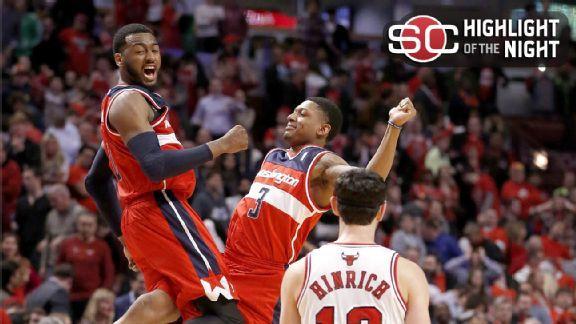 CHICAGO -- Let's take a quick look at how the
Washington Wizards
earned a 101-99 overtime win over the
Chicago Bulls
in Game 2 of the Eastern Conference quarterfinals. The Wizards lead the series 2-0.
How it happened:
Bradley Beal
had a game-high 26 points to lead the Wizards back from a 10-point fourth-quarter deficit.
Nene Hilario
had another solid outing for the Wizards, chipping in with 17 points and seven rebounds.
D.J. Augustin
had a nice bounce-back game for the Bulls with a team-high 25 points and seven assists.
Taj Gibson
added 22 points and 10 rebounds, but the Bulls will kick themselves for not closing this one out.
Kirk Hinrich
had a chance to tie the game with 2 seconds left but missed two free throws (the second one on purpose).
What it means:
The Bulls melted down in this one. They had plenty of chances to close the game down but they couldn't make shots. It has been their Achilles' heel all season and it burned them in Game 1 as well. They didn't have an answer when they needed to make a big shot. The Bulls played better defense down the stretch in this game, but head coach Tom Thibodeau is going to have a sleepless nights after watching all the shots his team missed late.
Jimmy Butler
,
Carlos Boozer
and Hinrich combined to go just 9-for-28 from the field. The Bulls are learning the hard way that they can't win playoff games by simply trying harder than other teams -- everybody tries hard in the playoffs. At some point, Thibodeau has to be able to count on somebody to take over late. He doesn't have that luxury right now.
Hits:
The Bulls outscored the Wizards 44-22 in the paint.
Misses:
The Wizards were just 16-for-28 from the free throw line -- and still won.
Stat of the night:
The Bulls made just four field goals in the final 12:16.
What's next:
Game 3 is Friday night in Washington.
April, 22, 2014
Apr 22
11:44
PM CT
Associated Press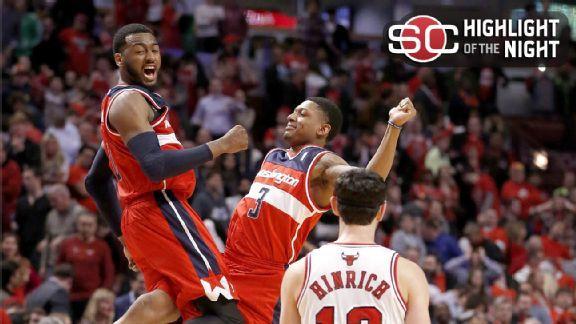 CHICAGO -- Bradley Beal came on strong late in regulation to finish with 26 points, Nene scored six of his 17 in overtime and the Washington Wizards beat the Chicago Bulls 101-99 Tuesday to take a 2-0 lead in their first-round series.
Washington rallied from 10 down in the fourth quarter after blowing a 17-point first-quarter lead.
Nene scored the first six points in overtime after being held in check by Defensive Player of the Year Joakim Noah in regulation, and the Wizards hung on after Kirk Hinrich failed to convert at the foul line in the closing seconds.
April, 22, 2014
Apr 22
11:51
AM CT
CHICAGO --
D.J. Augustin
knows how important Game 2 against the
Washington Wizards
is for the
Chicago Bulls
on Tuesday night. After falling into a 1-0 hole, Augustin is hopeful that his team will be able to turn things around.
[+] Enlarge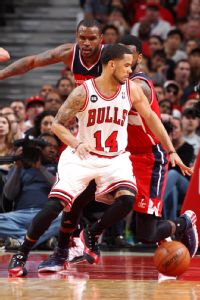 Gary Dineen/NBAE via Getty ImagesD.J. Augustin struggled to find his shooting stroke from the floor in Game 1 against the Wizards.
"Definitely a must-win," he said after Tuesday's shootaround. "We're not looking forward to D.C. yet so we have to get tonight. We're real hungry. We can't go into D.C. without a win tonight so it's very important for us."
Every game is important to Bulls coach Tom Thibodeau, but he's not willing to call Game 2 a "must-win."
"It's the next game," Thibodeau said. "You see all different situations. Just focus in on this game, don't get wrapped in the 'what ifs,' just understand what goes into winning. Go out there and do your job."
Augustin struggled with his shot in Game 1, connecting on just 3-of-15 attempts from the floor, but he hit all 10 of his free throws, finishing with 16 points.
Noah backs Boozer:
Carlos Boozer
has been vocal about his desire to play more in the fourth quarter of games, but Bulls center
Joakim Noah
appreciates the fact that he hasn't let that desire hurt his play when he has been on the floor.
"'Los' is huge for us," Noah said. "We need everybody. This isn't one of those teams where one or two guys can play well. Everybody has to be on the same page, play well. You got to give Carlos a lot of credit. With everything that's gone on with him, he's dealt with a lot of adversity this year.
"He's been pretty vocal about his situation, but he's been as selfless as they come. Just being ready for these moments -- he could have easily been one of those guys who said 'You know what? I'm not happy.' But he didn't do that so you got to give 'Los' a lot of credit."
Thibs happy for Pop:
Thibodeau has repeatedly praised the
San Antonio Spurs
as being the "gold standard" in the NBA. His respect for Spurs coach Gregg Popovich is easy to see, as well. That's one of the reasons why Thibodeau seemed genuinely happy when told Popovich won the 2013-14 NBA Coach of the Year award Tuesday.
"I'm happy for him," Thibodeau said. "You know how I feel about him. I think he's an all-time great. He's won at such a high level for so long, and he's done it in a first-class manner. He's a great example for all coaches. So I'm very happy for him."
April, 22, 2014
Apr 22
8:00
AM CT
LINCOLNSHIRE, Ill. -- Yannick Noah did what a lot of dads do while trying to make their basketball-loving sons happy during their formative years -- he bought plenty of basketball cards and memorabilia. Yannick recalled this memory Monday night after watching his son,
Joakim Noah
, receive the 2013-2014 NBA Defensive Player of the Year award.
"I used to go out and try to get some cards signed -- it cost me a fortune -- of these guys," Yannick said. "[Joakim] used to collect these things. I had to get him autographs and cards, he was collecting these cards. What do you do with these cards? All these cards. He knew all the players of all the teams. Sixth man of every team, seventh man. He knew the game and loved the game. The shirts and the magazines and the tapes back in the day, the VHS tapes."
[+] Enlarge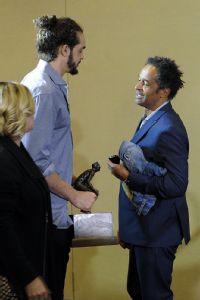 AP Photo/Matt Marton"As a father, I'm happy," proud papa Yannick Noah said of son Joakim winning the NBA Defensive Player of the Year award. "I'm happy because he's living his dream."
Yannick, a former French Open tennis champion and European pop star, was having a hard time coming to grips with the fact that his son, the
Chicago Bulls
' star center, is now one of the great players in the game of basketball.
"So he had all this and when I hear names mentioned, I'm actually shocked," Yannick continued. "Because these other guys, I would say maybe a little younger, but my generation, I used to love watching on TV and telling him about. It's amazing. As a father, I'm happy. I'm happy because he's living his dream. He dreamt about this. I don't think he believed it would happen ... but I know he was pushing. When I hear his name mentioned in the same sentence with all these players I just think this is a joke somehow."
It's no joke. Joakim noted during his acceptance speech that he got his work ethic from his father. The two thrive off emotion in their play, and they speak with passion on various topics as well. For Yannick, the entire experience of Monday's award ceremony was a joyous one.
"I don't think you get tired of it," Yannick said of being a proud parent. "The thing is, when things like this happen I just don't believe it's true. It was a long road. It's been a lot of years, a lot of work, a lot of pain, a lot of practice, a lot of sweat, a lot of worries."
Monday was particularly emotional after the rough week his son has had to endure. Joakim's mentor, Tyrone Green, passed away last week, and he dedicated his award to him.
"Very tough year, very tough week," Yannick continued. "And [Joakim's] still standing. And I'm really proud of him because he's still standing."
What's next:
The Bulls have a shootaround Tuesday morning in advance of Game 2 of the Eastern Conference quarterfinals against the
Washington Wizards
.
The last word:
Tom Thibodeau on Noah: "When I look at him now, we've had some interesting conversations over time, but at the end of the day I know how badly he wants to win. He's done a good job and he'll continue to do a good job for us."
April, 21, 2014
Apr 21
7:30
PM CT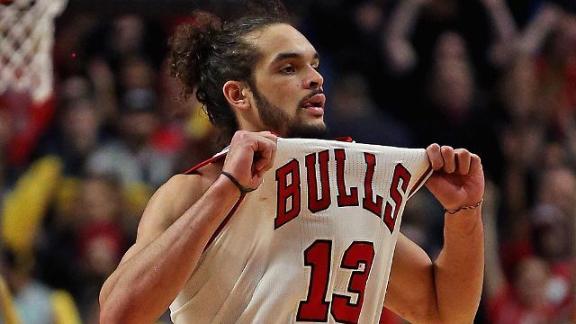 LINCOLNSHIRE, Ill. -- Yannick Noah sat proudly in the front row as his son,
Joakim
, accepted the 2013-2014 NBA Defensive Player of the Year award Monday night. The elder Noah, and other assorted family and friends, beamed with pride as the emotional
Chicago Bulls
center received one of the biggest awards in basketball.
They weren't the only ones smiling big.
Another man sat proudly on the stage, immediately to Noah's right, and watched the unfolding proceedings with pride of his own. That would be Tom Thibodeau -- the usually unflappable Bulls coach. He wore the look of a proud papa as Noah earned some hard-earned recognition for his rugged play.
"Thibs," Joakim Noah said, in the middle of his acceptance speech, "we've definitely had our hard times, our ups and downs, but without your system this wouldn't be possible."
Having been in the league for more than two decades and understanding how much goes into winning basketball games, Thibodeau knows full well that he wouldn't be considered one of the best coaches in the league without Noah's help and support. The pair has formed an unlikely duo that has set the course for the Bulls' franchise moving forward. While the pair does not appear to have much in common on the surface, the two share a burning desire to win. That desire makes them both similar -- and unique.
"I think he understands where I'm coming from. I understand where he's coming from," Thibodeau said after the ceremony. "He's a character, but he's enjoyable to coach because you know how important winning is to him. And you know how important work is to him. And I think he touched on it with his dad, he watched his father. I think a big part of his athleticism is the fact he did jump rope, and he did run, and his stamina, and all those things. So when we got him, that part was in him."
[+] Enlarge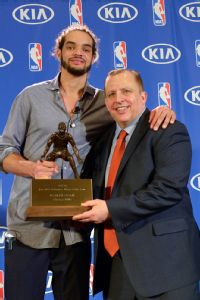 AP Photo/Matt MartonCenter Joakim Noah and coach Tom Thibodeau each said leaning on the other was crucial to the Bulls' success this season.
It was inside of him -- but Thibodeau is the man who brought it all out of him. Thibodeau is the one who pushed Noah to be even better each and every day. It hasn't been an easy process -- both men admit to having some heated conversations, but in the end, the respect they have for one another topples any feelings of frustration that might linger at various points in a season.
"Defense helps win and winning is definitely the most important thing," Joakim said. "I remember one day we were working out at the Berto Center and Thibs was putting me through a real grueling workout and I told him, 'You know, Thibs? If we weren't winning games I would really, really hate you.' And he said, 'Trust me, Jo. I feel the same way about you.'"
Deep down, Thibodeau knows the Bulls wouldn't have turned around their season had it not been for Noah's leadership on and off the floor after
Derrick Rose
suffered another knee injury and
Luol Deng
was traded to Cleveland. That's why the pair sat down and talked after the Deng deal about how they wanted to finish the season.
"We had some conversations about where we were and what we were expecting," Thibodeau said. "And the thing that I admire about Jo is he's not the type of guy that will allow things to fall apart. And so his will and determination helped us overcome the circumstances that we were in. I had the belief in him that he could do more. He had the belief in himself that he could do more. And he knew if we were going to get it done that that was what was going to have to happen."
It's not an accident that Noah has enjoyed the best season of his professional basketball career after those conversations with Thibodeau. Since the first of the year, he has been as focused and locked in as ever.
"I think he grew as did
Taj [Gibson]
," Thibodeau said. "And of course the acquisition of
D.J. [Augustin]
was huge for us. But I think the thing about Jo is when you look back and you see how much he's grown throughout his career. Each and every year he's gotten better. And I know his first few years in the league, I was on the opposing bench so I had an opportunity to get that perspective. But once I got around him and saw the way he worked and his determination I knew he would continue to get better. He's put a tremendous amount of work into his offense, into becoming a complete player, and I think that's what we're seeing now."
But Thibodeau knows there is more. Like Noah, he knows that he still has much more to give. The coach and player know they have championships to win together. Each man has earned individual accolades in recent years, but both men want the bigger prize. Thibodeau knows it's his job to continue pushing Noah to another level. Noah knows it's his job to allow the veteran coach to lead him there.
"Sometimes when you're watching his improvement it seems small and incremental," Thibodeau said. "But then all of a sudden you look back -- I know when I look back over the four years and I see where he is today, it's a quantum leap. He's one of the best players in the league now, he's a two-time All-Star, and now he's a Defensive Player of the Year as well -- and I think he'll still get better. So we're pleased for him, but probably the best thing about it I think -- he's being recognized for his contributions to winning."