December, 24, 2014
Dec 24
1:17
AM CT
[+] Enlarge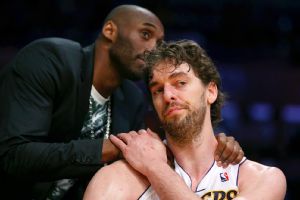 Jeff Gross/Getty ImagesPau Gasol is looking forward to facing former teammate Kobe Bryant on Christmas Day.
WASHINGTON -- Former Los Angeles Laker Pau Gasol said it will be "emotional" and "weird" to face his old teammates on Christmas night when his new team, the Chicago Bulls, takes on his former one.
"Emotional, weird, hard to focus," Gasol said of what he expects for his range of emotions Thursday night. "But at the same time, I kind of look forward to it in a way. To see some of the people that I've been through a lot with."
Gasol, who scored 18 points and grabbed nine rebounds in Tuesday's 99-91 win over the Washington Wizards, signed with the Bulls as a free agent over the summer after spending 6½ years with the Lakers. He knows it's "a little more special" to play on Christmas and is looking forward to facing former teammate Kobe Bryant, who sat out the Lakers' win over the Golden State Warriors on Tuesday to rest.
"He's playing really well," Gasol said of Bryant. "I think it's impressing a lot of people about what he's able to do at this point in his career. And all his accomplishments and milestones that he's achieving are incredible. It must be hard for him to lose most of the games, but they have a pretty new team with a lot of new faces and a new coach, a lot to adjust to. And the Western Conference, you get no breaks, it's no joke, and everybody's going to challenge you and everybody wants to beat the Lakers, too, so it's kind of hard but I think they'll improve."
There will be another reunion Thursday, with Lakers power forward Carlos Boozer
December, 23, 2014
Dec 23
11:02
PM CT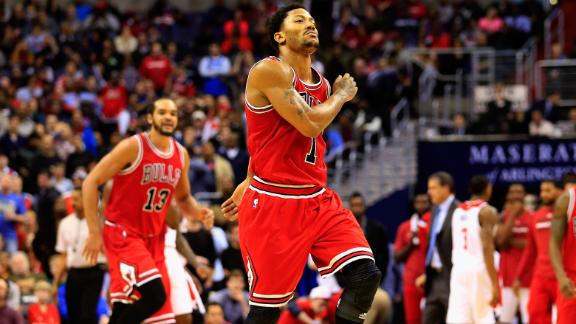 WASHINGTON -- This is the way things are supposed to work for the
Chicago Bulls
.
This is the way Gar Forman,
John Paxson
and Tom Thibodeau drew it up over the summer. Tuesday's 99-91 win over the
Washington Wizards
unfolded exactly how the Bulls' triumvirate envisioned. A deep Bulls' roster would build a lead heading into the fourth quarter against a quality opponent, and then
Derrick Rose
would shut things down late in the game.
Those visions have become realities for the Bulls over the past week, as they've put together one of the most impressive stretches in the past three years. Four wins in a row, the past three of which came against Memphis, Toronto and Washington -- teams that have a combined record of 62-22.
"It's real," Bulls center
Joakim Noah
said of the recent stretch. "Chicago Bulls are getting healthy. It's very real. We know that we're still not where we want to be. And we know the sky's the limit for our team. Our confidence is just getting better, and we're going to keep working, and we feel like we can even get better defensively. But it's all coming, and it's going to be a special year."
The frightening part for the rest of the league is, if the Bulls can somehow stay healthy and continue playing together, they are going to be even better a few months from now than they are right now. That's part of the reason the confidence Noah exudes right now is off the charts. The other reason is, for the second straight game, Rose put the Bulls on his back in the fourth quarter.
After scoring 15 of his 29 points in the fourth Monday night against the Raptors, Rose scored 10 of his 25 in the fourth Tuesday night against the Wizards. He's not all the way back to where he was before he tore the ACL in his left knee in April 2012, but this recent stretch is as close as he has been.
"He's stringing the games together, and so that's important," Thibodeau said. "He had the two games when he was sick, and then he's picked up right where he left off. The good thing was him working through the back-to-backs. It's been a step-by-step process. This is really the first time he's played really well in a back-to-back. He's been playing and playing pretty good minutes in the back-to-backs, and he's felt good, but you could tell his confidence is growing. He's feeling a lot better, and that's great."
What's also great for Thibodeau is the depth he has to work with on a nightly basis. Noah called this Bulls squad the most talented offensive team he's been on since being in Chicago. That point is underscored by the fact that
Jimmy Butler
, who had a rare off-night on Tuesday and went just 4-for-13 from the field, still has developed to the point that he's opened up space on the floor for Rose.
"Even with me with a live dribble, I know it's dangerous," Rose said. "So to see the attention going somewhere else or going so many places now, it's kind of new for me. A lot of people want me to score 30 points in the first half, [but] I don't have to. I can pick and choose when I want to score or try to change the game. And that's all I'm trying to do with this team."
The former MVP says teams still aren't doubling him, in part because of all the other options the Bulls have on the floor. Between Butler's ability to get to the rim,
Pau Gasol
's ability to score down on the blocks,
Aaron Brooks
' ability to penetrate and create his own shot and
Nikola Mirotic
's long-range jumper, the Bulls are dramatically different than the team that lost to the Wizards in the Eastern Conference quarterfinals last season. Unlike in years past, Thibodeau's team has several weapons to go to on the floor when Rose isn't in rhythm, a credit to Forman and Paxson for creating a deeper roster in the offseason.
As usual with the Bulls, though, everything revolves around Rose. He's proving yet again that even after being out of the game for most of the past two years, he still has the rare ability to turn a game around -- or close one out -- by himself. He never doubted he would be able to do it again, despite all the fans and pundits who thought otherwise. He believes the Bulls are getting used to playing with one another again -- a fact proven in their recent play.
"Just having faith, man," Rose said of maintaining his confidence over the past two years. "I know how special I am as a player. I really feel like I was born to play this sport. I bring joy to people whenever I play. That's all I can say about it."
That's all he and the Bulls need to say right now. Their play is saying more than any other words could.
December, 23, 2014
Dec 23
8:29
PM CT
ESPN.com news services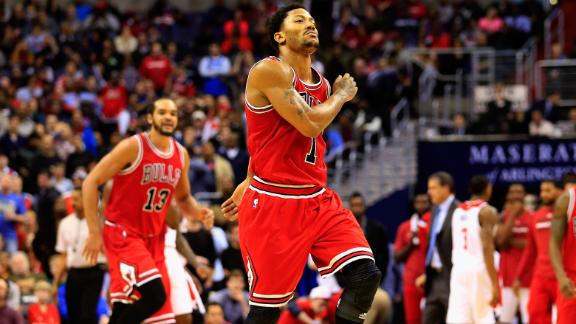 WASHINGTON -- Derrick Rose scored 25 points and Pau Gasol had 18 as the Chicago Bulls won their fourth straight, beating the Washington Wizards 99-91 on Tuesday night.
After Washington scored 12 straight -- 10 by John Wall -- to take an 87-86 lead with 3:44 remaining, Chicago steadied and scored eight straight -- six by Rose to lead 94-87 with 1:48 to play.
Wall led the Wizards with 18 points.
The Bulls outrebounded Washington 52-41.
On Monday, Chicago scored a franchise-record 49 points in the fourth quarter as they beat Toronto 129-120. Points were harder to come by a night later.
It was the first meeting of the teams this season. Washington defeated Chicago in the first round of last year's playoffs, 4-1.
December, 23, 2014
Dec 23
6:16
PM CT
WASHINGTON -- Chicago Bulls point guard Kirk Hinrich will not play Tuesday night against the Washington Wizards because of a strained left hamstring injury sustained in the second half of Monday night's win over the Toronto Raptors. Hinrich did not travel with the Bulls to Washington and his status for Thursday's game against the Los Angeles Lakers is in doubt as well.

"It's tendinitis," Bulls head coach Tom Thibodeau said before the game. "We'll see once we get back. Probably a couple days, but I'm not sure yet. We'll see when we get back."

Hinrich missed two games earlier this season because of bruised ribs. With Hinrich out, Bulls backup point guard Aaron Brooks is expected to get the bulk of Hinrich's minutes off the bench.

In other injury-related news, Doug McDermott (arthroscopic right knee surgery) took some shots before Tuesday's game. He is still expected to miss a couple more weeks after surgery on Dec. 13.
December, 23, 2014
Dec 23
12:38
AM CT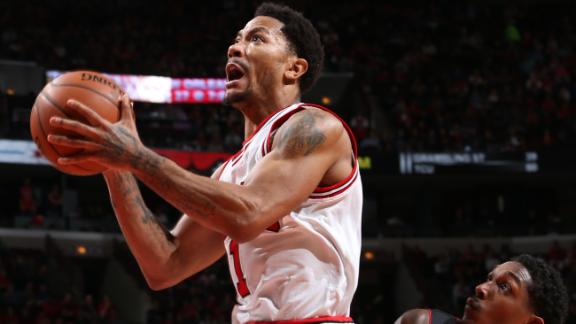 CHICAGO --
Derrick Rose
doesn't fully grasp the impact he has on others. The 26-year-old still isn't comfortable with all the attention his game draws. But after scoring 15 of his team-high 29 points in the fourth quarter of the
Chicago Bulls
' impressive 129-120 comeback win over the
Toronto Raptors
on Monday night, the former MVP better get used to the accolades again.
Rose, who missed the past two contests because of an illness, has had some nice games over the first month and a half of the season, but none looked quite like this one.
Rose looked like his old self -- the player who took over games consistently -- before tearing the ACL in his left knee in April 2012.
"They were giving me my shot," Rose said of his late-game decisions. "I guess they'll learn. I guess the league will learn."
As much as Rose tried to downplay his night, the boost it gave to his teammates was undeniable. As Rose repeatedly took the ball down the floor and knocked down several jumpers and runners toward the rim, he quietly played it off as if nothing major were happening. But his teammates felt much differently.
Each time Rose sank another jumper or made another play at the rim, the smile on
Joakim Noah
's face seemed to grow wider. Rose wasn't just making baskets on Monday, he was offering a reminder on how good he and the Bulls can be when they're all healthy.
"It's great," Noah said of watching Rose. "It's good to have him back on the court. Derrick's been through a lot the last couple of years with injuries and just to see him out there competing, he looks like he's having fun playing basketball. It's great. I'm happy. It makes me happy."
Rose's play ignited the sellout crowd and fired up Noah and the rest of his teammates in the process. The Bulls always knew they could be great this season, but that feeling was contingent upon Rose coming back and being close to the same player he used to be. Now that he has shown that swagger and killer instinct late in games again, the confidence within the Bulls' locker room is higher than it has been in years.
"We know that we can always count on him and go to him,"
Jimmy Butler
said. "And that's just the type of guy he is, he wants that pressure, and he produces. He produced. I think we're just going back to him and I think he's going to do the same thing every night."
If he does, and he stays healthy, the Bulls are going to be a scary team once the playoffs roll around. In the meantime, Rose knows that he must continue improving and sharpening his game for when it matters the most. Monday was just one more step in a long process for the humble star.
"I'm fortunate to have the teammates that I have," Rose said. "They really believe in me and they see how hard I work. It's hard being on a team like that, but I'm fortunate, I'm grateful, and I don't take it for granted."
Neither do his teammates. Especially when they see him playing like he did Monday night.
December, 22, 2014
Dec 22
9:55
PM CT
Associated Press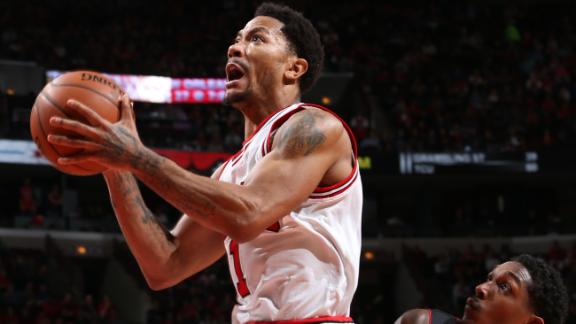 CHICAGO -- Derrick Rose scored 29 points, Jimmy Butler added 27 points and 11 rebounds, and the Chicago Bulls snapped the Toronto Raptors' six-game winning streak with a 129-120 victory on Monday night.
Rose scored 15 of the Bulls' franchise-record 49 points in the fourth quarter.
Chicago, who has won three straight, got Rose and Taj Gibson back after each missed two games. Rose was ill and Gibson was out with an ankle injury.
Rose's jumper over Kyle Lowry put the Bulls up 106-100 with 4:12 left. He put away the game with a 3-pointer to make it 118-105 with 1:17 left.
James Johnson finished with 16 points for the Raptors.
December, 22, 2014
Dec 22
5:57
PM CT
CHICAGO -- Bulls point guard Derrick Rose (illness) and Taj Gibson (sprained right ankle) will play Monday night against the Toronto Raptors after both missed the past two games.
Rose has missed 10 games total after dealing with ankle injuries throughout the first month of the season. Gibson has missed nine games after twisting his ankle several times. Bulls coach Tom Thibodeau is hopeful that both players will be able to contribute against the Eastern Conference-leading Raptors.
"They've been through [coming back from injury] enough so they should be able to find a way to get something done out there," Thibodeau said. "But I think it's hard to start and stop. But in Derrick's case, it was good where he was stringing some games together. Unfortunately, he got sick and we have to hope that he can pick up where he left off."
Rose is averaging 16.8 points, 5.1 assists and 3.3 rebounds a game. Gibson is averaging 12.6 points and 7.6 rebounds.
December, 22, 2014
Dec 22
12:15
PM CT
CHICAGO -- Derrick Rose (illness) and Taj Gibson (sprained right ankle), who both missed the team's past two games, went through all of Monday morning's shootaround and are expected to play Monday night against the Toronto Raptors. Bulls head coach Tom Thibodeau is happy his starting lineup is on track to play together again, but he is also proud of the way the rest of the group has responded to all of the injuries that have piled up early in the season.

"You have to be ready for it," Thibodeau said. "It is unusual, but we have to deal with it. The important thing is just to get ready for the next game, whoever can play, just get out there and get the job done."

Bulls swingman Jimmy Butler believes he has played enough with Rose over the first part of the season that they'll know where the other will be on the floor. They didn't play much together in Butler's first three years in the league because of Rose's knee injuries and Butler's struggles to earn a place in Thibodeau's rotation during his first year and a half in Chicago. They have played in only 14 games together this season, as Rose has struggled with various injuries and Butler missed the first two games because of a thumb injury.

"I think we complement each other well in transition and getting out in the open floor," Butler said. "We'll get a lot of easy baskets together."

Butler comes into Monday's game having racked up 66 points, 15 rebounds, eight assists and six steals in a combined 88 minutes over his past two games.
December, 21, 2014
Dec 21
3:54
PM CT

By Scott Powers
ESPNChicago.com
Archive
CHICAGO --
Bulls
guard
Derrick Rose
said Sunday he was confident his friend and
Milwaukee Bucks
rookie forward
Jabari Parker
would bounce back after his recent season-ending ACL injury.
Rose has known Parker since he was a child, and both attended high school and played for the same varsity coach at Simeon Career Academy on Chicago's South Side. Parker's Twitter account includes a picture of himself as a young kid with Rose in Simeon's gym.
"It's hard, man," Rose said of Parker's injury. "It's hard. I feel bad for him. At the same time, he's got the right mentality as a young kid to put basketball first, so I know he's easily going to bounce back from this injury."
He said he hadn't reached out to Parker yet. He wanted to give Parker some time before doing so.
Rose, who has dealt with myriad injuries during his career, said he planned to give Parker some advice but planned to keep it between them.
"It'll be something I'll have to tell him personally," Rose said. "Something I wouldn't say right now."
Parker, who was the No. 2 overall pick in the 2014 draft, tore the ACL in his left knee in a game on Dec. 15. He averaged 12.3 points and 5.5 rebounds in 25 games this season.
December, 21, 2014
Dec 21
3:27
PM CT

By Scott Powers
ESPNChicago.com
Archive
CHICAGO --
Bulls
point guard
Derrick Rose
said Sunday he hopes to play against the
Toronto Raptors
on Monday after missing the last two games due to an illness.
Bulls coach Tom Thibodeau was also optimistic forward
Taj Gibson
would be able to play Monday after missing the past two games with a sprained right ankle. Gibson participated in the team's entire practice Sunday, and Rose was a partial participant.
"I'm feeling a lot better," Rose said. "Getting my energy back, was fatigued the last couple of days. But just kind of trying to fight off this little sickness I have.
"I'm going to try to go [Monday]. See how I feel in the morning, go through walk-through and hopefully be playing."
Rose thought he probably picked up whatever his son had.
"The sickness probably came from being around my son," he said. "He was sick. It was something I probably caught from him. I'll take that any day. I'm just spending time with my son. I think it comes with the territory of being around a sick kid. It's just something I got to live with."
Rose had played in 11 straight games before getting sick. It was his longest stretch of consecutive games since the 2011-12 season. He is averaging 16.8 points, 3.3 rebounds and 5.1 assists in 16 games this season.
Thibodeau said he liked how Rose was progressing before missing the last two games.
"He had a nice run going, and unfortunately he got sick," Thibodeau said. "There's nothing you can do about it, other than try and get healthy and get back out there. But I felt that as he started to string the games together he was getting better and better. That's encouraging.
"He is where he is [this season]. When he's been out there, I think he's played very well. There's been some bumps, which we anticipated. I just want him putting everything he has into each and every day, just keep getting better."
December, 19, 2014
Dec 19
11:28
PM CT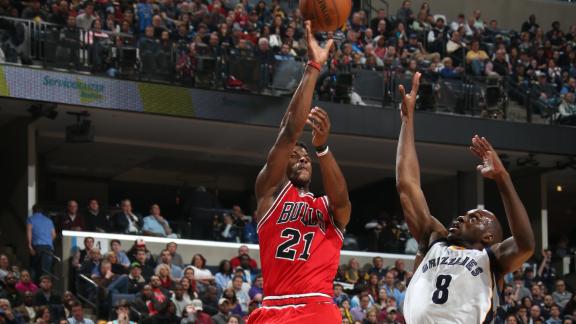 MEMPHIS -- Tom Thibodeau loves to say that every regular-season game counts the same. It's his mantra. He wants his team to play hard every night no matter the circumstances or the opponent. But after the Bulls' impressive 103-97 win over the
Memphis Grizzlies
on Friday night
Joakim Noah
didn't want to stick to Thibodeau's creed. The Bulls had just knocked off one of the best teams in the NBA -- a team that had toppled the
Golden State Warriors
and
San Antonio Spurs
on consecutive nights earlier in the week -- and they did so on the back end of a back-to-back playing without
Derrick Rose
[illness] and
Taj Gibson
[right ankle] for the second straight night.
Noah didn't buy into the notion that this was just another game, because the All-Star center knew that wasn't the prevailing thought in an excited Bulls' locker room. He knew that given the circumstances, and the opponent, this was the Bulls' best win of the season.
"I'm not Thibs," Noah said as he slipped on his shoes in front of his locker. "Are you kidding? I'm not Thibs. So just because he says something doesn't mean that I feel the same way about everything."
Noah and Thibodeau, the yin and yang that makes the Bulls go on most nights, could agree on this late Friday, no matter how the demanding coach wanted to term this game, the Bulls put together one of their most complete performances of the season against a red-hot Grizzlies squad. After a lackluster showing in Thursday's win over the
New York Knicks
, the Bulls responded with the type of defensive intensity that has become a Bulls' staple under Thibodeau. They also continued to ride the coattails of one of the hottest players in the NBA:
Jimmy Butler
.
For the second straight night, Butler put the Bulls on his back at times and displayed the type of offensive confidence that has come to define the first two months of his breakout season. Once an offensive liability, Butler has become the first offensive option on most nights for a Bulls team that remains in a state of limbo because of Rose's health.
In the span of 24 hours, Butler racked up 66 points, 15 rebounds, eight assists, and six steals in a combined 88 minutes.
"Every time that game was hanging in the balance, he came through with a big play for us," Thibodeau said of Butler. "Clutch play after clutch play, great defense, no possessions off, plays with great intensity, great concentration, you can't say enough about what he does. To win on the road like this against a team like that -- and people are game-planning for him too -- but he's making the right play and that's the important thing."
Butler insists he's still just a role player playing on a great team, but his numbers say otherwise. Not only is he running away with the Most Improved Player Award right now, he's developing into one of the very best two-way players in the game.
[+] Enlarge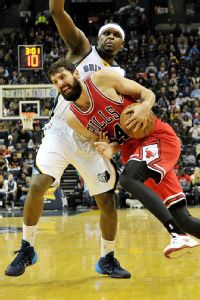 AP Photo/Brandon DillWhen not banging down low with Zach Randolph, Nikola Mirotic was sinking all six of his 3-point tries.
"It feels good," Butler said of being the first offensive option in some games. "Because I definitely know where I'm going to get my shots from and then it helps me get in a rhythm a lot easier. A lot of that's on my teammates. I may be the first option but that doesn't mean that I'm the only option. And if I don't get the ball on the first side they always look for me on the second side."
Aside from Butler, the player the Bulls continued to look toward Friday was
Nikola Mirotic
. The rookie was 6-for-6 from beyond the arc and racked up a career-high 27 points. As much of a surprise as Butler's offensive maturation has been, Mirotic's play over the last couple of weeks has been almost as much of a revelation. He looks much more confident on the floor and grows more dangerous seemingly every game.
While the rest of the league may be surprised by Mirotic's ability, it doesn't come as a shock to many within the Bulls organization. They've also believed he was this good and now he has proven it in small doses. About the only thing Mirotic didn't connect with Friday night was a celebratory postgame handshake with Noah.
"A lot of times with shooters, they're one-dimensional," Noah said of Mirotic. "I think this guy's the real deal. And I think that he's just getting better every game and that's big for us. He just adds a whole different dimension."
There's one of the biggest differences for this Bulls team this season. After years of wondering where they would get consistent offense from other than Rose, Thibodeau's team has become more multi-dimensional than ever, especially on offense. Even little-used guard
E'Twaun Moore
hit two clutch free throws in the final seconds to help ice the game. Butler has become the kind of star force that the Bulls have been yearning for for years.
Pau Gasol
continues to play at an All-Star level while Noah said after the game this is the best he has felt physically all season after dealing with lingering knee and ankle issues.
The scariest part for the rest of the league is that the Bulls are going to be even better when Rose and Gibson return. But for now, Noah and his teammates will soak up the next couple of off days knowing they just pulled out a game that many didn't think they could win. Noah said he drew more motivation for Friday night's performance after Gasol told his teammates that this game against the team he started his NBA career with meant a lot to him.
"That was cool," Noah said. "I like that sentimental sh--."