March, 4, 2015
Mar 4
12:14
AM CT

By Nick Friedell
ESPNChicago.com
Archive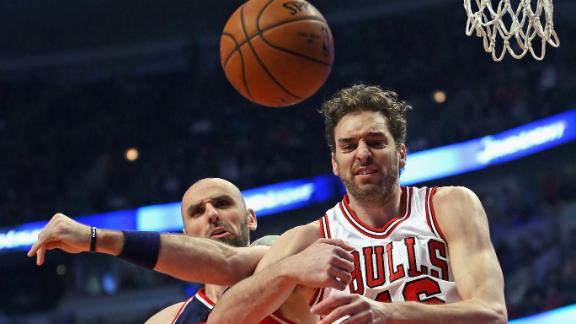 CHICAGO --
Mike Dunleavy
took a final shot after the
Chicago Bulls
' hard-fought
97-92 win
over the
Washington Wizards
on Tuesday night.
Trying to describe the physicality that always seems to occur in any game between these two teams, the veteran shooting guard delivered one final blow to a reeling Wizards squad that has now lost 12 of its past 15 games.
"That's who they are, they're a physical team," Dunleavy said. "They play us great. If they played everybody else the way they play us, they may be looking at a championship."
[+] Enlarge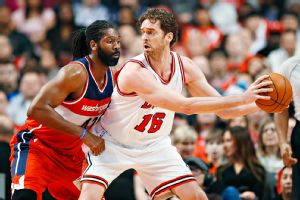 AP Photo/Kamil KrzaczynskiNene had a rough night against Pau Gasol and the Bulls, fouling out with no points and six rebounds.
Dunleavy's zinger capped off one of the better wins of the season for an undermanned Bulls squad that played without
Derrick Rose
(knee),
Jimmy Butler
(elbow) and
Taj Gibson
(ankle). The game also illustrated once again just how much these two teams dislike each other in what could be another playoff preview once the regular season ends.
The tone for this game came before the Wizards even got to Chicago. That's because Wizards big man
Nene
let it be known how he felt about the team the Wizards knocked out in five games of last season's Eastern Conference quarterfinals.
"I don't want to talk about Chicago," Nene said, according to the Washington Post. "You know I hate them. You can put that."
The problem for Nene and the Wizards is that his hatred toward the Bulls didn't seem to help his play. He spent the entire night in foul trouble -- registering a flagrant foul 1 against
Joakim Noah
in the fourth quarter -- before fouling out down the stretch.
"It's part of the process, and I really don't know what to say right now," Noah said of the play. "But I'm just happy we won, and I'm happy I kept my composure. Just trying to put out a video a couple hours before the game [through his foundation] about non-violence. And trying to teach these kids [about the] big picture. You know what I mean? So it wouldn't have been a good look, not today. Not today. But I'm really, really proud of this team and the way we stepped up tonight."
The game had the intensity of a playoff affair, and the Bulls took great pride in the win, given both the circumstances and the opponent.
"They're the team that eliminated us last year in the playoffs," Noah said. "When that happens it's always more than just … even subconsciously it's more than just a basketball game."
Even the players who are new to the blossoming rivalry realized this game meant a little more to everyone involved. There was an edge to this game that isn't usually seen in the regular season. And with the
Cleveland Cavaliers
charging hard to jump ahead of the Bulls, who lead the Cavs by a half-game for the third seed in the Eastern Conference standings, there's a good chance Chicago and Washington could square off again in the 4-5 matchup in the first round of the playoffs.
The Wizards had won five straight games in Chicago, including the playoffs, coming into Tuesday night's game, according to ESPN Stats & Info. With the loss, they have now lost eight straight road games, their longest stretch in two seasons.
"I think I'm like new to all this because there's a lot of bad blood between these two teams," Bulls guard
Aaron Brooks
said with a laugh. "I feel like I just got here. I missed most of it."
Brooks got into a little trash-talking of his own with Wizards veteran
Paul Pierce
, who picked up a technical foul in the fourth quarter in a game that featured plenty of hard fouls.
The good news for the Bulls is that rookie
Nikola Mirotic
didn't seem fazed by Pierce or any other Wizards player, as he continued to play at a high level. Two days after racking up a career-high 29 points against the
Los Angeles Clippers
on Sunday, Mirotic followed that up with 23 points against the Wizards, prompting Noah to call him a "stud."
In order for the Bulls to continue racking up wins in the short term, they'll need to lean on Mirotic more than ever offensively. But as the Bulls hit the home stretch of the season, veteran
Pau Gasol
knows his team is going to have to find ways to keep its energy and focus intact without three of its best players.
"I think every game is going to be emotional from now on," Gasol said. "Every game is meaningful, and this team -- they're a tough team. They try to play extra physical to try to take away stuff. But I think we did well, we handled it well and we were able to get an important win."
March, 3, 2015
Mar 3
9:47
PM CT
Associated Press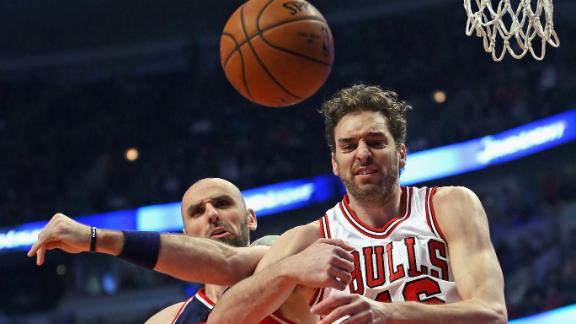 CHICAGO -- Nikola Mirotic scored 23 points to lead the short-handed Chicago Bulls to a 97-92 win Tuesday over the Washington Wizards.
The Bulls were without former MVP Derrick Rose (right knee), all-star Jimmy Butler (left elbow), and trusted reserve Taj Gibson (left ankle) but still managed to improve to 4-2 on their season-high seven-game homestand.
Along with Mirotic, Aaron Brooks had 22 points while Pau Gasol had 20 and 10 rebounds for the Bulls, who had five players in double figures.
Chicago's starting lineup of Brooks, Tony Snell, Mike Dunleavy, Gasol and Joakim Noah was the 20th it has used this season. That's the most since 2007-08, when the Bulls also used 20.
Washington was led by John Wall's 21 points and 11 assists.
March, 3, 2015
Mar 3
12:16
PM CT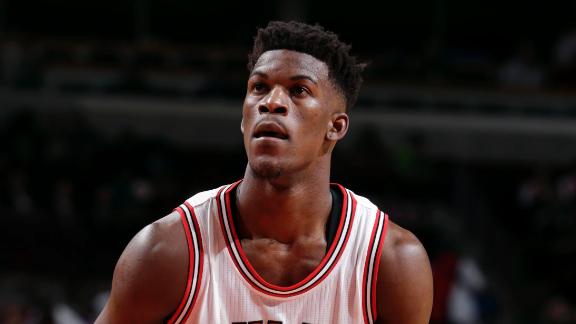 CHICAGO -- Jimmy Butler hopes he can return before the regular season ends as he works his way back from a sprained ligament in his left elbow.
Butler, who injured the elbow in the third quarter of Sunday's loss to the Los Angeles Clippers, admitted that it was "devastating" to learn he would be out three to six weeks.
"I'm doing all right," Butler said after Tuesday's shootaround. "I'm just trying my best to hurry back, being careful, of course, but I'm not going to say I'm happy. ... My ligament just has to heal, and I've got to be able to move my left arm like I move my right before I can get out there and do anything."
Butler's injury capped one of the most trying weeks of the Bulls' season. Derrick Rose underwent a meniscectomy on his right knee Friday and is expected to miss four to six weeks. Taj Gibson sprained his left ankle and was wearing a walking boot at the United Center on Sunday.
Despite the setbacks, Butler remains optimistic that both he and Rose can come back sooner rather than later. He said the pain in his elbow has already started to subside.
"I think we both want to be back ASAP," Butler said. "As soon as possible. But I think we both have to be smart about it. I'm not going to say we're going to come back on the same day because I don't know, but I definitely think we both want to make it back before the end of the season."
Coach Tom Thibodeau acknowledged that the Bulls are still exploring the idea of adding another player after all the injuries in the past week.
March, 3, 2015
Mar 3
12:39
AM CT
CHICAGO -- Now what?
There are so many answers to that small yet supremely meaningful two-word question that there's almost no place to start where any answer is the right one.
With recent concerns over the six weeks Jimmy Butler is likely to miss with a high-grade ulnar ligament elbow sprain and small bone impaction and the unknown return of Taj Gibson from an ankle sprain (he's day-to-day but in a walking boot), the Chicago Bulls are back to the familiar territory of having to play "next man up" basketball until at least the opening round of the NBA playoffs. But with direct, laser-aimed concerns about Derrick Rose and his possible (and quasi-promised) return to the court before the playoffs begin, the answer for all parties involved is simpler and far less unsure than we might think.
I'm basically saying it's all-out-or-nothing time. It's "we don't give a damn anymore because we have nothing left to lose" time for both the Bulls and, more importantly, Rose.
No longer should they or he buy into their talent, promise and potential without having details of the return policy. It's go-for-broke, full-on-attack, us-against-the world mode. 10X Rule-style basketball. A beast mode of which Marshawn Lynch knows nothing.
For Rose, simply use that final minute of the second quarter of Chicago's Feb. 11 game against the Sacramento Kings as a capsule: eight points, 60 seconds. It was as if Rose finally said "Kobe" and turned the game back into what it had always been to him: His muse.
March, 2, 2015
Mar 2
1:01
PM CT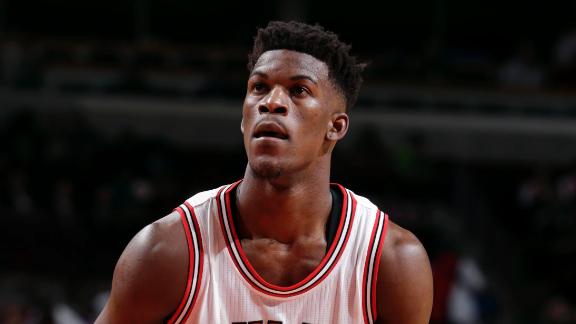 Jimmy Butler is expected to miss three to six weeks with a sprained left elbow, the latest setback for the injury-plagued Chicago Bulls.
However, Butler will not need surgery to repair the injury, a league source confirmed to ESPNChicago.com.
Butler was diagnosed with a Grade 2/3 ulnar ligament sprain and a small bone impaction injury after undergoing an MRI on Monday, one day after he was injured in a loss to the Los Angeles Clippers.
He suffered the injury when he collided with Clippers center DeAndre Jordan three minutes into the second half Sunday and did not return.
The hope within Butler's camp is that rest and treatment will allow him to come back before the regular season ends and get a few games under his belt alongside Derrick Rose, who is expected to be out four to six weeks after having knee surgery Friday.
Butler, who became an All-Star for the first time this season, has been the Bulls' best two-way player this season, averaging 20.2 points, 5.9 rebounds and 3.3 assists in 55 games.
The Bulls are trying as best as they can to keep a positive attitude in the wake of the latest injury news, but veteran Kirk Hinrich knows the Bulls are in a tough spot.
"[Butler] is a two-way player, All-Star, he's just having an unbelievable year," Hinrich said. "It's a huge loss but, you know, we've kind of been through this before."
March, 1, 2015
Mar 1
9:24
PM CT

By Jon Greenberg
ESPNChicago.com
Archive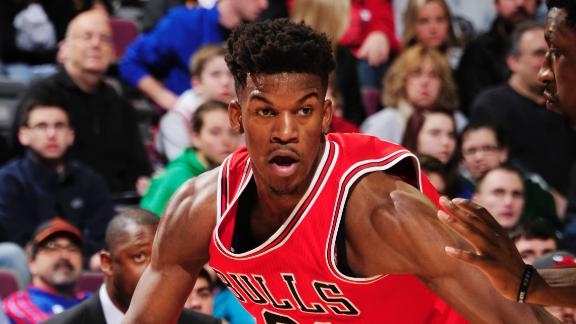 CHICAGO -- With about nine-and-a-half minutes left in the third quarter of the
Los Angeles Clippers
' 96-86 win over the
Chicago Bulls
, ESPN's play-by-play man Mike Breen started to introduce a juicy storyline: The perceived conflict between Bulls coach Tom Thibodeau and his general manager, Gar Forman, and vice president of basketball operations, John Paxson.
Breen first asked Mark Jackson to speak a little about the matter, to set up the main reason he was bringing this topic up on national TV: His partner Jeff Van Gundy, a good friend and former boss of Thibodeau, had famously inserted himself into the story this season.
But in classic Bulls fashion, an injury, this time
Jimmy Butler's
hyperextending his left elbow while on defense on a
DeAndre Jordan
screen, delayed things for a few minutes.
After a commercial break, Breen asked Van Gundy if he could discuss his previous comments, which occurred on-air in a January game between the Bulls and Dallas Mavericks and then this past week, to a
Chicago media writer
.
Van Gundy told Ed Sherman, writing for the Chicago Tribune, that he was asked by Thibodeau's agent to "tone it down" after the Mavericks game, while noting Forman yelled at him at the Dallas game.
"Can you speak about it without sleeping with the fishes?" Breen said.
Van Gundy was happy to, and during his conversation with Breen, the ESPN cameras cut to Forman and Paxson, with the latter staring intently at his phone.
"What I said previously, I stand by," Van Gundy said. "I think, over the course of time, they've been unfriendly and they haven't been pro-coach.
"I think you go all the way back to Doug Collins' time here, then Phil Jackson, and go on and on and on. So I don't really feel the need to reiterate too much. That's what I said. That's what I believe."
[+] Enlarge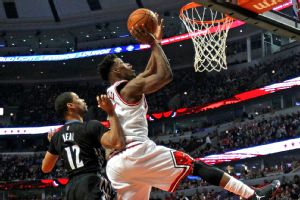 Jonathan Daniel/Getty ImagesJimmy Butler's All-Star season has been interrupted by a hyperextended elbow.
But Van Gundy's relationship with Thibodeau complicates the story.
After the January comments, Thibodeau told Chicago reporters, "My job is to coach the team. That's what I worry about. [Van Gundy] doesn't speak for me. I don't speak for him."
There is certainly some truth to that. Van Gundy is outspoken and typically defends his fellow coaches in a league that shuffles through coaches on a regular basis.
"The only thing I have to be concerned with is that everything I say, unfortunately, is taken like it's coming from Tom, which is not true," Van Gundy said. "Because I speak for myself. This is something I believe in."
Then, Van Gundy being Van Gundy, he slipped in a zinger.
"John Paxson, to be fair, said he thought what I said was 'pathetic,'" Van Gundy said in reference to a different Chicago Tribune story. "He was so mad at me I thought I had traded
LaMarcus Aldridge
for Tyrus Thomas and not him."
The Bulls, naturally, aren't pleased with Van Gundy's comments, though Paxson declined to comment when reached by text message Sunday afternoon.
But no one cares if a broadcaster doesn't like a front office. The concern is the possible breakup between Thibodeau, who has won 242 of 371 games (65 percent) in five seasons --
Derrick Rose
has played in 176 -- and the Bulls, who have given him a strong group of players with which to work.
For all the jokes about Tyrus Thomas, the Bulls got ridiculous values late in the first round by drafting
Taj Gibson
(No. 26 in 2009) and Jimmy Butler (No. 30 in 2011) and trading for the rights to
Nikola Mirotic
(2011) and
Omer Asik
(2008) on draft night.
Picking
Joakim Noah
ninth in 2007 worked out as well.
The funny thing is this isn't the time for this story. The Bulls and Thibodeau have a lot more to do this season.
The Bulls (37-23) are a half-game out of second place in the Eastern Conference and reeling from injuries. Rose is out for four-to-six weeks after a second procedure on his right medial meniscus. The earliest he will return will be with nine games left in the regular season.
Like any relationship between a coach and his front office bosses, there are the typical conflicts. Like many professional sports marriages that eventually end in divorce, this one could end because of a respect gap between the two parties -- as in, each side feels the other doesn't respect it enough.
Both are probably right, in a sense.
Thibodeau has two years remaining on a contract extension he left sitting unsigned on his desk for months in the 2012-13 season. He's an expert at preparing his teams for games, but he chafes at the narrative that he wears players out.
"While you're talking Tom Thibodeau, he loves his team, he loves his players," Breen said. "He wants to coach this team, and he loves this squad."
"He loves -- he absolutely loves -- the city, the fans and his players," Van Gundy said. "You know how ridiculous it is we're even talking about a coach that's won I think 65 percent, I think it's the fifth-highest winning percentage all-time for guys who have coached five years or more. Do you know how silly it is? But it's obviously true, or they would've come out and said it's not true at all."
The Bulls, though, believe they've supported Thibodeau at every stop. He might disagree.
Because the main problem with tracking this story is that most of the action happens behind closed doors in offices and hallways and through text messages. It is a truly NBA story, one with no winners or losers but a lot of opinions.
March, 1, 2015
Mar 1
6:22
PM CT
alsOnce again -- and painfully, at that -- the Chicago Bulls issued an all-too-familiar statement:
MRI on Monday.
This time, it's Jimmy Butler, the Bulls' leading scorer and best wing defender and probably the NBA's most improved player. He ran into a DeAndre Jordan screen in the third quarter, which is pretty much the same as running into a wall, and his left elbow crashed awkwardly into Jordan. Butler was done for the day with what is for now being called a hyperextended elbow. Once again, a lost basketball game was secondary news to an injured Bull.
To recap: Derrick Rose is out at least a month, and could be psychologically ailing longer than that, following his third knee surgery in three years. Taj Gibson is out for who knows how long with a sprained ankle. And now, Butler is out, pending Monday's MRI. That's three of the team's top five players (with Joakim Noah and Pau Gasol being the others).
You're not going to get a cynic's take in this space or read that Bulls executives, by publicly talking about a four- to six-week recovery for Rose, have somehow put Rose on notice ... even though dozens of active players have had the procedure and all talk about it being a four- to six-week injury. The Bulls' issues aren't about management versus players; they're related to good health -- or the lack of it.