March, 7, 2014
Mar 7
11:16
PM CT
CHICAGO -- The
Memphis Grizzlies
beat
Joakim Noah
and the
Chicago Bulls
at their own game Friday night, and the All-Star center knows it.
Like the Bulls, the Grizzlies use tough defense, especially on the interior with
Zach Randolph
and
Marc Gasol
, to take over games down the stretch. That's exactly what happened late in this one as the Grizzlies tightened things up and clamped down on Tom Thibodeau's offense in the waning minutes for an 85-77 win.
[+] Enlarge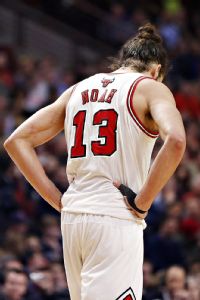 AP Photo/Charles Rex ArbogastJoakim Noah wasn't at all pleased with his six-turnover performance in the Bulls' home loss to the Grizzlies on Friday night.
"They outplayed us," Noah said. "They're a tough team. Marc Gasol and Z-Bo are a handful down there. And then you put
Tony Allen
[in the mix]. I think Tony Allen was really the difference of the game. He just disrupted everything out there with his defense. ... They hit shots. We didn't."
The Bulls were only 2-for-13 from beyond the arc and that killed their ability to spread the floor. But in Thibodeau's mind, the turning point of the game wasn't defined by the lack of made shots. It was based on the fact the Grizzlies outrebounded the Bulls and made plays in the second half that Chicago wasn't able to respond to.
"Rebounding was the name of the game," Thibodeau said. "In the third quarter they had 30 points. The last five minutes of the third quarter was a disaster."
The Grizzlies did all the little things that the Bulls usually do to beat teams. They got the extra rebound, they made the extra defensive rotation, they knocked down a shot when they needed to have it. Noah and his teammates knew what to expect on Friday night, they just couldn't execute correctly. The attention to detail was crucial in this game and that's one of the reasons why Noah was so frustrated by his six-turnover performance. The mental mistakes cost the Bulls -- especially in the end.
March, 7, 2014
Mar 7
8:42
PM CT
Associated Press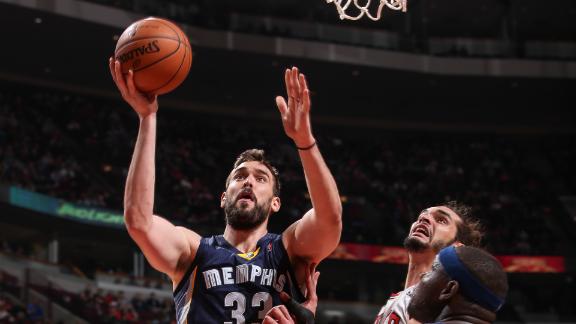 CHICAGO -- Marc Gasol had 18 points and 10 rebounds, and the Memphis Grizzlies used their stout defense to beat the Chicago Bulls 85-77 Friday night.
Mike Miller made four 3-pointers and finished with 14 points as the Grizzlies closed out a three-game road trip with their third victory in four games. Zach Randolph added 10 points and 11 rebounds after missing Memphis' previous game with the flu.
The Grizzlies shut out the Bulls after Taj Gibson's layup trimmed Memphis' lead to 81-77 with 3:15 to go.
Gibson had 18 points for Chicago, which had won 10 of 12. Playing with a sprained right thumb, Joakim Noah finished with 15 points, eight rebounds and six assists, but also had six of the Bulls' 13 turnovers.
March, 7, 2014
Mar 7
8:31
PM CT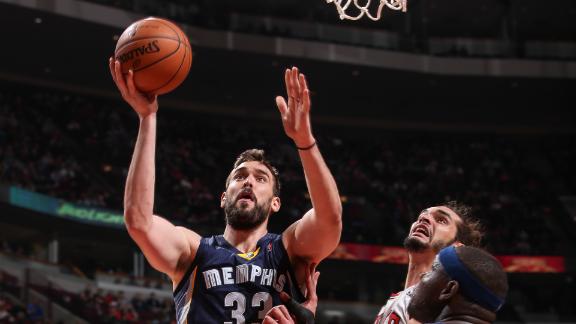 CHICAGO -- Let's take a quick look at how the
Memphis Grizzlies
earned an 85-77 win over the
Chicago Bulls
on Friday night at the United Center.
How it happened
:
Marc Gasol
had 18 points and 10 rebounds, and
Zach Randolph
had 10 points and 11 rebounds to pace the Grizzlies.
Taj Gibson
had 18 points to lead the Bulls, but they couldn't make shots down the stretch and it cost them.
What it means
: This game unfolded exactly as expected. It was a tough, hard-fought battle full of defense and missed shots. The difference was that the Grizzlies made plays when they had to and stuffed the Bulls defensively when they needed stops. The Bulls offense stalled and, unlike in games in the past few weeks, it had no answers. They couldn't hit shots from the outside and couldn't penetrate on the inside when they needed to because of Memphis' solid interior defense. The Bulls didn't score in the final 3:15 of regulation.
Hits
:
Joakim Noah
had 15 points, eight rebounds and six assists, but he had several costly turnovers as well.
Misses
:
Mike Dunleavy
was 2-for-10 from the field.
Stat of the night
: The Bulls went 2-for-13 from beyond the arc.
What's next
: The Bulls have a showdown against the
Miami Heat
on Sunday afternoon.
March, 7, 2014
Mar 7
6:17
PM CT
Associated Press
CHICAGO -- Zach Randolph is back in the lineup after missing the Memphis Grizzlies' last game with the flu.
The power forward sat out when Memphis lost 103-94 at Brooklyn on Wednesday night. He came to the arena in hopes of playing, but was unable to go.
Memphis coach Dave Joerger says it was "just a bout of the flu," and Randolph is all set to play against the Chicago Bulls on Friday night.
Randolph is averaging 17.3 points and 10.3 rebounds in 57 games.
March, 7, 2014
Mar 7
1:45
PM CT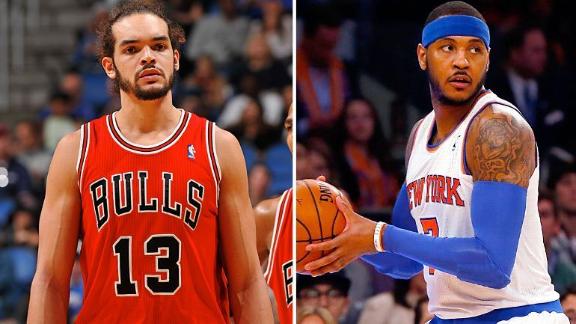 CHICAGO -- Joakim Noah does not want to address the "gossip" surrounding a conversation he reportedly had during All-Star Weekend with New York Knicks star Carmelo Anthony.
"You want me to address that?" Noah said at Friday's shootaround in response to a question about an ESPN.com report Thursday that said he told Anthony he could win a championship if he signed with the Bulls as a free agent after the season. "I don't feel like addressing it. I really have nothing to say about it."
Anthony, speaking to the media Friday night after the Knicks beat the Jazz 108-81, also declined to directly address the report but denied the substance of it, saying, "I can't have that conversation."
"I heard about that one, too," Anthony said. "Every day it's a story. Every day it's going to be a new story. I have no information about that. I don't know how that story got out there who started that story. I don't know. I really don't know what to say about it."
Noah was asked if the reported recruiting pitch for Anthony had, in fact, happened, and he didn't deny the conversation took place.
"Doesn't matter," Noah said. "What does that have to do with our team right now? It doesn't matter."
Bulls coach Tom Thibodeau also tried to brush it off.
"It's a bunch of nonsense," he said. "People just start throwing stuff out there and then they wait for everyone to respond to it. If you waste your time on stuff like that, then you're not thinking about Memphis. So that's all we're thinking about: 'Think about Memphis.'"
March, 7, 2014
Mar 7
11:49
AM CT
CHICAGO -- Joakim Noah wore a taped wrap over his ailing right thumb, but he said he will play through any pain he may have.
"It was cool," he said of Thursday's checkup, which revealed a sprain. "I got an MRI. I'm good."
Noah tore ligaments in the same thumb during the 2010-11 season and tried to play through the pain but ultimately had to have surgery a few weeks later. He missed two months.
He does not believe the problems are the same, and Bulls coach Tom Thibodeau said he was confident Noah's thumb ligaments are structurally intact.
"It's the same thumb, that's about it," Noah said. "We don't have to cut into it. No surgery. Everything's good. I feel good. I'm all right."
Noah went through all of shootaround and Thibodeau is confident he'll remain in the lineup.
"He's good," Thibodeau said. "It's just a sprain. He's fine."
Thibodeau understands that players have to play through injuries at this point in the season. He did not seem concerned that Noah's injury would hamper him in any way.
"I think at this time in the year every player in nicked up in some way," he said. "And then, do you have the toughness to get past it? And he certainly does, so he's got to get out there -- he's done a great job of leading the team. But we need everybody ... from a medical standpoint, the ligament was fine so that was the positive thing about that."
March, 7, 2014
Mar 7
11:27
AM CT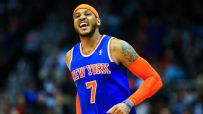 Daniel Shirey/USA TODAY Sports

Can the Bulls keep Taj Gibson and add Carmelo Anthony? ESPN salary cap expert
Larry Coon
breaks down the cap numbers with "Carmen & Jurko."


Click here for more audio from ESPN Chicago
.
March, 6, 2014
Mar 6
10:58
PM CT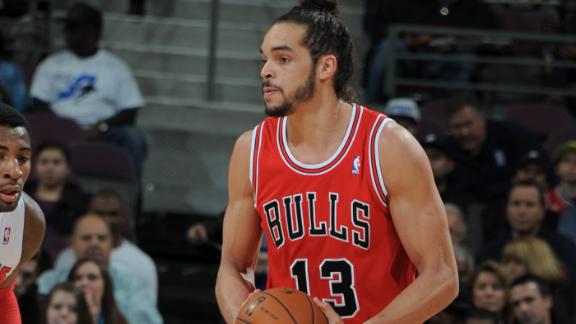 CHICAGO -- Initial tests run on Chicago Bulls center Joakim Noah's injured right thumb revealed a sprain, according to a league source.
It is unclear whether Noah will have to miss any time or will be available to play Friday night against the Memphis Grizzlies.
Noah injured the thumb during Wednesday night's win against the Detroit Pistons. He didn't want to go into detail about the injury after the game, calling it just a "boo-boo," but he did wear a protective brace on it as he headed out of the Palace of Auburn Hills.
The Bulls have to be extra cautious with the injury. Noah has become their most valuable player and is in the midst of the best stretch of his career. He racked up his second triple-double in three games in Wednesday's win as a focal point on both ends of the floor. More importantly, Noah tore ligaments in the same thumb during the 2010-11 season and had to miss two months after having surgery to repair it.
The key for the Bulls will be to see how he responds to treatment. He has shown a high pain threshold in the past, having played with the ligament tear for almost a month before having surgery in December 2010.
Bulls coach Tom Thibodeau is expected to update Noah's condition after Friday morning's shootaround.
March, 6, 2014
Mar 6
1:14
PM CT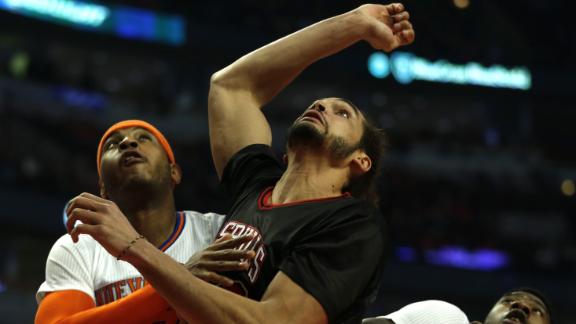 CHICAGO -- Joakim Noah has always been a solid recruiter. He has the type of outgoing personality and charm that people usually gravitate toward. When he was at the University of Florida, former Gators football coach Urban Meyer repeatedly asked Noah to spend time with some recruits that came through Gainesville.
The happy-go-lucky center enjoys the role of pied piper -- which is why it should come as no surprise that Noah reached out to New York Knicks All-Star Carmelo Anthony during All-Star Weekend, according to ESPN.com's Chris Broussard.
The pair have known each other for years -- going back to their days on the AAU circuit in the Northeast. There's a mutual respect between both players that has gained more prominence in the last couple of years because of Noah's progression into an All-Star center.
The interesting part of Broussard's report is that Noah and Anthony's discussion began in regard to Bulls head coach Tom Thibodeau. Thibodeau's name has been tied to plenty of speculation over the last year because of his icy relationship with the Bulls' front office. ESPN.com's Marc Stein reported earlier in the season that Anthony's Knicks had an interest in possibly bringing Thibodeau back to be their head coach if and when embattled coach Mike Woodson is let go.
March, 6, 2014
Mar 6
12:10
PM CT
The
Chicago Bulls
have said all along that
Derrick Rose
will miss the season after the star guard injured his knee in November.
[+] Enlarge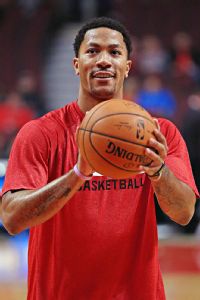 Jonathan Daniel/Getty ImagesDerrick Rose is running on his own but still is not practicing with the Bulls.
But Bulls television play-by-play man Neil Funk has a feeling Rose will be back on the court before the end of the season.
"My belief is he's going to play before this season is over," Funk said Wednesday on the "Carmen & Jurko" show on ESPN Chicago 1000. "No one in the Bulls organization ... they have stuck to their guns that he is out for the season. But I just have this feeling, I don't know why, and this isn't the first time that I've said it, but I really think he's going to play before the season is over.
"At what point [is unclear] and obviously they are going to monitor his minutes very closely if he were to come back. All of those things are going to happen. How much of a factor, whether it's at the end of the regular season or into the playoffs, that remains to be seen. Obviously, there is a likelihood or strong likelihood that maybe he won't play during the regular season. I think he wants to be sure that he's 100 percent, which he thought he was when he came back off that other knee injury, and it looked like he was just starting to round into shape when he hurt that other one."
Rose missed the 2012-13 season after suffering a torn ACL in his left knee April 2012; he played 10 games this season before tearing the medial meniscus in his right knee in Portland on Nov. 22. After having surgery days later, Rose was ruled out for the season by the Bulls. In his first news conference after the injury in November, Rose said he wouldn't rule out a possible return for the playoffs, but he seemed to back off those comments in February.
"I haven't even had a chance to think about [a return this season], to tell you the truth," Rose said on Feb. 12, his most recent public comments about his rehab. "I'm just worrying about my next stage in this process, and that's running right now. I'm on the [anti-gravity treadmill] right now, running on that and hopefully be running without it pretty soon."
Rose has since started running on his own but still has not practiced with the team.
Asked why the Bulls wouldn't rule Rose out of practices for the rest of the season, coach Tom Thibodeau said on Feb. 26: "He's out for the season. I don't know what else you guys want. Again, I think that's a step-by-step thing. He's doing great. He's out for the season. Nothing's changed there. In the end, if he's where it makes sense for him to practice, then that's what he'll do. But he's doing great."
March, 6, 2014
Mar 6
12:06
PM CT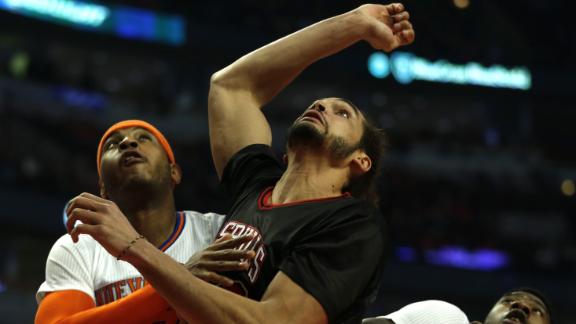 Joakim Noah wants to win a ring. To help him achieve that goal, he wants Carmelo Anthony on the Chicago Bulls.
That's why Noah, Chicago's center, approached Anthony over All-Star Weekend last month about joining the Bulls, according to sources with knowledge of the conversation.
The sources said Noah told Anthony something to this effect: You can go to Los Angeles, but if you really want a ring, if you really want your legacy to be about winning, you should come to Chicago.
Anthony responded by telling Noah that he admires how hard the Bulls play and how hungry they are. Anthony also told Noah, according to the sources, that Derrick Rose is his son's favorite player.
Sources said Rose also wants the Bulls to add Anthony and would be willing to help recruit him if he is asked to do so.
The conversation between Anthony and Noah started as a discussion about what it's like to play for Bulls coach Tom Thibodeau. With rumors about Chicago going after Anthony as well as about Thibodeau possibly coaching the New York Knicks next season, Anthony wanted to know about Thibodeau.
From there, the discussion turned to Noah telling Anthony he should join the Bulls.
Knicks coach Mike Woodson steered clear of the recruitment talk.