December, 6, 2013
Dec 6
4:49
PM CT
DEERFIELD, Ill. – Attacking the inside with athletic big men is not only a strategy the
Chicago Bulls
will use against the
Miami Heat
, it figures to be the blueprint for winning games moving forward.
In the wake of another
Derrick Rose
season-ending knee injury, the Bulls have been trying to dial in a system that works to their benefit, and they connected on one in a 107-87 victory against the Heat on Thursday.
The Bulls have done plenty of regular season damage against the Heat by scoring inside and owning the rebound battle. That's typically the way to have success against the Heat, in the regular season anyway.
"For us, our guys up front, that's one of our strengths," coach Tom Thibodeau said after practice Friday. "The fact that we have
Joakim (Noah)
and
Taj (Gibson)
, they can play smalls, and
Carlos (Boozer)
was terrific throughout the whole (Heat) game. He was so aggressive that it really got us going."
Despite the inside focus, the Bulls are also going to have to rely on the offensive resurgence from
Luol Deng
, who has scored at least 20 points in six consecutive games, and the continued growth of
Tony Snell
, at least until
Jimmy Butler
can return to the court.
December, 6, 2013
Dec 6
4:23
PM CT
DEERFIELD, Ill. – It will be a telling weekend for
Jimmy Butler
as he tries to return from a turf-toe injury that has kept him out of action since Nov. 18.
Butler did not practice with the team Friday at the Berto Center, but coach Tom Thibodeau said the starting guard did do some running, and Butler continued his pattern of going through shooting drills after practice.
With Butler now running again, Thibodeau backed off the week-to-week status he had been giving his defensive stalwart and long-range shooting threat.
"I don't know if it'll be a full week, but he's got to practice," Thibodeau said. "I don't know if he'll practice yet."
The upcoming schedule would suggest that if Butler doesn't return to practice by Monday and return Tuesday against the
Milwaukee Bucks
, the two sets of back-to-back games next week make it likely that the Bulls don't practice again until Dec. 15.
If Butler has to wait until Dec. 15 for his return to practice, he could then make his return Dec. 16 against Orlando. That would still allow the Texas native to play Dec. 18 at Houston and Dec. 19 at Oklahoma City.
December, 6, 2013
Dec 6
9:00
AM CT
CHICAGO -- The
Chicago Bulls
have had so many ups and downs over the past two seasons that their recent skid of six losses in their past seven games really hasn't dampened player's feelings as much as fans may think. The Bulls have a veteran group full of proud players, so they are still confident they can bounce back over the course of a long NBA season.
"Look at the East," Bulls forward
Taj Gibson
said recently. "The East is really an up-and-down kind of side. You get two straight wins and you'll be in fourth or third place. We just really got to get a groove going. It was a good testament to being home, but we just got to get some wins at home."
That is the feeling throughout the Bulls' locker room. Despite all the losing, they are convinced things are going to turn around.
"I think right now a lot of things are not going our way," Bulls forward
Luol Deng
said. "I think we got to stick with it and keep fighting and just keep working hard and it's not going to turn around by itself, we got to make it happen. I think we're losing a lot of close games right now and it's something we got to learn from. It's something that as a group we got to get better with. And individually, I got to get better at making better plays at the end of the game."

Deng struggled in playing the role of closer late in Monday's triple overtime loss to the
New Orleans Pelicans
, a role he was used to seeing
Derrick Rose
fill for Chicago before his latest injury. Deng had seven turnovers on Monday but is hopeful things will turn around once he adjusts to the fact that he is the man Bulls coach Tom Thibodeau will turn to now late in games.
"It's something that I got to really get better on," Deng said. "I think so far right now I haven't done well with. It's a new experience but I got to keep working on it and working on my game. And every time I'm in a situation like that try to be smarter and make smart plays."
Deng has hit a few shots late in the fourth quarter to win games for the Bulls in the past, but the burden of being a "closer" usually fell on Rose in years past, or
Nate Robinson
last season. Now, it's up to Deng to find the answer late in games.
"I work on my game every day," he said. "I think the situation -- it happened. I can't control that. I think either way whether I'm in that situation or not, I work on my game every day whether it's the last shot or the first shot or a shot in the second quarter, I try to make every shot I take. It's definitely a different situation that I haven't been in, but at the same time there's times in the past where, not as often as right now, but there's times in the past when I've been in those situations."
Butler still recovering:
Don't expect to see
Jimmy Butler
in the next few days. Thibodeau said before Thursday's game against the
Miami Heat
that Butler still hadn't practiced and remains "week to week."
The last word:
Gibson on the Bulls' mindset: "In this league when you start feeling bad for yourself the wolves come. The wolves are not going to feel sorry for you. Every team's going to come in smelling blood and feel they need to get a win. Luckily for us, we got guys that understand that when [your] backs are against the wall you got to dig your way out of the hole. You can't make excuses or [say,] "We're tired." You just got to keep playing. It's a long season. I'm real optimistic. Just got to get guys back healthy and give it our best shot."
December, 6, 2013
Dec 6
8:27
AM CT
ESPN.com
Kobe Bryant has announced that he will make his season debut on Sunday against the Raptors. Is it too soon? Can he return to his Black Mamba form? How will his comeback impact the Lakers in the playoff chase? Let's explore the possibilities.
1. Your take on the timetable for Kobe's return?
A. Kobe knows best.

B. Kobe needs to take it slow.
J.A. Adande, ESPN.com: A and B. Kobe knows best, and he is taking it slow. You'll notice that we're closer to the back end of the six-to-nine-month timetable that was initially given for Kobe's return ... about eight months ago. There was a time in Kobe's career when you'd always bet the under on Kobe injury comebacks, but the fact that he didn't rush into a uniform on opening night shows that he's giving this serious injury at this stage of his career the proper respect. To hear him talk with so much detail about the biomechanics of his rehabilitation process shows how in tune he is with his body.
Kevin Arnovitz, TrueHoop: B. Kobe needs to take it slow. Most players return from severe injuries at the first moment they can make a reasonable case there won't be a setback, but that doesn't mean the healing process is anywhere close to being over. Bryant has a new two-year extension, and maximizing those two seasons will require a strong bill of health. Why risk that between now and April?
December, 6, 2013
Dec 6
1:35
AM CT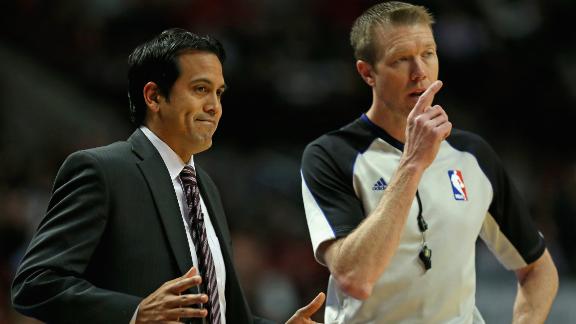 CHICAGO -- Joakim Noah is beloved in Chicago because of his attitude. He plays hard on the court and speaks his mind off it.
That was the case again Thursday night after the Chicago Bulls' 107-87 win over the Miami Heat. Noah knows it means more for his team to beat its hated rival any time they face each other.
"Always," he said. "Always. No question. I think the people in this city, there's something about when Miami comes to town. You wake up in the morning, you just feel it. You feel ... people in this city, they don't like [the] Miami Heat. We don't like the Miami Heat. It always feels good to beat them."
Why does Noah dislike the Heat so much?
"A lot of battles," he said. "A lot of scars. A lot of tough losses. A lot of seasons ending because of them."
Then Noah acknowledged something that everyone around him has known for weeks -- he has been struggling to deal with the fact that Derrick Rose it out again after season-ending knee surgery. Noah has been in a funk since Rose went down Nov. 22 with a torn medial meniscus in his right knee, but in Thursday's game he racked up 17 points and 15 rebounds.
"Our team needed [this win]," Noah said. "We've been through a lot the last couple weeks. Even for me, I think it's really hard to play without Derrick. I want to win with Derrick Rose. What Derrick represents to this city, there's not a lot of players who have that. He brings a lot of hope to the city, and I feed off that. I feel really privileged to be able to play in that position, so him going down was really hard for me, hard for us, but we have to move on and it's not easy."
December, 6, 2013
Dec 6
12:55
AM CT
CHICAGO --
Chicago Bulls
rookie
Tony Snell
did not actually mean that
LeBron James
is just another player, it's just how it came out.
[+] Enlarge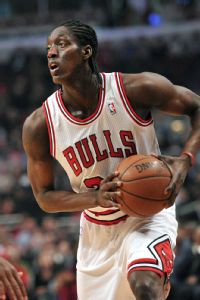 Rob Grabowski/USA TODAY SportsTony Snell's second time facing the Heat proved much better than the first, as he managed eight points and also made a difference defensively.
For perspective, way back on opening night at Miami, foul trouble brought Snell on the court for his first ever appearance in a regular-season game and, as expected, he looked like a deer in the headlights while guarding James.
His nearly seven minutes of action against the
Miami Heat
that night yielded exactly no points, one turnover and two personal fouls.
"It was pretty tough," Snell said of the Oct. 29 contest, the same night the Heat received their championship rings. "I didn't know what to expect. I was a little nervous out there and got all of my nerves out that day. It helped me to be prepared today. I just felt a little more comfortable and relaxed than I did before."
It's essentially another world for Snell now, as the 20th overall pick in the most recent NBA draft is in the starting lineup following an injury to
Jimmy Butler
.
Using the mindset of focusing on defense first while letting the offense come naturally, Snell was in a flow in Thursday's 107-87 victory over the Heat. He scored eight points -- hardly the 18 he had against the
Cleveland Cavaliers
on Saturday or his 3-of-3 shooting from 3-point range against the
Detroit Pistons
on Nov. 27 -- but his defense made a difference.
Snell helped the Bulls hold the Heat to 41.6 percent shooting from the field and 27.3 percent (6-of-22) from 3-point range. He has been in the NBA for barely over a month and his growth has been significant.
December, 6, 2013
Dec 6
1:40
AM CT
December, 5, 2013
Dec 5
11:25
PM CT
CHICAGO -- Let's take a quick look at how the
Chicago Bulls
earned an impressive 107-87 win over the
Miami Heat
on Thursday night at the United Center.
How it happened:
Carlos Boozer
finished with 27 points and nine rebounds to lead the Bulls.
Taj Gibson
had another big game off the bench, going off for 19 points and six rebounds.
LeBron James
led the Heat with 21 points and five rebounds but the Bulls stuck it to Miami early and never let up.
What it means:
When fans hear teams, especially the Bulls, say that every game is just one in an 82-game season, they shouldn't believe them. This was the most energy the Bulls have played with since
Derrick Rose
went down. It wasn't hard for
Joakim Noah
and his teammates to get up for a game against their hated rival. The key for Tom Thibodeau will be to try and find a way to get his team to continue playing this way. They have not been consistent since Rose went down, but maybe this game will help them get out of their funk.
Hits:
Noah played his best game in several weeks. He was active on both ends of the floor, scoring 17 points and pulling down 15 rebounds.
Misses:
The Heat got outworked most of the night -- second-chance points: 24-6 Bulls.
Stat of the night:
The Bulls outrebounded the Heat 49-27.
What's next:
The Bulls face the
Detroit Pistons
on Saturday night.
December, 5, 2013
Dec 5
9:58
PM CT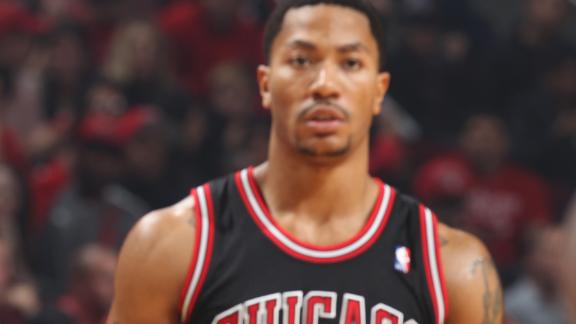 The moment the sentence was out of his mouth it was going to tilt the conversation. "If I'm healthy and the situation is right, if my meniscus is truly healed, of course … "
Life would have been so much easier had Derrick Rose not gone there. This time the Chicago Bulls did the right thing and protected him. This time the organization shut down all the"how-soon-can-he-get-back-on-the-court" talk by declaring Rose out for the rest of this season after the surgery to repair his torn meniscus. The team's decision-makers did exactly what they should have done following his ACL tear, which would have averted the open season of criticism last spring … but there was Rose opening the door on a return this spring, even if it was only a tiny crack.
Look, you can parse every sentence, every word out of his mouth if you want and obsess over the possibility that Rose, should the Bulls reach the playoffs, could come back. Of course, you would have learned absolutely nothing from the first knee injury and time missed subsequently, which is to say you can't miss months and months of time with an injured knee, walk back into the lineup -- especially at playoff time -- and be an effective professional basketball player, because that's fantasy stuff. Rose, unlike so many of today's athletes, doesn't have an agenda in mind when he answers a question.
It was probably best for all involved that Thibs, when faced with the media before the Bulls-Heat game, said, "To me, he's out for the season." Thibs backslid a bit when he added, "If something happens along the way … " but gathered himself to conclude, "We want him to be completely healthy … it's been determined he's out for the season."
December, 5, 2013
Dec 5
9:15
PM CT
CHICAGO -- Thursday night's matchup at the United Center, which had the potential to include the past two players to win an MVP award, won't come off as planned. And the Miami Heat's
LeBron James
is not too thrilled about it.
The Chicago Bulls'
Derrick Rose
, winner of the 2010-11 MVP award, is out of action and likely lost for the season after tearing the meniscus in his right knee two weeks ago in a game at Portland. He had played in just 10 games after returning from an 18-month absence because of a torn left anterior cruciate ligament.
James, who welcomed Rose back to action before the Oct. 29 season opener, was shocked and saddened about Rose's latest setback.
December, 5, 2013
Dec 5
8:35
PM CT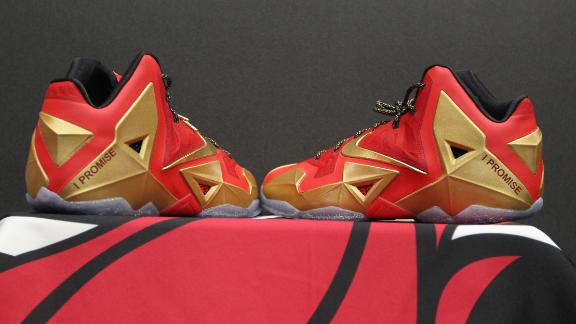 Nike's most important active basketball player is hardly wearing the latest version of shoes that bear his name.
The Wall Street Journal reported Thursday that Miami Heat star LeBron James has only worn his new shoes, the LeBron 11, for two complete games this season. Sources confirmed to ESPN.com that James has had an issue with the fit of the shoe and as a result has been mostly wearing last year's model.
On Thursday night, before the team's game against the Chicago Bulls, James addressed the situation.
"I just want to be able to wear them," James told ESPN.com. "It has been a frustrating process. But obviously, I know that Nike wants to do what's best. They're not going to put me out there in harm's way. So we're redefining the shoe to fit what's best for my foot."
Sneakerhead message boards have tracked when James has attempted to wear his new shoes and when he switches back to last year's model, which has happened as soon as the first timeout or in between quarters.
"I could wear them, but they don't feel as great as I want them to feel," James said. "So we're redefining them, and I feel like this next round is going to be perfect."
The shoe is the lowest cut James has worn, with Nike saying at its release that the idea was for James to "feel the court."
"The LeBron 11 is one of the most innovative Nike basketball shoes to date, and we look forward to LeBron stepping back on the court in his latest signature shoe soon," Nike spokesman Brian Strong said in a statement.
December, 5, 2013
Dec 5
3:53
PM CT
CHICAGO --
Derrick Rose
's attitude during Thursday's press conference can be summed up in one word: defiant.
The
Chicago Bulls
star never wavered in his emotions as he made his first public comments since having surgery to repair a torn medial meniscus in his right knee. He made it clear that he still believes he can come back and be the same player, if not better. He made it clear that he still believes he has a chance to come back this season, and that he doesn't want to recruit players to come to Chicago. But most of all, he made it clear that people shouldn't doubt him.
[+] Enlarge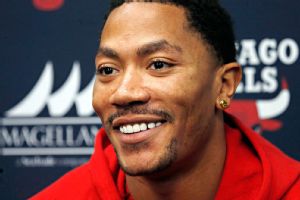 AP Photo/Charles Rex ArbogastDerrick Rose is doing his best to stay positive for another knee rehab.
The 20-minute media session was vintage Rose.
The most intriguing part came after he was asked if he believes the Bulls can still build around him despite all his recent injuries. Rose paused for about 10 seconds while trying to find the right thing to say.
"You can be a fool if you want to," he said. "I know I'm going to be all right."
The problem for Rose is that in that context, there are plenty of fools out there now. Some fans/media believe Rose will never come back and be the same player that he was before the knee surgeries, but the former MVP doesn't care. He thrives around that kind of doubt and will use it as motivation as he tries to make his way back -- again. He views the injury as a positive in the sense that he didn't tear the ACL in his right knee this time around.
"They say usually when you tear your meniscus you tear your MCL or you tear your ACL along with it," Rose said. "It was just the meniscus. So it's something I just got to deal with, but I'm used to being in this position. I've been in this position my whole life as being an underdog. I could care less what people say about me, or criticize my game or whatever, or how I play. How I play is how I play and that's hard. I could tear it 10 more times, as long as I'm playing hard and giving the game my all I could live with it for the rest of my life."
Rose said he doesn't care what people think, but that's only true to a certain extent. He cares deeply about his fans and that's why he wouldn't completely shut the door on a return this season, despite the fact Bulls general manager Gar Forman told ESPNChicago.com that he's "really out" for the year, no matter how far the Bulls may go in the playoffs.
In that regard, Rose handled his press conference about as well as could be expected. What else was he supposed to say when it comes to his future? His game has always been based on speed and power, but a key aspect in his ascent to the game's elite has always been his confidence. He has always believed that he was the best player on the floor. If he starts doubting himself now and saying that he won't ever return to being the same player, then he never will be.
Rose has got to keep thinking the same way in order to make it through another arduous rehab. The issue now for him, and his team, is that he will have to sit and watch for the second straight season. Out of all the mental hurdles he will have to cross over the next six months, that will be one of the toughest for him to clear again.
"It's hard," he admitted. "I could complain and pout about it, but that's not going to do anything. I got a long time until I come back so I'd rather smile than be sad."