March, 6, 2015
Mar 6
1:20
AM CT

By Royce Young
ESPNChicago.com
Archive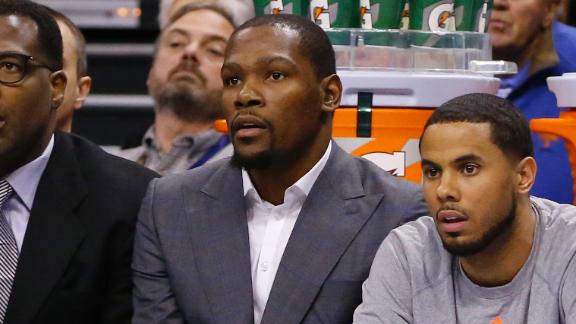 It's an amazing thing, the fact that a player who can score 40 points in three consecutive games, who can have a run of four straight triple-doubles end with a measly line of 43-8-7, who can produce an entire month that's unlike anything really ever seen before, can still have a swarm of critics nibbling on his heels, waiting to pounce on any failure.
Such is the ever polarizing roller-coaster ride that is
Russell Westbrook
.
Thursday's game against the
Chicago Bulls
is one of the many perfect microcosms of what keeps the Westbrook debate well fueled. His critics have become outnumbered over the years as most have come to the light, understanding he's a magnificent player, but one with a few remaining nagging flaws -- most of which should be forgiven.
But in crucial situations, as showcased in the 108-105 loss to the Bulls, Westbrook went rogue, eschewing trust for self-belief. It's the blatant blemish he can't shake -- critical crunch-time decisions gone wrong. Forget about the face-breaking raw numbers he had put up on the second night of a back-to-back. He didn't make the right play when it mattered, so everything else must not have, right?
[+] Enlarge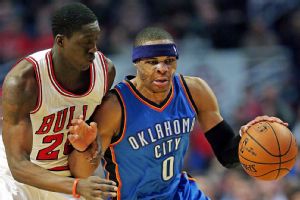 Jonathan Daniel/Getty ImagesRussell Westbrook's 43-point night ended with regret for a pass he wished he had made.
The Thunder's final full possession is the most recent evidence. The Thunder ran a nice set, with a little misdirection screen-and-roll, as
Enes Kanter
faux screened with
Serge Ibaka
trailing him from the weakside to run a pick-and-pop. The Thunder got what they should've wanted. The Bulls flooded to Westbrook -- as you'd expect -- putting two on the ball. The simple play for Westbrook was to kick to Ibaka, who had floated to acres of open space in one of his jump-shooting sweet spots.
Westbrook saw him, but instead of making that pass and trusting Ibaka with the dagger, he hesitated, let the Bulls complete the switch to put
Nikola Mirotic
on him, and attacked on his own. Seconds later, a wild air ball and a shot-clock violation, setting up
E'Twaun Moore
's game winner.
"I should have passed it to Serge. That was a bad decision on my part. He was wide-open," Westbrook told reporters after the game.
That's a pass Westbrook makes to Ibaka in quarters 1 through 3. Heck, it's a pass he made to Ibaka just two minutes earlier, with Ibaka leaving a clean 15-footer short. But in that clutch-time moment, Westbrook couldn't help but shoulder the burden of responsibility.
The Westbrook detractors see this as an inherent selfishness, a desire for glory, a ball hog's mentality. What it really is, though, is a player whose remarkable competitive spirit sometimes clouds his vision. What makes Westbrook so great is his fearlessness, the nonstop motor that runs from tipoff to the final buzzer. That adrenaline pumps through him like gasoline, and when it comes to those critical possessions, he sometimes can't find the balance.
That's the Westbrook narrative, and Thursday's game only enhances it. Because a line of 43-8-7 might as well be 10-2-3 when it comes to critiquing him. The first 47 minutes don't matter. The brilliance, the breathtaking playmaking, the jaw-dropping athleticism, the relentless will -- all of that is just periphery because Westbrook didn't make that one pass on that one possession.
Thing is, Westbrook knows this. He admitted in Portland a week ago he should've passed more after a close loss to the Trail Blazers in which he shot 38 times. He said he needed to trust his teammates more. He's going to watch film and see the play with Ibaka and know he missed it. He's probably seen that same play 75 times already in his career. And each time, I'm sure he pledges to do it differently the next time around. But in that moment, when the game is on the line, when there's a hero needed, Westbrook wants the ball. He needs the ball.
With a healthy
Kevin Durant
, things are different. It helps regulate Westbrook, as he turns his focus to trying to set up his superstar teammate as best he can. When those actions fail -- as they often do -- the responsibility then falls on him to make a secondary play. And he often does. It's an ideal crunch-time dynamic, to have two all-world stars who trust each other and possess the ability to make something out of nothing when they have to.
On Thursday, though, with Durant out, Westbrook saw himself as flying solo. He got the Thunder to the edge of glory, so he felt the responsibility to finish it. Just 20 seconds before, he had hit a dagger-ific 22-foot jumper in Moore's face to put the Thunder up three. But when he had the chance to find the proper balance and defer a possession later, he opted to call his own number.
The hot, and incorrect, take here is to say this is why the Thunder won't ever win a championship. In reality, though, it's just the area where Westbrook still has room to grow. The guy who put up 43-8-7 and four straight triple-doubles can still be a little better. How's that for scary?
March, 5, 2015
Mar 5
11:57
PM CT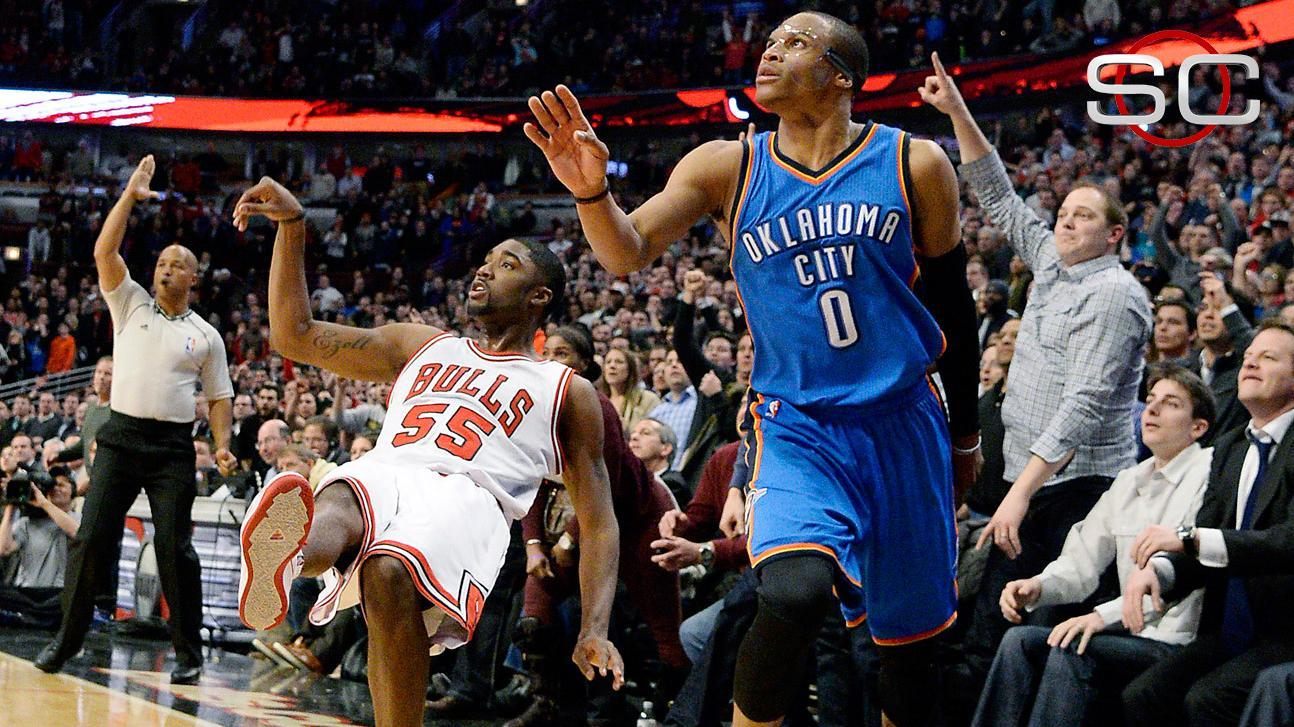 CHICAGO --
Chicago Bulls
big man
Joakim Noah
walked out of the shower late Thursday night after an exhilarating 108-105 win over the
Oklahoma City Thunder
, headed back toward his locker, and saw rookie forward
Nikola Mirotic
to his left.
"Vamos!" he happily exclaimed. "Good s---, young boy!"
Like many of his teammates, Noah couldn't contain his excitement, especially in regard to Mirotic's performance. For the third straight game, Mirotic carried the Bulls at times offensively. He scored 26 points -- including 14 in the fourth quarter -- and has become the weapon Bulls coach Tom Thibodeau and the front office always hoped he could be, and at just the right time.
[+] Enlarge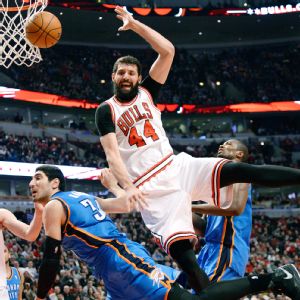 AP Photo/David BanksA more confident Nikola Mirotic is averaging 26 points over the past three games.
The key for Mirotic is that the confidence that appeared to wane after a solid December stretch has been revitalized since the All-Star break, and just as the Bulls have lost
Derrick Rose
(knee),
Jimmy Butler
(elbow) and
Taj Gibson
(ankle) to injuries.
Mirotic is averaging 26 points over his past three games and says his mindset is strong right now.
"I'm playing with more confidence," Mirotic said. "I'm feeling good on the court. I'm running, sometimes when I get the ball, I push the ball. That's my basketball [style]. I'm trying to show this game how I can play -- my confidence is at a high level. I don't want to stop."
The short-handed Bulls can't afford for Mirotic to stop. He has emerged as a clutch scorer in the fourth quarter over the past three games, putting up a combined 38 points in the final frame.
"He's definitely growing," Bulls big man
Pau Gasol
said. "He's getting more used to the competition, more comfortable, more confident. Now he's getting more minutes because of Taj's injury. He's doing really well. I think he's done great every time we've been short-handed on the frontcourt, and he's played at a high level."
The difference between Mirotic and most rookies is he doesn't show much fear on the court. At age 24, he has played big games in Europe, and he knows what it takes to succeed in pressure situations. One of the biggest differences in Thursday's game was he made a point to get to the free throw line, knocking down 14 of 16 from the stripe.
When asked why he was able to thrive in pressure spots, Mirotic had a simple answer.
"I don't know, maybe because I was taking a lot of shots in Europe, important shots," he said. "Of course it's a huge difference, you're a new guy, but my teammates -- they expect me [to take those shots]. They got confidence in me, the coach, too, so if they run plays for me I just need to think to score the shots."
His teammates have seen the subtle differences in his game recently as well.
"His assertiveness is there," veteran
Mike Dunleavy
said. "Whether it's being more comfortable or confident or whatever, but you can just tell he's got that feel where he's got it going, believes in himself, knows what he's doing out there. He's playing great basketball."
Mirotic seems to be just scratching the surface of his potential. He knows there is another level he can hit. It's that potential that made Noah contend early in training camp that the rookie could become the Bulls' "secret weapon" this season.
"I'm proud of him," Noah said after Thursday night's game. "He's a very hard worker and he's an unbelievable talent. And the sky's the limit for him."
March, 5, 2015
Mar 5
10:00
PM CT
Associated Press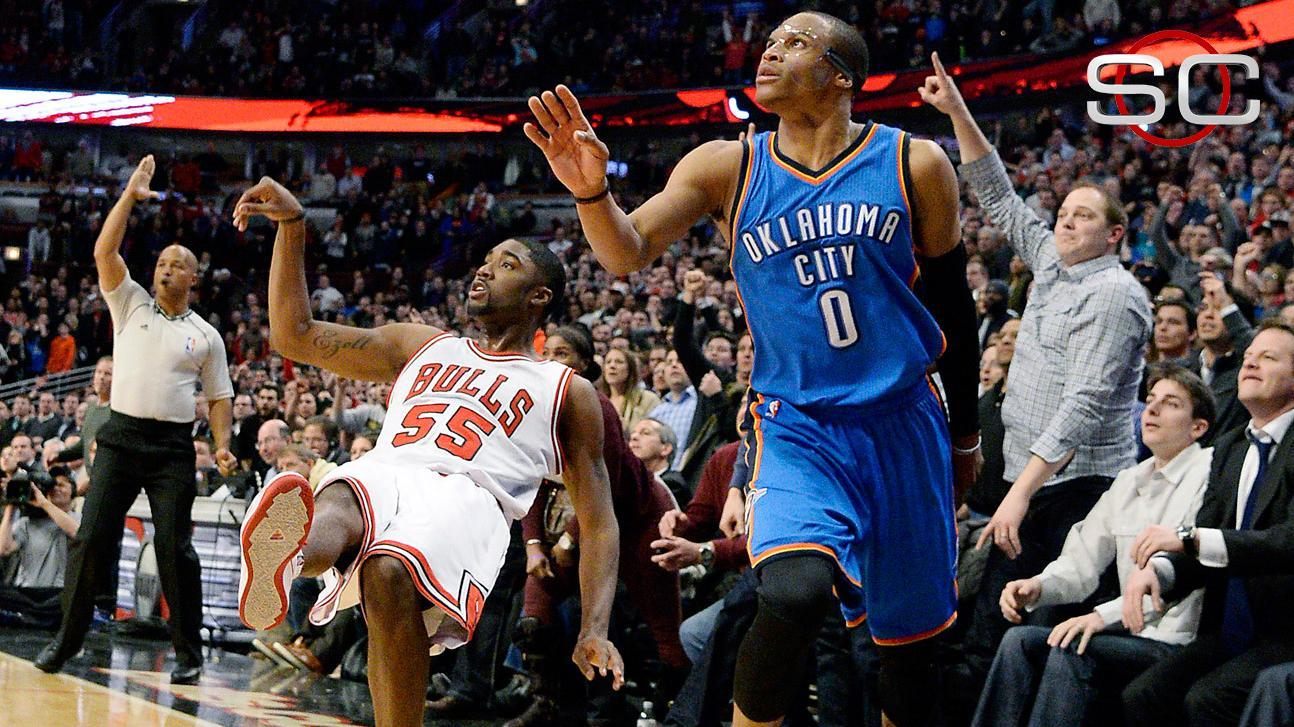 CHICAGO -- E'Twaun Moore hit a go-ahead 3-pointer with 2.1 seconds remaining and the Chicago Bulls rallied to beat the Oklahoma City Thunder 108-105 on Thursday night, ending Russell Westbrook's triple-double streak at four.
Westbrook had 43 points, seven assists and eight rebounds. On Wednesday night in Oklahoma City, he had career highs with 49 points and 16 rebounds and added 10 assists in an overtime victory over Philadelphia.
Nikola Mirotic made two free throws with 28.9 remaining, pulling Chicago within one. Westbrook then shot an air-ball with the shot-clock expiring, and Moore followed with his 3-pointer. After the 3, Westbrook stepped out of bounds after receiving the inbounds pass.
Mirotic finished with 26 points, Pau Gasol and Mike Dunleavy each 21, and Moore added 19.
March, 5, 2015
Mar 5
8:31
PM CT
CHICAGO -- Entering Thursday night's fourth quarter, the Oklahoma City Thunder had a seven-point lead and Russell Westbrook, the man who has defined the Weird Cyborg style of basketball.
The Chicago Bulls had E'Twaun Moore. You know, from Purdue.
After a 19-point third quarter from Westbrook, Moore said, "I'll show you who's the real MVP." Or something like that.
In one of those "you had to be there to believe it" games, Moore didn't miss a shot in the fourth and hit a game-winning 3-pointer with 2.1 seconds left in the Bulls' 108-105 victory over the Thunder at the United Center.
When the ball came to Moore with the game on the line, he wasn't thinking about being a rarely used bench player, or about Westbrook charging at him. He got the touch pass from Pau Gasol in the left corner and buried a triple to put the Bulls ahead by two points.
"It's just a natural instinct," Moore said. "I've been playing basketball for a long time. It's not brand-new to me. So I'm always ready."
Moore, a native of East Chicago, Indiana, scored a career-high 19 points, and crouching on defense like Lance Briggs in his No. 55 jersey, he helped hold Westbrook, the people's favorite for league MVP, to a measly 43.
On his final two possessions, Westbrook shot an airball and had a turnover.
Hero Ball, thy name is E'Twaun.
March, 5, 2015
Mar 5
12:43
PM CT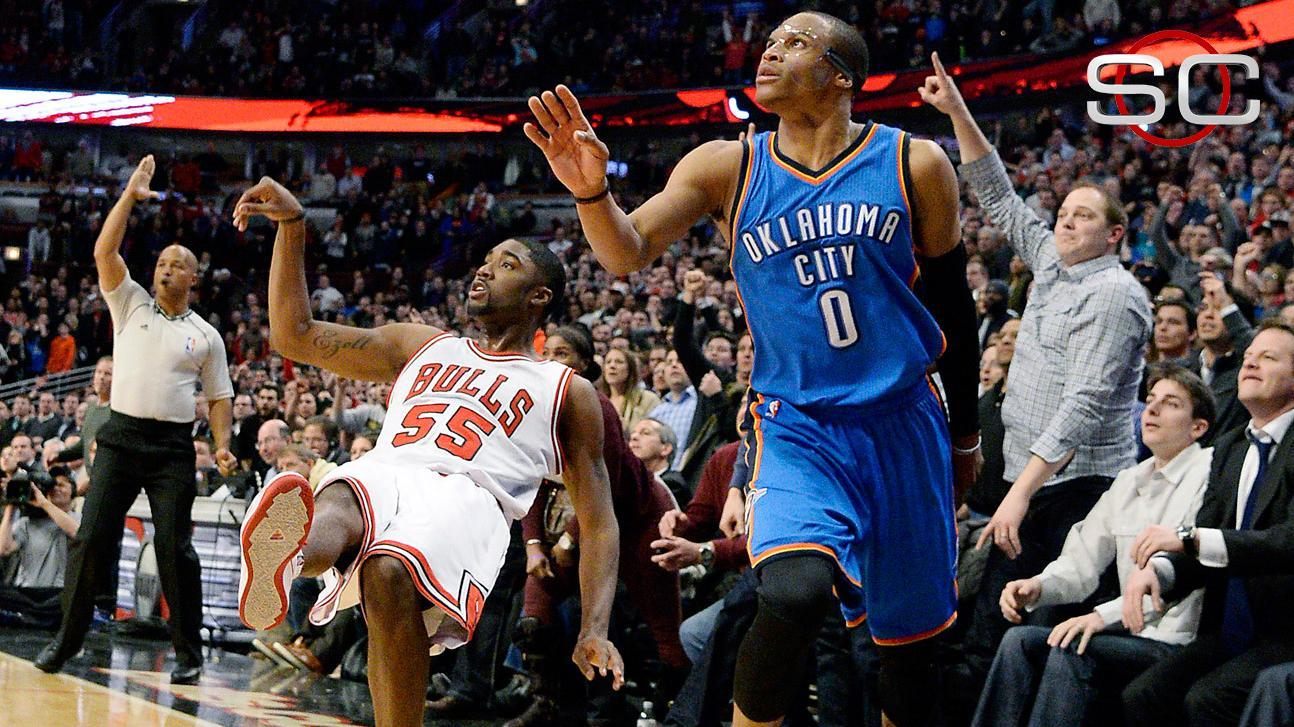 CHICAGO -- Popular Turner Sports reporter Craig Sager had an emotional return to work courtside Thursday night, signaling his return from an 11-month battle with cancer.
"I'm very grateful, very thankful, and I got up today and it was like the first day of school," Sager said after the Chicago Bulls finished their shootaround in preparation for their game against the Oklahoma City Thunder, which the Bulls won 108-105 in dramatic fashion. "You're a little nervous. I've done it before but everything's a little different. It's a long 11 months, believe me.
"But I was very fortunate I had some doctors I believed in, had some good care. I'm back. A little bit lighter, I don't know if you can see it on TV but I lost close to 50 pounds, got some of it back, but I had to get some new clothes because all those great things I had before don't fit anymore."
Sager's clothing did not go unnoticed.
While Sager's frame has thinned out, his style hasn't changed. He started the game wearing a black-and-red suit for the Thunder-Bulls game, joking that "I will come tonight, and you may actually think I'm Benny the Bull.
"I have a lot of love for my Chicago Bulls," he said pregame. "Normally, you don't show a lot of favoritism for one or the other team, but since Chicago means so much to me and coming back here, I said I have to show some love to the Bulls and to Chicago. I don't think I'll get booed by too many people for what I'm wearing here tonight."
When told of Sager's plans, Thibodeau smiled in approval.
"I'm happy about that," he said. "I'm very happy about that. He has good taste."
The Bulls went one step further.
March, 5, 2015
Mar 5
1:52
AM CT

By Dave McMenamin
ESPNChicago.com
Archive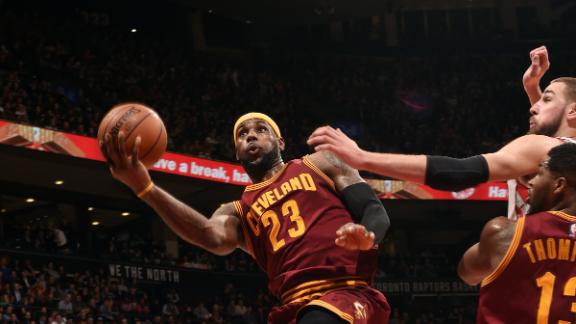 TORONTO -- Two games after the
Cleveland Cavaliers
saw their 11-point second-half comeback fall short in Houston in part because of two errant free throws by
LeBron James
, it was the Cavs holding off a furious rally by the
Toronto Raptors
. Toronto tried to come back from being down 19 in the second half Wednesday, yet were thwarted in large part because of a 15-point fourth quarter by James.
On a personal level, the Cavs' 120-112 win was redemptive for James.
"For me, I'm my biggest critic," said James, referring to the way he chided himself on social media after the Rockets game, including posting a photo to Instagram of him looking himself in the mirror with a glum expression. "I'm tougher on me than anybody could ever be. I was kicking myself in the face and beating myself up after that game in Houston all the way to the next day.
"When I woke up the next day, I was refreshed, I was back in the gym. It's another day, another opportunity for me to get better and it's how you come back from those moments that define who you are as a player or as a person, period. I've been in situations like that. I man up to them. I understand that I'm the leader of this team. And when we win, we all win together. Sometimes when we lose, I'm taking all the blame. That's who I am."
[+] Enlarge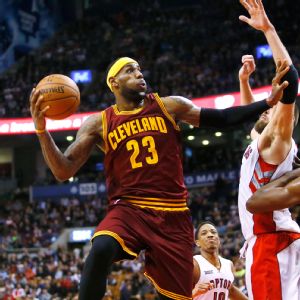 John E. Sokolowski/USA TODAY SportsLeBron James took charge against the Raptors late, scoring 15 of his 29 points in the fourth quarter,
Who he was on Wednesday was a guy that seemed to be following the same script as he did in Houston, starting the game 3-for-7 from the foul line including an 0-for-2 trip to the stripe after receiving a flagrant foul from
Jonas Valanciunas
late in the third quarter.
With the home crowd suddenly frenzied at the sight of The King falling on his own sword yet again, James turned things around.
"It's winning time," James said he told himself heading into the fourth quarter. "Be aggressive. It's winning time."
He went on to shoot 4-for-5 from the field and 5-for-6 from the line in the final stanza to finish with 29 points and tie his season high with 14 assists.
On a team level, it was a revealing result for James as he pondered how his guys were able to beat back the Raptors after they had made it a tie game as late as 5:51 remaining in the fourth.
"Every team makes a run," James said. "You have to be able to withstand it and be resilient. And tonight was another moment for our team. And we need those going down the stretch run in the regular season. We need those moments where it's good, it's great, then it's not so great. It's how you come back from those moments, those adverse moments that define what team you are or you could be."
First let's talk about what the Cavs are. The win over Toronto nabbed them the season series 3-1 and pulled them within a virtual tie with the Raptors and the
Chicago Bulls
for the No. 2 seed in the Eastern Conference playoffs as all three teams sit 10.5 games back of Atlanta. (Cleveland has played two more games than the other two teams.)
Even David Blatt had to admit that pulling into a tie for second with 19 games remaining in the regular season was worth recognition, considering that his team was No. 6 in the conference before it blazed its current 20-4 run over its past 24 games.
Before tipoff Blatt was asked about the importance of beating the Raptors. He dismissed it with coachspeak, saying, "They're all important. And we're trying to play them that way."
Afterward, he sang a different tune.
"You were right," Blatt said. "Obviously this was a big bridge game for us tonight because we did [win] the series with Toronto and that could be a factor the way the East is shaping up."
The Cavs will look for another major moment on the road Friday against the top-seeded
Atlanta Hawks
. It's the site of perhaps the team's lowest low this season: James unexpectedly sitting out on his 30th birthday while
Kevin Love
went out with back spasms as Cleveland looked as out of sorts as could be.
That seems like a distant memory, which is the same feeling James wants when he thinks back on his failure in Houston.
Why, James was asked, does he still get so bent out of a shape with a regular-season loss when he has legendary playoff performances and two championship rings to his credit by this point?
"It's just who I am," James said. "It's just who I am."
And who he is happens to be the key to everything that the Cavs can become.
March, 4, 2015
Mar 4
9:45
PM CT
CHICAGO --
Joakim Noah
stood in front of reporters after Wednesday's practice and was ready to answer questions before it dawned on him that he had forgotten something. He ambled back into the
Chicago Bulls
' locker room at Advocate Center and reappeared a few minutes later with "The Drop."
Noah
That would be a necklace that his mother Cecilia Rodhe, a sculptor, designed. "The Drop" as Noah's Arc Foundation puts it, is "meant to be worn as a sign of connectivity and to visibly express a sense of belonging and togetherness in one's community."
The appearance of "The Drop" around Noah's neck coincides with the
video
that his foundation helped release Tuesday in its efforts to raise awareness about gun violence. The video features Noah and Bulls teammates
Derrick Rose
and
Taj Gibson
as well as others sharing their experiences with gun violence.
It's a cause that has become near and dear to the emotional big man's heart as he has watched the violence in Chicago during his eight seasons with the Bulls.
"It's a harsh reality here in Chicago," Noah said of gun violence. "Violence is out of control. As somebody who plays for the Chicago Bulls, I just feel like it's important to be aware and to be involved. I want to thank [director] Alex Kotlowitz for making that video, teaching me a lot about what's going on here. This city has taught me a lot."
Noah wants to use his platform as a famous athlete to bring about positive change in the place he now calls home.
"This is not a problem that's just going on on the South Side or the West Side, this is everybody's problem," Noah said. "So me and my mother we started this movement, it's called 'Rock your drop -- a drop of consciousness.' It's a necklace -- you can look at everything on rockyourdrop.com -- that represents a tear drop. It's something that we've been working really hard on. It's to bring awareness to all the violence that's going on and also that we're all in this together and that you're not alone, just like Alex Kotlowitz said.
"It's our movement and we're really proud of it and we just hope that it can spread. The more money we raise with these Drops, the more programs we can put in for these kids."
March, 4, 2015
Mar 4
3:05
PM CT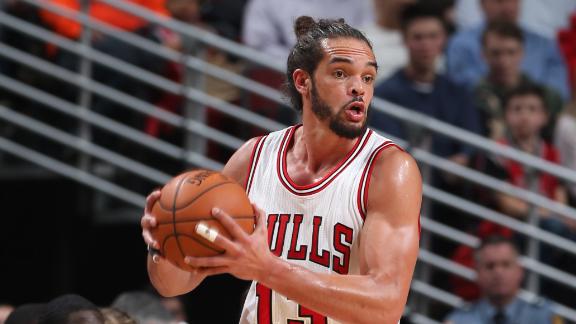 CHICAGO -- With 21 games left in the regular season and a showdown with
Russell Westbrook
and the
Oklahoma City Thunder
on the horizon Thursday night, the
Chicago Bulls
find themselves in a familiar position. Their backs are against the wall and they are playing without key players because of injury.
Derrick Rose
(knee) and
Jimmy Butler
(elbow) are out at least several more weeks, and
Taj Gibson
(ankle) is out for a little while longer, although Bulls head coach Tom Thibodeau did note after Wednesday's light practice that Gibson is out of his walking boot.
The broader issue for Thibodeau and his players is how similar this season is unfolding compared to the last two years without Rose. No team likes having its star players injured down the stretch, but the Bulls are probably better equipped to handle this situation than almost any other team in the league given what they've dealt with over the last few years. They know the schedule is about to turn tough -- with four of their next seven games against teams with winning records -- and they understand that while help may be on the way before the regular season ends, they're going to have to withstand the schedule without Rose and Butler for the foreseeable.
"I think you have to have great will, great determination, and you have to be together," Thibodeau said of maintaining the intensity without key players. "I think when you have a group like that that's committed to playing for each other, good things can happen. When you look around the league you see the teams that are tied together and play hard each and every night, play smart, you give yourself a chance to win. You don't get here by accident; if you're here, you have great talent. Then it's how strong can you play as a team? Everyone has to understand what their job is. It's five-man offense, five-man defense and working together. That's what it's all about."
The intriguing part of this stretch is that the Bulls will be leaning on several players who are new to this situation. Veterans
Pau Gasol
and
Aaron Brooks
are in their first year with the Bulls, while rookies
Nikola Mirotic
and
Doug McDermott
are still in their NBA infancy. The hope is that the new group will be able to dig down deep to find the fire that it takes to play short-handed night after night. Over the past few years without Rose, Butler and Gibson were the ones who helped light that flame game after game. Now it must come from a different place.
"We'll see," Gasol said when asked how the Bulls will be able to sustain the energy that comes with playing the way they did in a hard-fought win over the
Washington Wizards
on Tuesday night. "Obviously with our minds and our hearts into it a lot of things can happen, so we just bring our will every single night. Try to give ourselves a chance to win against whoever we're facing."
To that point, Gasol and his newer teammates will be able to lean on veterans
Mike Dunleavy
and
Kirk Hinrich
for guidance in how to deal with the annual setbacks that seem to come with wearing a Bulls uniform, but after being in the league for 14 seasons, it's not as if he hasn't had to play through injuries to teammates before.
The good news for the Bulls is that
Joakim Noah
seems to be playing his best basketball of the season. After struggling with the aftereffects of offseason knee surgery, Noah finally appears to be playing -- and feeling -- more like himself. Without Rose on the floor, and now without Butler and Gibson as well, the games become even more personal to the emotional big man. Like many of his teammates, he is at his best when he feels slighted, and his teammates thrive off the energy he provides.
Noah never wants to single himself out, but Brooks mentioned after Tuesday's game that Noah set the tone for the entire night with his energized play.
"Everybody's working hard," Noah said. "We've been working hard since the beginning of the year. A lot of ups and downs. We've just got to find a way to stick together through the good and the bad and know that we have a shot at this, and we can't take that for granted."
But this is where the real hurdles build up -- both mentally and physically -- for a short-handed team. The Bulls have to find a way to maintain poise as they wait for some of their top players to heal. How they fare in this regard will help determine how the rest of their seasons shakes out.
"That's the challenge," Dunleavy said. "That first game out after all the chaos has occurred, that first game is kind of the easiest because you know you're going to have emotion, you know you're going to have energy. But now we're going to have to settle in and play this role every night and hold down the fort for a few weeks. So that's the biggest challenge of it all, and we'll see what we can do."