November, 28, 2014
Nov 28
6:40
PM CT
By Kyle Brasseur
ESPNChicago.com
Archive
BOSTON -- As the Boston Celtics' struggles with closing out games this season continued on Friday in their 109-102 loss to the
Chicago Bulls
, anybody on the team would say that they're close to finally clicking on all cylinders.
Done in by an 11-point fourth quarter marked by a barrage of missed shots, the main sentiment around the locker room was that the ball just didn't land in the net when it needed to.
Looking for one player to speak to that? Third-year forward
Jared Sullinger
surely could tell you that was the case.
[+] Enlarge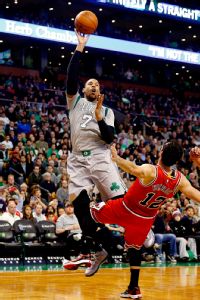 Winslow Townson/USA TODAY SportsJared Sullinger had a game-high 23 points, but a charge drawn by Kirk Hinrich late in the game helped turn the game to the Bulls.
Enjoying one of his strongest showings of the season while pacing the team with 23 points, Sullinger endured a rough final three minutes that was the difference in the game. After tying things up at 100 apiece by drawing a foul on a layup and finishing off a three-point play with 3:01 remaining, Sullinger turned the ball over, missed a shot and botched two free throws to help the Bulls open up a lead and complete the win.
"We scored the right amount of points, it's just the simple fact of getting that ball to fall," Sullinger said. "We played hard on the defensive end, just got to make that ball drop."
The Celtics held a 91-85 lead through three quarters, with Sullinger playing a large part. He had a huge third, netting three of four attempted 3-pointers, including a shot from beyond the arc that fell with less than a second remaining in the quarter. Having started the year 5-for-25 from downtown, Sullinger has at least three 3-pointers in each of his last three games.
He looked to keep up his hot hand early in the fourth, taking three of the team's first four shots, but he missed on each attempt. While the play to tie the game at 100 would have appeared to be redemption, the two missed free throws with the Celtics down by four with 20 seconds remaining had Sullinger dwelling on the negative after the game. Given that
Rajon Rondo
missed two at the line with the game tied less than a minute earlier, the botches loomed even larger.
"I missed two crucial free throws," Sullinger said. "Like I said, the ball didn't fall. They both felt great. The ball just didn't fall.
"First one was right on the line, shot it long. Second one was just in-and-out. That was the story of the fourth quarter, in-and-out shots."
Sullinger's turnover would prove costly as well. Coming right after the Celtics took a 102-100 lead on a
Jeff Green
shot, the team had several chances at an open look during their next possession before Sullinger ended it with an offensive charge on Bulls guard
Kirk Hinrich
. The foul seemed to turn the momentum as Boston didn't score from that point onward.
After the game, Celtics coach Brad Stevens described the play as "the only possession where [he] really felt like [the team] passed up the right shot."
"[Taking the shot] is something that you've just got to go do," Stevens said. "In the fourth quarter if you get a good open look, you need to take it."
Up until the fourth, the Celtics had done a good job taking advantage of any open look the Bulls gave them. But when the shots mattered most they didn't fall, leading to the Celtics again coming up short.
In the end, it was a strong effort tarnished by a lost. And a strong game by Sullinger tarnished by those final three minutes.
"It's frustrating," Sullinger said. "Nobody likes to lose so it's frustrating."
November, 28, 2014
Nov 28
2:42
PM CT
Associated Press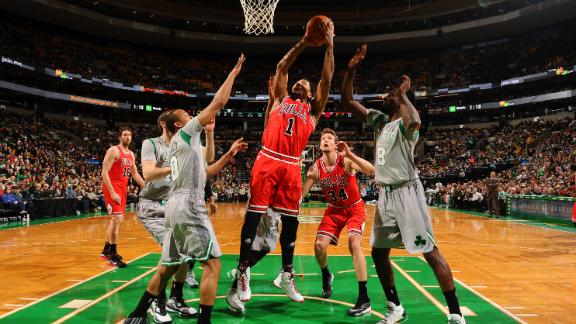 BOSTON -- Jimmy Butler hit four free throws late in the game and finished with 22 points, Derrick Rose scored 21 points and the Chicago Bulls pulled out a 109-102 win over the Boston Celtics on Friday.
Pau Gasol had 15 points and 15 rebounds, and Joakim Noah added 15 points with 14 boards for the Bulls, who had lost four of their previous six games. Boston has lost six of seven.
Jared Sullinger led Boston with 23 points and 10 rebounds. Avery Bradley had 18 points and Brandon Bass 16 with nine boards. Rajon Rondo had eight points, seven rebounds and nine assists for the Celtics.
Butler's two free throws tied it with 80 seconds to play. Rondo missed two free throws and Sullinger front-rimmed an attempted 3 before Butler's two free throws put the Bulls ahead for good, 104-102, with 51 seconds left. Noah nailed a short jumper on Chicago's next possession.
November, 28, 2014
Nov 28
12:31
PM CT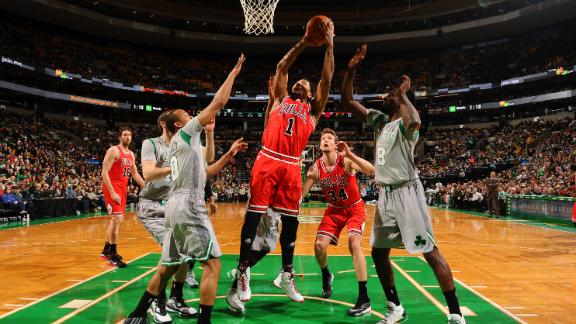 BOSTON -- Chicago Bulls point guard Derrick Rose isn't lacking for confidence as he continues to make his way back from lingering injuries.
"My confidence is through the roof, man," Rose said Friday after scoring 21 points and grabbing four rebounds in the Bulls' 109-102 victory against the Boston Celtics. "I don't need no more confidence, I just need to play. I know how good I am and I know how good I'm going to be. It's just that I just need to be out there playing."
The performance gives Rose and the Bulls an added boost for a variety of reasons. The Bulls had lost three of their past four, and Rose came into the game having played only 10 minutes in Tuesday's loss to the Denver Nuggets, after being subbed out at halftime because of what the team called left hamstring tightness.
The difference for Rose between Tuesday's game and Friday's was simple in Bulls coach Tom Thibodeau's eyes.
"He played," Thibodeau said.
"The thing for Derrick is he's got to keep building," Thibodeau said. "Honestly, I looked at the 10 minutes [in Denver] as a positive. Back-to-back [games], he's out there. I looked at the last two days, practicing and practicing hard, so he plays better. That's how he's going to shake the rust off. So I just want him to keep building. That's what I want him to do. He's got to be out there in order to do that."
Friday's win also marked the return of Bulls center Joakim Noah
November, 28, 2014
Nov 28
12:12
PM CT

By Nick Friedell
ESPNChicago.com
Archive
BOSTON -- From the moment Derrick Rose set foot back onto a competitive basketball floor this summer, Bulls head coach Tom Thibodeau has maintained that Rose's recovery from two different knee injuries was deeper than just a physical rehabilitation. In the veteran coach's mind, it was a three-pronged process.

"There's always a physical part, there's a mental part, there's an emotional part," Thibodeau said. "And we knew there would be some bumps in the road. And when you've been off as long as he's been out, the sprained ankles, the tight hamstrings, that's going to happen. That's expected. And he's got to work through that and he is."

But as Thibodeau and the Bulls continue to try and figure out the right path to take with Rose -- pushing a little harder or pulling back a little more -- the former MVP remains as outwardly confident as ever in his game. Even if his recent play doesn't suggest that confidence has translated to the floor.

When asked if he was having more problems with the physical or the emotional part of his return, Rose thought about it for a second and then responded.

"I wouldn't say it's neither of them," he said. "It's just that I had little injuries that's holding me back a little bit. If I didn't have them injuries who knows where I'd be right now? So [I'm] trying to have a positive mind no matter what I go through and just know that it could always be worse."

While Rose doesn't seem concerned, the numbers show that he isn't playing the same kind of aggressive game that he has in years past. According to ESPN Stats & Info, 39.5 percent of Rose's shot attempts are coming in the paint this season, compared to 47.9 percent in 2010-11 and 52.7 in the lockout-shortened 2011-12 campaign. Also, while it's a small sample size, Rose averaged 7.1 drives a game during his 10-game stint last season before tearing the medial meniscus in his right knee. This season, he is averaging just 5.4 drives a game, which is 45th in the league, according to NBA.com.

The differences in Rose's game are subtle, but noticeable to those who have followed him for years. He doesn't look as confident on the floor, and as Thibodeau pointed out earlier in the week, he doesn't look as comfortable with the ball in his hands because he hasn't had time to shake the rust off of his game yet. That uncertainty is one of the biggest reasons teammates continue to be outspoken in support of Rose. They know how hard he has worked to get back to this point and understand they can't get to where they want to go without him playing at a high level.

"A hamstring is nothing to play with because that can lead to other things," Bulls swingman Jimmy Butler said. "I think he's very smart and doing the right thing -- we need him long term, not short term. Definitely long term. So he's right for what he's doing."

It's that positive mindset inside the locker room that Thibodeau seems intent of focusing on, just days after openly pushing Rose, and by proxy the Bulls' training staff, to find a way to keep the 26-year-old on the floor. Thibodeau knows that in order for Rose to build up his emotional confidence he must push through any second thoughts he has about being back on the floor.

"The only way you can build that [emotional confidence] up, he's got to increase the work," Thibodeau said. "When that happens he's going to be more comfortable out there. I've watched the [Denver] game a couple times now, he did some really good things in that game, even though [his time was] short. It got us off -- when he's on the floor the game's different for everybody. And as he strings games together and he plays more, his timing is going to come around, the rust is going to come off, and his conditioning will improve. So that's the way we're going to approach it. Obviously, if he's injured we don't want him to play. We'll sit him down if we have to. But if he's healthy, and he feels like he can go, we want him to go."

That's the balancing act that Thibodeau must figure out with Rose these days. Is he healthy or is he hurting? And if he is healthy, is he feeling comfortable enough in his body and in his game to play the way he wants to on the court?

Boston Celtics coach Brad Stevens admittedly hasn't paid close attention to all the drama surrounding Rose's return, but he can understand where the point guard is coming from.

"I'm paying attention to his availability against us," Stevens said. "And certainly, I think that it's early in the season and I think that there are a lot of things that you have to get through to be ready to play back at the level you once were, especially if you're an MVP-candidate level. It's not only physical, it's mental, it's emotional, it's seeing where your opportunities are. It's getting by those scary moments that happen where you don't get hurt, all kinds of things. I don't really pay attention to what's being said about him or about anybody else. I just know that it's a process."

While Rose has yet to find consistency in games, he has been very consistent in maintaining that he will be the same player he once was. He is listening to himself, and how he's feeling, more than at any other point in his career.

"Just knowing who I am as a player, knowing myself. There's no rush," Rose said. "I put more pressure on myself than anybody. So I'm not worried about that. I've been doing that my whole life. So control what I can control with my workouts and the way I'm eating and all my habits that's going to take me to becoming a better player and continue to try and get better for a leader of this team. And get better individually by going hard in my workouts and staying consistent with my workouts."

Rose also must stay consistent with dealing with the criticism that continues to come his way. He said his friends and family take it harder than he does, but teammates and coaches have acknowledged that the constant frustration he has to deal with from fans has to be taking some kind of mental toll.

That's another part of the reason Thibodeau has changed his aggressive tune in recent days in regard to Rose's status. After pushing harder to get Rose on the floor, Thibodeau has softened his stance, saying before Friday's game that he believes that criticism toward Rose has been "unfair."

"It's really not that important," Thibodeau said. "And I've told him this. Whether it's praise or criticism it's all the same. It's really what he thinks. Only he knows whether he's putting everything he has into each and every day. And once you've done that you've done all that you can do. So he should feel good about it. I've told him this many times, if he's injured I don't want him out there and if he's healthy I want him to go. So hopefully we're moving forward."

November, 27, 2014
Nov 27
3:32
PM CT

By Nick Friedell
ESPNChicago.com
Archive
BOSTON --
Chicago Bulls
point guard
Derrick Rose
(left hamstring tightness) and center
Joakim Noah
(left eye/left knee) went through all of Thursday's practice and are both hoping to play Friday afternoon against the
Boston Celtics
.
Rose said he felt good after playing only 10 minutes in a loss to the
Denver Nuggets
on Tuesday. Rose, who has already missed eight games this season due to injury, did not play in the second half and admitted after the game that he and Bulls coach Tom Thibodeau decided it would be best if he sat out of the second half of the Nuggets game.
"I'm feeling good," Rose said. "I'm taking it one day at a time, getting the most out of all my treatments every day. Like I said before, just really trying to listen to my body. ... If I'm ready to go, I'm ready. If not, just really pay attention to my body. But the plan is that I want to play. So hopefully I'll be out there playing."
Thibodeau echoed those sentiments in regard to Rose's and Noah's participation.
"We'll see [Friday]," Thibodeau said. "But they were great today and we're just going day by day."
Rose, who has yet to start and finish two consecutive games this season, remains confident that he will be able to string together some games in the near future.
"You will see," he said. "You will see. I know I'm going to be all right. It's just that I'm getting a bad hand right now. I'm going through tough times, but I know it could always be worse and I know that I always got faith in myself and faith that somebody's looking over me."
Despite the ongoing pessimism surrounding his latest return, the former MVP remains outwardly confident that he will still be able to play at a high level.
"Coming back and even just playing a quarter, or playing a game, or even winning games and not having played in two years, that gives me a lot of confidence right there," Rose said. "I don't know if too many people could come back with the situation that I had or the hand I was dealt. That gives me confidence just knowing that I feel like I'm different."
After openly saying after Monday's win over the
Utah Jazz
that
Rose needs to find ways to stay on the floor
and that his star point guard didn't look "real comfortable with the ball yet," Thibodeau's stance has softened in recent days. That continued Thursday while discussing how Rose performed during his brief appearance against the Nuggets.
"To me, I want to look at it positively and I told him that," Thibodeau said. "The good thing was the way he played in Utah and then the fact he was able to play [in Denver], even though it was 10 minutes, those 10 minutes were good in terms of it gave us 10 minutes and put us in position to win. So it's not what it normally is with him where he plays 30 minutes or anything like that, but it's a step in the right direction. That's all we want him to do. He came over [to the gym], he felt good [Wednesday], he came over last night, he shot last night, he was great tonight. So it's all moving in the right direction. And that's all we want."
In other injury-related news, Thibodeau said power forward
Taj Gibson
is expected to rejoin the Bulls at some point on Thursday. He has been out all week after spraining his left ankle in the Bulls' loss to the
Portland Trail Blazers
on Nov. 21. It remains unlikely Gibson will play in the near future, including Sunday afternoon's game against the
Brooklyn Nets
.
November, 26, 2014
Nov 26
8:38
PM CT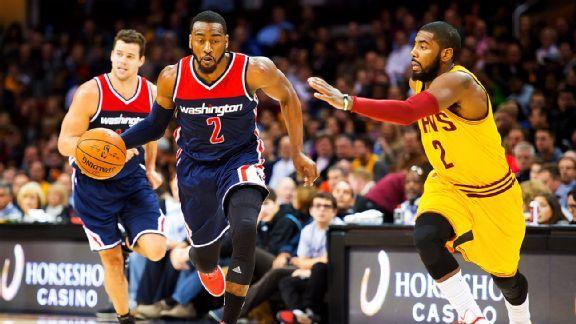 CLEVELAND -- There's a new guard in the East, and John Wall of the Washington Wizards says he is one of a trio of court generals at the top who will be forever intertwined along with Cleveland's Kyrie Irving and Chicago's Derrick Rose.
"I think between me, [Irving] and Derrick, we're always going to be rivals, in my opinion," Wall told ESPN.com before the Wizards' 113-87 loss to the Cavaliers on Wednesday. "Number one picks, all in the Eastern Conference, I think it's going to be a battle for a long time, I mean as long as everybody is healthy and playing. That's what everybody is going to want to see."
Rose went No. 1 in 2008, followed by Wall in 2010 and Irving in 2011.
All three players' teams figure to be a part of the playoffs this season, with Washington owning the conference's No. 2 record, Chicago holding No. 3 and Cleveland at No. 7 despite a rocky start going into Wednesday's games. The postseason is where rivalries tend to flourish in the NBA, and Wall's Wizards beat the Bulls in the first round last spring with Rose sidelined because of injury.
Irving has yet to make the playoffs in his first three seasons. In the absence of any bad blood from intense playoff battles between them so far, both Wall and Irving were effusive in their praise of one another.
November, 26, 2014
Nov 26
6:32
PM CT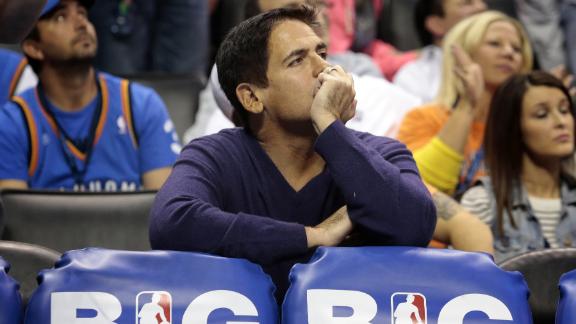 DALLAS -- Mavericks owner Mark Cuban has come up with a proposal to level the playing field between the NBA's two conferences.
Cuban suggests a conference realignment that would result in a total of eight teams, including the Mavs, switching conferences.
In Cuban's plan, the Mavs, San Antonio Spurs, Houston Rockets and New Orleans Pelicans would move to the Eastern Conference. The Chicago Bulls, Indiana Pacers, Detroit Pistons and Milwaukee Bucks would move to the West.
"It's not like it'd be the first time we've ever realigned," Cuban said. "It's happened many times before, so there's precedent and I just think it shakes things up and makes things interesting."
Cuban, whose Mavs were the West's eighth seed with a 49-33 record last season but would have been a No. 3 seed in the East, acknowledged that he had some selfish motivation for the plan. However, he believes the league would benefit as a whole.
"It's not like you're reducing competition," said Cuban, who noted that the teams he suggested moving to the West are approximately the same distance from Portland as Dallas and closer than New Orleans, San Antonio and Houston. "You keep Cleveland, Washington and other good teams in the East. It kind of shakes things up in terms of not just interest but also in terms of how people rebuild.
"It just changes things up and it changes the thought process of a lot of teams. It makes both conferences very competitive, at least for the short term and I think, based on the history of the teams, for the long term as well."
Commissioner Adam Silver has been receptive to ideas that would address the issue of the West being a significantly deeper, stronger conference than the East. One idea that has been floated is to have a 16-team playoff bracket that does not take conferences into consideration.
Cuban has not discussed his idea, which he hatched during a media interview Wednesday, with the commissioner or anyone else in the NBA.
"I did the trial close right here," Cuban said as he worked out on his stair-stepper and talked to reporters before Wednesday's home game against the New York Knicks
November, 25, 2014
Nov 25
10:51
PM CT
Associated Press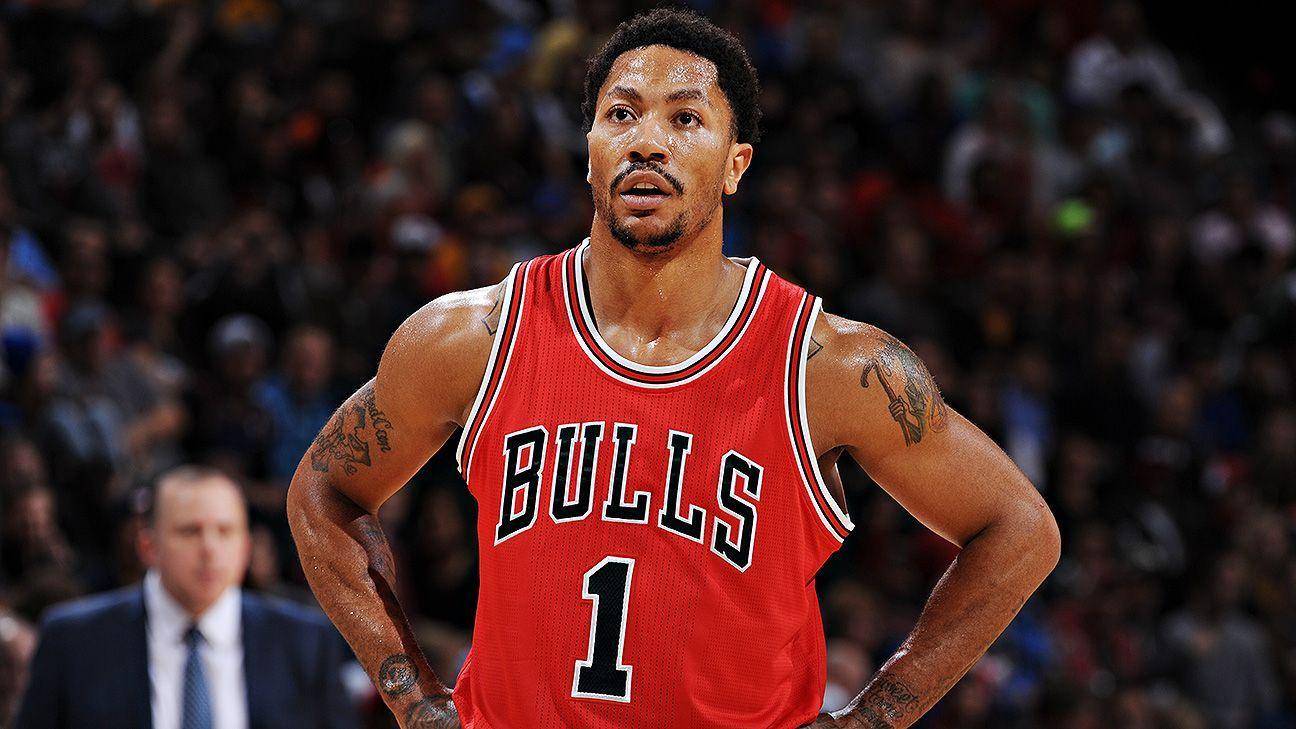 DENVER -- Ty Lawson scored 20 points, including a key jumper in the waning seconds, and the Denver Nuggets beat the Chicago Bulls 114-109 on Tuesday night for their fifth straight win.
Arron Afflalo added 19 points and Danilo Gallinari had 15 for the Nuggets, who defeated the Bulls for the eighth straight time in Denver.
Bulls point guard Derrick Rose was limited to 10 minutes in his second game back from a left hamstring strain. Rose, who scored 18 points in his return Monday night against Utah after a four-game absence, felt tightness in the hamstring during the first quarter and didn't play the rest of the way.
Jimmy Butler had 32 points for Chicago.