July, 23, 2014
Jul 23
1:38
PM CT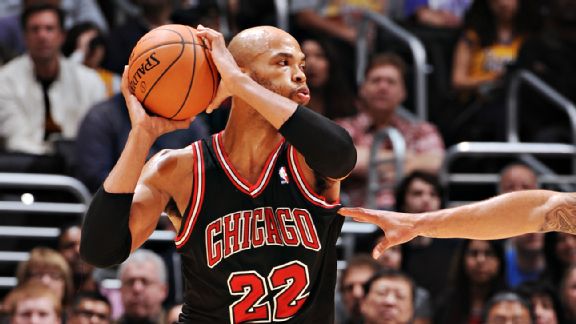 Andrew D. Bernstein/NBAE/Getty ImagesTaj Gibson expects big things from Derrick Rose and the Bulls' newcomers.
DEERFIELD, Ill. --
Taj Gibson
has no doubt that
Derrick Rose
is going to come back this season better than ever after playing in just 10 games for the
Chicago Bulls
over the last two seasons because of two serious knee injuries.
"Derrick's been having a great summer," Gibson said on Wednesday during an appearance for his basketball camp. "He's sacrificed, stayed in Chicago all summer to work on his game. He wants to let his game speak for itself. He's staying away from all the negative stuff, just working on his game. Every day I go in the gym he's there and moving forward. He's going to come back dominant."
Frontcourt depth is 'shocking':
Like many within the Bulls organization, Gibson is looking forward to the opportunities that come with the additions of
Pau Gasol
and European star
Nikola Mirotic
. He is confident he and the new players will work great alongside All-Star center
Joakim Noah
.
"It's shocking," Gibson said. "It's scary at times when you think about the potential of the front line and the depth. Our young guy from overseas (Nikola Mirotic), he's going to be extremely good. We've got Joakim, we're not going to have to put so many minutes on him. Every year late in the season he's always banged up."
Gibson believes the addition of Gasol is really going to help the Bulls in a lot of areas.
"I think it's a great addition for our team," he said. "It gives us more depth. I think we have more size up front. One thing about our bigs, Thibs is going to have so many different options. He can go small, he can go big, we have a lot of different lineups."

The last word:
Gibson, on if he wants to stay in Chicago -- "Without a doubt. I'm a nonchalant kind of guy. I'm not a talkative kind of guy, just let my game speak for myself. But this place has been home for me, a lot of good things. I'm looking forward to the future, but we got to see what happens."
July, 23, 2014
Jul 23
1:17
PM CT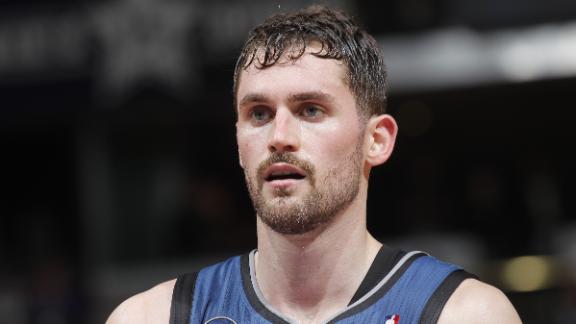 DEERFIELD, Ill. -- With his name in trade rumors for Minnesota Timberwolves star Kevin Love, Bulls forward Taj Gibson said Wednesday he doesn't want to leave Chicago, but is prepared for anything.
"It's tough, but it's a part of the business," Gibson said. "I've been in the league for a while now, I've been around some great veterans that taught me a lot about the game. The one thing that [they say] is be grateful that somebody wants you. Be grateful to be in the NBA and just focus on your game. You can only do so much -- just focus on your game and focus on getting better."
ESPN reported Tuesday that the Bulls are making a late push to try to acquire Love, but the Cleveland Cavaliers remain the favorites to land him, according to sources. Any deal involving the Bulls likely would include Gibson, who will make $8 million next season. NBA writer Chris Sheridan reported Wednesday that the Bulls have offered Gibson, Nikola Mirotic and first-round draft pick Doug McDermott to the Timberwolves for Love, according to sources.
Gibson, who finished second in Sixth Man of the Year voting last season, acknowledged that the talk is "flattering," but he knows he ultimately doesn't have any control over what happens.
July, 23, 2014
Jul 23
10:20
AM CT
We're late in the NBA offseason transaction-wise, and with the major free agents off the board, Minnesota's Kevin Love has again moved center stage. The skinny: Love can opt out of his contract after the season and reportedly has communicated to the Timberwolves that he intends to move on as soon as possible. So coach and personnel chief Flip Saunders is left to weigh trade offers against the risk of keeping Love around in hopes that his feelings will change.
My stance hasn't changed. I don't think Minnesota should deal Love at all. Not now. Of course, my stance is pretty irrelevant being that I don't run the Timberwolves, and despite my clear-headed analysis, the rumor mill is abuzz with Love-related talk. Our report is that the Cleveland Cavaliers are likely in the lead in the Love derby, with the Chicago Bulls in pursuit. Last month, the Golden State Warriors were rumored to be a prime suitor, and it's still believed that if Golden State is willing to give up Klay Thompson, Love would be headed to the West Coast. Rumors are rumors, but after Cleveland sent Carrick Felix to Utah on Tuesday for three nonguaranteed contracts, it's apparent that something is going on.
Let's make some assumptions:
1. Saunders believes he needs to resolve the Love situation before his team hits training camp in a few weeks.
2. Minnesota will insist on getting back a mix of rotation players and future assets in hopes of remaining a playoff contender this season, thus ruling out teams that offer future assets only, such as the Boston Celtics.
3. Saunders wants to leverage Love's considerable trade value to pare veterans Kevin Martin and J.J. Barea from his payroll.
4. The teams mentioned above are actual potential trade partners and not just the product of information leaks meant to rev up the bidding.
With all that in mind, let's assess these three scenarios from the Timberwolves' perspective, since they hold all the cards. I'll use the framework of deals from the rumor mill but will tweak them so that they work under the collective bargaining agreement's trade rules. To evaluate the potential trades, I will use a methodology similar to what we used in January to rank teams' trade assets. This assigns WARP value to assets like draft picks and cap space, as well as the players involved.
---

The deal: Chicago sends Taj Gibson, Jimmy Butler, Mike Dunleavy and a future first-round pick to Minnesota for Love and sends a future first-round pick to Philadelphia. Minnesota sends Martin to Philadelphia.
Value: 41.1 future WARP
July, 22, 2014
Jul 22
5:48
PM CT
CHICAGO -- Gar Forman has a mantra he lives by on a day-to-day basis: He's always looking to improve the club. The basketball lifer delivers that message all the time when questions about roster construction are asked.
That's why it should come as no surprise that
the Bulls are still kicking the tires
regarding a
Kevin Love
deal, according to ESPN.com's Marc Stein and Brian Windhorst. Love is a star player and would make any team he lands on better.
But now that the Bulls' roster has been filled with the likes of
Pau Gasol
,
Nikola Mirotic
,
Doug McDermott
and
Aaron Brooks
, among others, the bigger question for Forman is whether the Bulls would have to give up too much of their depth to land Love.
For several years, the feeling around the league was that if the Bulls were serious about acquiring Love, it would likely cost them a combination of
Jimmy Butler
,
Taj Gibson
, Mirotic and some future first-round picks. That speculation will only ramp up again after the latest report, especially with the
Cleveland Cavaliers
reportedly offering No. 1 pick
Andrew Wiggins
and Golden State still possibly adding
Klay Thompson
in a deal to pick up Love.
With the rest of the Bulls' roster in place -- the signings of Brooks and McDermott became official Tuesday -- the truth is that a Love addition would decimate the depth they have acquired in the past few weeks. If Gibson, Butler and Mirotic were included in a deal, one that wouldn't be done for several weeks, since Mirotic just signed Friday, the Bulls would take away the depth that has made them one of the favorites in the Eastern Conference.
That's why if the Bulls were really serious about landing Love, I don't think they would have pushed so quickly to add free agent Gasol. The posturing that goes on during NBA trade talks is always much more entertaining than the actual deals that go down. In the end, I don't believe Love ends up in Chicago. Plus, it's unclear if he would sign an extension to stay here over time.
The Bulls would be a better team with Love in the fold -- but how much better? Gibson and Butler are two of their top three defenders. Mirotic is a great unknown, but he has the potential to become an All-Star over time according to some experts. More importantly, in the short term, how would
Joakim Noah
, Gasol and Love be able to work together on the floor?
Forman will continue to work the phones and see what Love's status is in the coming weeks, but the Bulls are comfortable with the team they have and confident that this roster, led by
Derrick Rose
and Tom Thibodeau, can ultimately take the organization where it wants to go.
July, 22, 2014
Jul 22
3:25
PM CT
[+] Enlarge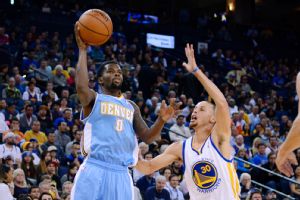 Kyle Terada/USA TODAY SportsAaron Brooks officially signed with the Bulls on Tuesday. Brooks split time last season between the Nuggets and Rockets.
CHICAGO -- The Chicago Bulls officially announced the signing of veteran combo guard Aaron Brooks on Tuesday.
"We're excited to add a player as experienced and talented as Aaron to our group," Bulls GM Gar Forman said in a statement.
Brooks split time last season between the Denver Nuggets and the Houston Rockets -- averaging 9.0 points and 3.2 assists a game.
Brooks will serve as a solid insurance policy for Tom Thibodeau off the bench and should be able to play both guard spots. The Bulls have had a history in the Thibodeau era of finding guards that have thrived when given an opportunity, including Nate Robinson and D.J. Augustin over the past two years. As a six-year veteran, Brooks now finds himself in that position as well.
July, 22, 2014
Jul 22
2:43
PM CT
By Staff
ESPNChicago.com

The
Chicago Bulls
signed first-round draft pick
Doug McDermott
to a contract on Tuesday.
"We're very excited about the addition of Doug," Bulls general manager Gar Forman said in a statement. "We love the versatility of his game and his ability to shoot. He's a fit for our team and organization on many different levels."
A dream come true pic.twitter.com/RFckneqj0T

— Doug McDermott (@dougmcd3) July 22, 2014
McDermott, drafted by the
Denver Nuggets
with the 11th pick in last month's draft and then traded for two picks to the Bulls, was a first-team pick for the summer league all-star team along with second-year swingman
Tony Snell
. McDermott averaged 18 points a game and shot 44 percent from three-point range in Vegas.
The 22-year-old McDermott was the national college player of the year when he led the nation in scoring at 26.7 points a game as a senior at Creighton.
Also on Tuesday, McDermott was selected for the USA Select Team, along with Bulls teammate
Jimmy Butler
. They will be part of a 13-player team that will practice against the U.S. National Team as it prepares for the World Cup, which begins on Aug. 30.
July, 22, 2014
Jul 22
11:59
AM CT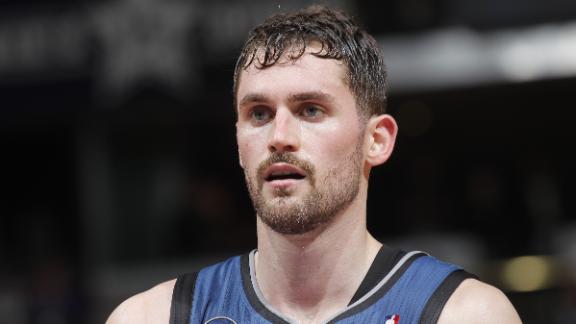 The Cleveland Cavaliers are increasingly confident that they will eventually complete the acquisition of Kevin Love, but the Chicago Bulls are making a late push to try to get into the trade mix for the All-Star power forward, according to sources close to the process.
Sources told ESPN.com that the Cavs firmly believe they are progressing toward a trade framework that the Minnesota Timberwolves will accept in exchange for Love and enable Cleveland to pair the versatile big man with Team USA teammate LeBron James.
Cleveland's offer, sources said, would be headlined by No. 1 overall pick Andrew Wiggins, 2013's No. 1 overall pick Anthony Bennett and a future first-round pick, with one source close to the process insisting Tuesday that the Cavs are destined to acquire Love. At least one more player might have to added to the package to satisfy NBA trade rules.
ESPN.com reported the trade pieces the Cavs are offering on Friday.
To increase their options, sources said the Cavs executed a trade on Tuesday that sent the guaranteed contract of guard Carrick Felix
July, 22, 2014
Jul 22
11:55
AM CT
By Staff
ESPNChicago.com

Fresh off an impressive showing at the Las Vegas Summer League, rookie
Doug McDermott
will join
Chicago Bulls
teammate
Jimmy Butler
on the USA Select Team that will practice against the national team as it prepares for the FIBA World Cup.
Butler

McDermott
McDermott and Butler were chosen for the Select Team along with the
Golden State Warriors
'
Harrison Barnes
and
Draymond Green
, the
Utah Jazz
's
Trey Burke
(Utah Jazz), the
New York Knicks
'
Tim Hardaway Jr
., the
Orlando Magic
's
Tobias Harris
and
Victor Oladipo
, the
Brooklyn Nets
'
Mason Plumlee
, the
Phoenix Suns
'
Miles Plumlee
, the
Boston Celtics
'
Marcus Smart
, the
Cleveland Cavaliers
'
Dion Waiters
and the
Charlotte Hornets
'
Cody Zeller
.
McDermott, drafted by the
Denver Nuggets
with the 11th pick in last month's draft and then traded for two picks to the Bulls, was a first-team pick for the summer league all-star team along with second-year swingman
Tony Snell
. McDermott averaged 18 points a game and shot 44 percent from three-point range in Vegas.
Butler, 24, averaged a career-best 13.1 points a game last season, his first as a starter. The young Bulls duo will train with teammate
Derrick Rose
, who is expected to participate in Team USA practices.
"USA Basketball's Select Teams are critical for getting some of the game's brightest and most promising young players experience at the USA National Team level, and getting them into our pipeline," USA Basketball National Team managing director Jerry Colangelo said in a statement. "Again this summer, as was done in 2007, 2008, 2010 and 2012, the members of the USA Select Team will play an important role in helping prepare the USA National Team for the 2014 FIBA World Cup.
"Being chosen for the Select Team is an honor and an important step in becoming involved in USA Basketball's National Team program in the future. In the past, current national team players like
Kevin Durant
,
Kyrie Irving
,
Kevin Love
, Derrick Rose,
Russell Westbrook
, as well as many other outstanding players got their USA National Team start through the Select Team."
The Select Team will train with Team USA from July 28-31 in Las Vegas. The FIBA World Cup runs from Aug. 30-Sept.14 in Spain.
July, 21, 2014
Jul 21
10:14
PM CT
Associated Press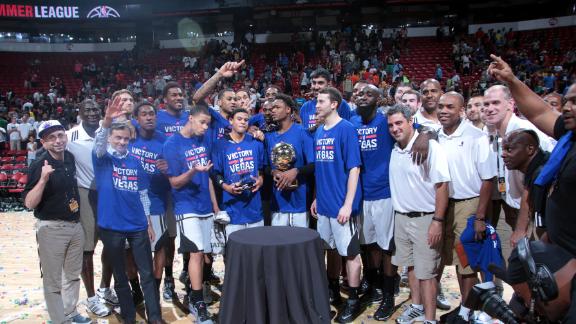 LAS VEGAS -- Ray McCallum had a few big moments toward the end of last season for the Sacramento Kings.
After a summer like this, he might have shown he's ready for plenty more.
McCallum scored 29 points and helped key a big Sacramento rally in the final minutes, as the Kings topped the Houston Rockets 77-68 Monday night to win the NBA Summer League championship game.
"It means a lot," said McCallum, as he held the tournament MVP trophy. "I've been trying to put in a lot of hard work this summer."
The Kings went 6-1 at Las Vegas, and McCallum more than saved his best for last. He scored a total of 55 points in his first six games in the tournament, then connected on 9 of 15 shots from the floor in the title game.
Ra'shad Jones scored 12 points and Nik Stauskas added 10 for Sacramento, which closed the game on a 27-10 run before a crowd of 7,603.
"This is a great way to start off an NBA career," Stauskas said.
Nick Johnson scored 17 for the Rockets, who got 16 from Donatas Motiejunas and 15 from Isaiah Canaan.
McCallum -- who appeared in 45 games for the Kings last season and made 10 starts late in the year, with three games of 22 points or better in the season's final weeks -- had just one point in the first quarter, and the Kings trailed 17-8 early.
But once he got rolling, the Kings followed suit.
July, 21, 2014
Jul 21
2:04
PM CT
CHICAGO --
Bulls
coach Tom Thibodeau is going to walk into training camp in September with a roster full of something it lacked the past two seasons: depth.
[+] Enlarge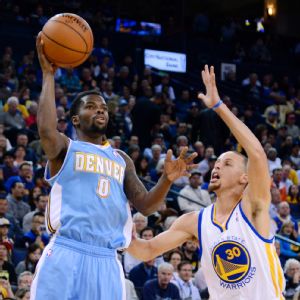 Kyle Terada/USA TODAY SportsAaron Brooks, who is closing in on a deal with the Bulls, would give them a scorer off the bench.
As the Bulls continue to announce new deals, Thibodeau's group takes a shape that the veteran coach has to like. On Monday they signed second-round pick
Cameron Bairstow
and re-signed veteran
Kirk Hinrich
; later this week they likely will sign first-round pick
Doug McDermott
and free-agent guard
Aaron Brooks
.
Like the rest of the organization, Thibodeau was disappointed that the Bulls were unable to land
Carmelo Anthony
in free agency, but the next best option was to land several players who should make the Bulls a stronger team from top to bottom. Bulls general manager Gar Forman and executive vice president
John Paxson
believe they have done that over the past few weeks when they signed four-time All-Star
Pau Gasol
and European star
Nikola Mirotic
and drafted college player of the year McDermott.
On paper, the Bulls' 2011-12 roster was deeper heading into the season. That one featured
Derrick Rose
coming off winning the MVP trophy the season before,
Joakim Noah
, Rip Hamilton,
Carlos Boozer
and
Luol Deng
in the starting lineup with
Taj Gibson
,
Kyle Korver
,
Omer Asik
,
Jimmy Butler
, Ronnie Brewer and
C.J. Watson
, among others, coming off the bench.
While the 2014-15 roster can't match the talent right now, it may come close over time. Thibodeau has the chance to go 11 deep to start training camp, which makes the Bulls one of the deepest teams in the league. Rose will be back in the starting lineup alongside Noah, while Gasol likely fills out the rest of the group with Dunleavy and Butler.
The bench consists of Hinrich,
Tony Snell
, McDermott, Mirotic and Gibson. With the addition of veteran combo guard Brooks, a move that is likely to be finalized in the next couple days, the Bulls have the type of depth that every coach in the league would love. Brooks gives the Bulls an insurance policy should Rose or Hinrich go down with an injury and could be even more valuable if Thibodeau decides to play either of those two off the ball more this season.

While this group may not have the pure talent of the 2011-12 group, it does have more outside shooting. Dunleavy, McDermott, Snell and Mirotic can all knock down long-range shots, which should give Rose, Hinrich and Brooks more room to operate. The Bulls still don't have a create-your-own-shot scorer other than Rose, a fact that may prove to be a fatal flaw in the playoffs, but they have a talented group of passers that should create open looks for one another.
The only other real question for this group on paper is at the center position. Forman and Paxson will continue to look for another backup big man to play behind Noah, who will turn 30 years old this season and needs to save as much energy as he can for the grind of the playoffs. Veteran
Nazr Mohammed
has said he would love to be back in Chicago for his third year. Rookie Bairstow may prove to be an answer for a few minutes each night over time, but the Bulls would be best served to bring in one more big man to back up Noah, Gasol and Gibson.
In the meantime, Forman and Paxson can take solace in knowing that they have created a luxury for Thibodeau in regard to a deeper roster. It will be up to Thibodeau to take advantage of that depth over an 82-game regular season.
The Bulls have Bench Mob 2.0 in place. It will be interesting to see if it can be as successful as its predecessor.
July, 21, 2014
Jul 21
12:11
PM CT
CHICAGO -- The
Chicago Bulls
announced the re-signing of veteran guard
Kirk Hinrich
and the signing of second-round draft pick
Cameron Bairstow
on Monday.
The 33-year-old Hinrich has spent nine of his 11 NBA seasons with the Bulls, including last season when he averaged 11.8 points and 5.2 assists in 32.3 minutes a game.
Hinrich

Bairstow
"Kirk has always been a big part of creating the professional culture we want day in, day out surrounding our club," Bulls GM Gar Forman said in a statement. "He helps our team in so many ways and Kirk had other opportunities elsewhere, but we are very happy he chose to remain in a Bulls uniform."
Bairstow was selected with the 49th overall pick in last month's draft.
"We like Cameron's combination as a player with his size, energy and physicality," said Bulls GM Gar Forman said in a statement. "He is a hard worker who will only get better with time."
It is still unclear how much of a factor Bairstow will have this season, but Bulls executive VP
John Paxson
said the organization fielded several offers for draft night swaps when Bairstow was selected.
"We were getting calls leading up to that pick with teams offering us a ton of cash," Paxson told ESPN Chicago 1000's "Waddle & Silvy Show" last month. "For people that sit there and say that the Bulls always make decisions based on money -- we never even considered taking a deal like that [on draft night]. And [owner Jerry Reinsdorf] is sitting there in the room -- because we were looking at a player that we think can maybe play a role for us down the road. And we sat there and bypassed [the offers]."
With Bairstow's deal on the books, now the Bulls must officially sign first-round pick
Doug McDermott
and free agent
Aaron Brooks
. They also must continue to look for another backup big man to take the pressure of
Joakim Noah
. Bairstow may eventually fill that role, but that will be determined over time.