March, 15, 2014
Mar 15
12:45
PM CT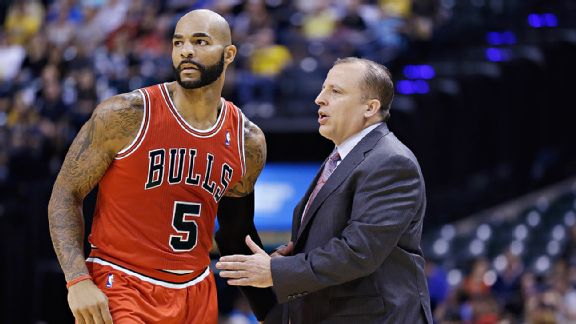 AP Photo/Michael ConroyWith 17 games left, Tom Thibodeau is starting to think about first-round matchup possibilities.
DEERFIELD, Ill. -- Tom Thibodeau is all about the task at hand, always preferring to focus on the next challenge the schedule brings, but he admitted Saturday to peeking ahead just a little.
With 17 games remaining in the regular season, counting Saturday night's matchup against the
Sacramento Kings
, the playoffs are right around the corner and Thibodeau is not ignoring his team's first-round matchup possibilities.
"You have to be aware," Thibodeau said at Saturday morning's shootaround. "You're always looking at what's going on. But the important thing is to concentrate on the things you need to do each day to improve. Go step by step. It's all a process. You try to build the right habits to prepare yourself to play your best when your best is needed, which is at the end of the year."
At the start of play Saturday, the Bulls' 36-29 record made them the fourth best team in the Eastern Conference. If the season ended today, they would be looking at home-court advantage in a first-round matchup with the
Brooklyn Nets
.
Last season, the Bulls went seven games in the first round before dispatching the Nets, but this year it's an entirely new team in Brooklyn. Not only that, but the Nets are far different at this point of the season than they were during a rocky start under rookie head coach Jason Kidd.
March, 15, 2014
Mar 15
12:25
PM CT
Jimmy Butler
is on his most productive and healthiest stretch of the season, yet one nagging injury remains.
Butler admitted Saturday to a sore rib cage that is on the mend, saying he took a blow in last weekend's game against the
Miami Heat
. Pressed a little further, Butler revealed the injury's source.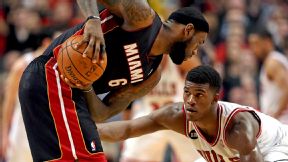 Jonathan Daniel/Getty ImagesJimmy Butler knows that nicks and dings come with playing hard, especially when guarding stars like LeBron James.
"LeBron (James) got me on a drive to the basket," Butler said. "He let me feel that one."
Sunday's national televised game was the one where Butler thoroughly frustrated the Miami superstar, especially late in the game when his defense on James was the difference in the Bulls' victory.
So was the shot to the ribs James' attempt at revenge?
"It was an accident," Butler said, dismissing the question.
Intentional or not, Butler knows that nicks and dings come with the territory, especially when guarding the opponents' top scorer. On Sunday in was James, while Thursday night it was the Houston Rockets'
James Harden
.
March, 14, 2014
Mar 14
1:16
PM CT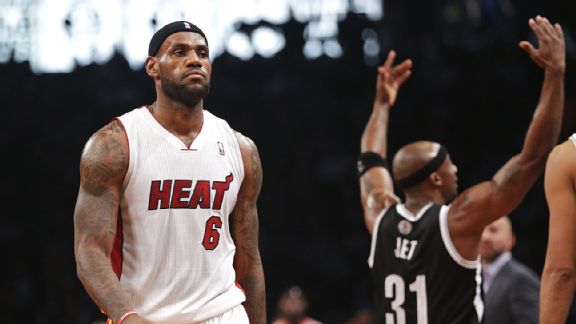 AP Photo/Frank Franklin IIKing James and the defending champs have hit a rough patch recently. Is it time to be concerned?
Here are 25 takes on the Miami Heat, who have lost four of their past five games:
1. What's Miami's biggest issue right now?
Israel Gutierrez, ESPN.com:
The "other" guys just aren't in rhythm. The combination of Shane Battier, Mario Chalmers, Ray Allen and Norris Cole shot a combined 33.7 percent in the Heat's four recent losses, with Battier's 15 percent shooting (2-of-13) being the worst of the group. That tells you they're not getting the same opportunities as usual, or at least not regularly enough to find a rhythm. That's resulted in the league's most efficient offense shooting 47.5, 43, 40.5 and 48.5 percent in those losses.
Tom Haberstroh, ESPN Insider:
The Heat are getting nothing from the supporting cast outside of Chris Andersen. Ray Allen and Shane Battier have both shown their age, and Michael Beasley hasn't been the same since they guaranteed his contract back in early January. Besides that, they've faced some tough defenses, so I'm not sure the slide is indicative of any major issues.
Ethan Sherwood Strauss, TrueHoop:
Ray Allen, legendary shooter and hero of Game 6. He's a glaring defensive minus, and he's missing shots that he typically hit in the past. It sounds crazy to say it, but in 2014, you trust Chris Bosh (.386 from deep this season) more to hit an open 3-pointer than Allen (.361 from deep this season). Miami already lost a great shooter when it amnestied Mike Miller; the Heat want Allen to return to form in the playoffs.
Michael Wallace, Heat Index:
Supporting cast inconsistency. Early in the season, Ray Allen said this had the potential to be the deepest and most talented collection of role players of any team he's been with over 18 seasons. With 20 games left in the season, we're still waiting for that potential to translate into consistent production. Allen, Shane Battier and Norris Cole have been in prolonged slumps, Mario Chalmers and Michael Beasley have been hit or miss all season, and Greg Oden appears no closer to being playoff ready than when he first saw action before the All-Star break.
Brian Windhorst, Heat Index:
Execution, specifically late-game execution. Three of these four recent losses were the result of the Heat not being able to execute in the final moments of regulation. When they won 66 games last season, it seemed like they almost always sealed the deal at the end, for various reasons they have not been getting it done lately.
---
2. Fact or Fiction: LeBron has lost his MVP momentum.
Gutierrez:
Fact. A hard crack to the nose will do that sometimes. Since the 61, LeBron has shot more than 50 percent just once in five tries. And it's no coincidence he shot zero free throws in back-to-back games after ditching his mask against the Spurs. Also, his team's struggles are now on the forefront, so the attention has drifted from MVP candidacy anyway.
Haberstroh:
Fiction. Are we sure he had any momentum to begin with? I subscribe to Hall of Fame baseball manager Earl Weaver's ethos that "momentum is the next day's starting pitcher." It feels like there is no momentum in this MVP race, as every game seems to be a referendum on Durant's and LeBron's careers. I will say that for a guy who has shot 43 percent from downtown over his last 10 games, it's odd to hear that James has suddenly lost his jumper.
Strauss:
Fact. LeBron's mortal stretch contributed to this Heat slump. He looked like a lesser player after ditching the mask, failing to reach the free throw line in consecutive games. LeBron could have taken the award if he and the Heat were customarily excellent as OKC struggled, but that window appears to have closed.
Wallace:
Fact. The two strongest arguments in Kevin Durant's case have been that he's been more consistent with his elite-level production and that he's done it in a much stronger Western Conference. Since that career-high, 61-point night two weeks ago, LeBron has hit a relative wall. There's still time for LeBron to make another push, but Durant seems to have regained control of the MVP race.
Windhorst:
Fact. He's played probably his four most "blah" games of the season since he put up his 61 points. It's a combination of things -- he's slumped a bit shooting, and he's also not been as aggressive as his plunging free throws and zero fourth-quarter shots in the loss to the Nets show.
---
3. Fact or Fiction: Brooklyn is Miami's second-biggest threat in East.
Gutierrez:
Fiction. As much as a 3-0 record against Miami would suggest otherwise, the Nets aren't dominant in any particular area against Miami. The Bulls, on the other hand, can dominate both on the boards and defensively when playing the Heat. The Nets' specialty is simply interchangeable perimeter defenders and veteran-savvy scorers. But neither team has really emerged as a true threat to the Heat in a seven-game series.
Haberstroh:
Fiction. The Chicago Bulls are still that team for me. Even after all these years, the Heat haven't cracked the Tom Thibodeau defense yet. The Heat have defended well enough against the Bulls' feeble offense that they've gotten by. The Nets have done an impressive job against the Heat, but if Bosh makes that pass to LeBron at the end, we aren't even asking this question.
Strauss:
Fiction. Regular-season records mean little as far as playoff outcomes go, in most instances. I don't buy that Brooklyn has some magic quality that, say, Toronto lacks. Also, I'd hazard that Chicago's a bigger threat on account of having a defense that makes LeBron less efficient.
Wallace:
Fact. The Heat have had regular-season struggles against Chicago, Boston and even New York in the past, only to beat up on those foes in the postseason. But these difficulties with Brooklyn feel different. The Nets have shown during a 3-0 mark against Miami that they can create serious, sustainable matchup problems for the Heat because of their combination of length, skill, perimeter shooting, balance and experience. If healthy, Brooklyn can almost rival Indiana as a potential postseason headache for Miami.
Windhorst:
Fact. But this has been the case for a while now, even before they got hot. The Nets have a team that is built for the playoffs because they play at their best when the game is slow, and have postseason experience. However, there's a good chance the Nets will be on the other side of the bracket if the Heat stay in the No. 2 seed, because Toronto has a far easier schedule than the Nets and currently has the No. 3 seed.
---
4. Fact or Fiction: Three-peat fatigue is a legit concern for Miami.
Gutierrez:
Fact, at least currently. It won't continue into the playoffs, but it's real right now and being acknowledged. Perhaps this losing stretch is enough to shake them out of it.
Haberstroh:
Fiction. The Heat's last six opponents all rank in the top-10 in defense with the exception of the Nets, who have been a top-5 defense since the new year. OK, and the Wizards rank 11th. Still, I'm blaming the schedule more than fatigue. If Wade, LeBron and Bosh don't get some rest down the stretch run, let's revisit this question.
Strauss:
Fiction. Actual, literal fatigue might be a problem for older veterans such as Ray Allen and Shane Battier (and yes, Dwyane Wade), but I don't buy the notion that they're tired of the title-winning process. This seems more like a preemptive excuse than an explanation for why failure might occur.
Wallace:
Faction. It's fact in the sense that three straight years of reaching the Finals has been an emotional and psychological grind that LeBron and Chris Bosh are now acknowledging publicly after tough losses. But it's fiction in the sense that you never hear that excuse -- or logical explanation -- used after big wins. There's a burden that comes with being a two-time defending champion. And there's a reason why only three franchises have won three titles in a row.
Windhorst:
Fiction. It's really hard to win three consecutive playoff series and reach the Finals -- you need skill, strategy and luck. Doing it four years in a row hasn't happened in 25 years for a reason, because you need those things to align. But the reason the Heat are struggling a little right now has nothing to do with how they'll perform in the postseason, they know what they're doing.
---
5. Fact or Fiction: Wade's recent play has eased concerns about his health.
Gutierrez:
Fact. He looked great Wednesday while the rest of his team was somewhat lethargic, which compounded his frustrations that night. And he played in a Sunday-Monday back-to-back set without any setbacks. At this point it appears if he can avoid a freakish injury, he'll be able to maintain this level of play the rest of the season.
Haberstroh:
Fact. Eased is the right word. But there is still some concern because, well, there's three months of basketball before the Finals come around. A lot can happen between now and then, but Wade's strong play as of late -- especially getting to the line -- has given the Heat much validation for their maintenance program.
Strauss:
Fact. I say "fact," because wouldn't we all be worried if he was playing badly? Those health concerns will persist, but his stellar recent play has certainly eased some worries.
Wallace:
Fact. The steady progress Wade has shown with his game and his knee rehab since the All-Star break has been the most encouraging aspect of the past month for Miami. Despite four losses in the past five games, the silver lining has been Wade's steady and reliable play heading down the stretch as the Heat gear up for the playoffs. One key measure of Miami's success in the regular season was whether the team could get Wade to this point feeling relatively healthy and confident. So far, so good.
Windhorst:
Fact. Wade's entire season has been a smashing success. The issue, however, is that Wade seems to have setbacks that last days or weeks without warning and without regard to how careful the team is with him. There hasn't been one since January, but it's hard to know if that's good or bad news since the setbacks have been unforeseen in the past.
March, 13, 2014
Mar 13
11:50
PM CT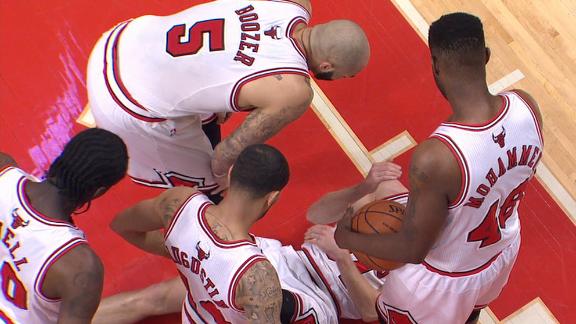 CHICAGO -- After taking a
Chandler Parsons
elbow right above his eye in Thursday night's second quarter,
Mike Dunleavy
sat inside the
Chicago Bulls
' locker room with 10 stitches in his face and interesting thoughts running through his head. Minutes earlier, blood poured down the side of his face and gushed to the floor as he made his way back to the locker room to be checked out. Now, the veteran sharpshooter was ready to get back in the game quickly. His eye, which had already started to swell from the collision, had a fresh bandage on it, but he didn't care.
"I was just kind of sitting back here bored," Dunleavy admitted after the Bulls' blowout victory over the
Houston Rockets
. "Getting stitched up wanting to play."
It's that kind of attitude that defined Dunleavy's night, and the Bulls' season in the process. Dunleavy came out in the third quarter on fire. After failing to register a point in the first half, the proud Duke alum racked up 18 points in the third quarter and finished with 21. After it was over, it seemed like each one of his teammates tried to explain Dunleavy's performance using some time of boxing reference.
Taj Gibson
sat on one side of the room using the old "Cut me, Mick" line from "Rocky."
Joakim Noah
said Dunleavy looked like Evander Holyfield after a fight.
No matter how many descriptions flowed, one thing was clear: Dunleavy, who was already well-respected in the locker room because of the way he carries himself on the floor, earned himself even more praise because of his ability to put the pain aside and help push the Bulls to an impressive win.
"Stitches and points," Noah said with a smile. "Stitches and buckets. It was very impressive and it shows a lot about the character of this team. For somebody to get hit the way he got hit, I've never seen nothing like that really. ... Ten stitches, come back and play the second half the way he played. I like that s---."
[+] Enlarge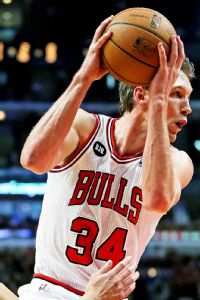 Jonathan Daniel/Getty ImagesAfter getting 10 stitches to close a bloody cut, Mike Dunleavy returned to score all 21 of his points in the second half.
So does Tom Thibodeau.
The hard-charging coach sung Dunleavy's praises because of his attitude even more than his performance. After a rough start to the season, Dunleavy has earned Thibodeau's respect and continues to produce for a team that has counted on Dunleavy's long-range shooting and toughness.
"He's a consummate pro," Thibodeau said of Dunleavy. "He plays hard every night, gives himself up for the team. Offensively, moves great without the ball, shares the ball, moves the ball quickly. Defensively, always sticking his nose in, rebounding, taking charges, and that's the price of winning. And that's why he's so valuable to our team. He came back after taking stitches [and] took another charge. To me, when you talk about toughness, that's toughness. You have to have mental toughness, physical toughness. He has it."
It was the charge that represented everything to Thibodeau. Dunleavy could have easily stepped aside from the contact, but that's not the way he plays the game. That's not the way most of his teammates play the game. The Bulls have built a culture that their players take pride in. They will themselves through injury and pain because they know Thibodeau demands more.
"I think the doctor was a little nervous," Dunleavy said of taking that second-half charge. "He just told me I should have waited a little bit longer to do that. And I said, 'Hey, man, I had to test out your job right away and see if you're any good.'"
The Bulls are the ones who know they're good these days. They never lost faith in themselves after a terrible game against the
San Antonio Spurs
on Tuesday night -- always believing that they would turn things around soon. Every time they hit the floor they believe they can win -- a belief that didn't exist a few months ago.
"We're usually a great first-quarter team normally," Bulls forward
Carlos Boozer
said. "San Antonio, that's not normal for us. We usually smash other teams in the mouth early. But tonight we got back to playing how we usually play and playing the style that we like to play, and hopefully we can build on that."
As for Dunleavy, he has to hope the swelling in his eye goes down so that he's ready to play Saturday night against the
Sacramento Kings
. After watching how he performed Thursday, his teammates don't have any doubt he'll find a way to be out there -- nobody is questioning his toughness.
"It was good for Duke's street credibility," Noah said.
March, 13, 2014
Mar 13
11:20
PM CT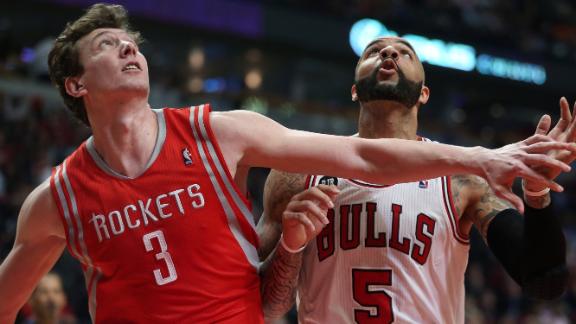 CHICAGO -- Late in the evening Tuesday, long after the Bulls' desultory loss to San Antonio, Joakim Noah finally appeared and stood near his locker in full uniform for his regular postgame media debriefing.
The tallest Bull was upset but not angry.
His team had gotten blown out early by the methodical Spurs, only creeping back to respectability -- and a 104-96 loss -- during "Jimmer Time" in the fourth quarter.
Noah takes losses hard -- "It'll be tough to go to bed tonight," he said -- and the only victories he really celebrates come against the Miami Heat, whom the Bulls had defeated just two days prior.
So when a reporter asked Noah if the makeup of the locker room helps the team bounce back from these types of games, he barely blinked before giving his answer.
"I don't take anything for granted, this team doesn't take anything for granted," Noah said. "Just because you usually do something doesn't mean it just happens. You gotta go out there and do it."
A bounce-back victory seemed to be in the cards, and the Bulls went out and got one.
As reporter and subject expected, Chicago bounced back with a vengeance Thursday night, drubbing the Houston Rockets 111-87. It was a fun victory -- and a gutty one.
After Mike Dunleavy got nailed above his eye by a Chandler Parsons' elbow in the second quarter, he returned with 10 stitches to score all 21 of his points in the second half.
March, 13, 2014
Mar 13
8:55
PM CT
Associated Press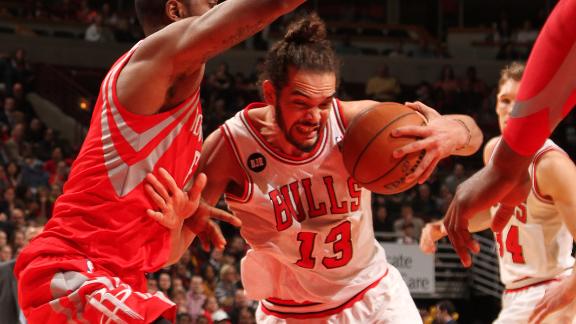 CHICAGO -- Mike Dunleavy scored all of his 21 points in the second half, Joakim Noah flirted with another triple-double and the Chicago Bulls posted a 111-87 wire-to-wire victory over the Houston Rockets on Thursday night.
Noah finished with 13 points, 10 rebounds and nine assists in 34 minutes. He was headed for his fourth triple-double of the season, but sat down with about three minutes left because of the lopsided score.
Kirk Hinrich scored 19 points for Chicago, going 5 for 6 on 3-pointers, Carlos Boozer added 18 points, D.J. Augustin 13 and Jimmy Butler 11.
The Bulls improved to 2-2 on their six-game home stand.
The Rockets have dropped two straight. Reserve guard Jeremy Lin led Houston with 21 points, while Dwight Howard had 12 points and 10 rebounds in 28 minutes. James Harden had eight points on 2-for-7 shooting in 27 minutes.
March, 13, 2014
Mar 13
8:45
PM CT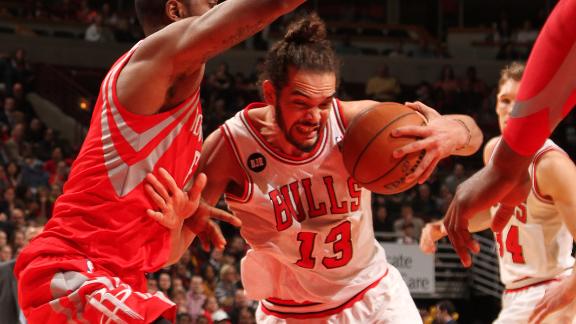 CHICAGO -- Let's take a quick look at how the
Chicago Bulls
cruised to a 111-87 win over the
Houston Rockets
on Thursday night at the United Center.
How it happened:
Mike Dunleavy
didn't score in the first half and had to leave the game to get stitches after taking a
Chandler Parsons
elbow to the head. He came back in the third quarter and scored 18 of his 21 points as the Bulls dominated in the final 24 minutes.
Kirk Hinrich
added 19 points, while
Joakim Noah
almost notched another triple-double, finishing with 13 points, 10 rebounds and nine assists.
Jeremy Lin
led the Rockets with 21 points.
What it means:
Tom Thibodeau and his team were embarrassed with the way they played early in Tuesday's loss to the
San Antonio Spurs
and were determined to turn things around against the Rockets. While the Bulls' offense got rolling in the second half, the key for them is that their defense was on point throughout the night. They didn't allow
Dwight Howard
to get going early, and they limited what his teammates were able to do around him. They didn't allow Houston to get moving in transition -- and it made a big difference. Thibodeau has to be pleased with how his team responded against a high-quality Western Conference opponent.
Hits:
Carlos Boozer
had his best game in several weeks, finishing with 18 points and seven rebounds.
Misses:
Aside from Howard's 5-for-7 effort from the field, the rest of the Rockets' starting five (Parsons,
Terrence Jones
,
James Harden
and
Patrick Beverley
) were a combined 7-for-34 from the field.
Stats of the night:
The Bulls started the third quarter on a 16-0 run. They outscored the Rockets 35-16 in that frame. Chicago finished 14-for-24 from beyond the 3-point arc.
What's next:
The Bulls host the
Sacramento Kings
on Saturday night.
March, 13, 2014
Mar 13
5:36
PM CT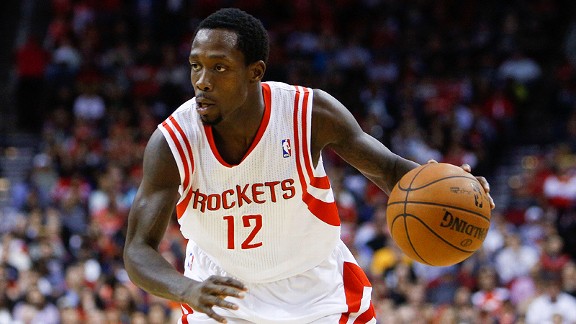 Thomas Campbell/USA TODAY SportsPatrick Beverley worked his way from the west side of Chicago to the Houston Rockets.
CHICAGO -- Lamont Bryant recently loved watching
Houston Rockets
guard
Patrick Beverley
harass
Oklahoma City Thunder
guard
Russell Westbrook
defensively up and the down the court.
What Beverley did against Westbrook, getting up his face and making him earn every inch with the basketball, was what Beverley did for three years under Bryant at Marshall High School on Chicago's West Side.
"This is basketball," Bryant said by phone Thursday. "I'm just saying this is a business. It's not personal. He has to put food on his table. It's a dog-eat-dog world.
"The stuff he does is crazy. He's a junkyard dog. He takes pride in defense first and offense second. When he played for me, he never took a breather. We pressed the entire game. We were able to play that way the whole game. It was crazy. He just ran and ran."
March, 13, 2014
Mar 13
3:50
PM CT
By
Ian Begley
| ESPNNewYork.com
Embattled coach Mike Woodson says Phil Jackson will "enhance" the New York Knicks once Jackson is hired to help run the team's front office.
"I have a great deal of respect for Phil and what he's done over his coaching and his playing days in our league. He's been extremely successful," Woodson said Thursday in an interview on ESPN New York 98.7 FM's "The Stephen A. Smith and Ryan Ruocco Show."
"And if the Knicks are entertaining that, the guy's got a great basketball mind for the game. So I mean, it's all good."
A league source has told ESPN that Jackson and the Knicks are expected to finalize a deal that will give the legendary former coach control of the club's front office by the end of this week. An official announcement might not come until next week, the source said.
Woodson did not want to discuss Jackson's potential role with the Knicks in detail. He declined to address how much the organization has kept him informed of the proceedings, but he was highly complimentary of Jackson, who won 11 NBA titles as a coach and two as a Knicks player.
"At the end of the day we know it's out there, and like I said I've got a great deal of respect for Phil, and if the Knicks decide to go that route I think he can't do nothing but enhance the organization," Woodson said. "But my focus right now is strictly on coaching and trying to figure out our team and try to get us into this playoffs."
The Knicks (26-40) have won five straight and are three games behind eighth-place Atlanta for the eight and final Eastern Conference playoff spot.
It's unclear if Woodson will be the coach next season, regardless of whether Jackson is running the team. There's been widespread speculation that the Knicks will fire Woodson after the season and look for a new coach this summer. Woodson is under contract through next season. Jackson, if and when he is hired, may want to bring in his own coach.
Woodson said on Thursday that he'd like the opportunity to discuss his future with Jackson once the former Bulls and Lakers coach officially joins the Knicks.
"If that time comes, if and when that time comes, I would just love the chance to sit with him and talk basketball," Woodson said. "He's a basketball guy, I'm a basketball guy. This is 30 years I've spent in this league, so that's what we'll do. But until that happens, my focus is strictly on trying to get this team in the playoffs. That's it."
March, 13, 2014
Mar 13
2:50
PM CT
[+] Enlarge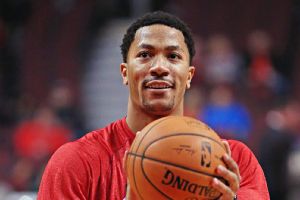 Jonathan Daniel/Getty ImagesIt's the Bulls' call whether recovering point guard Derrick Rose plays in this summer's World Cup, Team USA coach Mike Krzyzewski said Thursday.
Team USA coach Mike Krzyzewski said it will be up to the Chicago Bulls whether Derrick Rose plays in this summer's FIBA Basketball World Cup as the former MVP recovers from a second knee surgery.
"We get information from all the clubs and we know that the most important thing for these guys is their health and what they're doing with their parent teams," Krzyzewski said Thursday. "And so our communication with the Bulls, or any organization, is straightforward and we'll follow their guidelines."
Krzyzewski is hopeful Rose, who tore his meniscus on Nov. 22 and has been ruled out for this season, will be able to play this summer in Spain.
"Well, I'm hoping 100 percent," Krzyzewski said. "We're all hoping that he'll be part of the group that comes in there. And then just because we haven't seen him play to see how he's doing. We'd never try to put him in harm's way for his career. But if he's ready, we'd welcome Derrick. Derrick's one of the great guys, in addition to being an outstanding player. He's a great team guy. And that's why we want him part of USA Basketball."
March, 13, 2014
Mar 13
1:46
PM CT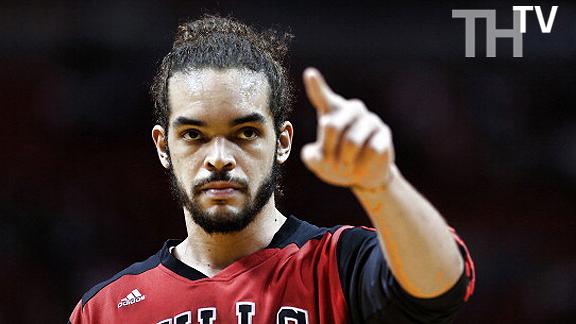 CHICAGO -- Kevin McHale said Thursday that Bulls center Joakim Noah should win the league's Defensive Player of the Year Award based on his performance this season.
The Houston Rockets coach knows a special defensive big man when he sees one. He was one himself, being selected multiple times to the NBA all-defense team. He has also coached two previous award winners in Kevin Garnett and Dwight Howard.
McHale included Noah in that elite category Thursday. Noah is averaging 12.2 points, 11.3 rebounds, 4.9 assists, 1.1 steals and 1.5 blocks this season.
"He's played very well," McHale said after his team's shootaround at Moody Bible Institute. "He should be defensive player of the year. He's done a great job with these guys. They've been winning a lot just on his energy and effort, his kind of determination and toughness. Those are all qualities everybody appreciates."
McHale was complimentary not only of Noah's defensive game but of his offensive one as well.
"He's just more confident in what he's doing," McHale said. "He's making plays with the pass. He's driving and kicking. When he was coming out, I thought he'd be a pick-pop-and-drive playmaking 4. He's doing more of that now."
Howard also spoke highly of Noah's progression. The two first played against each other in high school when both were part of the Class of 2004, which also produced center Roy Hibbert.