Chicago Bulls:

2013 NBA draft
July, 1, 2013
7/01/13
2:15
PM CT

By Doug Padilla
ESPNChicago.com
Archive
DEERFIELD, Ill. – Like kids in a candy store,
Chicago Bulls
draft picks
Tony Snell
and
Erik Murphy
both had their reasons to be awed and wide-eyed during their first official day with the team.
[+] Enlarge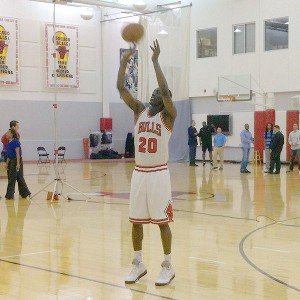 Doug Padilla, ESPNChicago.com Tony Snell shoots around at the Berto Center Monday wearing his new Bulls uniform.
Snell, the 20th overall selection out of New Mexico, and Murphy, the 49th overall pick out of Florida, were introduced at the Berto Center on Monday, and both got into full uniform to shoot around at the practice facility.
For Snell, his eyes lit up when talking about his meeting former Bulls standout
Scottie Pippen
. Murphy gushed about being able to go to work every day with
Joakim Noah
, a fellow Florida alum.
Snell, who will wear No. 20, is known for his shooting ability, but with a 6-foot, 11½-inch wingspan on his 6-7 frame, he has the potential to be a solid rebounder and plus defender at basketball's highest level.
"It's helped me a lot," Snell said. "I have long arms and I like to use them to help get deflections, rebounds and steals."
Snell said he idolized Pippen, who has a similar build.
"I followed Scottie Pippen, who is, like, my same height and same wingspan," Snell said. "I tried to watch his game. I met him today and I was speechless. That's Scottie Pippen, a Hall of Famer. It was pretty great. He can help me get better and teach me what to work on."
Murphy, who will wear No. 31, said he already got a call from Noah on draft night Thursday, and after playing with and against him on the Florida campus during the summers, he can't wait to match wits with him on a daily basis.
"He might have the highest motor in the NBA, that's arguable," Murphy said. "When he comes back to school, you see the way he works and the way he plays. It's definitely an inspiration. It gets you going a little bit, and that's good. When you play with him and play against him, it brings it out in you because you have to stay at that level to compete with him."
The mild-mannered Murphy was asked who had more fun in college, him or Noah, who is known for a rebellious side.
"He probably had more fun than I did," Murphy said. "They won two national championships so that helps a bit. But he definitely had some fun. Florida is a fun school, so it's hard not to have fun there."
Murphy has more work to do than Snell in order make the roster next season.
"Obviously, I just have to continue to improve defensively, rebounding, getting stronger," Murphy said. "Every aspect of my game, I think I can improve. If I do that, whatever happens, but I think I'll be alright."
June, 30, 2013
6/30/13
12:50
PM CT
The more GM Gar Forman and coach Tom Thibodeau talk about
Tony Snell
, the easier it is to understand why the
Chicago Bulls
selected him with the 20th pick in Thursday's NBA draft.
He has the length they are looking for, he can play both spots at the wing and he has the ability to knock down long-range shots, but, most importantly, he's a hard worker. On paper, he fits the mold of the type of player that Thibodeau thinks he can plug into his system. On paper, he appears to be the same kind of player
Jimmy Butler
was coming out of Marquette two years ago -- except with a more-developed jump shot at this stage of his career.
"The thing we really liked about Tony is, first of all, he's got the tools you look for in a 2-guard," Forman said on ESPN 1000's draft show. "In that he's 6-7½, he's got a seven-foot wing span. He's got terrific foot speed. He's a good, long, live athlete but along with that, he can shoot the basketball, and he's got a nice, fluid stroke. He shot 39 percent, almost 40 percent from 3. And he's got a skill level handling the ball and pass the ball. He can be a secondary handler; I think he'll be able to play off as he progresses, so all those things kind of stood out to us."
Read the entire column.
June, 28, 2013
6/28/13
12:11
AM CT

By Jon Greenberg
ESPNChicago.com
Archive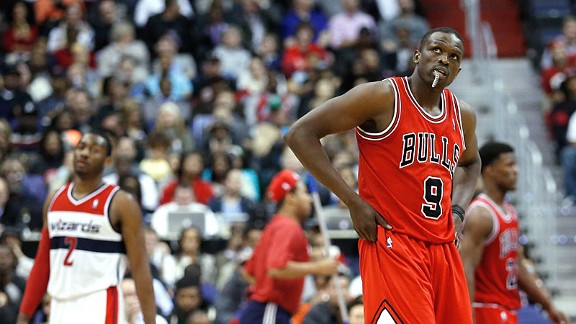 Rob Carr/Getty ImagesLuol Deng still appears to be a key part of the Bulls -- at least for next season.
DEERFIELD, Ill. -- In 2004,
Luol Deng
was traded on draft night from the
Phoenix Suns
to the
Chicago Bulls
.
Since then, he's been in enough trade rumors to shut down Twitter.
Why would this summer be any different?
Deng's name was floated in several rumors leading up to Thursday's draft, but as expected, he's still with the team. He hasn't signed a contract extension either, which was another erroneous report.
Deng's agent, Herb Rudoy, told ESPNChicago in a phone conversation on Tuesday afternoon that no discussions for an extension were taking place.
"We've had zero discussions about an extension (for Deng)," Rudoy said. "Zero."
Deng will make more than $14 million in the final year of his contract and it looks like he'll be earning it by playing big minutes for coach Tom Thibodeau. With the team in luxury tax territory, it's conceivable he won't be back for next season. But the Bulls are gunning for the
Miami Heat
next year and Deng is a big part of the core.
"We value Luol as you all know," Bulls general manager Gar Forman said Thursday night after the team drafted two long-range shooters in
Tony Snell
(No. 20) and
Erik Murphy
(No. 49). "You've heard Tom talk about it during the season, and us talk about it for years.
"Luol's a big piece of what we're doing. He's been a big piece of the success we've had the last couple years. He'll continue to be a big piece of what we're doing moving forward."
Deng, who led the league in minutes per game in the regular season (38.7) and postseason (44.8 in five games), missed the last seven games of the playoffs with complications from a spinal tap. He has spent most of the offseason traveling abroad.
"We're very high on Luol and look forward to him coming back healthy and having a great year next season," Forman said.
June, 27, 2013
6/27/13
10:58
PM CT
By ESPNChicago.com
ESPNChicago.com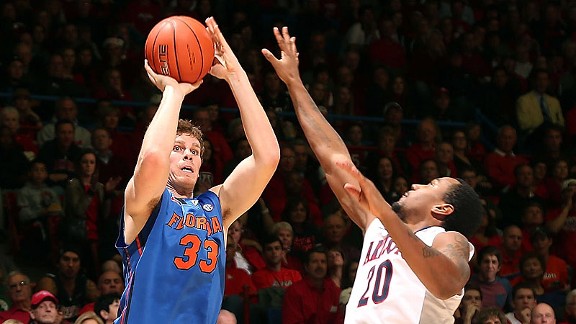 Christian Petersen/Getty ImagesFlorida's Erik Murphy shot 45.3 percent from three-point range last season.
Here's a quick look at the
Chicago Bulls
' second-round selection (49th overall) in Thursday's NBA draft, Florida forward
Erik Murphy
:
The numbers:
6-foot-10, 240 pounds. Reach: 9'-0". Wingspan: 6'-11"
Strengths:
An excellent three-point shooter, Murphy moves well for a big man as well.
Weaknesses:
Not a strong defender and Murphy only averaged 5.5 rebounds a game at Florida.
What it means:
After drafting a shooter in the first round with
Tony Snell
, the Bulls found another guy who can dial it up from long distance in Murphy. He connected on 45.3 percent of his three-pointers, shot 51.6 percent from the floor overall and averaged 12.5 points a game. Comparisons to the Spurs'
Matt Bonner
have been used to describe Murphy, and if he can prove to be a reliable shooter, he might eventually find a spot in the Bulls' rotation.
June, 27, 2013
6/27/13
9:57
PM CT

By Jon Greenberg
ESPNChicago.com
Archive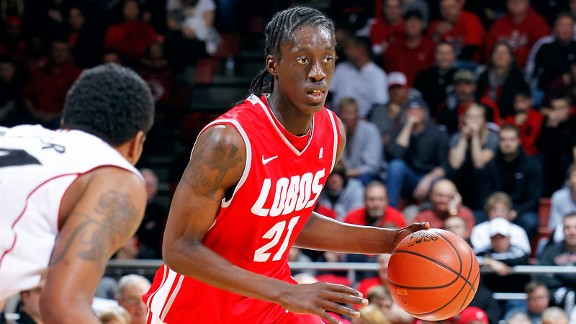 Joe Robbins/Getty ImagesBulls pick Tony Snell is particularly effective in catch and shoot situations.
DEERFIELD, Ill. -- Catch and shoot.
That's what the
Chicago Bulls
are looking for from their first-round draft pick
Tony Snell
, a 6-foot-7, 198-pound junior swingman from the University of New Mexico.
That's what they're looking for out of their second-round pick,
Erik Murphy
, a 6-9 1/2 forward from the University of Florida.
If they can catch and make, even better.
"In today's NBA, you can never have enough shooting," Bulls coach Tom Thibodeau said Thursday night.
[+] Enlarge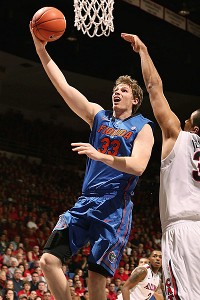 Christian Petersen/Getty ImagesErik Murphy was a first-team All-SEC selection last season at Florida.
After finishing 20th in 3-point percentage (35.3 percent) last season, Thibodeau admitted they needed to improve in this category.
Snell shot 39 percent last season and was ranked in the 69th percentile in catch and shoot situations, according to Synergy Sports Technology. He believes he can fill that role.
"Oh yeah, I could see myself as a catch and shooter, come off curls and shooting," he said in a phone conversation with local media Thursday night. "I really feel good about shooting the ball."
Murphy, a "stretch four," led the SEC by shooting 45.3 percent on 3-pointers. He was a first-team All-SEC selection.
The Bulls seemed confident in Murphy's ability but no second-round pick is ever a lock to make a roster. As for Snell's playing time, unlike his contract, that won't be guaranteed either.
"His first year will be learning the league, but he'll have opportunities," Thibodeau said.
"For any rookie, the first part of it is coming in and learning how to be a pro, learning the pro game, learning our system, learning how to work. You're just trying to get them to concentrate on steady improvement."
Snell shot 39 percent on 3-pointers last year and just 42.2 percent from the field. He isn't afraid to shoot. The slender Snell took 434 3-pointers in his three years with the Lobos, hitting 38 percent, a solid career percentage.
While the Bulls are high on Snell's defensive potential, given his 6-11 wingspan, he's here to shoot from the perimeter.
"There are certain things we look for in a player," Thibodeau said. "He's got good length. He's an athletic wing. He can shoot the ball. Obviously we prioritized that. We think he can grow. We think there's a big upside to him."
Bulls general manager Gar Forman said they had scouted Snell all season and watched him play in the Mountain West tournament, where he won MVP honors. Forman said he liked Snell's handles and that he had experience in pick-and-roll situations.
"In studying Tony, we think he has a chance to contribute this year," Forman said. "But he'll have to earn that on the floor like all our players do. But long-term, we think there's great upside to Tony."
Snell would be wise to pay close attention to
Jimmy Butler
. Now entering his third season, Butler was a rarely-used role player as a rookie who blossomed last year with more playing time.
Last season, Snell averaged 12.5 points a game during the regular season and was the Most Valuable Player of the Mountain West tournament. But he didn't do much in the Lobos' first-round upset loss to Harvard, hitting just 1-of-6 3s and scoring nine points.
Snell is confident he can develop into a perimeter defender in Thibodeau's system.
"Oh yeah definitely, I feel like I'm really good enough to defend anybody," he said. "I feel really good about that."
Snell said his first workout after the pre-draft camp was with the Bulls and he's excited to play with
Derrick Rose
.
Like every player drafted by the Bulls, Snell paid homage to
Michael Jordan
. Born in 1991, Snell said he watched Jordan "his whole life."
Snell went to high school in California with Spurs budding star
Kawhi Leonard
and said he wants to emulate Leonard's early success.
"He did a fantastic job," Snell said. "I feel like I can do the same things."
June, 27, 2013
6/27/13
8:57
PM CT
By ESPNChicago.com
ESPNChicago.com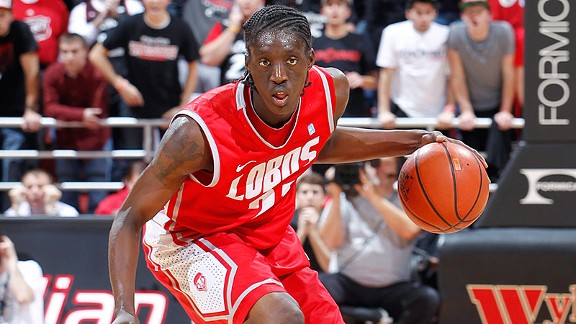 Joe Robbins/Getty ImagesTony Snell connected on 39 percent of his three-point attempts at New Mexico last season.
Here's a quick look at the
Chicago Bulls
' first-round selection (20th overall) in Thursday's NBA draft, New Mexico small forward
Tony Snell
:

The numbers:
6-foot-7, 198 pounds. Reach: 8'-10". Wingspan: 6'-11"
Strengths:
Snell is a long, athletic shooter who made 39 percent of his three-point attempts as a junior at New Mexico. He averaged 12.5 points last season and has the potential to be a good defender. "I feel like I'm good enough to defend anybody," Snell said.
Weaknesses:
The wiry Snell needs to add some bulk and could improve his ballhandling.
Snell's reaction:
"It was crazy knowing I'm going to the Bulls. I watched Jordan play my whole life. I never knew I was going to be here. I watched Derrick Rose, he's a really great player. I can't wait to work with him and help the team win."
Beyond the numbers:
Snell was a high school teammate of the
San Antonio Spurs
'
Kawhi Leonard
at Riverside (Calif.) King High School in in 2009.
College career:
Snell was the MVP of the Mountain West Tournament this season, averaging 17.7 points a game and hitting 60 percent (12 of 20) from three-point range. He had nine points on 4-of-12 shooting during the Lobos' first-round upset loss to Harvard in the NCAA tournament.
Scouting report:
"He can really shoot it. He can really make shots and make it from the line but I think he's just one of those kids that loves to play, loves to be in the gym," New Mexico coach Craig Neal said Thursday on ESPN Chicago 1000. "He's going to be a sponge and will do whatever they ask him to do. Those are the biggest things, but he's also a winner."
How he fits:
Going into the draft, the Bulls had two glaring needs: A perimeter shooter and a backup big man to give
Joakim Noah
a rest and fill the role that
Omer Asik
played before last season. With many mock drafts predicting the Bulls would opt for Duke power forward
Mason Plumlee
, the Bulls opted for the wing player in Snell. Rookies don't play much under Tom Thibodeau (see
Jimmy Butler
and
Marquis Teague
), but Snell has the potential to give the Bulls an option behind
Luol Deng
and Butler.
ESPN Insider Chad Ford's take:
The Bulls wanted a shooter, but I wonder about Snell. With other shooters such as
Allen Crabbe
and
Reggie Bullock
left on the board, I think there were safer picks than Snell. Snell is intriguing, but he was very inconsistent at New Mexico. He was sort of a workout wonder. Don't love this pick.
Miscellaneous:
Snell is the highest drafted New Mexico player since
Danny Granger
(No. 17) in 2005, according to ESPN Stats and Information.
June, 27, 2013
6/27/13
5:56
PM CT
By Associated Press
ESPNChicago.com
Archive
DAKAR, Senegal -- President Barack Obama is in Africa to promote democracy and trade but he can't keep his mind off the NBA draft about to begin back home.
During his toast at a state dinner Thursday in Dakar, Obama said he couldn't be in the country and not mention the draft.
That's because Senegal native Gorgui Dieng is in the mix, and Obama hopes his beloved
Chicago Bulls
will add Dieng to its roster.
Obama is an avid basketball fan. He called Dieng, who played center for Louisville, an "outstanding big man" and said "maybe the Bulls will get him."
June, 27, 2013
6/27/13
2:05
PM CT
By ESPN The Mag
ESPNChicago.com
Archive
Yep, we're doing it again. For the fifth straight year, The Mag has asked a player from each NBA team to draft for their respective franchise. So what did we learn this time? UCLA frosh Shabazz Muhammad will need to earn the respect of his NBA peers (the former top recruit dropped to the Clippers at No. 25), Al Horford thinks his Hawks need help in the post (the former Gator drafted two centers for Atlanta at Nos. 17 and 18), and Greg Monroe … well, let's just say he's thrilled with his pick.
Read the entire article.

June, 24, 2013
6/24/13
9:22
PM CT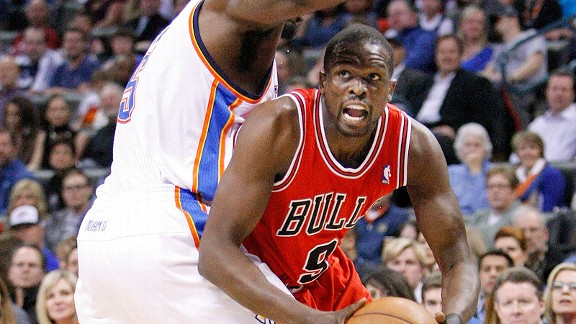 AP Photo/Alonzo AdamsThe Bulls risk losing Luol Deng for nothing if he plays out his deal in Chicago and becomes too expensive to re-sign.
If the
Chicago Bulls
have a chance to deal
Luol Deng
for a top pick in Thursday's NBA draft they should do it.
Tom Thibodeau has called Deng the "glue" of the Bulls and it would be tough for the him to lose his most trusted player. But the reality for Deng, and for the organization, is that he has played a lot of minutes over the past few years and the front office isn't sure how much they would want to pay him after the final year of his deal runs out after next year.
That's why Deng was always the most likely candidate to be dealt before this summer and why
Marc Stein's report
that the Bulls have explored a deal with the
Washington Wizards
that would land them the third pick in the draft and
Emeka Okafor
, assuming he were to opt into his contract worth $14.5 million, shouldn't come as much of a surprise. Let's take a look at a few of the key factors involved in any potential deal.
June, 20, 2013
6/20/13
10:11
AM CT
As the
Chicago Bulls
watch the NBA Finals unfold, one deficiency on their roster has become more pronounced than ever -- the lack of a consistent three-point shooter on the roster.
[+] Enlarge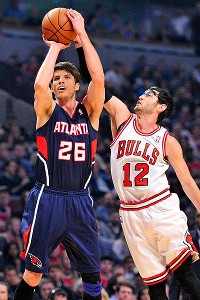 Rob Grabowski/USA TODAY SportsA veteran three-point shooter such as Kyle Korver appears to be too expensive for the Bulls.
San Antonio's
Danny Green
and
Gary Neal
have rained down important triples alongside Miami's
Ray Allen
and
Mike Miller
throughout the series. Bulls coach Tom Thibodeau has to watch these games and wonder about his own squad and how it address the problem. As a team, the Bulls struggled to find any consistency beyond the arc all season, finishing in a tie for 20th in the NBA with the
Portland Trail Blazers
, shooting 35.3 percent from three-point range.
After trading
Kyle Korver
so that they wouldn't go deep into the luxury tax last summer, the Bulls have not had a consistent threat to hit from the outside.
Marco Belinelli
was supposed to be that guy, but he struggled, shooting just 35.7 percent from three-point range. He had a nice season for the Bulls but he did not provide the kind of outside shooting touch the Bulls were hoping for.
Daequan Cook
was signed midway through the year, but he struggled to make open looks and shot just 28.6 percent from three-point range.
Meanwhile, Korver shot 45.7 percent from beyond the arc, which was good for second-best in the NBA behind
Jose Calderon
. Korver is the one many fans would love to see back in a Bulls uniform next season, and he has expressed several times how much he would love to play for Thibodeau and the Bulls again. But a reunion appears unlikely at this point. Korver made $5 million last season and unless he is willing to take a serious pay cut after such a productive season, he will probably play elsewhere.
The Bulls must find shooters to space the floor around
Derrick Rose
to maximize their potential as a group. But if Korver doesn't end up coming back to Chicago, where else could the Bulls find a long-range threat? The biggest issue is that they don't have the cap space to sign almost anyone of consequence. The best shooters in the game are either locked up in contracts already or will be looking for more than the Bulls can offer given their cap situation.
The only other place Bulls general manager Gar Forman can look for help is in the draft. Let's take a look at a few of the possibilities the Bulls could go after next Thursday with the 20th selection.