May, 9, 2012
5/09/12
2:32
PM CT
By ESPNChicago.com
ESPNChicago.com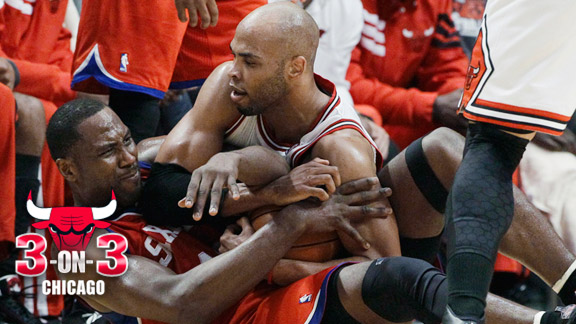 AP Photo/Nam Y. HuhThe Bulls showed plenty of fight in Game 5. Do they have enough left to win the series?
It wasn't pretty, but the Bulls managed to extend their series against the
Philadelphia 76ers
with a victory on Tuesday. But there are still two wins to be had if the Bulls want to become the ninth team in history to win a series after trailing 3-1.
Will the Bulls make it all the way back and move into the second round? Our 3-on-3 panel debates that and more.
Fact or Fiction: The Bulls will win their series against the 76ers.
[+] Enlarge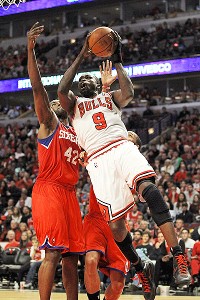 Jonathan Daniel/Getty ImagesAnother big performance like the Bulls got from Luol Deng in Game 5 would go a long way in helping them win the series.
Jon Greenberg: Fact. Twenty-four hours ago, I would have disagreed, but like Neo in "The Matrix," I can see clearly now. The Bulls didn't really play three bad games, more like four bad quarters. And like Tom Thibodeau said, Tuesday's ugly win shows Chicago still has more than enough to win with, defensively at least. On this point, I don't get why Thibodeau went away from Ronnie Brewer in Game 3. Brewer's length on the perimeter is vital in defending the Sixers' guards and small forwards, and you saw the result of him getting nearly 30 minutes Tuesday. Brewer played all but 17 seconds in the second quarter, during which Philadelphia scored 10 points on 4-for-23 shooting.

Nick Friedell: Fiction. For as much momentum as the Bulls got in Game 5, it's hard to believe they'll be able to go into a hostile environment and hold Philly to 32 percent shooting again. It's also going to be tough for the Bulls to generate enough offense to topple a Sixers team that knows they must close out the series in Philadelphia. The Bulls players haven't given up all hope, but the absence of Rose down the stretch will prove to be too much.

Scoop Jackson: Fact. The fact that the Bulls finally seemed to overcome the losses of Rose and Noah is big. Now they are back to being themselves, which might not be a good thing for the Sixers. The Bulls knowthey can beat the Sixers and know that they are the better team, but taking two unexpected back-to-back losses of two of the three best/most important players on the team takes time to recover from. The emotional and mental toll alone will cost the greatest of teams at least two games in seven-game series. Now it seems that the Bulls, with the Game 5 win, have not just their legs and their confidence back, but they have their minds back.


---
Fact or Fiction: All of the pressure is now on the 76ers.
Jon Greenberg: Fiction. The Bulls aren't exactly an upstart team happy to stretch a series to six games. Yes, they've been to the abyss and back, but if the Sixers go on a second-half run Thursday, the familiar doubts will creep back in the Bulls' heads. This is a proud team, and while they love and respect Derrick Rose (not to mention Joakim Noah, who could try to play Thursday on a bum ankle), these guys want to prove they're not just a supporting cast. Losing a first-round series to a flawed team like Philadelphia would sting, and now that it's a series again, Chicago's players have to feel some pressure to take it back to the United Center for a Game 7.

[+] Enlarge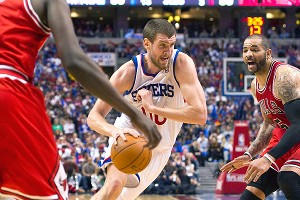 Howard Smith/US PresswireThe 76ers know Game 6 in Philadelphia is a must-win for them.
Nick Friedell: Fact. As Kyle Korver said after Game 5, the Sixers were able to play free and easy because they knew they had plenty of chances to close the series out. Now this young team has a chance to close it out on their home floor. The Bulls have already been left for dead by most pundits so they won't be feeling much pressure at all. The Sixers must show they have matured to the point they can end a series when all the chips are down.

Scoop Jackson: Fact. The one thing an eighth-seed can least afford to do is let a one-seed get a win when they have them on the ropes. The Sixers had the Bulls like Canelo had Sugar Shane last Saturday. But now that Thibs has T.D. Jake'd the Bulls back to life the tables have turned. Now the narrative of the series (at least Game 6) is about the Sixers not losing instead of the pressure of the Bulls winning. But let's be honest, to say all of the pressure is on the Sixers would be misleading and a little bit of a lie. The Bulls, even with injuries to Rose, Noah and now Taj Gibson combined with C.J. Watson not seeming comfortable running the team, still have pressure on them to win at least one more game. Yes, they will forever be allowed the excuse of injures if they do lose this series, but if they don't push this series to Game 7, the excuse lose credibility.


---
Fact or Fiction: Doug Collins has been playing mind games with the Bulls this series.
Jon Greenberg: Fiction. Collins' weird announcement of Bulls' Vice President of Basketball Operations John Paxson's heart condition was classic Collins -- too much emotion. Collins has long been known as the basketball version of Dick Vermeil. Michael Jordan supposedly once told complaining All-Star teams that at least their coach doesn't cry in front of them. Collins has a lifelong bond with the Bulls, and while I'm sure he'd love nothing more than to beat them -- that is the point, after all -- I don't believe he's psyching them out with any clever machinations. Unless, of course, he hypnotized Thibodeau into playing Rose late in Game 1, or he telekinetically ripped asunder Rose's ACL. Then, yes, he's definitely Dark Phoenix.

[+] Enlarge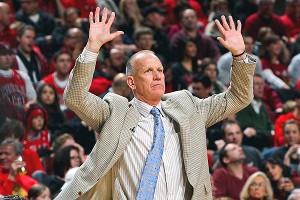 Gary Dineen/NBAE/Getty ImagesDoug Collins has pulled all the right strings in the 76ers' series with the Bulls.
Nick Friedell: Fact. The lineup switch to put Evan Turner in as a starter has paid dividends for the veteran coach. He has been able to shuffle around his lineup and really take advantage of Rose's absence. The fact that Collins made the public aware of Paxson's heart issue may have seemed like a nice gesture to most, but there were some within the Bulls' organization who were upset that Collins decided to disclose that publicly. Either way, Collins has pulled the right strings throughout the series and now has a chance to get his eighth-seeded team into the second round.

Scoop Jackson: Fiction: I heard this as a point of conversation on sports talk radio and thought it was the most asinine thing I'd damn-near ever heard. And reading it and having to respond to it now, I feel the same way. Look, I know Doug Collins and most of the people in this business in this city who have been doing this for a significant amount of time know him too. They know that's not even close to the type of coach or person he is. Anyone who believes that about Collins should be ashamed of thinking that he would use his compassion and empathy for the Bulls' unfortunate series of events -- specifically his personal feelings of sadness watching Rose go down in front of his team's bench and wanting to go out there to help him -- as a way to motivate his team or use it as a psychological ploy against the Bulls. All coaches in professional sports play mind games. They have to, it's part of the path to greatness. But to put out there that Collins is using this time and opposing players' pain to gain an advantage is kinda pathetic.


Jon Greenberg is a columnist for ESPNChicago.com, Nick Friedell covers the Bulls for ESPNChicago.com and Scoop Jackson is a columnist for ESPN.com.
May, 2, 2012
5/02/12
4:33
PM CT
By ESPNChicago.com
ESPNChicago.com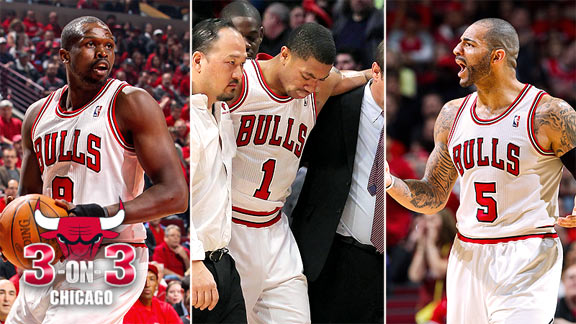 Getty Images, US Presswire, Getty ImagesDerrick Rose's ACL tear has sent reverberations throughout the Bulls' roster.
Most
Chicago Bulls
fans would admit the loss of
Derrick Rose
for the rest of the postseason severely reduced the Bulls' chances of winning a title. But what about next season? Rose may not return until February, 2013, and when he does come back, how good will he be?
That's one of the topics our panel weighs in on this week.
Fact or Fiction: Derrick Rose's injury will wipe out two years of championship contention for the Bulls.
Scoop Jackson: Fact: Truth is, the medical community's best work won't get Derrick back faster than anyone else in the history of the game who has suffered the same injury. Plus, we can't forget, he has those other nagging injuries that need to heal. The only hinge of hope is that Rose does an MJ circa 1985-86 and miraculously comes back 100 percent 7-10 games before the playoffs begin, helps the Bulls get into the playoffs, then does what Jordan wasn't able to do against the Celtics: Win. It's a long shot, but we're talking about Derrick Rose, we should be allowed to dream, right?

Melissa Isaacson: Fiction: Rose is young, has never had knee surgery and there is no reason to think he will not dedicate himself to rehab. Though we do not know the exact extent of his injury and how his body will recover, even if it takes him nine months to get back to the court, there is no reason to think that come playoff time, he will not be close to his former self. Is this enough to guarantee that the Bulls will be championship contenders? Probably not, but how do you wipe out any chance for next year at this point? Not ready to do that yet.

Jon Greenberg: Fact. The team will have lower expectations going into next season, which might not be a bad thing. Luol Deng will likely miss some time next season if and when he gets wrist surgery after the Olympics. The Bulls will have to work both back in during the regular season. Maybe that twist will be beneficial to the goal of winning a title, as the team jells late and carries newfound momentum into the playoffs. But I can't presuppose that will happen until I see it. It's rare to see an almost entire team play together two years in a row. Will the Bulls make it three? It's tough to see them dealing anyone, and they don't have any go-to individual scorer besides Rose. This is uncommon territory for the young point guard and we don't know how his body and mind will respond.


---
Fact or Fiction: Luol Deng should have surgery immediately after the season and skip the Olympics now that the Bulls already will start next season without Derrick Rose.
Scoop Jackson: Fact: The wrist has been the bane of his season, all season. At times he's had to be both Batman and Robin. Next season, he's going to have to return as the Bulls' Dark Knight. All season long. Luol needs to be beyond 100 percent to hold the team down until the above mentioned miracle occurs. The only way of having the slightest chance of that happening is if he shuts the entire summer down, forgos the Olympics, forgos working on whatever part of his game he was going to concentrate as he's done every off season and forgos thinking about hooping until October.

Melissa Isaacson:Fact: There is a lot more involved in this than a simple yes or no. Like Rose, Deng has certain obligations to represent the UK in the Olympics. That said, his primary obligation is to the Bulls and they need him to be at full strength next season, whether Rose was going to be in uniform or not. It would be a supreme sacrifice for Deng to have surgery right after the season and skip the Olympics, but Deng has shown himself to be selfless in that regard. Besides, it's a smart move for his own career as well.

Jon Greenberg: Fiction. Deng is a very proud grown man who wants to represent the country that took his family in after they fled Egypt, and before that, Sudan. I know his contract supersedes the Olympics, and if he were on the American team, I'd say skip it 100 percent. But the British team is counting on him to represent the country on its home soil. If he feels it's important to him, he should do it. Sometimes it's tough to remember these guys are human beings, not fantasy players on a computer. Deng has been through a lot to get to this point, and he deserves this reward. Next season will be there when he gets back. Also, it's not like his team will be playing until the gold medal round, and he can't make the injury worse.


---
Fact or Fiction: Carlos Boozer is proving again that he's not reliable in the playoffs.
Scoop Jackson:Fiction: Not soon enough. If he doesn't do something of significance and play a major role in the Bulls getting past the 76ers, then yes, that would become fact. Until then, I think it's too early (and too easy) to call Boozer unreliable. It also depends on what we are realistically expecting out of him. Are we looking for Boozer to give the Bulls 20/10 a night, 15/8 or 10/5? I'm not taking up for the guy, but what are the true expectations of him in the playoffs? I ask because that's where the reliability lies. If we just rely on Boozer to play serviceably until Taj Gibson can get in the game, then we can rely on him. If more is expected, then that's a different story. But as it stands right now, he has between three and five games to prove whether or not the Bulls can truly depend on him in these playoffs. We just have to wait and watch.

Melissa Isaacson:Fiction: Too soon to say that, though they sure could have used him Tuesday night. But after coming through so solidly this past season, there is no reason to think he won't bounce back in Philadelphia. He was not quite as awful in Game 1 with seven rebounds and 50 percent field goal shooting. But he is going to have to do a much better job defensively and be more engaged offensively if the Bulls have a chance to get out of the first round. If he's not going to play defense, at least hit your season averages of 15 points, 8.5 rebounds. If he disappears in Game 3, I'm inclined to agree.

Jon Greenberg: Fiction. But only because it's just been two games. I've got to give him another game before I agree to that. In Game 1, he played well enough. He only got off eight shots, and still had seven rebounds and four assists. In Game 2, he was silent in the second half, but the Sixers' defense flummoxed the Bulls, who never really got into an offense. Boozer's rainbow jumper hasn't been falling, and they need to find a way to get him quick looks near the paint. If Boozer has a bad Game 3, I'm ready to deem this a playoff failure, because any kind of deficit will make it more difficult for the Bulls to advance to give him more time to redeem himself.


Scoop Jackson is a columnist for ESPN.com. Melissa Isaacson and Jon Greenberg are columnists for ESPNChicago.com.
April, 10, 2012
4/10/12
11:58
AM CT
By ESPNChicago.com
ESPNChicago.com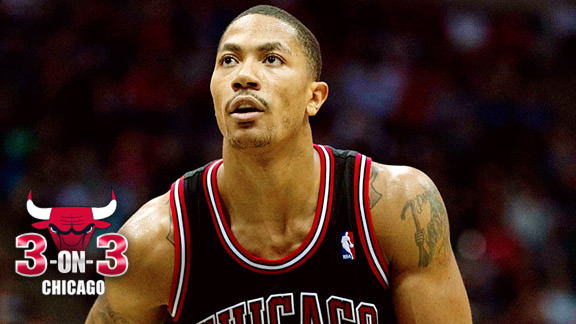 Jeff Hanisch/US PresswireDerrick Rose is shooting 54.5 percent from the free throw line with less than a minute to play and the score within three points this season.
Derrick Rose
vowed it wouldn't happen again after he missed a pair of free throws in the closing seconds in a loss to the
Miami Heat
in January. It happened again on Sunday when Rose (and
Luol Deng
) contributed to the Bulls' loss to the Knicks with two missed free throws each.
Our panel weighs in on that and more this week:
Fact or Fiction: Rose's late-game free throw shooting is something to worry about.
[+] Enlarge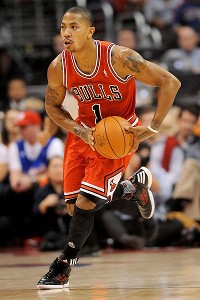 Jayne Kamin-Oncea/US PresswireHas the pressure of late-game free throws gotten in Derrick Rose's head?
Nick Friedell: Fact. Rose has repeatedly talked about how the free throws he's missed late in games have motivated him, but when placed in the same situation he has missed the same shots. Over time, Rose will start knocking down those free throws because he badly wants part of his legacy to be that he came through in the clutch. In the short term though, the Bulls should be concerned because Rose is putting too much pressure on himself at the line late in games and is over-thinking once he gets up there.

Scoop Jackson: Fact. Because now I think it might be in his head. Sunday was the second time this season that Rose let his free-throw shooting become a determining factor in the outcome of a game. He beat himself up the last time against the Heat in January and vowed that it wouldn't happen again. Well, it happened again. Which takes away the "isolated incident" mental lie he can tell himself. But I don't think we should worry that much about it. As long as he doesn't do a Nick Anderson and never be the same afterwards, then he'll be fine.

Jon Greenberg: Fact. I don't really connect Rose's famous missed free throws in the national championship game in college to the ones he missed in Miami and New York, but there's something there. Rose is best when he's operating on instincts and athleticism. Typically he's a solid free throw shooter, but with the weight of the franchise on his shoulders, he's slipped a few times lately. The pressure will only get greater and the free throws will only have more importance. Rose takes the blame when things go wrong, and he knows there's no excuse for missing those shots. But he's got to make them.


---
Fact or Fiction: The Bulls, who are 2-3 since Tom Thibodeau's unhappiness with his contract surfaced, are distracted.
[+] Enlarge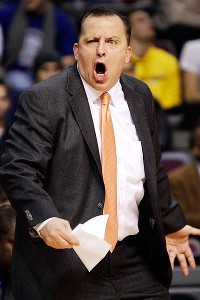 AP Photo/Paul SancyaTom Thibodeau is under contract next season with a team option.
Nick Friedell: Fiction. The players want Thibodeau to be the coach, but they aren't concerned with his contract. They believe an extension will get done. His contract status has no bearing on how the team has been playing.

Scoop Jackson: Fiction. Thibs knows that he has more job security than any coach in the NBA, including Gregg Popovich. But I'm talking league-wide security, not with one specific team. If the Bulls are stupid enough to play games with Thibs after what he's done midway through his contract -- a contract that he has outperformed in every aspect of the terminology of the deal -- then he knows there's probably no one team in the league that wouldn't move heaven, earth or current coach to get Thibodeau to do to their franchise what he's been able to in one and a half seasons for the Bulls. Distracted? Thibs is probably laughing at the front office.

Jon Greenberg: Fiction. When Rose was at the line with a chance to ice New York, he wasn't thinking "Man, I hope Thibs gets his paper." Thibodeau is under contract next year with a team option. He's not going anywhere. I can guarantee he's prepared the team with the same feral intensity as before. Simply put, the Bulls needed Rose back and Rose, in turn, needs a few games to get in rhythm. As Thibodeau is known to say, "They'll be fine."


---
Fact or Fiction: The Bulls should look at Boozer more in late-game situations.
[+] Enlarge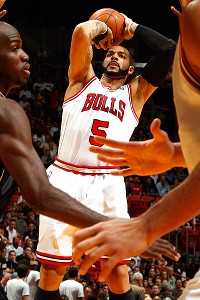 Issac Baldizon/NBAE/Getty ImagesCarlos Boozer shot a season-best 55 percent from the floor in March.
Nick Friedell: Fiction. For as well as Boozer has played in spurts this season, he is still a defensive liability. Thibodeau has made it clear over time that he prefers defense over offense late in games -- that won't change now.

Scoop Jackson: Fact. Why not? The more options a team has to close games -- especially with players that are not going to be double-teamed when the game is on the line -- the better that team's chances are to win a ring. Boozer, whether you like him or want him gone, can score. If the Bulls can look at the defenses teams are playing them down the stretch and see that Deng and Rose are being schemed and stacked upon, then why not test Booz out a couple of times? The one thing every team has to do is find a way for opponents to play them honest. Finding out if Boozer can be a legit, extra, late-game option could be the playoff's biggest surprise.

Jon Greenberg: Fact. Boozer should be getting the ball with an emphasis on creating offense for others. Boozer has been taking a lot of jump shots this season, more than normal, and if he can get the ball at the elbows, he can bring out defenders and create space for Luol Deng or Joakim Noah. Boozer can't out-jump most NBA defenders, but he can out-think them. The Bulls simply can't rely on Rose to play hero ball when it's close. If not Boozer, they need to involve other players early in the play clock.


Nick Friedell covers the Bulls for ESPNChicago.com and ESPN 1000. Scoop Jackson is a columnist for ESPN.com. Jon Greenberg is a columnist for ESPNChicago.com.
March, 27, 2012
3/27/12
10:35
AM CT
By ESPNChicago.com
ESPNChicago.com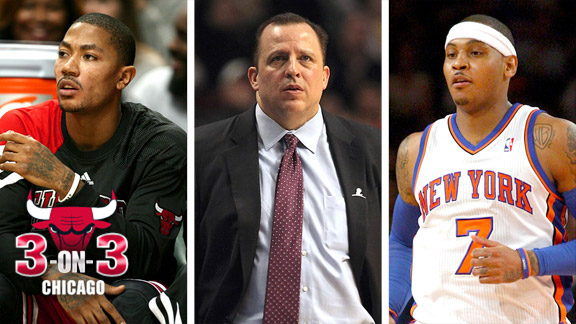 US Presswire/Getty ImagesCarmelo Anthony has been much happier lately, could that spell trouble for the Bulls?
The Chicago Bulls seem to be craftiing a miracle this season, forging the NBA's best record with Derrick Rose missing so many games with a variety of injuries.
Our panel weighs on whether this year's team has accomplished more through adversity than last year's Bulls.
It also discusses the new-look New York Knicks.
Fact or Fiction: It's clear the Bulls can't count on Derrick Rose being 100 percent for the rest of this season.
[+] Enlarge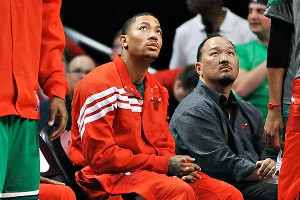 AP Photo/Brian Kersey
Nick Friedell: Fact. Derrick has had so many injuries this season that it's hard to imagine him miraculously becoming completely healthy in the next few months. He was the one who admitted earlier in the year that he wouldn't 100 percent healthy the rest of the way and that was long before he dealt with the groin injury that has kept him out the past couple weeks.

Scoop Jackson: Fiction: Pooh at 85 percent is equal to Pooh at 100 percent. He's one of those rare players where once he's on the court there is no difference between the 15-20 percentage points of separation. His giving 100 percent will override the percentage of where his physical heath stands. "No excuses" will be and has always been his motto, his way of life. So expecting rose to be at 100 percent is one thing, because there is no way he will be this season. But 'counting' on him to be 100 percent is a whole different piece. He'll be 100 percent even if he isn't injury-free.

Jon Greenberg: Fact. No player is truly 100 percent at the end of a season, as their health is carefully maintained with treatments, soaks and trainers' manipulations, and Rose has suffered three injuries (back, toe and groin) that will surely worry him and the team until the season ends. But I still think Rose can play at a high level come playoff time. The Bulls are obviously taking special care with the groin injury. Obviously he needs to get healthy and then hopefully play in 10 or so games before the postseason begins. Remember, he'll get more rest in the playoffs, though not as much as during a normal season.


---
Fact or Fiction:What the Bulls are doing this season with so many injuries is more impressive than what they did last season.
[+] Enlarge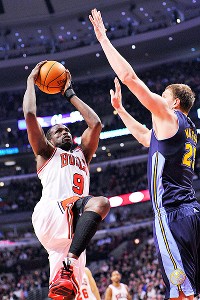 Mike DiNovo/US Presswire
Nick Friedell: Fact. Derrick Rose has missed 17 games already and is going to miss several more. He is the reigning MVP of the league. That means that Tom Thibodeau has found a way to continue to win without Rose, and to a lesser extent, Luol Deng, who has been dealing with a torn ligament in his wrist since January. Thibodeau gets more out of his roster than any coach in the league.

Scoop Jackson: Fact: I've said this to Jonathan Hood on ESPN 1000 on various occasions, about being more impressed with what they've done this year in relation to what they were able to pull of during the regular season last year. Even without the injuries, I think I'd still be more impressed. It's the roles that Thibs has established and the ease with which the players fell into and embraced them. It's as if they've twisted and stolen the "Impossible is nothing" adidas motto into an "Injury means nothing" religion and found a way to play through it and play everything forward.

Jon Greenberg: Fact. The Bulls' run this year, though, was made possible by the work they put in last season. Tom Thibodeau obviously knows how to run a team. He is lucky that he got the same cast back from last year, which meant he didn't have to waste much time teaching. With only a couple handfuls of real practices this season, Thibodeau has integrated more teaching into his shootarounds, but mostly has been concerned with maintenance issues. That the Bulls are winning without their starting backcourt is more impressive than last season, when they won without their frontcourt (Joakim Noah and Carlos Boozer) for good chunks.


---
Fact or Fiction: With the Knicks winning six of seven since Mike D'Antoni was fired, it's clear they'll be a tough out in the playoffs.
[+] Enlarge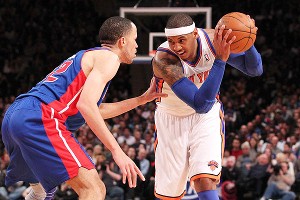 Anthony Gruppuso/US Presswire
Nick Friedell:Fact. The Bulls should still win the series if the two teams meet because they play defense every single night, but the Knicks have improved over the course of the season and new coach Mike Woodson appears to have righted the ship in New York City. The Knicks are playing with much more confidence of late -- the difference is that the Bulls have been playing with that confidence all year. Aside from Miami, they don't think there's a team out there who can beat them in a series.

Scoop Jackson: Fact: But not for the Bulls. From a talent standpoint the Knicks are going to be a nightmare. One that the Heat better hope they don't have to face in Round 1 because there seriously could get beat. But the Bulls won't go into a series taking the Knicks lightly, they won't look past them. The Heat on the other hand, I could see them going into a series against the Knicks unmotivated and focusing on the bigger picture instead of focusing on the details. If Amar'e's back situation isn't very serious (he's out indefinitely), then the Knicks will be the team that the Heat don't want to see to open up the playoffs. A match-up nightmare. Against the Bulls the script flipped: They'll be New York's match-up nightmare.

Jon Greenberg: Fact. New York will frustrate their first-round opponents and extend the series to six or seven games. I could see a Bulls-Knicks series being reminiscent of last season's second-round matchup against the Hawks. I don't think anyone was worried Atlanta would win four games, but it wasn't a "cakewalk," as Joakim Noah reminded me this year. I really hope the Bulls play the Knicks in the first round, and not just because I want to chill in New York. I think it'll be a good test for a Bulls team that hasn't worried much about wins and losses this year. And it will be fun for NBA fans.

Nick Friedell covers the Bulls for ESPNChicago.com and ESPN 1000. Scoop Jackson is a columnist for ESPN.com. Jon Greenberg is a columnist for ESPNChicago.com.



March, 21, 2012
3/21/12
9:10
AM CT
By ESPNChicago.com
ESPNChicago.com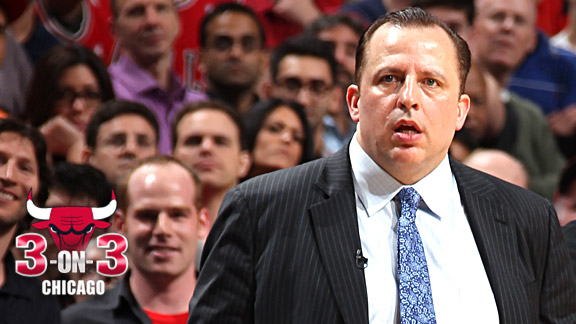 Joe Murphy/NBAE/Getty ImagesTom Thibodeau has won 100 of his first 130 games as an NBA head coach.
The Bulls' Tom Thibodeau made history Monday when he reached 100 wins faster than any coach in NBA history. He could make some more history in the coming weeks if he wins the NBA's Coach of the Year award for the second straight year. No coach has ever won the award in back-to-back seasons.
Is Thibodeau worthy of the award again? Our panel weighs in on that and more:
Fact or Fiction: Tom Thibodeau should repeat as the NBA's Coach of the Year.
[+] Enlarge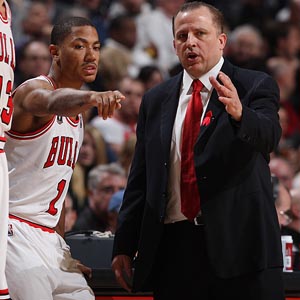 Gary Dineen/NBAE/Getty ImagesTom Thibodeau has kept the Bulls winning even without Derrick Rose for 14 games and counting.
Nick Friedell: Fact. Just like last season, no coach has done more with less. Thibodeau has kept up the high standards he set last season despite the fact that he has lost Derrick Rose and Luol Deng for large chunks of time. If ever a coach deserved to win the award in back-to-back years, it's Thibodeau.

Scoop Jackson: Fact. With the total games lost by players and the ability to have a 10-4 record without Rose and Thibodeau still thus far has the Bulls with the best record in the league? Pleeeeaaasssseee!!! It shouldn't even be a close vote. I know that no one has ever won Coach of the Year in back-to-back seasons, and I know there are probably "laws" in place inside the NBA that haven't allowed that to happen before, but this time there's no way to avoid, get around or disregard it. No disrespect to what Doug Collins has done in Philly or what Greg Popovich has done in San Antonio, but no other coach has done the MacGyver the way Thibs has. In two seasons, he's arguably become the best coach in the NBA. A double-up on the COY award should reflect that.

Melissa Isaacson: Fact. The fact that Thibodeau just reached 100 wins faster than any coach in league history gives some substance to an argument that is not that tough to make. Once again, the Bulls' coach has his team at or near the top of the NBA standings under difficult circumstances. Despite a demanding schedule and frequent injuries to his top players, including the NBA's reigning MVP, he has his team playing consistently outstanding defense and cohesive, winning basketball. There are certainly other candidates -- Doug Collins, Popovich and Stan Van Gundy -- but Thibodeau leads the pack right now.


---
Fact or Fiction: The Bulls should bring back Andres Nocioni.
[+] Enlarge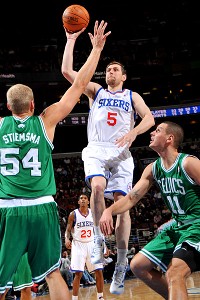 Jesse D. Garrabrant/NBAE/Getty ImagesAndres Nocioni is available, but does he have anything left to help the Bulls?
Nick Friedell: Fiction. Noch is still respected in the Bulls' locker room. Deng even said he would lobby for him to come back, but it doesn't look like Nocioni has much left in the tank. Plus, no matter who the Bulls bring in, that player won't play a major role anyway. The rotation is set and has been for a while.

Scoop Jackson: Fact. Only because another player who can play the 4-spot (and sometimes the small forward) who can score can't hurt. Hopefully, Boozer won't have the same playoff run he had last year and won't have the same series against the Heat this year that he had last year, but just in case ... and hopefully, Taj Gibson will be able to contribute more, be more consistent and have a greater impact on games than he had last year during the playoffs, but just in case ... and if Luol's wrist gets re-tweaked or he, for whatever reason, isn't able to average 40 minutes in a series because of injury or a ref's tripping ... all I'm saying is, with Noch the Bulls are covered, "just in case."

Melissa Isaacson: Fiction. Nocioni is not healthy, and the Bulls don't need him. He is at the end of his career and currently back home in Argentina after being waived by the Sixers, having averaged 1.5 points and 1.3 rebounds in 11 games this season. Those remembering him fondly for his bruising play are well within their rights, and if Richard Hamilton is somehow unable to play in the postseason, it might be an intriguing consideration, but that doesn't mean the Bulls should sign him now.


---
Fact or Fiction: The Bulls' depth becomes less of a factor in the playoffs.
[+] Enlarge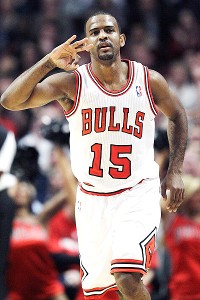 AP Photo/Nam Y. HuhThe play of John Lucas III in Derrick Rose's absence has helped the Bulls win without the MVP.
Nick Friedell: Fact. Go back and watch the Miami series from last season. The Bulls' bench is the best in the NBA, but it won't matter as much in the playoffs. Stars win playoff series, not the 10th and 11th guys on the bench.

Scoop Jackson: Fiction. The standard rule in the NBA come playoff time is that teams shrink their benches. Rotations go from Brad Gilbert to Kevin Hart. But the Bulls are going to (have to!) go totally against that systematic line of coach thinking. Thibs has given every player on this team time on the court during the regular season for the sole purpose of being ready once the playoff run begins. John Lucas III will play and will be a factor in games. Jimmy Butler will be a factor in games. The "White Mamba" will be a factor in games (OK, maybe that's a stretch), but still ... the Bulls will be the true definition of "all in." As we say, "Pooh-through-14." There are no Jack Haleys here. Each player will earn a ring.

Melissa Isaacson: Fiction. Normally that's the case as rotations shorten in the playoffs. But the Bulls' outstanding depth is a luxury Thibodeau can use to his advantage, notably against the Heat (which the Bulls have already done). One of the most impressive characteristics about Thibodeau is that he often ignores conventional wisdom, genuinely espousing, for example, the notion that every game truly matters. Having fresh legs in the postseason may turn out to be the Bulls' greatest weapon in the playoffs. Thibodeau, who could well go 10-deep, is not likely to take that weapon out of his own hands.


Nick Friedell covers the Bulls for ESPNChicago.com and ESPN 1000. Scoop Jackson is a columnist for ESPN.com. Melissa Isaacson is a columnist for ESPNChicago.com.

February, 23, 2012
2/23/12
11:45
AM CT
By ESPNChicago.com
ESPNChicago.com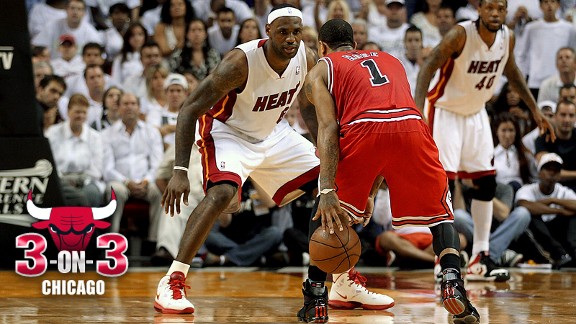 Mike Ehrmann/Getty ImagesIs home-court advantage essential for Derrick Rose's Bulls to get past LeBron James' Heat?
The
Chicago Bulls
enter the All-Star break with a 27-8 record, battling the
Miami Heat
for the East's No. 1 seed. The top spot in the conference didn't give the Bulls an edge in the East finals last season against the Heat, who dispatched them in five games.
Is the No. 1 seed vital to get past the Heat this season? Our panel weighs in on that and more:
Fact or Fiction: The Bulls must win the No. 1 seed to get past the Heat.
Scoop Jackson: Fiction. I actually believe the opposite. They had it last season and look how that turned out. Maybe my line of thought is backwards, but the more confidence the Heat have going into a playoff series against the Bulls the better. I'm thinking (hoping to a degree) that over-confidence at some point can/will creep in and play a role. And to be honest, watching the Heat lately, they aren't showing any real signs of weakness. So there needs to be some intangible that can work against them and in the Bulls' favor. Over-confidence -- especially if the Heat fall back on how they beat the No. 1-seeded Bulls last year in the playoffs combined with this year possibly being the No. 1 seed in the playoffs -- in Miami could actually work to the Bulls' advantage this time. The same way it worked against them versus the Heat in the playoffs last season when the over-confidence made its home here.

[+] Enlarge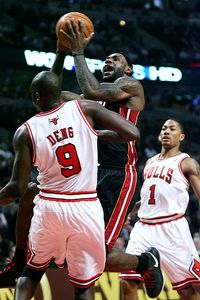 Jerry Lai/US PresswireCould the Bulls take advantage of an over-confident Heat team in the playoffs if Miami wins the No. 1 seed?
Nick Friedell: Fact. Like most teams, the Bulls have a lot more confidence at home. They play with more emotion at the United Center because they feed off the energy from the crowd. Privately, the Bulls players feel as if they can beat Miami on the road, but the reason they have been grinding so hard this season is because they want that potential Game 7 of the Eastern Conference finals to be in Chicago, not Miami. They know how much that home court advantage means.

Marc Silverman: Fiction. Here are the "musts" for the Bulls to win the title. Rose must be healthy. Richard Hamilton must be healthy and be close to the 20-point-per-postseason-game player he's been in the past. Luol Deng's wrist must hold up for four more months. Carlos Boozer must try on defense. Joakim Noah must be more consistent in the paint. Zero points against New Jersey? I understand that Noah isn't an offensive player, but he must convert more around the rim. Coach Tom Thibodeau must adjust quicker in a seven-game series. Last year he went to Kurt Thomas way too late. Would I rather the Bulls have home-court advantage? Of course. Is it a must? No. Don't kill yourself in the regular season for the No. 1 seed. The Bulls are more experienced and can win on the road.


---
Fact or Fiction: The Bulls need to make an impact trade to win an NBA title this season.
Scoop Jackson: Fiction. The operative word here is "need." I've always believed many times trades kill confidence. The Bulls have spent the first half of this season doing what they couldn't do last season: Learning that they can win games without Derrick Rose. Everyone's roles have been established, everyone's expectations understood. To disrupt that right now would be not so smart. Now, if a trade happens to come along -- you know, one that just so happens to fall into Gar Forman's lap -- that makes total sense, then the Bulls have to go for it. Look, all I'm saying is they don't have to force anything, but they can't afford to be stupid, either.

[+] Enlarge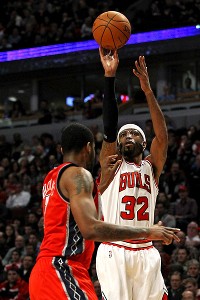 Jonathan Daniel/Getty ImagesThe return of a healthy Richard Hamilton will be like a trade for the Bulls.
Nick Friedell: Fiction. The Bulls have enough to win a title right now. They need Hamilton to come back and play well in order to do so, but they do have enough. The question is can Hamilton, at age 34, stay healthy for the remainder of the season? After only playing a handful of games this season, it seems very unlikely. The only major deal the Bulls would even consider making at this point would be one for Dwight Howard. Despite his recent comments, Howard has shown no interest in signing an extension for the future.

Marc Silverman: Fiction. The key here is the word "need." The Bulls don't need to do anything. They can win a championship with the current roster if healthy. I'd still be in favor of looking into the Howard possibility. If he would sign a long-term deal to play in Chicago, (which he's given no indication that he would do), explore the possibility and call the Orlando Magic. Are the Los Angeles Lakers looking to give away Pau Gasol the way they gave away Lamar Odom? Look into that, too. John Paxson wanted Gasol a few years back, and he still has championship basketball left in the tank. The Bulls are dealing from a position of strength. Don't make a move to simply make a move. There's nothing to shake up here. But if there are good players available, don't just sit back and watch the action. Sometimes the best deals are the quiet ones. Remember the innocent trade of Tyrus Thomas to Charlotte? The return could turn out to be the No. 1 pick in the draft in 2016.


---
Fact or Fiction: Tom Thibodeau should limit Rose's minutes in All-Star Game.
Scoop Jackson: There are times in life when we all are forced to play it smart. For Thibs and Pooh (Rose), this is one of those times. No disrespect to the NBA All-Star Game itself, but this isn't the baseball All-Star Game where the game actually means something and the outcome gives one team an advantage in the World Series, in this case the Finals. So Thibs needs to put Rose on ice. Let the back relax. Give the fans about 20 minutes of brilliance and let Rose spend the rest of the game on the bench watching Howard shine in his next to his last home game in Orlando. Because as no one seems to be mentioning, Rose was the MVP of the first half of the season, and he needs to be at full strength to be the MVP of half No. 2. And that begins in the second half of Sunday's game. Really.

[+] Enlarge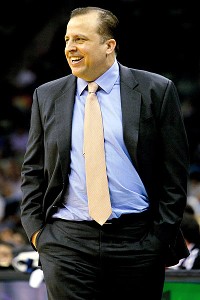 Derick E. Hingle/US PresswireTom Thibodeau could make Bulls fans smile by limiting Derrick Rose's time in the All-Star Game.
Nick Friedell: Fact. Why even make make Derrick work in a game that means absolutely nothing? The Bulls need Rose for the stretch drive. Nobody will remember a thing about the All-Star Game as soon as it ends.

Marc Silverman: Fact. The "minutes debate" has taken on a life of its own in recent weeks, and it has been exaggerated by many. Let's make it as simple as possible. Is Rose nursing any sort of ailment? If he is, whether it be his back, his toe, or any other injury then limit his minutes when you can. I understand that no one in sports is ever 100 percent, but you have to do everything in your power to make sure Rose isn't limited in May and June. So if Rose's back is tight or his toe a bit sore, let him be introduced, play the first few minutes, and then get him a nice comfy seat next to Thibs on the bench. This isn't baseball where home-court advantage is on the line in the All-Star Game. It's an exhibition. Rose will have many more All-Star appearances. It is also fact that Thibs should play Dwyane Wade and LeBron James 45 minutes a piece.


Scoop Jackson is a columnist for ESPN.com. Nick Friedell covers the Bulls for ESPNChicago.com and ESPN 1000. Marc Silverman is the co-host of "The Waddle & Silvy Show" on ESPN 1000.
February, 8, 2012
2/08/12
7:50
PM CT
By ESPNChicago.com
ESPNChicago.com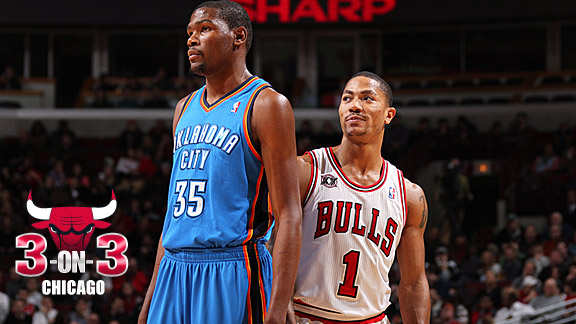 Joe Murphy/NBAE/Getty ImagesDerrick Rose and Kevin Durant are stars, but which of them has a brighter future?
ESPN.com recently named its
top 25 NBA players under the age of 25
, and a certain
Chicago Bulls
guard wasn't at the top. Does he belong?
Our panel weighs in on that and whether
Richard Hamilton
's sore groin is a problem that will linger all season.
Those are two of the topics our panel tackles in 3-on-3.
1. Fact or Fiction: As ESPN.com stated, Kevin Durant is the NBA's top player under 25, ahead of Derrick Rose.
Scoop Jackson: Fact. But not by much. Maybe KD is 1 and Pooh is 1A. The only reason at this point is due to the fact that we've seen Rose has a defensive nemesis: LeBron. In the Eastern Conference finals -- and in the one game that they've faced one another this year -- Rose has allowed LeBron to bring his game down a notch and Rose hasn't figured out how to escape that ... yet. With Durant, that one person or team hasn't stopped him yet. With the exception of his own teammate (Russell Westbrook) there has really been no one player or team that has made life miserable for Durant on the court ... yet. But keep in mind who originated the list: ESPN.com. The same place/site/people that ranked Kobe Bryant No.7 on the current "Best Players" list. I'm just saying.


[+] Enlarge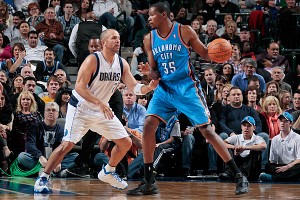 Danny Bollinger/NBAE/Getty ImagesDoes Kevin Durant have a brighter future than Derrick Rose?
Jon Greenberg: Fact, but not by much. I feel like I'm cheating on Rose as his hagiographer for answering this honestly. But as the saying goes, you don't trade big for small in the NBA. And with that in mind, you'd probably have to say Durant, a 6-foot-9 small forward, is the top player under 25. But again, not by much. Rose trumps Durant as my "guy I want with the ball with the game on the line," and that doesn't just mean the final shot. After all, Durant needs someone to get him the ball. Hopefully these two will be in the same orbit for the next 10 years.


Nick Friedell: Fiction. They're both great players, but if I had to start a team with just one -- give me Rose. His will to win is unlike anything I've seen before and he makes the players around him better. He wants to be the guy with the ball in his hands late and he wants the pressure on his shoulders that comes with being the face of a franchise, especially one searching for its seventh title. Rose is also going to turn into an even better defender over time because he knows that's the next phase of his game he must conquer.


---
2. Fact or Fiction: Pushing his banged-up stars now will cost Tom Thibodeau and the Bulls in the playoffs.
[+] Enlarge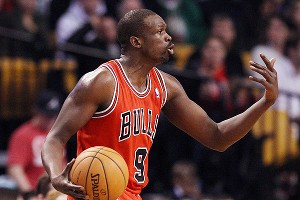 Elsa/Getty ImagesLuol Deng isn't playing at full speed due to a wrist injury.
Scoop Jackson:
Fiction. Players need to play. Period. Every team has to push every player. Period. Any team looking for an advantage come playoff time because their "superstars" got more rest during the shortened regular season will be the teams that will be watching the playoffs from the 300 level seats or on flat screens like the rest of us. The only exception to this is Rose. And that's not because of time on the court, it's about how much he has to do for this team to win when he's out there. Every team in the league needs to find its rhythm. So far, that has not happened. That's why you see some teams beating the Heat one night and losing to the Wizards the next. The Bulls are no different. The "stars" -- again, not including Rose -- will have play through the small bang-ups. They along with Thibs know unless the injury is miss-the-season threatening, there's no time to shut down.


Jon Greenberg: Fiction. I reject the premise. I don't think Thibodeau is really pushing the Bulls, who like every team has dealt with nagging injuries. Yes, Luol Deng played 41 minutes after missing a few weeks, but it's his wrist that's injured, not his knee or ankle. And for all the concern about Rose, he has missed games, so it's not like he's playing through every bump. I side with Thibodeau because he's coaching a team of men. Professionals. They do this for a living. Part of the deal is playing the season like it matters. Muscle memory and all that. The players get their loads lightened with the absence of practice and skipped shoot-arounds. There is no easy way to make it through this season. Just luck.


Nick Friedell: Fact. Everybody around the Bulls trusts Tom Thibodeau, but at some point the extra minutes are going to catch up with his team. It's been well documented how the likes of Michael Jordan and Scottie Pippen played heavy minutes during the championship years, but the issue with Thibodeau is that unlike most coaches, he doesn't pull his players until the bitter end of games. All it takes is for one injury to torch that line of thinking. The Bulls, especially Rose, were worn down during last season's playoffs. They appear to be on the same path right now unless something changes.


---
3. Fact or Fiction: Richard Hamilton's injury problem will prove costly during the postseason.
Scoop Jackson:Fiction (?): The words "reoccurrence" and "re-aggravated" that are being used when anyone mentions Rip's groin and thigh injuries bother me. That's why the question mark, the hesitation, the non-commit. If it were 2002 and Rip had his braids, no face mask and was doing his reincarnation of Reggie Miller curling around screens dropping buckets like C-Listers do names at club entrances, then I wouldn't be concerned. But Rip's not 24 anymore. The recovery time ain't the same, the recoveries themselves are not the same. Which is why those words -- "reoccurrence" and "re-aggravated"-- bother me so. But the optimistic side of me has to out-believe my pessimistic nature on this. I have to (even if forced, even through lies) follow the path of "better to deal with these injuries now than later" when it comes to Rip. Here's the way I look at it: The basketball gods could not be that cruel that they'd let the once best backcourt tandem of this generation (Hamilton and Chauncey Billups) go their separate ways, to teams with championship aspirations, only to have them both watch everything unfold from the bench. I can't believe Billups might not be back for the Clippers, I can't force myself to believe that "DNP due to injury" is how Rip coming here is supposed to end.


[+] Enlarge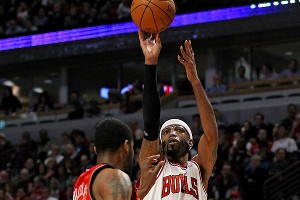 Jonathan Daniel/Getty ImagesRip Hamilton has spent more time injured on the sidelines than on the court this season.
Jon Greenberg: Fact. Hamilton is almost unbelievably skinny, none of that mid-30s flab like this writer, and he can still run the break -- he noted when he got to Chicago that he finally had someone who could keep up with him in Rose -- but it looks like he's got too much mileage. I don't feel good about him at all, and why should I? Thibodeau never sells out his players, but he made a pretty telling comment the other day when he noted that Hamilton has missed more games than he's played. I guess all you can do is rest him now, acknowledge he's going to miss more time, and just hope that he's healthy for at least the Eastern Conference finals, if the Bulls get there, that is. When he plays, I think Hamilton really is the missing link the Bulls were looking for. Too bad they got him this season, of all seasons.


Nick Friedell: Fact. Hamilton's groin injury has been lingering all year. Even if he comes back healthy in a week or two, it's going to continue to be an issue. He's going to be 34 years old in a week. Injuries like that (and his thigh bruise) don't just go away with time. They linger. Once Hamilton starts playing 40 minutes again during the postseason, his health is going to be an even bigger factor than usual.
January, 24, 2012
1/24/12
5:10
PM CT
By ESPNChicago.com
ESPNChicago.com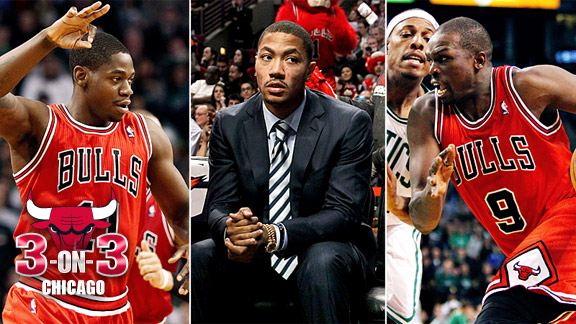 US Presswire, AP Photo, AP Photo
Derrick Rose
said he won't be 100 percent healthy all season because of his injured toe, which is a cause for concern among Bulls fans. And
Luol Deng
has a torn ligament in his wrist.
But even with Rose missing games recently, the Bulls still have been able to forge the league's best record. Does that mean the Bulls should rest Rose even longer to rest the toe as long as possible?
That's just one of the topics our panel tackles in 3-on-3.
1. Fact or Fiction: The Bulls are deeper than last season and in better shape to contend for a title.
Scoop Jackson: Fact. They have become one of -- if not the -- deepest teams in the league almost overnight. Thibodeau's platooning of Taj Gibson and Omer Asik has challenged starters Carlos Boozer and Joakim Noah to play better while also strengthening the second unit. And I think if the Mike James pick-up pans out (which is a strong possibility for at least one season), it could make he, CJ Watson and John Lucas III, the best three-headed back-up backcourt that never gives defenses time to rest in a seven-game series. Gar Forman may not have to share GM of the year honors with Pat Riley this year.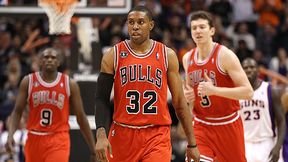 Christian Petersen/Getty ImagesC.J. Watson and the 'Bench Mob' make the Bulls perhaps the deepest team in the league.
Melissa Isaacson: Fiction. I'll go along with deeper and in better shape to contend for a title if you consider the acquisition of Rip Hamilton and the continued outstanding play of the Bulls' bench. But with Derrick Rose's ongoing toe problem, which even he admitted would not be 100 percent for the rest of the season (Carlos Boozer was obviously hindered by turf toe throughout the playoffs last season), Luol Deng's wrist injury and Taj Gibson and Joakim Noah's aches and pains, it's hard to make the sweeping statement that the team is in better shape. Yes, they came into the season with more rest but that doesn't equate to being in better shape. Boozer dropped weight and has looked stronger at times this season, but Noah also worked hard and he has looked lethargic more often than not. Right now the Bulls are arguably the best team in the league. It's just a little far-reaching and unfair to say if they don't make the finals, they fail. Sure, the expectations should be high, but if they play well in a seven-game series against Miami, they will have technically improved over last season.


Marc Silverman: Fiction. There's no arguing that depth gives the Bulls a big advantage over every team in the league in the regular season. Let me repeat. The REGULAR season -- especially this season with games and injuries coming fast and furious. As far as the playoffs are concerned, the Bulls will win it all if A) Derrick Rose plays like the MVP, is healthy, and doesn't wear down like last postseason. B) Luol Deng, Carlos Boozer, Joakim Noah and Rip Hamilton play at close to an Alll-Star level. Benches are shortened in the playoffs. And while I value Ronnie Brewer, Taj Gibson, CJ Watson and Omer Asik as much as the next guy -- the Bulls' best players must be playing at a high level in the postseason. Cheers to the "bench mob" but we'll be toasting to an NBA title if the Bulls starters are giving major production come postseason.


---
2. Fact or Fiction: With the Bulls winning in Derrick's absence, the team should force him to rest longer to heal.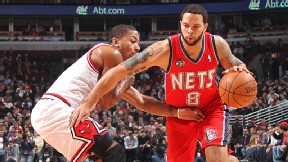 Joe Murphy/NBAE/Getty ImagesDerrick Rose played Monday, but he wasn't quite up to his standards despite solid numbers.
Scoop Jackson:
Fiction. In the words of the great Whitney Houston: Hell to da Naw! The Bulls need to bring Derrick back when he feels ready or as close to 100 percent as he can possibly get. Not any later. The Bulls can't get caught up in this stretch of wins and allow themselves a false sense of arrogance to believe that extending Rose's absence is good for the team. There's a microfiber thin line between fact and reality. The Bulls can afford to play a few games without the MVP, they've proven that. The reality? They aren't good enough yet for forced extended stretches without him or to start testing their own fate like that.


Melissa Isaacson: Fact. We all know about Rose's ultra-competitiveness by now. But feeling well for one or two practices should not necessarily signal that it's time for him to return to 40 minutes a game. Early on in his recovery, I wrote that he should sit out at least until Indiana on Wednesday given that they were the next decent opponent on the schedule and I'll stick with that. But the Bulls,Tom Thibodeau -- and Rose -- should continue to be as cautious. At a certain point, sitting out in and of itself may very well adversely affect Rose's play, but that's still a better alternative than rushing him back.


Marc Silverman: Fact. Winning is most important in the postseason. And in order to do that, Derrick Rose must be healthy at that time. I don't care who the opponent is. I don't care if the Bulls are winning or losing in the regular season. The bottom line is if Rose's toe is not healthy -- sit him. I love the work ethic and drive Rose demonstrates. It's natural that he wants to play every game. Just remember the Bulls commercial where Rose is talking and says "I just want to win..." He goes on to discuss how triple/doubles aren't important but winning a title is. Lets add to that. Regular season wins don't matter in this case. Navigating the regular is most important. If it takes a month to get the toe healthy, sit him a month. When healthy, the only team that can beat the Bulls in a seven-game series in the East is Miami. So even if the Bulls fall a few seeds, don't sweat it.


---
3. Fact or Fiction: After Rose, Luol Deng is the player the Bulls can least afford to lose to injury.
Scoop Jackson: Fact. They better hope -- better yet pray -- that Lu's recent injury won't sideline him for 10-12 games. Because while we (the media) and the fans tend to sleep on Deng, the players and coaching staffs in the league don't. Not anymore. They know that he is quietly the one player outside of Rose who they can least afford to ignore. I've been in a few opponent locker rooms over the last few seasons and the name written on whiteboards the second most often when they play the Bulls is Deng's. And from a Bulls perspective, he's the one player game-in/game-out from whom you know what you are going to get, including Rose. They say defenses win championships, well so does consistency and dependability.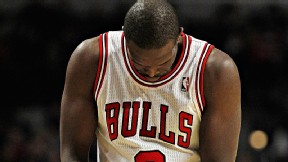 Jonathan Daniel/Getty ImagesLuol Deng hasn't scheduled surgery, but what if the Bulls lose him for an extended period.
Melissa Isaacson: Fact. Absolutely. Tom Thibodeau regularly refers to Deng as the "glue" of the team, and that's exactly what he is. Deng has the ability to give the Bulls what they need most, more than anyone but Rose. He's a better defender, his rebounding is at a career high, his turnovers are down and he has been solid in the clutch. Because his numbers aren't normally considered All-Star worthy (15.9 points, 7.5 rebounds), he may again miss the cut. But he is invaluable to the Bulls and of All-Star caliber. A serious wrist injury and any extended time off for Deng would be a big loss for the Bulls.


Marc Silverman: Fact. I was not a "Denger" a year ago. His long-time supporters kept yelling at me that he would prove me wrong. And I admit, they were correct. Let's also admit that this is not same Deng as a couple of years ago. Luol's work ethic meshed with Tom Thibodeau's understanding of Deng's strengths has vaulted him to an All-Star level. Deng was a lost player under Vinny Del Negro -- which isn't a surprise knowing how limited Del Negro is as a coach. You know what I'm saying Bill Simmons?! Deng is truly the Bulls "glue guy." He's the best defender on the team. How comfortable do you feel when he's set up for an open "three?" He can run the floor and can rebound well for a small forward. Rose is most important. Deng is second. Thibodeau has trouble sitting Deng for 10 minutes a game. How will he survive without Deng for 48?
January, 19, 2012
1/19/12
8:14
PM CT
By ESPNChicago.com
ESPNChicago.com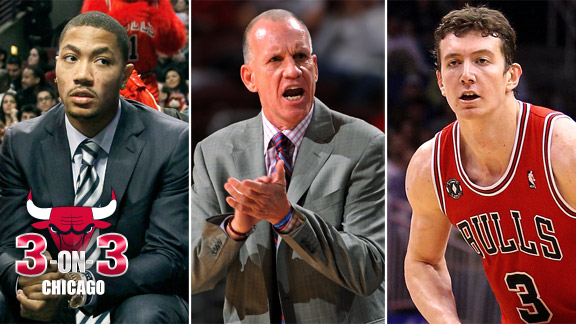 AP Photo/Getty Images/US Presswire
In what has become a familiar phrase early this season,
Derrick Rose
will be a game-time decision against the
Cleveland Cavaliers
on Friday. Hobbled by an injured big left toe, Rose likely will miss his third straight game and might not be back until Monday against the
New Jersey Nets
.
Will that be enough rest for the reigning MVP? Or will the Bulls and Rose be dealing with this uncertainty all season? Our 3-on-3 panel weighs in on that and more:
1. Fact or Fiction: Rose's turf toe will be a problem all season.
Jon Greenberg: Fiction. I don't have a crystal ball, but while I feel like this injury will reoccur over the remainder of this truncated season, I don't think it will limit Rose in a way that dramatically affects the Bulls' season. Rose is mentally tough enough to play through nagging injuries, and given the timing of this toe injury, I'm betting the medical staff and coaches are working on a smart plan. Maybe I'm being optimistic, but I don't see this injury wilting Rose.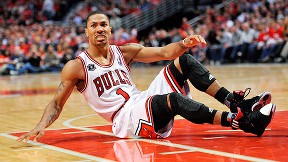 Rob Grabowski/US PresswireTom Thibodeau says the Bulls will be smart about playing a hobbled Derrick Rose.
Scoop Jackson: Fact. Probably. Especially, like I mentioned in the Hot Button piece, if it is an extension of a pre-existing problem that hasn't been disclosed. And the other reason is the high probability of re-injury. Derrick plays at such a controlled-reckless abandon he's going to block out the injury while playing and leave himself open for something freakish (like another player falling on his leg ... seem familiar?) happening again. It probably won't be until next season for this problem to totally disappear.

Marc Silverman: Fact. Turf toe is a chronic injury and has limited many big time athletes throughout the years. The Bulls must manage this and not chase regular season wins. The only thing that matters is chasing an NBA title. If they do it the right way, it will affect their seed, but not their postseason. A championship is still possible. The Bulls can navigate and win the East without home court advantage. Remember Joakim Noah's foot problems during the 2009-10 season? After sitting for long stretches, Noah had a great postseason, averaging 15 points and 13 rebounds. Rose can win the postseason MVP award if they manage the injury NOW.


---
2. Fact or Fiction: The 76ers will challenge the Bulls as the top Eastern contender to the Heat.
Jon Greenberg: Fiction. Philadelphia's success is a bit surprising, but they were a very nice team last season, and a well-coached one at that. But I'm just not sure if they have the firepower to be a contender come the playoffs. Going into Wednesday's game, Lou Williams is leading the team in scoring at 16.2 points per game, and fellow guard Jrue Holiday is second at 15. You need an alpha scorer in the postseason, and really more than one as the Bulls found out against Miami. As one Bull remarked the other day, "Do you think Boston is scared of Philadelphia in the playoffs?"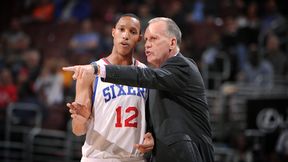 Jesse D. Garrabrant/NBAE/Getty ImagesDoug Collins has the surprising 76ers leading the Atlantic Division.
Scoop Jackson: Fiction. I think the Sixers and the Pacers will be the surprise teams in the East that no one saw coming on Christmas Day when the season began. They'll be everyone's "sexy" pick, they're Vegas gamble. But challenging the Bulls and Heat (and quietly the Hawks) in the East is a whole 'nother piece. They will win the Atlantic. But that's like the Broncos winning the AFC West. At the end of it all, we all know who is and will be supreme clientele.

Marc Silverman: Fiction. The 76ers are certainly capable of piling up regular season wins. And Doug Collins always gets the most out of his team. But if the Bulls have a healthy Rose, they will handle Philly in a seven-game series. When it's all said and done, the Pacers and Knicks will be tougher outs in the playoffs.


---
3. Fact or Fiction: Omer Asik will turn out to be a more effective center than Joakim Noah.
Jon Greenberg: Fiction. He's just not athletic enough. Asik might be one of the smartest players in the locker room -- Brian Scalabrine told me he's off the charts -- but he's not going to run the floor like Noah in this lifetime. Now, we're talking center effectiveness though, and Asik's defense has been arguably better than Noah's this season. Neither of them can catch very well right now. I think Noah, by virtue of his athleticism, is still ahead of Asik, but the vet needs to keep improving because the young Turk is coming on strong.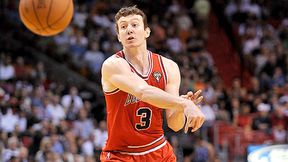 Steve Mitchell/US PresswireOmer Asik is not only a valuable defender, but he might be the Bulls' most attractive trade chip.
Scoop Jackson: Fiction. I don't see this happening. Once the rumors stop floating around that he's part of a Dwight Howard package or once Howard actually lands on another team not in Chicago, the Joakim that we once knew and that Charles Barkley (up until Monday) publicly claimed for almost two years was his favorite player in the league will return. It might take until after the trade deadline. It might take him losing his starting position to Asik. But come playoff time, Noah will be not only more effective than Asik, but far more important.

Marc Silverman: Fiction. If this is true, the Bulls are in trouble. Noah, when right, is a much better offensive rebounder than Asik. Noah, when right, has much better hands than Asik. Noah's on-ball defense and free-throw shooting also gives him the advantage. The Bulls' depth is what makes them one of the best teams in the NBA. Noah, Carlos Boozer, Taj Gibson, and Asik should be the Bulls' biggest advantage over any team in the NBA. But Asik, when Noah is right, should provide depth and a big-time trade chip in the future. Noah was on the brink of making the Eastern Conference All-Star team last season before his injury. I'm not convinced that player is gone for good. Nothing against Asik, but I still believe Noah is the better player.