Chicago Bulls:

Amin Elhassan
May, 6, 2013
5/06/13
10:48
AM CT
By ESPN Insider
ESPNChicago.com
Archive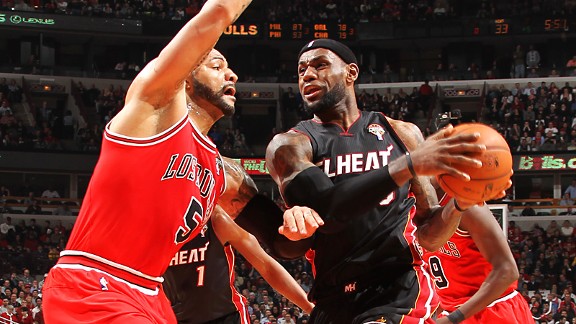 Nathaniel S. Butler/NBAE/Getty ImagesLeBron James should expect physical defense from Carlos Boozer and the Bulls.
Bradford Doolittle and Amin Elhassan take a look at the Chicago Bulls-Miami Heat semifinal playoff series. While the matchup isn't as plainly lopsided as Miami-Milwaukee, the Bulls are tired and injured while the Heat are healthy and rested. The Bulls have made it this far on grit and defense, how far do our experts think they can go?
Read the entire story here
.

April, 26, 2013
4/26/13
11:10
AM CT

By Amin Elhassan
ESPNChicago.com
Archive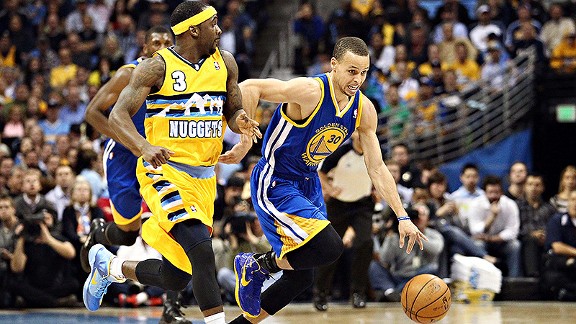 Isaiah J. Downing/USA TODAY SportsGolden State's Stephen Curry is averaging 24.5 points and 11 assists against Denver in the playoffs.
The NBA postseason brings with it an escalated level of intensity and physicality that most players can't fathom, let alone match in their first go-around. For the players that can adapt and elevate their performance levels, a newfound notoriety follows them, as well as respect, and (quite often), added leverage in future contract negotiation.
This is the NBA's biggest stage audition, where legacies are made (or tarnished), where everyone is watching. However, one of the things that I look forward to the most is seeing guys playing in their first playoff experience and flourishing.
Here are four players who caught my attention with auspicious playoff debuts in 2013:
Curry
Regular Season
: 22.9 PPG, 6.9 APG, 45.1 FG% 45.3 3P%
Playoffs:
24.5 PPG, 11.0 ASG, 46.5 FG%, 40.0 3P%
It should come as a shock to no one that Curry leads this list, as he's been sensational thus far, and has catapulted himself legitimately into the stratosphere of stardom: he's not only incredibly productive, but he makes his teammates better and he helps his teams win. About a month ago, I wrote about Curry being
one of the most indispensable guards in the NBA
, and features an incredible stat: in his career, the Warriors are 20-8 in games in which Curry has 10+ assists. Since that article, Curry's posted 10-plus assists six more times, and the Warriors have gone 5-1, including Tuesday's Game 2 victory at Denver, who boasted a 38-3 home record this season.
Curry's quick release and ability to make a variety of difficult shots (off one leg, off wrong leg, etc) make him an extremely tough cover in one-on-one situations, which necessitates help defense, opening up a world of passing opportunities for him. That's what makes him special: his willingness to move the ball to open teammates despite the fact that he can confidently know that he's got a good chance of making a "bad" shot. In fact, when I was with the
Phoenix Suns
and I scouted Curry at Davidson, I posed the question: if you could shoot like that, would
you
ever pass the ball?
The Game 2 demolition all started with Curry getting loose with his shot, sending the Nuggets into scramble mode, which lit Golden State's supporting cast's fuse. I
still have Denver winning in six games
, but we'll remember 2013 as the year Curry finally "got it." Hopefully, his most
recent ankle injury
will not derail that.
Read the entire story
.

April, 10, 2013
4/10/13
5:19
PM CT
By Staff
ESPNChicago.com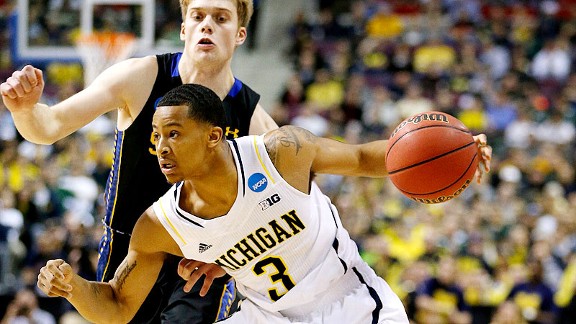 Gregory Shamus/Getty ImagesMichigan's Trey Burke would give Orlando a big-time playmaker who can both score and distribute.
The college basketball season is over, but for NBA talent evaluators, the analysis is still a long way from complete. Over the next three months, NBA front-office personnel will commence the exhaustive process of vetting draft prospects, including conducting background checks, making countless phone calls to coaches around the country and, of course, watching a ton of film.
During my time in the front office with the
Phoenix Suns
, I always made it a point to watch film from beyond the current season, all the way back to high school and AAU if possible. I liked doing this because it gave me a clearer idea of the progression the player made from level to level, and it allowed me to track any continuous flaws that had not been corrected. One of the reasons I had such a
strong opinion on
Austin Rivers
, for example, was because I watched him play in high school and AAU prior to his time at Duke.
Another advantage is watching the player handle adapting to different situations and expectations. How does he handle being asked to do more or less than he's used to? How does he handle playing for a new coach in a new system? How does he handle playing with more or less talent around him? These are all important questions that decisions-makers must be able to answer as they envision how potential draftees would fit on their teams next season and beyond.
Here's a look at five draft prospects who fit five teams' needs perfectly in terms of both position and style of play.
---
Trey Burke | Point Guard | Michigan

NBA fit: Orlando Magic
As we near completion of Year 1 of Orlando's rebuild, the Magic have done a good job of collecting young talent of varying levels of potential. Nikola Vucevic was an absolute steal as an elite rebounder in the Dwight Howard-Andrew Bynum deal; Maurice Harkless has come on strong over the past 10 games, showing a tantalizing mix of athleticism and versatility; and Tobias Harris has taken full advantage of the playing time afforded to him since being acquired from Milwaukee. The Magic have established a culture of character, hard work and effort (necessary in a rebuild), but lack a motor for their offense, which struggles to shoot efficiently (49 percent team eFG%) and doesn't get easy scoring opportunities (23rd in corner 3-point attempts and 29th in FTA rate).
Read the entire story here
.