Chicago Bulls:

Countdown to Christmas
December, 22, 2011
12/22/11
9:21
PM CT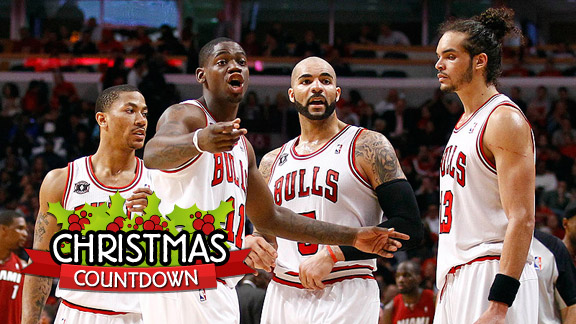 Mike DiNovo/US PresswireThe Bulls face a rigorous 66-game schedule these next four months.
The Chicago Bulls will face the same kind of challenges that every other team faces this season when it comes to the schedule. It's brutal. There is a game almost every day and most days off will be spent on airplane going to another city. It is the kind of 66-game sprint that no coach or player wants to deal with. Having said that, the Bulls are confident they can handle the extra pressure; they may very well have the deepest team in the league. With that in mind, let's take a quick look at the Bulls' schedule and try to figure how they will fare during this shortened regular season.
December
25 @ Lakers, Win: Whether Kobe Bryant plays or not, the Lakers still won't have Andrew Bynum, who is suspended. The Bulls simply have more talent right now.

26 @Warriors, Loss: The Bulls always seem to struggle in Oakland. That won't change as they play their first back to back.

29 @Kings, Win: Who is going to stop Derrick Rose in Sacramento? Nobody.

30 @Clippers, Loss: Vinny Del Negro gets some revenge as Chris Paul and Blake Griffin have too much energy for the Bulls.

January
1 Vs. Grizzlies, Win: The Bulls make a few extra plays down the stretch in a very exciting game.
3 Vs. Hawks, Win: That
Joe Johnson
contract makes the
Carlos Boozer
deal look great.
4 @ Pistons, Win: Rip Hamilton wins his homecoming game.
6 @ Magic, Loss:
Dwight Howard
always gives the Bulls problems. He should still be in a Magic uniform for this one.
7 @ Hawks, Win: Noah comes out to make a point against his old college teammate
Al Horford
.
9 Vs. Pistons, Win: The Pistons are not very good.
10 @ Timberwolves, Win: Carlos Boozer has another big night against an up-and-coming Wolves' team.
11 Vs. Wizards: Win, The Wizards stink.
13 @ Celtics Loss. Scal gets another huge ovation. Bulls take a loss.
14 Vs. Raptors, Win:
James Johnson
's new hairdo is almost as bad as his new team.
16 @ Grizzlies, Loss: Memphis gets some revenge after an early-season loss.
17 Vs. Suns, Win:
Steve Nash
will be hoping he gets traded right around this time.
20 @ Cavs, Win:
Kyrie Irving
is good. Derrick Rose is a lot better.
21 Vs. Bobcats, Win:
Michael Jordan
wishes he could trade teams.
23 Vs. Nets, Win:
Deron Williams
loses to Rose again.
25 Vs. Pacers, Win: Bulls win another slugfest against Indiana.
27 Vs. Bucks, Win: Bulls win in last home game before nine-game trip starts.
29 @ Heat, Loss: James and Wade get last laugh in this one.
30 @ Wizards, Win: Flip Saunders stays in misery.
February
1 @ Sixers, Win: Bulls pick up a win in Philly, something they struggled with last year.

2 @ Knicks, Loss: The back-to-backs are starting to catch up to the Bulls.

4 @ Milwaukee, Win: Bulls are halfway through tough stretch.

6 @ Nets, Win: The Bulls' depth wins them another game.

8 @ Hornets, Win: Unless the Bulls are partying on Bourbon Street the night before, they will win.

10 @ Bobcats, Win: The Bulls sleepwalk to a win in this one.

12 @ Celtics, Loss: The end of the trip catches up with Tom Thibodeau's team.

14 Vs. Kings, Win: Bulls struggle to get a win in first game after long trip.

16 Vs. Celtics, Win: Noah gets the best of Kevin Garnett in this one.

18 Vs. Nets, Win: Will Dwight Howard be playing for the Nets at this point?

20 Vs. Hawks, Win: Kirk Hinrich plots his move back to the Bulls from the Hawks' bench.

22 Vs. Bucks, Win: Brandon Jennings is in Rose's shadow ... again.

28 Vs. Bobcats, Win: Bulls pick up first win after the All Star break.

29 @ Spurs, Loss: San Antonio isn't the same team it used to be, but the Spurs are still pretty good.

March
2 @ Cavs, Win: Hamilton has another good shooting night for the Bulls.
4 @ Sixers, Loss: Bulls continue their Philly struggles.
5 Vs. Pacers, Loss: The Bulls can't win them all at home, right?
7 @ Bucks, Win: Rose refuses to allow his team to lose three in a row.
8 Vs. Magic, Win: The odds are slim that Howard will still be playing for the Magic at this point.
10 Vs. Jazz, Win: When all else fails, give the ball to Rose and get out of the way.
12 Vs. Knicks, Win: Bulls win an exciting battle at the United Center.
14 Vs. Heat, Win: The most electric atmosphere of the season to date.
16 Vs. Blazers, Win: The hits just keep on coming at home.
19 @ Magic, Win: Who will the new Magic star be at this point?
21 @ Raptors, Loss: The Bulls are due for a letdown against a bad team. It happens to everybody.
24 Vs. Raptors, Win: Thibodeau gets his team back on track.
26 Vs. Nuggets, Win: Are all the Nuggets back from China yet?
28 Vs. Hawks, Loss: The Hawks play an inspired game against a tired Bulls team.
30 Vs. Pistons, Win: Seriously, the Pistons are bad.
April
1 @ Thunder, Loss: Bulls lose a potential Finals preview.

2 Vs. Rockets, Win: What will the injury situation look like at this point?

5 Vs. Celtics, Win: The Bulls get up for a big one against Boston.

8 @ Knicks, Win: Rose and company take care of business against an improving Knicks team.

10 Vs. Knicks Win: Another win against Carmelo and friends.

12 Vs. Heat, Win: Another Eastern Conference finals preview.

15 @ Pistons, Win: The Bulls take advantage of a few days off before this one.

16 Vs. Wizards, Win: Nick Young wonders what might have been in Chicago.

18 @ Bobcats, Loss: The Bulls can't find the effort on this night.

19 @ Heat, Loss: Dwyane Wade comes through in the clutch in this one.

21 Vs. Mavericks, Win: The Bulls respond with a nice effort against the defending champs.

25 @ Pacers, Loss: The Pacers defeat a Bulls team that has already locked up its postseason seed.

26. Vs. Cavs, Win: Thibodeau's team ends on a regular season high note.

Projected final record: 49-17
December, 21, 2011
12/21/11
9:34
PM CT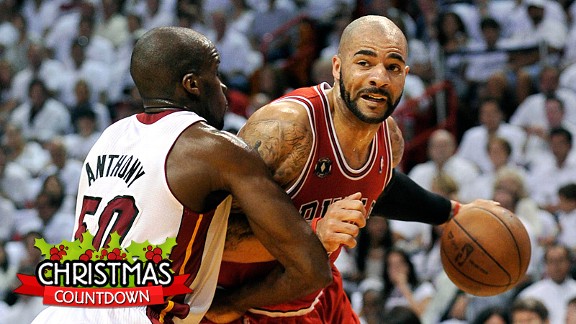 Steve Mitchell/US PresswireCarlos Boozer didn't live up to his contract in his first season with the Bulls.
CHICAGO -- There is no player on the Bulls' roster this season who will face more scrutiny than Carlos Boozer.
The power forward was inconsistent throughout much of his first regular season in Chicago, and his struggles continued well into the postseason. With that, fans all over the city are just holding their breaths to see how Boozer fares in his second campaign. He showed flashes of the man who was a 20 point, 10 rebound machine in Utah, but he also missed 23 games and played poorly on the defensive end -- as was his reputation elsewhere. It got so bad that Boozer (and Joakim Noah) weren't even on the floor when the Chicago Bulls threw away Game 5 in the Eastern Conference finals. After just one year in Chicago, a lot of fans believed Boozer was a bust.
All the criticism appears to have motivated him. He spent a lot of time working out in Miami and has dropped more than 20 pounds, according to Bulls GM Gar Forman. Boozer says he feels "lighter" on the floor.
"Criticism is all in how you take it," Boozer said recently. "At the end of the day, some people take criticism the wrong way. I take it as motivation. Criticism motivates you. That's the way I've been my whole career. And I'm very motivated, to say the least."
Motivation is great, but the key for Boozer is finding some way to stay on the floor. As far as Bulls fans are concerned in this case, talk is cheap. Boozer needs to prove that he can produce, especially given the fact that he's in just the second year of an $80 million dollar contract. All his teammates have come out in support of him since training camp opened, saying all the right things. But it isn't going to matter if the veteran forward doesn't play well all the way through the year.
Boozer could be an absolute beast all season long, but if he doesn't show up in the playoffs that regular-season production is will quickly be forgotten.
The biggest issues for him, aside from staying healthy, are two fold. First, he has to at least try to become a serviceable defender under Tom Thibodeau. Early reports out of practice were good, but his performance in the first two preseason games looks a lot like it did last year.
Secondly, Boozer and Noah must prove that they can play well together on the floor. Each man played well when the other one was injured last year. Each looked more confident when the other one wasn't around. In order for the Bulls to take the next step past Miami this season, Boozer and Noah must figure out how to bring the best out of each other on the floor.
Noah has built up enough credibility with the fan base over time to withstand a lackluster season. If Boozer has another year like he did last season (especially in the postseason) the cries to get him out of town will become much louder than the murmurs that could be heard over the summer.
December, 21, 2011
12/21/11
8:09
PM CT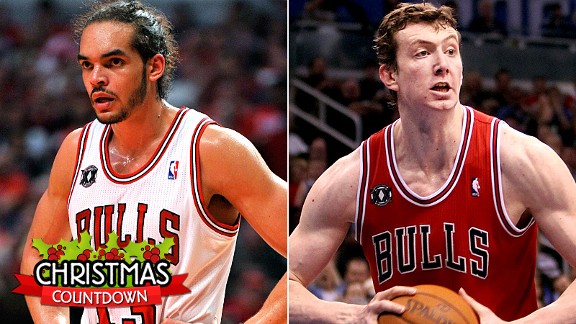 US PresswireWithout Kurt Thomas, Omer Asik will see more minutes backing up Joakim Noah.
CHICAGO -- Kurt Thomas served as perfect example of just how deep the Bulls were last season. The grizzled veteran rarely played throughout the first three months of the season, but when Joakim Noah went down because of thumb surgery before Christmas, the Bulls dusted off Thomas and he became one of the most dependable starters on the team. He didn't move very fast and he couldn't jump very high, but he got the job done almost every night. He was an insurance policy that Tom Thibodeau happily cashed in when he needed one the most.
Now that Thomas has signed with the Portland Trailblazers, Thibodeau doesn't have the luxury anymore. But that doesn't mean the Bulls still don't have one of the deepest center duos in the league. Noah has shown that, when healthy, he is a double-double machine. He's also a defensive anchor who has the ability to become an All Star if he can stay on the floor and produce. The key for the Bulls is that even if Noah goes down, they have one of the best young backups in the league in Omer Asik. The organization believes that the Turkish center is going to continue his development this season. The coaches believe that Asik, who is already one of the best defenders on the team, will develop to one of the best defensive players in the league. They also believe that Asik will improve his offensive game and will become more confident down low in the post.
Most importantly, they believe Asik is healthy after fracturing his fibula during the Eastern Conference finals last year.
"He says he's pain free," Thibodeau said after Friday night's win over the Indiana Pacers. "He's not in great shape yet. And normally he is in great shape. That's who he is. He's a great worker, but he had to stay off the foot for a while. He says physically he feels fine. He just has to get his conditioning up."
That's the same thing Noah is focused on as well. He spent a huge portion of his summer working with his personal trainer and close friend, Alex Perris, trying to remake his body after suffering several injuries last year. Noah obviously took it personally that he couldn't be much of a factor in the postseason because of the injuries and there's no question he feels the pressure that comes with the fact that his five-year, $60 million deal kicks in this season. He wants to prove to everybody that he can be the guy who helps get the Bulls to the next level.
"Losing is always hard," Noah said recently. "And the closer you get to your goal ... the goal is always to win a championship, the goal was to win a championship even threw years ago. Even though we probably had less of a chance. You go into a season believing you're going to win the championship. [Bulls head coach Tom Thibodeau] always says that. Now, who's willing to do all the things that have to be done to win? I think that maybe two years ago I really didn't know what that meant. As you grow and get experience, you start realizing, this is what we need to do."
What the Bulls need to do as far as their centers are concerned is focus on the positives. Whether they add another big man or not (veteran Joel Pryzbilla's name has popped as a possibility) the Bulls should remember that they have two very good, still young centers in the mix. Most teams would die to have that kind of depth.
December, 19, 2011
12/19/11
6:17
PM CT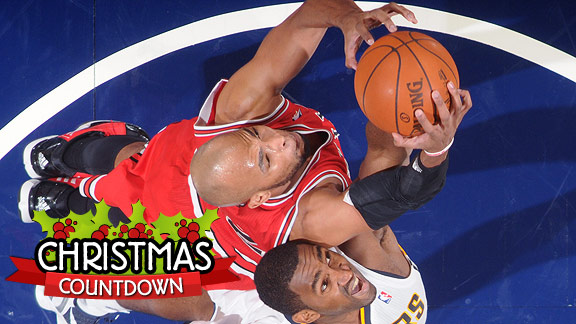 Ron Hoskins/NBAE/Getty ImagesHaving Taj Gibson available to come off the bench is a luxury for the Chicago Bulls.
CHICAGO --
Taj Gibson
scored 12 points, grabbed nine rebounds and blocked two shots during the
Chicago Bulls
' first preseason game against the
Indiana Pacers
on Friday. The fact that he accomplished all of that in just 26 minutes off the bench is even more impressive.
In many ways, Gibson is the perfect example of the depth that Bulls coach Tom Thibodeau has to work with this season. There are plenty of teams in this league that would love to have Gibson in their starting lineup. On the Bulls, Gibson is just another piece that Thibodeau can stick in the game when he needs a spark.
With Gibson,
Luol Deng
,
Carlos Boozer
, and
Jimmy Butler
filling time at the three and four spots this season, and the rest of the roster looking solid, the Bulls would appear to have an embarrassment of riches.
Gibson has proven to be extremely durable during his short professional career, having missed just two games in two seasons. If Boozer goes down again because of an injury, Gibson can slide back into the starting role he had throughout most of his rookie season. If Boozer stays healthy and finds a defensive rhythm with
Joakim Noah
in the post, the Bulls figure to have one of the most potent forward-center combos in the league.
That's probably the best thing the Bulls have going for them with this group. Outside of the rookie Butler, Gibson, Deng and Boozer are known quantities. Gibson is a durable, hard-nosed defender who appears to have improved his offensive game in the offseason. Recently, he showed several moves in the post that should give Bulls fans reason to smile this year.
Boozer has shown in years past that when he's healthy he can be dangerous. If Boozer stays healthy, he believes he'll be an All Star once again this season. Yes, he has major issues defensively, but he dropped at least 20 pounds over the summer and early reports have him at least trying a little harder on that end of the floor. If he stays in shape, he can average 20 points and 10 rebounds this year. If he gets hurt again, all of Chicago will turn on him completely.
Deng proved to be the Bulls' ironman last season, starting every game. He was so solid both offensively and defensively that fans seemed to forget that he struggled with injuries again the past two years. With an incredibly hectic schedule on the horizon, Deng is trying to keep a positive attitude because he knows how important he was to the Bulls' success last season. After all, it was
Derrick Rose
who repeatedly said that Deng was actually the Bulls' MVP a year ago.
"I think [the schedule is] a positive," Deng said recently. "A lot of people look at it in a bad way, but it's less practices for Thibs. Less practices, less running. It's definitely going to be something different, but I really think we're going to be prepared. I really think we're going to benefit from it. With the team we have, our bench is great. We'll use them well."
Speaking of that bench, Butler figures to be the guy spending a lot of time there in the beginning. The Bulls like what they have seen early out of Butler, but Thibodeau doesn't sound ready to give him a regular rotation spot just yet. The veteran coach is content to allow Butler to grow into his role throughout the year, although Thibodeau did acknowledge that if Butler earns the right to play, he will play in games. Either way, the Bulls figure to be in good shape heading into the season with this group, because there is talent everywhere you look.
December, 18, 2011
12/18/11
9:20
PM CT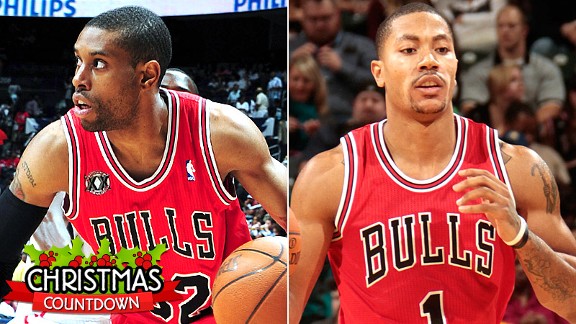 Getty ImagesWith C.J. Watson backing up Derrick Rose, the Bulls aren't lacking backcourt depth.
DEERFIELD, Ill. -- C.J. Watson knows there are a lot of teams in the league that would give him more minutes than he plays night to night for the Chicago Bulls. But he also realizes that if he truly wants to win a championship in his career, this season could give him his best chance.
"It gets frustrating," Watson admitted after Sunday's practice. "I want to play. But I'm playing behind one of the best point guards in the league, and also, we're winning. If we were losing, then it would be a different story. But I just want to go out there and play. I know each and every day I'm going to go out there and get better playing against him in practice. I'm going to try and make him better, too."
That type of attitude is one the reasons Bulls' management is so enthused about their backcourt heading into the season.
Derrick Rose is the reigning MVP and should be the cornerstone of the franchise for the next decade. The Bulls are set for a long time at the point guard position. Meanwhile, Watson has proven to be a valuable scorer off the bench and looked much more comfortable in his role as last season rolled along. His desire to start will only push him harder in practices throughout the season.
For the first time in more than a year, the two guard position seems to be locked in as well. While he still hasn't come right out and said it, Bulls head coach Tom Thibodeau will most likely put newly acquired Rip Hamilton in the starting lineup at some point in the very near future. At 33, Hamilton may not be exactly like the player he once was, but he is certainly an upgrade over Keith Bogans at the two. Hamilton has already made an impression on his new teammates and seems to have fit in nicely alongside Rose, at least in practice.
"It's going pretty good," Hamilton said after Sunday's practice of his new transition. "The guys are really helping me out on the sets and things like that. A lot of the sets are pretty much the same, but it's a lot of terminology. Every day I get a little bit better."
Rose believes people are making too much out of the fact that Hamilton has supposedly lost a step.
"They're definitely overlooking that," he said of Hamilton's conditioning. "When we were scrimmaging sometimes he was ahead of me the majority of the time."
Hamilton's arrival means that either Kyle Korver and/or Ronnie Brewer will have their playing time reduced over the course of the season. Yet another good problem to have if you're Thibodeau. There are teams in this league who would be happy to start Korver or Brewer.
The pair seems to have improved over the summer and both men are hungry to show what they can do. If Korver can become more consistent from beyond the arc, he will probably find more minutes than Brewer. Having said that, Brewer might have played his best consecutive games of the season last year during the Eastern Conference finals against the Miami Heat. If Thibodeau needs a defensive stop late in a game against Miami, he will probably turn to Brewer once again.
The bottom line for this unit is that it is amongst the best in basketball top to bottom heading into the season. If each man plays up to his capabilities, the Bulls are going to have the type of guard depth that most coaches would salivate over. Not to mention the fact that rookie Jimmy Butler figures to get some minutes at the two and the three.
The key for Thibodeau is to find a way to keep everyone happy. Hamilton believes his new coach will be able to do that.
"The biggest thing is, everybody knows their role," Hamilton said. "And Thibs holds everybody accountable. When you've got that, good things can happen."
December, 18, 2011
12/18/11
8:46
PM CT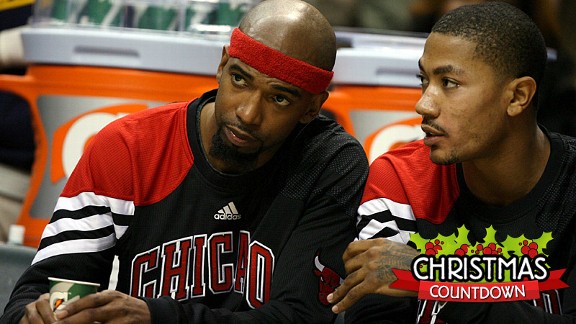 Brian Spurlock/US PresswireThe Bulls are hopeful Rip Hamilton will be an ideal backcourt complement to Derrick Rose.
DEERFIELD, Ill. -- The reality of where Rip Hamilton is at in his career right now has hit him recently.
"I'm kind of like the Old G right now," Hamilton said with a laugh after Sunday's practice. "And it's kind of crazy because time flies when you're playing basketball and you're having fun. I didn't realize that until Luol [Deng] said, 'Yeah, I remember coming to watch you play when you were 14 when I played for the Wizards. And Derrick [Rose] was saying, 'I remember being at your house when I was in 11th grade.' So it's different and that kind of wakes you up and you say, 'Man, I've been here for a long time,' but it's fun, it's exciting because you got an opportunity to win."
At 33, Hamilton isn't exactly an old man, but on this season's Bulls roster he might as well be. Now that Kurt Thomas and Keith Bogans have moved on, Hamilton is the oldest player on the roster. He's also the newest, having just signed his contract Wednesday.The veteran shooter seems to be fitting in nicely with his younger teammates. He's already pick up on the fact that the Bulls are a tight group that is only concerned about winning.
"When you love each other and you love your teammates, you don't think about anything else but winning," he said, when asked if having too much depth could cause problems sometimes on teams. "So if you're cheering for your guy, you know that you're on a string, you're only as good as your teammate, then not at all."


That type of attitude will sit well with coach Tom Thibodeau.
"I think each day he gets more and more comfortable," Bulls head coach Tom Thibodeau said. "He's been around. He's a pro's pro. He comes into work, he gets here early. He's studying hard. So he's doing fine so far."
Hamilton is supposed to be the piece the Bulls needed at the two guard position this season. His new teammates and coaches believe he can fill that role quickly.
"I think his experience, he played with Chauncey [Billups] for a long time," Thibodeau said. "And Chauncey's a great pick and roll player, post up player. I think talented players always figure out how to play with each other. That's never a problem. The thing that I like is, Rip's very unselfish. I think he fits in very well from that standpoint."
Thibodeau admitted that he used to have problems devising game plans to stop Hamilton as an assistant. It's clear that he believes Hamilton hasn't lost a step.
"With a scorer like that, it's very difficult to stop him individually," Thibodeau said. "What you're trying to do is make him work for his points. We always [tried to] trap his pick and rolls and his catch and shoot plays. And just try not to give him any clean looks when he can get into rhythm. But he's hard to guard because of the way he moves without the ball. And I don't know if we had much success against him. He's a great player. With great players, you just got to try to make them work for those points."
Speaking of working for points, Bulls rookie Jimmy Butler did exactly that during Friday night's first preseason game against the Indiana Pacers. The Marquette alum scored eight of them and gained a lot of praise in the process.
"He's worked very hard. He's studied hard. He's prepared himself well thus far," Thibodeau said after the game. "Now he has to show that he can do it over the course of the season. But I think he's got the right attitude and the right approach and that's the first step."
For his part, Butler seems like the type of player who will fit into Thibodeau's system. He plays hard and doesn't show any signs of being afraid on the floor. If he keeps that up over the course of the shortened season, he will find a way to crack the rotation.
"I'm encouraged by him," Thibodeau said after Sunday's practice. "And if the opportunity comes where he has to play, he's going to play. He's done a good job thus far."
It's clear that his teammates are encouraged by his play as well.
Carlos Boozer said last week. "Jimmy's a hard worker. And I'm an early bird, I get to the gym mad early, always an hour and a half, two hours before practice starts and he's here before me which is very impressive. And he stays late. You can see him over there shooting jumpers right now. Good rookie, great mentality."
December, 17, 2011
12/17/11
9:11
PM CT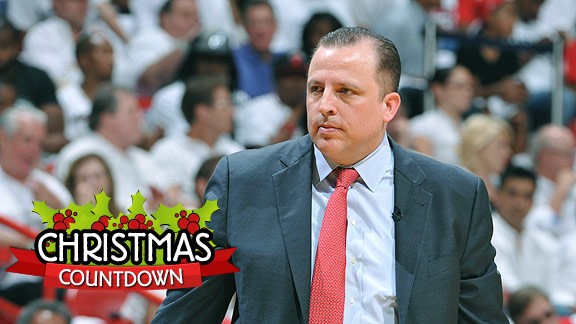 Jesse D. Garrabrant/NBAE/Getty ImagesTom Thibodeau is hardly satisfied with last season's success.
CHICAGO -- As the final seconds wound down in the Chicago Bulls' first preseason game on Friday night, Tom Thibodeau wore the look of disgust. His team was comfortably ahead and the game was well in hand, but the veteran coach looked like he was about to rip somebody in half in the locker room.
The Bulls had just given up an uncontested dunk and Thibodeau wasn't about to let that go unnoticed. He wants his team to play 48 minutes, after all. Even if the game was basically over, he couldn't let something like that slide.
"Your first game, you've got to establish who you are," he said about 20 minutes later while addressing the media. "And so, what our identity is, is not going to be based on what happened last year. We have to re-establish who we are this year. This is the first step."
As Thibodeau likes to say, you can't skip steps. That's why anyone who believes the second-year coach will struggle keeping the team's focus during this lockout-shortened season is crazy. Thibodeau has watched enough tape over the past six months to make the average person's eyes bleed. He is ready to take the Bulls to the next step, and he's ready to do it this season.
The players realize that and that's why no matter how hard Thibodeau pushes them over the course of the next few months, they are probably going to listen.
"You can't really say nothing too bad about him," Bulls center Joakim Noah said a couple weeks ago. "Because you know he's in here working very hard every day."
The big question for the hard charging, raspy voiced leader is whether he will know when and where to step off the gas pedal throughout the season. His players believe he'll make the right calls, on and off the floor.
"He always demands that you're there mentally," Bulls guard Kyle Korver said recently. "There is no exceptions. There is no days off. There's no relaxation. He was good last year; As tough as he is and as demanding as he is, we might be here for a long time, but three fourths of it will be watching film or something like that. Where he's going to give our legs a break. He knows. He's been around the NBA for a long time."
Thibodeau has already been through a lockout shortened season, as an assistant with the New York Knicks during the 1999-2000 season, so he realizes the type of hectic schedule that he and his team will be on. Knowing Thibodeau, he already has each day planned out in detail.
"The one thing, when you're faced with a season like this, you have to maximize your time, your team meetings, your shootarounds," Thibodeau said recently. "Your concentration level has to be extremely high because the one thing is when you're looking at a number of back-to-backs and things like that, your practice time is very limited, so you have to make the most of that time. It also affects your rest because now if you play a back-to-back, the next day you may look at as a practice day but maybe now you'll be taking that day off."
In order to be successful this season, Thibodeau has to find the right balance between when to push and when to pull back. He knows he can't run his team into the ground with too much work and that's one of the reasons he had the Bulls order a whole set of exercise bikes so that the team could have a film session together at the Berto Center and get their cardio work in at the same time.
Like his players, Thibodeau knows he can be a little bit better in his second year than he was in his first. Not surprisingly, he said he spent time watching last season's games and visiting with fellow coaches to pick up some new ideas.
"You're always striving to improve in whatever it is that you're doing," Thibodeau said. "I never want to stay the same. I know our players don't. Our entire organization is the same way. You learn from each experience."
The biggest experience Thibodeau can learn from last season is to find a way to make Carlos Boozer more active on the defensive end. It's the biggest challenge on the coach's never ending to do list this year and it's the one that is probably most crucial to the Bulls' long term success. If Thibodeau can find a way to do that, and continue to grow as a leader during the next six months, there's a very good chance he won't have much to complain about after this season.
How could you complain after leading your team to a title?
December, 17, 2011
12/17/11
8:53
PM CT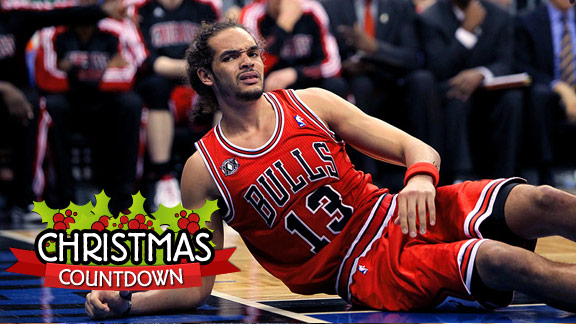 Kim Klement/US PresswireThe Bulls were able to survive Joakim Noah's 34-game absence last season. Would they be able to withstand a similar blow in 2011-12?
CHICAGO -- The injury bug is among the toughest, most excruciating things to predict in sports.
Everyone knows it's coming, and nobody knows when it will strike.
It bit the Chicago Bulls last season, taking down Joakim Noah and Carlos Boozer for large chunks of the schedule. But the Bulls still managed to fight back, and advance all the way to the Eastern Conference finals.
Luol Deng played every game last season, and Derrick Rose only missed one. Given the bug's historically bad bite, the Bulls came away relatively unscathed. In theory, that's the only thing that could truly derail the upcoming Bulls' season. If Rose or Deng were to go down, specifically, Rose, the Bulls are in trouble. It's not that they wouldn't be able to survive without him, (C.J. Watson would still help lead the Bulls to the playoffs if everyone else stayed healthy) it's that the Bulls would have no chance to win a title this season without Rose.
In so many ways, the only thing that could truly stop the Bulls this season is if Rose goes down. The reality is that the Bulls have every key player coming back, plus Rip Hamilton (Sure, they'll miss Kurt Thomas and Keith Bogans, but neither were irreplaceable.) They are probably the deepest team in the league and seem to really enjoy playing with one another They have proven they can beat pretty much everybody else aside from Miami. The only team in the Eastern Conference aside from the Heat who would truly have a chance to knock them off in a seven-game series is the Boston Celtics.
How could this happen?
The Celtics have a veteran team full of guys who view this season as possibly their last opportunity to win a title. Kevin Garnett, Ray Allen and Paul Pierce want to hold that golden trophy one more time. The regular season doesn't mean nearly as much to them as it will to most NBA teams. The Celtics have confidence in the fact that they can beat any team, anywhere. They don't need the comfort of having home-court advantage to succeed. Boston point Rajon Rondo has frustrated Rose in years past. He will surely enjoy the challenge of guarding the league's MVP. Noah and Garnett haven't always seen eye to eye, and there's no doubt Tom Thibodeau and Doc Rivers will know what kind of game plan to expect from one another -- given that Thibodeau spent time in Boston as Rivers' assistant before coming to Chicago.
It would be tough for the Celtics to get past the Bulls in a seven-game series (most likely in the second round), but it wouldn't be impossible. Historically, the Bulls have never played well in Boston. They didn't win a game there last season. If Boozer and Noah continue to struggle in the paint defensively, there is no telling what kind of damage a healthy Garnett could do in what would likely be his last best chance to win in the postseason. The overriding issue for the Bulls isn't that they don't have the defense to succeed this year, it's that Noah and Boozer have yet to prove they can consistently play well on the floor together. If they fail to do so in a series against Boston later this spring, they'll be headed home a lot sooner than everyone in Chicago had hoped.
December, 14, 2011
12/14/11
8:32
PM CT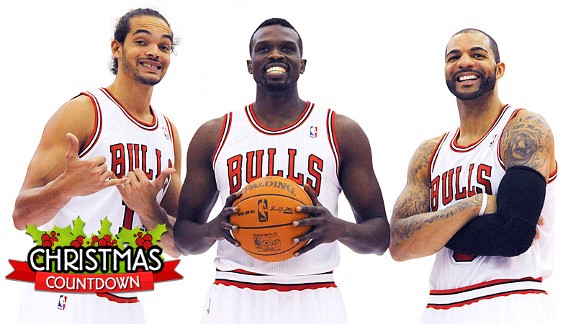 David Banks/US PresswireIf the trio pictured above can stay healthy, the Bulls are in good shape.
DEERFIELD, Ill. -- The only way this Chicago Bulls' season will be viewed as a success in the years to come is if Derrick Rose is standing atop a stage in Grant Park with a victory cigar in his mouth. After being summarily dismissed by the Miami Heat in the Eastern Conference finals last season, the Bulls know an NBA title is the next logical step. In order to make that goal a reality, here is what has to happen.
First, the Bulls must remain healthy. It's imperative during a lockout-shortened season that the Bulls find a way to stay away from the injury bug. Luol Deng played in every game last season. Derrick Rose missed just one. Rip Hamilton, Carlos Boozer and Joakim Noah have all missed significant amounts of time during the past few seasons because of various injuries. Obviously, that simply can't happen again if the Bulls want to win it all.
In order to take the next step in their postseason development, the Bulls must also find an offensive complement for Rose. Boozer has the talent to fill that role and has talked about how he is motivated to have a much better season after such a poor performance in the playoffs last year. Hamilton should also be able to create more room for Rose to roam on the floor, because unlike Keith Bogans, opposing teams will have to keep a closer eye on the veteran shooter.
If Boozer and Hamilton play like they have shown in the past and Rose and Luol Deng remain consistent, the Bulls should have enough offensive power. Defensively, the Bulls appear to be in great shape. They were one of the best defensive teams in the league throughout last season. Noah has shown that when he is in the lineup, and healthy, he is one of the best defensive anchors in the league.
There are really only two main questions as far as this side of the floor goes.
Can Rose take the next step in his defensive development? And more importantly, can Boozer actually play consistent defense this year? Thibodeau seems to be optimistic that Boozer can improve and is encouraged that his power forward shed close to 20 pounds in the offseason. If Boozer plays the way the veteran coach thinks he can, there is no reason the Bulls can't win it all.
The Bulls had one of the best benches in the league this season which should give them even more of an advantage over most teams in this condensed 66-game sprint. Thibodeau has already noted that he may go to the bench even sooner than normal early in the year because of the hectic pace of the season. Ronnie Brewer, Kyle Korver, C.J. Watson, Taj Gibson all proved they could handle the job last year. Now they'll be asked to do the same thing with rookie Jimmy Butler in the fold.
More than anything else though, if the Bulls are going to be win a title this year, they must rely on Rose more than ever late in big games. The 23-year-old was unbelievable in the regular season, routinely hitting big shots and making huge plays. When he played the Heat though, he looked like a frustrated freshman against the varsity. The Heat's size, specifically LeBron James, drove him crazy. Rose has gone out of his way to tell the media that he takes full responsibility for that loss and that it's his "fault" the Bulls couldn't beat Miami. Even if that isn't truly the case, Rose knows he must find a more productive way next time around.
He spent time watching film all summer and making sure the same problems don't arise if the two teams meet again later the spring. The Bulls need to trust that Rose learned from his mistakes and that all the frustration he put on himself turned into motivation heading into this season. If Rose can find a way to knock down more shots and create more plays against Miami, and any Western Conference team in a seven game series and Boozer decides to dedicate himself to playing defense full-time this year, there is absolutely no reason to believe there won't be another party in Grant Park later this summer.
December, 13, 2011
12/13/11
3:58
PM CT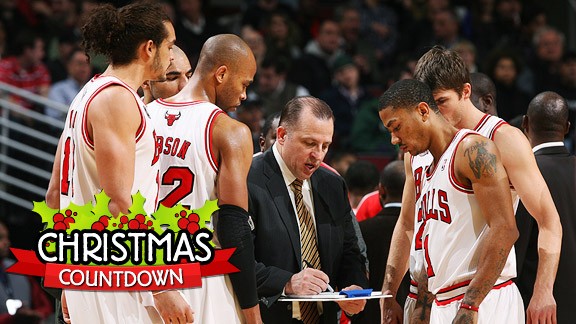 Joe Murphy/NBAE/Getty ImagesTom Thibodeau likely will have to ease up a bit to keep his players fresh during their 66-game season.
CHICAGO --
Kyle Korver
might have summed up the lockout-shortened 66-game schedule better than anyone last week.
"I was reading something on ESPN on how a shortened season is going to help or hurt teams, and no one is going to do well with this," he said. "Let's be honest, it's going to be a lot of games. There's not any days off. There's not a lot of practice time."
But Korver acknowledged that given the crazy pace of the NBA season, the Bulls may actually be in better shape to withstand the rigors of this sprint of a season.
"I think our team is going to have an advantage in how we practiced last year and how well we were drilled in everything," Korver said. "And just our philosophy and our rules and just how many guys we have coming back."
The Bulls' core is intact, and they know what to expect from Bulls coach Tom Thibodeau. The only real additions are rookie
Jimmy Butler
and most likely
Richard Hamilton
(which should become official on Wednesday). Only
Kurt Thomas
, who signed with the
Portland Trail Blazers
, and probably
Keith Bogans
, are gone. Most teams don't have that kind of stability.
With little opportunity to rest between games, staying healthy will be a tall order considering
Joakim Noah
and
Carlos Boozer
missed a combined 57 games last season because of various injuries. In addition,
Derrick Rose
and
Luol Deng
were league leaders in minutes played.
[+] Enlarge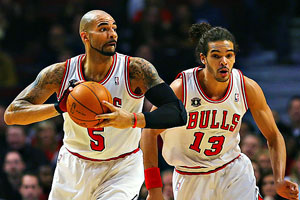 Dennis Wierzbicki/US PresswireKeeping Carlos Boozer and Joakim Noah, who combined to miss 57 games last season, on the floor figures to be a challenge during this condensed season.
Since every team is going through the same thing, Deng doesn't see the use in criticizing the condensed slate of games.
"I really like our schedule," Deng said Sunday. "I don't really have the mindset to just start talking negative about the schedule. Everyone is going through it. I'm excited. I don't think it's a bad thing. It's definitely going to be some nights where you're going to feel it. But at the same time, the way we play, I think we'll be fine. Guys are going to bring the effort every night. It should be fine."
Privately, there are some within the organization already are conceding players will get hurt. Given the time frame and the pounding each player's body will take over the next few months, it's a near certainty that more injuries than normal will pile up. The players seem to be banking on Thibodeau easing off the gas pedal ever so slightly throughout the shortened season.
Instead of practicing on off days, as the Bulls did through most of last season, Korver believes Thibodeau will give them a chunk of days off, especially given that they play 17 sets of back-to-back games and one string of games in three straight nights. In place of some practice days, Korver also believes Thibodeau will turn to the video tape more than ever.
"[Thibodeau] always demands that you're there mentally," Korver said recently. "There is no exceptions. There are no days off. There's no relaxation. He was good last year. As tough as he is and as demanding as he is, we might be here for a long time, but three-fourths of it will be watching film or something like that where he's going to give our legs a break. He knows. He's been around the NBA for a long time."
Thibodeau is confident the Bulls will be able to make the transition to playing a game almost every other day. He's already been through one lockout shortened season in 1999-2000 as an assistant for the
New York Knicks
.
"Your concentration level has to be extremely high," Thibodeau said last week. "Because the one thing is when you're looking at a number of back-to-backs and things like that, your practice time is very limited, so you have to make the most of that time. It also affects your rest because now if you play a back-to-back, the next day you may look at as a practice day but maybe now you'll be taking that day off. But hopefully your players are in great shape."
Thibodeau would never admit this publicly, but he and the Bulls' staff know that the regular season probably doesn't mean as much as usual this season. Playoff seeding isn't as important as keeping your players as healthy as possible heading into the postseason. After all, it was Thibodeau's Knicks who snuck into the Eastern Conference playoffs in that 1999-00 season as an eighth seed and advanced all the way to the NBA Finals.
Thibodeau likely will lean on his bench more than ever this season.
C.J. Watson
, Korver,
Ronnie Brewer
,
Omer Asik
and Butler figure to see even more time early this season. The Bulls had one of the deepest benches in the league last year and there's no reason to think that will change now.
Given the circumstances, the Bulls figure to be ahead of their competition in a lot of areas, but only one thing is certain about this season.
"We're human not robots, so there will probably be sloppy games, I'm sure," Korver said.
December, 12, 2011
12/12/11
2:54
PM CT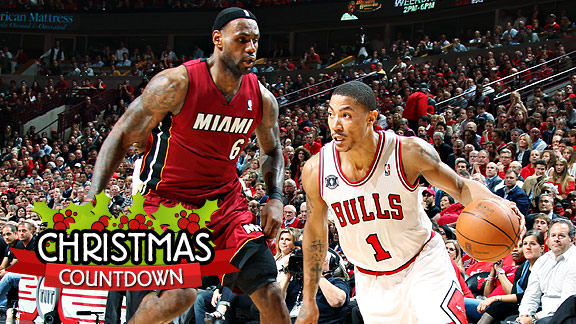 Nathaniel S. Butler/NBAE/Getty ImagesDerrick Rose will need some help from his teammates on the offensive end to get past LeBron James and the Heat this season.
As the Bulls prepare for their season-opening matchup against the Lakers on Christmas Day (4 p.m. CT on ABC), ESPNChicago.com's Nick Friedell counts down the wait with a daily look at Derrick Rose and Co. Kicking things off: What is the biggest storyline facing the Bulls this season?
CHICAGO -- Tom Thibodeau detests looking too far into the future, but he isn't stupid. The Chicago Bulls' hard-driving coach knows that no matter what his team does this season, it will all come down to one thing: Can they beat the
Miami Heat
in a seven-game series?
After rolling through the regular season and earning a league-high 62 wins, the Bulls chugged into the Eastern Conference finals and steamrolled Miami in Game 1. But that was the high point of the season. From there
LeBron James
and the Heat ramped up their defensive pressure on
Derrick Rose
, and the Bulls didn't have an answer. Rose, the NBA MVP, looked worn down throughout the series and had to deal with constant double and triple teams. The Bulls, who won all three regular season games against the Heat, didn't have another answer offensively, and it showed. Miami won the next four games and advanced to the NBA Finals before losing to the
Dallas Mavericks
.
[+] Enlarge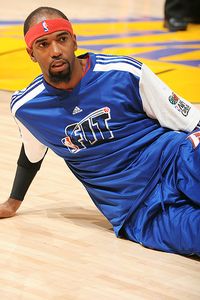 Andrew D. Bernstein/NBAE/Getty ImagesRichard Hamilton could give Derrick Rose some experienced help offensively.
"Miami has a great defense," Thiboodeau said Sunday. "And if you study all eight games, every one of the games is a hard-fought game. Each possession is a war. And those games are probably going to be low-scoring games. In the end, it usually comes down to one or two possessions, so making a big play at the end of the game [is crucial].
"But it's not only Miami. You have to prepare for everybody."
But the playoff version of the Heat proved to be the Bulls' roadblock last season. The Bulls were hampered by injuries in the series.
Carlos Boozer
, who figured to be a reliable No. 2 scoring option for the Bulls, had a turf toe injury and was mostly ineffective in the series.
Joakim Noah
, the anchor of the Bulls' defense, was plagued by an ankle injury and foul trouble. All the momentum the Bulls built during the season was crushed by Miami's defensive pressure.
The Bulls have to hope things will be different this season.
They are in an arms race with Miami. The Heat made the first move last week by signing veteran swingman and defensive standout
Shane Battier
. The Bulls are expected to sign veteran sharpshooter
Richard Hamilton
, who was waived by the
Detroit Pistons
on Monday, in the next day or two. The Bulls believe that with a healthy Boozer and Noah they will be much better equipped to knock off James an Co. And they will count on Hamilton to take some offensive pressure off Rose.
"The goal is to win the championship," Rose said on Sunday. "And if it takes me being in the gym for numerous hours, I'm willing to do it. I think that's what pushed me this summer, really working on my conditioning."
Rose knows there are doubters about the Bulls' chances against the Heat.
"We hear everything," Rose said. "We're just like [the media]. We hear and see everything. And I know that's just going to push us. We had the No. 1 record in the NBA last year. I guess people forgot that. But if anything, I know that it's going to make us go out there and play even harder."
If the Bulls can't find a way to beat the Heat, none of their accomplishments this season will matter. The Bulls are no longer the underdog team that came out of nowhere to win an NBA-best 62 games. They now have a bull's eye on their back every night.
They must prove capable of taking the next step against Miami this season. And no matter how much he tries to spin the message in the next four months, Thibodeau knows it.