Chicago Bulls:

David Thorpe
April, 26, 2013
Apr 26
12:03
PM CT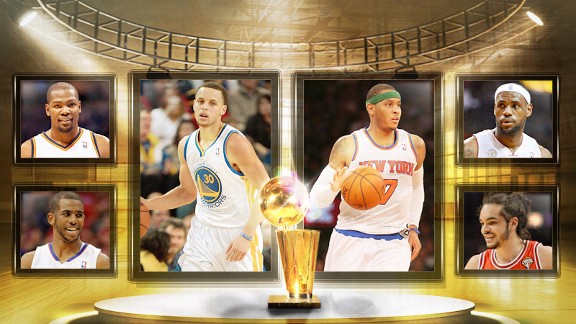 ESPN.com Illustration
Yes, it's "early" for an MVP race. But it's also very late already for a lot of playoff teams.
Each round of the playoffs is a "season" unto itself, with every team in a do-or-die series. Already we've seen virtual must-win games for the 56-win Memphis Grizzlies and Milwaukee Bucks, and we'll get two more tonight on ESPN, with the Boston Celtics and Los Angeles Lakers trying to stay in their series with the Knicks and Spurs. In that context, every game is amplified tenfold, and every play has the potential to swing the season. Valuable, indeed.
So we're ranking the top 10 players of the postseason every week from now through the NBA Finals, not based on their overall performances solely, but from a perspective of value in obtaining the only thing that matters in the playoffs: Wins.
At the same time, we should mention that some players do enough to impact series even in losses, sometimes by elevating the level of play from their teammates, which puts the team in better position to win the next game. Other times players force the opponent to make wholesale changes in strategy, opening up a new plan of attack for their own team.
Ultimately, though, it's about winning four games in seven. So who is ahead of the pack as we complete the first week of the playoffs?
Read the entire story
.

October, 24, 2012
10/24/12
12:04
PM CT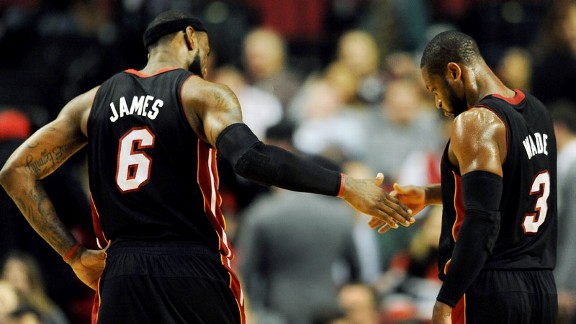 Steve Dykes/US PresswireLeBron James and Dwyane Wade are dynamic players who also complement each other's skills.
It is every general manager's dream to field a team flush with "blue-chip" talent, hoping for that magic combination of great chemistry and star players that leads to championship rings. And the NBA is full of amazing combinations of players who put up big numbers for their teams night after night.
Webster's defines dynamic as "marked by usually continuous and productive activity." No duo exemplifies this definition better than the Oklahoma City Thunder's Russell Westbrook and Kevin Durant. Both are amazingly productive and competitive scorers.
However, the special teams in the league don't feature duos who are only dynamic, but ones who are also complementary or "mutually supplying each other's lack" or "forming a balanced whole."
General managers have to find starters and reserves that best form their team's balanced whole. And when he finds a special pair of players, the biggest challenge is keeping them together. Think back to the Orlando Magic's Hedo Turkoglu and Dwight Howard or the Dallas Mavericks' Dirk Nowitzki and Tyson Chandler. If kept together to develop chemistry with like-minded teammates, these potent duos are the catalysts for success.
Today there are very few of these examples, but here's a look at the five most potent duos in the league:
Read the entire story here
.